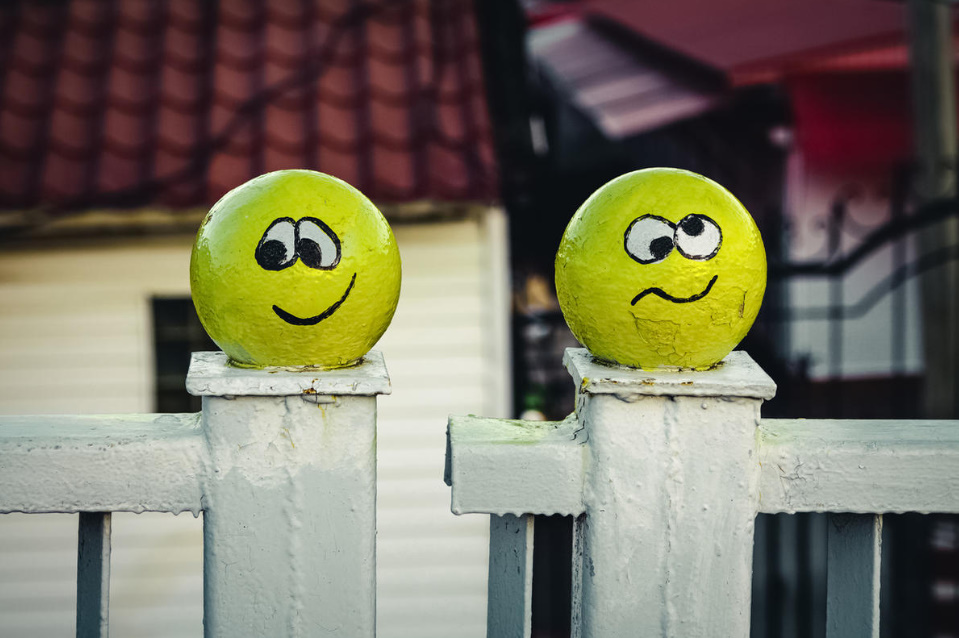 Summer, heat … I want to relax, and not deal with some serious issues. So let things wait a bit! I propose to turn again to the important, relevant for many summer residents and, of course, a serious topic of fences (the choice of fencing for the site is no joke to you!), but this time look at it with a smile.
Well, my today's selection will be devoted to "frivolous" fences — original, eccentric, unusual, causing a smile and uplifting. Some ideas are probably already familiar to you, and some, I hope, will surprise and please.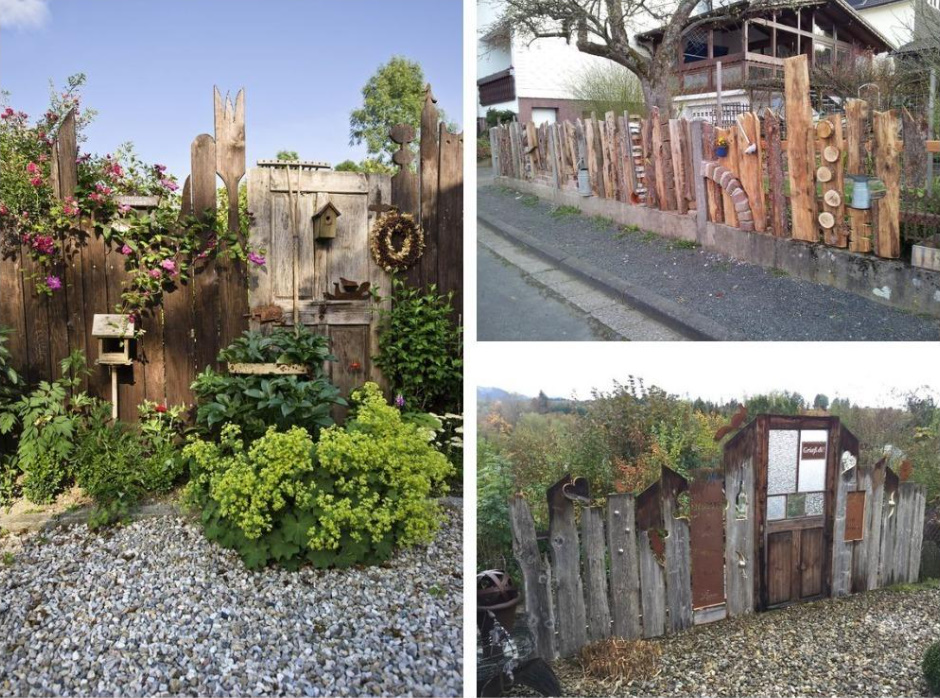 Let many of these fences be completely impractical, and some are perceived as a curiosity or a strange trick of a crazy designer, such non—standard ideas can push us to creativity or suggest an interesting solution for our own tasks.
Doors and windows as a material for a fence
For example, how do you like the idea of using ordinary window frames, doors of different sizes or multi-colored windows with shutters to create a fence?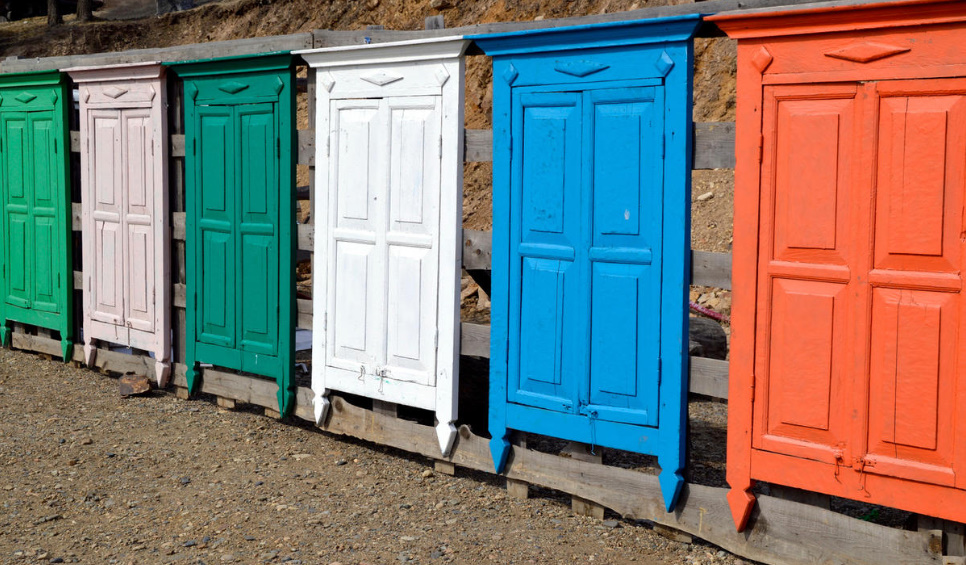 I do not dispute that the fencing of door panels of various shapes, sizes and colors comes out, perhaps, not too harmonious and aesthetic. This is an option for an amateur: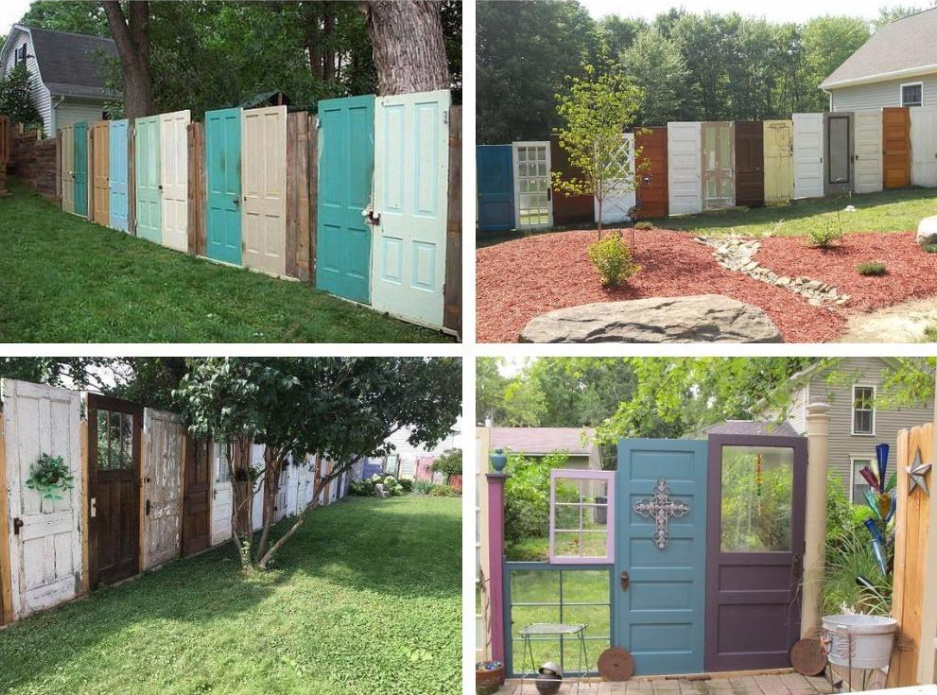 On the other hand, there are also examples when interesting things are obtained from junk material. For example, you can combine heterogeneous elements of the fence with color (noble white is perfect for this purpose) or create a composition in vintage style with romantic notes — as in the photo on the left: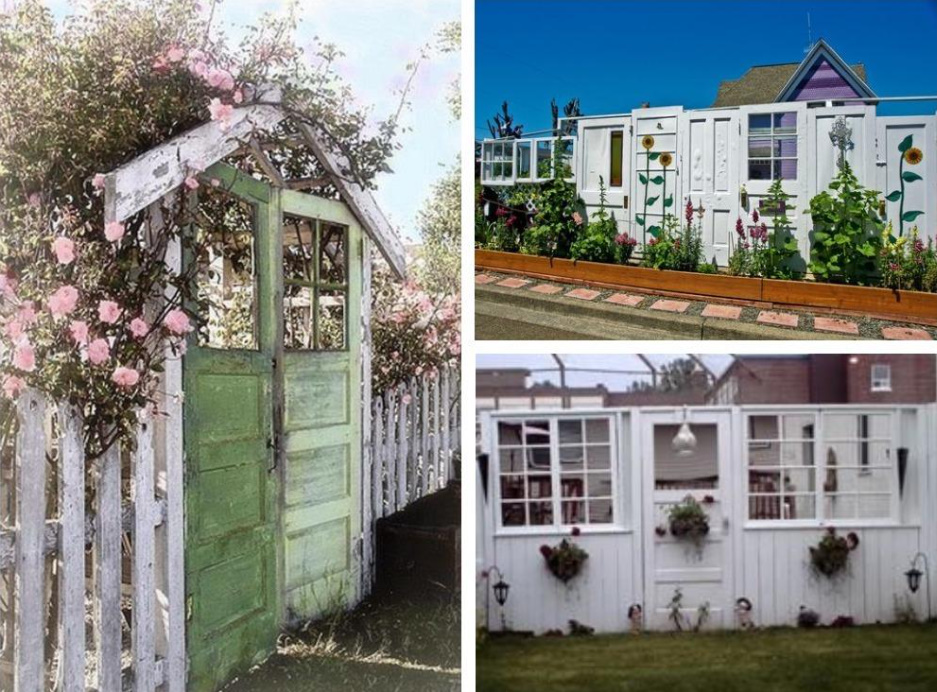 Or here is a recreation area with a mirrored window — agree, it is much more pleasant to settle down in such an environment than at a blind fence. And the cheerful windows in the photo at the bottom left noticeably enlivened the old unsightly wooden fence: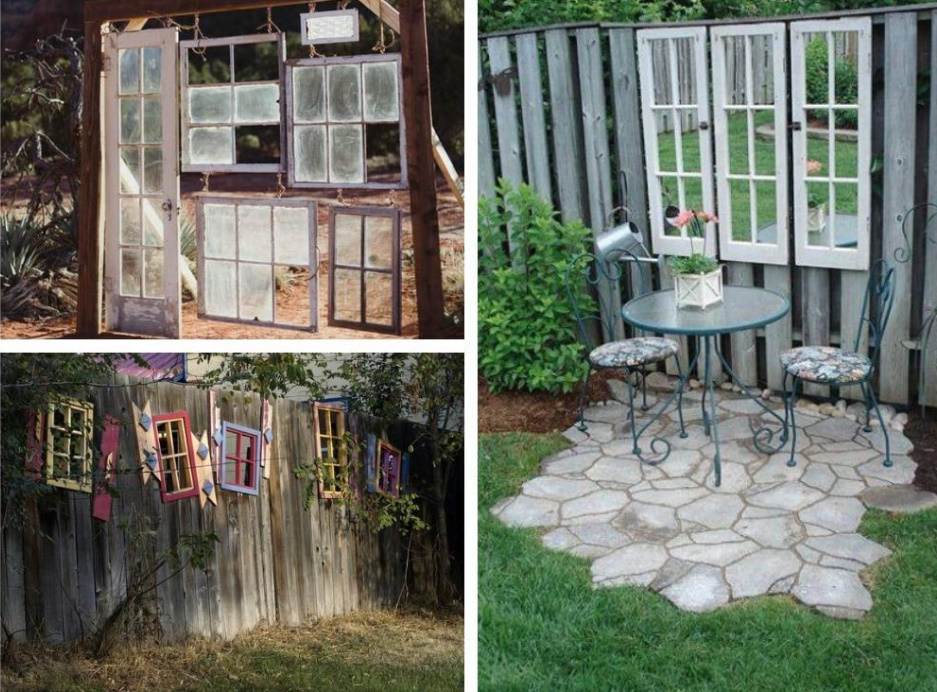 But doors and windows are not the most unusual material for garden fences. The fantasy of lovers of "making something out of nothing" truly knows no bounds.
About the wheel
Here, it would seem, it is difficult to find a less suitable material for the construction of a fence: wheels — they are round, and even all different in size! But can such trifles stop creative impulses?..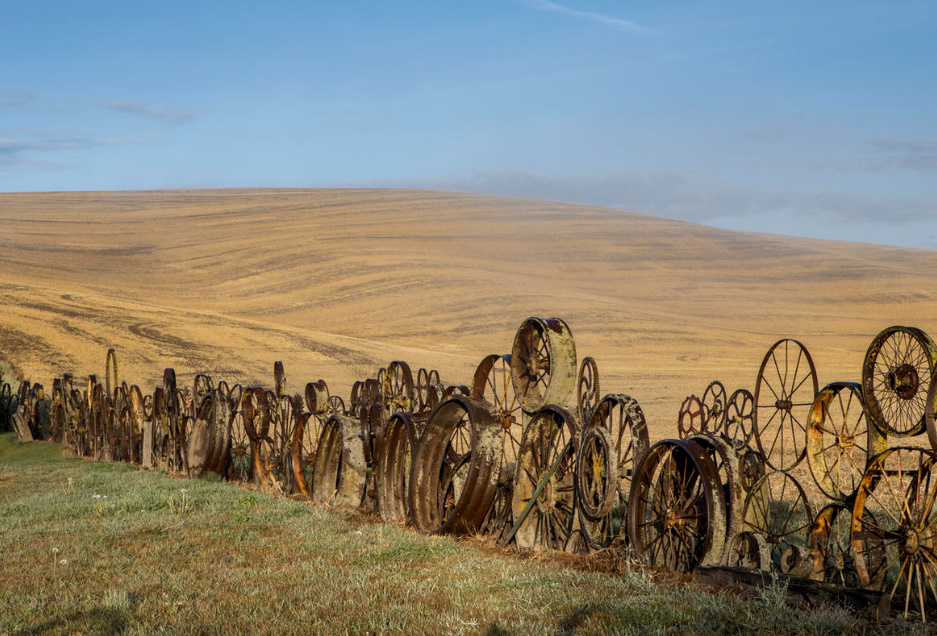 Any wheels are used — from huge steam locomotives to elegant bicycles, few people are lucky enough to find a sufficient number of identical ones: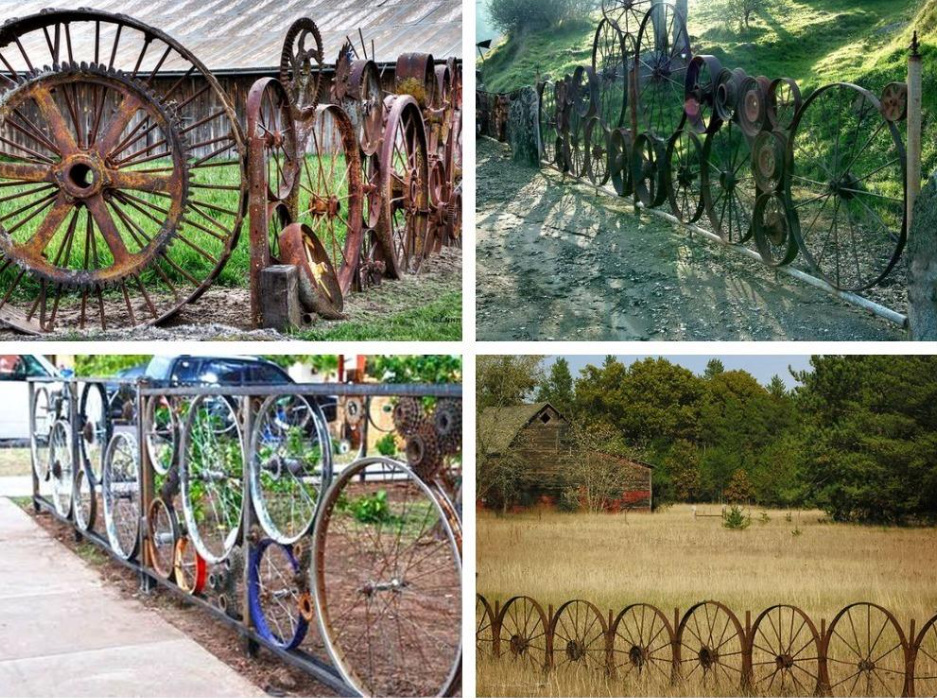 As in the case of old doors, one can argue about the aesthetic side of such fences. For me, rusty metal, even built into a bizarre composition, does not really decorate the landscape. On the other hand, there is paint on metal, so this problem can be solved…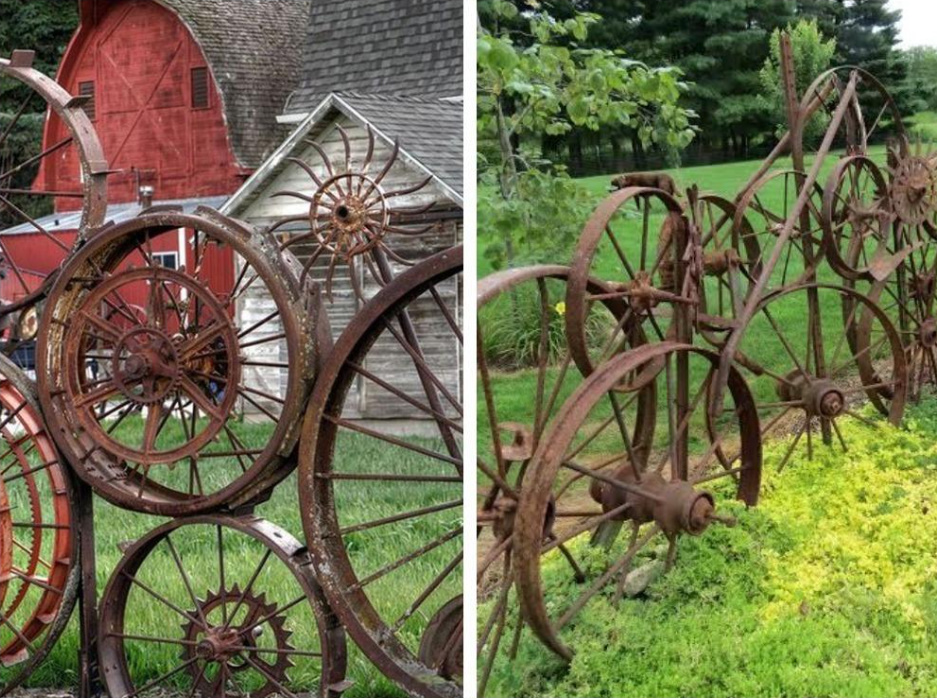 Well, in general, this time we are talking about fences not so much beautiful as unusual. So let's continue the "wheel" theme…
Fence for motorist
It is unlikely that anyone will turn their tongue to call such a fence attractive. However, the resourcefulness and wit of its author will definitely not be denied: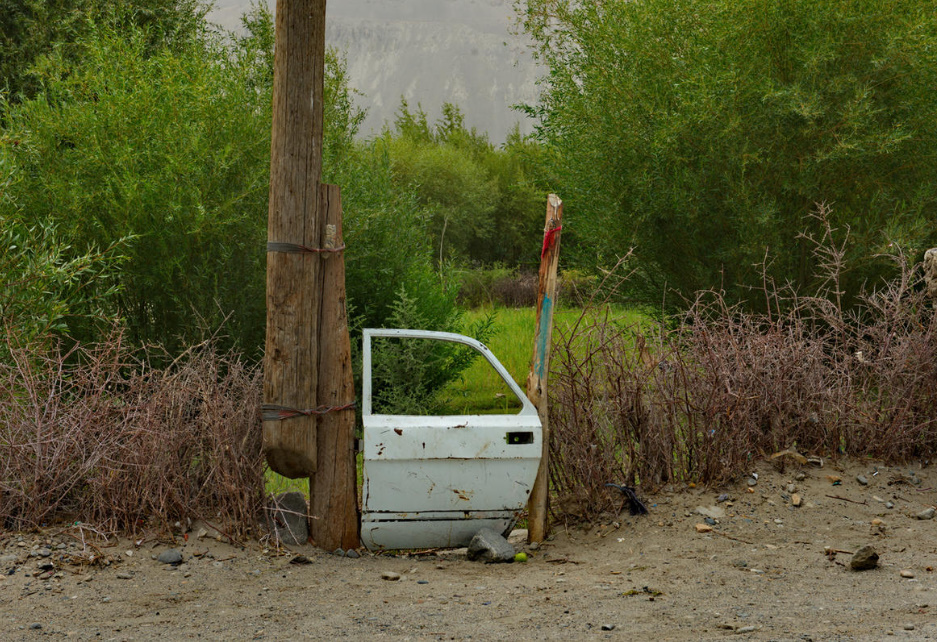 Probably, you need to love your "iron horse" very much to decide to perpetuate it in this way: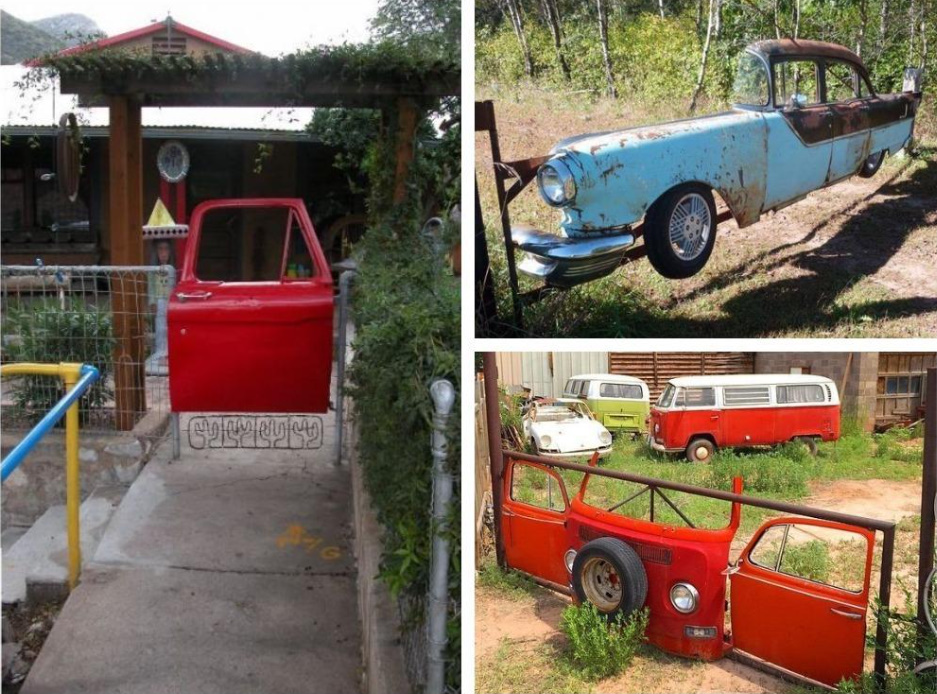 But if few people have an extra retro car lying around, then a bicycle is a very popular material for designers of all stripes for all kinds of crafts.
For those who like to reinvent the wheel
When an aged two-wheeled friend is all alone, perhaps the fate of a flower pot awaits him. Even if it's on the fence: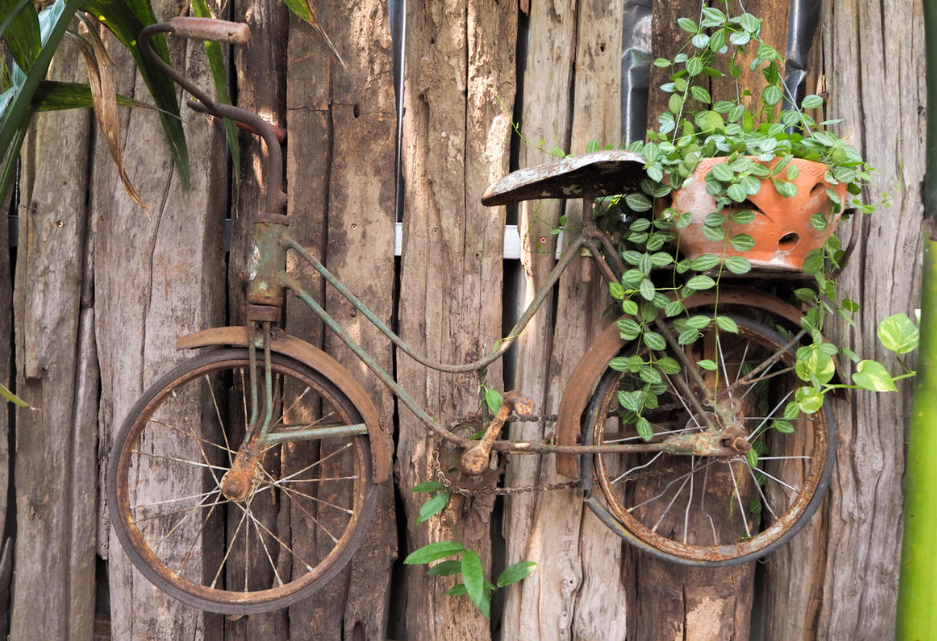 But if there are a lot of bicycles… Of course, I don't know where to get enough of them to last for a whole fence… But if suddenly you have an abundance of completely unnecessary bicycles and spare parts for them, now you know how to use this "wealth":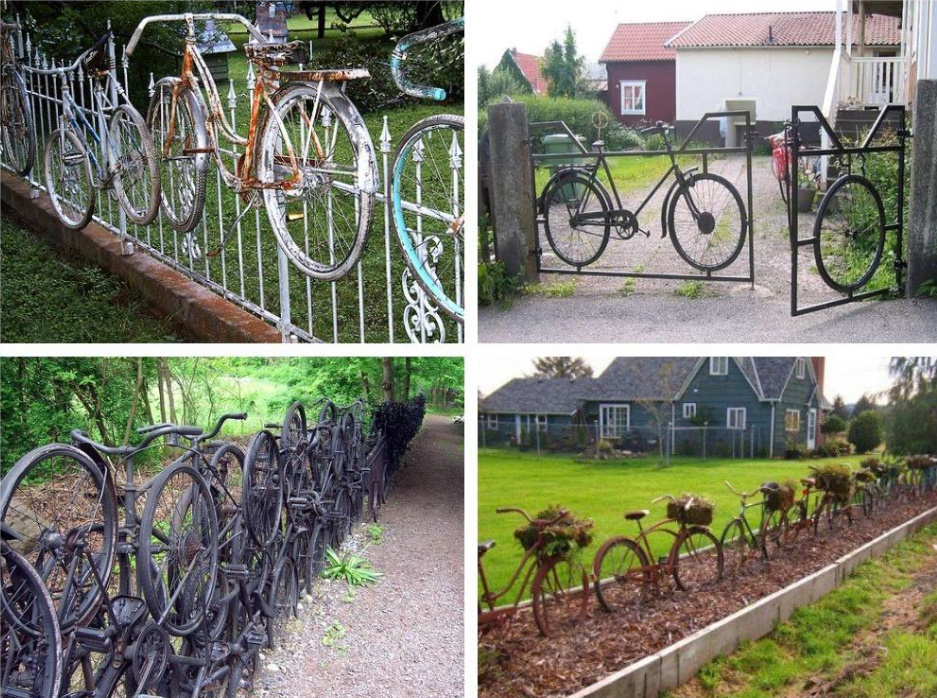 Pay attention to the photo on the top right: this is just an example of the creative application of seemingly completely insane ideas in design. Well, if there are no funds for designer gates, craftsmen make them themselves from what was found on the farm.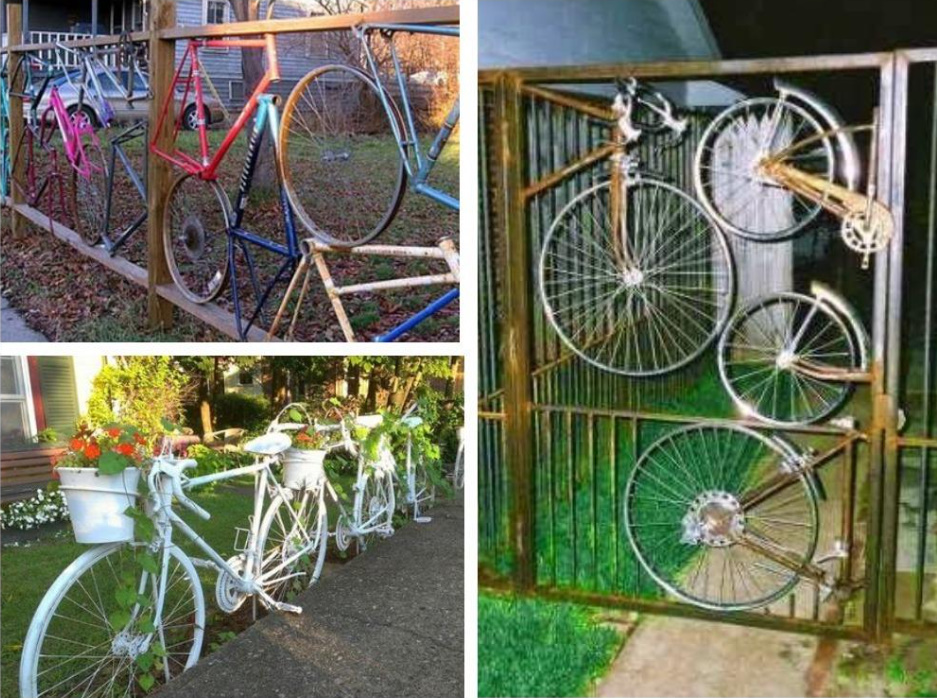 But we, summer residents, are a thrifty people… After digging well in the shed, you can find materials for more than one fence — for example, here, look at it…
A fence for an enthusiastic summer resident
A fence in a hurry from an old garden equipment? Why not… Cuttings will play the role of a picket fence, and metal "additions" will immediately make it clear to anyone that a real lover of gardening works lives here. Well, an uninvited guest will think more than once before climbing on a pitchfork: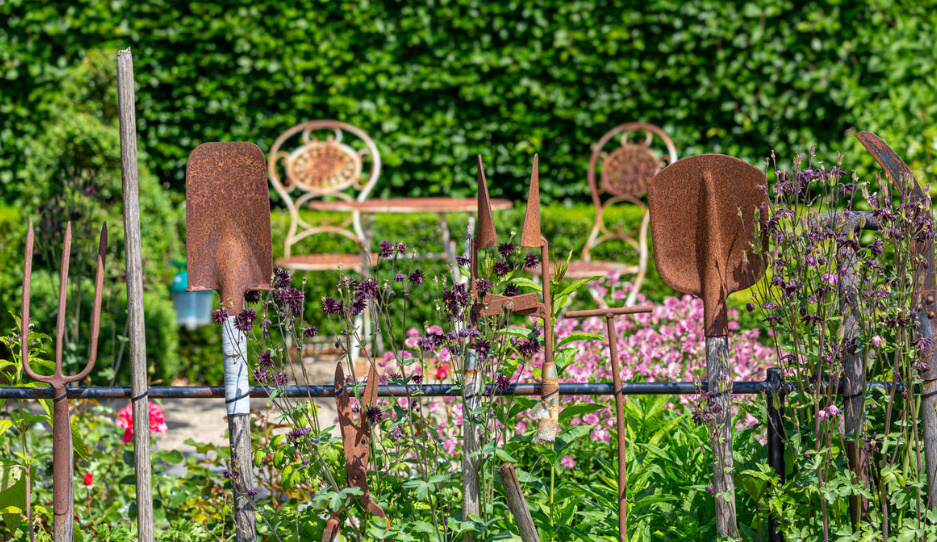 Someone enters old utensils found in the bins into the composition, and someone orders a designer fence with "instrumental" motifs: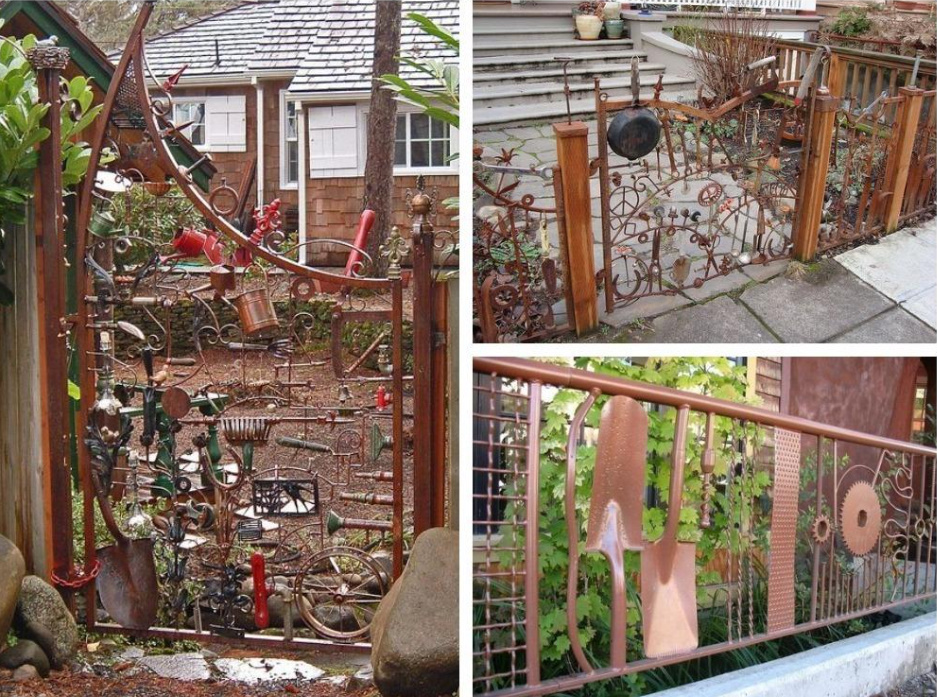 Someone prefers order and symmetry, and someone chooses a chaotic (but carefully thought out, no doubt) "pattern" of shovels, pitchforks and rakes: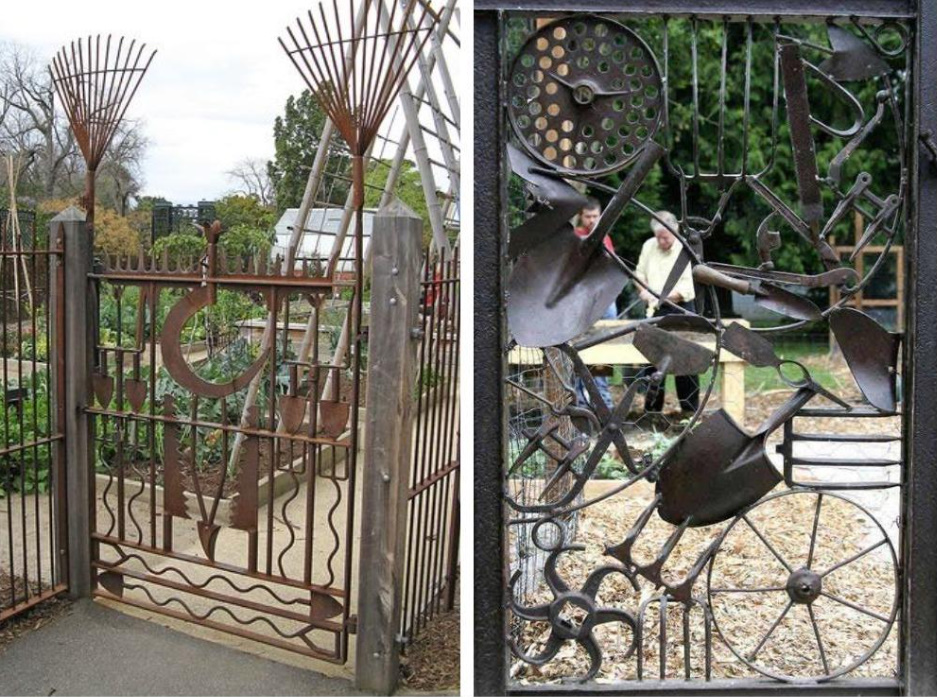 After all, what is important here: to treat the matter with a bit of humor and, of course, to correctly correlate the flight of your design idea with the style of the site and the surrounding landscape: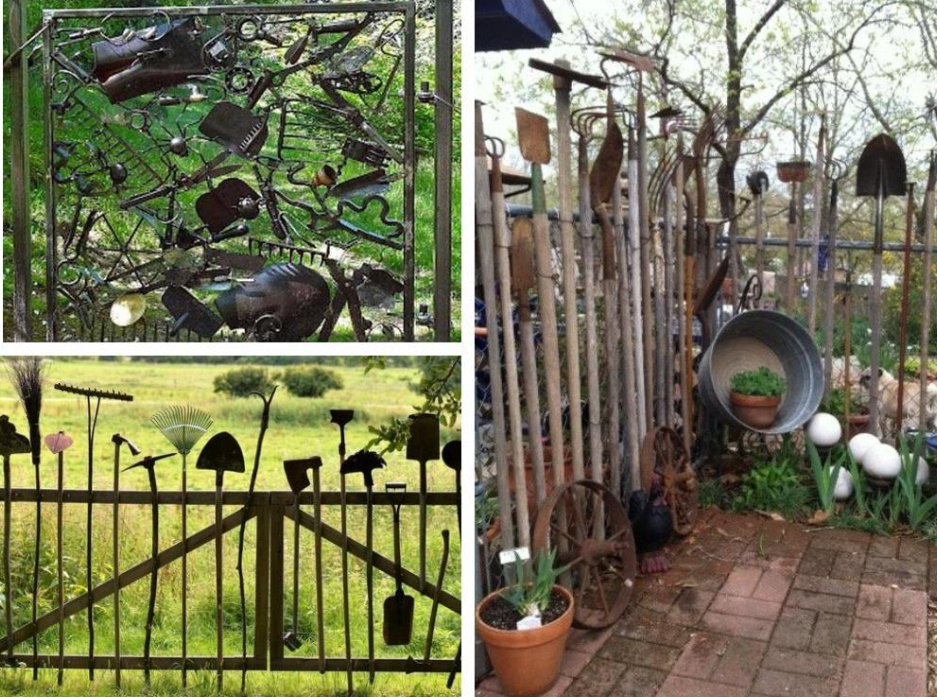 But if you like original crafts from seemingly unnecessary things, these ideas can inspire you to be creative.
For artists — young and not so
Do you want something more aesthetic, not so much like a junk dump? You are welcome! A fence in the form of a set of colored pencils is not a new idea, but it has not become worse from its popularity.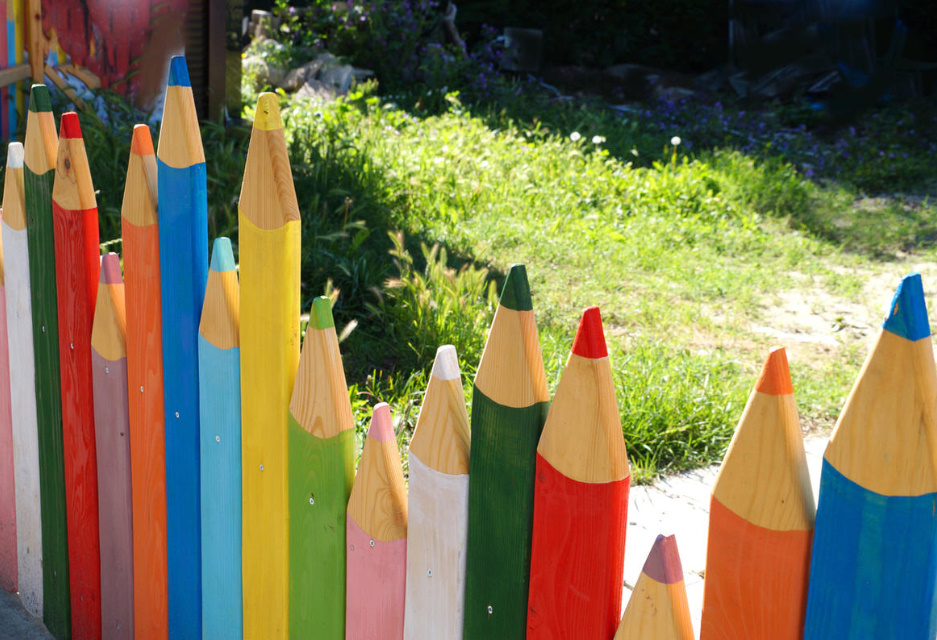 By the way, please note: it is not necessary to look for round blanks, the photo above shows that even an ordinary picket fence can be sharpened and painted. And if you are against extra variegation, color only the tips of the "pencils" — as in the picture below on the left: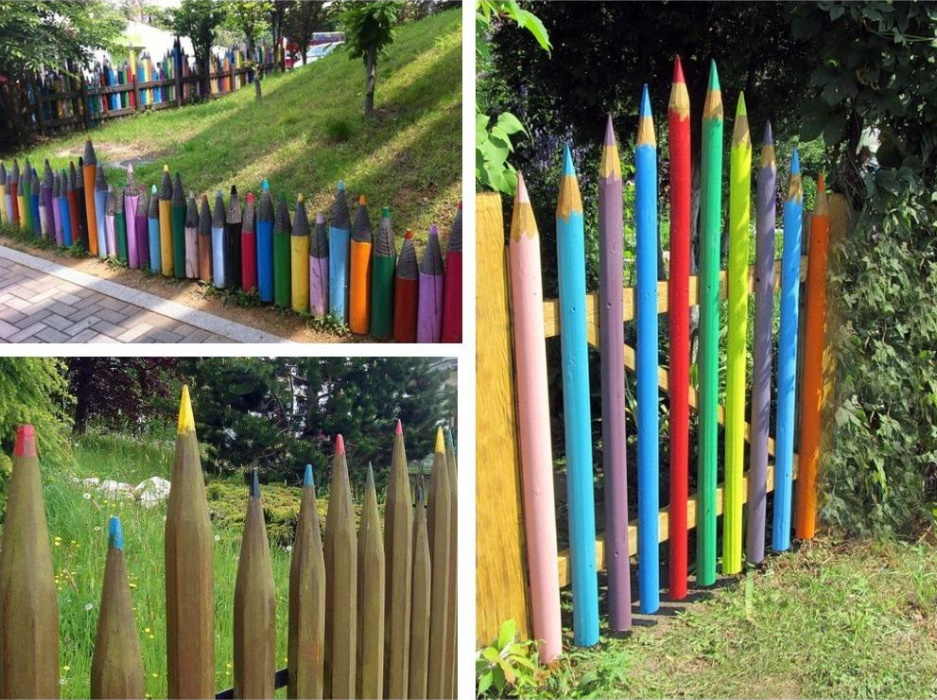 In the end, you can just paint the existing fence in all the colors of the rainbow — it will turn out bright and fun.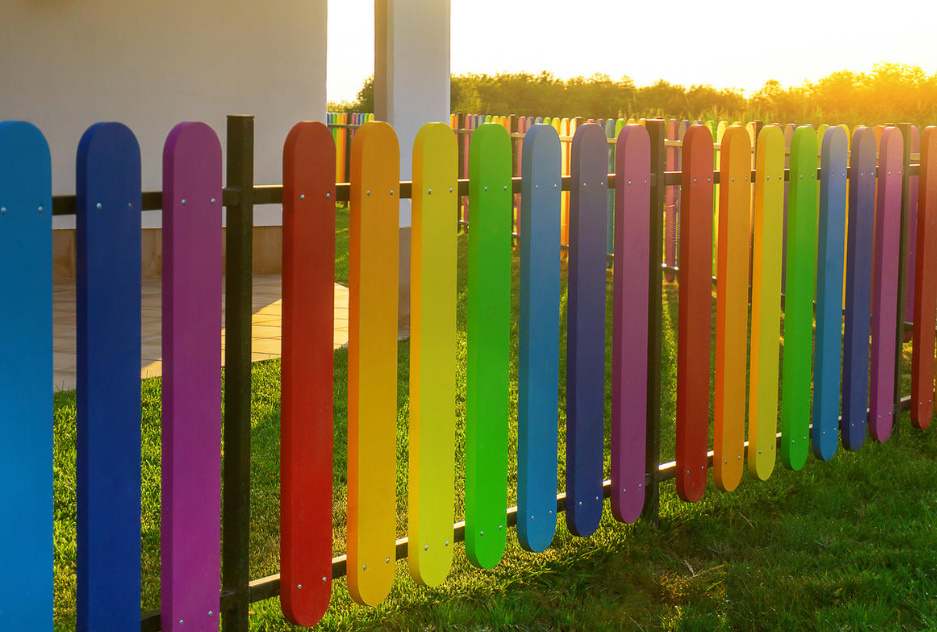 And if you are too lazy to paint each board, make sections of the fence colorful: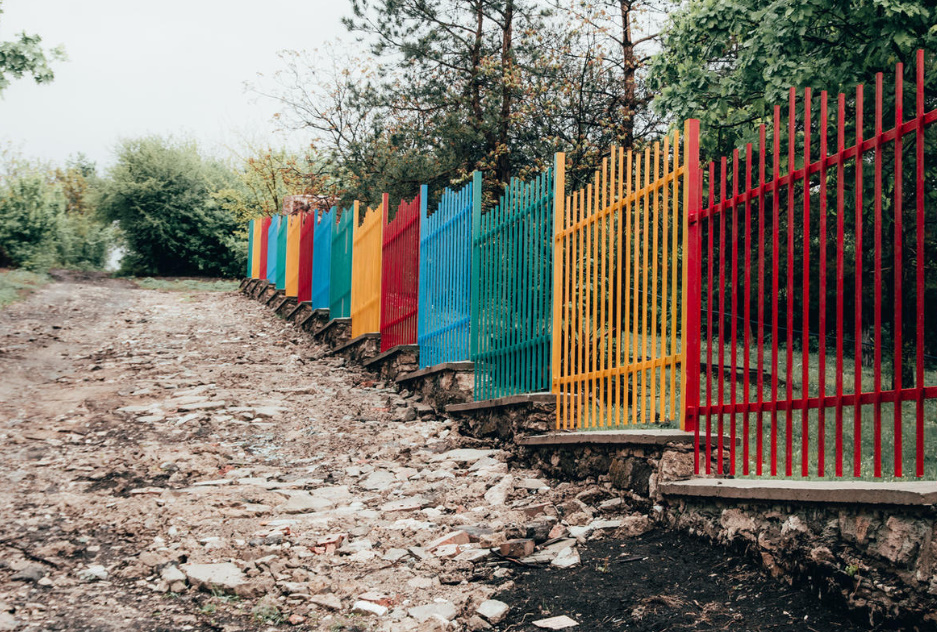 Fences for patchwork fans
Those who love this kind of needlework may be close to country fences made in a similar technique: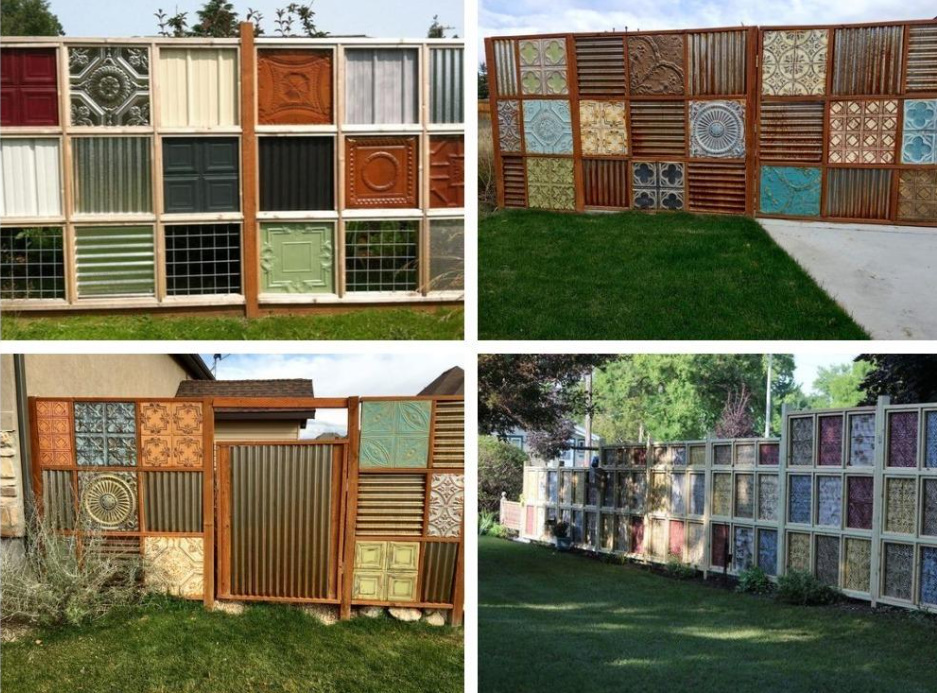 For my taste, it's too motley — but, as you know, they don't argue about tastes. Judging by the abundance of such photos, the idea is quite popular now. And if you, like me, prefer quieter solutions, take a closer look at this option: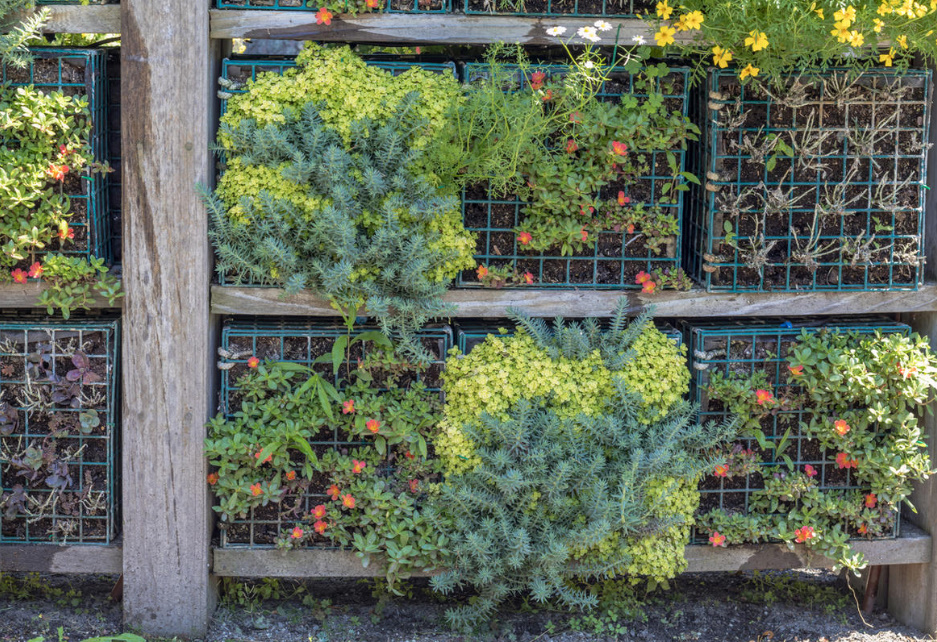 This "green patchwork" is more to my liking, and you?
What do you say? How do you like extravagant and unusual fences? I understand that there are few people who want to build something like this on their site, but if the selection has entertained you, amused you and, perhaps, pushed you to creativity, my task is done. Good mood to everyone!