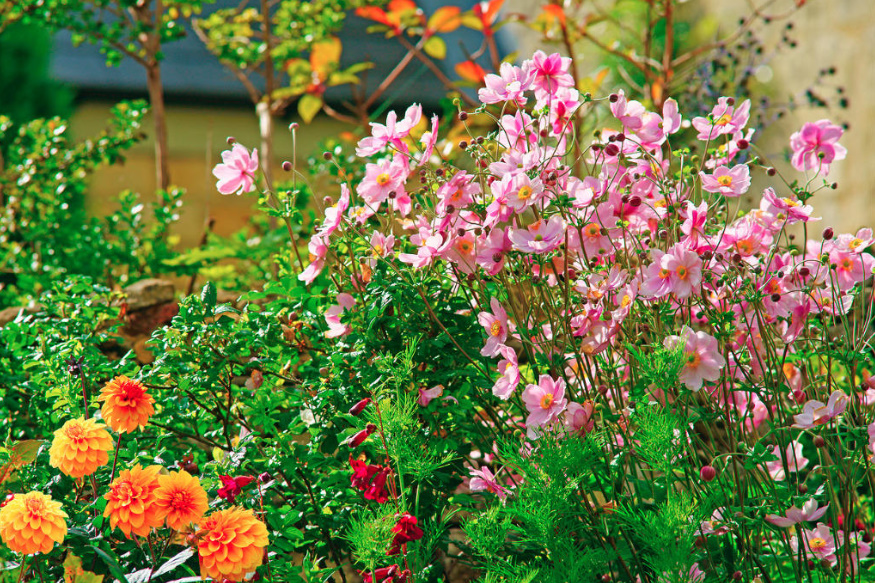 When the bright flyers have already left the garden stage, the finest hour of graceful anemones comes. These plants bloom tirelessly from August until the very first frost. The flowers of beauties are both simple and semi-double, while both are crowned with a bright yellow "crown" of stamens. In all autumn anemones, the stamens contain a lot of pollen, for which they are adored by bees, bumblebees, butterflies and other insects.
Already at the end of summer, some species of this herbaceous perennial have elegant white or pink-red flowers on thin stems blooming over rough-looking leaves. These beautiful plants give the flower beds lightness and grace.
In the photo on the left: the anemone 'Pretty Lady Emily' is better planted in the foreground of the flower garden, since compared to its sisters it is relatively short — only 40-50 cm in height. On the right: 'Honorine Jobert' with simple large white flowers reaches 90-120 cm in height.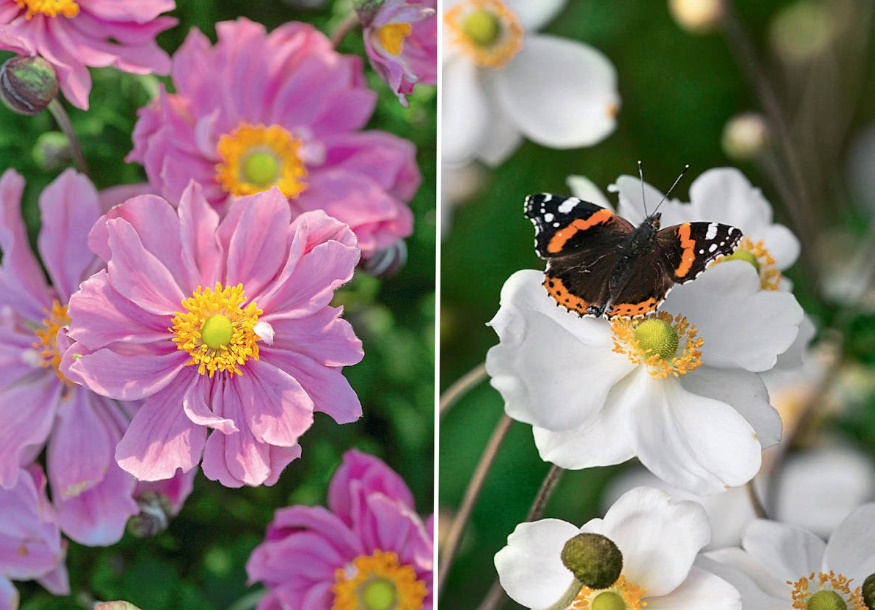 Dossier: Autumn anemones
Name: most varietal plants of hybrid origin.
Flowering time: depending on the variety, from August to October for 35-40 days.
Height: depending on the type and variety from 30 to 120 cm.
Place of growth: sunny or semi-shaded flower garden with slightly clay, fertile and moderately moist soil.
Not all types of plants belong to the autumn-flowering ones. At the end of the season, Anemone hupehensis, A. tomentosa, A. vitifolia and most varieties of A. japonica delight with their splendor.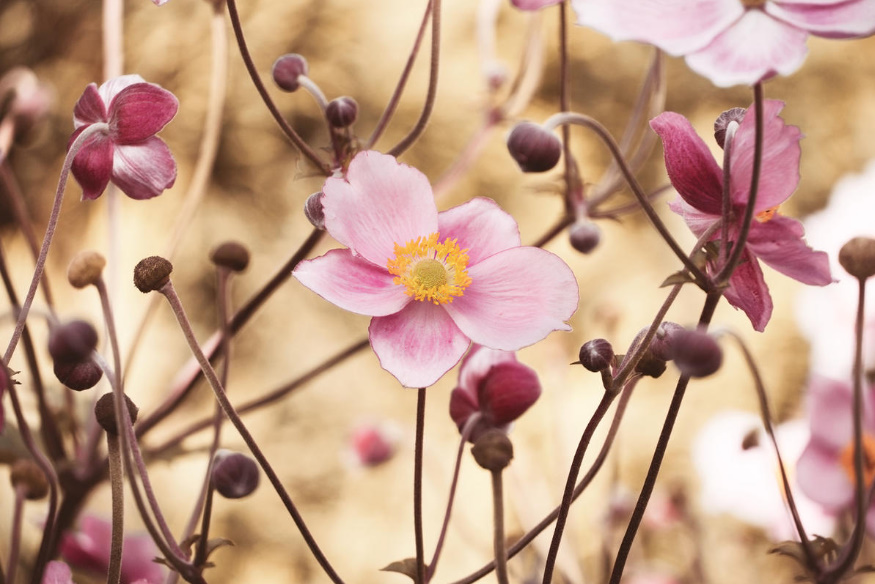 However, it is worth noting that the lion's share of the assortment has a hybrid origin, so even experts sometimes find it difficult to determine the species name, as a result of which one variety can be sold under several scientific "names". Fortunately, this does not affect the needs of plants in any way — the living conditions and care are the same for everyone.
Nuances of care
Autumn charms grow well on fertile soil in partial shade, and with good watering — and in the sun. Plants are quite unpretentious, have excellent health and with a considerable growth of individual "personalities" do not need support. In addition, they grow rapidly, forming lush flower beds.
Anemones in garden compositions
Autumn anemones in the "solo party" look best on a calm, restrained background, for example, near a hedge. This herbaceous perennial is no less good as a partner in mixed planting.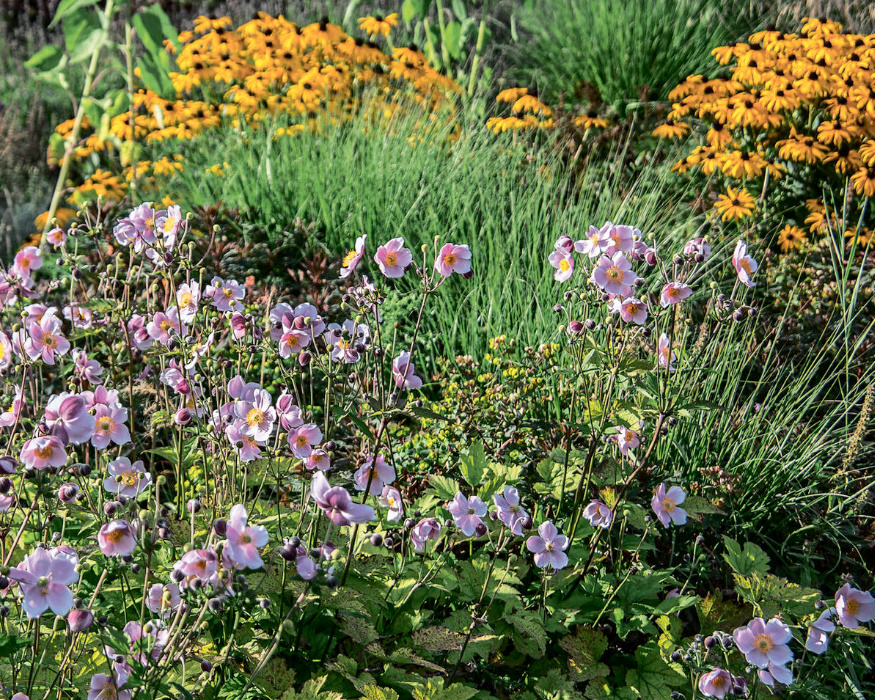 In the openwork shade, our refined heroine will be beautifully complemented by astilbes or ornamental herbaceous perennials, for example Hosta or Heuchera.
The 'Septembercharme' anemone, about 70 cm high, looks very elegant under the shade of a tree.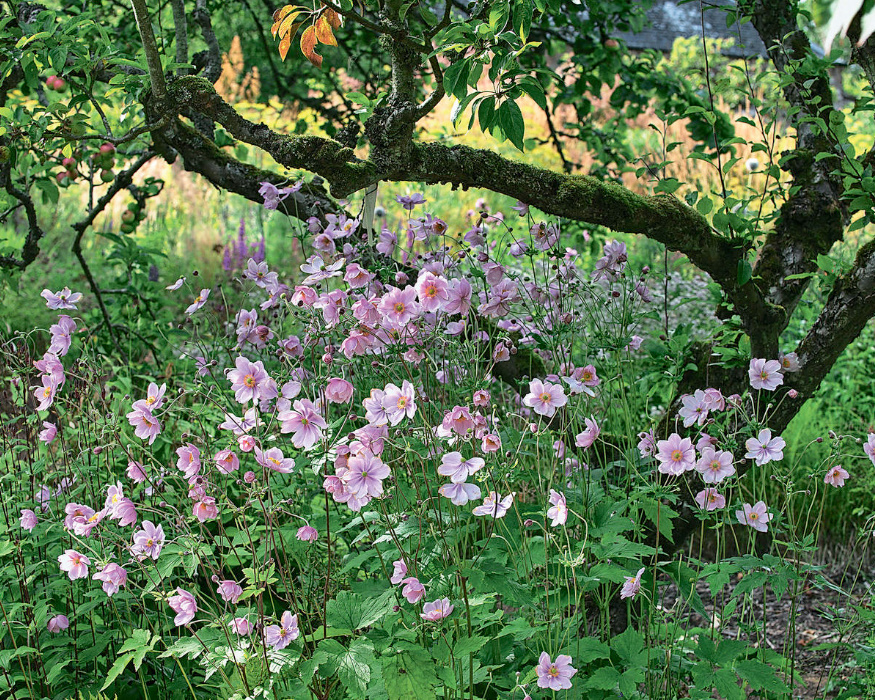 The plant blooms continuously from August to October, but provided that the soil is rich in humus. In order for this herbaceous perennial to grow lush and beautiful, the soil must be constantly moist.
In a sunny flower garden, anemones will make an ideal company for echinacea, rudbeckia, Sanguisorba or Verbena bonariensis. The flower stalks of these plants hover at the same height as the anemones.
In addition, the graceful beauty is perfectly combined with decorative herbs — such a tandem looks especially airy and gentle.
In the photo on the left, anemones, aster, Daboecia and miscanthus form a harmonious "container" union. A simple gray container was chosen for the composition, so that attention is focused on delicate flowers. On the right: the edge of the path is effectively decorated with pink anemones. Ideal conditions for the residence of these plants are created by the pergola casting an openwork shadow.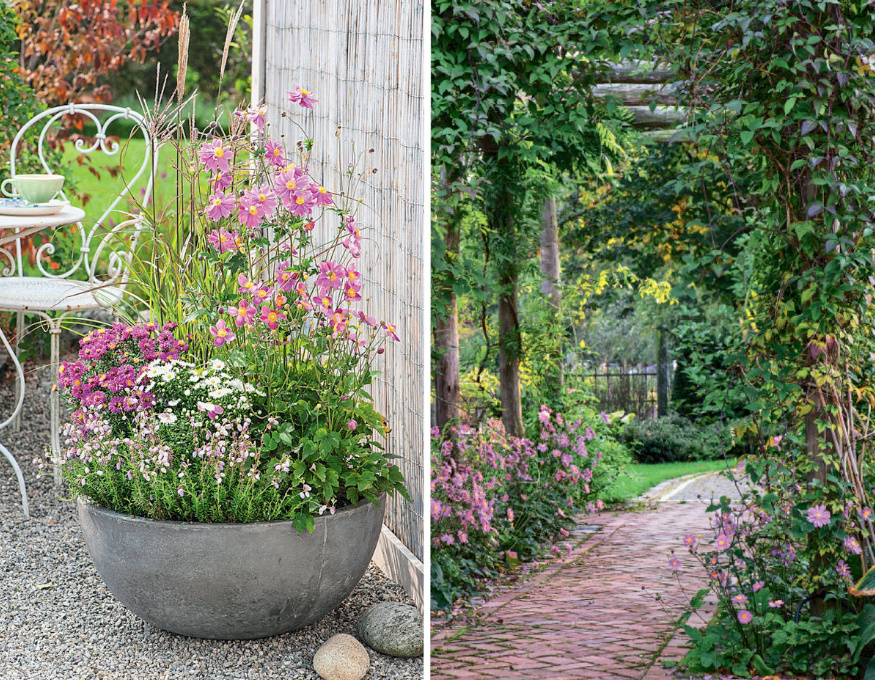 Autumn anemones are decorative not only during flowering. Before that, the bush is decorated with spherical buds, after which the peduncles are crowned with fluffy pads that remain on the stems until late autumn. The black dots in the photo below are seeds. They germinate best if sown in autumn.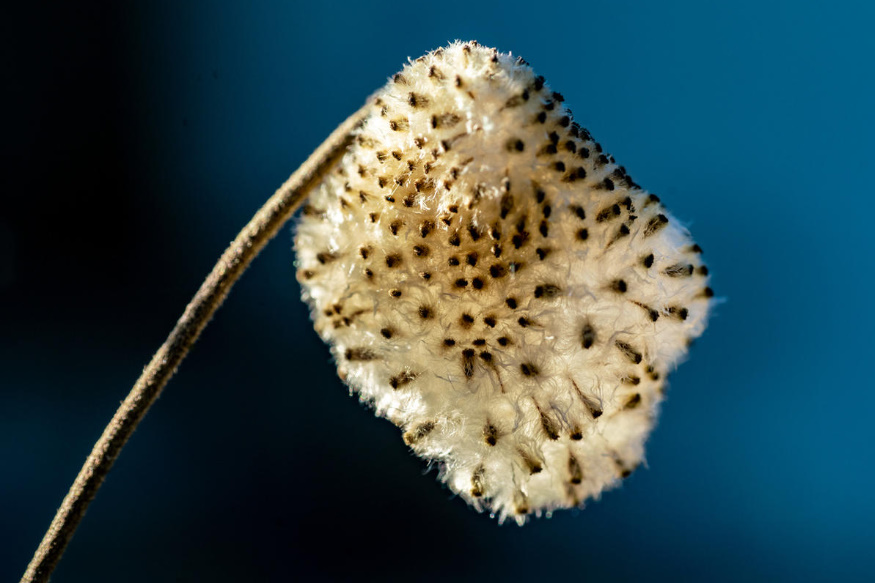 Anemones are also perfect for table decor:
Collect a small bouquet, complement it with a couple of fennel inflorescences and put it in a glass wrapped in birch bark – it's done!
A bouquet with anemone, hydrangea and Sedum inflorescences and a bunch of grapes looks in a simple bucket. If desired, the composition can be supplemented with fruits or leaves.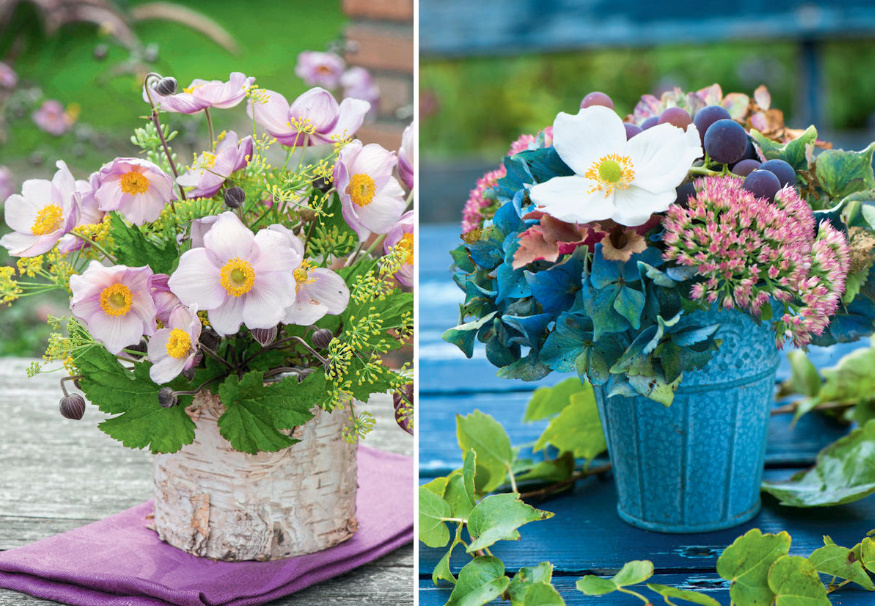 Important: to make the anemones last longer, cut them off when only the upper buds have blossomed on the stem.
Secrets of planting and breeding autumn anemones
Autumn-flowering anemones are hardy, but they take longer to take root in the flower garden than other representatives of the flora. Therefore, it is better to plant them in the spring and carefully cover them with fallen leaves in the first winter. As soon as the plant is securely rooted in a new place, there is no need to bother around it anymore.
Important: when choosing a place in the garden, keep in mind that anemones are not tolerated well.
Anemones are easily propagated by root cuttings. You can get a varietal plant with all its inherent characteristics as follows:
Dig out the "pet" after flowering and cut off a couple of well-developed rhizomes.
With a sharp knife, divide them into segments 5-7 cm long . At the same time, make the upper cut even, and the lower one oblique, because if the stalk is planted "upside down", it will not grow roots.
Fill the pots with the substrate, vertically insert one stalk into each container level with the substrate.
Place the containers in a bright, frost-free room and do not allow the substrate to dry out before rooting.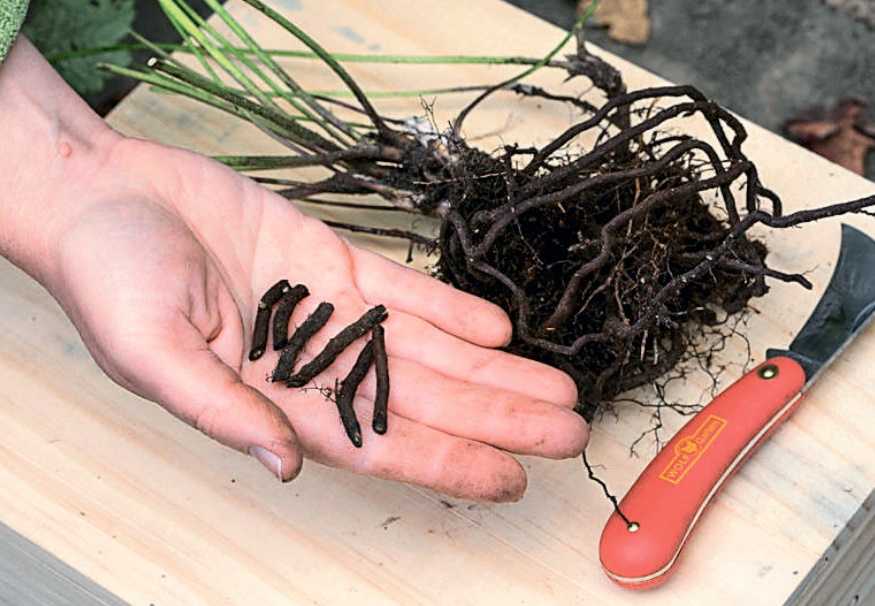 Anemones grow rapidly due to root offspring, so in a couple of years one plant occupies an area of up to one square meter.