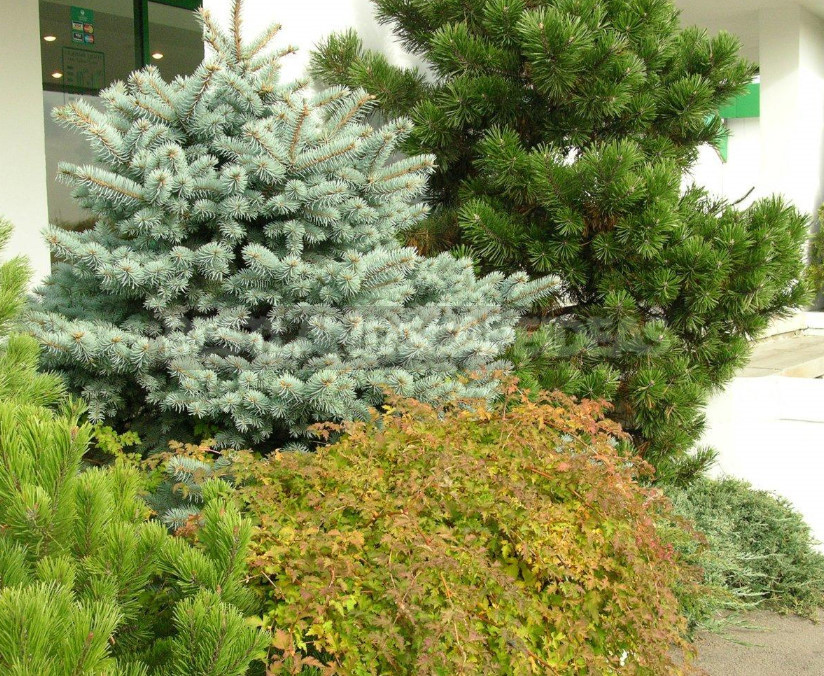 Today we will talk about blue Christmas trees, which are so popular with modern gardeners.
Why are they blue?
They are usually green, but some spruce species have blue shapes, sometimes found in nature. They are especially welcome in ornamental gardening. And some species of fir can boast a bluish color as a characteristic feature. This shade gives the needles an excess layer of wax, always covering it to varying degrees. In some cases, this feature is due to light stripes-places of accumulation of stomata (holes for breathing), which stretch along the needles.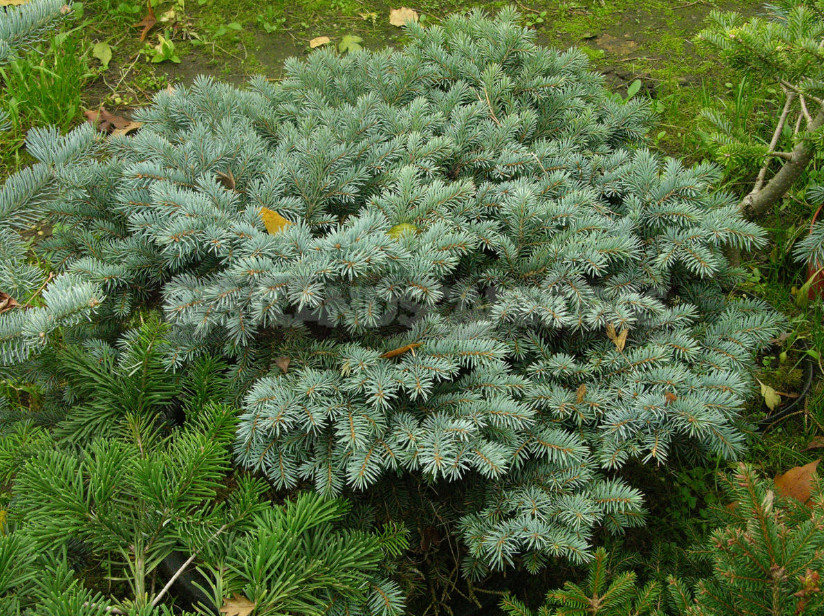 What color is considered blue is a personal matter for everyone. In botanical descriptions, they have the form:
Glauca – grey,
Coerulea – blue,
Argentea – silver.
But there are no clear boundaries between them. Most of the varieties of firs that we call blue or even silver are derived from the forms called "glauca" in Latin.
Signs of spruce (Picea)
The needles are tetrahedral or flat, with the keel sitting on an elevation (a fold of the bark) and for some reason turned upside down. The cone hangs, matures in the fall, opens its scales, and pours out its treasures. The bark is brownish-gray, rather smooth, thin, cracks into pieces, and resin oozes out of it.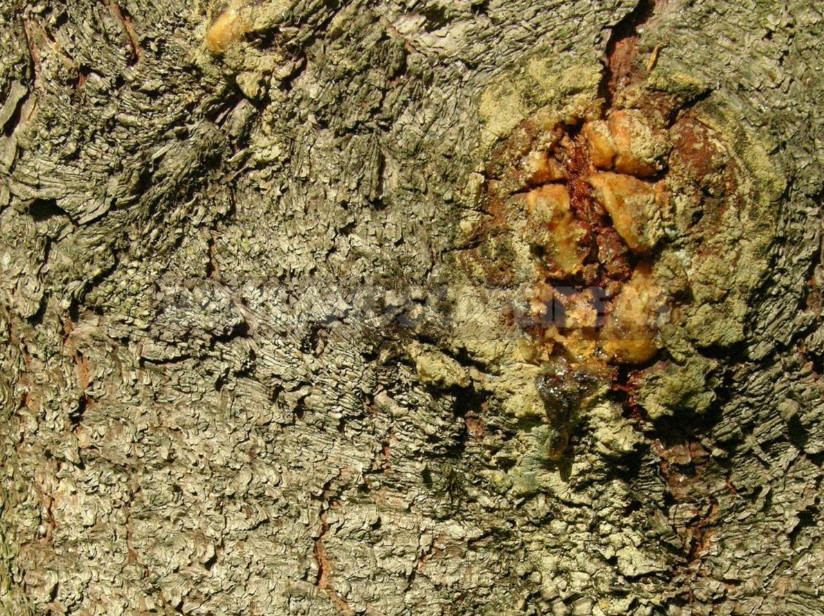 Picea Pungens
Picea pungens is really prickly. Its branches are bristled with stiff pointed needles 2-3 cm (1.2-1.6 inch) long. The cone is the same shape as a regular spruce, but slightly smaller, and its scales are lighter, thinner and wavy. It lives in the Western states of the United States – Colorado and Wyoming.
In general, this spruce is the most common in urban landscaping. Squares, boulevards of many cities (especially ceremonial ones, near state institutions) are decorated with slender rows of blue pyramids. The dominance of these pure-blooded Americans in strategic locations is not ideological sabotage. Their mission is extremely humane. The fact is that prickly spruce is very resistant to urban conditions: gas pollution, chemical pollution and soil compaction, so this is an excellent option to entrust it with such dangerous tasks for conifers as landscaping streets and squares.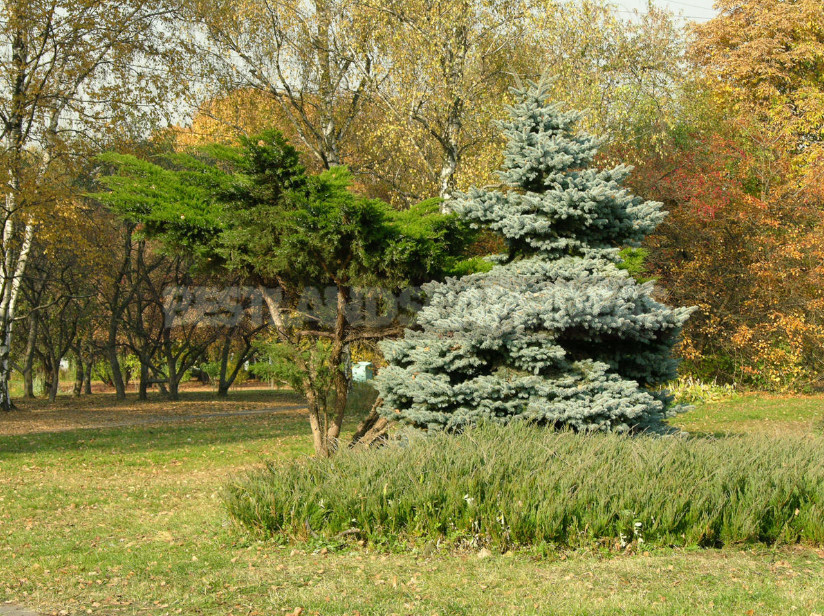 Blue spruce was introduced to cultivation in 1862, and since then nurseries in different countries have bred geometrically correct and hardy varieties-pyramids for landscaping cities and selecting all sorts of curiosities for private owners. Special attention is paid to the blue uniform.
From more or less large "urban" varieties can be called 'Hoto', which is well cut; 'Hoopsii' – very blue, but bad cut; popular – 'Koster'. Other varieties of this group- 'Oldenburg', 'Omega', 'Moerheimii', 'Snowkist', 'Thomsen'.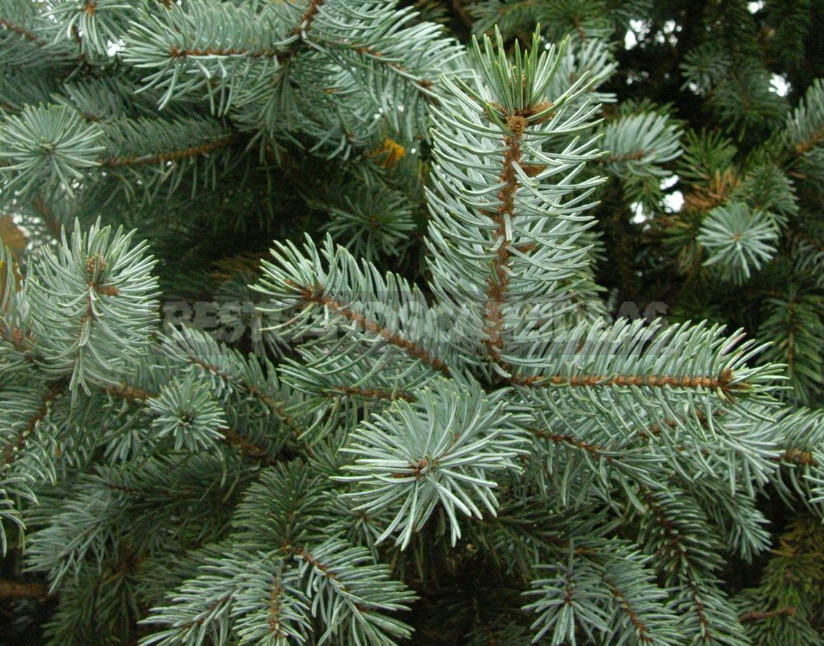 List of Blue Spruce
From the original low forms, we were often sold 'Glauca Globosa' – a "Slow" variety of flattened shape. The other variation is less common, although they appear in many ways. Among them:
'Montgomery' – with the shape of the crown in the form of a regular hemisphere with a central leader;
'Gloria', 'Jean Iseli', 'Saint Mary', 'Toume' – with a shapeless crown;
'First Bismarck' – with elongated branches and strongly blue needles;
'Glauca Prostrata' – with an elongated crown in the form of a wave;
'Glauca Procumbens' – with a creeping crown;
'Glauca Pendula' – with irregular hanging branches;
'Blue totem' and 'Iseli Fastigiate' – with branches sticking up, forming a narrow, like a tongue of flame, crown;
'Copeland' – with a weak, crooked, like a wind-beaten crown-pyramid;
'Fat Albert' is a very prickly, pugnacious variety with good growth.
Picea engelmannii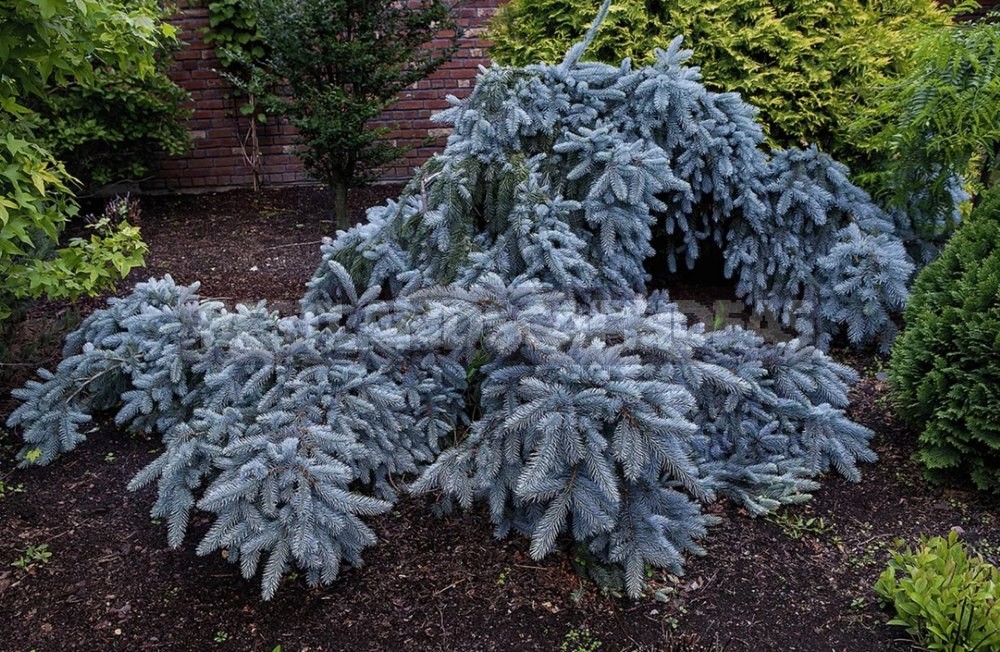 Picea engelmannii is similar to its countryman prickly spruce. They are distinguished by pubescent young shoots, softer needles and small cones. Despite its vast natural area, it is cultivated much less frequently and has few decorative forms. It is an industrial wood that is used as planks for furniture or as a useful resin for other products. The most beautiful thing about this variation is that it sometimes takes on a beautiful blue uniform.
Picea glauca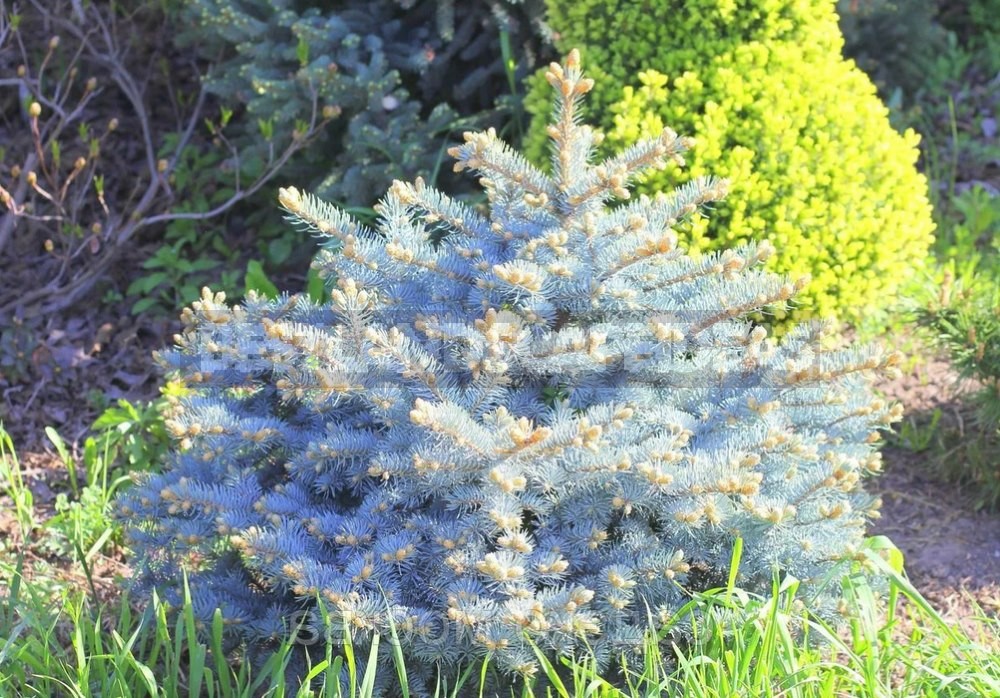 It is characterized by a dense crown, bluish leaves-needles and a small (3.5-5 cm – 1.4-2 inch) cone with thin wavy rounded scales. It has both bluish-green and blue forms in nature.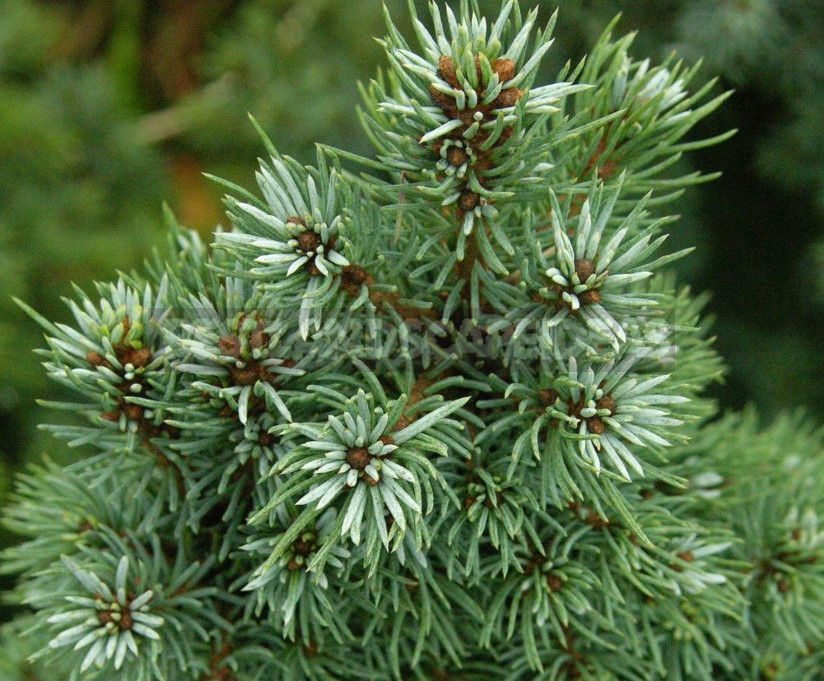 Its dwarf varieties are widely distributed. 'Alberta Blue' is a mutation of the famous 'Conika' variety.
'Arneson's Blue Variegated' is the same, but only some branches tend to turn back
The 'Blue Wonder' and 'Sanders Blue' are small tree pyramids
'Blue Planet' – a dense ball with protruding branches (Resembles the shape of a hedgehog)
'Coerulea' is a silvery, slow-growing variety, but in shape — a tree-like tree.
In these varieties, the blue shade is most pronounced, but many others have it to some extent as a species characteristic, i.e. characteristic of this spruce by nature.
Picea mariana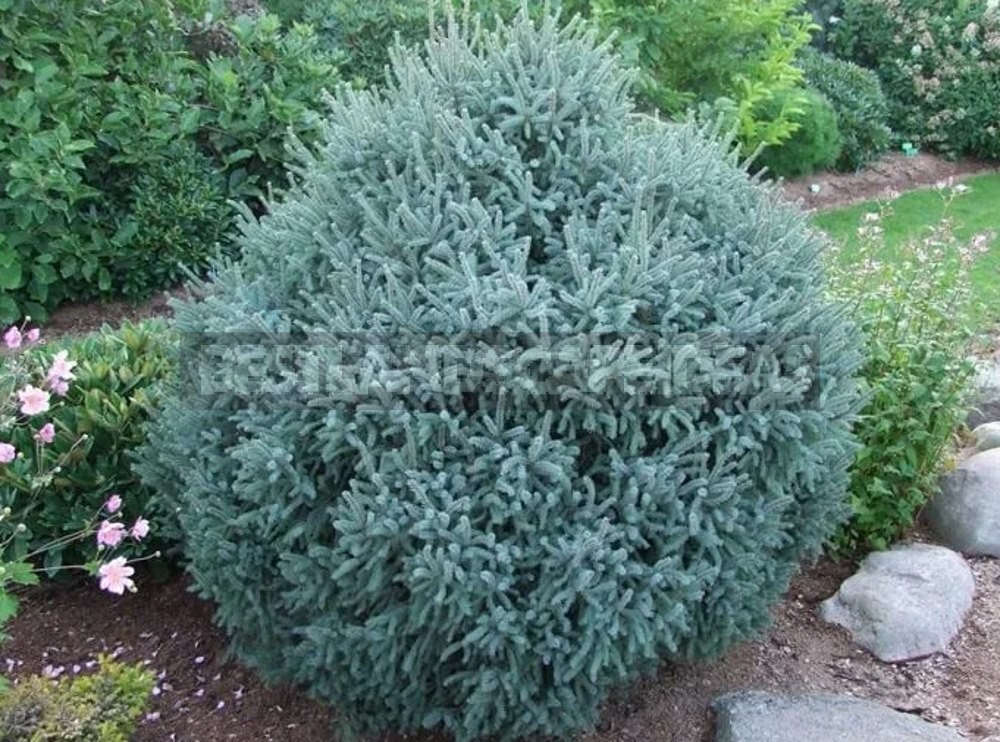 Picea mariana spruce is native to Canada and the Northern United States. A very slender tree with thin hanging branches and an irregular crowd. The needles are dull, dark, with a bluish tinge, the light stomatal stripes are especially wide on the upper (facing the line) side. The cones are very small (up to 3.5 cm – 1.4 inch), dark purple to maturity. Dense dwarf varieties with perfectly short branches have an exaggerated blue hue due to the stomatal stripes clearly visible on the protruding short needles: "Beisner", "Ericoides", finally, "Nana" – an old variety that includes more than one clone.
Picea sitchensis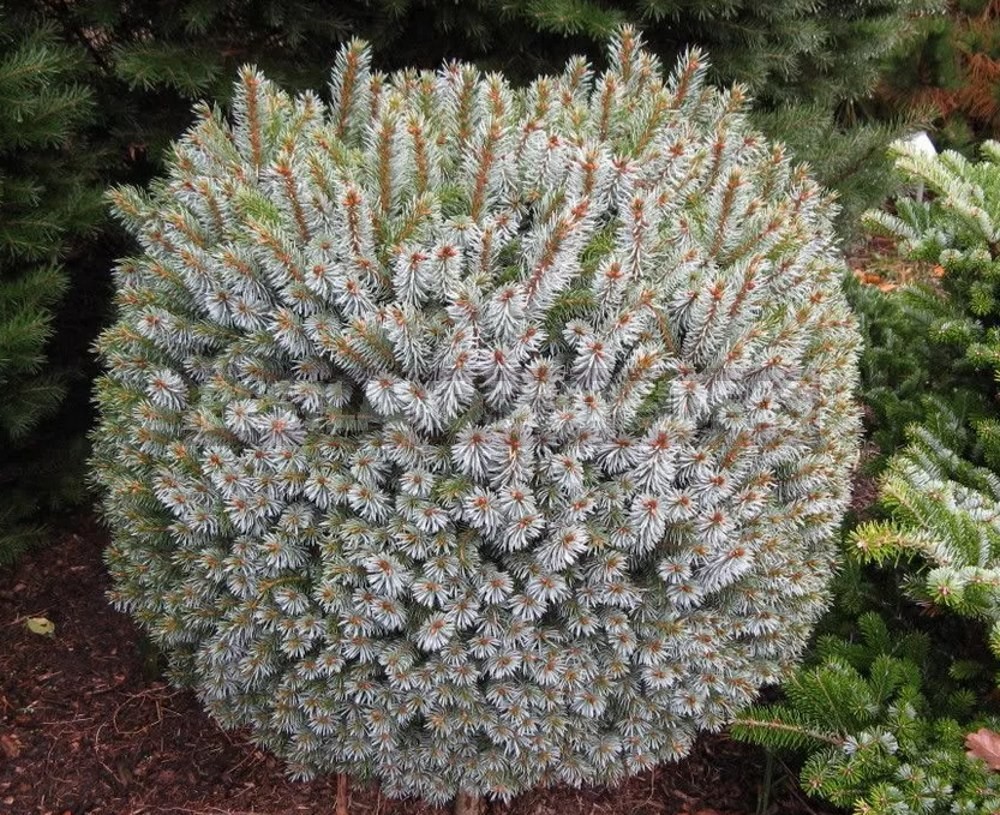 Picea sitchensis is found in Western North America. Long (up to 2.5 cm – 1 inch) very barbed needles are tapered. They silver from stomatal strips, but better visible shiny bright green underside. Grow pretty dwarf varieties – witches broom with tousled needles: 'Nana', 'Papoose', 'Renken', 'Siberzwerg', 'Strypemonde'.
Picea sitchensis is found in western North America. The long (up to 2.5 cm – 1 inch) very prickly needles are pointed. They are silvery from the stomatal stripes, but the shiny bright green underside is better visible. Grow quite dwarf varieties – Witch Brooms with ruffled needles: 'Nana', 'Papoose', 'Renken', 'Stripemonde'.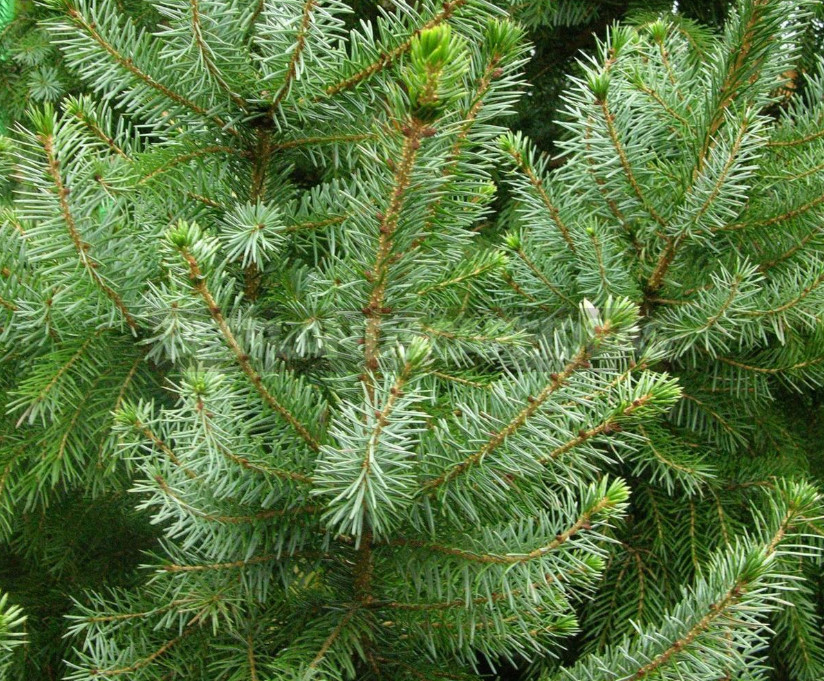 Picea omorica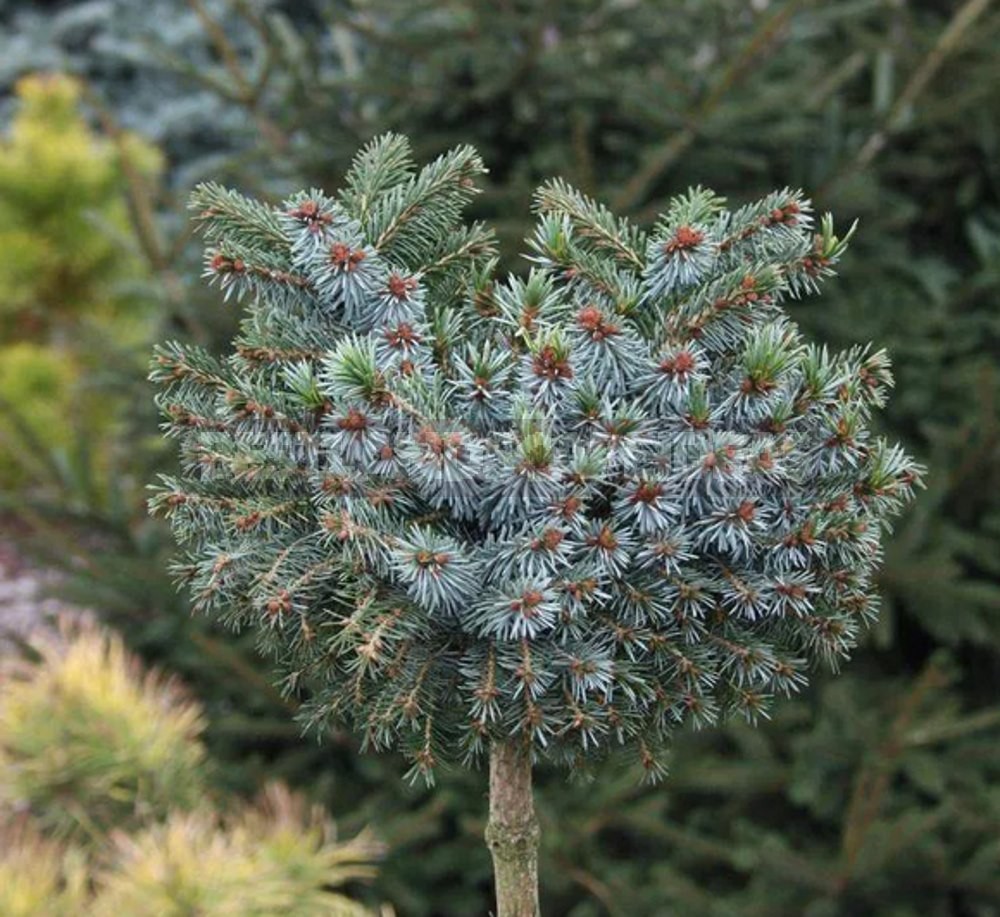 Picea omorica, which is native to the mountains of Yugoslavia, is dressed in flat needles of the same color – 'Day and night', but it is not as spiny and shorter. A narrow dense spruce, beautiful in itself, has many dwarf varieties – pyramids and balls. Interesting, for example, is the shimmering "Treblitzsch", which depicts both sides of the needles: silver, green.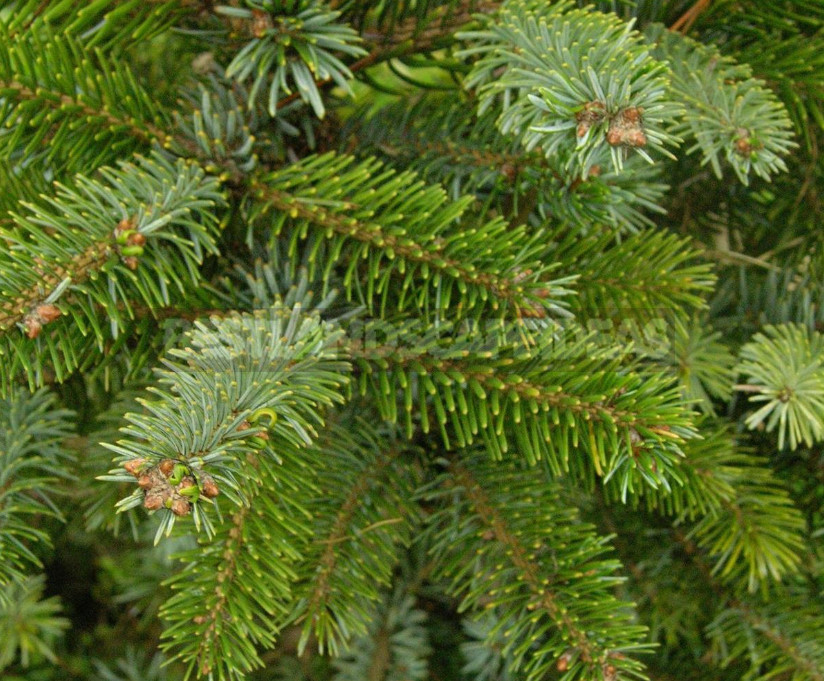 Picea obovata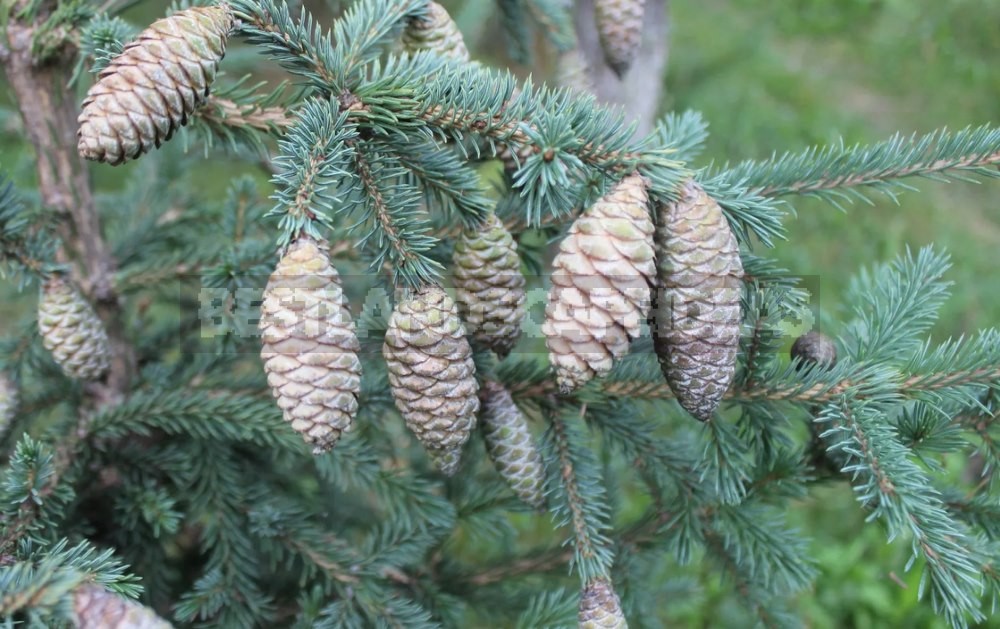 Picea obovata, on closer inspection, is similar to the common Picea abies Christmas tree. You will have an inconspicuous pubescence of young shoots and smooth, not jagged scales. These trees are very clearly visible in the distance.
Crossing it from west to east, you can see how the wide, dilapidated triangles of the common spruce are gradually replaced by the narrow, tight peaks of the Siberian spruce (Note that this may be replaced with Serbian Spruce when searching, which is incorrect).