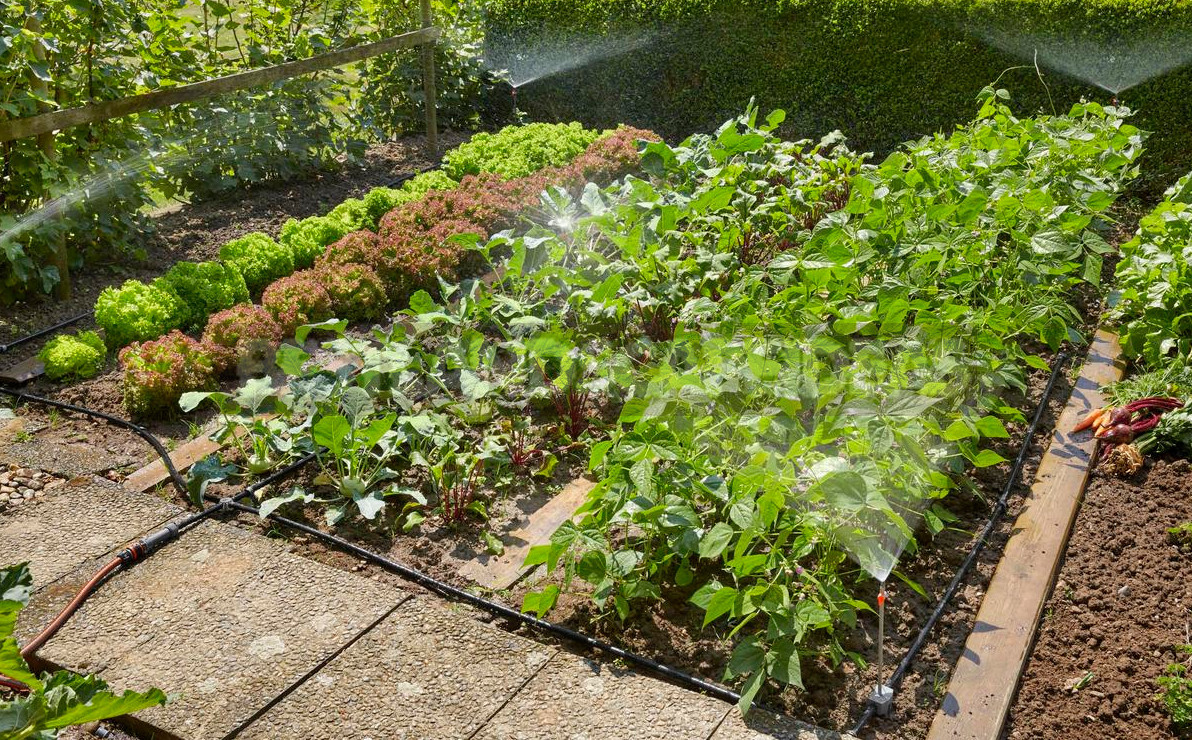 For people far from country concerns, the work of the owner of the garden is associated with a hoe and a watering can: constant weeding and watering, watering and weeding. But this is because not having a suburban area is simply "off topic". In shops the range of the subjects intended for country rest – various hammocks, braziers, chaise Lounges and other racquets for badminton, almost more, than shovels, hoes and hoses for watering. From this we can conclude that giving today — not such a heavy load, as is commonly believed.
Drip irrigation system — one of these inventions, which optimized the work on the beds, leaving a lot of time for pleasant summer activities. Now we will understand where it is convenient to use the drip irrigation system and what are the advantages of this method of soil moisture. If you are just thinking about the transition to new technological ways of gardening, you will surely find a lot of useful things.
Background
Crop production is impossible without water, so watering is one of the most important elements of agricultural technology. From the very first agricultural experience, people faced the need to deliver life-giving moisture to their crops. He dug ditches and carried water with watering cans, and when nothing helped and the drought destroyed the crops, he turned to the victims and pleaded for rain to the gods.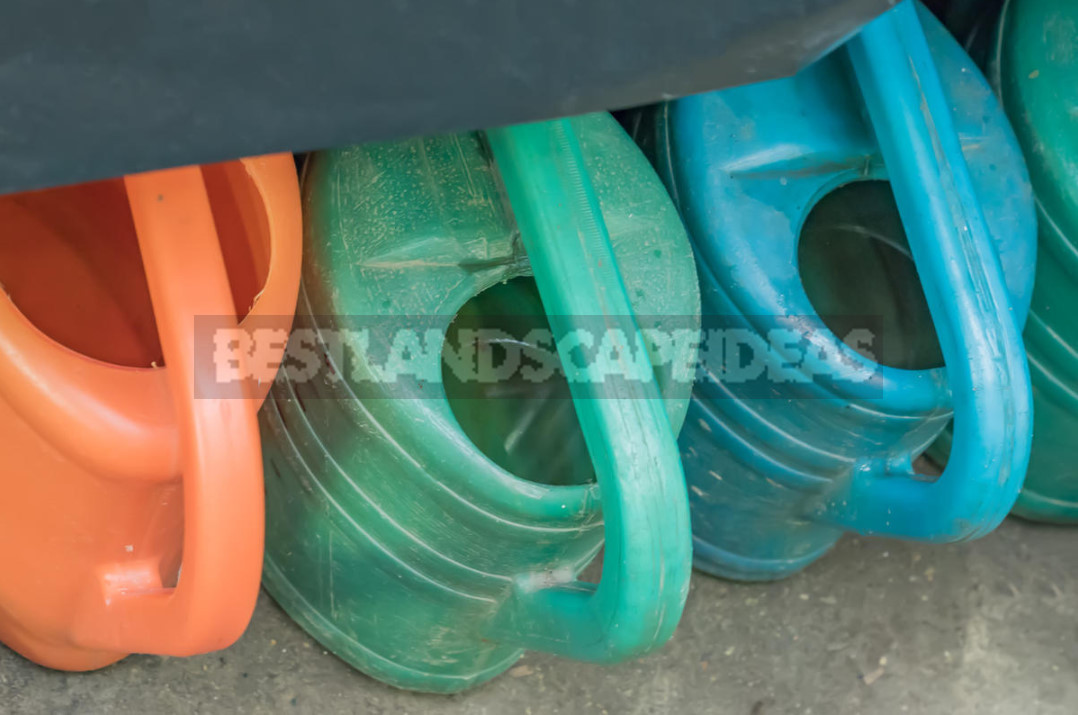 Since then, much has changed, except one: for a good harvest needs watering. And most acutely aware of this in those countries where water is scarce. For example, in Israel. Since the 50s of the last century in this country began development, and then the successful use of drip irrigation. In this method of irrigation water is not supplied to the entire area of planting, and point — in the root zone of plants.
Thus, the amount of liquid required for the development of plants is significantly reduced — at least twice. And along the way saves labor, energy and other resources. Initially, this method was used only in greenhouses, but today it is recognized as more effective than traditional types of irrigation, and in large fields, and in gardens and vineyards.
Why drip watering is better than the usual watering can
The main and obvious advantage is obvious — saving water and energy. Not every gardener has plenty of water for watering, and how hard it is to carry a watering can, probably, can imagine even someone who has never done it. Given that each vegetable plant with conventional watering needs from 5 to 10 liters of water, a lot of effort is required.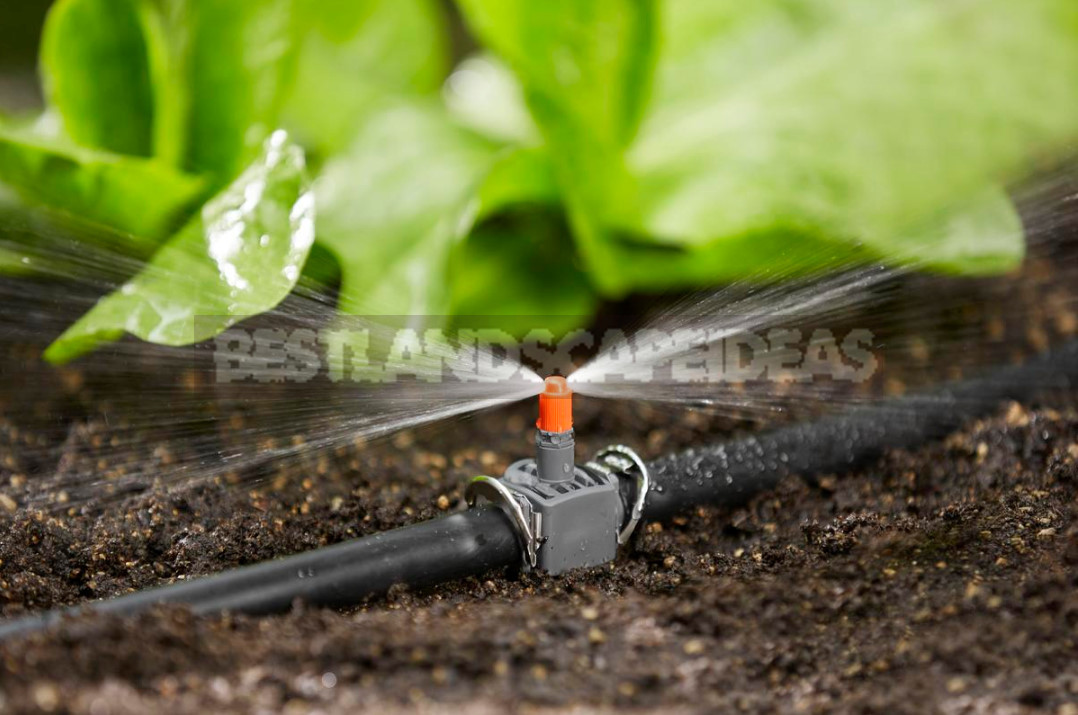 But drip irrigation has other advantages over sprinkling or furrowing.
Water comes constantly — no stress from drying out. Of course, our plants have mechanisms for coping with drought. But why waste the power of plants to fight for life? After all, we do not grow Spartans, and vegetables.
Drip irrigation, unlike sprinkling, does not contribute to the development of rot and fungal diseases.
Watering the furrows, we simultaneously make a large amount of water. It compacts the soil, displacing oxygen from it, and after watering loosening is required. When drip irrigation of this seal is not observed: minus one garden work, and in addition, the plants feel much better in the soil filled with oxygen.
Drip system — is the ability to water the garden even at a time when you are not in the country. Properly configured, she will do everything herself. And equipped with a watering timer, it will be able to work completely independently — on a given schedule.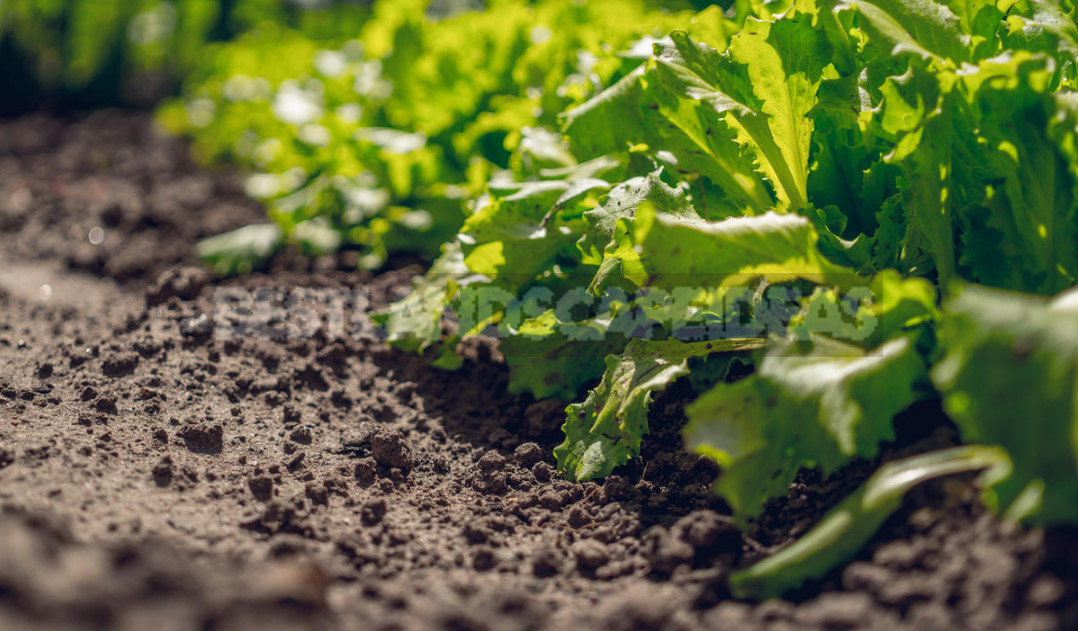 And most importantly: regular watering, which gives drip irrigation, increases the yield of the crop by almost 10 times and allows you to grow vegetables and beautiful gardens where, it would seem, can feel good only gray wormwood. So, according to experts, when growing tomatoes in the open ground in the South of our country:
under furrow irrigation the yield is 20 t/ha;
when watering by sprinkling — 60 t/ha;
with drip irrigation — up to 180 t/ha.
The structure and operation of drip irrigation
Drip irrigation system is a complex that includes a water intake and filtration unit, main and distributing pipelines and drip lines. This may also include a fertigation unit, if you plan to use a drip tape to make fertilizers, plant protection products, biostimulants and so on.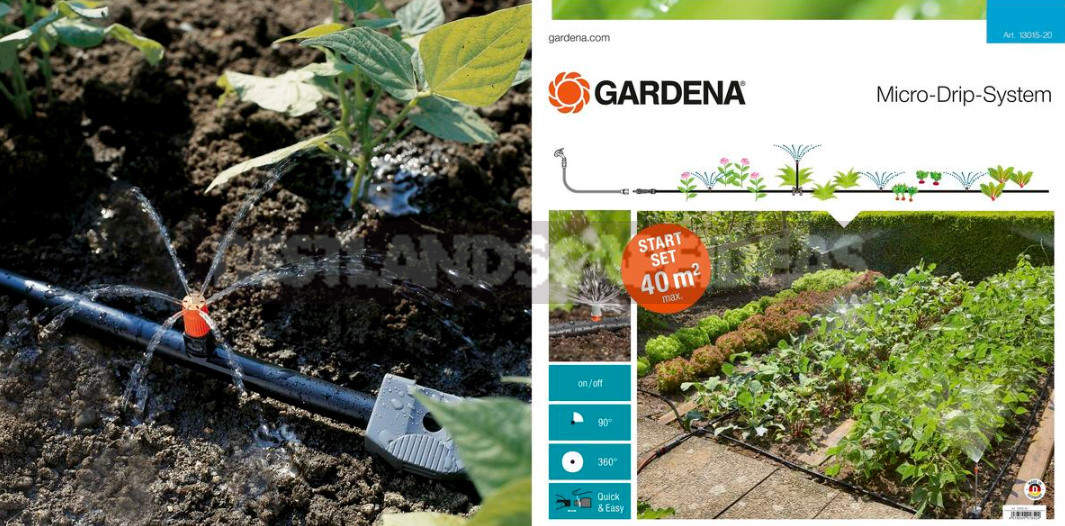 Water supply to plants can occur in several ways:
through a drip hose. Under the plant is placed a hose with holes and a muffled end.
through a drip tape, which is a flat polyethylene tube with holes;
through special nozzles (droppers) mounted on a dilution pipeline (micro-drip irrigation).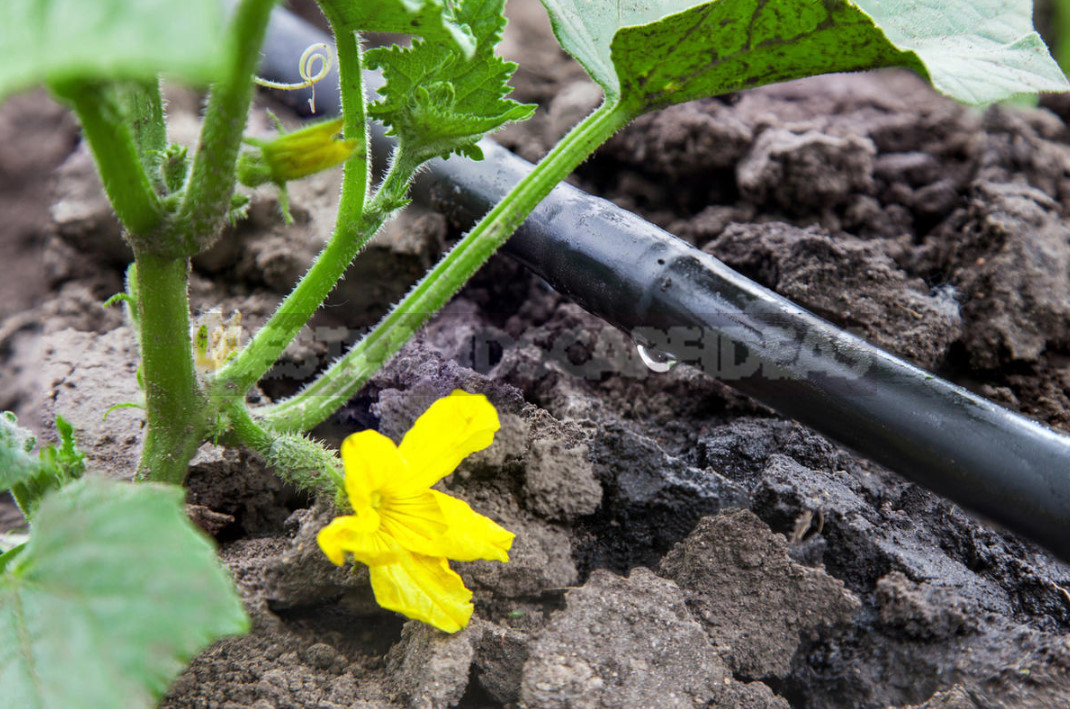 When choosing components for the drip irrigation system, it is worth paying attention to the fact that the tapes and hoses can be compensated and uncompensated. In the first, the amount of water supplied to each of the plants does not depend on the length of the bed and the slope — it is about the same everywhere. Uncompensated water is supplied unevenly.
For a small area, for example, beds or greenhouses, this unevenness is not of great importance, and the drip irrigation system can be assembled on the basis of uncompensated hoses or even do it yourself, perforating the usual watering hose. More complex solutions (irrigation of large areas or connection of automation) will require a uniform water supply, which means that the purchase of components with compensated water loss.
Where it is convenient to use drip irrigation system
The answer to this question is simple: wherever you need watering plants. Drip irrigation is used for both indoor and outdoor. In this way, you can constantly water the famous "water pumps" — cucumbers or cabbage. It is easy to provide watering on a strawberry bed at the time when it is most necessary — during flowering and filling of berries. After all, the root system of strawberry garden fibrous and is not adapted to extract water from the depth.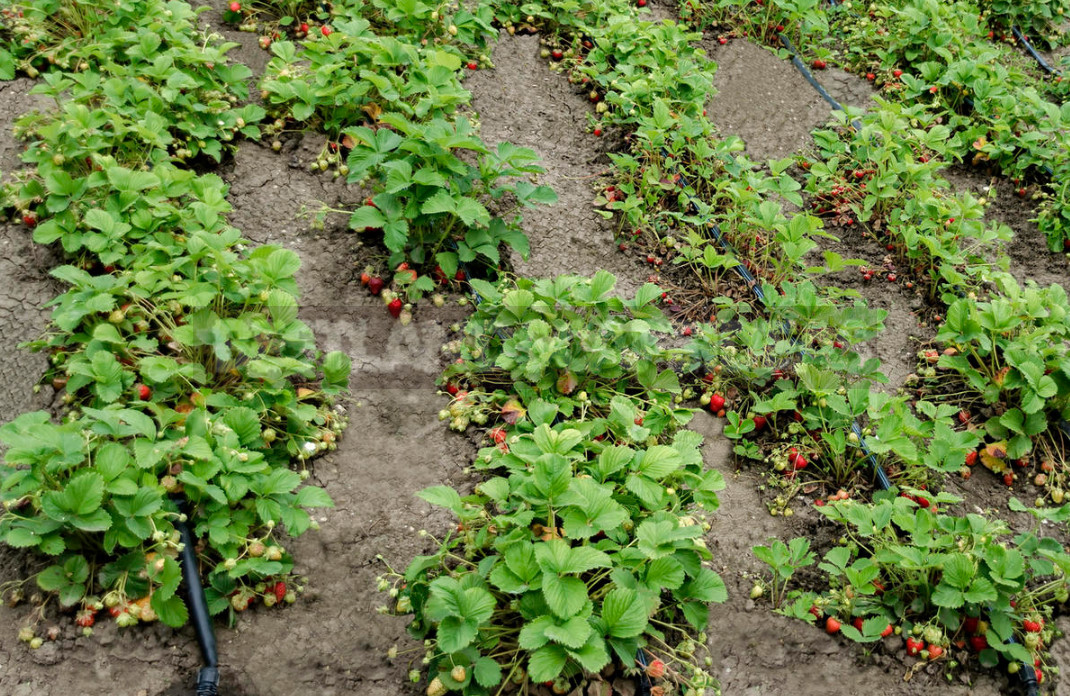 Drip hose can be laid in the flower garden, and under the berry bushes, and under the fruit trees. Or, on the contrary, to organize regular moistening of plants in containers and pots on the terrace or balcony — yet growers know how quickly the heat dries the soil in the pots.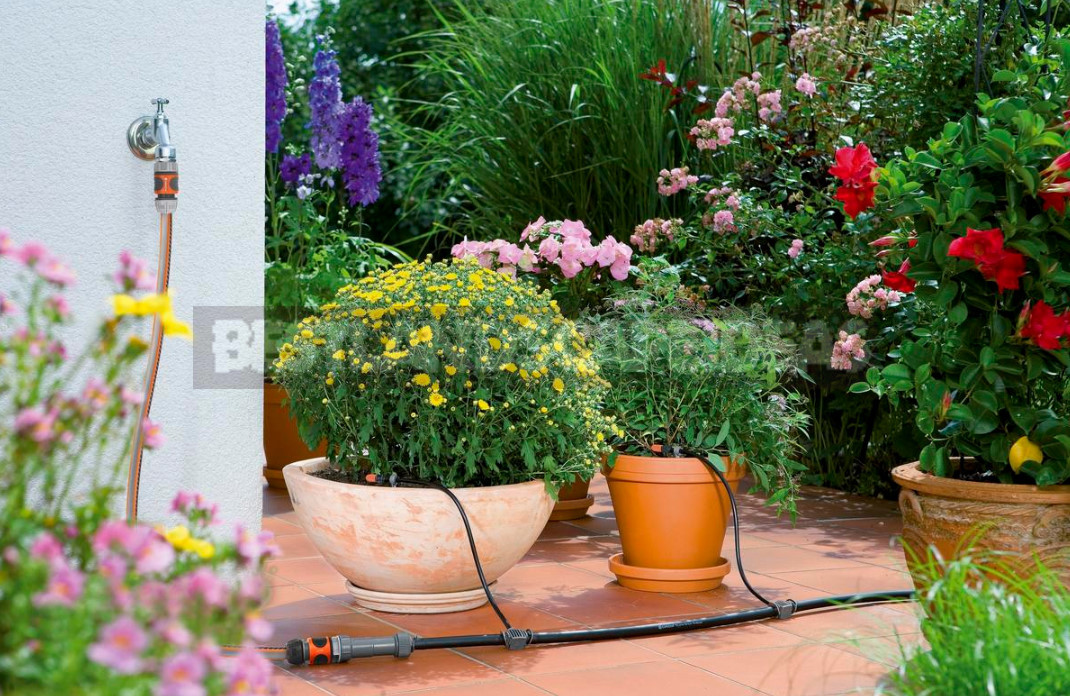 And of course, drip irrigation is indispensable in the closed ground. If other areas of the garden, you can use a sprinkler or other irrigation methods, in the cramped conditions of suburban greenhouses is not particularly unfold, especially during the peak season, when tomatoes have reached their full growth and are hung with clusters of fruit. Installing drip hoses, you can not worry about tomatoes and peppers, leaving the country: even in the hottest days your Pets will not suffer from thirst.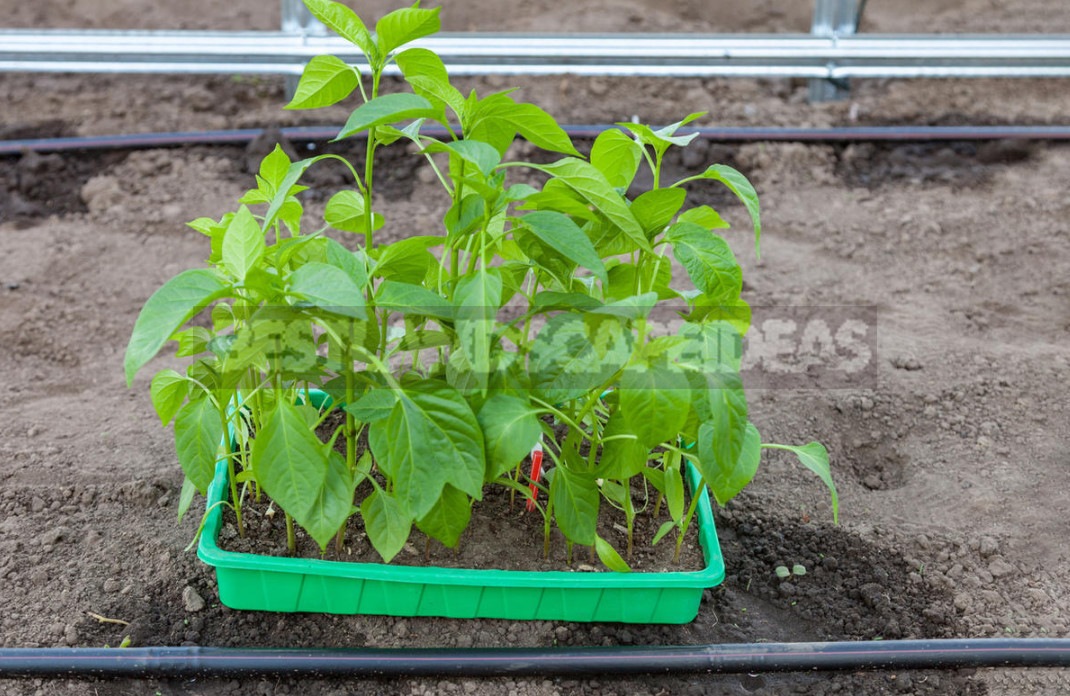 To improve the efficiency of the irrigation system, it is possible to connect automation and water supply settings depending on the type of plants, as well as weather conditions. Watering will become more effective and easy even with the use of a conventional timer included in the irrigation system.
The main thing is to choose the components of the irrigation system for your plans and plant requests and remember that for some crops one drip irrigation is not enough. For example, cucumbers and some flowers experts advise periodically watering and from a conventional watering can.
Not just watering
With the help of a drip irrigation system, you can not only supply the necessary water to plants, but also make fertilizers and fertilizing. The dosed liquid flow rate will allow to deliver nutrients to the "address" with laboratory accuracy. There is no overspending of fertilizers and you will not get "then empty, then thick", as with manual irrigation or spraying.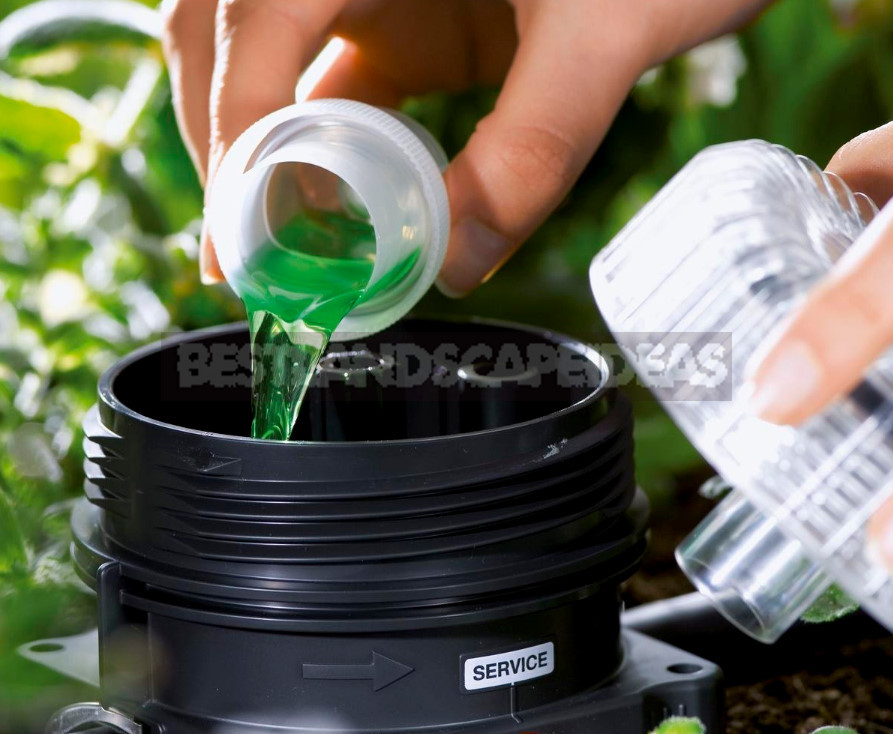 However, when choosing fertilizers, it is necessary to give preference to high-quality water-soluble, so that small particles do not clog the droppers. You should use only those fertilizer mixtures that do not form salts in the tubes, it is also necessary to monitor the hardness of the water.
Drip irrigation system — a reasonable approach to the necessary garden Affairs. Why waste your time and effort if the result (and the best!) can be achieved using available technologies?