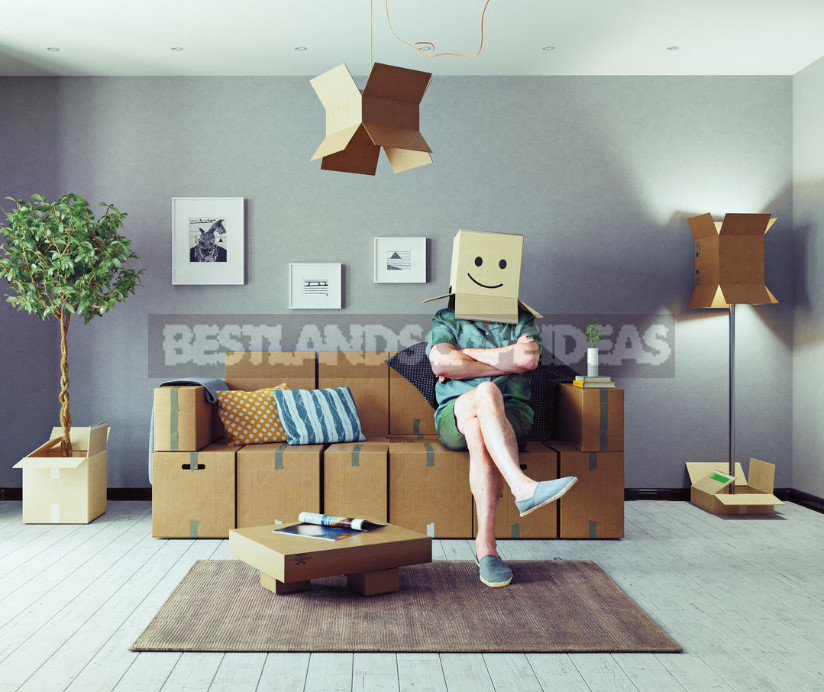 According to anthropologists, the most important feature that distinguishes the genus of Homo sapiens in a large group of primates is a well — developed abstract thinking. A non-standard view of the usual things and the ability to realize this vision can be identified as a distinctive feature of another subspecies of man: Homo sapiens partum.
This, of course, a joke, but irrepressible creative energy really allows you to do interesting things. Fans of unusual crafts will add to the Treasury of ideas another material that is not included in the traditional set of furniture makers.
Cardboard as a source of creativity
You just became the owner of an apartment or a new country house, all the savings went to the construction and repair, and the purchase of new furniture money is not left? Do not worry, and most importantly — do not throw out cardboard boxes, which transported their belongings to a new home.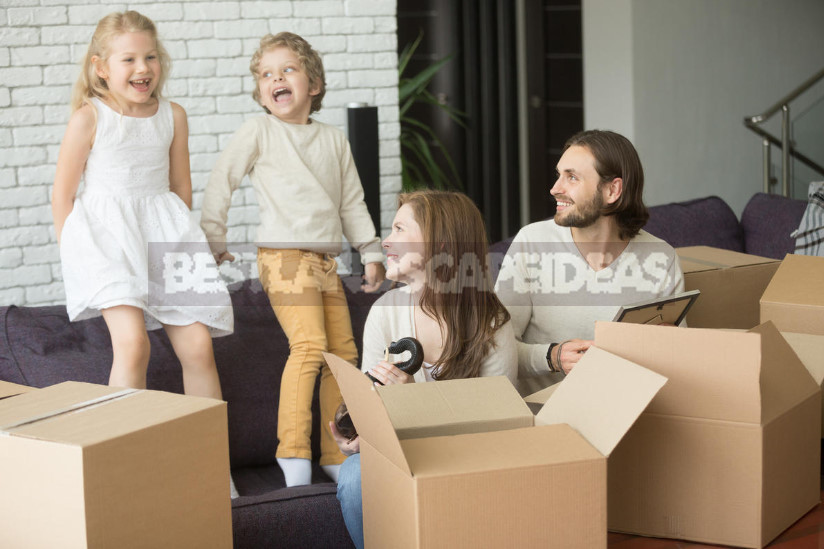 You may not need to buy cabinets and tables-packing cardboard and paper can be an excellent material for their manufacture. And the savings why not let the party on the occasion of the housewarming. Well, or spend some other, no less pleasant way.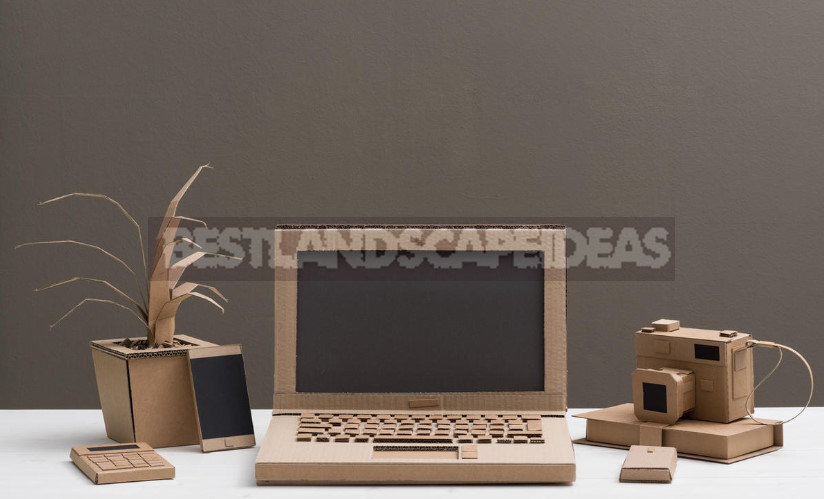 Do not believe in the possibility of cardboard or consider furniture boxes the lot of dull marginals? I propose to examine more closely this familiar and familiar as packaging supplies or writing material.
Paper furniture: modern design trends and history
Interior designers today pay very close attention to the paper in its various manifestations. Especially on the wave of interest in the environmental friendliness of the artificial human environment and recycling (the return of garbage and household waste in the production of new things). However, this new direction, like many others — just well-forgotten old.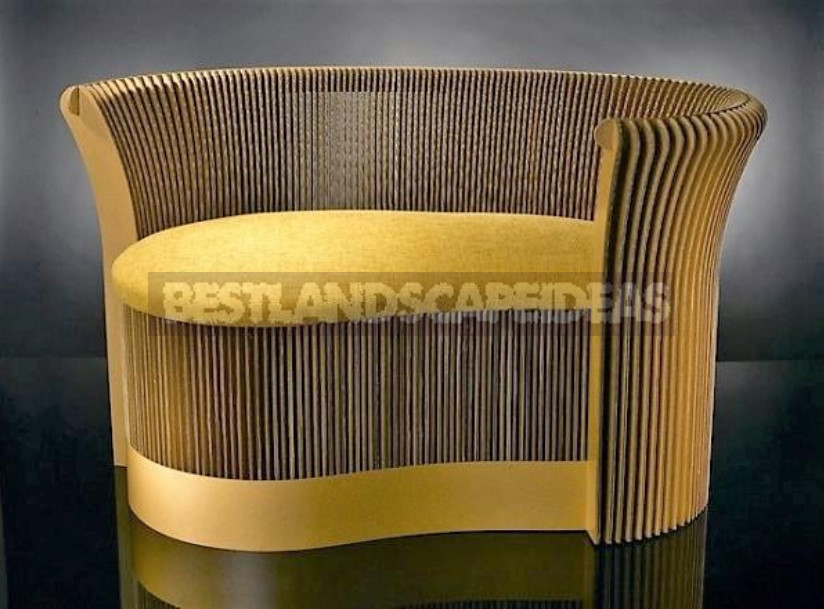 Paper, despite its fragility, has long been used not only for the manufacture of books and stationery. Archaeologists meet military armor made of paper pulp (today known as papier-mache), Dating back to the 2000s BC. As expected, those paper pieces of military uniforms were found in China — the birthplace of the paper. In addition to helmets and armor, the Chinese used papier-mache and for furniture.
In the XVII century, this technology became common in Europe,where it received the familiar name. A mass of cellulose fibers mixed with adhesive was used and is still used for the manufacture of theatrical scenery and costumes, objects and interior elements (boxes, sculptures, stucco details, decorative vases, lamps). Including — furniture.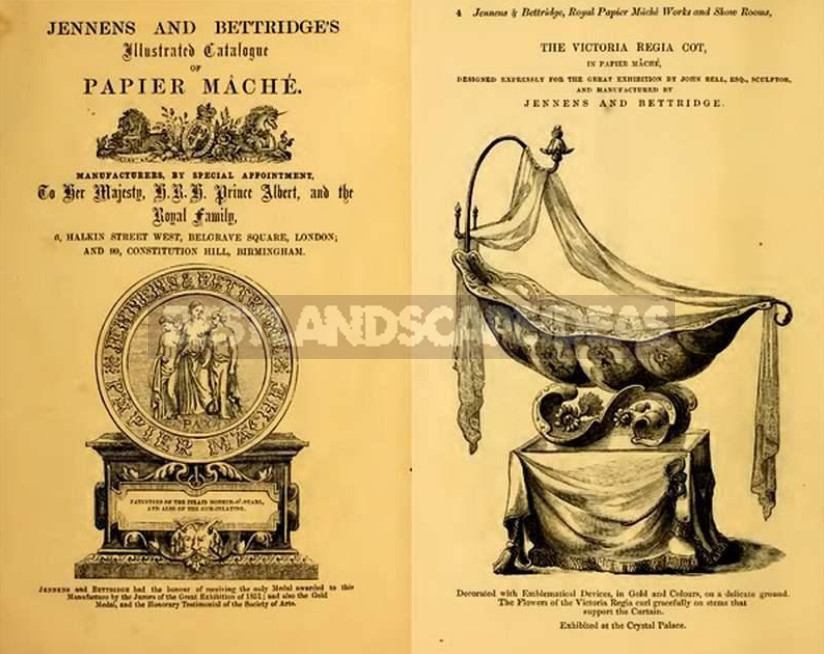 Over time, the process of manufacturing parts from papier-mache complicated. Theodore Jennes began to use pressure in molding, and Henry Clay received a patent for the technology of baking the manufactured elements in the oven, as a result of the products obtained a relatively moisture-resistant glossy surface.
Theodore Gannes and John Bettridge organized the firm of Jennens and Bettridge, buying a workshop, and a patent of Henry clay. Partners produced furniture and other decorative items from papier-mache, which were in great demand — the company's stores were in London and new York.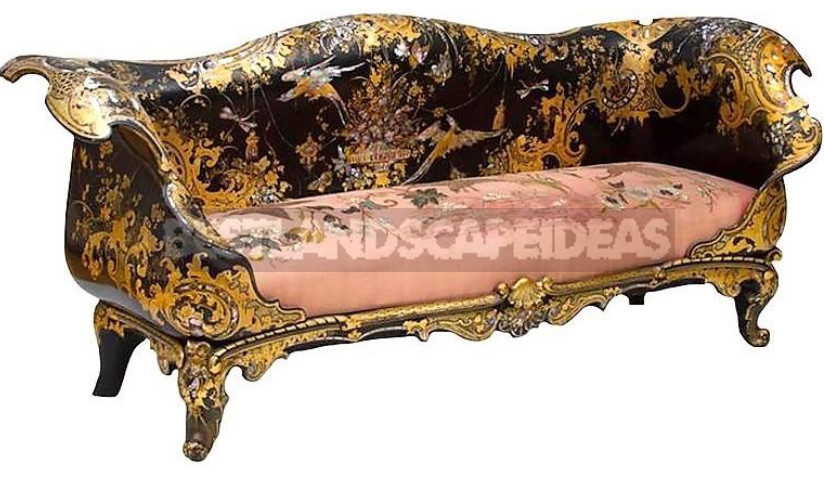 Furniture Jennens and Bettridge different exquisite contours, because of the paper mass can create any intricate shape. It was decorated with fine gilded painting, inlaid with mother-of-pearl and covered with numerous layers of lacquer, like Chinese lacquer furniture.
Modern design works from papier-mache also do not leave indifferent. For example, a series of bionic lamps ORGANIC from Material Immaterial studio.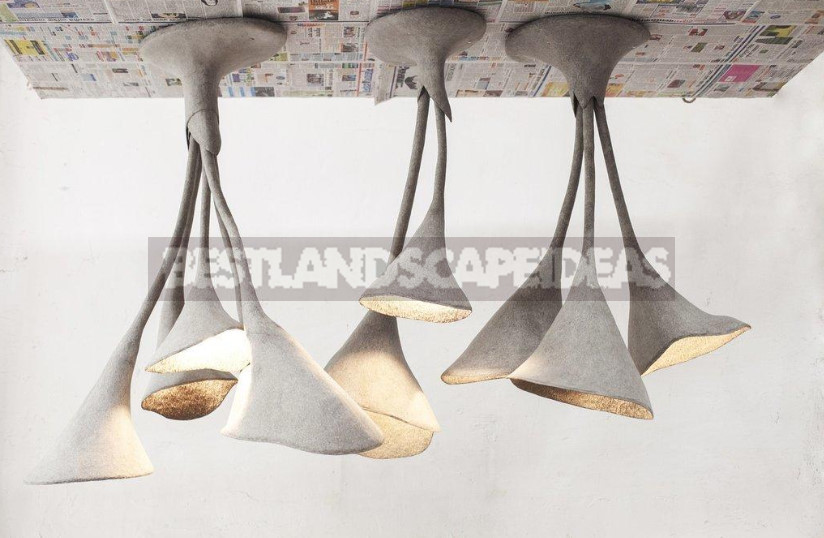 Furniture made of paper – it's easy
If you are inspired by historical and design examples of manufacturing interior items from paper, it's time to get acquainted with the technology.
There are three main directions of manufacturing paper interior items.
1. Papier-mache
Many people have known papier-mache since elementary school. The name of the technology is translated as"chewed paper". Any paper garbage — from old Newspapers to cardboard packages from eggs (which, by the way, are also made by papier-mache technology) – will be suitable as raw materials.
There are two types of papier-mache: layered and paper pulp. Of paper pulp to sculpt, to do relief ornaments, elements, filling its various forms. Plasticity and pliability of the material allows you to give the product any kind.
You can create the whole thing only of paper pulp. If you plan to make furniture entirely out of paper, do not forget about the frame: of course, crushed raw materials mixed with glue, durable material, but for the manufacture of the basis of the chair is still not suitable. The second method (layer-by-layer pasting on the basis of small pieces of paper) is usually used to create hollow shapes.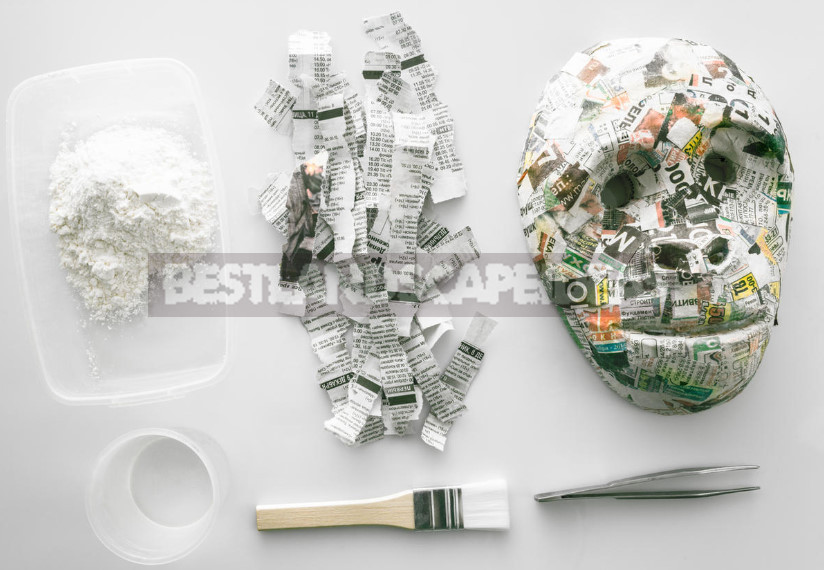 Products from paper weight are easily processed-polished, drilled, cut. Objects made of papier-mache can be painted, subjected to artificial aging, decoupage and gilding. Multi-layer varnish coating will make the paper furniture waterproof and resistant to mechanical stress.
2. Cardboard multilayer plates
From sheets of cardboard is typed "Board" the required thickness — the layers are glued together, as in the manufacture of plywood.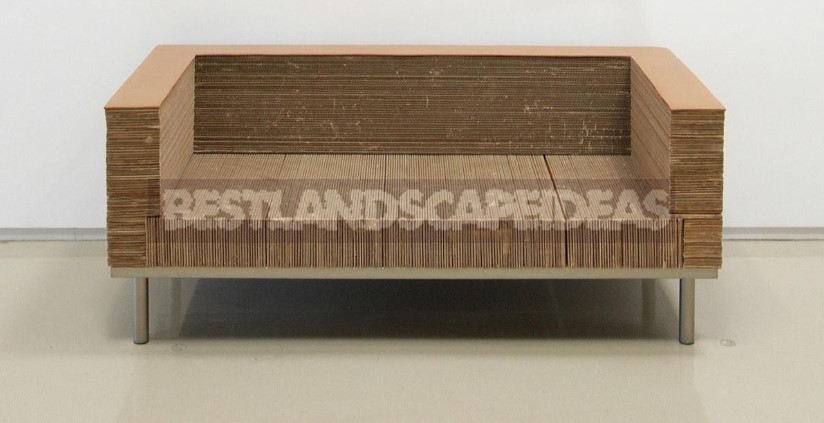 Like papier-mache, multilayer cardboard allows you to create furniture of the most bizarre shapes, while remaining strong enough. Such furniture is also easily processed and decorated, but some prefer cardboard in its natural form, seeing the beauty of the material in brown and corrugated structure.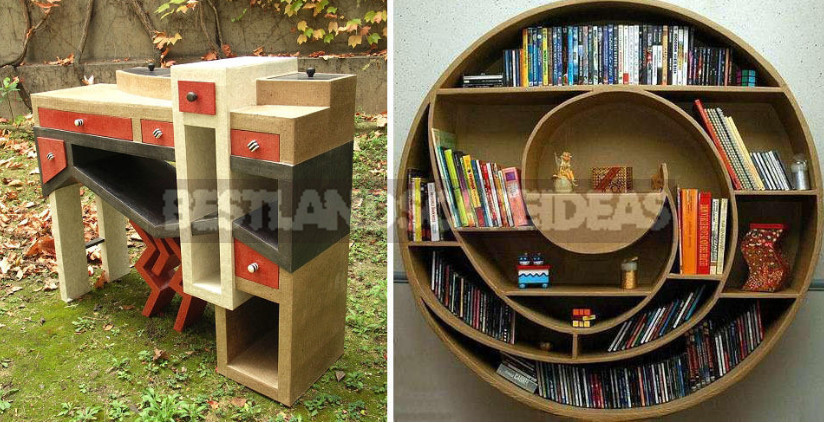 3. Cardboard origami
If the two methods described above glue-a mandatory component, in this direction do not have to glue. In a certain way, folded cardboard sheets acquire sufficient rigidity to become an armchair, sofa or office table.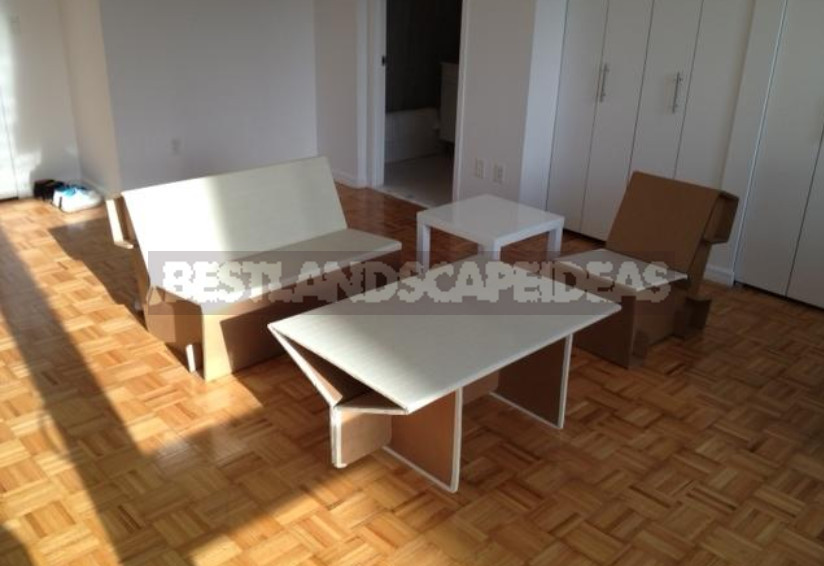 For furniture made of papier-mache or laminated cardboard will suit any paper waste. Cardboard origami furniture requires a new material of a certain density and accuracy of manufacture. After all, the product, firstly, must be resistant to stress (thin cardboard is not suitable), and secondly, its surface-finished decorative coating and various flaws and extraneous inscriptions and pictures does not hide.
The cardboard sleeve and weaving from newspaper tubes
Describing the possibilities of paper as a raw material for the manufacture of furniture with their own hands, of course, you can not pass by cardboard sleeves from all sorts of roll materials and newspaper tubes.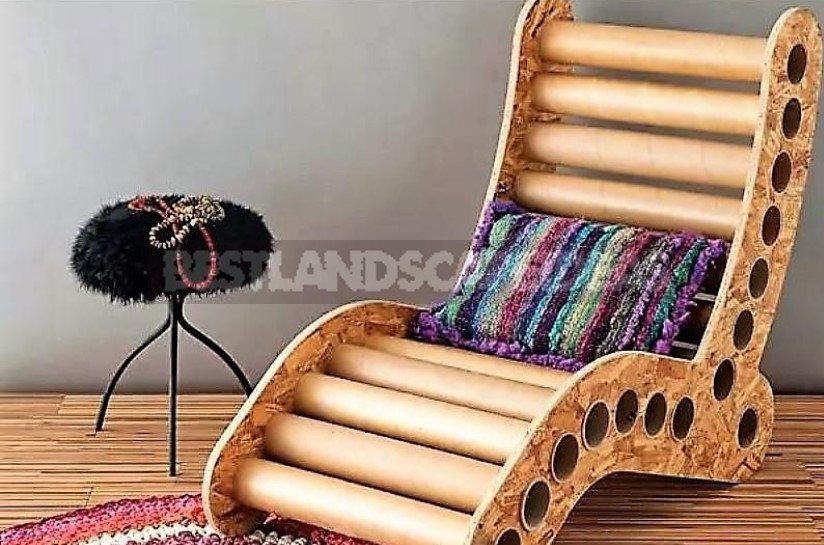 Of course, the cylinders of toilet paper is too soft and small, but the basics of the rolls of Wallpaper, linoleum or carpet is quite suitable for furniture purposes. They can get almost nothing if you agree with the local store of building materials. By the way, the sleeves of different sizes can be simply bought in unlimited quantities.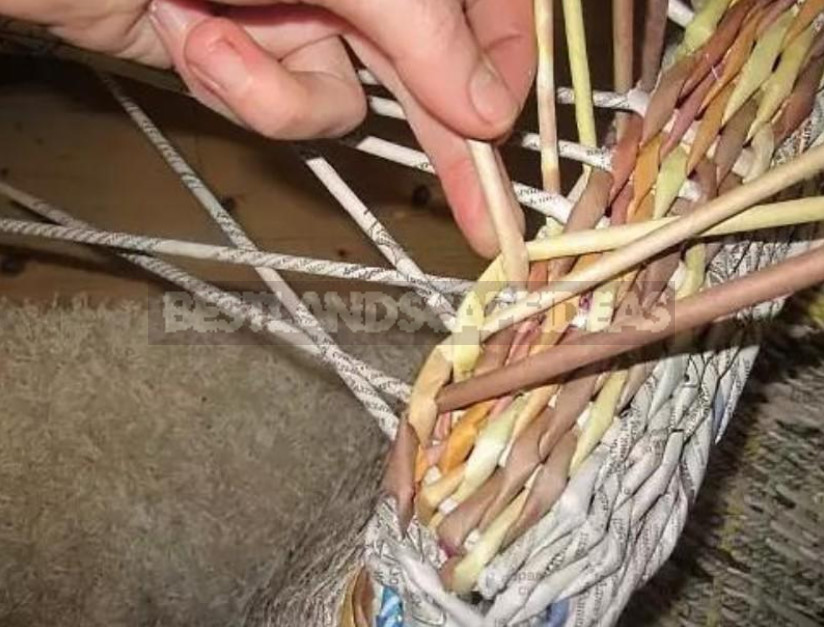 Weaving from newspaper tubes is a popular hobby. From a completely discarded material (old Newspapers), you can make furniture that after painting or coating stain will not be inferior to the traditional, woven rattan or willow rod. The skilled workers making various crafts from paper tubes are also on our website. I hope they will talk about the intricacies of this needlework and share photos.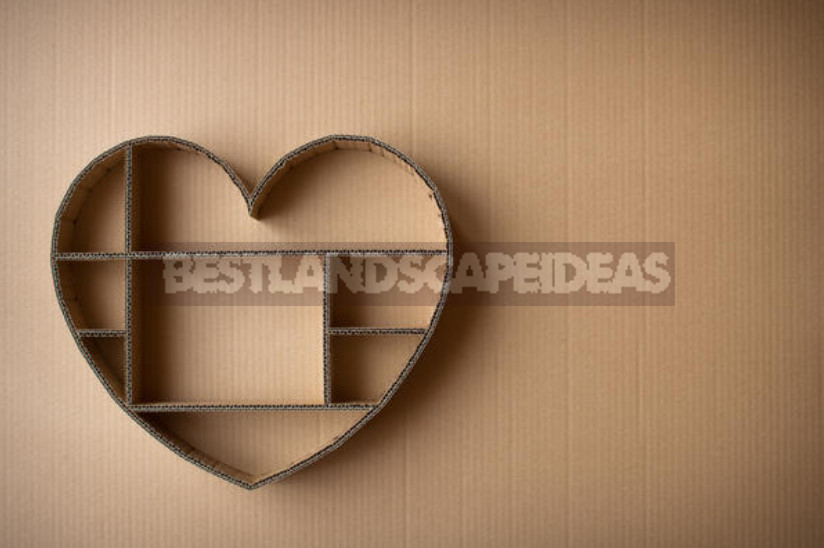 I think I was able to show from an unusual angle such a familiar material. Agree, paper furniture-it's unusual and fun, but still inexpensive and quite affordable.