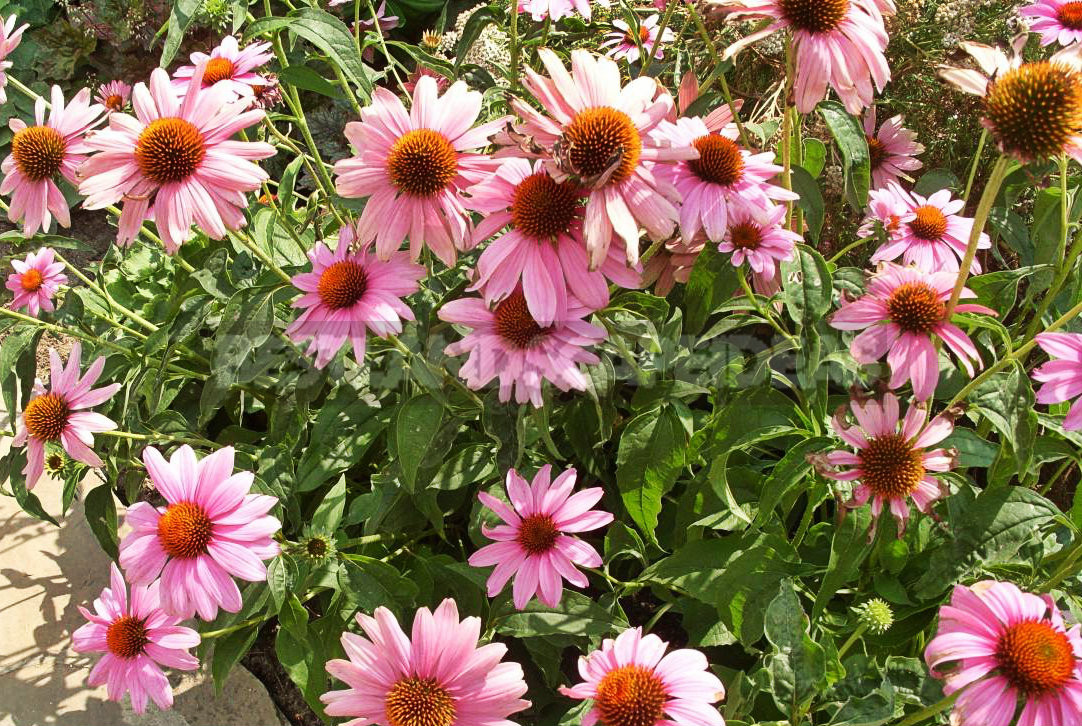 Echinacea purpurea is a luxurious beauty from the large Asteraceae family, originally from North America. This is one of the most beautiful flower plants that create in group plantings bright monochrome, and when using varietal diversity, picturesque colorful paintings.
Echinacea looks luxurious in flower beds landscape style, colorful lawn, flower beds, where she copes with the role of focal or accompanying element. The distance between plants 30-40 cm Echinacea purpurea demanding soils: prefers fertile, non-acidic, not waterlogged.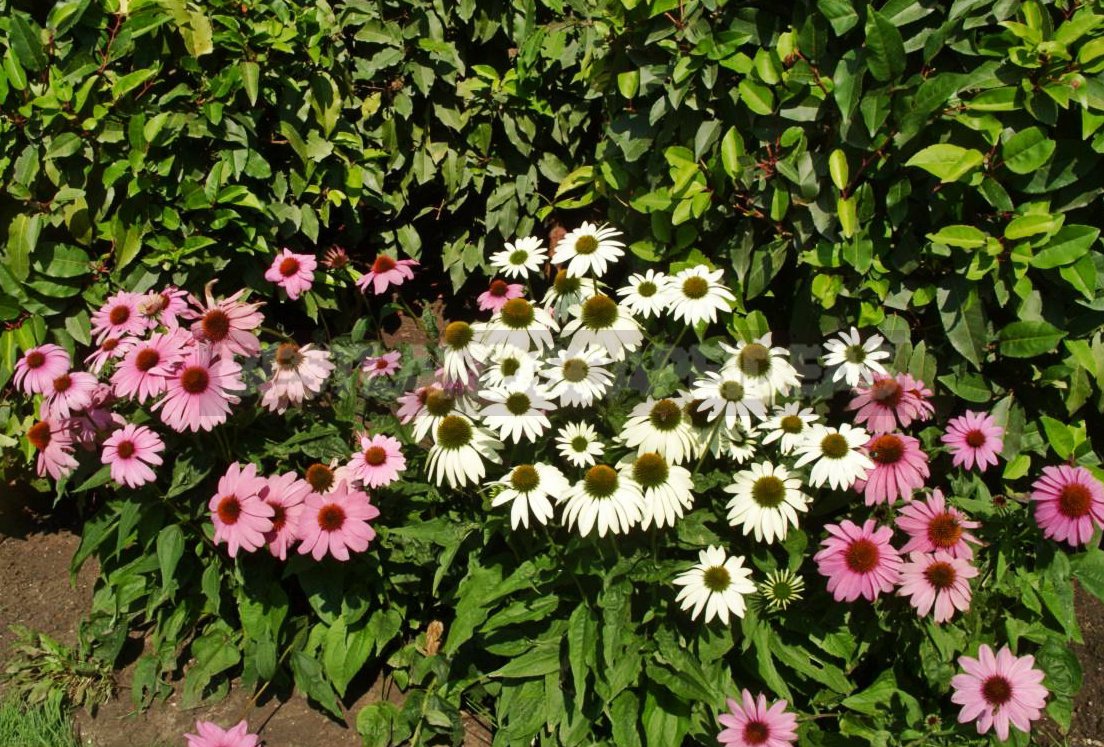 Echinacea purpurea – perennial herbaceous harshly pubescent, rhizome plant with slender, strong, slightly branched stems, height 70-80 (100) cm.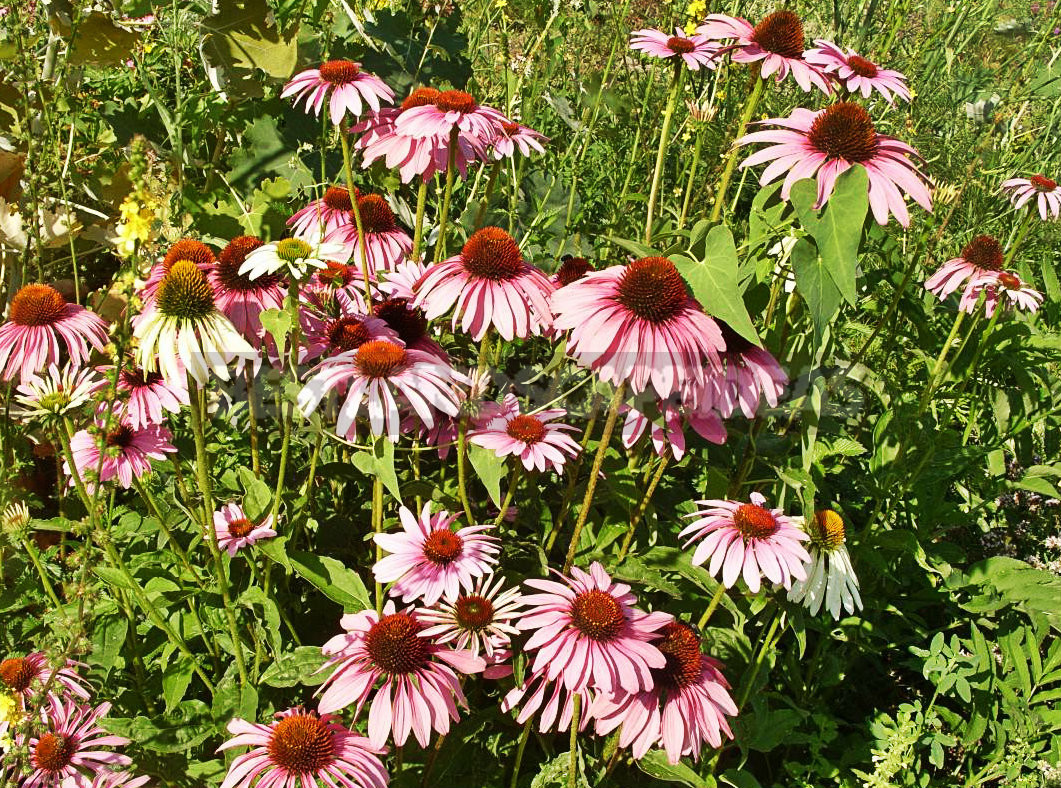 Lower leaves rosette, wide-oval, large, on long winged petioles, upper-lanceolate, sessile. Flowers are crimson, tubular-purple, collected in single inflorescences baskets, 10 cm in diameter; bloom in (July) August-September. Fruits-achenes; ripen in August-September, are not always formed. Seedlings bloom in the second year.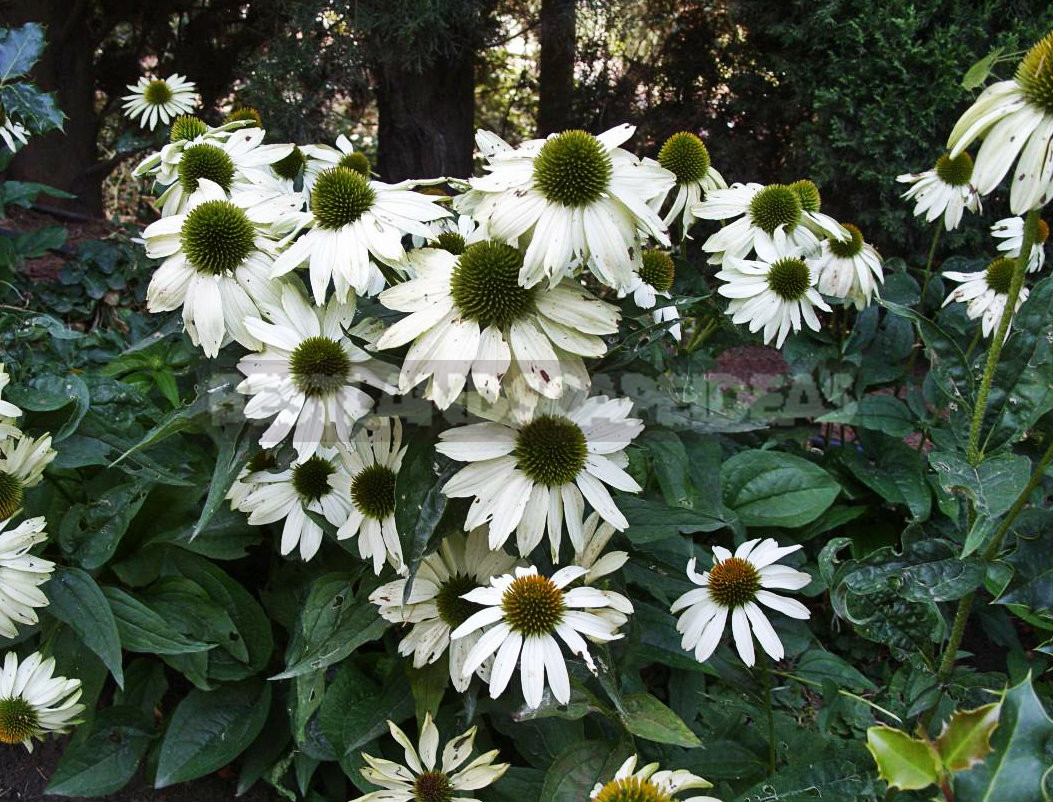 Decorative varieties and groups:
"Leuchtstern" (up to 80 cm high, purple-red baskets),
group Lustre Hybrids (height 80-120 cm, purple baskets, red-purple or white),
"Magnus" (the center of the basket is dark orange, red flowers are intensely purple and more horizontal than other varieties, inflorescences up to 18 cm in diameter),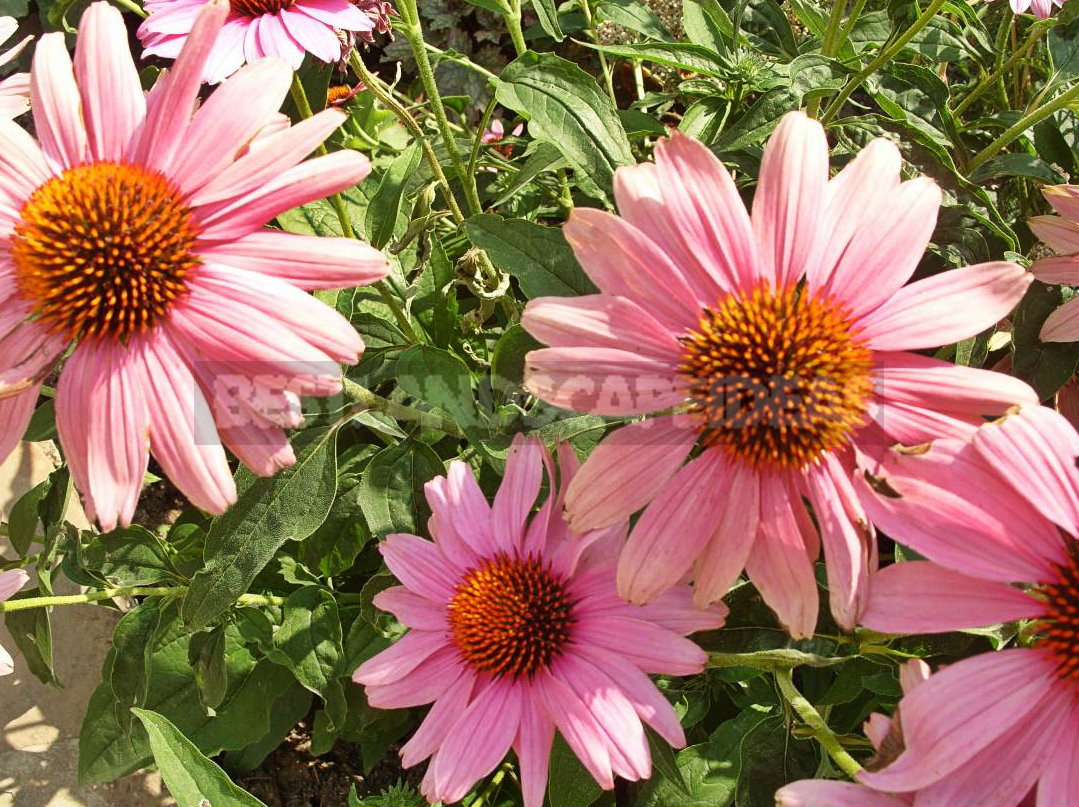 "RobertBloom" (the center noticeably protruding, orange-brown, reed flowers crimson-dark red),
"The King" (the center of the oval, orange-brown, reed flowers arcuate, pinkish-dark red),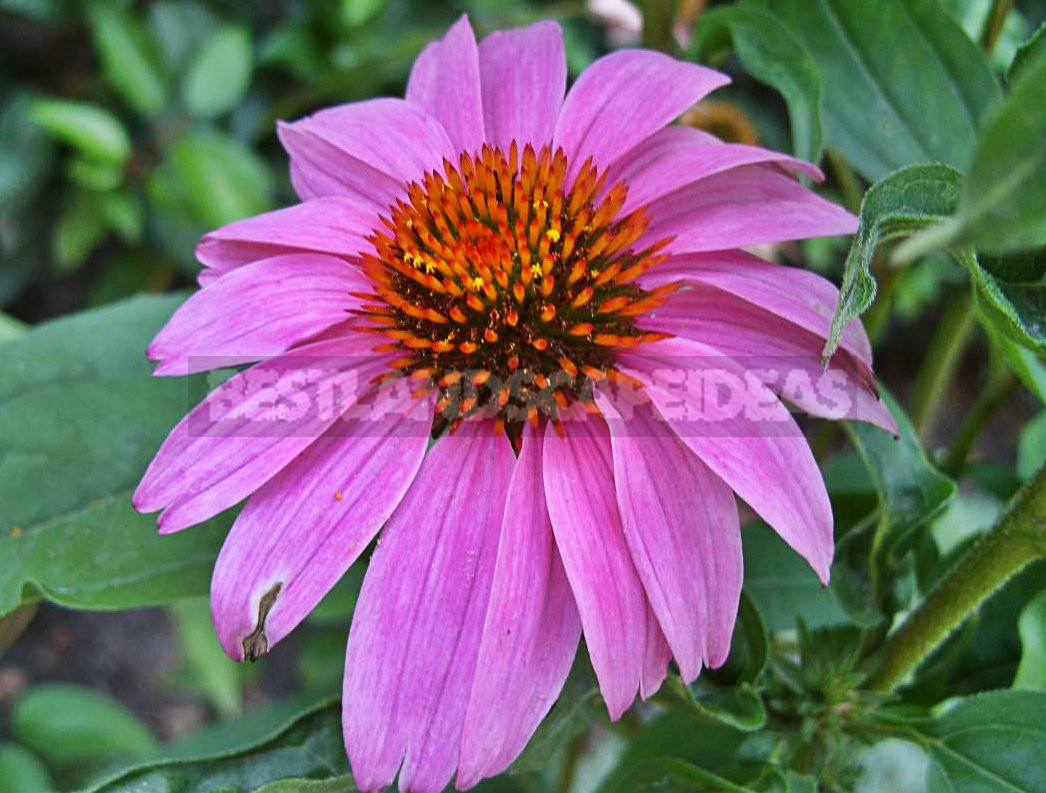 "White Lustre" (height of 80 cm, center orange-brown, the ray flowers are cream-white),
"White Swan"(up to 60 cm, center orange-brown, white flowers, inflorescences up to 11 cm in diameter).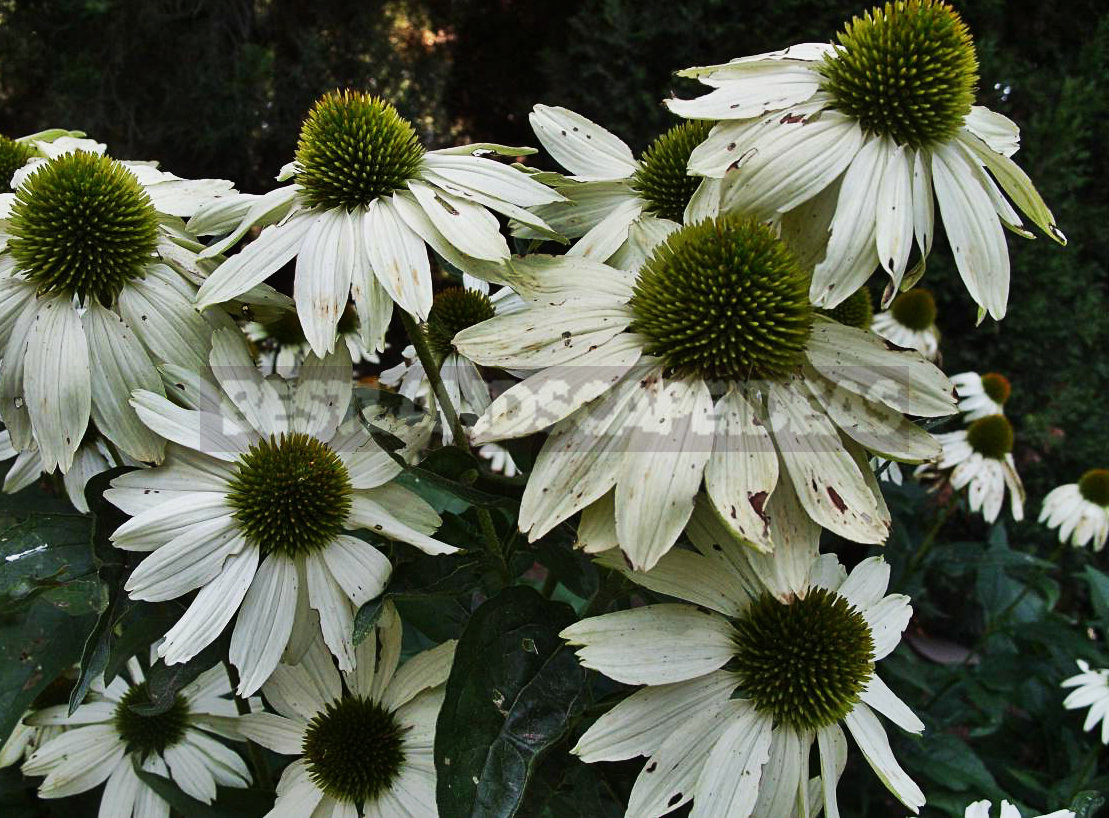 Echinacea purpurea-is not only decorative, but also cultivated food, medicinal plant. In food consumed buds (tea). The whole plant is used for medicinal purposes. Echinacea increases the body's defenses. It has anti-inflammatory, anti-allergic, antiviral effect. It's a powerful natural antibiotic! It is good to drink tea with Echinacea in chronic infectious diseases. It helps to heal wounds, burns, ulcers. American scientists have discovered that Echinacea is able to delay and suppress the growth of malignant tumors. It increases sexual potency. In addition, it is taken for bronchitis, tonsillitis, pneumonia, herpes, hepatitis, sepsis, arthritis and rheumatic pains. Before using Echinacea, especially with problems with immunity, kidney disease, pregnancy. Be sure to consult with your doctor!