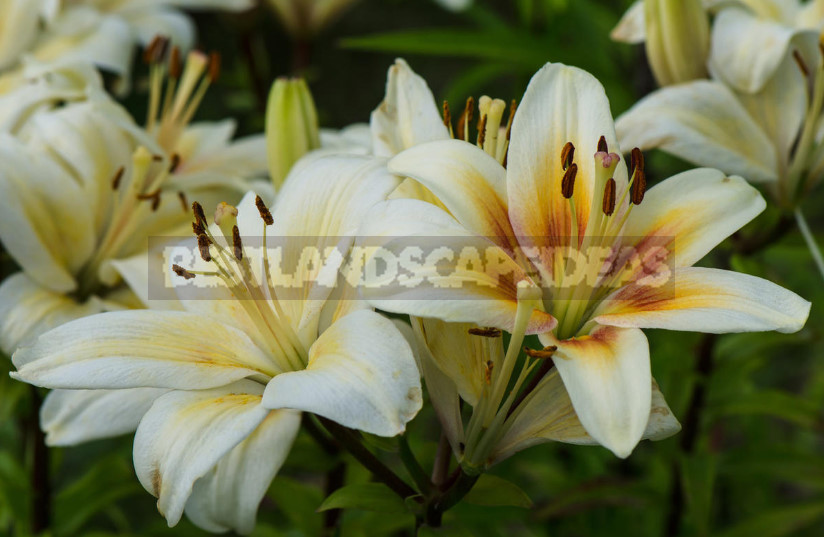 Asian hybrids
They are loved by many growers who appreciated the unpretentiousness of the lilies of this group. For residents of the Northern regions, the frost resistance of "Asians" is especially valuable, the bulbs of which even in a snowless winter do not need additional shelters and are able to withstand cold to -40 degrees. Choose a place for them in the sun or in partial shade, with fertile soil having a neutral or slightly acid reaction.
Early flowering — another plus of this group of lilies: they bloom in late June or early July. Use them for distillation — picking varieties and creating the necessary conditions for bulbs, you can get flowering plants even in winter.
Asian hybrids are very diverse — both in plant height (from 25 to 120-140 cm), and in color, shape, size of the flower (from 8 to 20 cm in diameter). Simple flowers with 6 petals are located on strong peduncles and can be oriented up, sideways or down — depending on the variety. There are Terry varieties of Asian lilies, they are isolated in a separate subgroup. Lovers of flowers recommend a special look at the two subgroups of "Asian women»:
In the last few years, miniature varieties of these undemanding plants are always at the peak of popularity. Low (25-45 cm), they are ideal for growing in containers that can be used for landscaping patios, terraces, loggias. The absence of flavor, which is typical for all Asian lilies, allows you to place them in a limited space, without fear of headaches.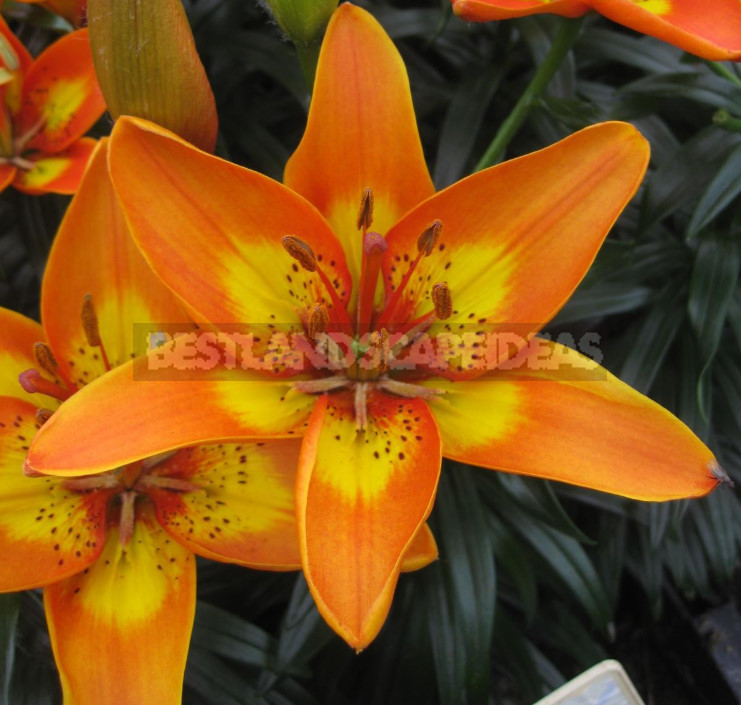 Noteworthy varieties:
'Bright joy' — plant height 25 cm, bright peach-orange flowers with a yellow center;
'Golden matrix' — the little one with the Sunny yellow flowers with a diameter of 15 cm.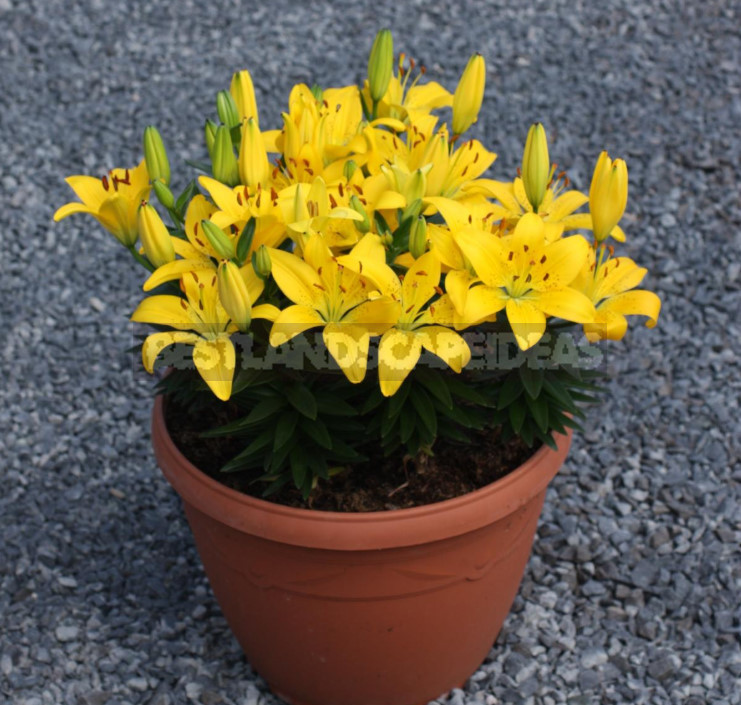 Attract unusual, original color of flowers: dark specks on the petals — a characteristic feature of tango lilies. They can not be confused with any other! For example, look at the varieties:
'Bumblebee' — early flowering (June-July) lilies up to 100 cm with large (about 20 cm) yellow flowers with contrasting maroon cent and a thin border on the edge of the petals;
'London HART' — rich red star-shaped flowers with dense dark purple speckles in the center reach a diameter of 17 cm.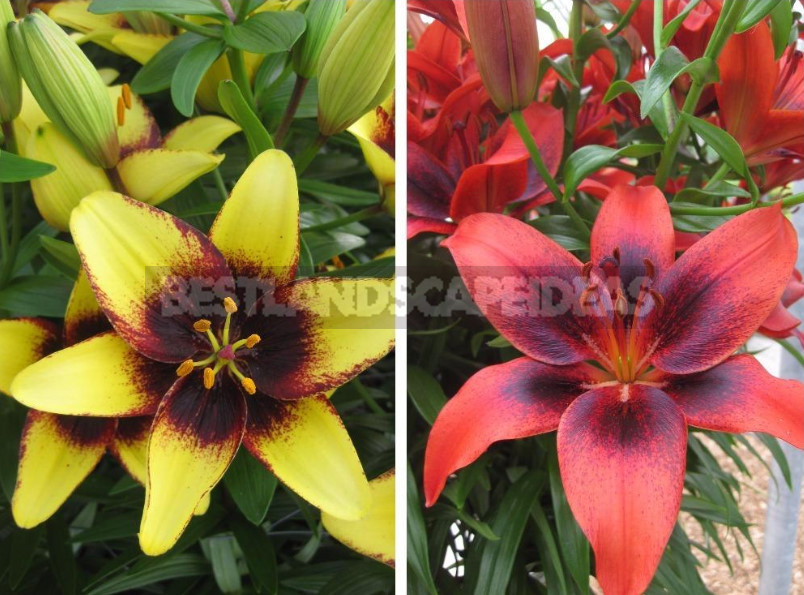 Eastern hybrids
They are valued for large, unusually expressive and attractive exotic flowers with a strong, rich aroma; there are varieties with double flowers — they are United in a subgroup of Oriental Terry lilies. These beauties are called aristocrats — and they justify this characteristic, conquering with their exquisite refinement and imposing additional requirements to the conditions of cultivation.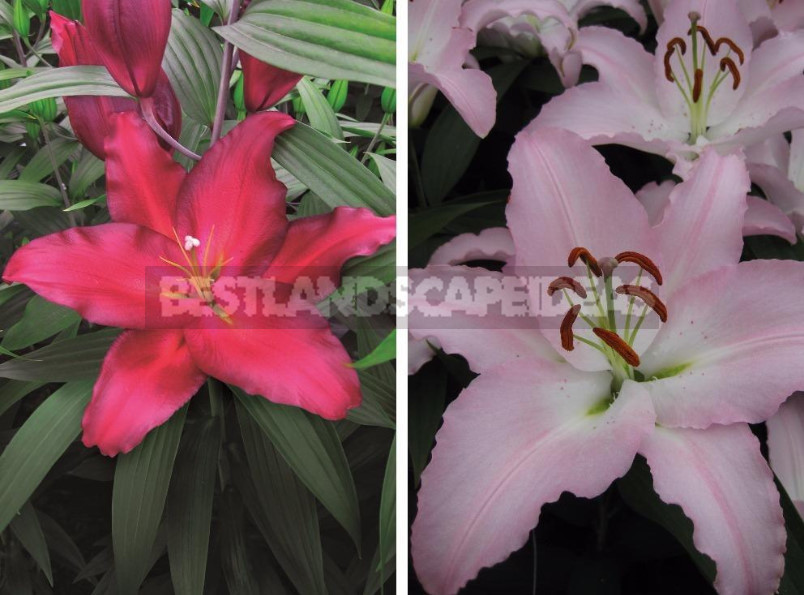 For planting Eastern lilies preferred areas in partial shade with slightly acidic soil. In cold regions, they are often grown in container culture (ideal for this variety from a subgroup of Eastern potted lilies); in the open field, care must be taken to protect the bulbs from waterlogging during the prolonged autumn rains and provide them with dry shelter for the winter. Almost all Oriental lilies suited to forcing.
Choose a variety is not easy — all good! Perhaps your attention will be drawn to these:
'Avinger', attractive play of colors: glossy petals are very large (25 cm in diameter) dark Burgundy flowers a little lighter to the center;
'Marco Polo' — with delicate and exquisite large pale pink flowers and contrasting orange anthers.
Tubular hybrids
They are descended from Asian lilies, from which they inherited unpretentiousness, exceptional winter hardiness, resistance to diseases and pests and excellent ability to reproduce in all available ways — from dividing bulbs to growing from scales; some varieties of tubular lilies have the ability to form daughter bulbs in the axils of leaves. Plant them in the sun or in partial shade in loose fertile soil with the addition of leaf humus. Almost all varieties of tubular lilies have a strong aroma.
LA-hybrids
Experts believe this group is the most promising. Obtained by crossing long components (longiflorum) and Asiatic lilies, LA hybrids combines the best qualities of the parents: good winter hardiness; resistance to fungal diseases; variety of colors; large fragrant flowers of fine form on strong stems; early, abundant and long blooming; high ability to reproduce.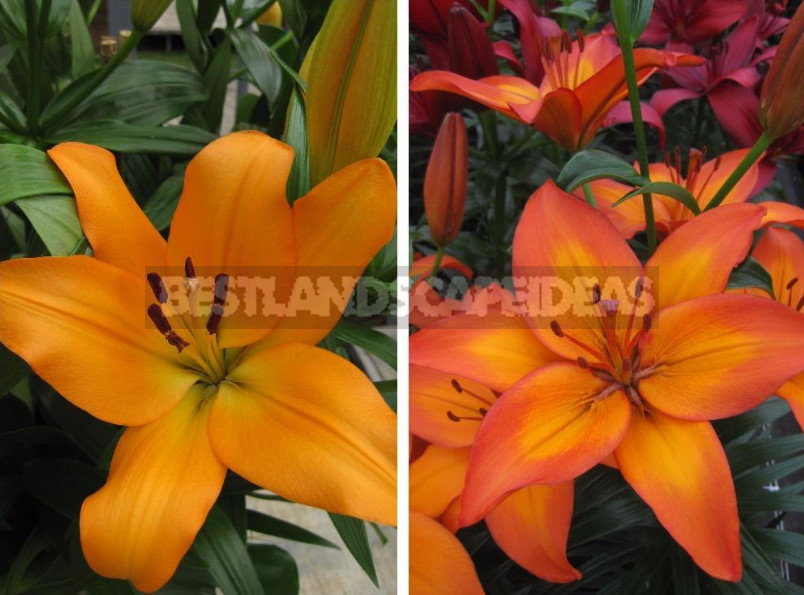 Lily LA hybrids are often grown as cut flowers and are used, in particular, for year-round forcing in greenhouses. In the garden, they are planted in a Sunny place or in partial shade; the soil is preferred neutral or slightly acidic.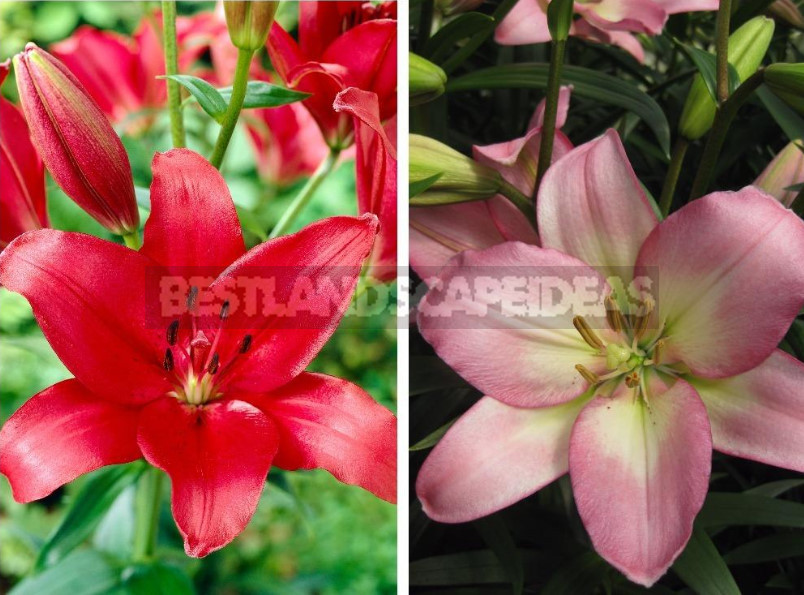 If you want to decorate your garden with these wonderful flowers, pay attention to the varieties:
'Golden Tycoon' — plant height 100-105 cm, with lemon-yellow flowers;
'Navarin' — with large (17-20 cm in diameter) yellow-orange flowers;
'Samur' — high (up to 130 cm) plant with large flowers; bright pink petals with a white spot at the base;
'Fangio' — attracts bright scarlet flowers;
'Fiamma' — flowers with a diameter of about 20 cm, bright orange with a dark yellow pattern in the center of the petals.
OT-hybrids
Lilies of this group attract gardeners with its stunning size: the height of the peduncle reaches 1.5-2 m, the diameter of the flower — 20-25 cm. Adding to this elegant shape and spectacular color of flowers, abundant flowering and resistance in cutting, it is easy to understand the reasons for the popularity of OT-hybrids.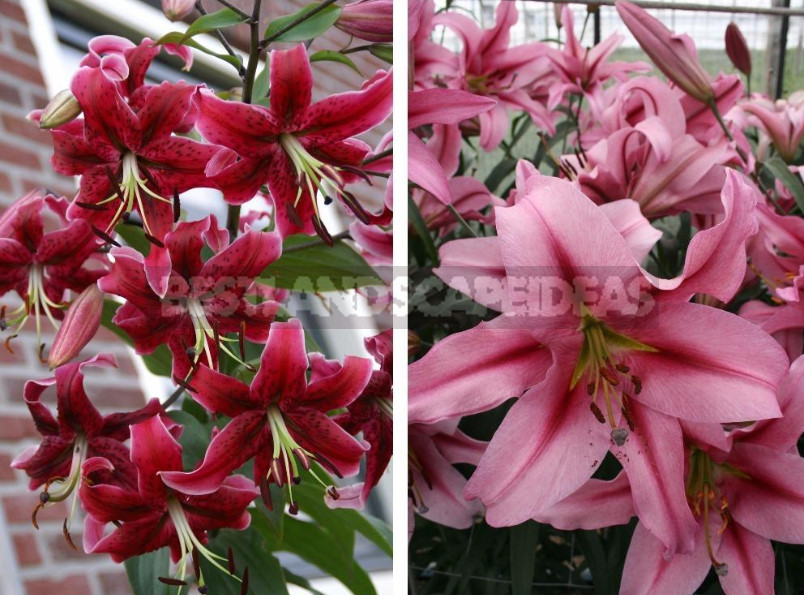 As a result of crossing the Eastern and tubular lilies, these plants are quite sensitive to heat, and the South of the region of their cultivation, the larger the Lily reaches. But at the same time they show a fairly high winter hardiness, which allows you to successfully grow Lily OT-hybrids in regions with a cold climate.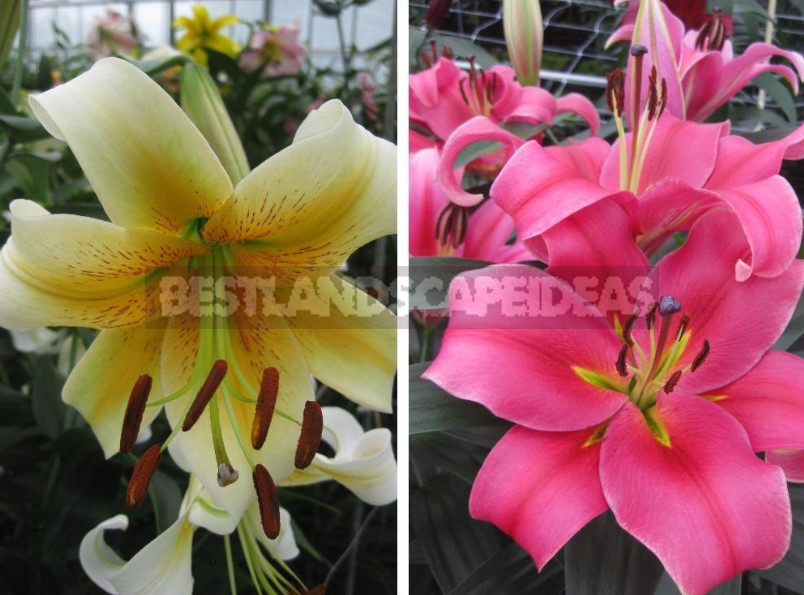 Varieties are popular among gardeners:
Miss Feya'
'Mr. Cass'
'Ash King'
'The 'imperato'
'Fomula'.
And which lilies do you choose?