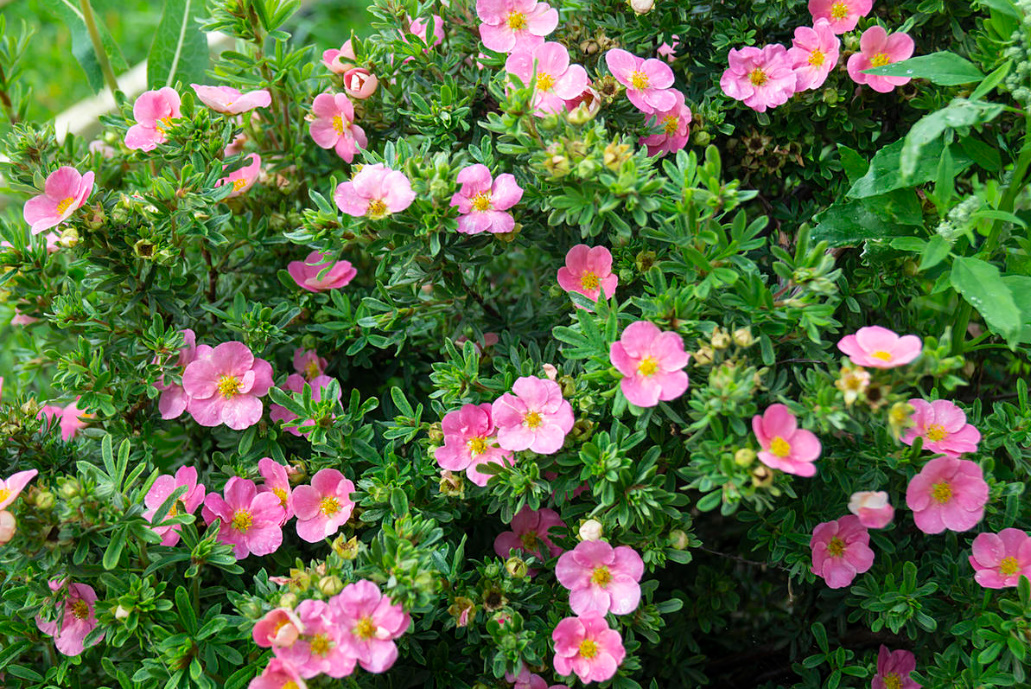 Potentilla fruticosa is an undemanding shrub characterized by winter hardiness and a very long flowering period. Almost all summer the plant will remain decorative, without requiring special attention from your side in return. Many varieties of this culture have been bred, differing in size, shape of the bush and color of the flowers. Consider the popular varieties.
Varieties with yellow flowers
Wild-growing Potentilla bloomed exclusively with yellow flowers. Therefore, it is believed that the varieties that have preserved the natural color of the inflorescences are the most hardy. Currently, many cultural varieties have been bred, decorating gardens with flowers of various shades of authentic yellow.
'Goldfinger'
One of the most common and popular varieties. It is characterized by unpretentiousness, undemanding to the soil and resistance to drought and winter frosts (3rd zone of winter hardiness). It begins to bloom in June and continues until the end of September. With a lack of moisture, flowering becomes less frequent, but after a good rain, 'Goldfinger' is again strewn with bright flowers. The bush is durable, formed by erect shoots. It lends itself well to shearing, so it is suitable for creating a hedge. The diameter of the flowers is 2.5 cm, the bush is rounded, its height is about 130-140 cm, diameter is 150 cm.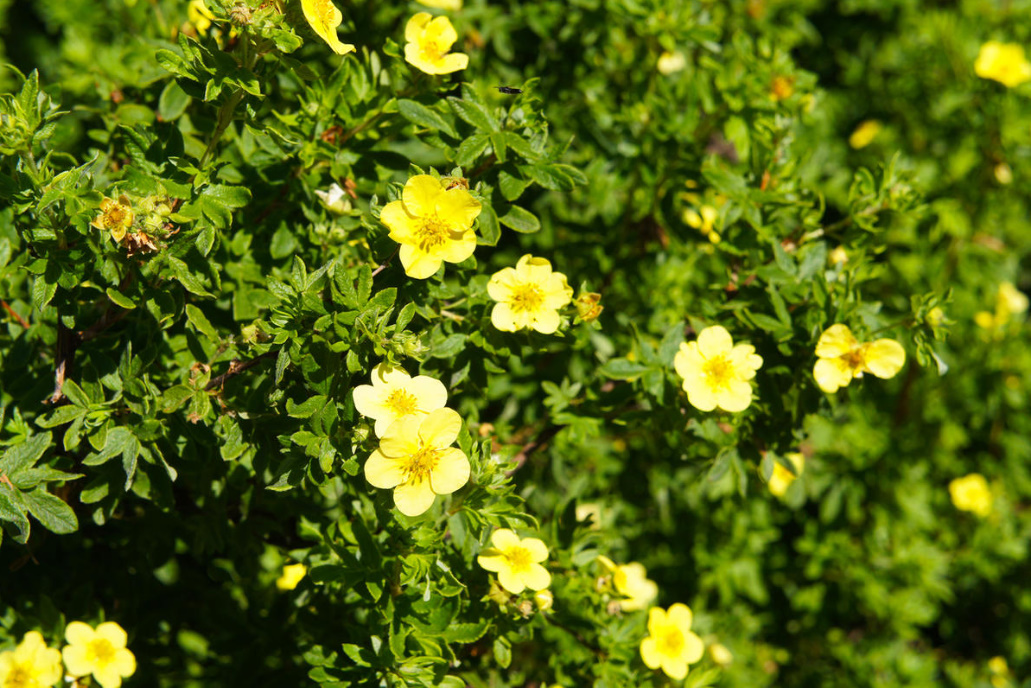 'Goldstar'
This variety has long been known to gardeners and deserves praise. 'Goldstar' can be attributed to reliable and durable varieties that do not require special attention in summer and will not freeze in winter (zone 3). It blooms profusely from June to October with golden-yellow flowers, the diameter of which reaches 5 cm. The bush is formed by thin straight shoots, has a pillow-shaped shape. Height — about 1 m, diameter up to 1.2 m.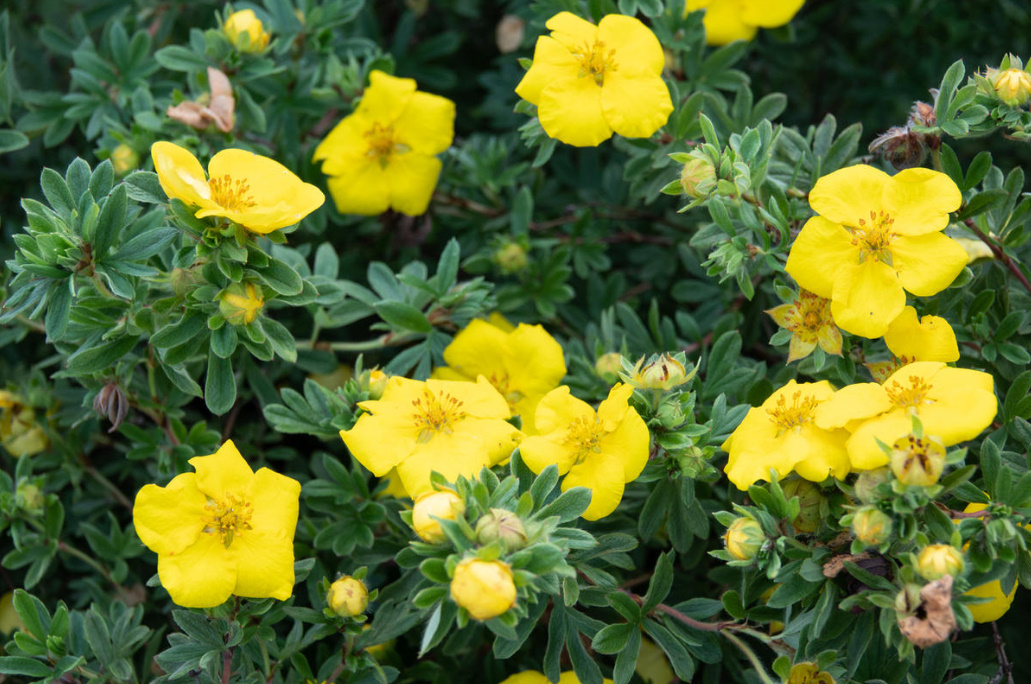 'Elizabeth'
A low shrub with a pillow-shaped dense crown, will be appropriate in any garden. It is unpretentious, hardy (zone 3), grows well on fertile loam, but in fact it is not demanding on the type of soil. It is stably decorative: it begins to bloom in May and pleases the owner with bright yellow flowers up to 4 cm in diameter until autumn. The diameter of the bush can be 2 times higher than the height with average values of 1-1.2 m and 0.6-0.8 m, respectively.
Other interesting varieties with yellow flowers are 'Kobold', 'Goldteppich', 'Tangerine'.
Varieties with white flowers
Potentilla fruticosa with white flowers, as a rule, are shorter and more demanding in content compared to yellow-flowered ones. Some need shelter for the winter, especially at a young age.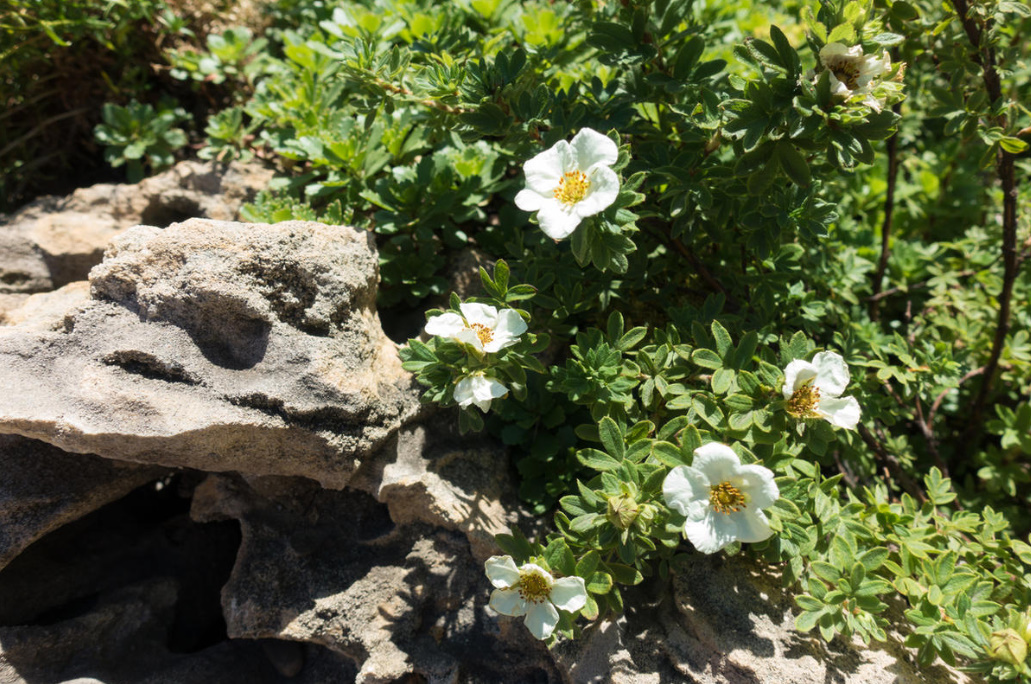 'Abbotswood'
This variety can be considered the most popular of the white-flowered. It is quite resistant to weather troubles, tolerates drought and can remain decorative even in urban conditions. It is not demanding of the soil, blooms more abundantly in sunny areas, but can put up with penumbra, belongs to the 4th climatic zone. It has a rounded bush shape and grows up to 1 m in height and up to 1.3 m in diameter. Snow-white flowers (about 3 cm) begin to bloom in early June, flowering ends with the onset of cold weather.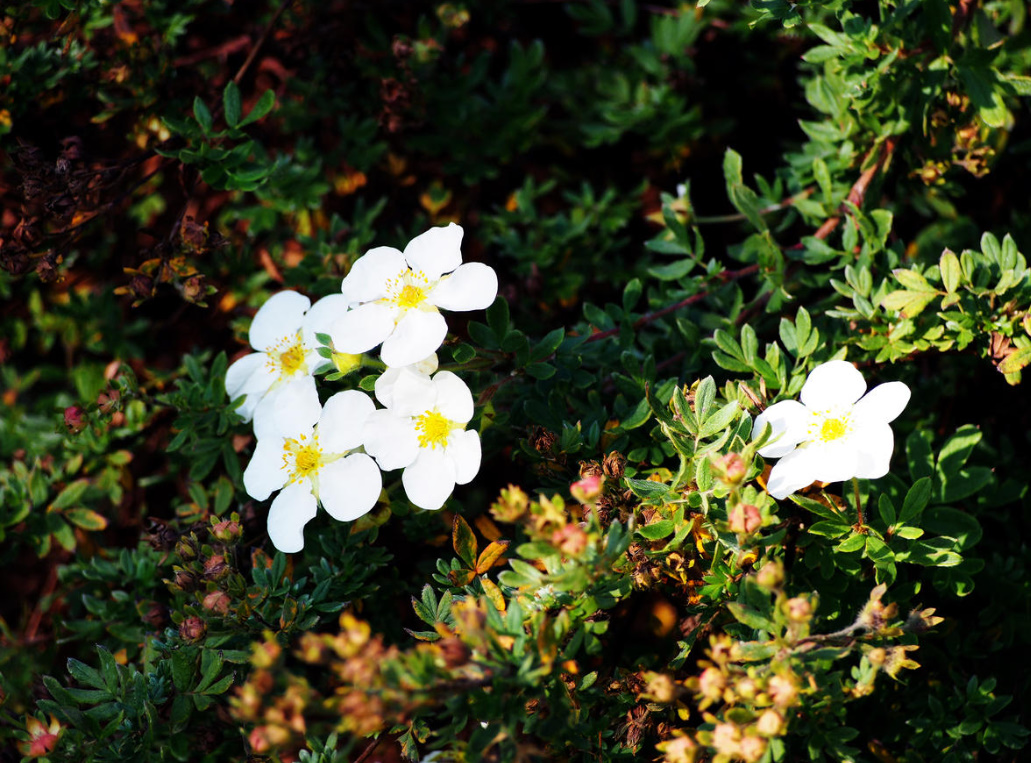 'Snowflake'
A very decent variety. It is characterized by increased frost resistance (3rd zone) and very abundant flowering. It responds well to pruning, so you can create borders from it. The crown is rounded, grows up to 1.5 m in width with a maximum height of 0.7 m. From June to October, the shrubby 'Snowflake' blooms with white flowers with yellow stamens, the diameter of the flowers is from 2.5 to 3.5 cm. This variety can be planted among large stones, as well as as a lining for taller shrubs.
'Tilford Cream'
The original dwarf variety with a prostrate crown shape belongs to the 4th zone of winter hardiness. It grows slowly (up to 10 cm per year), grows up to 1 m in diameter and 0.4-0.5 m in height. It blooms profusely in June-October with rather large flowers (up to 5 cm) of creamy-white color. The crown is dense. The variety can be used as a groundcover plant, as well as planted in rock gardens, rabatki and together with other perennials.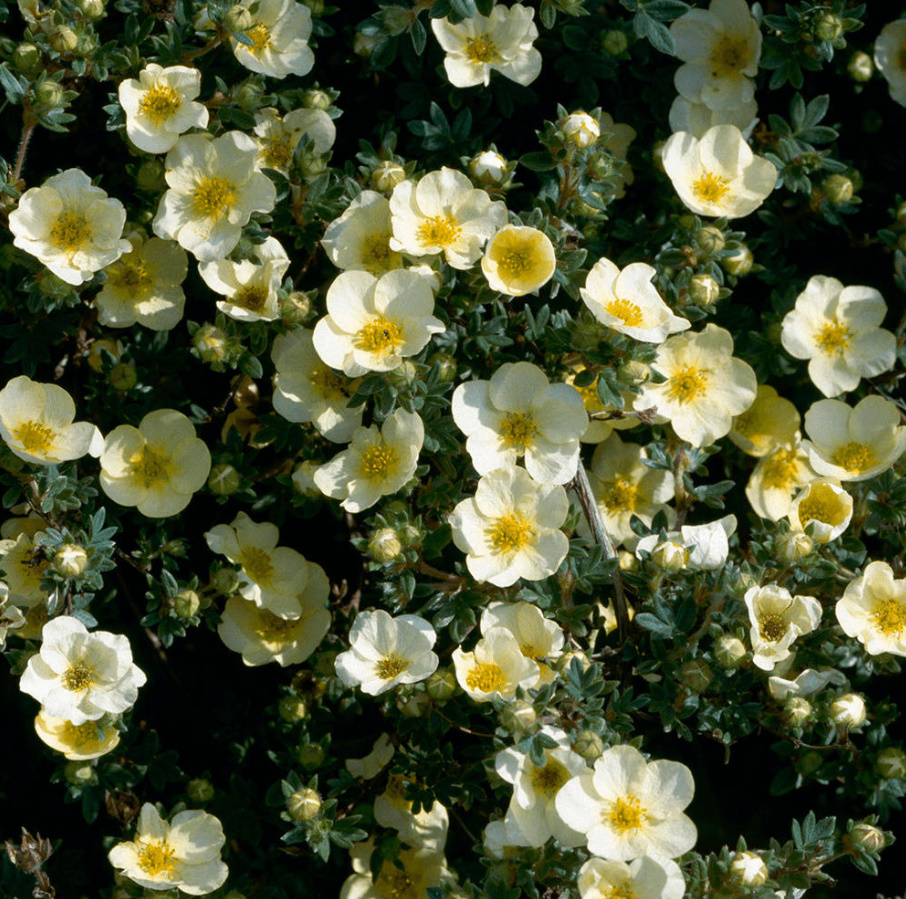 The following varieties are also popular: 'McKay's White', 'Manchu'.
Varieties with pink flowers
Varieties of Potentilla with pink flowers are real favorites of gardeners. Despite some demands, they are incredibly decorative for almost the entire warm season.
'Lovely Pink' (synonym — 'Pink Beauty')
A stunning variety with rich pink flowers, it is considered the best among pink-flowered Potentilla. The flowers appear from June to October, their diameter is up to 5 cm, can be collected in a brush or formed singly. In the bright sun, they quickly fade to a dirty white color, so it's better to plant this variety in partial shade. It tolerates drought and frost well (zone 4). The bush has a creeping crown up to 0.5 m in height and up to 0.8 m in diameter. Responds well to a haircut by active branching.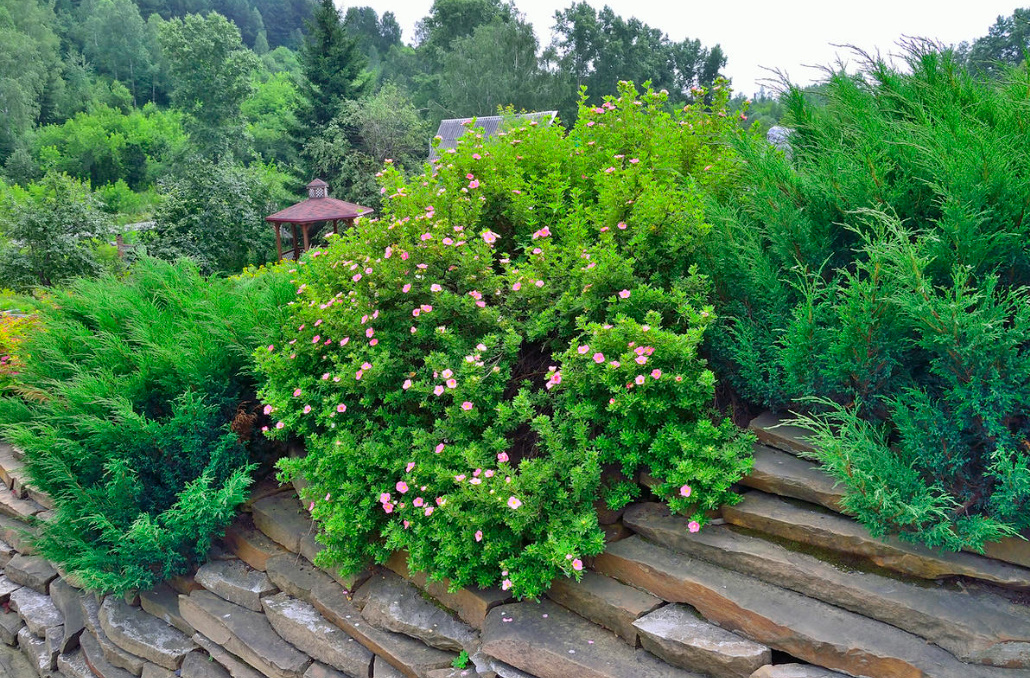 'Pink Princess' (synonyms — 'Princess', 'Pink Queen')
A very popular variety in horticulture. A dense cushion-shaped crown is formed by creeping strongly branched shoots. The height of the plant is 0.6—0.8 m, diameter up to 1.2 m. Flowering is abundant and long-lasting — from May to October. The variety is quite hardy, but winter insulation is required in the northern regions. It also needs to be done without fail for young plants in the first 2 years after planting. Like other similar varieties, it is prone to fading flowers in the sun, so planting in partial shade is desirable.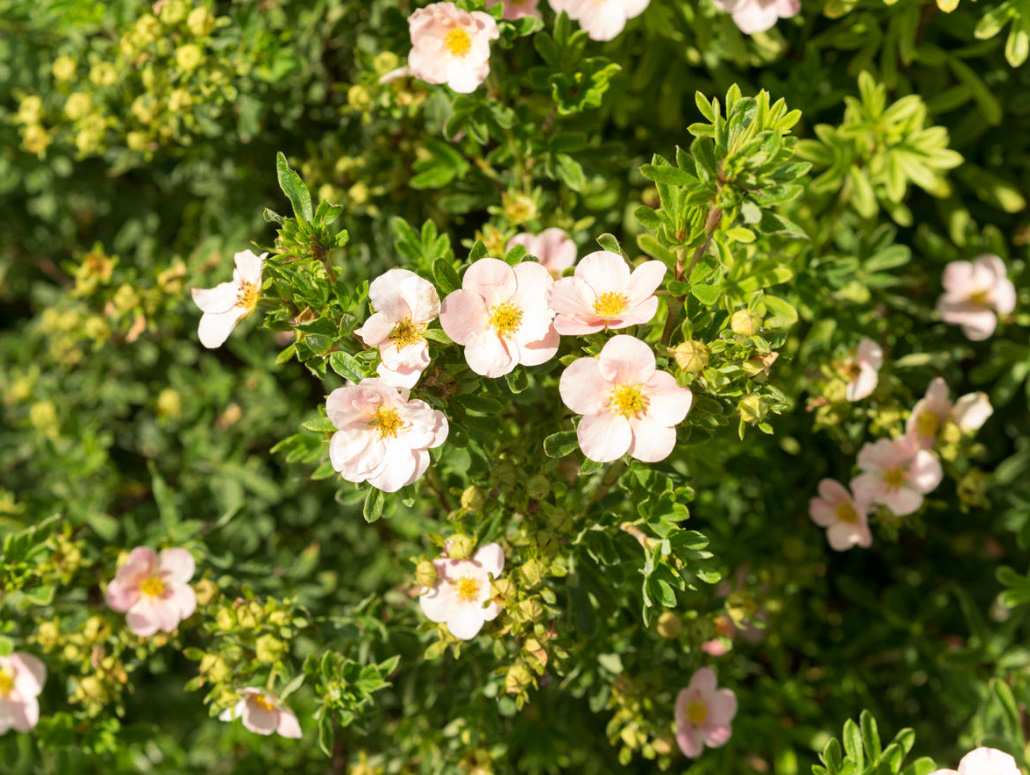 These pink-flowered varieties are also interesting: 'Pink Whisper', 'New Dawn', 'Bellissima'.
Varieties with red flowers
In the arsenal of gardeners there are not so many shrubs blooming with red flowers. Even fewer of those that bloom throughout the warm season. Therefore, cultural varieties of Potentilla fruticosa with red-orange flowers are of particular importance. Despite its hardiness, in the first two years after planting, plants must be protected from severe frosts.
'Red Ace'
A variety beloved by gardeners for its brightness, unpretentiousness and stable flowering. It may seem that such a beautiful plant will require increased attention, but this is not the case. 'Red Ace' is resistant to bad weather, does not freeze without shelter (3rd zone) and is steadily in full bloom from June to early September. The shrub is rather wide than tall: it reaches 0.6 m in height and up to 1.2 m in width. The crown is thick and dense, bright flowers up to 3.5 cm in diameter turn yellow in direct sunlight, this should be taken into account when choosing a planting site.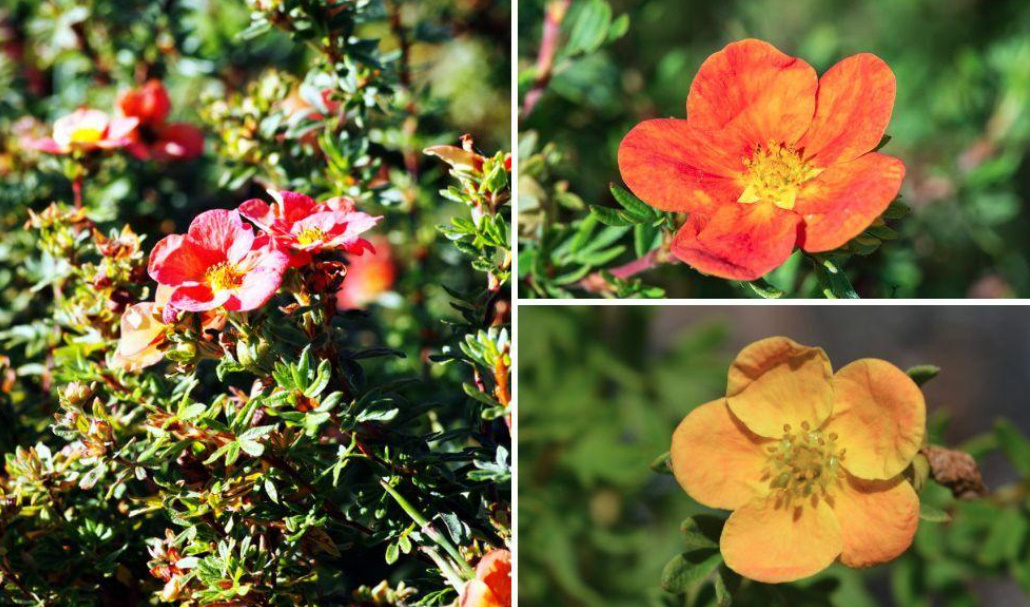 'Red Robin' ('Marian Red Robin')
Another popular red-flowered variety. A low, dense creeping bush, height — 0.4-0.6 m, diameter about 1 m. Blooms later than other Potentilla, closer to July, but blooms very abundantly with rich red flowers up to 4 cm in diameter. Compared with other red-flowered varieties, 'Red Robin' has the most stable color of flowers — it burns out the least in open places. But it is still desirable to create a sparse shadow for this variety.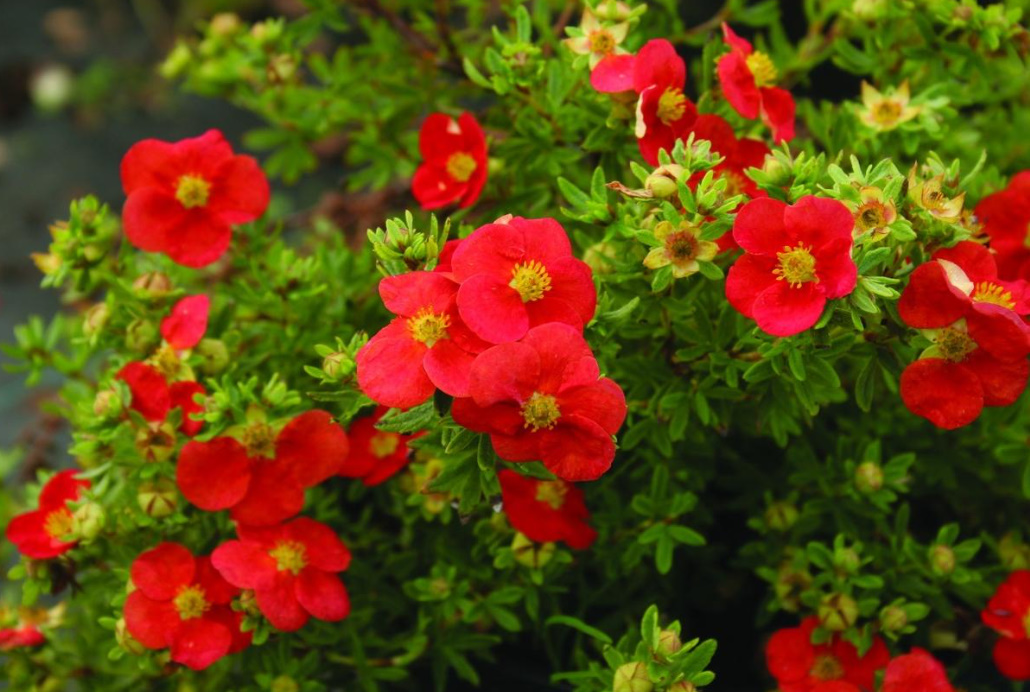 There are other Potentilla fruticosa with red and red-orange flowers, for example 'Mango Tango', 'Hopleys Orange', 'Orange Star'.
Potentilla fruticosa is very actively used by landscape designers. Hedges, borders are formed from it, it is planted in rocky gardens and singly. However, there are also herbaceous species of Potentilla.