There is a huge world of very interesting ancient coniferous family Taxodiaceae, which includes wood exotic beauties: cunninghamia lanceolata, cedar Japanese, glyptostroboides metasequoia, Sequoia sempervirens; and handsome: taksodium and sciadopitys whorled. About them and will be a story today.
Perhaps someone will say: why do we have this exotic? But the fact of all the matter is that the summer resident of the middle band to get acquainted with southern plants and know them "in person"! To "not burn" then in the garden centers, paying a lot of money for Japanese cryptomeria, sciadopitis whorish and other exotic plants that (even with a good shelter) will freeze in the first winter. Moreover, some conifers can be successfully grown in the closed ground, for them are just ideal winter gardens in Bay Windows, cool guest rooms with adjustable heating and so on.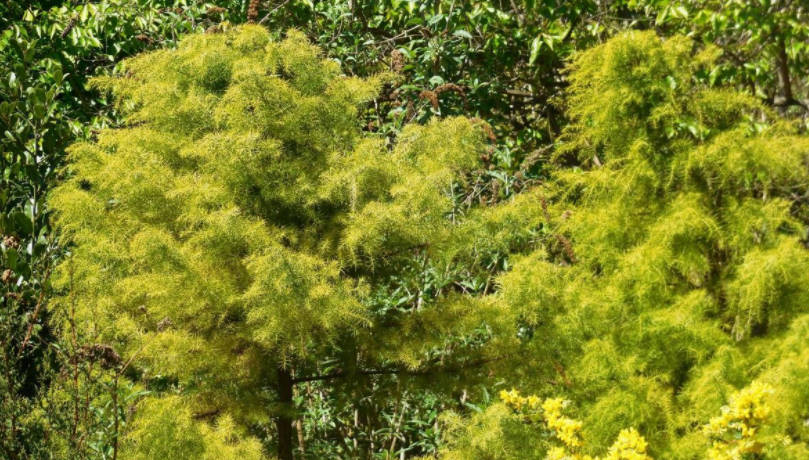 Let me remind you that I adhere to the plants belonging to families, which is given in the two volumes of the encyclopedia of garden plants of the Royal society of gardeners of great Britain Encyclopedia of Garden Plants.
So, meet South exotic conifers of the Taxodiaceae.
Cunninghamia lanceolata
Cunningham lanceolate or Chinese fir (Cunninghamia lanceolata, syn. C. lanceolata var. sinensis — – very beautiful rare conifer, in vivo (originally from China) reaching a height of 20 m and a width of 6 m.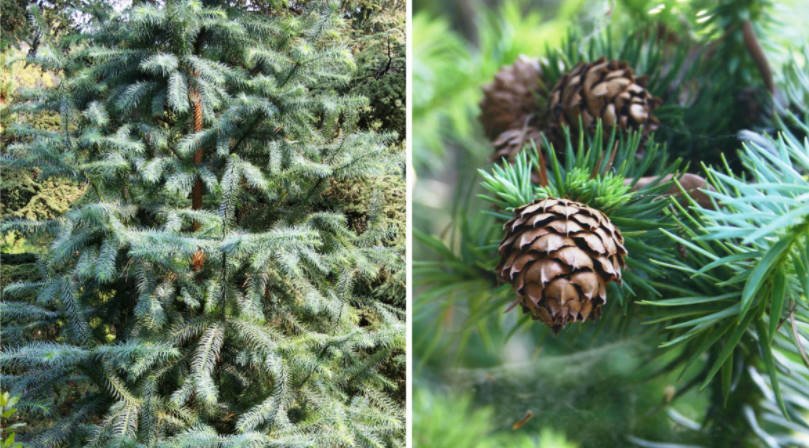 It has a natural conical crown with a peculiar whorish arrangement of branches, which does not need molding. Needles are linear-lanceolate, sickle-shaped, up to 7 cm long, rigid, leathery, with 2 longitudinal white stripes on the underside. Cones globose, brown, 3-4 cm in diameter; ripen in September. Decorative shape:' Glauca ' (blue-green needles).
Features of cultivation in the open ground
Thermophilic, critical winter minimum -15 °C. Cunningham prefers slightly acidic and acidic soils: it is very carefully prepared seats, charging them with humus and peat. Watering is carried out with soft water. We have it often chlorotic, so in the spring, before growth of shoots, important timely fertilizing with a special fertilizer for conifers, especially in the first 5 years.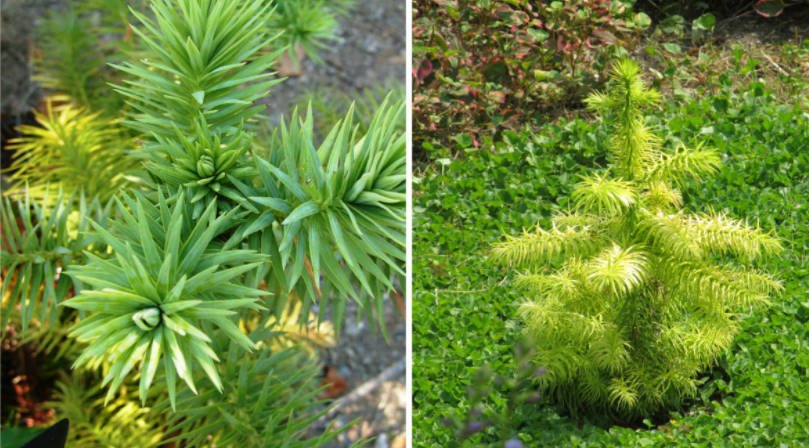 Pruning only sanitary, which is to remove the dry branches in the spring. Propagated by seeds that are sown in autumn (immediately after harvest) in pots.
That is intriguing:
Modern Taxodiaceae are real "living fossils" that lived more than 140 million years ago.
Cunninghamia is endemic (species growing exclusively in this area) of China, is named in honor of George. Cunningham (Cunningham), which in 1702 g opened world these interesting trees.
Light, soft, with a strong pleasant aroma, Cunningham's reddish wood is highly valued in China, where it is called "coffin tree". And in Northern Vietnam, Cunningham is called "the tree of life", as the plantations of false ginseng (Panax pseudo-ginseng) from it build sheds.
Cryptomeria japonica
Cryptomeria japonica — a gorgeous pine tree with short branches and reddish bark, flaking off in thin narrow strips. In nature it reaches a height of 25 m and a width of 6 m.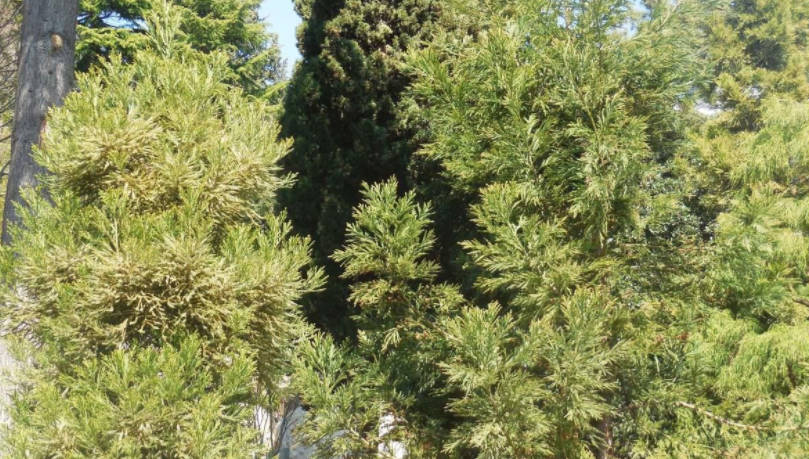 It comes from Japan, where it is common on the Islands of Honshu, Kyushu and Shikoku. Cryptomerias Japanese beautiful chart. Subulate needles are light green or bluish, 0.5 to 1.5 cm long. Cones are round or ovoid-rounded, brown,2-2. 3 cm in diameter; seeds are pointed; they are sown in autumn, immediately after maturation, in the spring already need stratification for 2-3 months at a temperature of + 1 °C.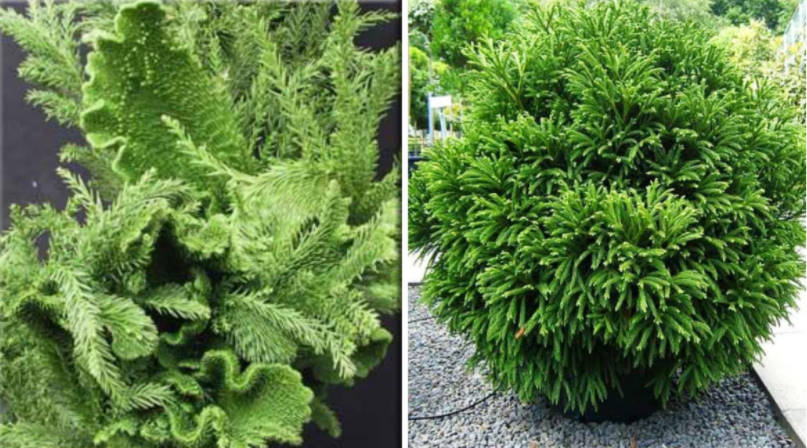 Decorative shapes:
'Cristata '(6-8 m high, branches short, rigid, bent);
'Elegans '(up to 10 m high (but more often 3-5 m), needles are bluish-green, reddish-brown or green in winter, with purple bloom);
'Globosa Nana' (2-3 m high, light green needles, bluish-green in winter) and others.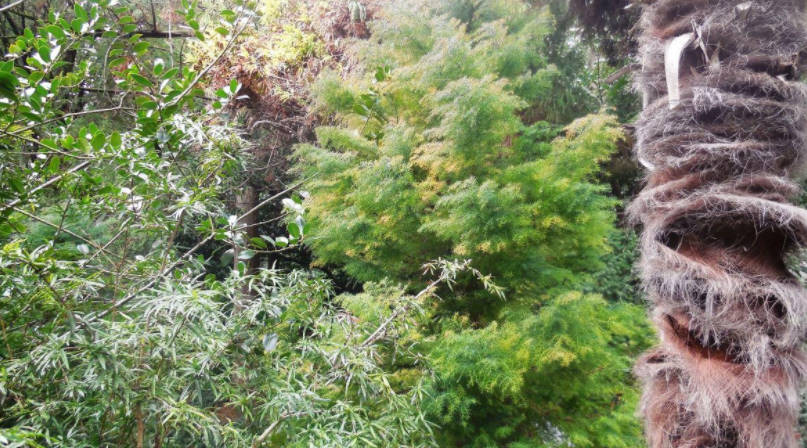 Often cryptomerias in Japanese form, 'Elegans' the trunk is tilted, due to juvenilenet (childishness) newsrelease forms, when saved not only needles, typical for young plants cryptomerias, but wood does not acquire required hardness, which leads to tilting of trunks.
Features of cultivation in the open ground
Thermophilic: -15 °C for her already critical. Grows well in moist fertile acidic well-drained soils. It grows better in well-lit and semi-shaded areas, tolerates shaded locations, but suffers from winter waterlogging of the soil. When planting seedlings up to 2 m necessarily tied to the support. Well in the first 3 years after planting mulch tree base organic substrate. Watering in the first year of planting is regular, in the future-as the soil dries. In the first 5 years, before the growth of new young shoots, the compulsory feeding is a special fertilizer for conifers (according to the manual). Only sanitary pruning is to remove dead branches.
Propagated by seeds (gives heterogeneous offspring), garden forms — vegetative — cuttings (cuttings of conifers will be a separate article). Often professionals and Amateurs gradually clear the trunk of branches up to a height of 1 m. it is Important to have preventive treatment against spider mites and thrips.
That is intriguing:
Cryptography has long been in culture and plays a significant role in the lives and beliefs of the people of China and Japan.
Decorative juvenile forms of the needles are soft and fairly long.
Cryptomeria plants, often falling branches, and it is sometimes very substantial, increases in dry and hot periods.
According to the color of the needles of Japanese cryptomeria 'Elegance' can predict how severe winter will be: with a very rich brown color wait for the real cold weather.
Because of the features to change the color of needles, the Japanese call cryptomeria 'Elegans' "chameleon tree".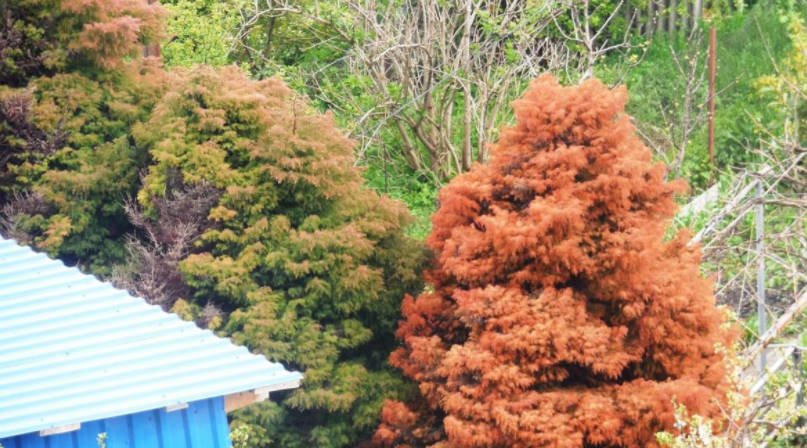 Metasequoia glyptostroboides
Metasequoia glyptostroboides — Taxodiaceae is another beauty with rare conical crown, reaching a height of 20-40 m and in width up to 5 m.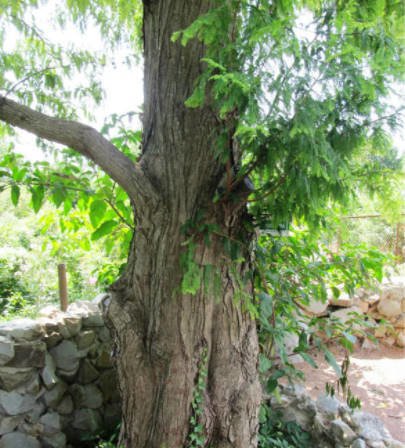 She comes from China (Northwest Hubei). Linear soft light green needles up to a length of 1.5 cm on short shoots and scale-like brown — long. Cones are almost spherical, dark brown, 1.2-2 cm long; ripen in September-October. Seeds are small, flattened, with two narrow wings, like Thuja.
Features of cultivation in the open ground
Thermophilic: -15 °C is already critical winter minimum. At landing establish a stake and tie (eight) a soft twine a tree to a support. It develops better in Sunny locations and constantly moist, but without stagnation of water, fertile soils, so it is very important in the first 3 years to ensure regular watering. It tolerates transplant, summer drought, but at the same time the required fall for water loading irrigation. Every spring, at the beginning of the growth of shoots, fed a special fertilizer for conifers. If necessary, carry out sanitary pruning and removed (at least the appearance of) tree trunks shoots. Propagated by freshly harvested seeds (soil germination up to 30 %, the depth of seeding 1-2 cm) and vegetatively cuttings.
That is intriguing:
Glyptostroboides metasequoia was discovered in the mountainous regions of Central China beginning in the fossil state in 1941, and then growing in nature — in 1944.
This is a rare species of the world dendroflora.
In China, metasequoia is called "water fir", as it grows along the banks of mountain streams, and in the UK — red tree of dawn or blood-red tree (Dawn redwood).
Metasequoia glyptostroboides — the fastest growing conifer on the planet, the annual increase of up to 1.0 m!
This tree is very much strewed branches, and summer growth (short shoots) fall autumn leaves.
Taxodium distichum
Taxodium distichum — widely cone-shaped tree with a thick trunk height of 20-40 m and a width of 6-9 m.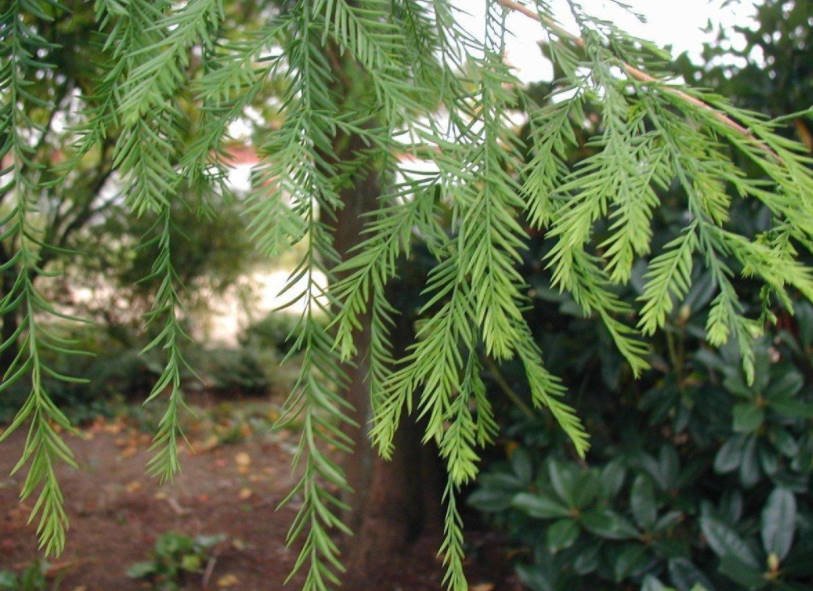 It comes from North America, where it is common in low-lying areas of the South East United States. Needles are linear, soft, light green, spiral-double row, up to 2 cm long.Cones are almost spherical, dark brown, 2-3 cm long. Seeds are tetrahedral, slightly winged.
Taxodium mucronatum
Taxodium mucronatum-tall tree (up to 20-30 m) with a thick trunk and a conical crown.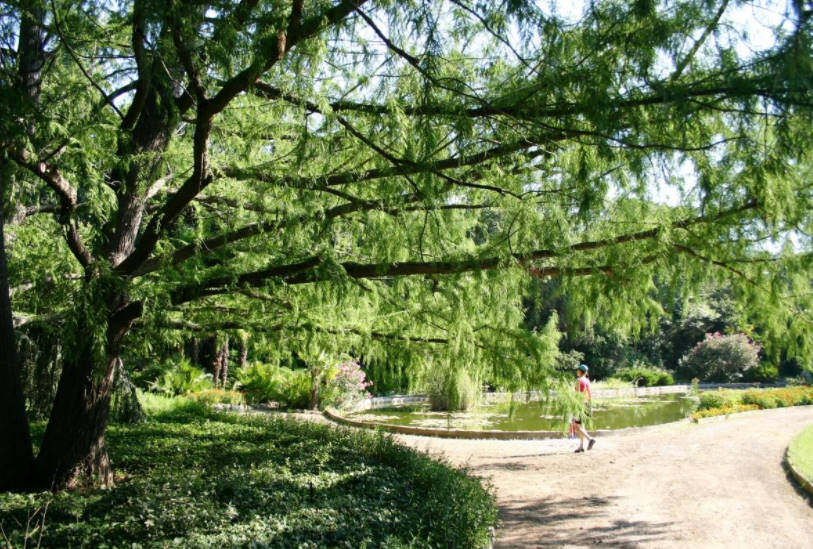 In nature, it grows in mountain valleys from Texas to Guatemala. Needles are green. In winter, the crown is decorated with very large hanging racemes of male cones greenish.
Features of cultivation in the open ground
Both taxodium heat-loving: winter minimum for them at -15 °C. Both species develop well and grow on moist, fertile, drained soils. Prefer full sun, but tolerate partial shade. Tolerant of transplantation. Propagated by both seeds and cuttings.
That is intriguing:
Branches summer growth of these in autumn turn a reddish color and fall off.
A rather large female cones in the fall to the ground apart.
Sciadopitys verticillata
Sciadopitys verticillata is an evergreen coniferous tree with a height of 10-20 m and width of up to 6-8 meters.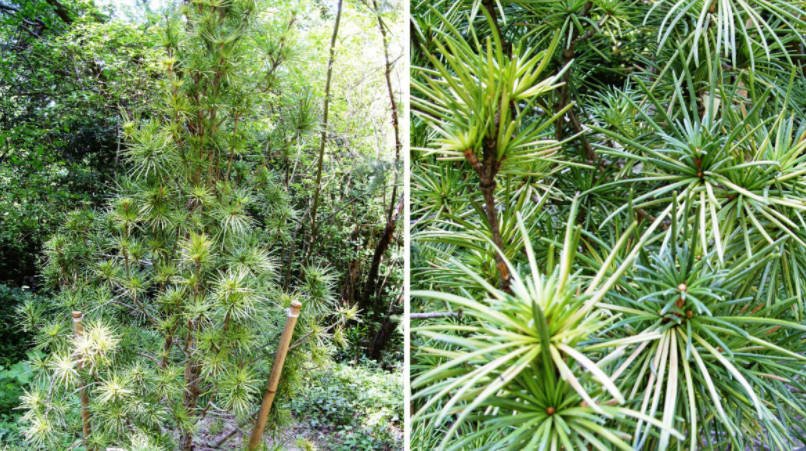 Table of the encyclopedia against sciadopitys indicated belonging to two families — Sciadopityaceae/Taxodiaceae. He comes from southern Japan. Needles are dark green, with a length of 5-12 cm, collected in whorls at the ends of shoots is retained for 4 years. Cones (female) ovoid, solitary, 5-8 cm long, male collected in apical head formations.
Features of cultivation in the open ground
Thermophilic: -15°C is its temperature threshold in winter.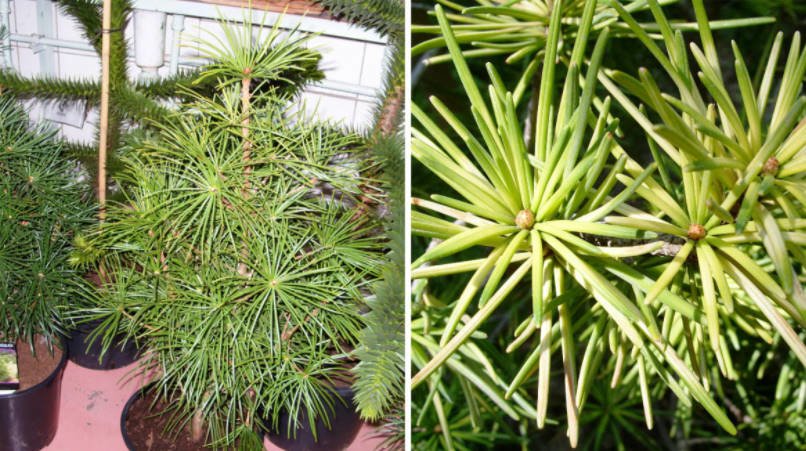 Normal development is observed in the shaded areas South of the cottages with a deep fertile well-drained soils. Propagated by seeds. Initially, seedlings up to 3-5 years are grown in containers.
That is intriguing:
In fact, sciadopitys not needles, as phylloclades – modified leaves.
Sequoia sempervirens
Sequoia sempervirens is a majestic tree up to 112 m high and 6-9 m wide with a conical crown and a red-brown bark.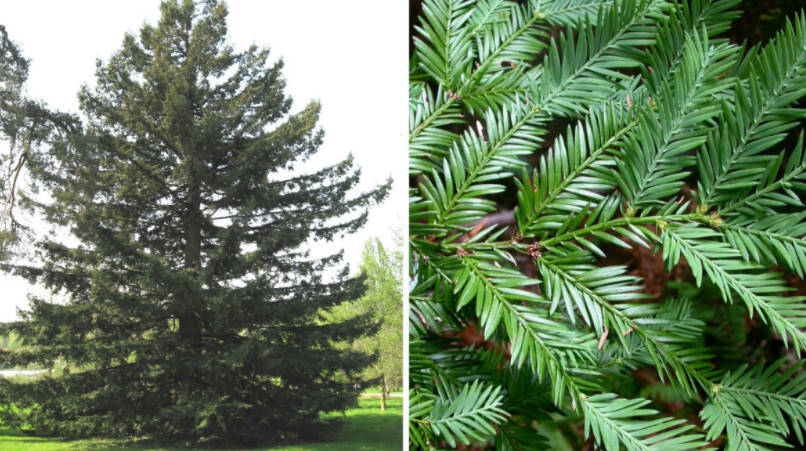 She comes from the USA. Needles flattened-needle-like, similar to yew, pressed, scaly, shiny, 2 cm long cones (female) spherical or oval, reddish-brown, 2-3 cm long; Mature in September.
Features of cultivation in the open ground
Prefers a deep fertile moderately moist, neutral soil and a Sunny location; in youth to tolerate shading. Propagated from freshly collected seeds (germination dirt low — 2-16 %) and by cuttings. Planting material is preferably grown in containers.
That is intriguing:
First evergreen forests of Sequoia were discovered by Europeans in 1769 on the Pacific coast. Seeing the reddish color of the wood, they were called "red trees" (Redwood).
In 1847, Sequoia got its name in honor of Sequoia — leader of the Iroquois (1770-1843 biennium), gave the tribe the alphabet; allocated to an independent genus Austrian botanist Stephen Endlicher.
This tree is a long-lived: known specimens that are more than 4000 years old.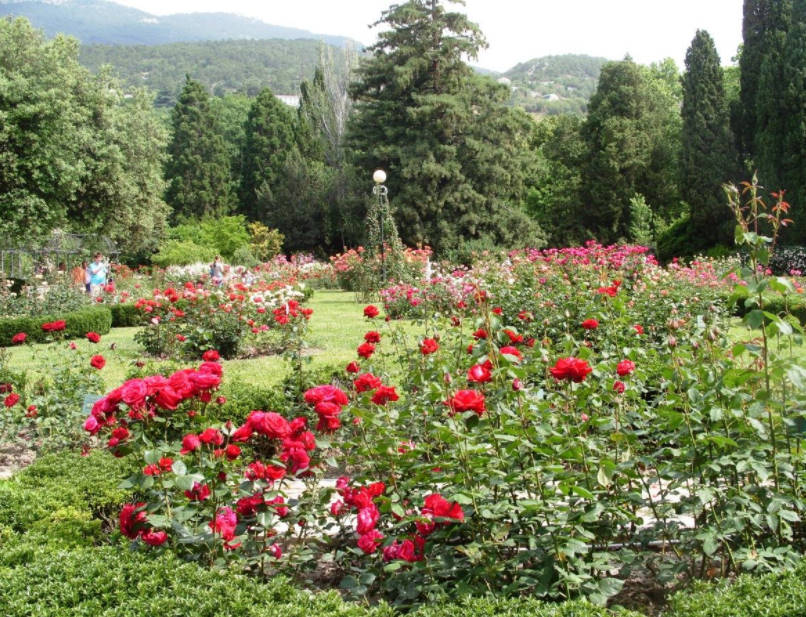 And you know the plants of the Taxodiaceae? Have you ever been tempted to this exotic conifer in garden centers?