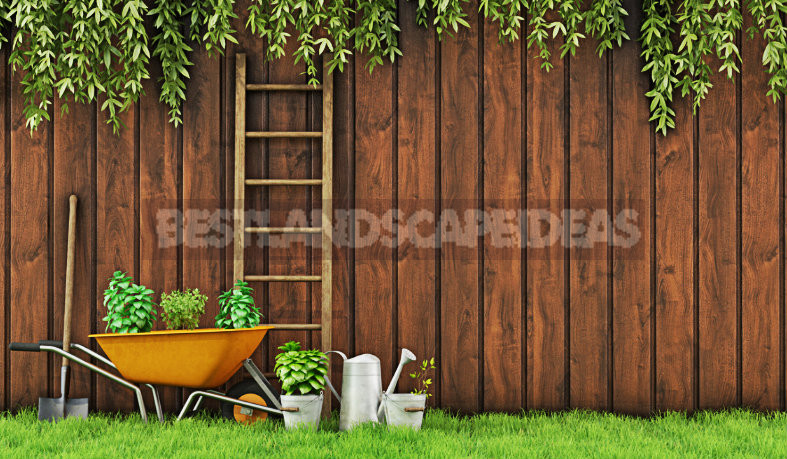 In this article I will talk about the advantages and disadvantages of various types of fences, and the construction of the fence with their hands.
What fence to choose for construction?
Now you need to decide: what kind of fence you need? If you want to completely "hide" from the outside world in your country oasis, then build a fence of brick, concrete slabs or high boards. If you just need to protect the property — consider options of creation of a palisade, a metal lattice, a protection on the basis of a grid-rabitsa, a low fence from boards or at all make a protection a beautiful green fence.
And do not forget: in addition to its main purpose — to protect the territory and protect it from foreign penetration — the fence must perform an aesthetic function. So pay attention to its appearance. Before I talk about the construction of a country fence with their hands, let's make a brief comparison of the most common types of fences.
Types of fences
Wooden fence
Dignities:
the availability of the material;
low cost.
You can buy cheap edged boards and process them yourself. And you can buy a ready-made wooden fence in the store. Choose you.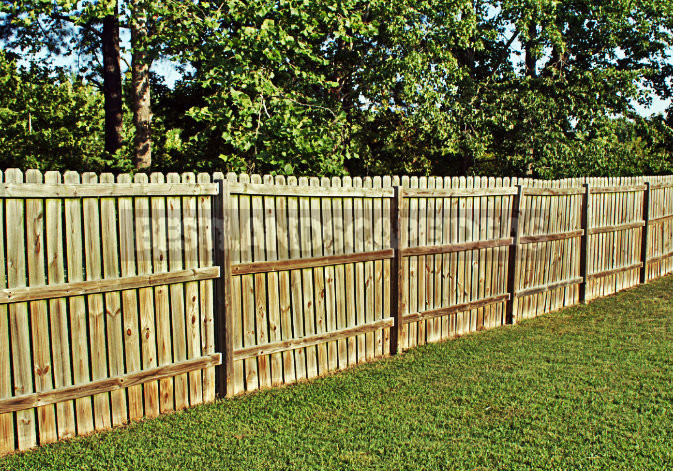 Disadvantages:
ephemeral;
requires regular maintenance: repair, tinting and so on.
Brick fence
Dignities:
very strong, the most durable of all types of fence;
special care is not required;
looks solid and respectable.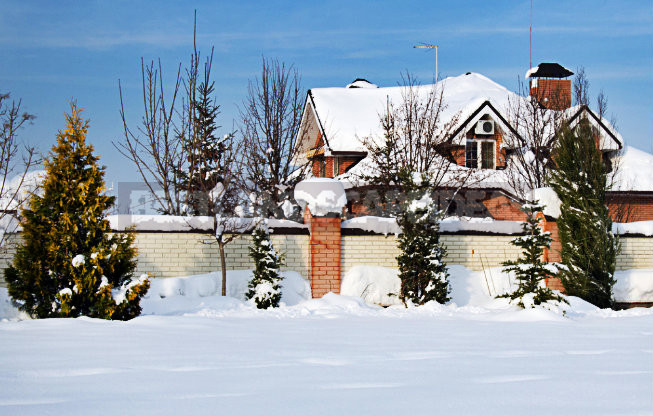 Disadvantages:
very high material cost;
it will require a solid Foundation, the construction of which is very expensive.
Metal sheet fence
Dignities:
availability and variety of material: different wave size, different color, coating and other parameters;
easy to install (no special Foundation required);
low price;
practical;
durable: will last you about 30 years.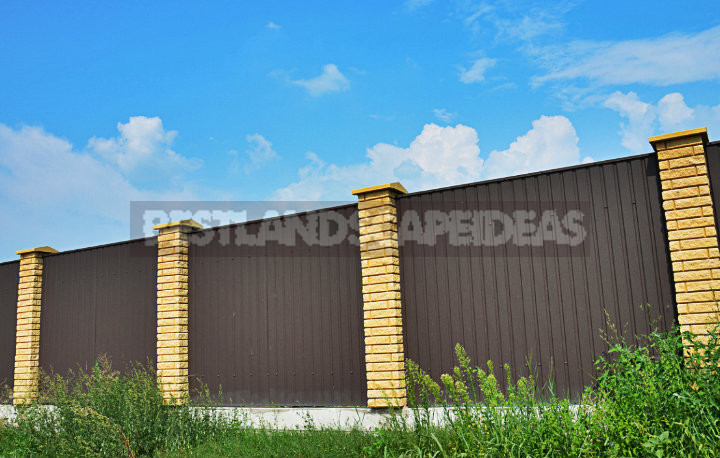 Disadvantages:
very unattractive appearance (especially from the inside).
Build a fence in the country with their hands
And now I present to you a way to build a fence with their hands, the most popular among gardeners and do not require serious financial investments.
Build a wooden fence
We determine the boundaries of the site.
We drill holes for bearing pillars 0.7-1.0 m deep at a distance of 2 or 2.5 m from each other.
Insert the poles into the pits, using the level (or plumb) check that they were strictly vertical.
Strengthen (can be concreted or cemented).
On poles from above and from below we beat or fasten with screws a bar section 50 x 50 mm or more.
Install the crossbars.
To the finished design fasten edged boards (you can take the Board section 85 x 145 mm) at a distance of 1.5-2 cm from each other.
Proceed to painting.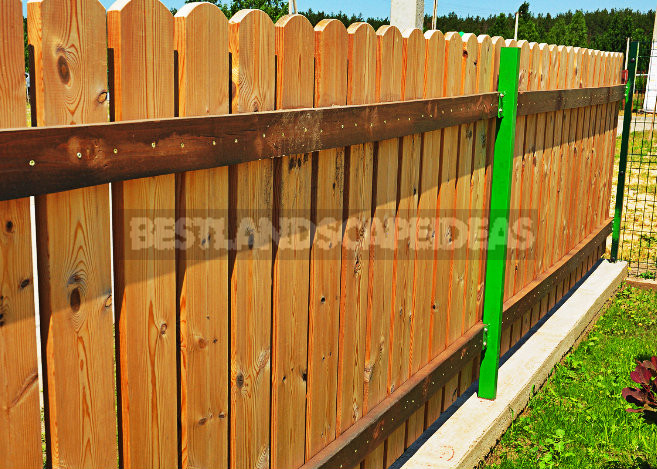 Several important nuances
The quality and durability of any fence depends on the pillars on which it is based. Therefore, experts advise to use strong metal supports even for wooden fences-so the fence will last much longer.
Think about where and how you will mount the gate, what they will be: sectional, swing, folding or other. And then you can use the classic solution for any kind of fence: a rectangle for the gate, welded from a shaped metal pipe, should be a little smaller than the niche in the fence for the construction of the gate. The size of the gate determine themselves. To sheathe a profile it is possible that material from which you make a fence: boards and so on.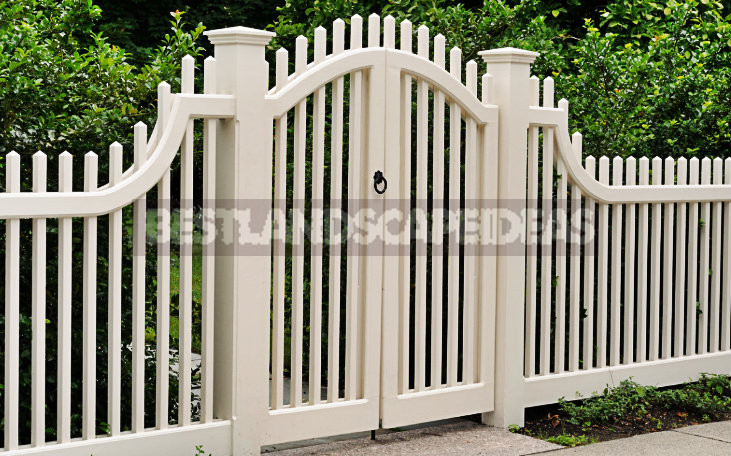 You need to take care of the double-sided handles on the gate and the valve (if you need it). The gates are attached to the supporting frame with durable metal canopies. If you put a padlock, then the gates need to fix the metal hinges for it. And if you decided to make a mortise lock, then on one of the support pillars (from the lock) and on the door of the gate, make holes for the lock itself and for its tongue.
I hope, using these simple tips, you can build a good and beautiful fence with your own hands. Good luck to you in such a difficult and painstaking task.