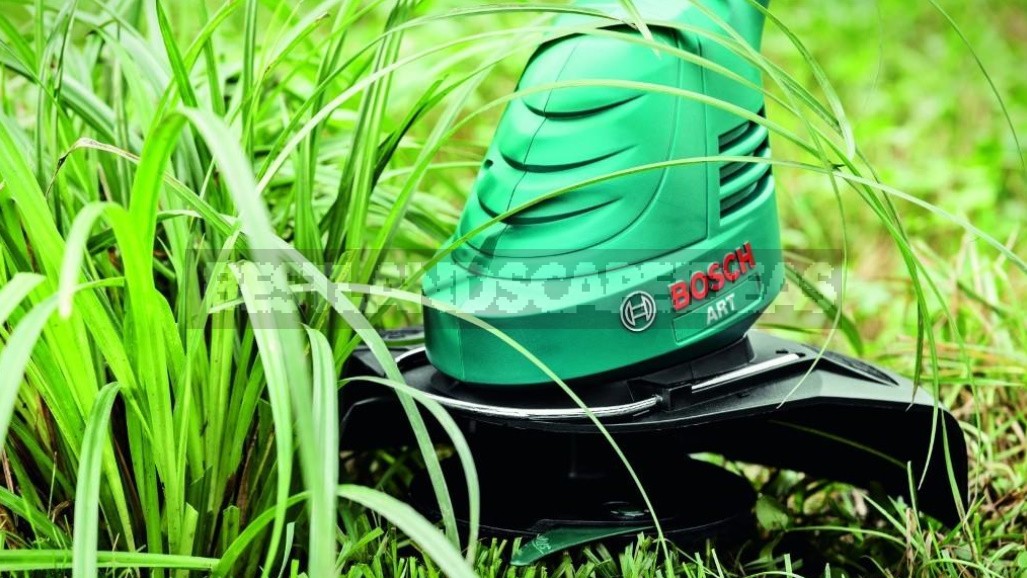 Trimmers are ideal for lawn care. They add the finishing touch to the design of the garden: you can use them to trim the edges of the lawn and other areas that are not available for a conventional lawn mower. However, choosing the right trimmer can be difficult if you don't know where to start. Our instructions will help you cope with this task.
Selection criterion
When choosing a trimmer, it is important to consider the size of the garden. Is your plot large or small? Is there access to an external power supply? As soon as you answer these questions,you can decide which trimmer is more suitable for you: petrol, electric or battery.
You should also consider what vegetation you plan to cut with a trimmer: you will cut a standard lawn or a plot overgrown with weeds. The answers to these questions determine the choice of the tool itself and additional equipment to it.
To decide on a specific model, you need to decide what type of trimmer you need, what kind of cutting system it should be equipped with, and what additional features it should have.
1. Kinds of trimmers for grass
There are three types of trimmers:
electric;
rechargeable;
petrol.
Electric trimmers
Electric wire trimmers can work for an unlimited amount of time, and you don't have to worry about the cost of gasoline or battery level. These tools are easy to use and have an uninterrupted power supply. Usually electric trimmers are quite light: they weigh about 2-3 kilograms. At the same time, they have high power and efficiency.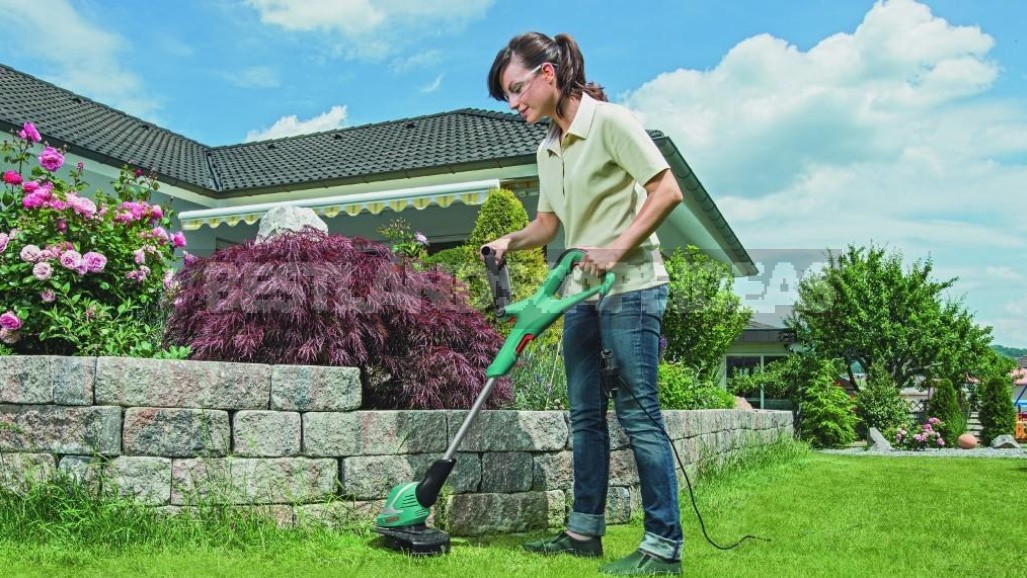 However, keep in mind that the area of work with wire trimmers is limited. Trees or other interference on your property may cause additional difficulties when mowing the lawn. In addition, do not forget that you need to have access to a power source.
Cordless grass trimmers
Cordless battery-powered trimmers are ideal if you want to easily move around the garden without fear of damaging the cable, and do not depend on the power source. They are similar to wired models: they are light, easy to operate, and relatively quiet.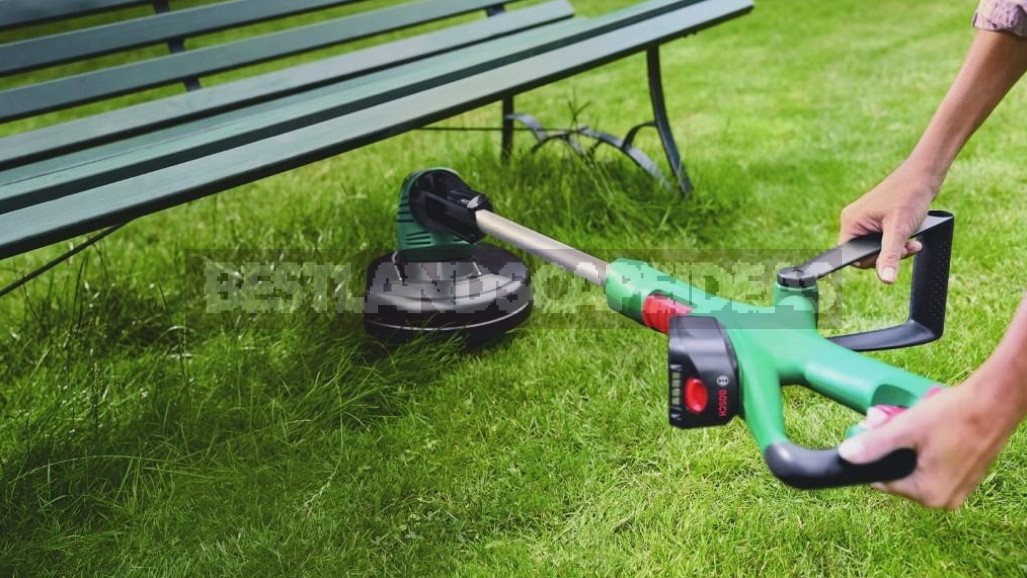 However, the main thing to consider when buying such a trimmer is the operating time and battery capacity. Can you mow the grass before the battery runs out? If not, you should stock up on an extra battery that you can charge while using another one.
Petrol trimmers
If the site is overgrown with grass and weeds, then a gasoline trimmer is an ideal option. It is similar to wireless battery models, because it allows you to move freely around the territory and not depend on the wires. At the same time, gasoline tools, as a rule, have high power.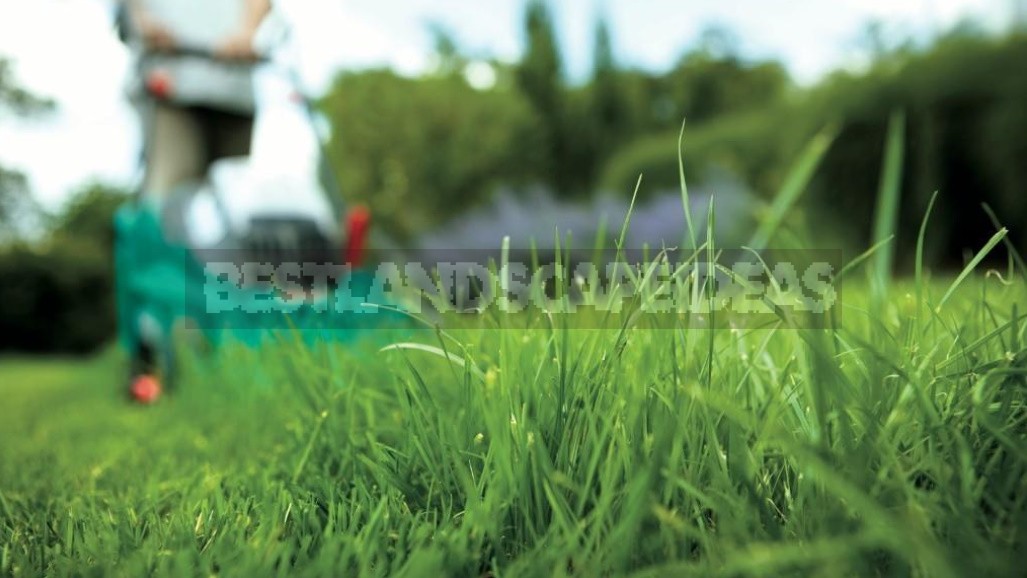 However, this trimmer is much heavier and louder than an electric or battery-powered one. And above all, you need to take into account the cost of fuel.
2. Types of cutting systems
Usually, a grass trimmer comes with a cutting line that rotates so fast that it allows it to cut the grass. The fishing line is wound on a reel in the trimmer head. According to the method of feeding the fishing line, the trimmer heads are divided into three types:
Manual trimmer heads – the user stops the trimmer and removes the fishing line independently if necessary.
Trimmer heads with shock feed – to extend the fishing line, you need to hit the head of the trimmer on the ground.
Automatic trimmer heads – the fishing line is automatically lengthened when the user starts the trimmer motor.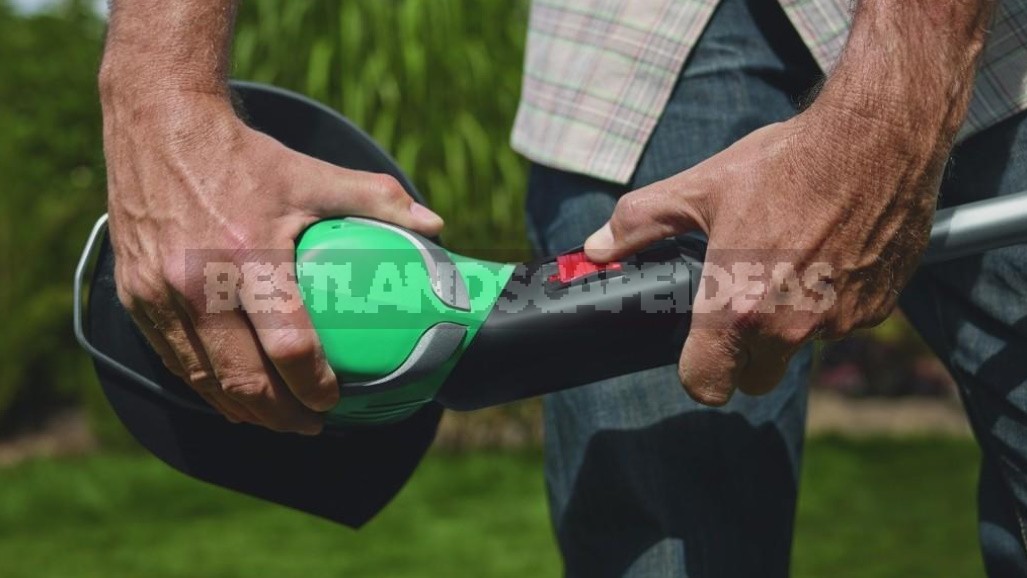 However, the fishing line is mainly intended for mowing low soft grass. In order to mow more coarse vegetation, you need trimmers that are equipped not with a fishing line, but with a cutting system made of strong plastic knives. These knives rotate at high speed and easily cut weeds and all sorts of weeds. Plastic knives are easy to replace, they have a long service life and are better at handling grass than fishing line.
3. Additional features
Some useful options make it much easier to work with the trimmer and help you solve additional tasks. Pay attention to them when choosing a model.
Vertical edge treatment 90°
Some trimmers are equipped with rotating heads that allow you to easily switch from the mowing function to the lawn edge trimming function at the touch of a button.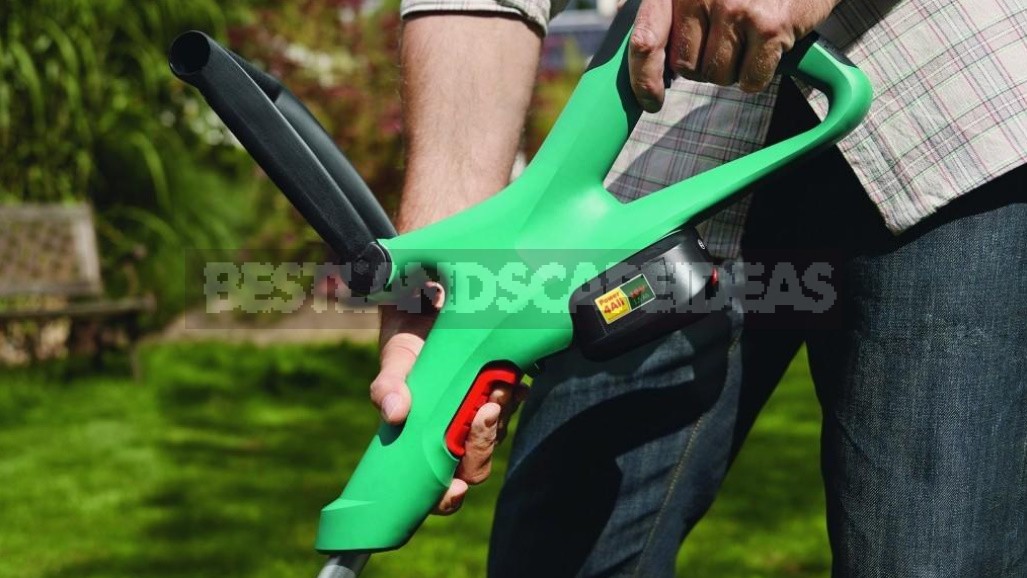 The ergonomic handle allows you to adjust the length of the trimmer, which makes it easy to use.
Thanks to the protectors in the trimmers, you will no longer have to worry about damaging the plants while mowing the lawn borders. This feature is perfect if you have plants or shrubs planted around the edges of your lawn.
As you can see, choosing the perfect trimmer is not difficult at all. And with a convenient tool, lawn care will always be a joy.