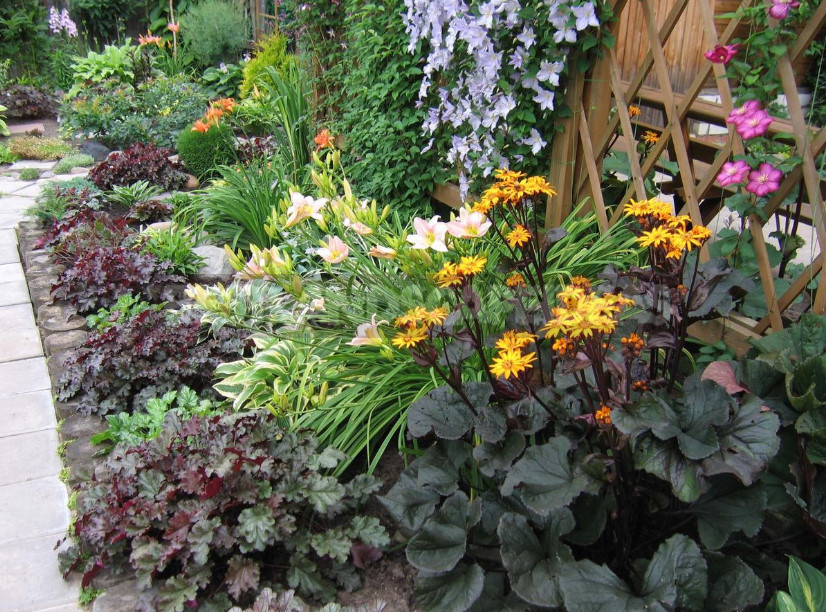 When I first saw the varietal Heuchera in the garden, I thought it was a magnificent begonia. I could not believe that a plant of such an exotic species is able to grow in our country. But for more than ten years, these "American" grow well and winter well in my garden, and meanwhile, novice growers, seeing them, believe, as I once did, that it is houseplants.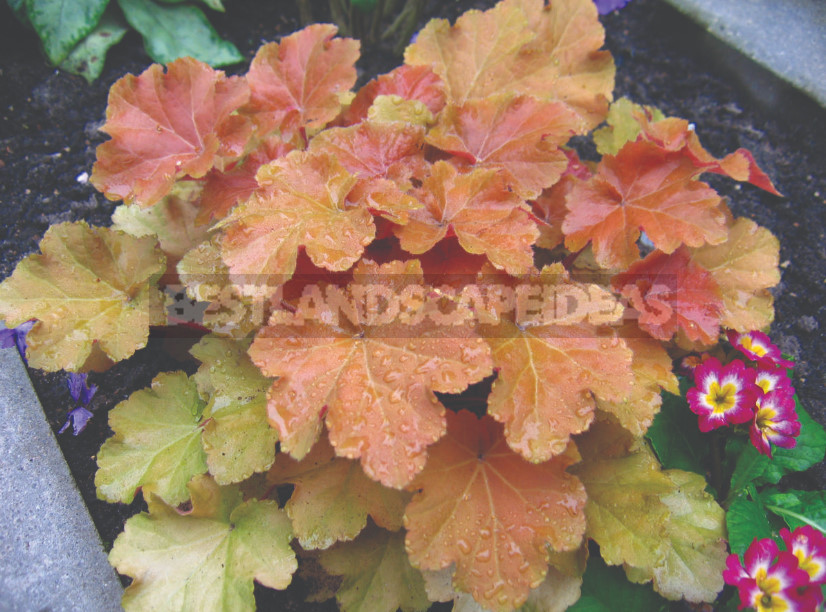 Modern varieties and hybrids of Heuchera decorative, spectacular, unpretentious, winter-hardy, easy to care for.
From the history view
Many species of plant grows in woodlands and mountain woodlands of North America. They do not immediately attract attention, as they are small and nondescript small cream-white or greenish flowers. And the color of the heart-shaped-rounded leaves collected in the basal rosettes, gently merges with the color of the forest floor. However, they were noticed, classified and introduced into the culture.
Often the plant is open to ordinary people long before nerds and is used in medicine and cooking. And Heuchera no exception. In the old days it was used as a medicine. Indians, for example, applied the crushed boiled roots of a plant to wounds and ulcers, decoction from them applied at a fever and diarrhea.
Carl Linnaeus named the genus Heuchera in honor of Professor of medicine and botany at Wittenberg University John Heinrich von Heucher (1677-1747). Perhaps the first reference to this plant (as Cortusa Legia) is found in the directory "Exotic plants of Quebec, New England and Virginia," published in 1623 in France.
One of the first Botanical drawings of the plant, made in 1698, with the caption "Cortusa Legia floribus herbidis" is stored in the natural history Museum in London. For the first time Heuchera began to grow John Tradescant Younger, and 1656, the year is considered the date of its entry into culture.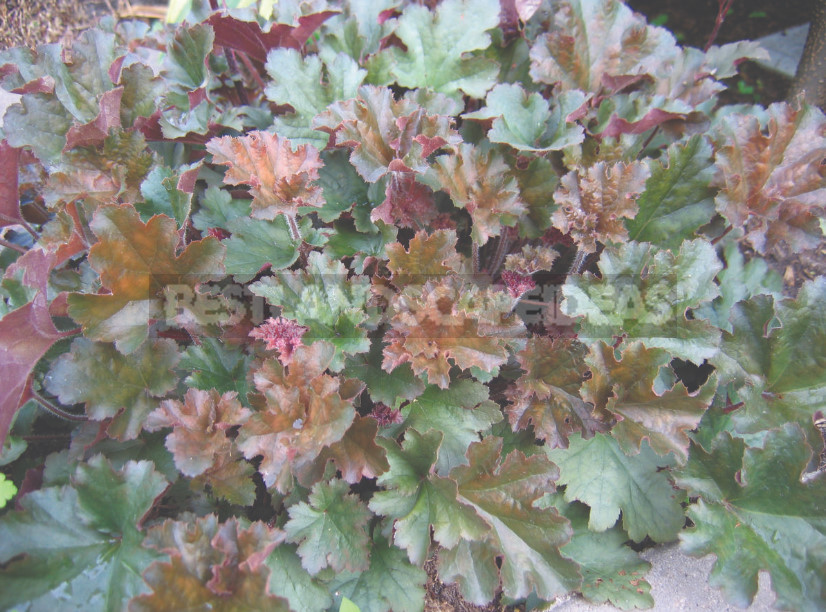 In the future, researchers gradually discovered and found new species and varieties of Heuchera, plants were systematized, in Botanical gardens and nurseries collected collections. The best, hardy, unpretentious and effective copies with which selection work was carried out were selected.
Serious work on breeding Heuchera in the late XIX century in France began Victor Lemoine and his son Emil. They created a whole string of magnificent varieties of Heuchera sanguinea and obtained the first interspecies hybrids. Later in England as a breeding plant began a dynasty of growers bloom. Already in 1934, at the exhibition of flowers in Chelsea Alan bloom introduced the flower garden, fully formed from Geiger, including nine new varieties. In the future, more than three decades bloom selfless continued work, for which he received the status of "godfather of the plant".
Breeding Geiger developed rapidly. Modern varieties surprisingly changed the usual appearance of the plant, due to the fact that breeders switched their attention from flowers to leaves. The luxury of great new products is amazing. From the nondescript and unsightly wild forms obtained plants of amazing beauty with leaves red-purple with a metallic luster, ruby-amethyst, chocolate-black, bronze-purple, red-brown with a silver pattern, cherry with tin spots, green with gold veins, sugar-white with green splashes, amber-orange.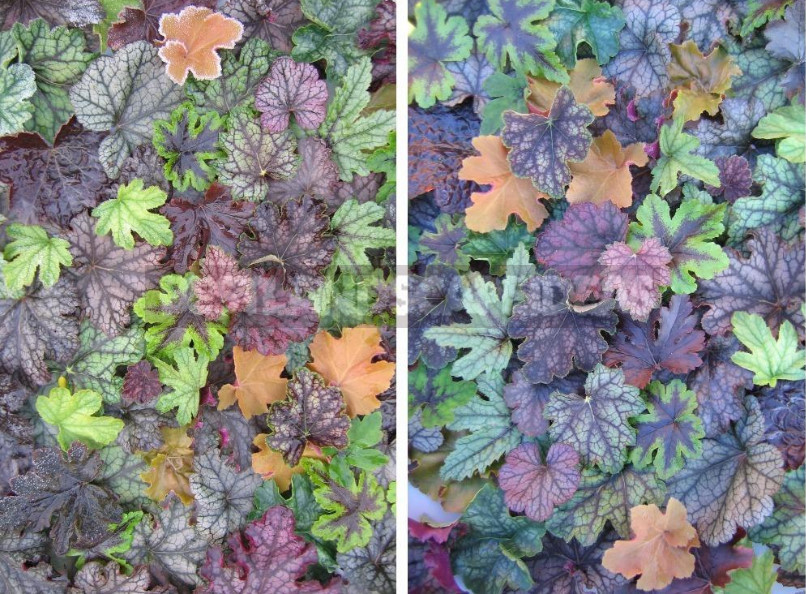 And now hybridizers are working to create varieties that would combine spectacular foliage with bright abundant flowering. The culture of the plant has not yet exhausted its possibilities, and annually there are new varieties. But they are relatively few, because the leading nurseries strictly adhere to the principle: better less, but better, ensuring that the varieties are as different from each other and would not be similar, as is often seen in other garden crops.
The types and varieties of plant
Genus Heuchera, numbering more than 70 species, is actually the largest in the family Saxifragaceae. Its range is limited to North America. Plants form a squat basal rosette of heart-shaped rounded, shallow dissected leaves, often on the edge of the toothed, over which in summer towering high (40-90 cm) peduncles with numerous small graceful drooping bell-shaped flowers of greenish, cream, white, pink or crimson color. Flowers on slender pedicels collected into the lungs paniculate inflorescences.
Wild plants can be divided into forest and mountain. Mountain species are much more, but the forest is more spectacular and decorative, and therefore more often used in gardening. They are faster and better adapted to the conditions of the garden with rich organic, moderately moist soils. In mountain species, the same dense leathery foliage, and their rhizome is specially adapted to survival among the stones. Excess of organic matter and moisture has a detrimental effect on them. In flower beds they need to create special conditions.
Forest species and their hybrids (eg, H. x amegisapa) feel great in the open light (but not hot) and semi-shaded areas; they are quite hardy and can grow in many flower beds. While mountain species (eg, H. sanguinea) and some hybrids based on them grow better in dry rocky gardens on the North side. Fortunately, this rule applies more to wild species and old varieties — modern breeding work has led to the fact that cultivated plants are more plastic and unpretentious.
Most often breeders work with H. sanguinea, H. villosa, H. cylindrica, H. americana, H. micrantha.