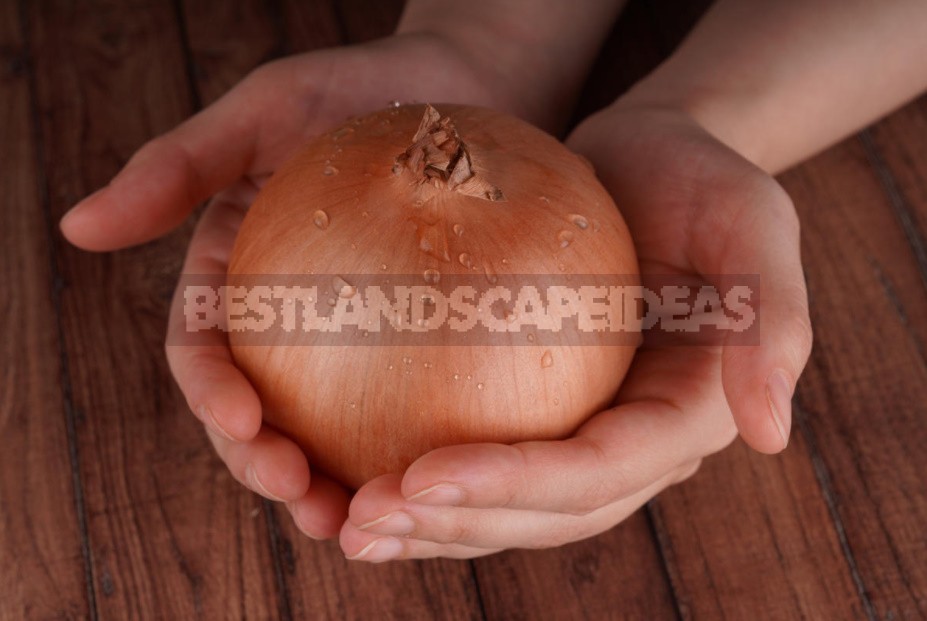 Onions, in my opinion, are among the most trouble-free garden crops and do not require unnecessary hassle around the garden bed. Planted, loosened a couple of times, watered and fed if necessary-everything. But if you are interested in how to grow large bulbs of onions, and not just collect the usual harvest, you will have to work a little and pay special attention to some important points.
I must say at once: I am not a fan of large fruits (both onions and other vegetable crops) – gigantomania bypassed me. Nevertheless, like everyone else, she probably experimented a lot in her garden. Therefore, I will offer you my recommendations, proven by practical experience.
It all starts with the variety
In the characteristics of varieties, as a rule, the weight that the bulb can reach is indicated. Pay attention to these numbers if size matters to you, otherwise you'll be wasting your time.
Let's compare: if the popular variety 'Exibishen' in recent years, with appropriate care, gives bulbs weighing 500 g or more (up to 1.5 kg!), then the maximum that reaches, for example, the traditional 'Stuttgart Riesen' is about 150-200 g (they say it is possible to bring up to 300 g, but this will require considerable effort). There is a difference, you will agree. But for many equally popular and common varieties, the maximum possible size of the bulb is even smaller!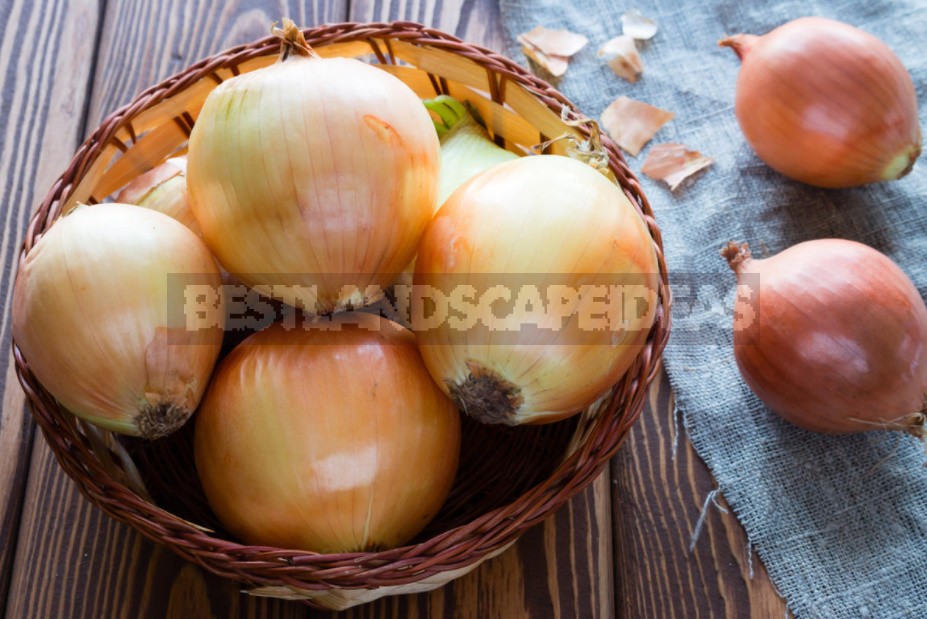 Note: varieties with extremely large bulbs (as 'Exhibicin') is very small. Traditionally, large bulbs are considered to weigh more than 150 g, so when choosing a variety, look for specific numbers-the word "large" in the description may not have the same meaning as you expect.
For example — a few more common varieties of onions, which are classified as large:
'Globo' – bulbs weighing up to 1000 g, on average 300-550 g;
'Sturon' — up to 300 g, on average 150-180 g;
'Red Baron' — up to 400 g, an average of 130-150 g.
Giant — on average 500-1000 g-bulbs form a variety of 'Russian size', but unlike the previously listed, it can not boast of good keeping quality, so it is simply impractical to grow it in large quantities.
Is it possible to grow large onions from seed?
Can. Moreover, some modern varieties and hybrids (the same "Exibishen", for example) are only planted in this way — unlike traditional ones, which we are used to growing from sowing. But you need to understand: if you just sow seeds in the ground in early spring, then you will not wait for the desired large bulbs in a cool climate. Something will grow, of course, but even with good care, it will not have time to reach the declared size. Large onions from seeds are grown through seedlings.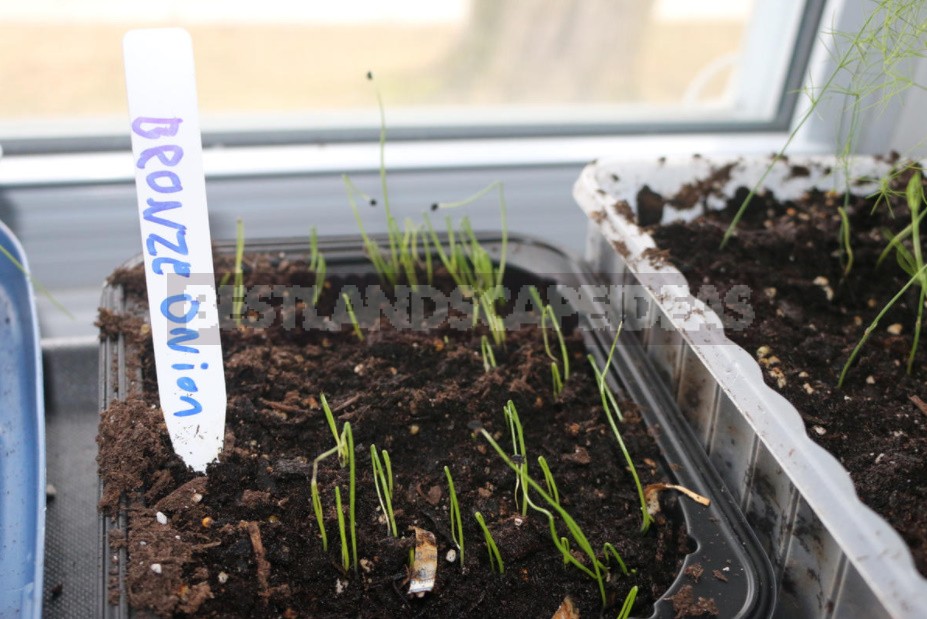 Will large onions grow from small sowing?
It will grow-with good care and the right choice of variety. Many people think that the size of the bulb depends on the size of the sowing: they say, from small and small things will grow, and to get large bulbs, you need to plant a large seedling. This is not entirely true. Moreover, with sub-winter sowing, a small fraction is preferable — the risk of shooting is reduced.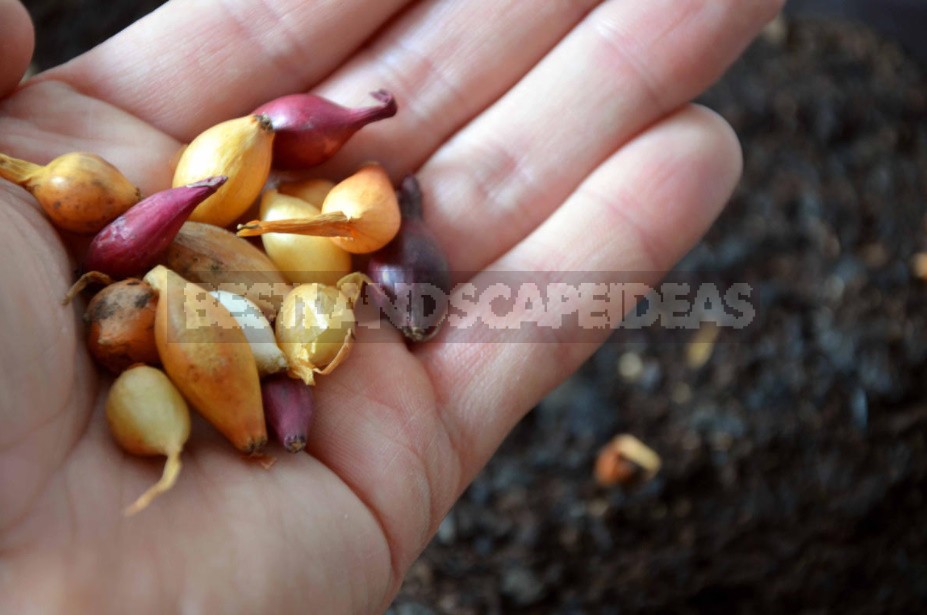 When choosing seedling, first of all (after the characteristics of the variety) pay attention to its quality and do not chase the size. Very large seedling is usually used for forcing a feather, it does not give special advantages when growing on a turnip, but flower stems develop quite often.
How to care for plantings to grow large onions
Actually, this is the main thing. Maximum results can be achieved only with full-fledged competent care for growing onions. And by the way, even a variety with relatively small bulbs can show high results if you create good conditions for it. Which ones?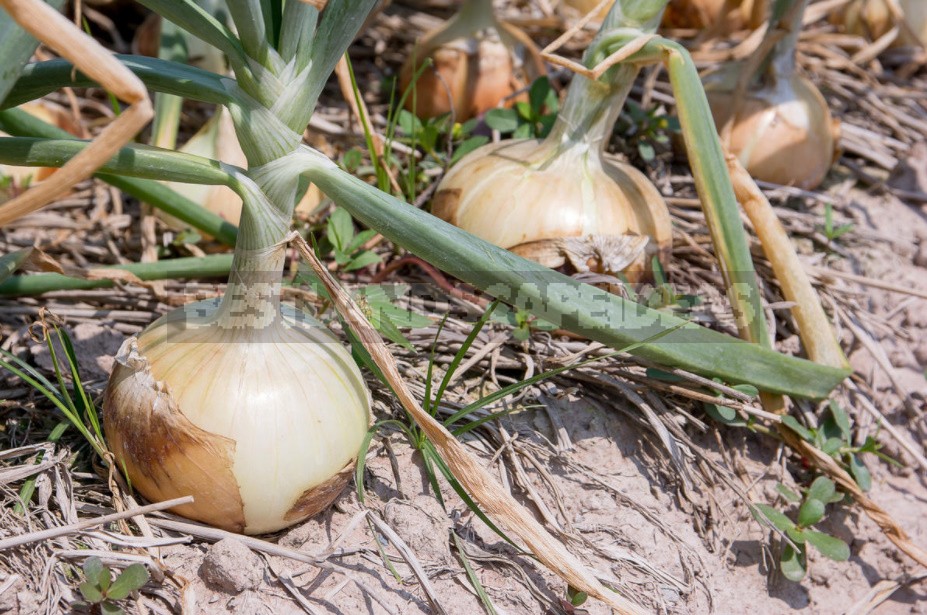 Selection and preparation of a landing site
If this task is solved correctly, you can get rid of part of the summer work. So, if the soil is thoroughly cleaned from weeds, less need of weeding; well-fertilized, there is no need for extra dressing; transferred dolomite powder (in acidic soils) will not have to wrestle with how to cope with green patina on a bed of onion and yellow feather.
Don't forget about crop rotation. It is best to place this crop after potatoes, tomatoes, legumes (peas, beans), zucchini. If you want to get not only large, but also healthy bulbs — do not plant onions where they grew last year.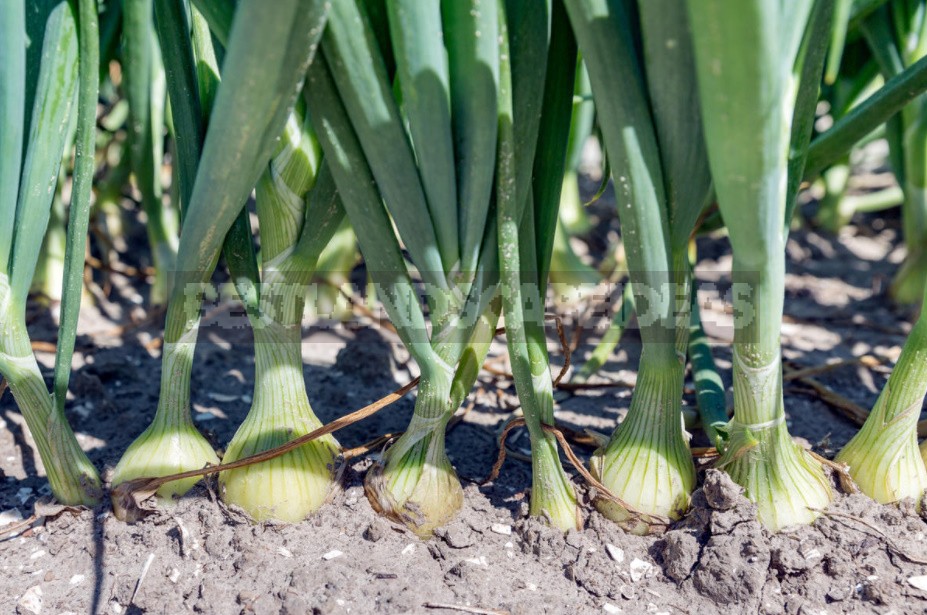 Other important nuances:
do not thicken the planting — the bulb needs a place to grow large;
place the bed where the water does not stagnate, otherwise the onion will rot;
good lighting is an important condition for a large harvest.
Loosening and weeding
I usually combine these operations. Onions are very responsive to loosening; in dense soil, they develop much worse, and this directly affects the size of the bulbs.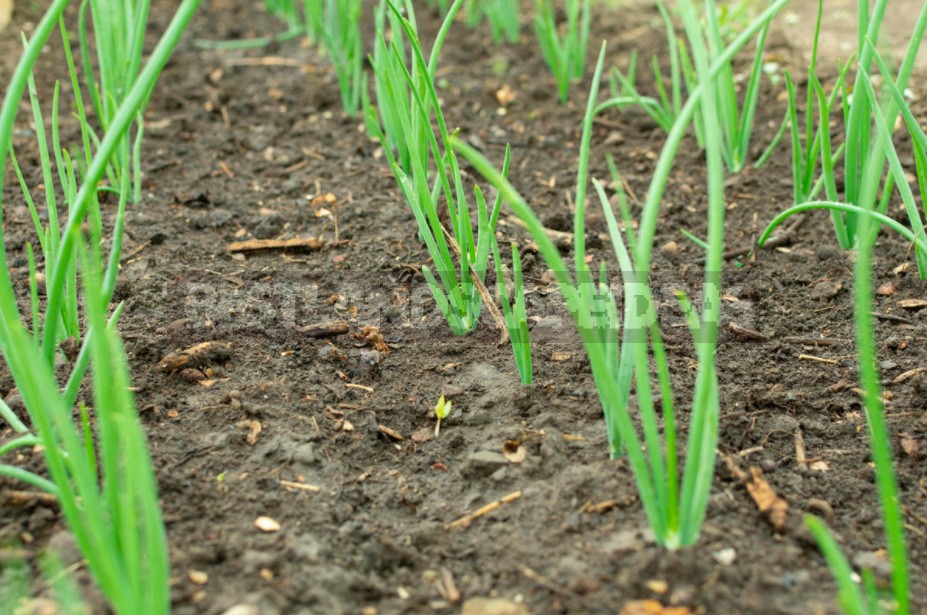 Weeded weeds can be left directly on the bed as mulch. I know that some gardeners mulch onions after the emergence of seedlings-this helps to keep the soil loose and conserve moisture, which means that it has a good effect on the quality of the crop.
Watering and fertilizing
For the formation of a large bulb, it is very important that the plants have enough moisture. If the spring and early summer turned out to be dry, the beds will have to be watered regularly (at least 1 time in 7-10 days), otherwise the trifle will grow. Onions before winter planting is usually in more favorable conditions — he in the beginning getting all the spring soil moisture. By the time of spring planting, the sowing beds have time to dry out, and most often you can not do without watering from the first days.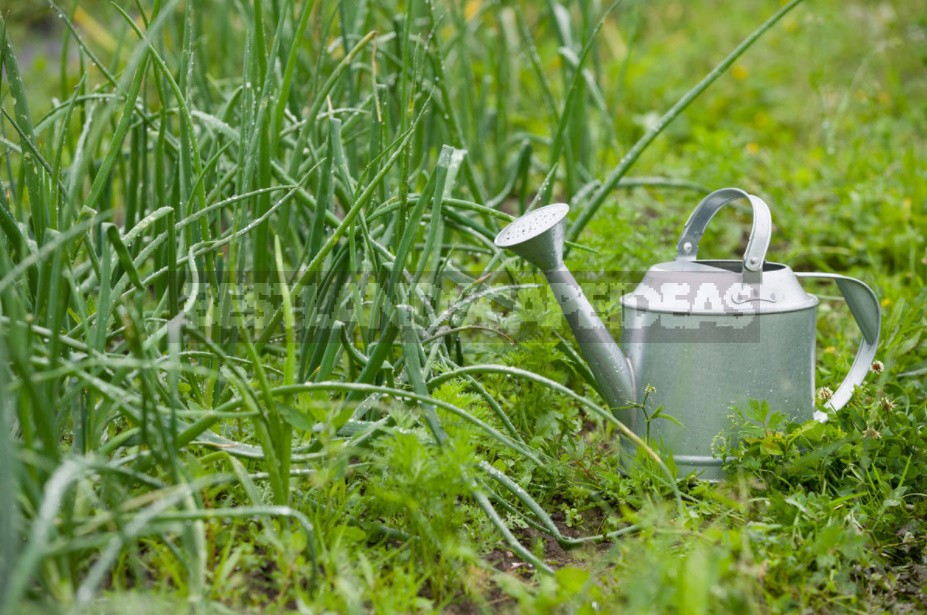 But in the middle of summer, on the contrary, it is recommended to protect onions from water: when the bulbs are formed and begin to ripen, excess soil moisture can have a bad effect on subsequent storage. Although my experience shows that this rule is not absolute: if it is possible to dry the crop well and store it in suitable conditions, then even prolonged torrential rains in the second half of summer do not affect the keeping quality of the bulbs.
From myself, I will only add that you should not be too zealous with fertilizers — their excess (especially nitrogen) can worsen the quality of the crop. The bulbs may be larger, but they will be poorly stored. It is more reasonable to take care of the pre-planting preparation of the soil and in the future carefully monitor the development of plants — they themselves will "inform" about their needs.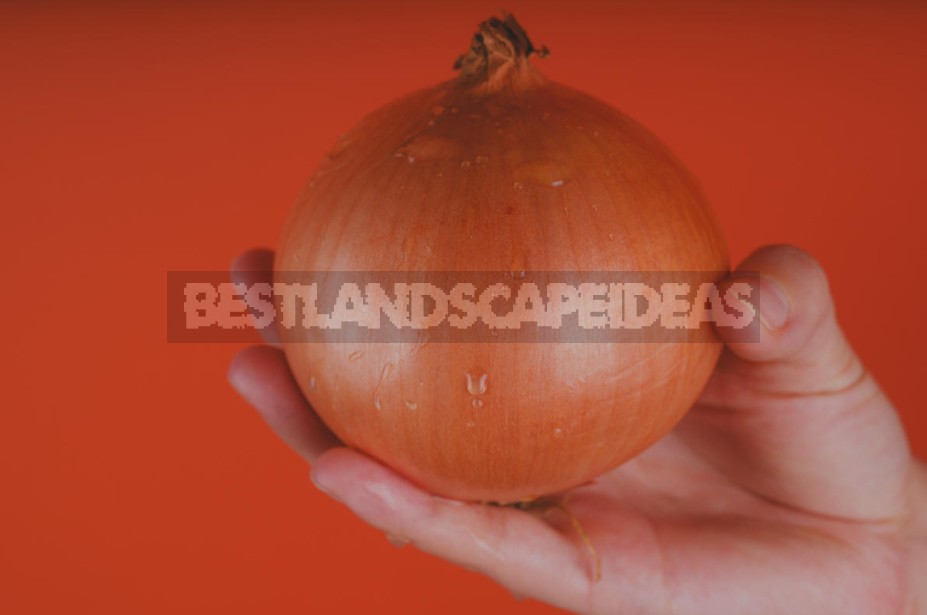 Large onions are not difficult at all! If you do not plan to set records, but just want to get a good harvest, choose the varieties that are suitable for your conditions and follow the recommended agricultural techniques for them — and you will certainly succeed!