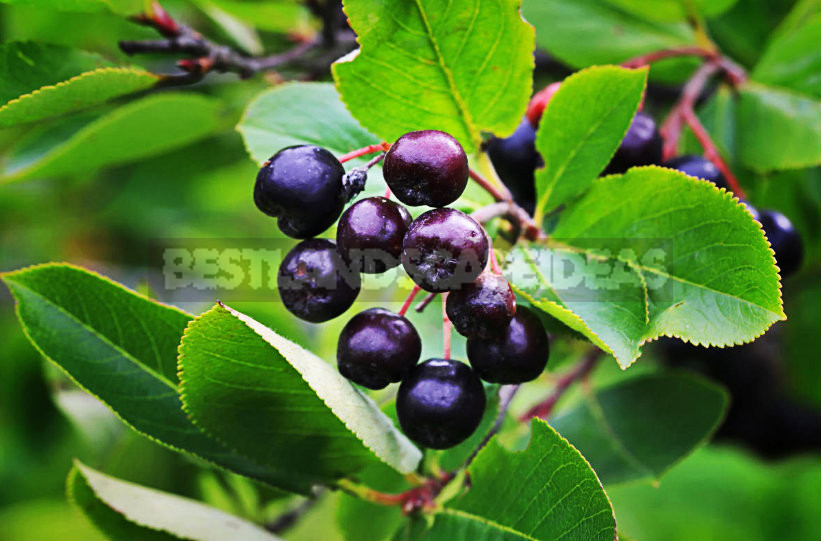 Aronia Melanocarpa is a deciduous shrub, about 3 m high. The roots are shallow and have many small branched roots. The crown of an adult plant can reach 3 m. In diameter. Distinguished by a high decorative effect of both fruits and foliage, the autumn foliage of aronia is especially beautiful, it plays with purple, red and orange colors. The flowers are bright white, fragrant, gathered in corymbose inflorescences of 20 or more flowers.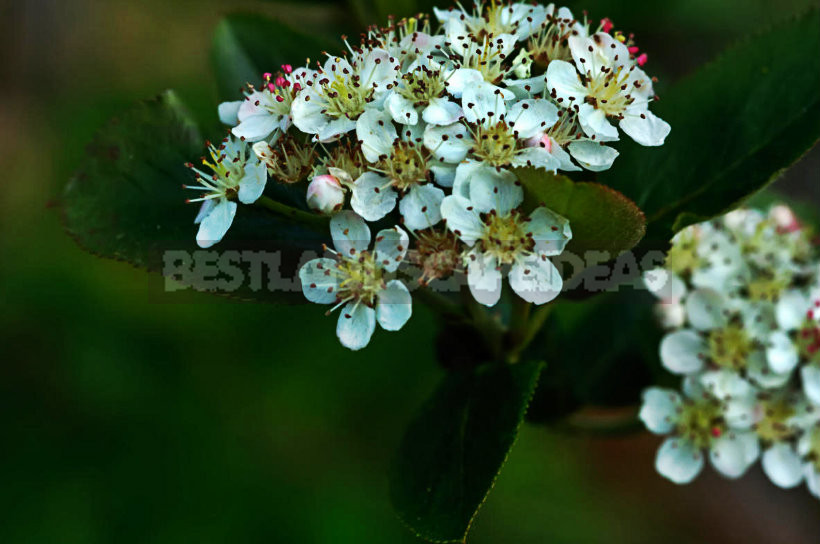 During the fruiting period on lush green foliage large black berries with a bluish bloom gather. The berries are juicy, round, like a pea, the size of it. Unripe berries are red. The taste of berries is sweet with a tart twist.
Growing Aronia melanocarpa
Chokeberry grows rapidly and begins to bear fruit from 3 years. From mid-August to September its fruits ripen.
Landing Aronia melanocarpa
Aronia melanocarpa is used for planting hedges, it strengthens ravines, it can be planted in ordinary plantings, but also single specimens in gardens look good.
Aronia melanocarpa is undemanding to soils, it will grow on dry sandy ones, it even tolerates acidic soils. On soils of normal acidity will grow well, also loves moist loamy soils, but not heavy, so that flower buds have more green shoots. It requires good light, otherwise it will bloom badly and the fruits will be small.
Like most fruit plants, it is better to plant in the fall. But if you plant in early spring before bud break, it will also take root normally. Aronia melanocarpa can even be transplanted with loose leaves, unlike most plants. The root system aronia melanocarpa is located at a distance of 50 cm from the surface of the soil, so the proximity of the groundwater is not a problem.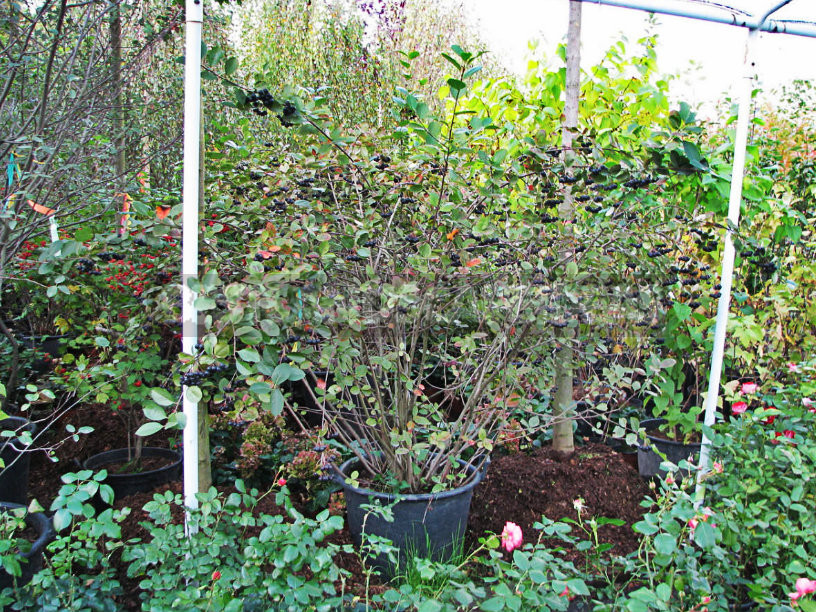 Aronia melanocarpa is planted like many other fruit crops. Dig a hole with a depth and diameter of about 50 cm. The fertile soil layer is in one direction, the lower layers of the earth are in the other. Add a bucket of humus, potassium sulphide about 60 g and superphosphate about 100 g. This mixture fills the planting pit after the seedling is dropped there. The root collar during planting needs to be buried somewhere around 1.5 cm.
After planting, pour a seedling around a bucket of water. Ground mulch humus, sawdust, dry earth. As soon as the seedling is planted, cut it, about 20 cm from the surface of the soil, to get a strong gain.
Breeding Aronia melanocarpa
Aronia melanocarpa – culture self-pollinated. The easiest way to propagate chokeberry root suckers. The root scion of black chokeberry over the summer can grow about 40 cm and have a good viable root system, so you can safely replant them. But this does not exclude the possibility of propagating it by seeds, cuttings, dividing the bush, layering, vaccinations.
When propagated by seeds, they should be sown in October, during the winter period they will pass through a stage of natural stratification and a seedling will appear in the spring. The depth of sowing seeds in the soil is about 2 cm. Spring sowing requires stratification of seeds for about 4 months at a temperature not higher than 5 ° С.
Care for Aronia melanocarpa
To the berries were large and juicy, it is necessary to water black chokeberry during the formation of the fruit and subject to a dry summer.
Aronia melanocarpa does not need a lot of fertilizer, otherwise you will get thick foliage and large stems, but the harvest will be worse and winter hardiness will decrease. If you have made organic and mineral fertilizers in the pit during planting, then you can not fertilize the plant for 2 years. From the age of five, organic fertilizers and ammonium nitrate can be applied to the trunk circle.
Pruning Aronia melanocarpa
As I said, after landing, make the first strong pruning. Next year, pruning will consist in the formation of skeletal branches in a young plant – there are about 12 of them.
Every year, remove thickening shoots. You can shorten the shoots after the plant has finished to bloom, thus you adjust the shape of your chokeberry.
After 7 years old branches are cut out, leaving strong young ones, thus making the replacement of old branches with young ones. When the plant is ten years old, boldly cut it to the ground level. It will rejuvenate the plant.
Harvest Aronia melanocarpa and its application
Berries of Aronia melanocarpa ripen by the end of August, but it is better to pick them after the first frost. Carefully cut with scissors thyroid stems, not taking the berries from their places. So they will be stored longer – you can strung them on a wire and hang them in a dark, cool place. The berries of chokeberry can be dried, frozen, make compotes, fruit drinks, wine, mashed potatoes, jam.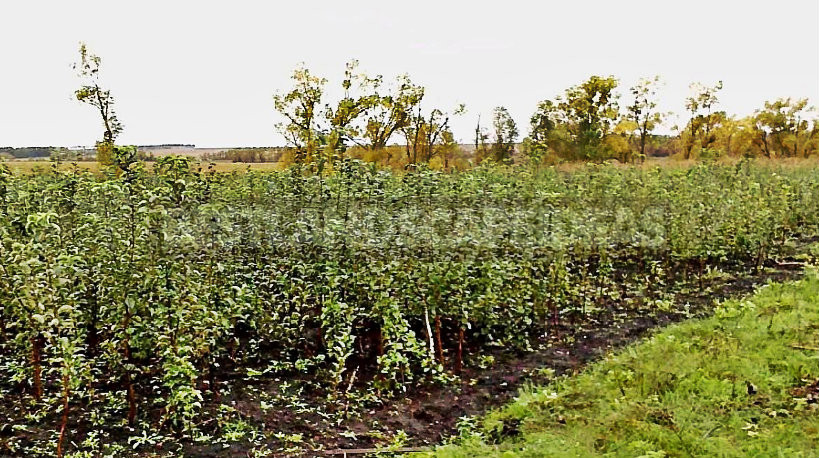 Aronia melanocarpa is very useful and has medicinal properties, a huge number of various compounds, vitamins, minerals.
Especially helps the juice of black chokeberry fruit to people with hypertension. But if you have a stomach ulcer, problems with the duodenum, the fruits of aronia melanocarpa can be dangerous for you.