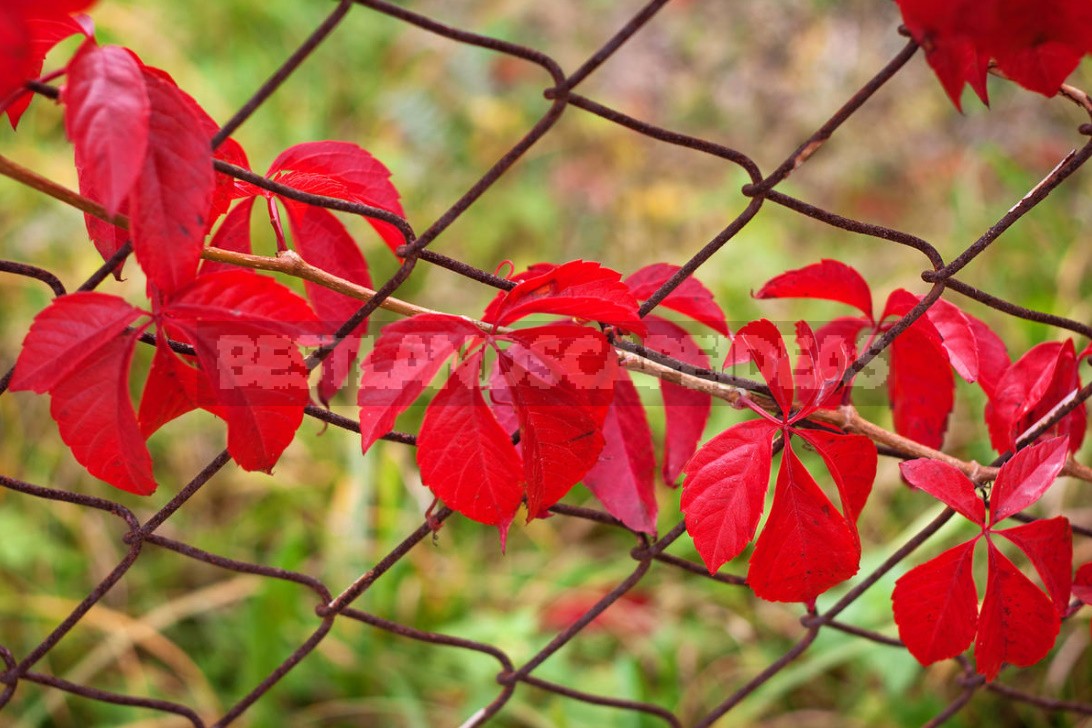 There is nothing more permanent than temporary. Looking at your fence made of mesh, many will agree with this statement. It seems to have been set for a maximum of a year, just to quickly limit the site, but five years have passed, and it's still standing … Yes, it doesn't please the eye, but what to do — you have to endure until better times. Have endured, it's time to give it a new look.
Methods of transformation are conditionally divided into two categories: what can be done at the construction stage and decor options after the fact.
We are building a beautiful fence made of mesh
Not always, but most often the choice of mesh for fencing is due to budget limits. But there are several ways to ennoble a simple structure. It will turn out a little more expensive, but many times more beautiful!
Elements made of wood
Natural wood always looks decent and is able to ennoble the most modest structure. This is where we will proceed from: we will include wooden elements in the design, and the fence will take on a completely different look! Look, the grid doesn't look so dull on wooden supports anymore, right?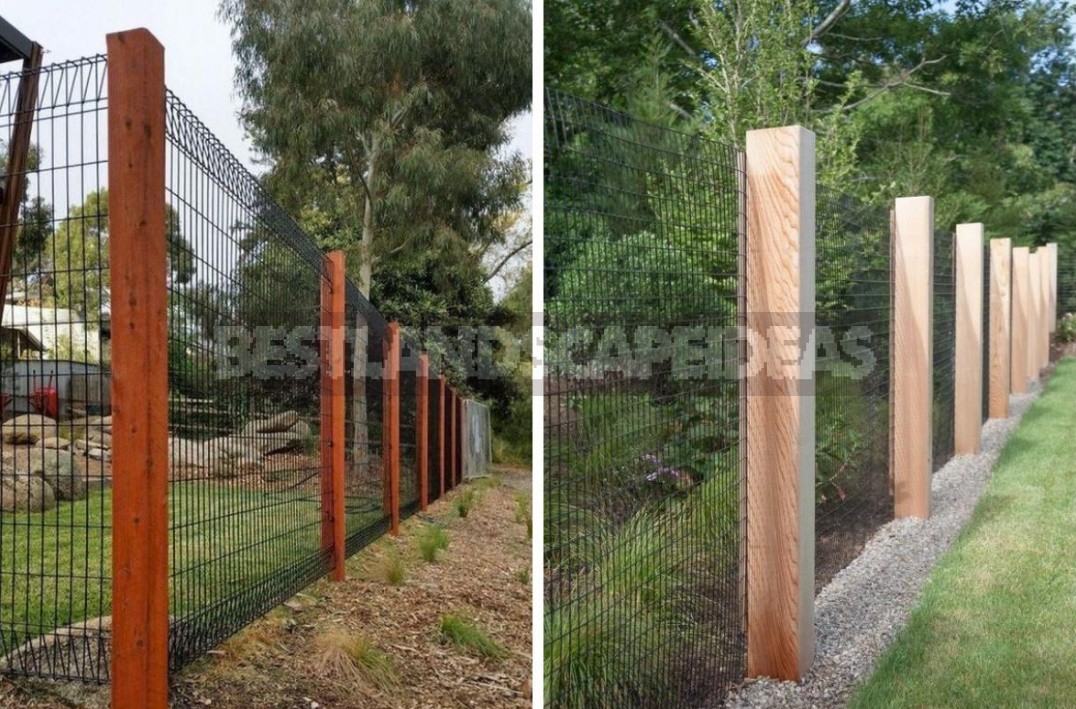 And if you add crossbars along the upper and lower edges, an almost invisible mesh fence will immediately acquire clear boundaries and a more solid appearance.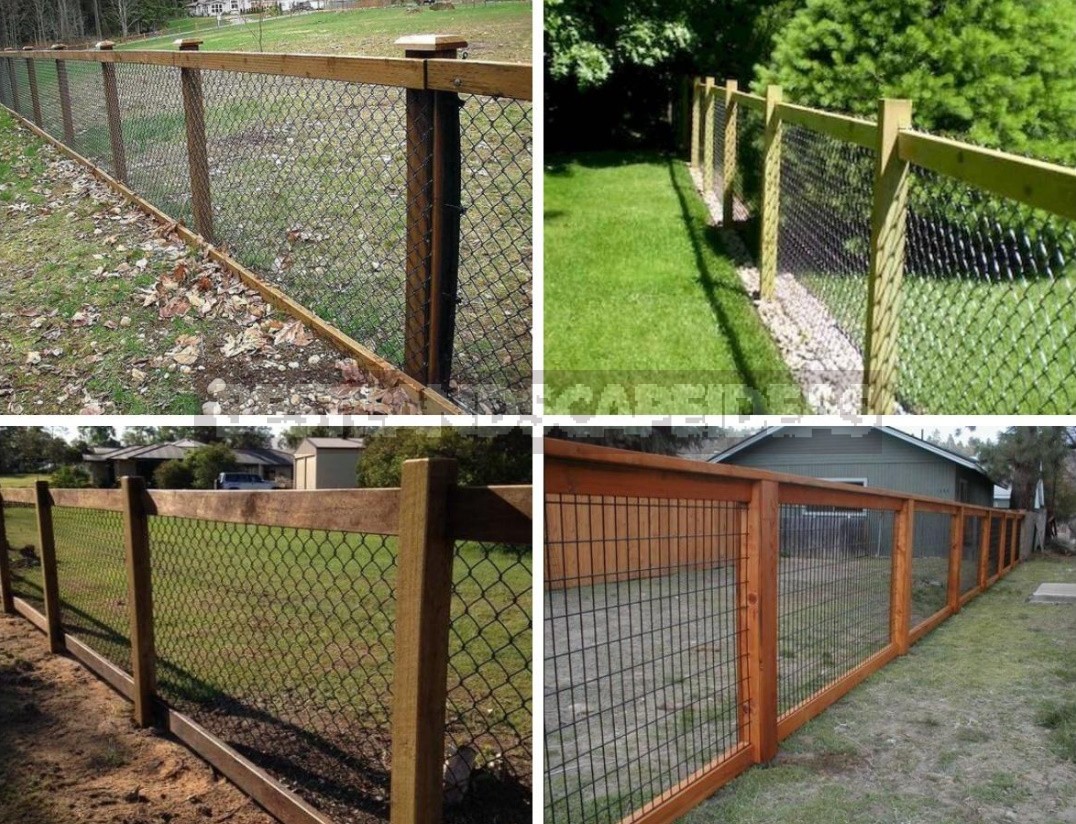 Does the fence still look nondescript? And try to paint it in your favorite color! It's not a fact that it will help, but it's worth a try. In order not to spend several days on work, work with a roller, and paint only hard-to-reach places with a brush.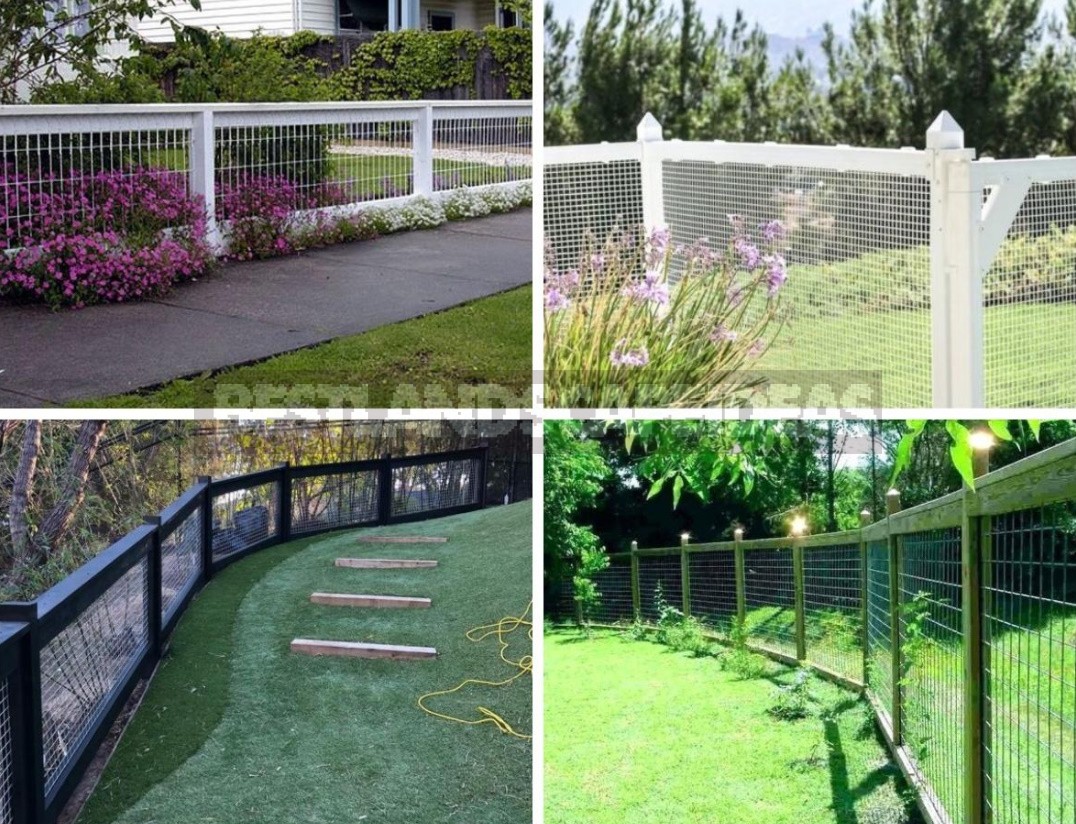 Wrong again? Then take a closer look at these options: in my opinion, they look quite interesting and attractive. It will take a little more time to build, but the fence will turn out to be what you need, and you will be spared from testing the nervous system for strength – daily contemplation of the hated fence.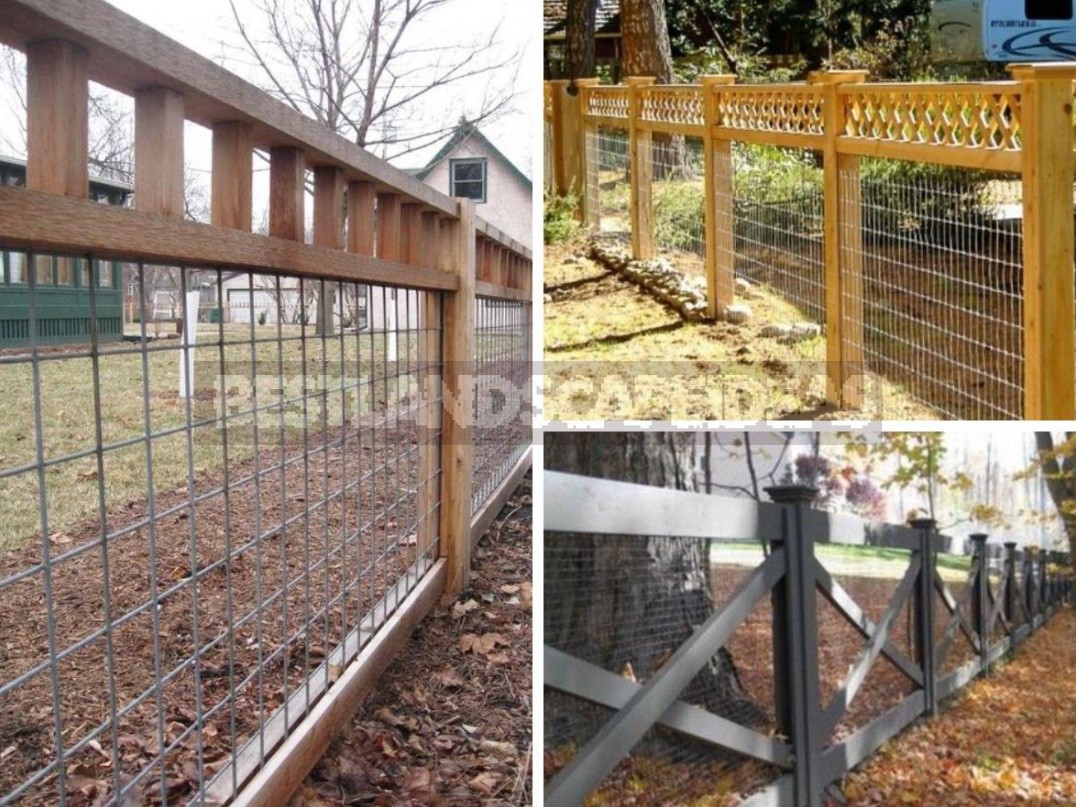 Supports made of concrete and stone
A good option with an eye to the future: to make capital supports, and temporary spans, from the grid. In the future, it will be easier to update the fence, replacing the budget wire material with a more solid one.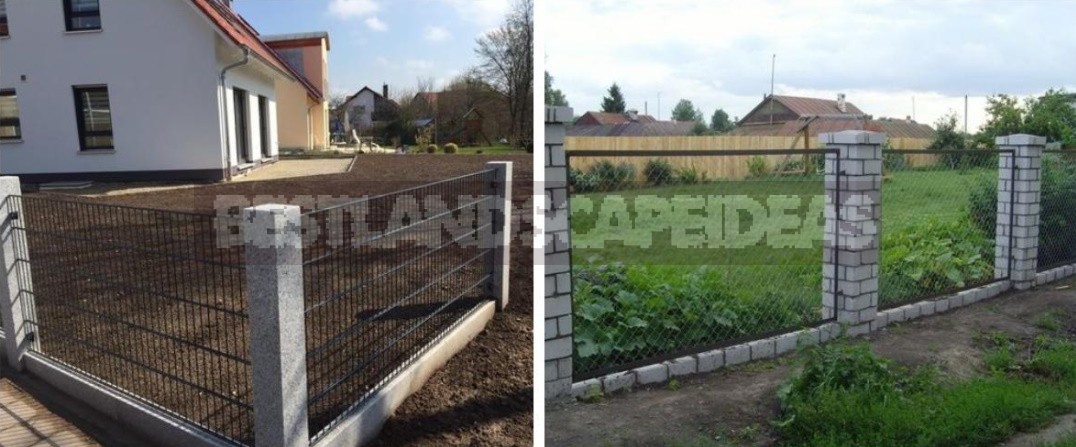 Gabions
If you still have a decent supply of pebbles brought from the sea, maybe it's enough for her to lie idle? Come on, don't be stingy, you'll bring more for flower beds! Actually, it's not easy to make friends with gabions, but if they have found a path to your heart, hold on! You will want to build them again and again, and there will be a lot of interesting suburban solutions using this technology.
But back to our fences: usually gabions act as supports. The top of the rack box can be left open — natural stones look no worse than wood, they will not spoil the view. And if you want to give the fence an even more refined look, cover the top with tiles and put a container with the most beautiful flowers on it.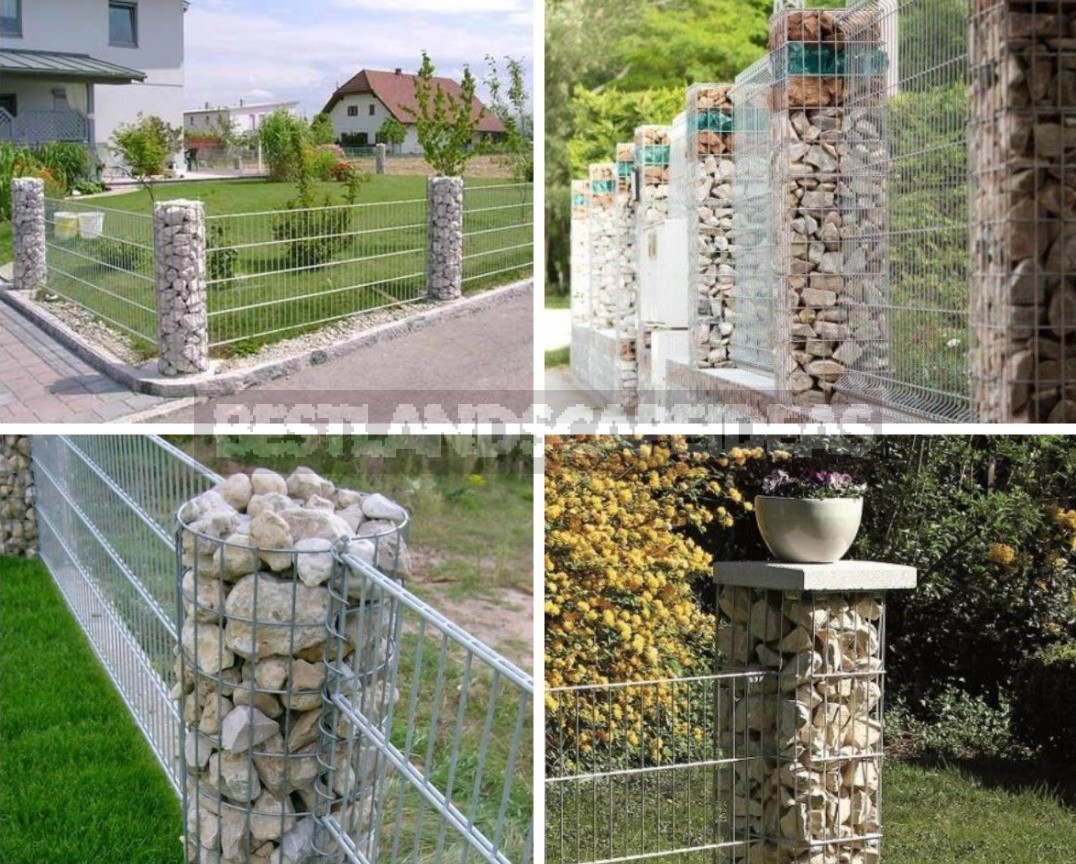 If you have nothing against stones in the grid, take a closer look at the following ideas. True, these options for the arrangement of the fence do not belong to the budget, but you can't deny them originality, and we don't mind anything for the arrangement of our native dacha!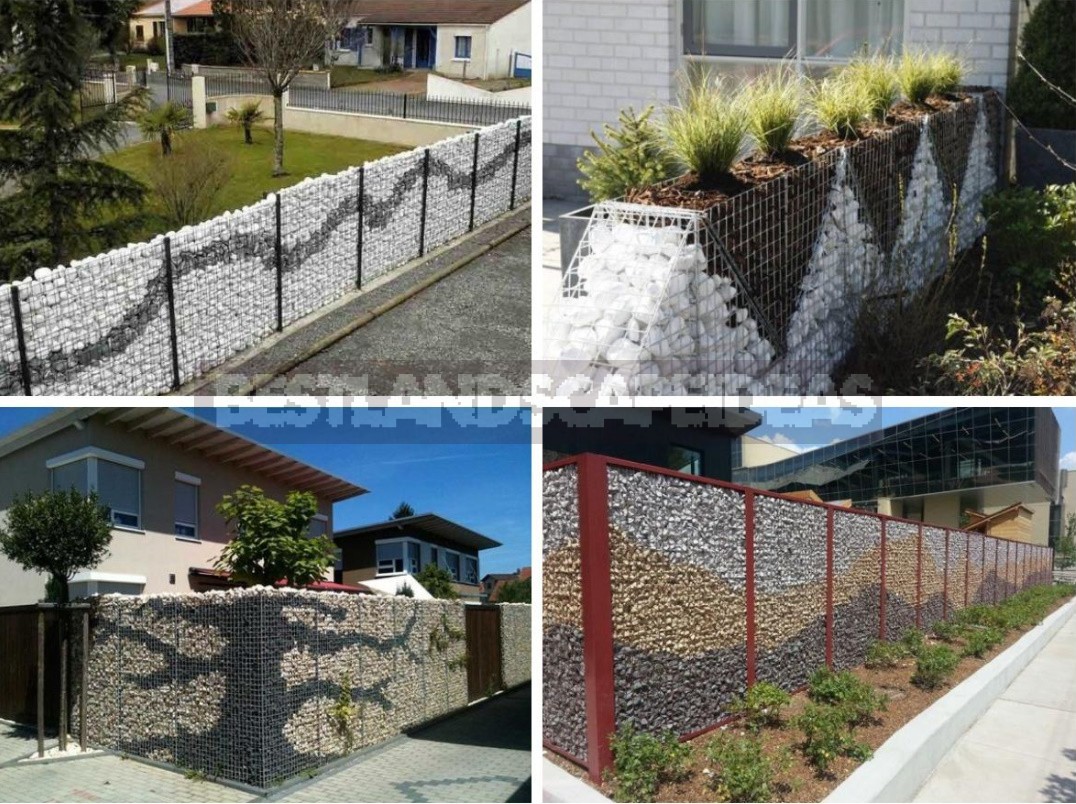 Ways to decorate an existing fence
If the replacement of the fence is not expected in the foreseeable future, and the dull appearance or the frank transparency of the grid has brought to a white heat, do not sit idly by! Even a wire fence can become an obstacle for curious eyes, if you just want to and make a little effort.
Plastic Fence tape
A truly life-saving solution in a desperate situation, judge for yourself: the material is inexpensive, but quite durable; PVC tape is flexible and lightweight, even a teenager or a fragile girl can stretch it between the grid cells. An additional plus of the fence tape is a large selection of colors and prints, you can choose an acceptable option to your liking.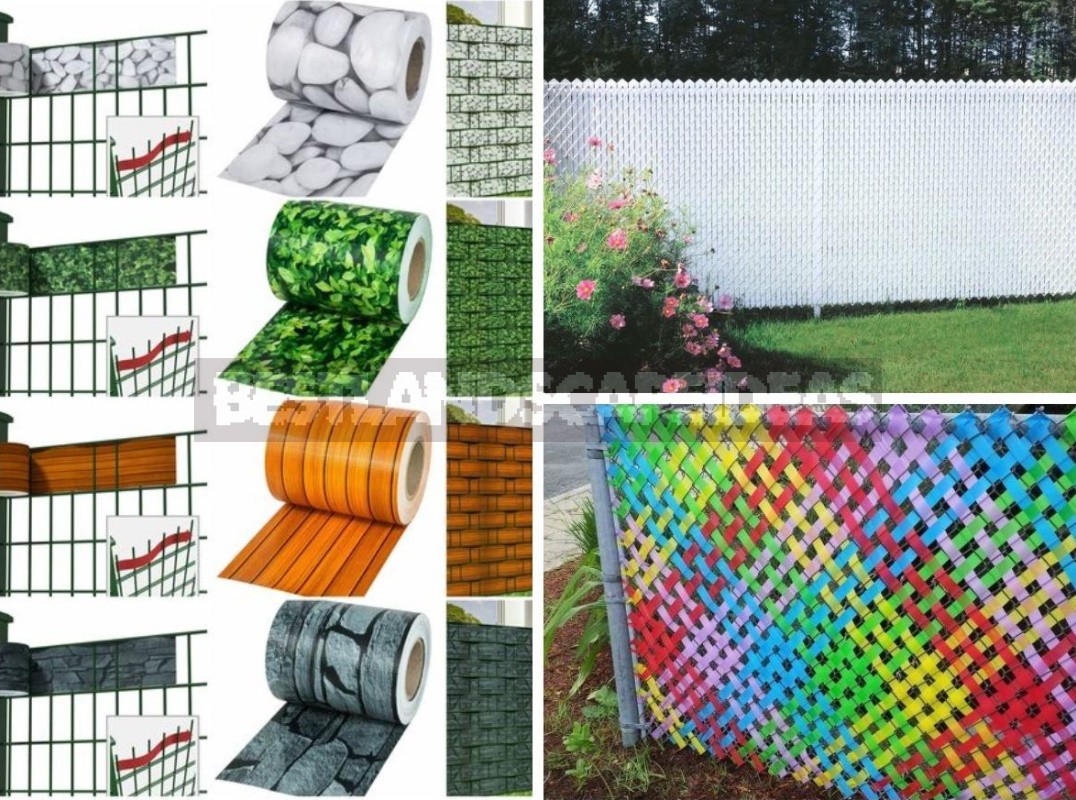 Depending on the width of the tape, you can adjust the degree of permeability of the fence for immodest eyes: a narrow one will leave small gaps through which nothing is really visible, but there will be no feeling of a blank wall. The wide one will not leave the curious a single chance to take a look at your farmstead.
When braiding the net tightly, keep in mind that you are practically turning the span into a sail. The combination of strong wind and flimsy fasteners can play a cruel joke: the fence will collapse, opening up to everyone not only an overview, but also free access to your possessions.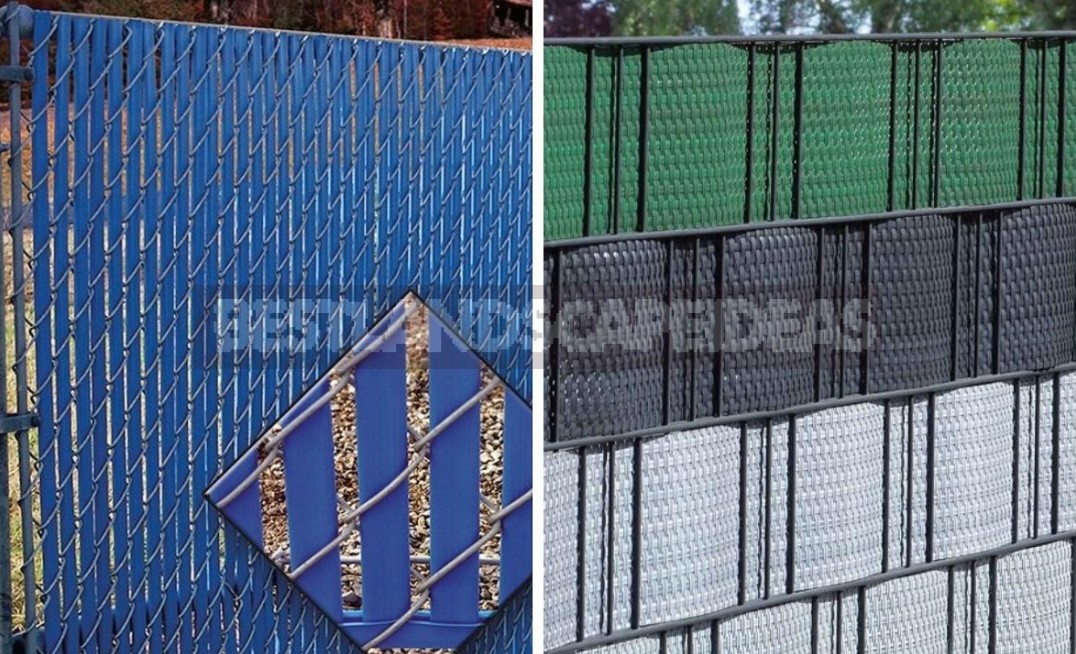 In principle, it turns out well. Of course, you can't compare it with a wooden or forged fence, but it's still better than just a grid. There are many examples of ready-made solutions and master classes on weaving on the Internet, so it will not be difficult to study the technology. The main thing is to securely fasten the edges of the tape, preferably with a rivet or a construction stapler.
Wooden slats
There are few ways, but all are worthy of your attention. I especially liked the solution with a decorative lattice of slats — very beautiful! An additional plus is that you can make it much higher than the fence, which is no, but an obstacle for the curious.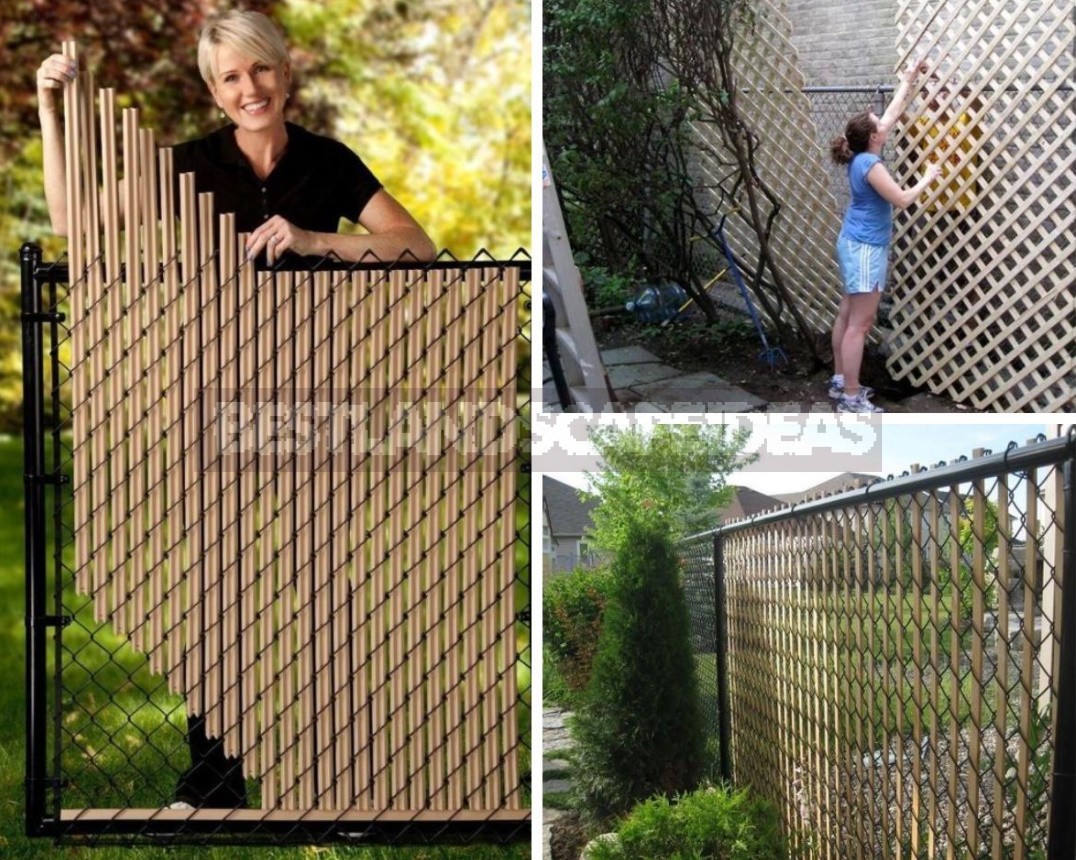 Reed and bamboo
I give priority to the cane, because it can be obtained for free and in unlimited quantities almost everywhere. It is inferior in strength and beauty to bamboo, but if there are no other options, it will help out.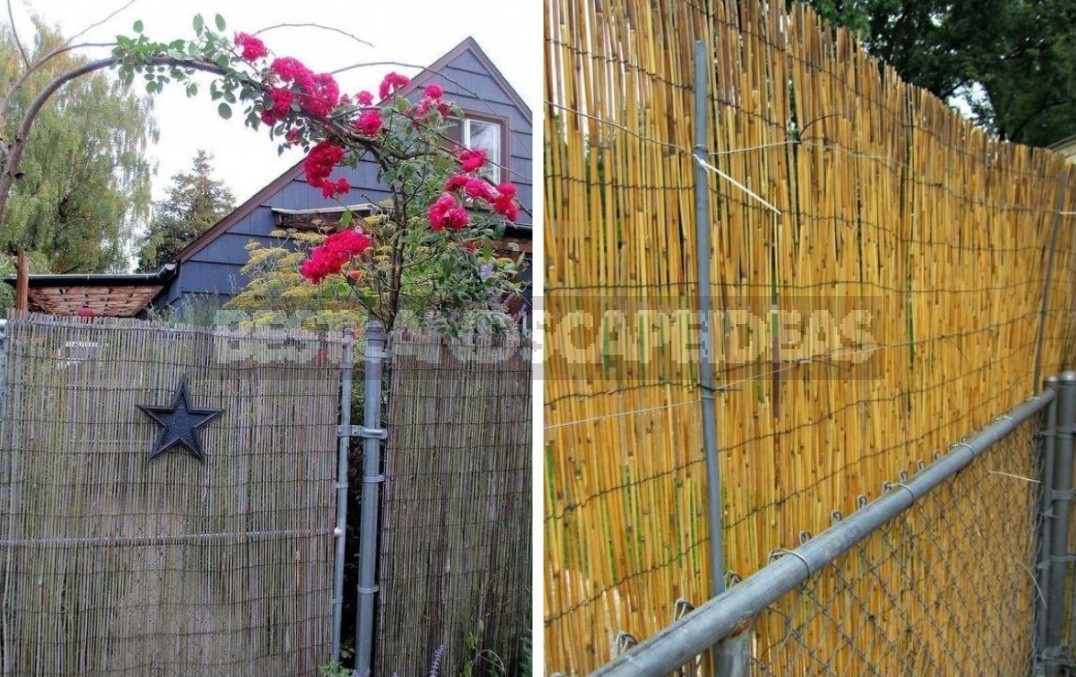 Hiding a mesh fence behind a bamboo screen is a great idea. Of course, if you already have such a partition or there is no problem to buy – depending on the length of the fence, the amount for bamboo beauty may be quite a lot.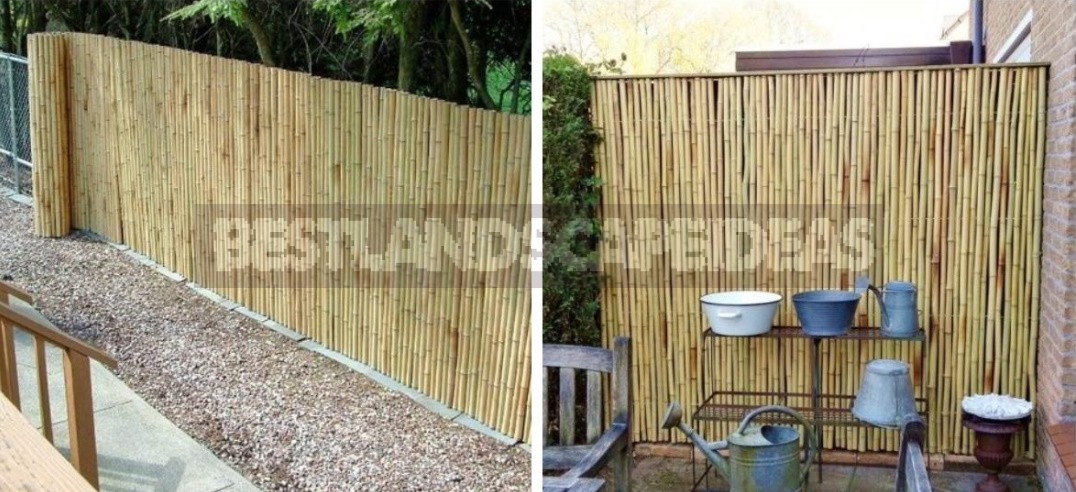 The following ideas are designed to decorate an unassuming fence. Not all of them are successful, in my opinion, but everyone is free to decorate the fence to their taste.
Plastic bottles and glasses
One thing is certain — it will not be difficult to get the material, and this is a plus in certain circumstances. And let's leave aside the question of the beauty and aesthetics of plastic crafts-alterations — everyone has their own measure of these qualities.
Flowers from plastic cups are cute, bright, but definitely not to my taste. I would not like to see a real masterpiece of plastic tableware on my fence, although the skill of the author is impressive.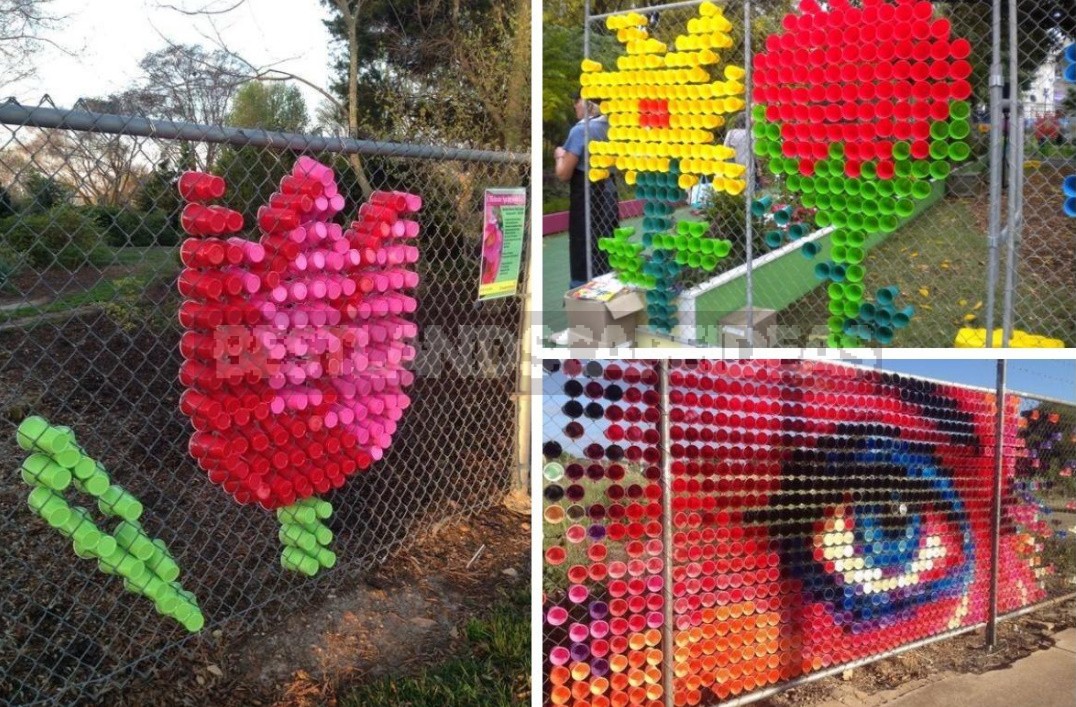 Embroidery and knitting on the fence
To be honest, I find it difficult to say whether I like the embroidered fence, but it definitely looks fantastic! Apparently, the idea is not new, because there are photos of works in various techniques on the Web. By the way, it is not necessary to pore right at the fence: you can make embroidery on a small mesh in comfortable home conditions, and attach the finished product to the fence mesh.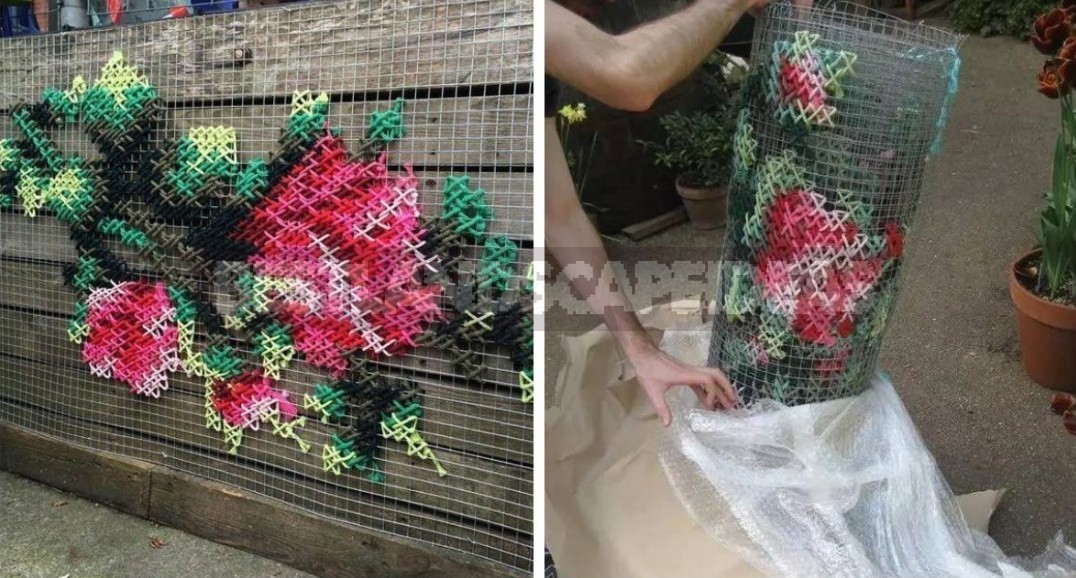 Kids will definitely like cute birds or animals, and it's not difficult to make them.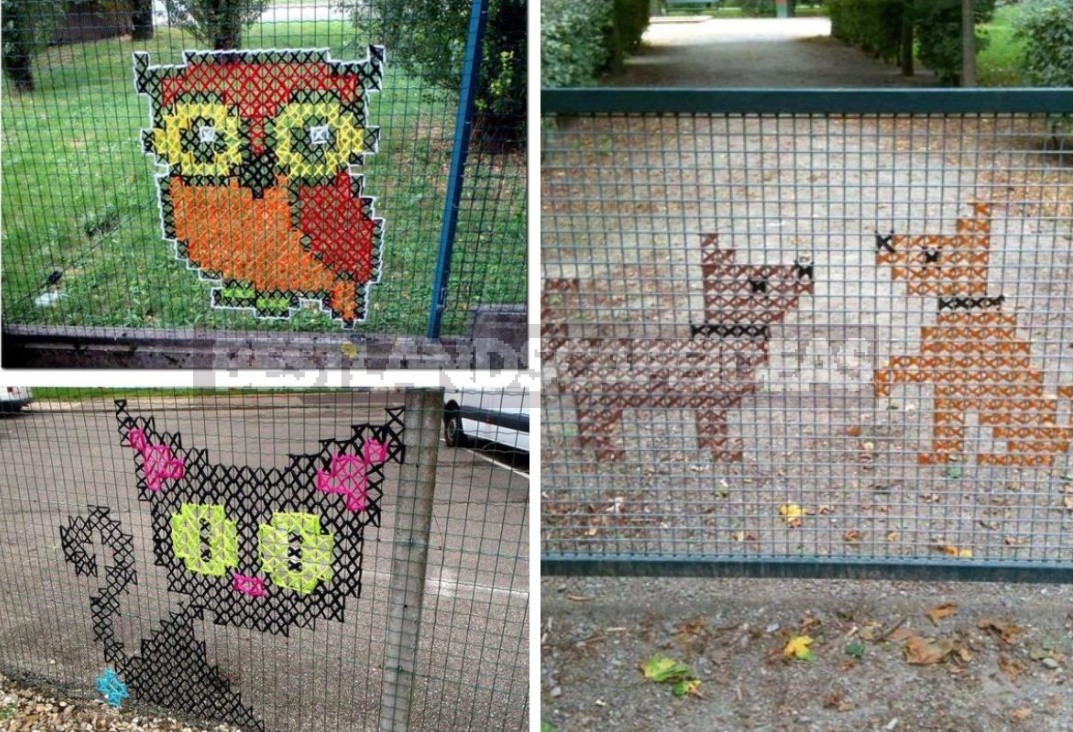 Do you like crocheting? Then it will definitely not be difficult for you to turn your fence into a knitted masterpiece. In order for the creation to retain its shape and color as long as possible, take a synthetic knitting cord instead of the usual yarn.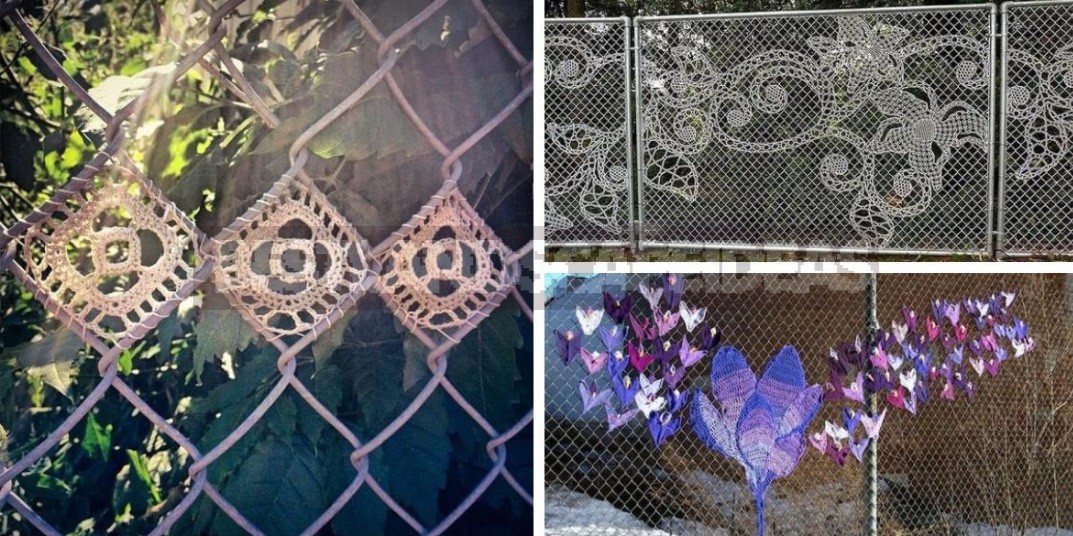 If you are carried away by the idea, and you know how to knit — give free rein to your creative imagination. You have the right to experiment with your fence as much as you want! Here are some fun options for inspiration.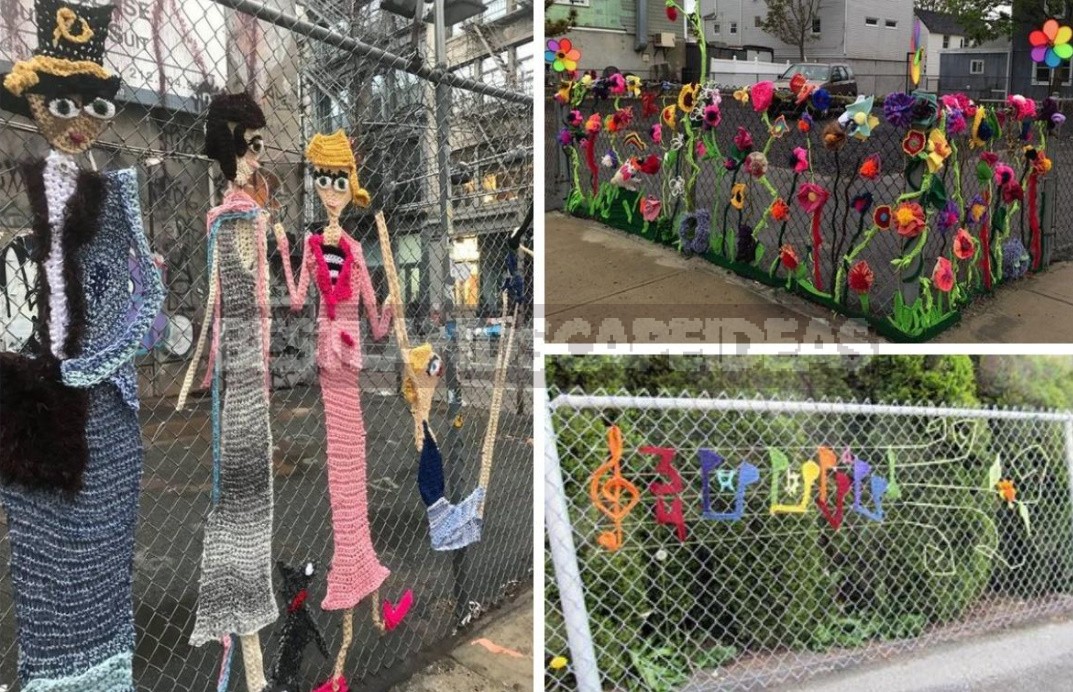 All sorts of things
It is very convenient to attach small objects to the grid, and the imagination of summer residents knows no limit. But I didn't take everything in a row: I have included in the selection only those ideas that can be repeated.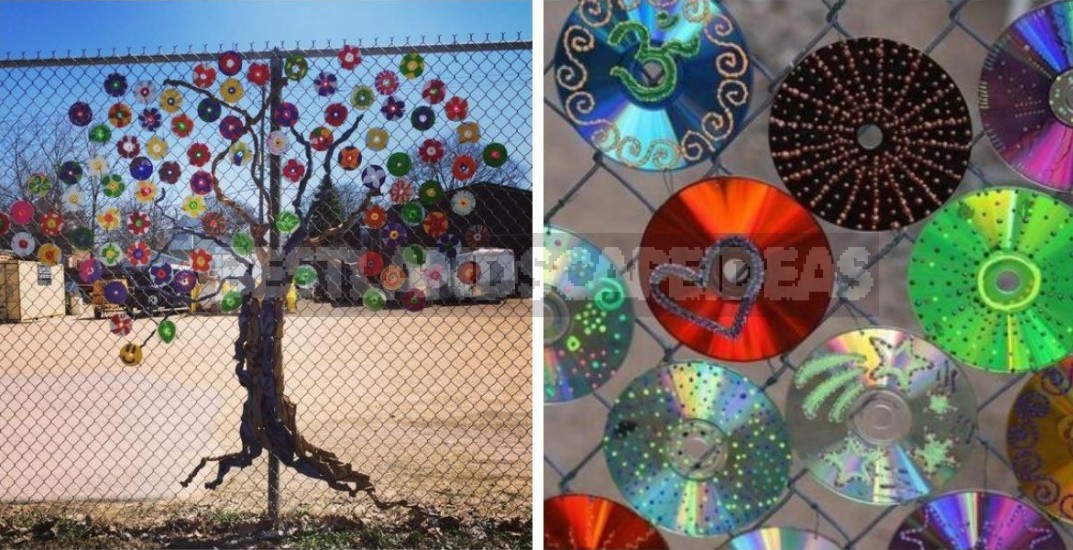 You can decorate the grid with pieces of bright plastic. I don't know if such a decoration can make the neighbors turn pale with envy, but as a trap for onlookers, it will definitely work.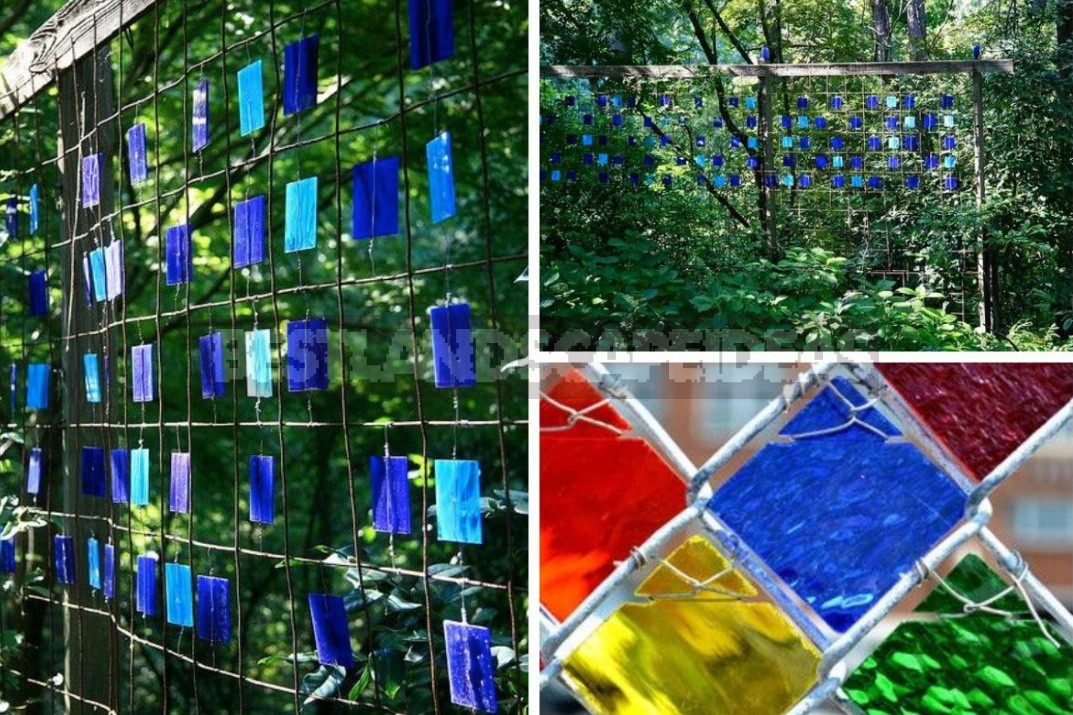 Shells? It's too troublesome, but it looks original. If you have enough patience, why not do it? But I frankly liked the idea of glass balls and pebbles. Probably, the fence looks beautiful when the sun shines through them…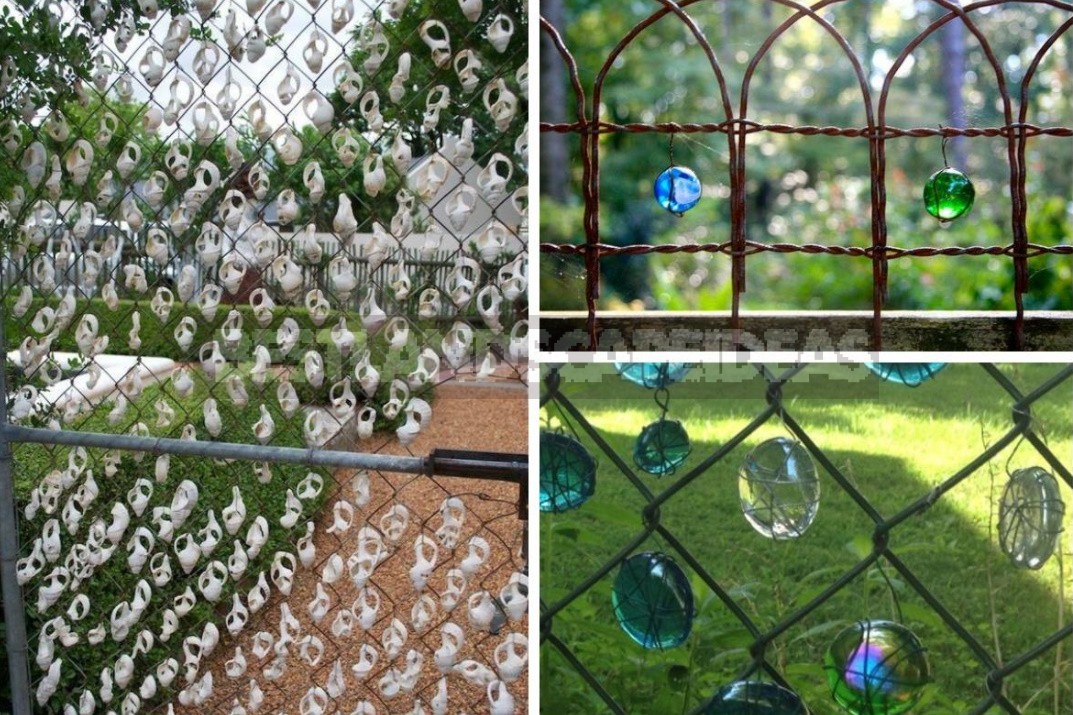 The interesting ideas found are over. Maybe you have an original solution? Share your way, maybe it will help the owners of mesh fences to give the fences an acceptable look!