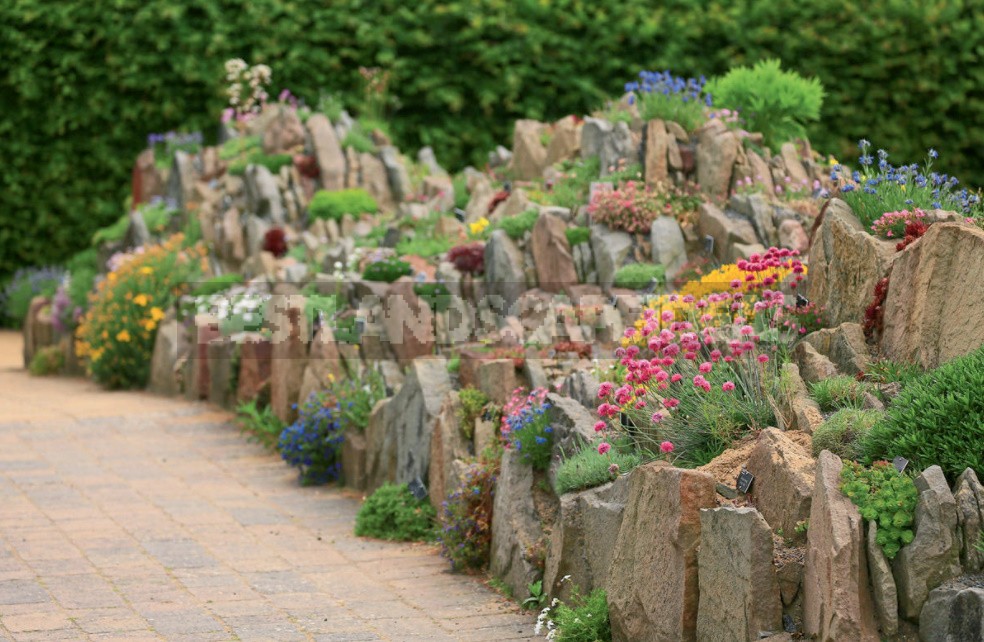 Plants and stones: the history of their association in the garden goes back not decades — centuries, and there are a great many options for such an association.
Since the earliest times, when man first learned how to make the first gardens, there has always been a stone in them in one form or another. And even today, it is almost impossible to imagine a garden without some kind of stone "history". There are a lot of options: individual blocks (accents or art objects), the base of a rocky hill, blocks in curbs or slabs for paving paths, and finally-a pebble placer on the shore of a pond or filling in a gravel garden.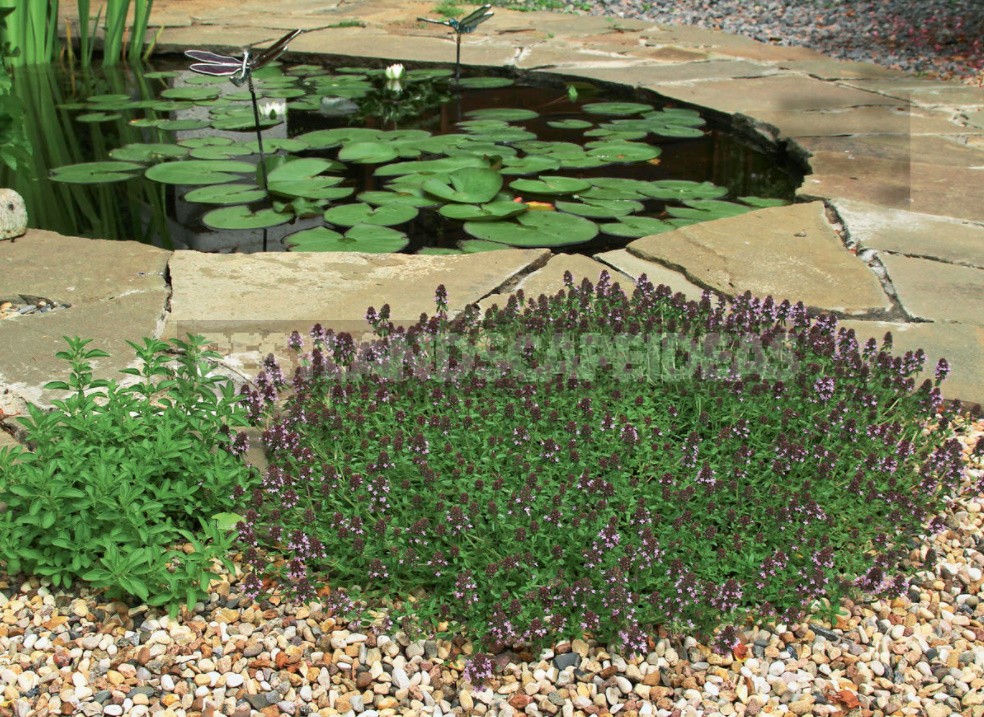 Stone is beauty, strength and solidity. Durable, resistant to external influences and very attractive material can be used for both utilitarian, practical purposes, and for decorative purposes, and in reality one often complements the other. Therefore, on the part of the owners of private plots and landscape designers, there is always a demand for natural stone in various forms and manifestations. Yes, this is understandable, because it is the most harmonious and undemanding partner for all plants without exception.
What types of stone are most often used in garden design?
The choice depends primarily on the functional purpose of the material. Paths, platforms and dry walls are usually constructed from slabs of layered sandstone, quartzite, slate, as well as sandstone or granite paving stones.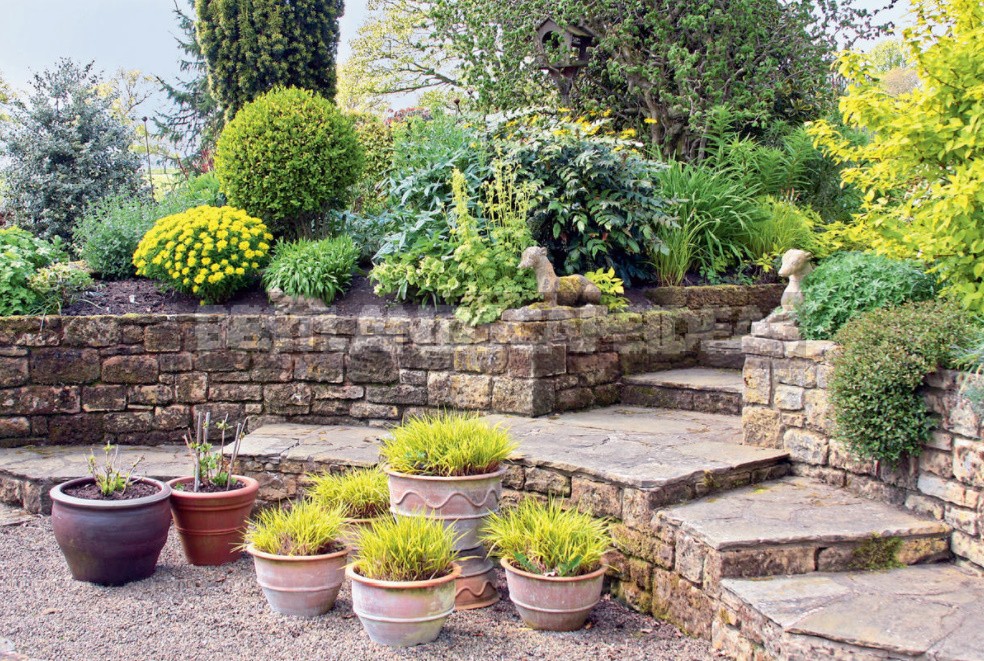 For rocky slides and compositions, rubble stone and blocks of marl (strong dolomitized limestone), calcareous tuff or other, more durable rocks of metamorphic and volcanic origin (shale, quartzite, porphyry, granite and basalt) are used.
Individual stone elements in the landscape — drinking bowls, fountains, and other art objects-are created from a wide variety of rocks, sometimes even from valuable ornamental stones (for example, agate and labradorite).
Tip: when choosing a material for garden decoration, give preference to breeds of soft, natural tones, different shades of gray, cream, yellowish or beige. The stone of such flowers does not distract attention from the plants in the garden, but on the contrary, emphasizes their beauty.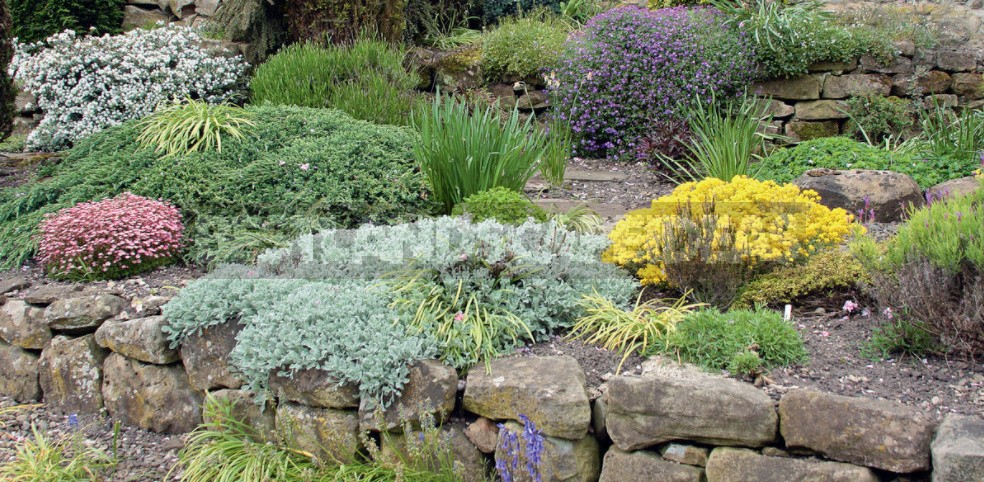 Those who prefer a concise design of the garden space should place single stones on their site. The original stone-a tapeworm of unusual shape or interesting color-will play an accent role in the landscape, and the place where it is installed will definitely attract attention.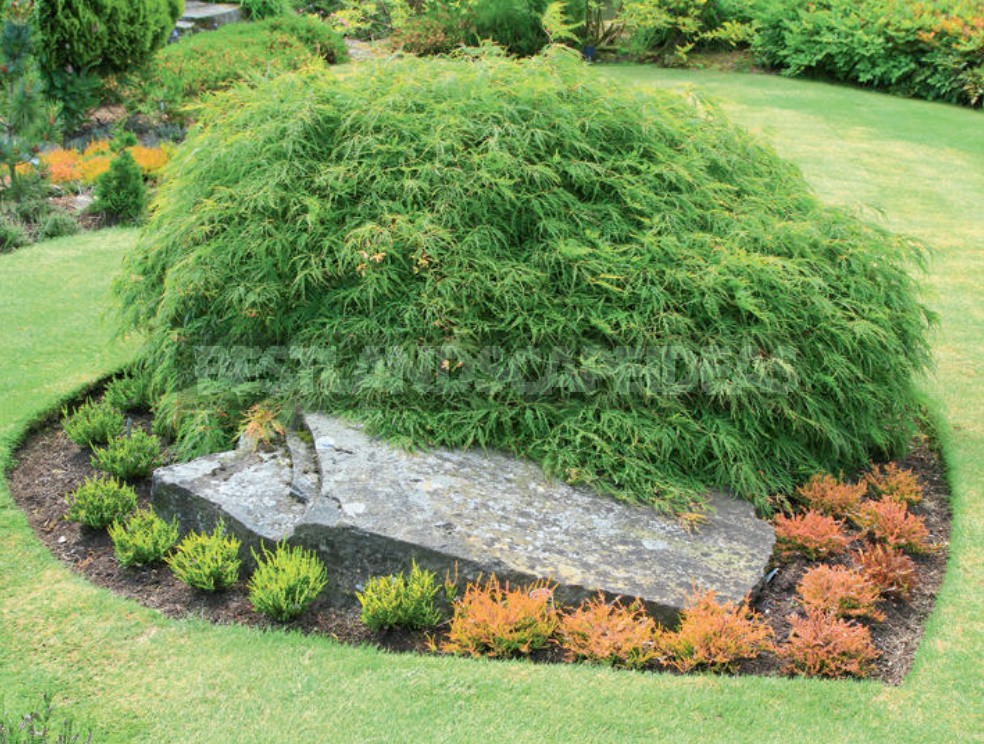 Tip: it is better to choose such a corner at the design stage, since it should be "tied" to the routes of the road and path network and the nature of the zoning of the site.
A single large stone can be an element of a mixborder, for example, an imitation of a Scythian stone woman surrounded by meadow-steppe grasses in the spirit of Piet Oudolf compositions.
A large boulder will perfectly fit into the planting of heather, eric and rhododendrons. Dark, overgrown with green moss, the block will be in its place in a shady garden with ferns, stylized as Japanese.
Sometimes, wanting to somewhat "enliven" the space of the lawn, where appropriate, make a so — called "inset" – cut out a section of sod of an arbitrary (most often rounded) shape and put a flat block on this place, planting it with thyme, sedum, ash trees or other groundcover perennials.
A stone of a bizarre shape is installed as a kind of natural sculpture, for example, at the focal point of an extended garden vista. There may be several of them, but it is good if there are a few — for example, a sculptural group, a composition of three different-sized specimens.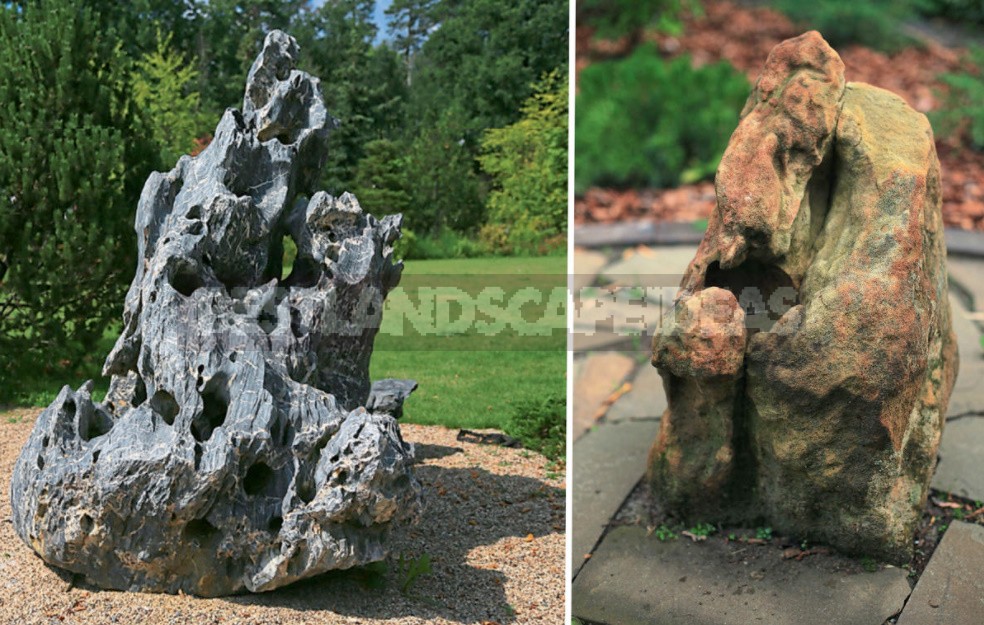 Of course, the most common decorative composition with the participation of stones is a rockery or a rocky hill. Here it is desirable to use stones of the same rock, and if different, then similar in color and texture. To make rockeries look more natural, choose fairly large stones that have flat faces.
Important: a few large stones laid in a rockery often look much more spectacular than a lot of small ones. However, it is also not necessary to stop your choice on stones of the same format, for more naturalness, you need them to differ in size and shape.
How to choose plants for a garden with stones
The vegetable content of the slide depends on its size and style.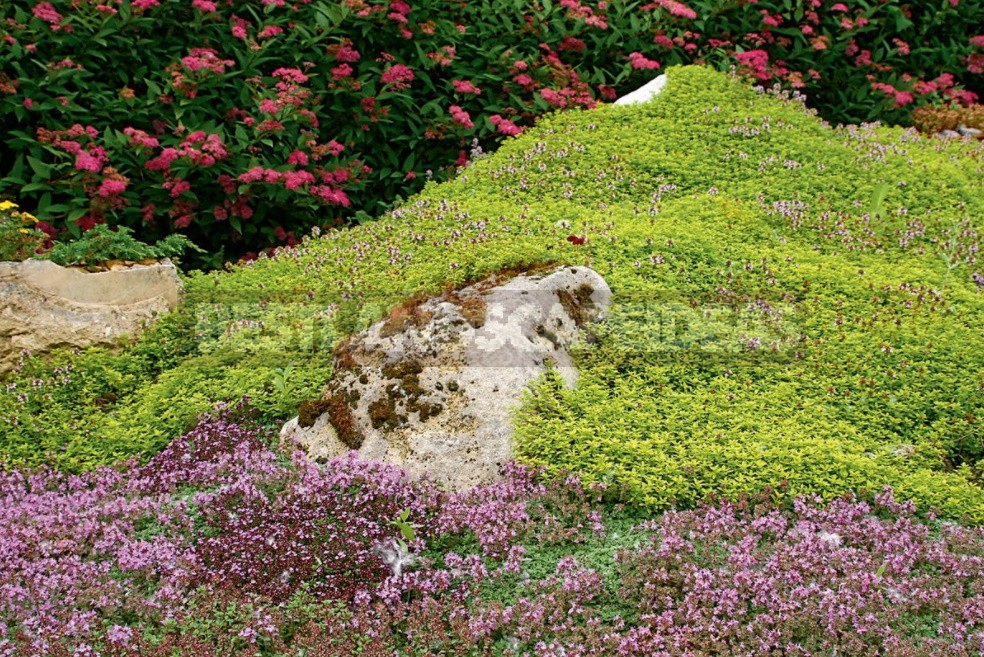 If the rockery imitates the outcrops of limestones, then light stones are well combined with beds of spectacular cereals, sagebrush, yarrow and lilac Echinops.
Miniature slot rolling pins and mini rockeries will be home to collectible specimens of dwarf tree species and varieties.
In traditional rock slides, compact woody and shrubby plants are combined with cushion-like and creeping forms, such as dogwoods (horizontalis or dammeri), Stephanandra incisa, or Cornus canadensis.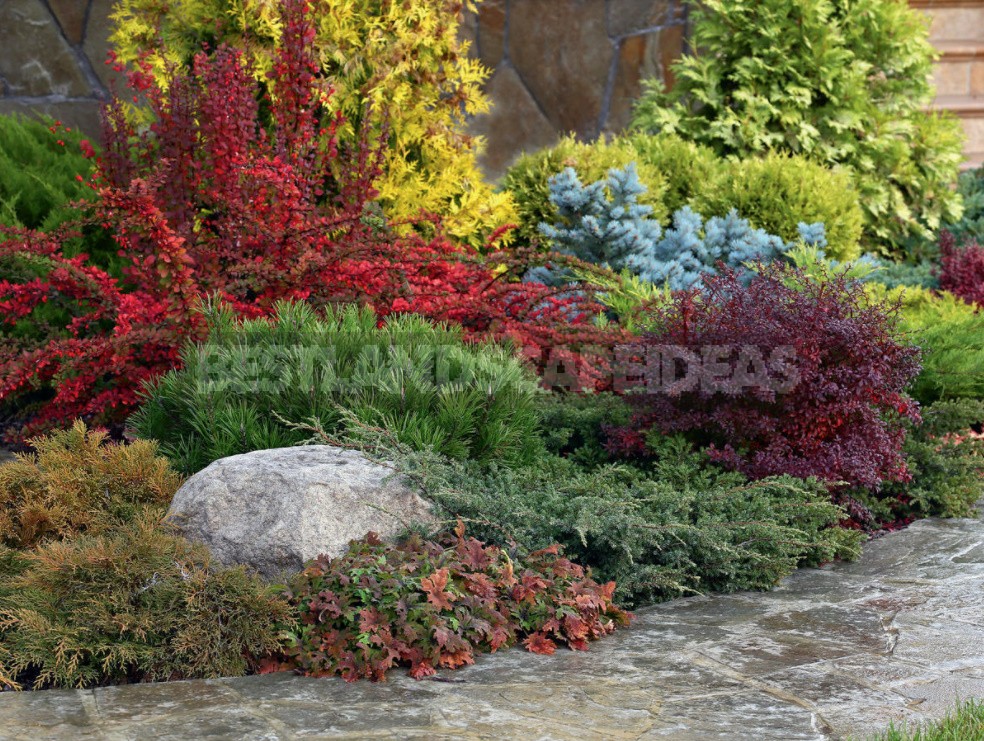 They smooth out the differences in terrain and angular shapes of stones, as well as mask the sharp boundaries of the stone structure, giving it a natural appearance. Together with perennials, they create the effect of a monolithic slide, while simultaneously emphasizing the originality of the stones used.
A large number of decorative miniature perennials will also find a place between the tiles of the slot rolling pin.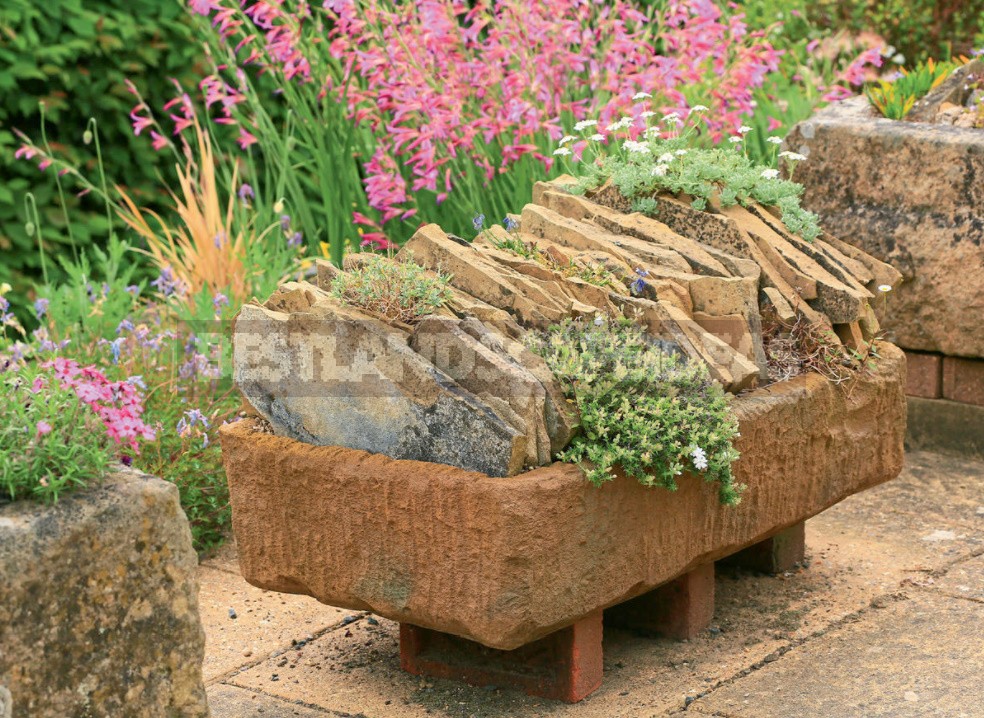 Slides look most natural when they are built on a slope. The hilly terrain allows you to implement almost any decorative types of rockeries. It can be an imitation of a dry rocky scree, a system of ledges with "mountain valleys", a rocky basin, a gorge or a picturesque water cascade. When there is a ravine or pit on the site, then these places can be decorated in the form of a gorge or mountain hollow. In addition, fixing the slopes with stones and plants, in addition to the decorative effect, will help prevent erosion phenomena.