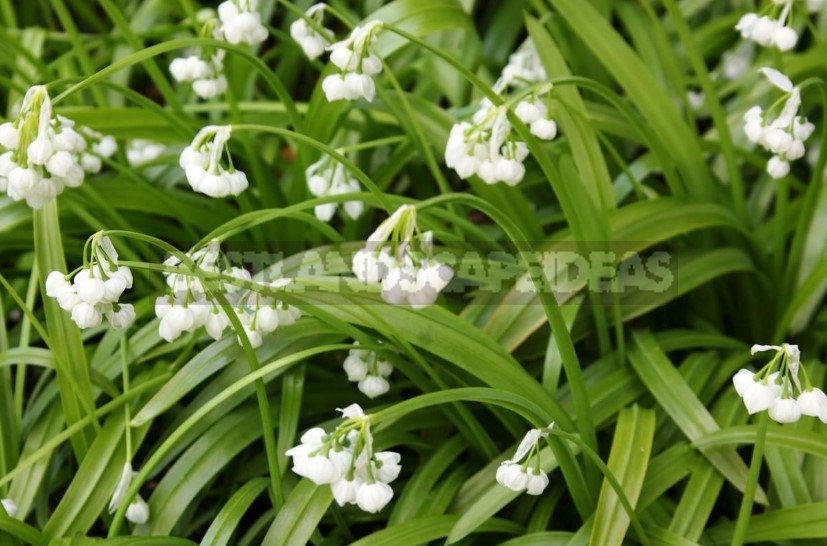 Today's story is dedicated to the luxurious bows, which for more than one year fascinate users of our site with their beauty.
To make it easier to navigate in their diversity, conditionally divide the bows into 3 groups:
high species and varieties-60-150 cm;
medium-30-60 cm;
low-15-30 cm and dwarf-barely reaching 5-15 cm.
High decorative bows
These are spectacular tapeworms that can be accents in complex mixborders, they are good in group planting on a background of shrubs or trees. These are mainly mountain views. Leaves grow early, bloom in may-June, after daffodils and tulips. They are good in cutting (in water are worth about 2 weeks). However, by the time of flowering their leaves often turn yellow and dry up, so high bows appropriate to plant in the background of the flower garden, providing neighbors who cover them with their leaves.
Allium macleanii
Allium macleanii, syn. Allium elatum reaches a height of 60-110 cm, width-15 cm.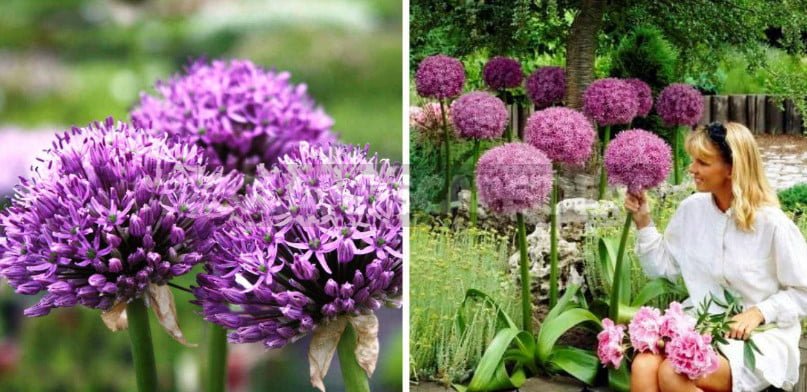 He comes from Central and South-East Asia.
Allium altissimum
Allium altissimum height 80-150 cm.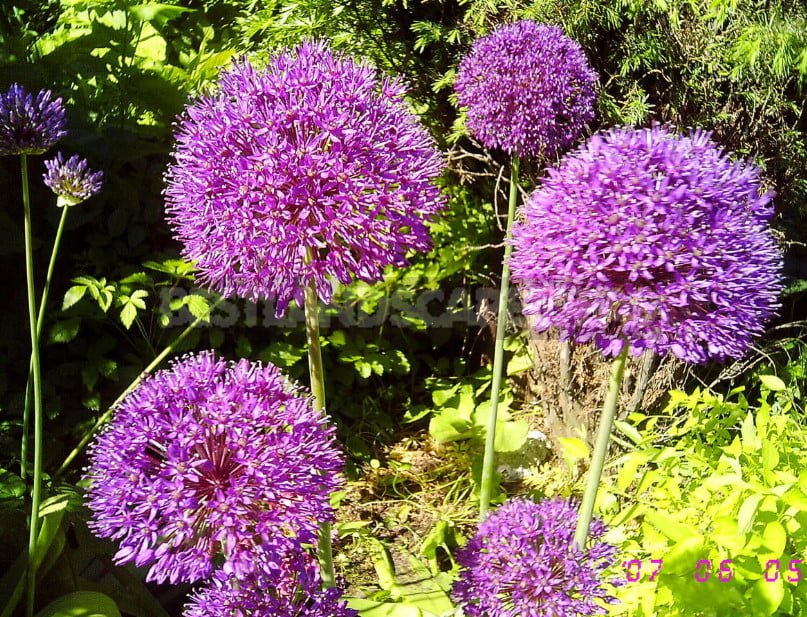 He comes from Turkmenistan, Pamir-Alai; endemic.
Allium giganteum
Allium giganteum 1.5-2.0 m high.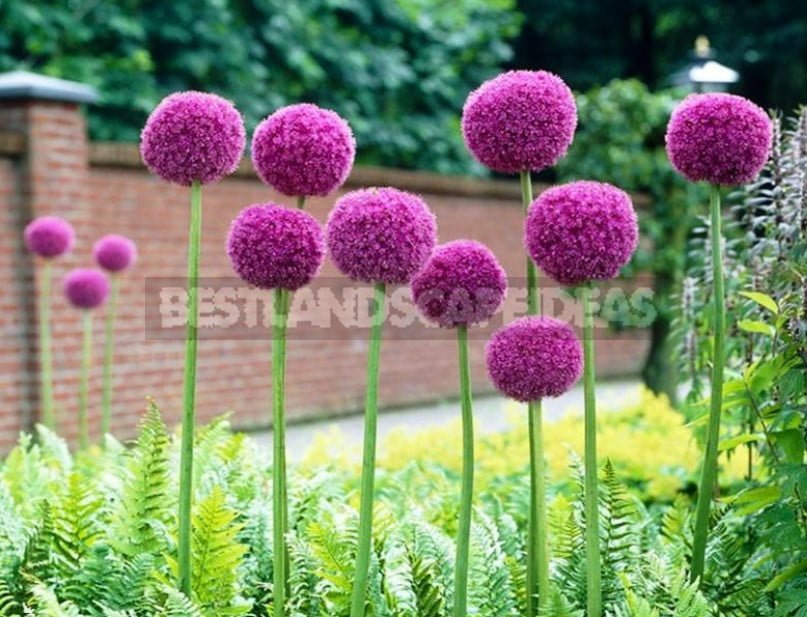 He comes from Central Asia.
Allium aflatunense
Allium aflatunense 1.0 m high.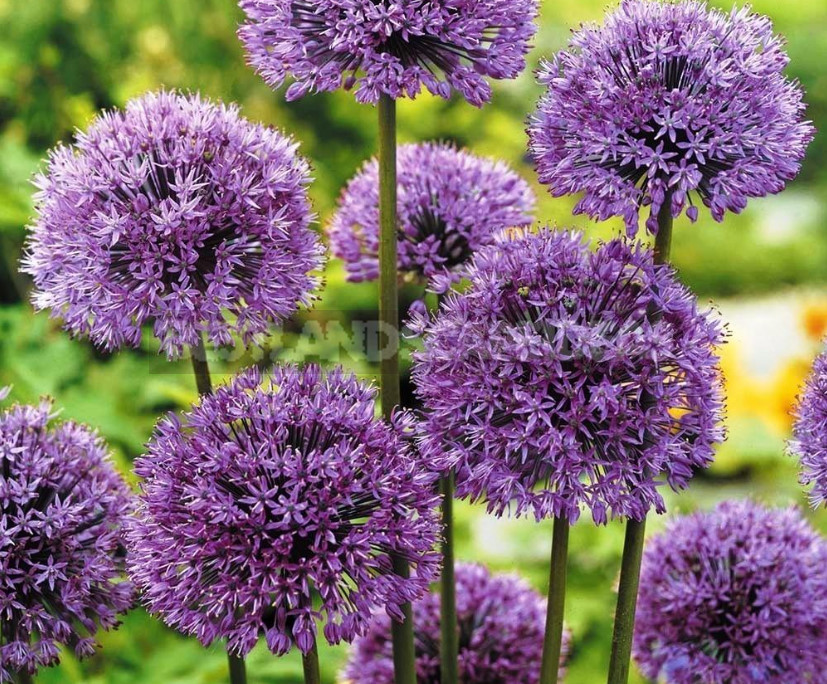 He comes from Central Asia.
Allium stipitatum
Allium stipitatum is about 1.4 m high and up to 10 cm wide; white-flowered varieties are particularly effective: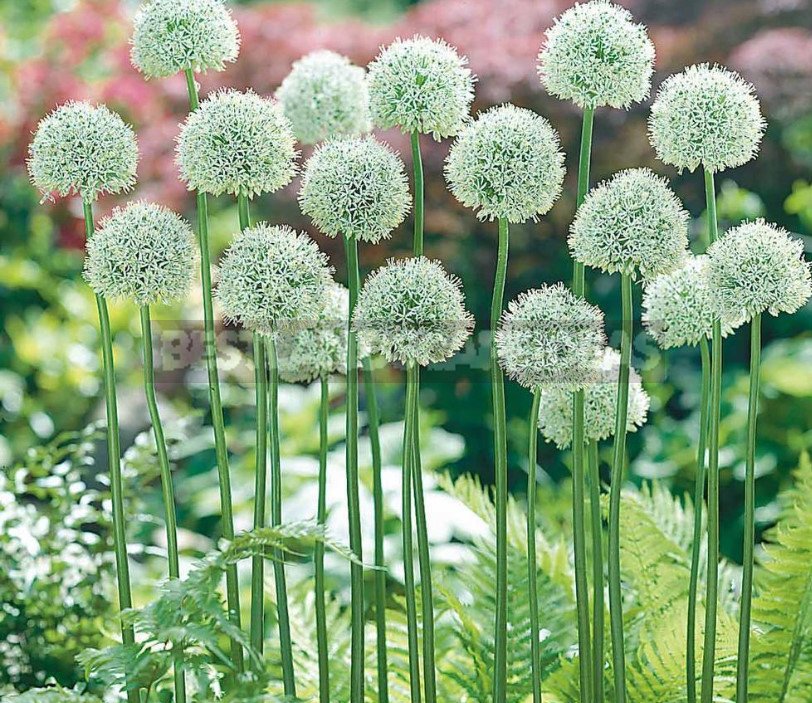 He comes from Central Asia.
Medium decorative bows
They are very beautiful: suitable for various flower beds, rockeries. The most effective during flowering. Can grow in an open Sunny place with dry soils, and in partial shade, and even in full shade (under the trees) on moist soils. Well tolerate transplant: they can be used to decorate voids after early vegetables. Mainly hardy; in one place grow 5-6 years.
Allium sphaerocephalum
Allium sphaerocephalum up to a height of 50-90 cm and a width of up to 8 cm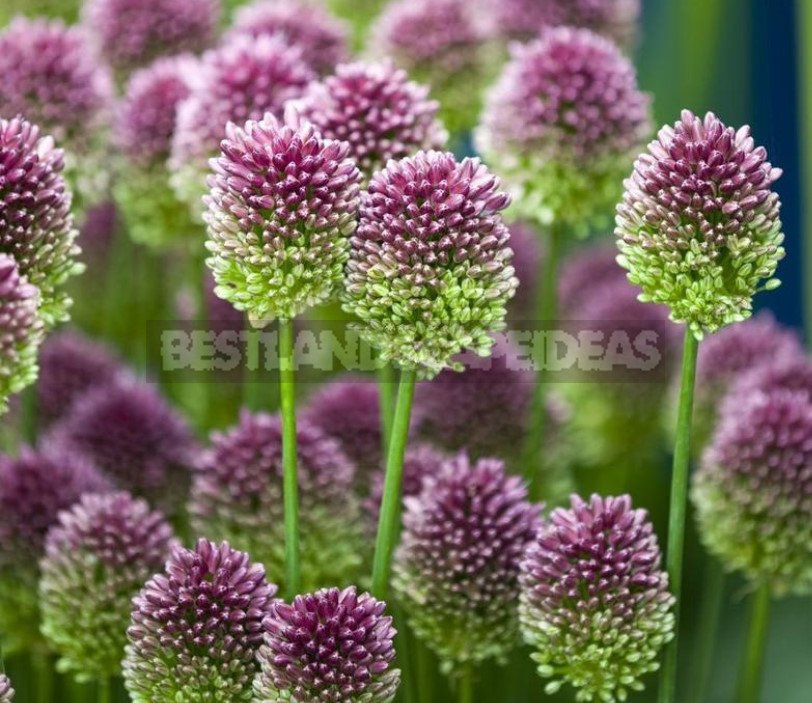 He is a native of Europe, Northern Africa, and Western Asia.
Allium moly
Allium moly with a height of 15-25 cm Cultivar 'Jeannine' height of 30-40 cm, width 7 cm, umbrellas with a diameter of 8 cm.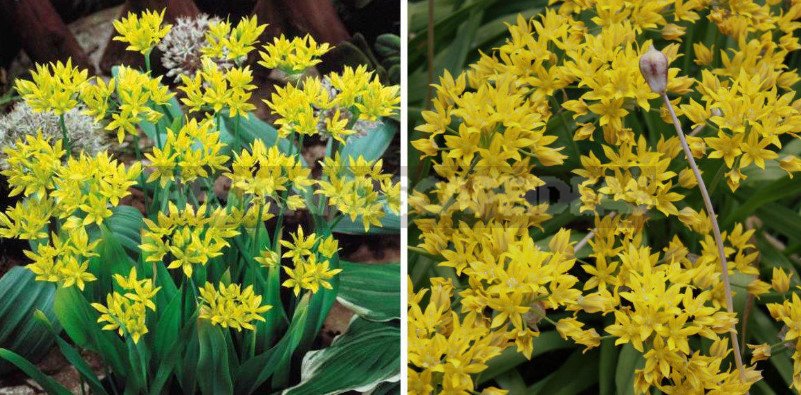 He comes from southern and South-Western Europe. Because of the Golden flowers it is called "Golden garlic". In Greek means flower of the moly, which protects from evil spells.
Allium schoenoprasum
Allium schoenoprasum is 60 cm high and 7 cm wide.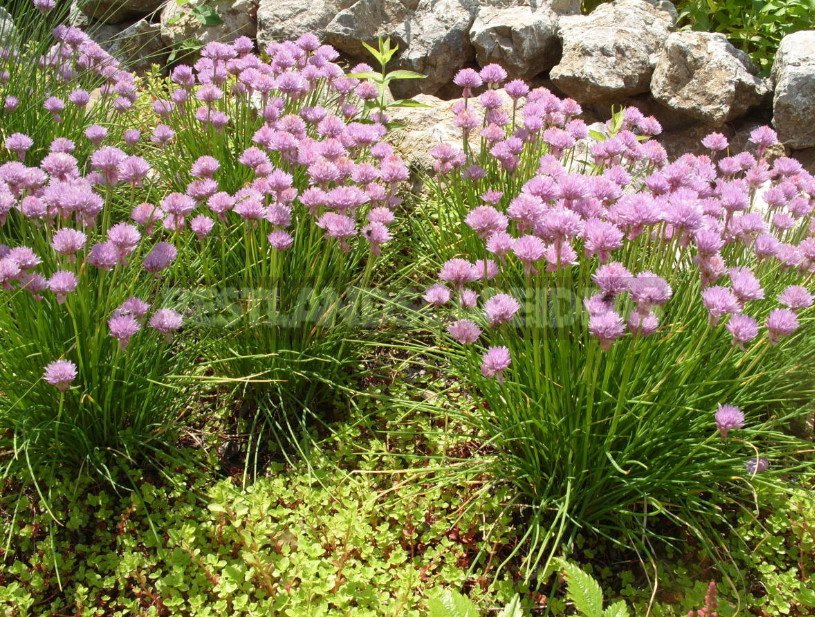 He comes from Europe, Asia, North America.
Allium odorum
Allium odorum, syn. Allium ramosum with a height of 25-50 cm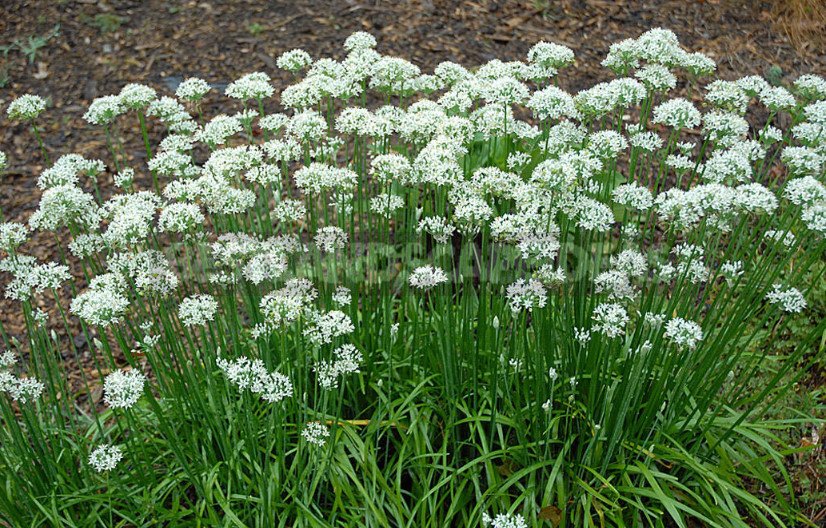 He comes from China, Mongolia, where he is popular among food onions. It is also called "restaurant onions". Amazing floral aroma. Blooms later than other species in August, throwing all new arrows.
Allium senescens
Allium senescens is 30-60 cm high.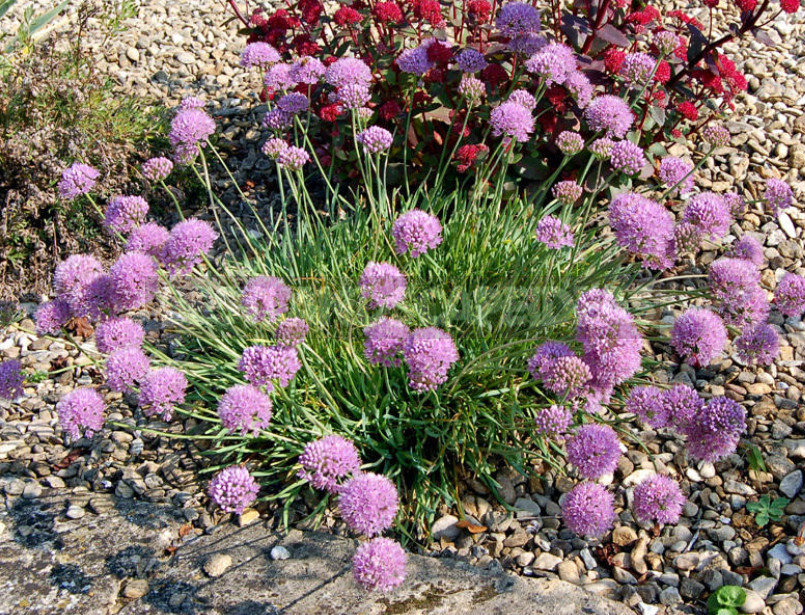 In nature, it is common in Europe, Siberia, Kazakhstan, Mongolia, China and Korea.
Allium cernuum
Allium cernuum 30-60 cm high.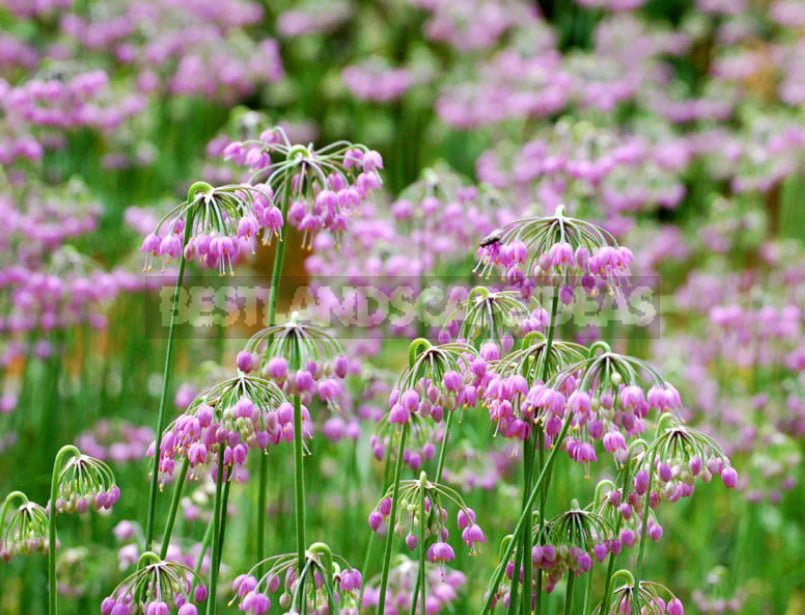 He comes from North America. The English call it " lady's bow."
Allium schubertii
Allium schubertii is 30-60 cm high and 20 cm wide.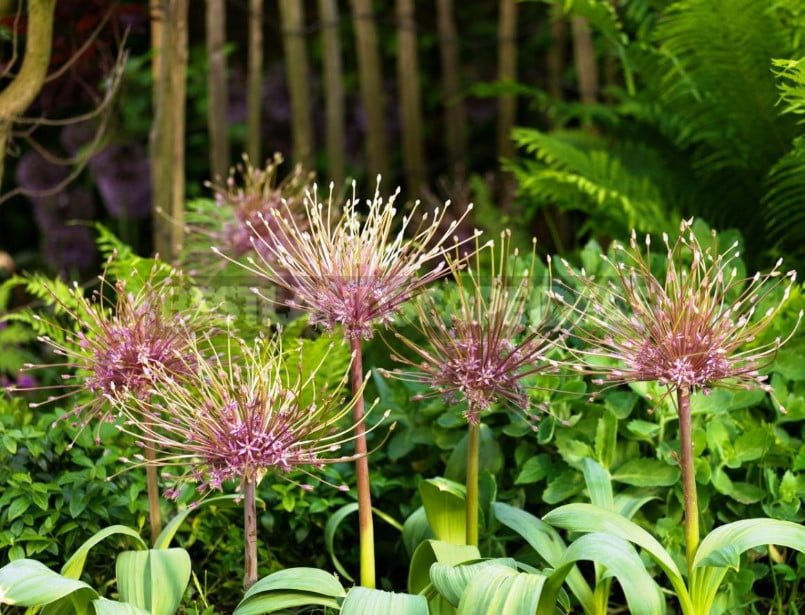 In nature, it is common from the Eastern Mediterranean to Central Asia. Incredibly beautiful and exotic.
Allium christophii
Allium christophii height of 30-60 cm and a width of 15-19 mm.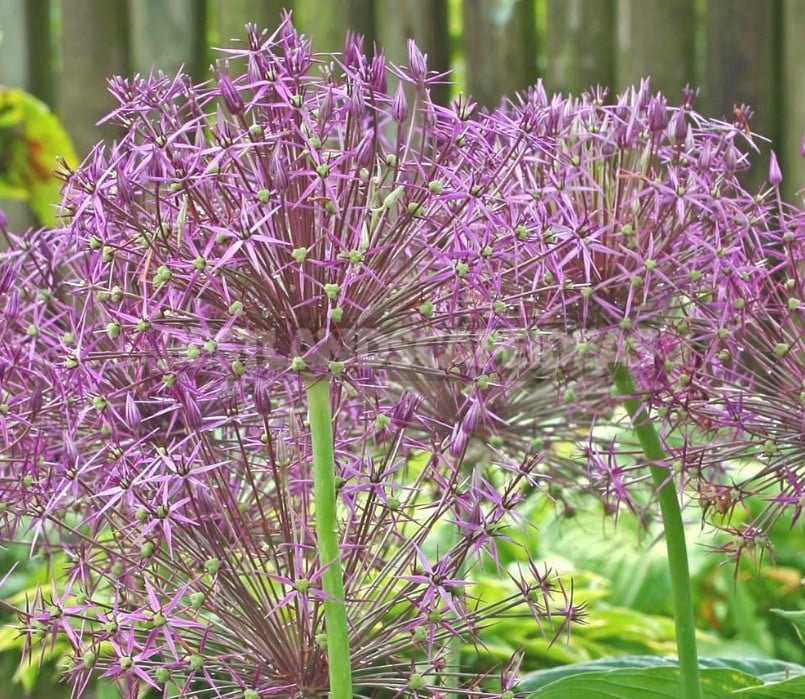 He comes from Turkey, Central Asia; it is called the "star of Persia".
Low and dwarf decorative bows
They seem to be created for rockeries and foreground flower beds. Unpretentious, grow well on dry rocky soils. Bloom in may and June.
Allium karataviense
Allium karataviense height of 10-25 cm and a width of 10 cm There are varieties with flowers ranging from light pink to dark purple color.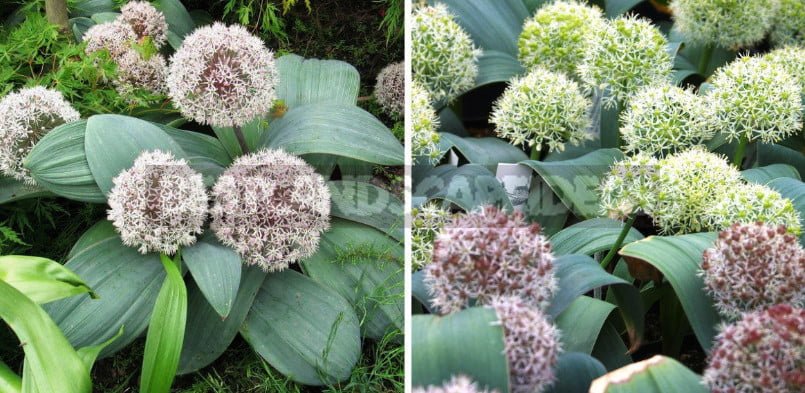 He comes from South Asia. Very effective leaves: flat, gray-green, with a metallic luster.
Allium oreophilum
Allium oreophilum, syn. Allium ostrowskianum 5-20 cm high and 3 cm wide.
Decorative variety 'Zwanenburg' -Carmine-pink flowers.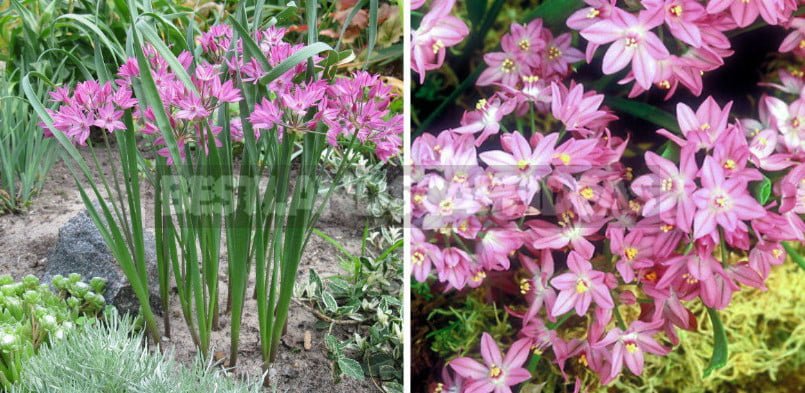 He comes from the Caucasus and Central Asia.
Allium paradoxum
Allium paradoxum height 20-30 cm.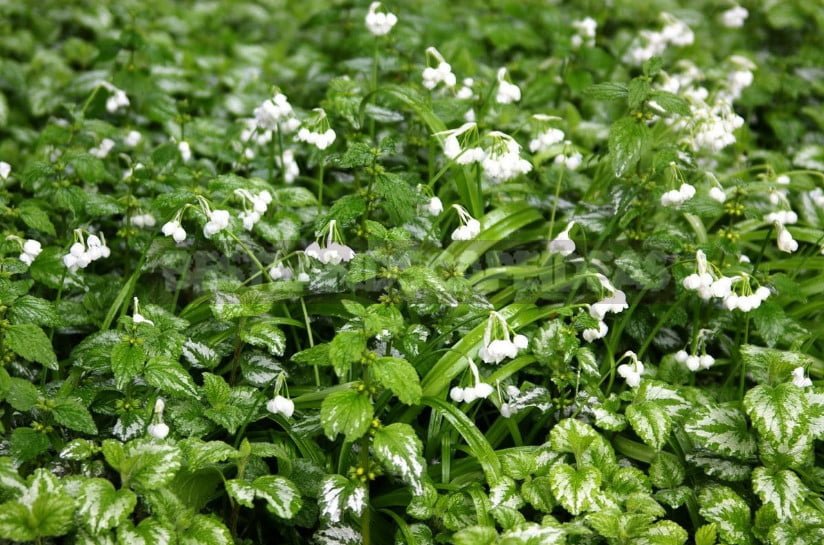 He comes from Iran, Azerbaijan, Dagestan, Turkmenistan, where he was naturalized everywhere. The specific name is associated with an interesting feature: its leaves Central vein protrudes more strongly from the top, not from the bottom side, why they seem inverted.