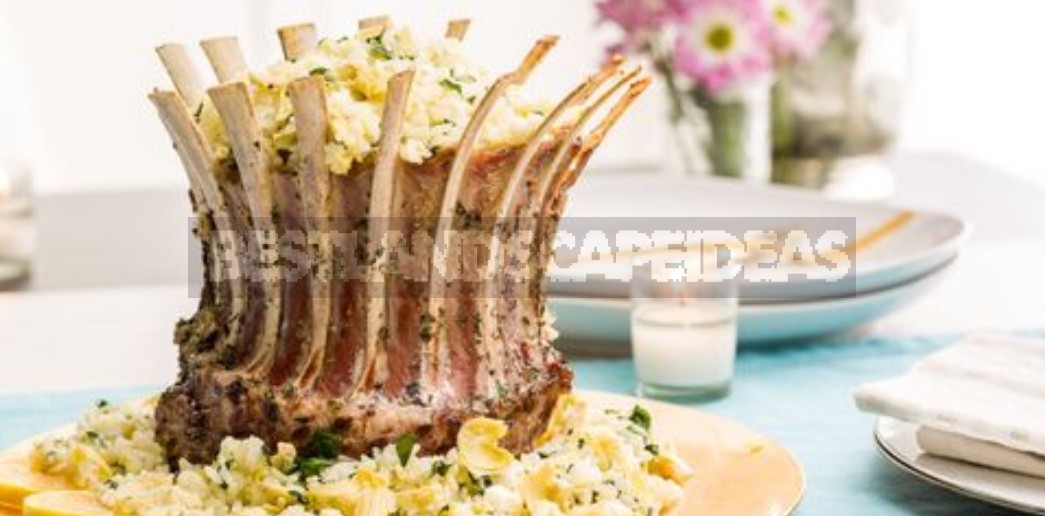 On the bright holiday of Easter, families traditionally visit each other and congratulate them on the Resurrection of Christ. As usual, we offer interesting and delicious recipes for a friendly feast. Fish, meat, soups, vegetables — everything that will help the hostess to lay a beautiful festive table.
1. "Zebra" Fillet with tomato and cheese filling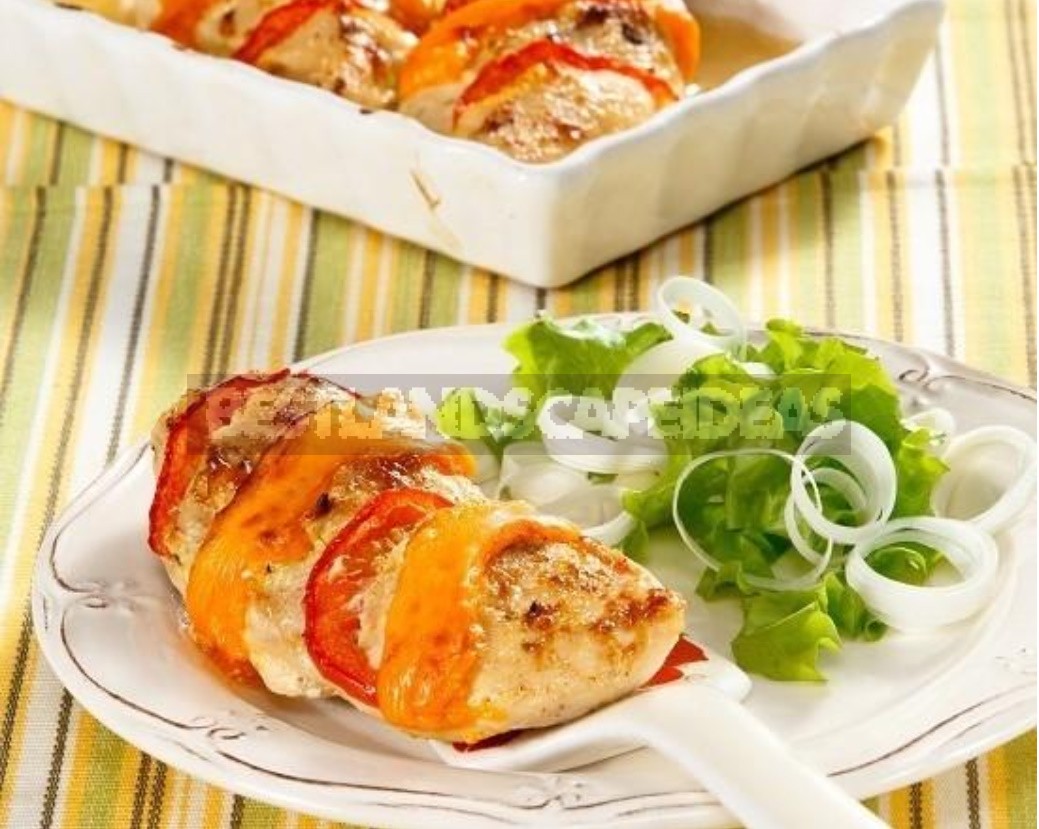 You will need:
4 chicken breast fillets,
3 tomatoes,
200 g hard cheese,
1 package of chicken seasoning,
50 g of mayonnaise,
salt and pepper to taste,
vegetable oil.
For decoration:
tomatoes, cucumbers, greens.
Preparation:
Wash the fillets, dry them, lightly chop them, add salt and pepper. Mix the chicken seasoning with mayonnaise and coat the fillet. Leave to marinate for 30 minutes.
Tomatoes cut into circles, then-in half. Cheese-small plates. On each fillet, make 4 incisions across not to the end, like pockets.
In the first pocket, insert a piece of cheese so that the edge is visible, in the second-half of a circle of tomatoes, in the third-cheese, in the fourth-tomato.
Place the fillets on a greased baking sheet and bake for 30-40 minutes in an oven heated to + 200°C.
Put the finished fillet on a dish and garnish with herbs and vegetables.
2. Fish with spinach in the dough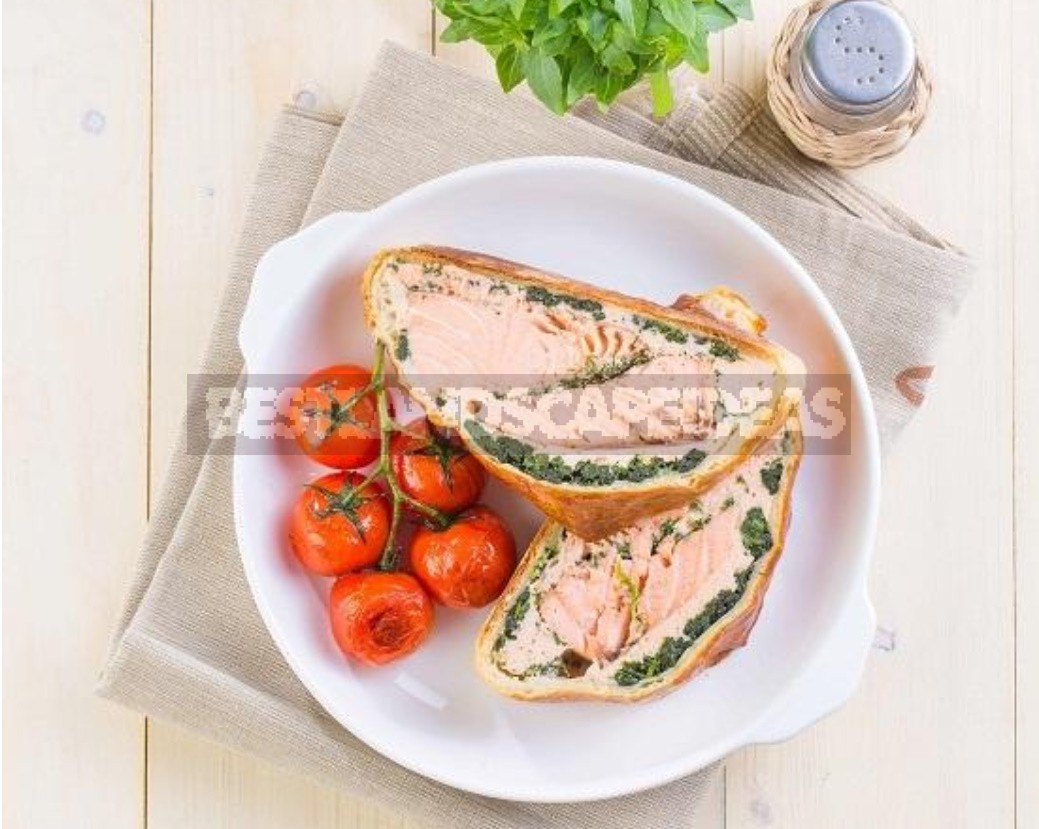 You will need:
400 g frozen yeast puff pastry,
1 kg of red fish fillet,
300 ml of heavy cream,
1 egg,
3 tablespoons lemon juice,
500 g spinach,
2 tablespoons chopped dill,
salt, ground black pepper.
Preparation:
Defrost the dough at room temperature. Cut 300 g of fish fillet into small pieces and chop it together with cream in a blender.
Add the beaten egg white, salt, ground black pepper and leave to cool for 30 minutes. Cut the remaining fillet in half lengthwise and sprinkle with lemon juice.
Roll out one layer of dough slightly, lay half the spinach and cover 1/3 of the sauce. Lay out half of the fillet, brush 1/3 of the sauce and sprinkle with dill.
Then put the second half of the fillet, the remaining spinach, sauce, cover with a second layer of dough and carefully pinch the edges. Brush with the yolk and bake for about 50 minutes at + 190°C .
3. Finnish fish soup with cream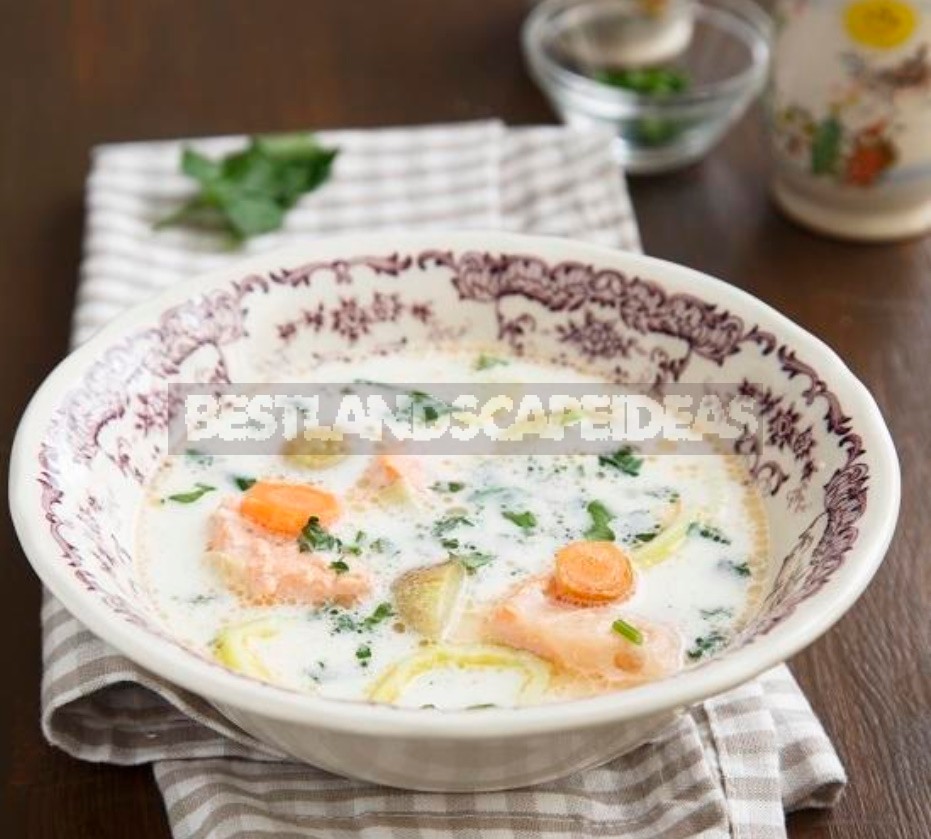 You will need:
1 liter of water,
1 small trout (650 g),
3-4 potatoes,
1/3 leek stalk,
1 carrot,
200 ml of cream with 20% fat content,
Bay leaf,
salt, black pepper,
green.
Preparation:
Wash the fish, Eviscerate, rinse with cold water, pour 1 liter of water, add the peppers and cook, stirring, for about 2 minutes. Then add the Bay leaf, cook for 1 minute and remove from the heat.
Strain the ready broth. Peel the potatoes and carrots and slice them together with the leeks. Add the vegetables to the broth and cook until half cooked. Salt.
At the end of cooking, add sliced trout, pour in the cream. Cook for another couple of minutes. Serve with herbs.
4. Mushroom soup with cream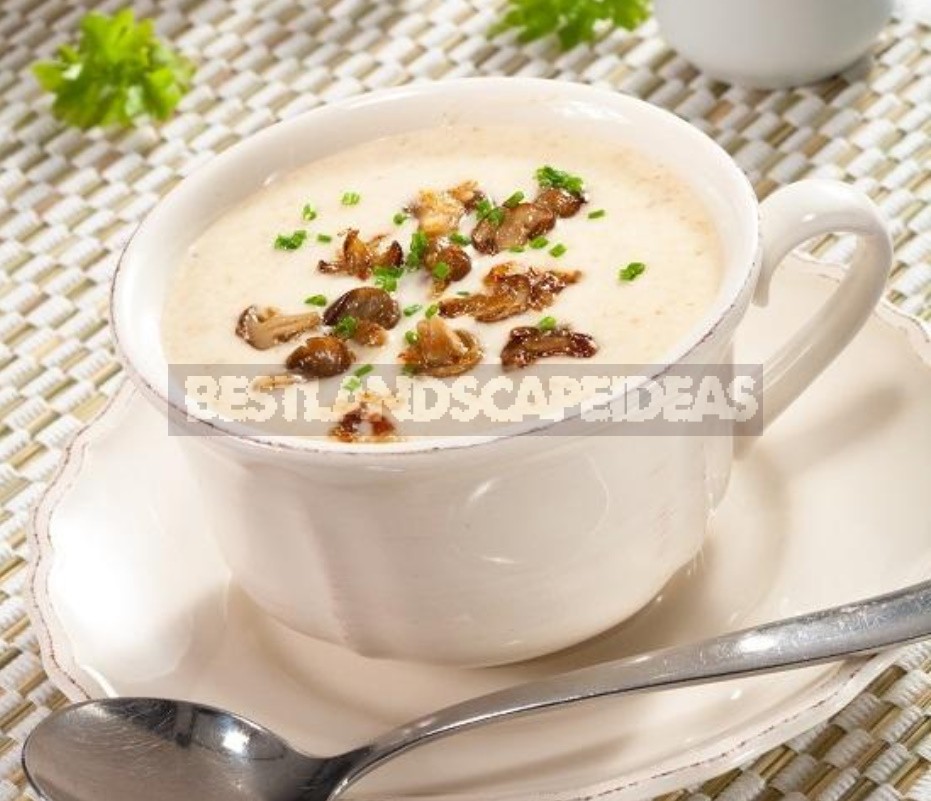 You will need:
For 4 servings:
50 g dried chanterelles,
300 g of potatoes,
1 onion,
80 g butter,
350 ml of broth and cream,
2 tablespoons chopped parsley,
salt to taste,
ground black pepper.
Preparation:
Dry chanterelles soak for 2 hours, then drain, pour again and boil. Half of the mushrooms are thrown into a colander and cut.
Clean and wash the vegetables. Cut the potatoes into cubes and chop the onion finely. In a saucepan with a thick bottom, fry the potatoes and half the onions and chanterelles in half the oil. Pour in the broth and cream, add salt and cook for 15 minutes. Ready to puree soup.
Fry the sliced chanterelles with 1/2 onion in the remaining oil. Salt. Pour the soup on the plates. Add mushrooms with onions and chopped herbs.
5. fish Goulash with vegetables (in a slow cooker)
You will need:
500 g white fish fillet,
1 onion,
2 sweet pepper pods,
2 tomatoes,
1 garlic clove,
100 g tomato paste,
2 tablespoons lemon juice,
grated zest of 1 lemon and parsley leaves for serving,
salt, ground black pepper.
Preparation:
Wash the fish fillets, dry them and cut them into cubes. Peel and chop the onion. Cut sweet peppers and tomatoes into cubes. Peel and chop the garlic.
Put all the prepared ingredients in a bowl of a slow cooker, pour in 250 ml of water, add tomato paste, lemon juice, salt and pepper.
Close the device and set the "Extinguishing" program. Cook for about 35 minutes. Before serving, sprinkle with lemon zest and herbs.