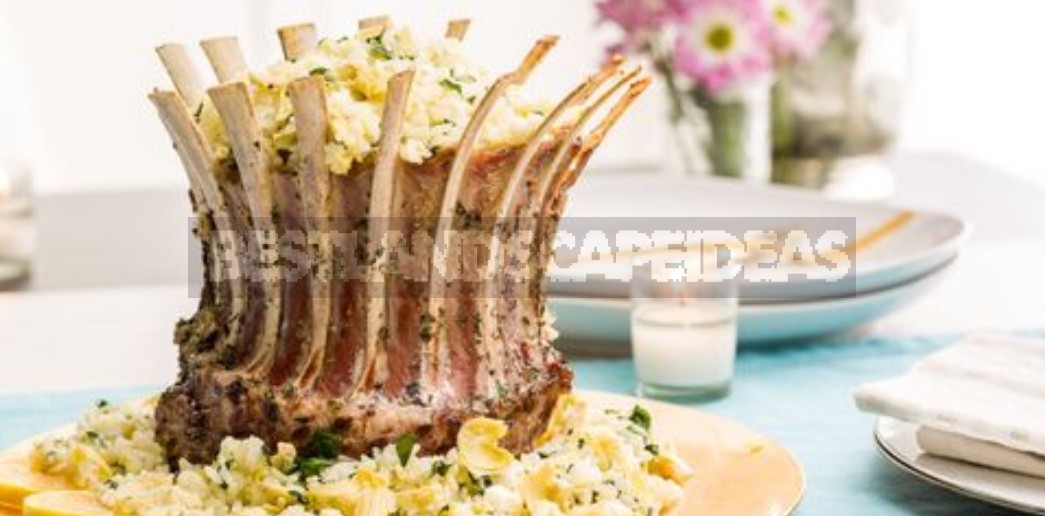 6. baked pink Salmon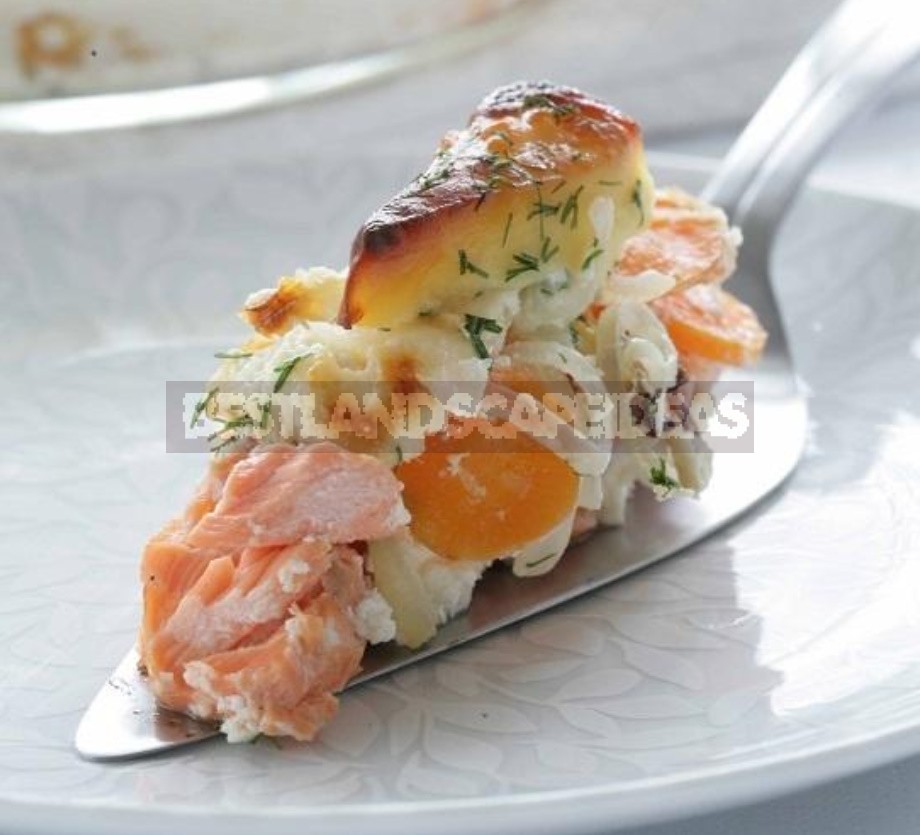 You will need:
For 8 persons:
800 g pink salmon fillet,
2 tablespoons lemon juice,
2 tablespoons olive oil,
2 large onions,
2 medium-sized carrots,
140 g of processed cheese in "triangles",
300 ml cream 20% fat content,
salt, ground black pepper.
Preparation:
Preheat the oven to + 170°C. Wash the pink salmon fillet, dry it well with a paper towel, cut it into small pieces, add salt and pepper, sprinkle with lemon juice and leave for 15 minutes.
Peel the onion and cut it into rings. Wash the carrots thoroughly, peel them and cut them into thin circles. Cut each "triangle" of melted cheese in half.
Grease a round deep baking dish with olive oil and lay out the pieces of pink salmon. Cover with a layer of carrots and level.
Then lay out the onion rings and last of all the pieces of melted cheese. Pour the cream over everything and put it in the oven. Bake for 40 minutes.
Allow the finished dish to cool slightly before serving. Sprinkle with herbs. It is separately possible to submit boiled or fried potatoes.
7. Satsivi with fish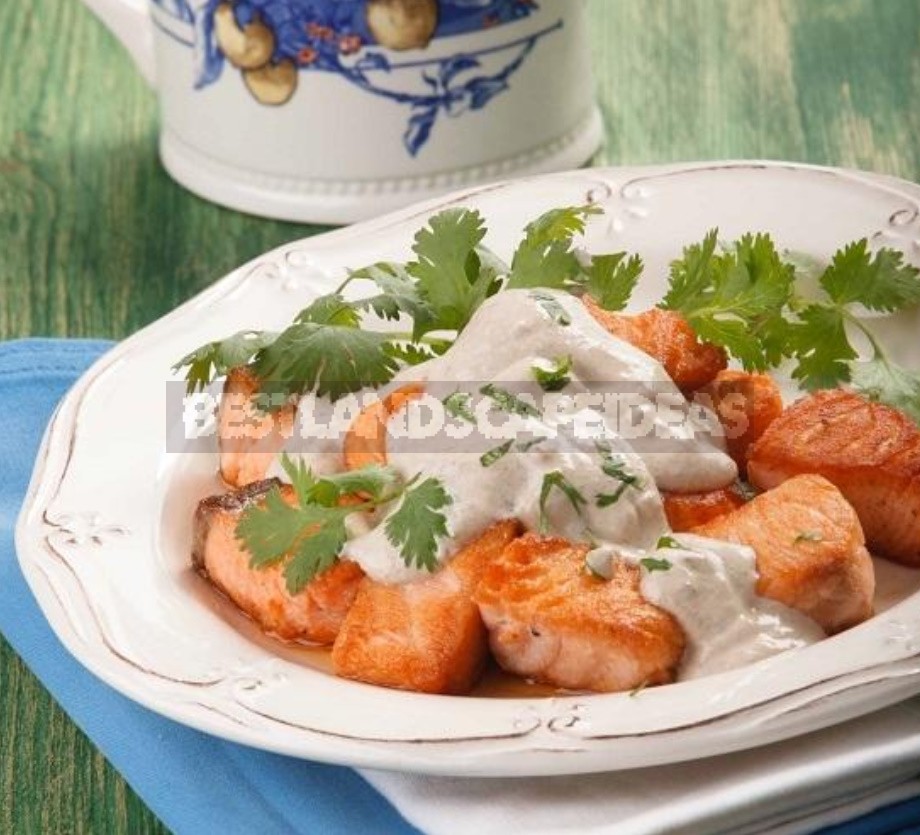 You will need:
1.5 cups fish broth
4 tablespoons vegetable oil,
salt, white pepper,
600 g fillet of any red fish,
0.5 teaspoons ground cinnamon, cloves and coriander seeds,
1 tablespoon of vinegar,
200 g of peeled walnuts,
0.5 teaspoons hops-suneli,
2 cloves of garlic.
Preparation:
Wash the fish, cut into small pieces and fry in vegetable oil for 1-2 minutes on each side. Peel the garlic.
Make the sauce. Chop the nuts and garlic in a blender, pour in the warm fish broth and vinegar, add the suneli hops, crushed coriander seeds, ground cinnamon, cloves, and white pepper.
Pour the resulting sauce into a saucepan. Put the fish on a serving dish, pour the sauce, garnish with herbs and serve.
8. Rolls of salmon and mackerel stuffed eggs with dill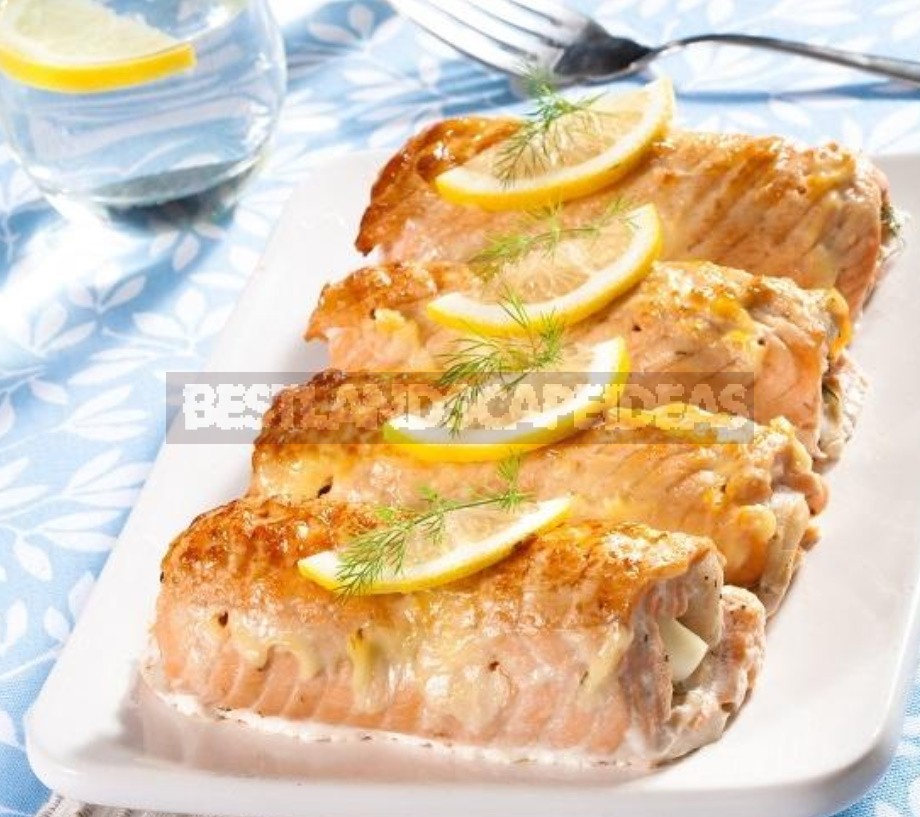 You will need:
4 fillets of pink salmon,
4 mackerel fillets,
2 eggs,
1 bunch of dill,
salt to taste,
vegetable oil,
1 lemon,
1 tbsp lemon juice,
200 g cream cheese,
50 g grated Parmesan,
1 tablespoon olive oil,
2 tablespoons of French mustard.
Preparation:
Remove the skin from the salmon and mackerel fillets, add salt, and sprinkle with lemon juice.
Wash the dill, dry it, and cut it into small pieces. Cook the eggs, cool, peel, cut into small cubes, combine with cream cheese and dill, mix everything well.
Cut the mackerel fillet so that it is slightly smaller than the pink salmon fillet.
Eggs with cheese put on the fillet of mackerel and roll. Put it on the salmon fillet and roll it up again.
Preheat the oven to + 180°C. Grease the baking dish with vegetable oil and put the fish rolls in it.
Prepare the sauce. Combine the olive oil with the mustard, grated Parmesan and mix everything well.
Spread the sauce on rolls. Put the form in the oven and bake for 30 minutes. Garnish as desired and serve.
9. hake with olives and cheese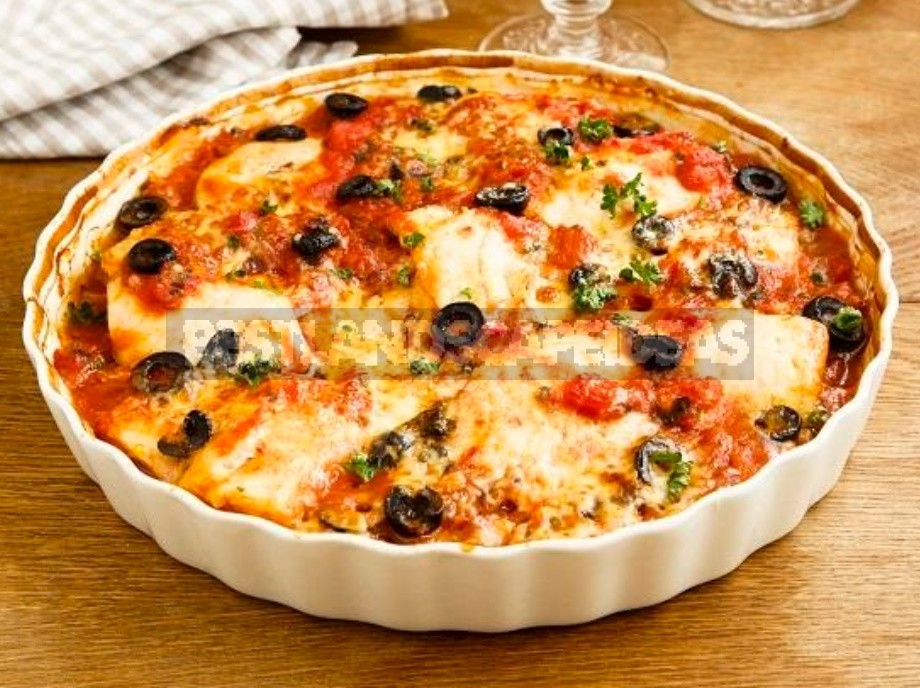 You will need:
500 g hake fillet,
500 g of mashed tomatoes,
1 onion,
2 garlic cloves,
a handful of pitted olives,
a bunch of parsley,
salt,
ground black pepper to taste,
vegetable oil,
grated Parmesan to taste.
Preparation:
Peel the onion and finely chop it. Peel the garlic, cut into thin slices,and fry in vegetable oil until Golden.
Remove the garlic, put the onion in the pan and fry for 2 minutes. Then add the tomatoes and simmer for 6-8 minutes. Season with salt and pepper. Add the chopped parsley and remove from the heat.
Cut the hake fillet into half-palm sized pieces. In a heat-resistant container, put a few spoons of tomato sauce, hake fillets, another layer of sauce, put whole or sliced olives and send them to the oven preheated to +180°C for 20-35 minutes.
Then sprinkle with grated Parmesan and put under the grill, cook until the cheese Browns. Serve hot.
10. fish casserole with potatoes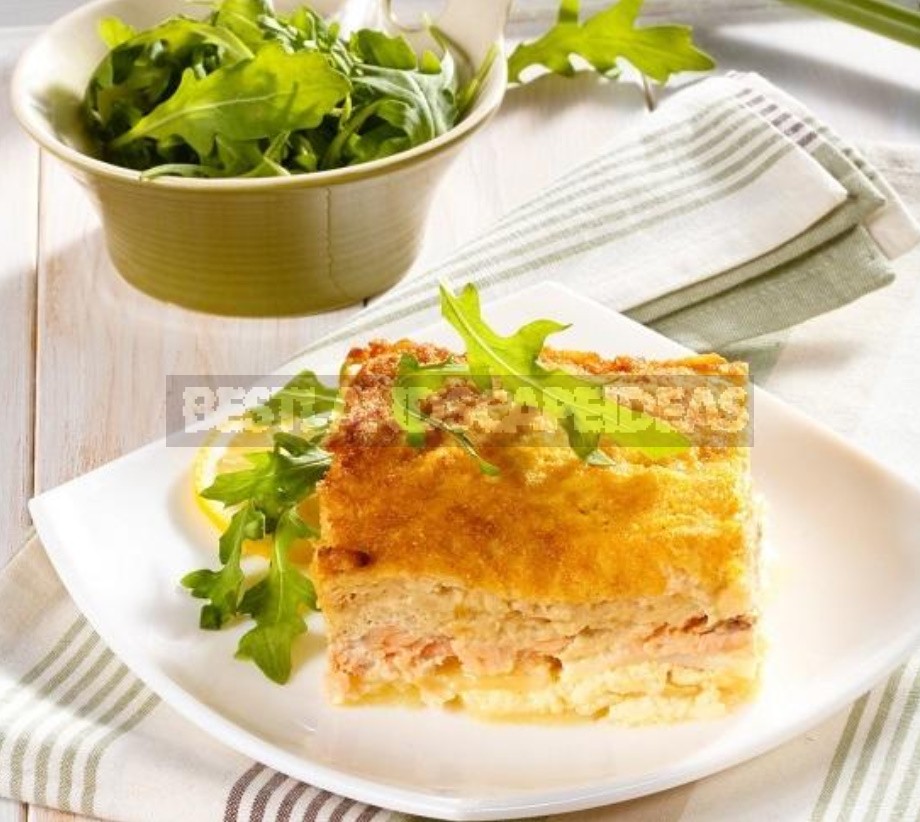 You will need:
For 4 servings:
700 g of potatoes,
400 g of fish fillet,
2 tablespoons butter,
1 Apple,
1 tbsp sour cream,
4 tablespoons breadcrumbs,
2 eggs,
100 ml of cream,
margarine for greasing the mold,
salt.
Preparation:
Heat the oven to + 200°C. Wash the potatoes, peel them and cut them into thin slices. The form is greased with margarine and put it in layers of potatoes and pricking each layer.
Wash and dry the fish fillets. Cut into small pieces and place on the potatoes.
Dissolve the butter in a frying pan. Wash the Apple, peel it and grate it on a coarse grater. Mix thoroughly.
Beat the eggs with cream, add a little salt and pour over the fish. Put the Apple mass on top and smooth it out. Bake in the oven for 60 minutes. Cut the casserole into portions and serve hot.