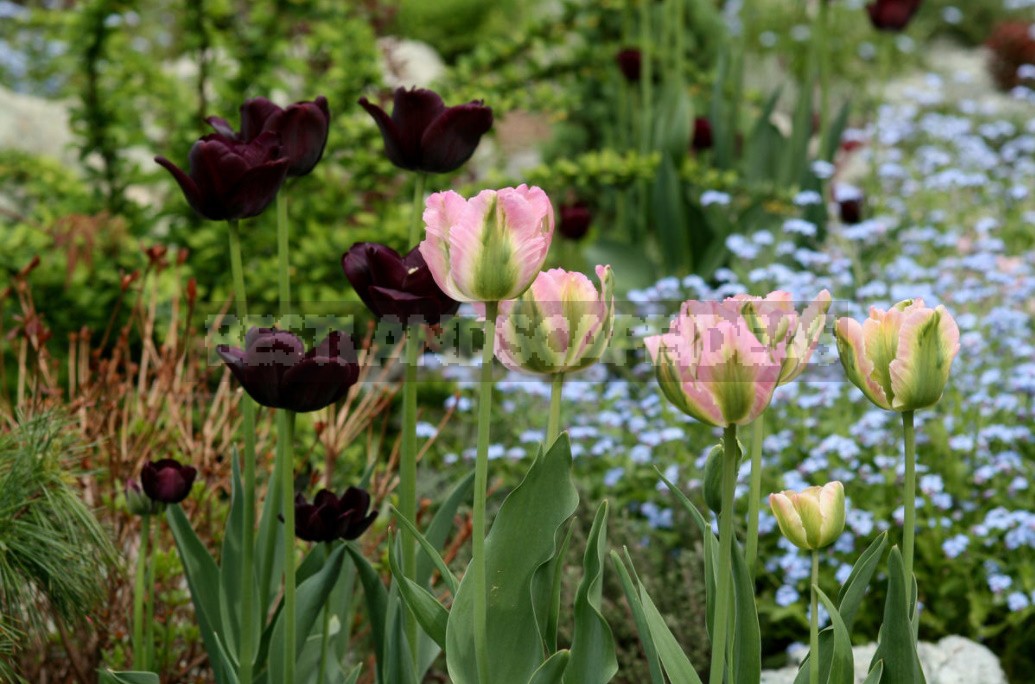 I can not imagine a spring garden without delicate, elegant, such different, albeit short-lived, bulbous plants. For those who refuse bulbous plants, believing that the effort and time spent on their cultivation does not pay off with a short flowering, I can only say: "You just do not know how to use them."
Bulbous and biennial plants in solid planting
The most common and effective way of placing bulbous plants is a continuous planting on flower beds, borders. However, every time after flowering, we are faced with a choice: beauty or economy. After all, to get a high-quality replacement bulb, you need to wait for the complete yellowing of the foliage. If you dig out the faded plants immediately, and even with green leaves, to replace them with letnikami, then the bulbs in the nest will be of poor quality, they will have to grow up to large sizes for several more years.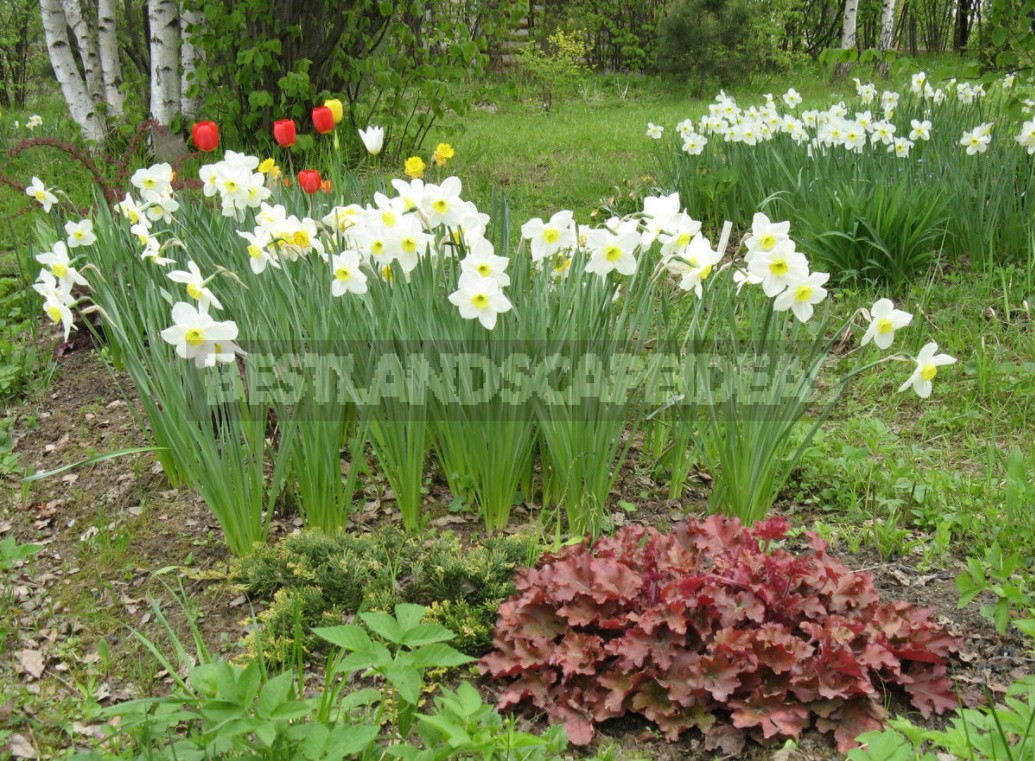 In urban flower gardens, as you probably noticed, the second option is used. In your garden, you can experiment and try joint planting of bulbous plants with spring-flowering biennials. Due to the longer flowering of the biennials, it is possible to delay the excavation of the bulbous ones until the foliage is almost completely yellowed. Only in this case, the rate of planting bulbs should be reduced to 20-25 pieces per square meter, and on the free area to plant biennials.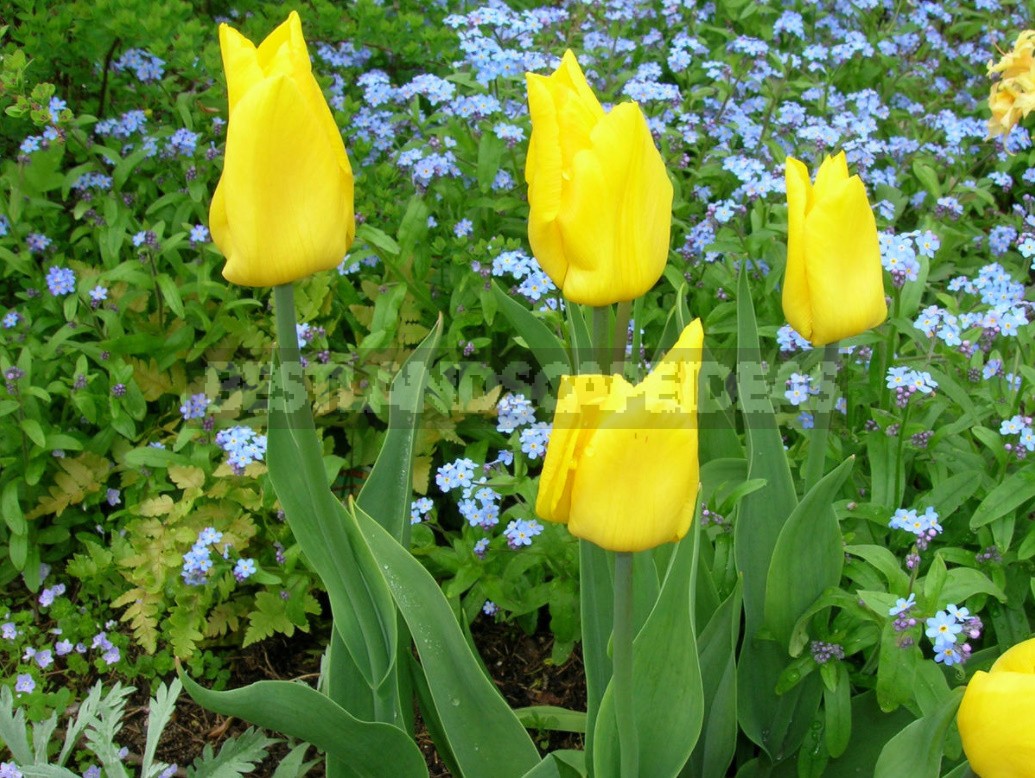 So I use hyacinths and tulips, which must be dug up annually. Species and varieties that do not need annual digging in this way are a pity to use, there are other techniques for them.
Do not plant one by one!
The most common mistake is when the bulbs are planted "one by one", distributing them throughout the plot. The reason is clear — I want the spring flowers to please us and at the porch, and on the way to the house, and near the gazebo. However, individual plants can not give a color spot and the decorative effect of such planting is almost zero.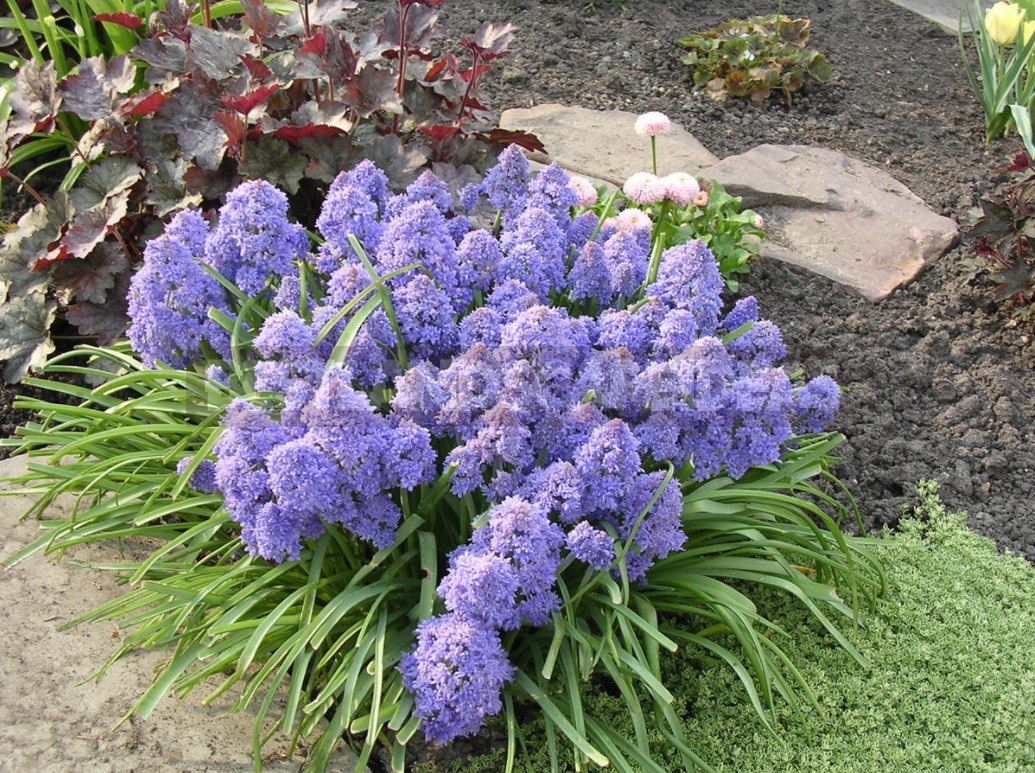 This is especially true for small bulbous plants. Single galanthus or muscari are simply lost among other plants. Therefore, it is better to plant them in groups, at least 5-7 pieces.
Finely bulbous and groundcover in solid planting
However, large-area planting of small bulbs is not the best way, because after the disappearance of the leaves, there are empty plots of land (and almost all spring-blooming bulbs are ephemeroids, that is, they spend most of their lives in a state of dormant bulbs, in a leafless state). And nature, as you know, does not tolerate emptiness, and this area will immediately be occupied by weeds.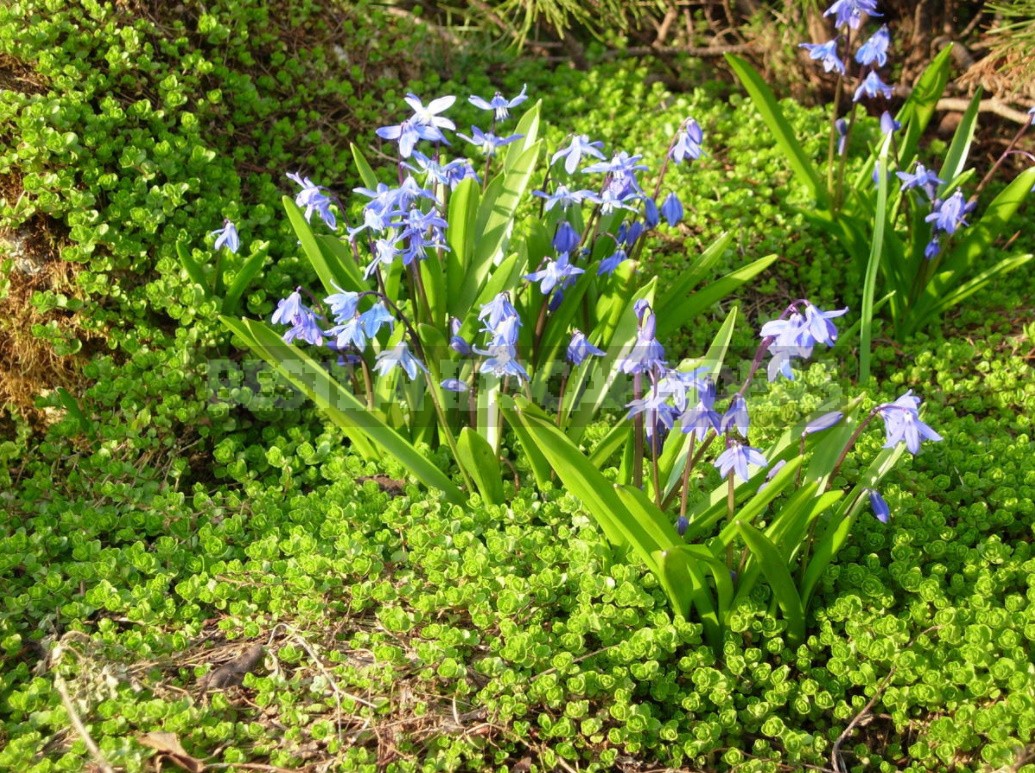 It is reasonable in this case to combine finely bulbous with groundcover plants. Especially successful is the neighborhood with evergreen or wintergreen species.
The meaning is that small bulbs are planted according to an arbitrary scheme in small groups between the divisions of groundcover plants. Already the next year, the leaves of perennials close, and they completely cover the yellowing foliage, and subsequently the empty spaces remaining after the flowering of bulbous plants. In addition to small bulbs, daffodils and species of tulips are suitable for such a joint planting. But hyacinths, unfortunately, do not fit.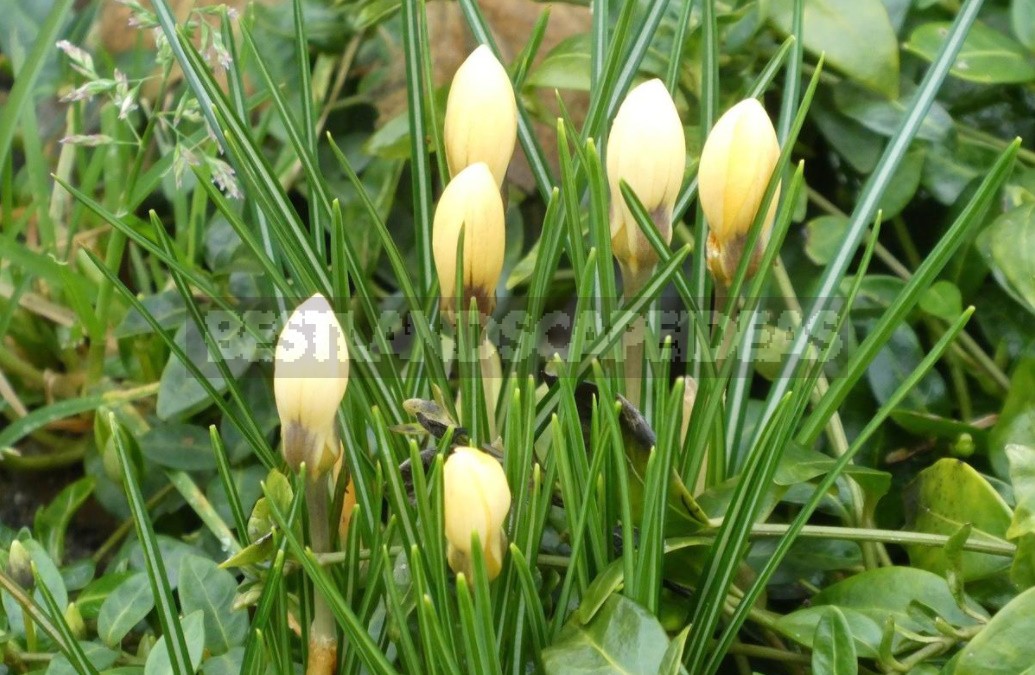 The only drawback of this method is that after 5-6 years, the overgrown nests of bulbous plants will have to be disassembled, and with them the groundcover plants will have to be dug up. Then the composition is created again. But during this time, you will not even need to weed this area (only in the year of planting), since weeds practically do not germinate through groundcover perennials.
Finely bulbous on the lawn
A widely known method of planting small bulbous plants, especially crocuses, on the lawn. At the same time, it is necessary to take into account several technical points.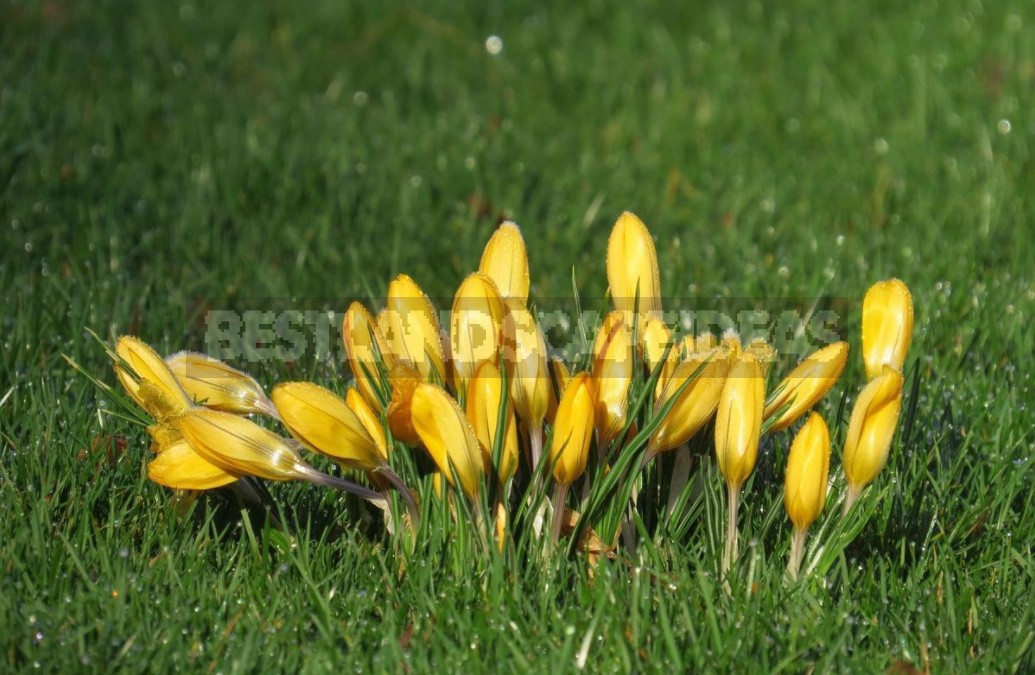 Firstly, you need to plant plants only in groups, and secondly, the distance between the groups should not be less than the width of the lawn mower. This is a very important point, since it will be possible to cut the areas of the lawn under which the bulbs are planted only after their foliage is completely yellowed, otherwise they will not bloom next year. The lawn itself begins to be mowed much earlier, and therefore the lawn mower should pass freely between crocuses, galanthus, muscari, scylla.
Where to plant bulbous plants that do not need to be dug up
Needless to say, in the spring in our conditions, flowering perennials are not enough. And then the bulbous ones come to our aid-first of all, those that do not need annual digging. Under them in the garden, you do not even need to allocate a special area, but it is better to plant in small groups in the so-called technological spaces between other flowers. Finely bulbous can even be planted not in groups, but in ribbons.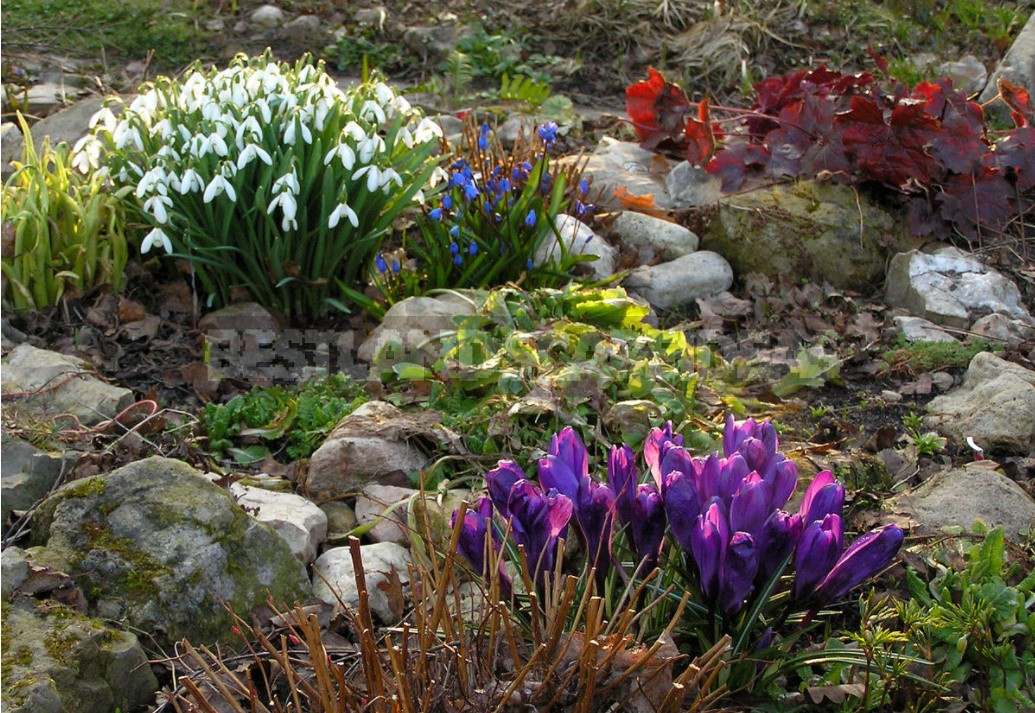 The meaning of such planting is simple: in the spring, when the rhizomatous perennials are just beginning to open their leaves, it is time for bulbous plants. They are especially good against the background of young greenery, and after flowering, intensively growing perennials will hide them from our eyes until next spring.
Such joint planting does not contradict the rules of agricultural technology. After all, the depth of the roots of perennials is usually 30 or more centimeters, and the bulbs are planted no deeper than 15-20 cm. The roots of the plants do not interfere with each other and get along well. And in peony, for example, the roots are located at a depth of up to 100 cm, so small bulbous plants can be planted even in the immediate vicinity of the bush.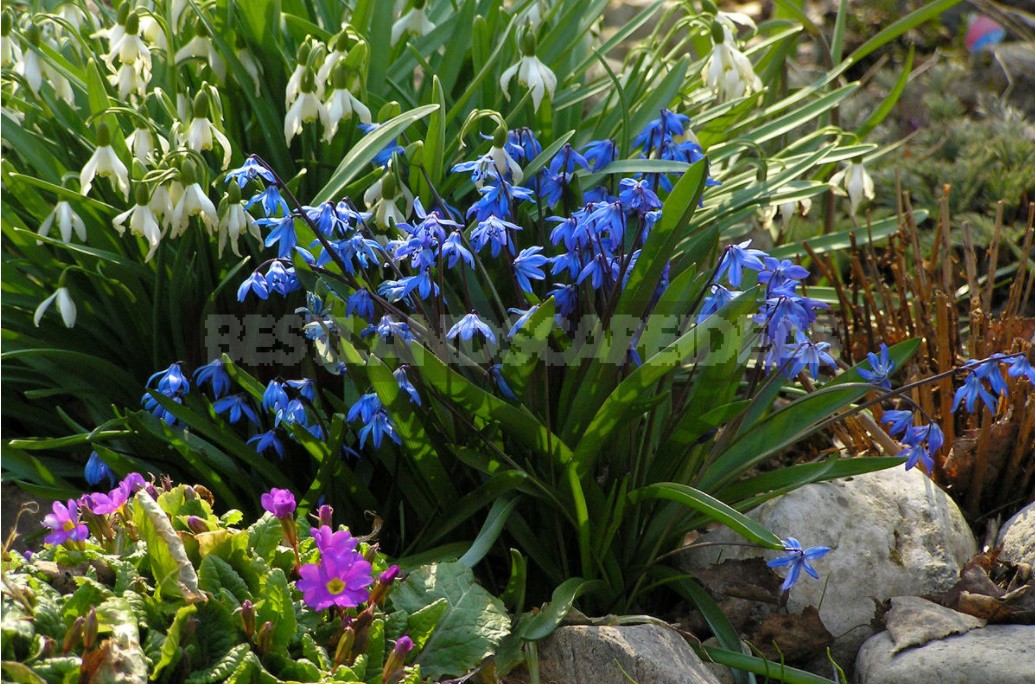 Of course, over time, the flowering of bulbous plants will begin to weaken due to the growth of the bulb nest. But mixborders, as a rule, have to be redone once every 5-6 years.
And, perhaps, only new varieties and types of bulbous plants should be planted in separate places, so that it is convenient to observe them, to study their behavior.