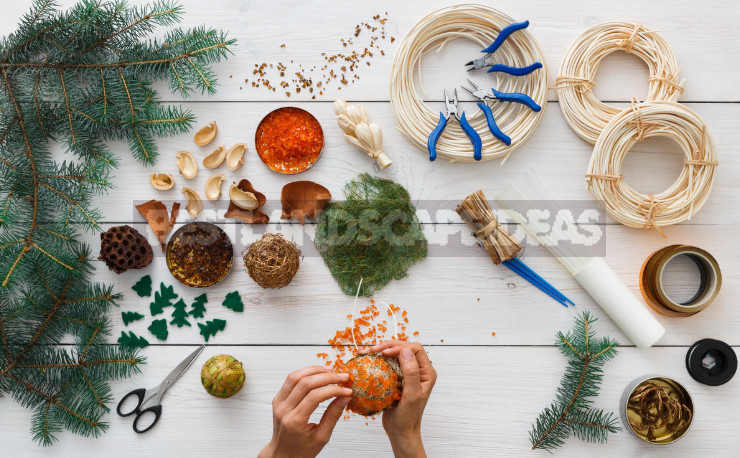 Time is surprisingly fast leafing through the years of our lives, and we are rapidly rushing forward, on the way to celebrate the dates and holidays, flying from one New year to another. And suddenly in a box with old Christmas decorations, we find a soft lump … Ah! And time stands still. You forget that it is necessary to throw urgently balls and tinsel on a fir-tree and to rush to shop behind the next purchases. Before the eyes of a distant childhood, in which you carefully sew the ears rag puppy, and Granny sticks his eyes, a small tongue and a loop. And you admire this little man-made miracle for a long time. Wow, so many years have passed, and Christmas toy-puppy still smells of childhood, and something distant far away… "warm".
On sale now a great variety of Christmas decorations and gifts. And it seems that there is no need to take up needle, scissors, glue and thread. But sometimes you want to decorate the Christmas tree with something special, "their", something no one else has. And then all of a sudden suddenly there are a few free hours when you can realize amazing ideas.
Magic twigs that easily turn into jewelry
Nature throws us completely unique materials and ideas. A dozen twigs, tinsel, a few Christmas tree toys — and this small set of simple "ingredients" is easy to turn into such a cute house, which can serve as an alternative to the Christmas wreath.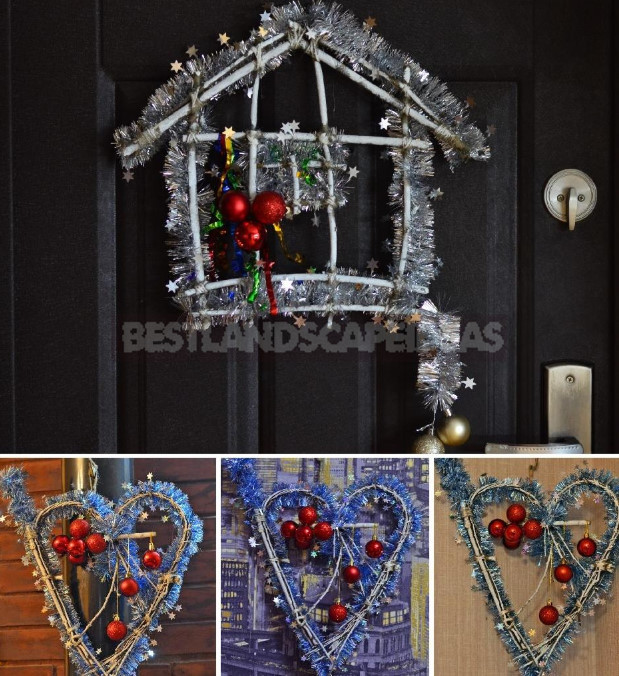 Branches-the material is free, so you can make houses, as much as you want and completely different sizes. The most miniature decorate the Christmas tree.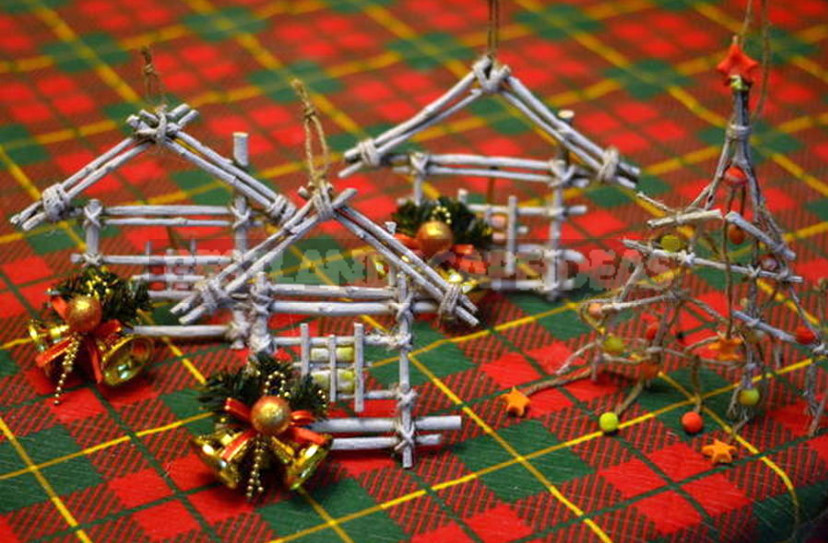 Lazy patchwork-a godsend for those who can not sew!
What do you think, how much time had to sew pieces of fabric for these crafts — panels and Christmas ball. Want to be surprised? These crafts are "sewn" without needles! This wonderful technique will allow even those who have never held a needle in his hands, to make original and very cute Christmas decorations. We will not torment you: all the trick in the base, it is made of foam. And most importantly – these crafts not only look cute, they are surprisingly light and pleasant to the touch, they are… "warm".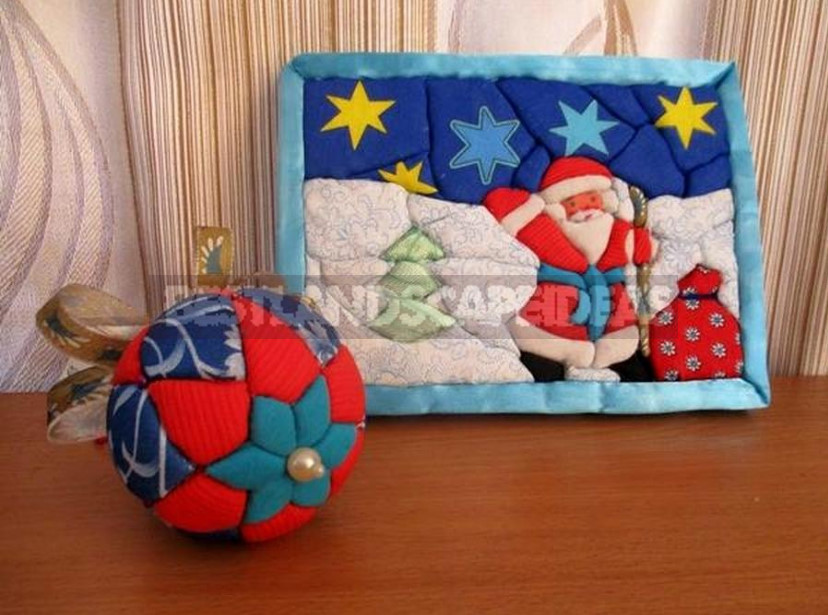 Christmas balls also love to dress up
Who said that Christmas balls should be shiny, smooth and beating?! Not necessarily! Especially if there are small children in the house. You will come to the aid of foam balls, threads and tape. To wind the thread on the balls-it's a few minutes, and if you do it with children — and even fun. And the bows on the balls can be replaced with any other decoration-in foam easily stuck skewers with decorative heads, paper clips, which can hang beads, bells, attach twigs or even candy.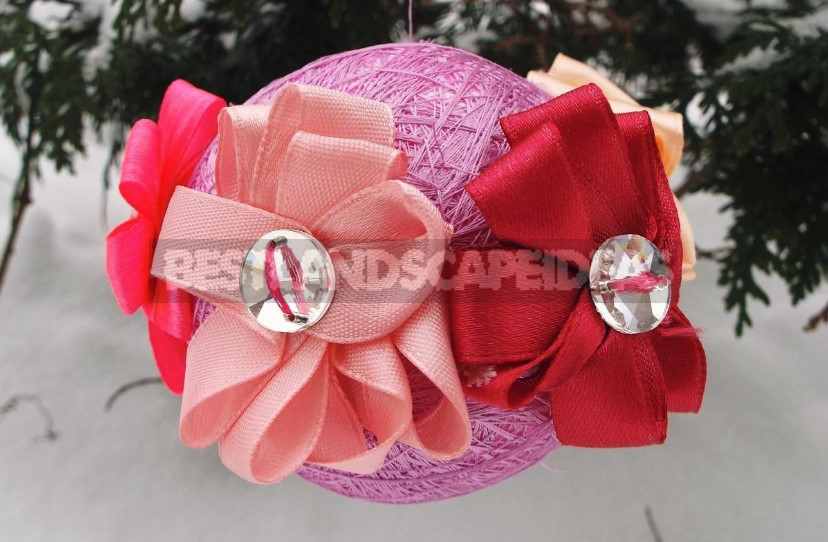 Bright candies and socks for a good mood
A bright note in the Christmas decoration can be added with white and red candies and socks. If you have a sewing machine at hand (and here it is quite suitable and manual), in a few minutes you can fill several blanks with cotton wool. Socks and lollipops will be so bright and positive that they will definitely bring a smile to everyone who will see them… or in their hands if they become a gift.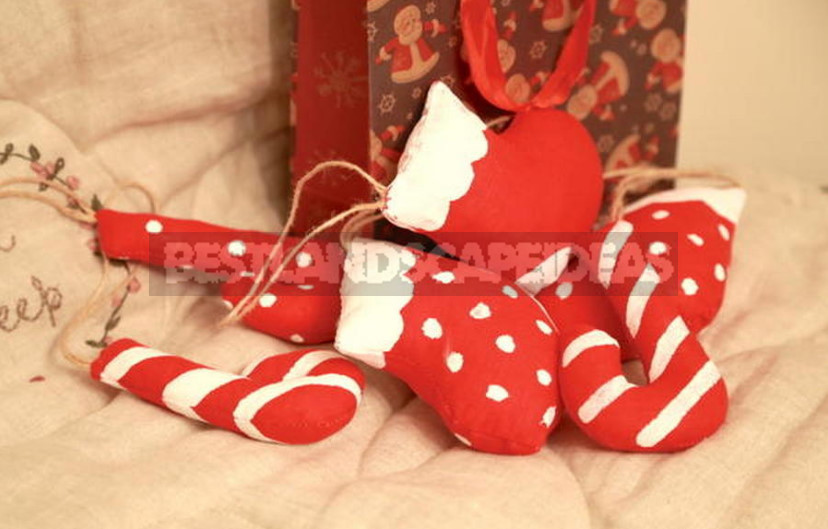 Paper snowflake worthy of the Snow Queen
Just do not rush to say that it is difficult and you will not succeed. Be sure to succeed! And quickly and even more beautiful. You'll see! Especially as paper, scissors and toothpicks everyone is able to hold in hands.
Small test…
1. You will be able to cut the sheet of paper 40 stripes?
2. Will you be able to wind these strips on a toothpick?
3. Will you be able to glue the twisted snails together?
If you three times nodded his head, you need to carefully consider the photo and set to work. And tomorrow you will want to do something else in the technique of quilling, because it is good contagious.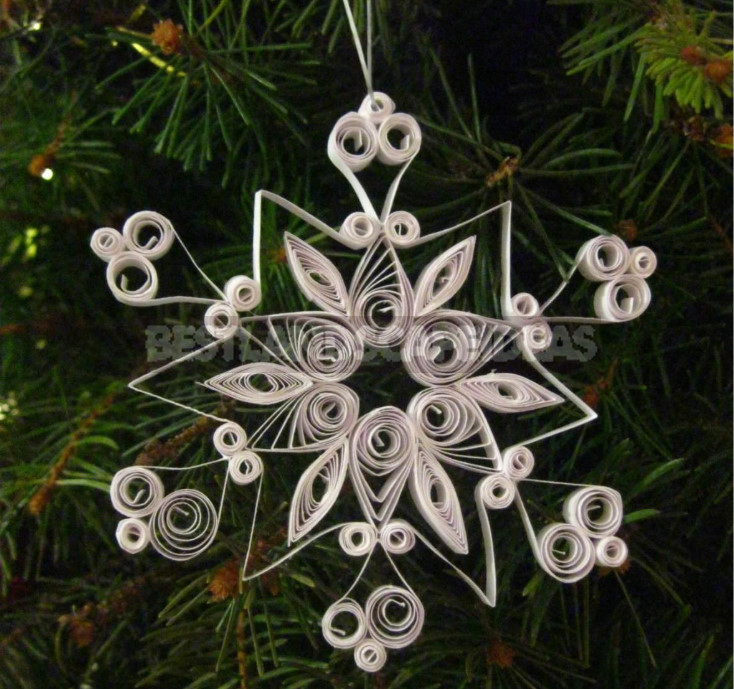 Christmas trees for Christmas trees without thread and needles
But these toys-Christmas trees can do everything. Because it is clear, simple, fast and, moreover, very inexpensive. And it turns out original and beautiful. Surely, you have in boxes and boxes there are scattered beads, fallen out of jewelry stones, old baubles, a couple of balls of woolen threads and cute ribbons. And the manufacturing process itself is a continuous creativity: cut out triangles from cardboard, smeared with glue, wound threads and decorated with treasures found in boxes.