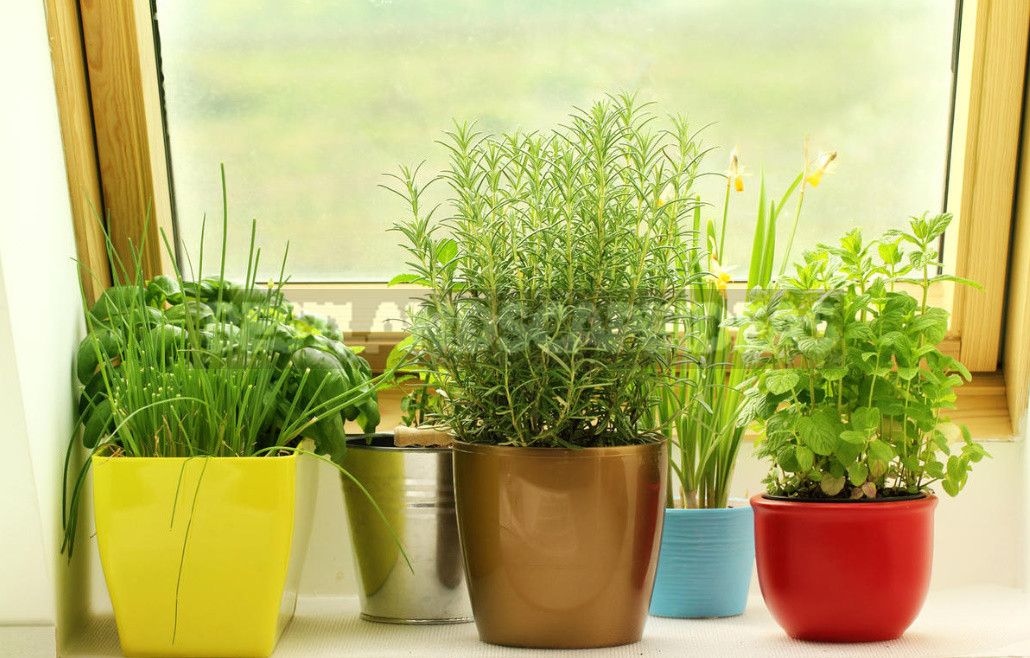 How many wonderful herbs can be grown in pots and containers! And not just to grow, but to create a real kitchen garden or potted composition in the spirit of Provence.
Some crops grow well in individual containers, and in General, in combination with other plants.
Today we have an extensive program: we will learn to grow in pots as many as five crops!
Anthriscus
Sowing seeds can be carried out up to three times a year: in early spring, late June and August-September, but the true gourmets of this spicy culture sow it every 2-3 weeks.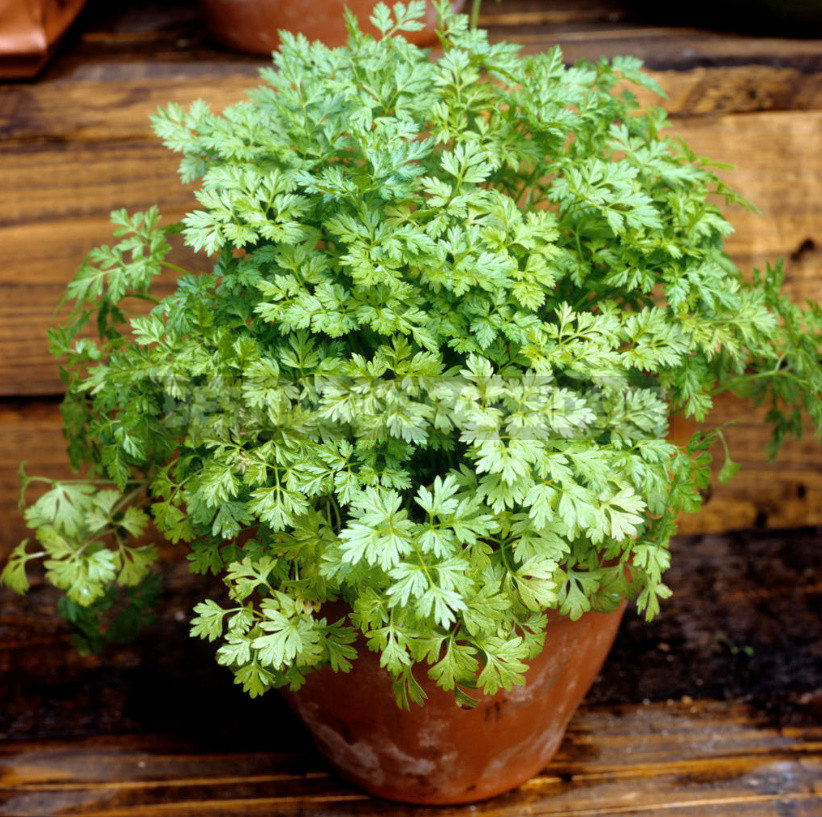 The soil substrate is light, alkaline: turf and humus in a ratio of 1:2. A bucket of this mixture well, add 1 Cup of ash and 1 tablespoon nitrophoska. The substrate must be disinfected by spilling it with a pink solution of potassium permanganate.
Practical suggestion.
Decontaminate the soil can be and with the help onion husks, dried nettle, or sphagnum.
Use boxes or pots (containers need to be with drainage holes); to the bottom of the required drainage. Before sowing, the substrate is moistened; seeds are sealed to a depth of 1-2 cm, without prior preparation; crops are covered with glass or film to preserve moisture. Friendly shoots (if the seeds are fresh) appear at a temperature of +20…+25°C after 7-14 days.

In phase 2 true leaves of the sprouts are definitely thin out, the temperature of the contents drops to +14…+18°C. During an active growth, watering is a daily and abundant – Anthriscus likes moist (but not waterlogged!) soils. Ventilation is a must! If you do not want to use the young greens in food, seedlings planted 1 plant in pots with a diameter of not less than 10 cm, then, the growth handled in large containers.
Anthriscus can be combined with other crops: it is well adjacent in containers with dill, carrots and parsley.
The Use Of Anthriscus
The classic French mixture of essential oil plants is Anthriscus, parsley, chives and tarragon. Such a powerful complex spice in the blink of an eye will turn even a simple omelet into an exquisite dish. One of the wonderful sauces to the steak is the one in which anthriscus, tarragon, shallots are added. What chervil with subtle herbaceous anise flavor is best suited to grilled meats, fish dishes, appetizers with eggs.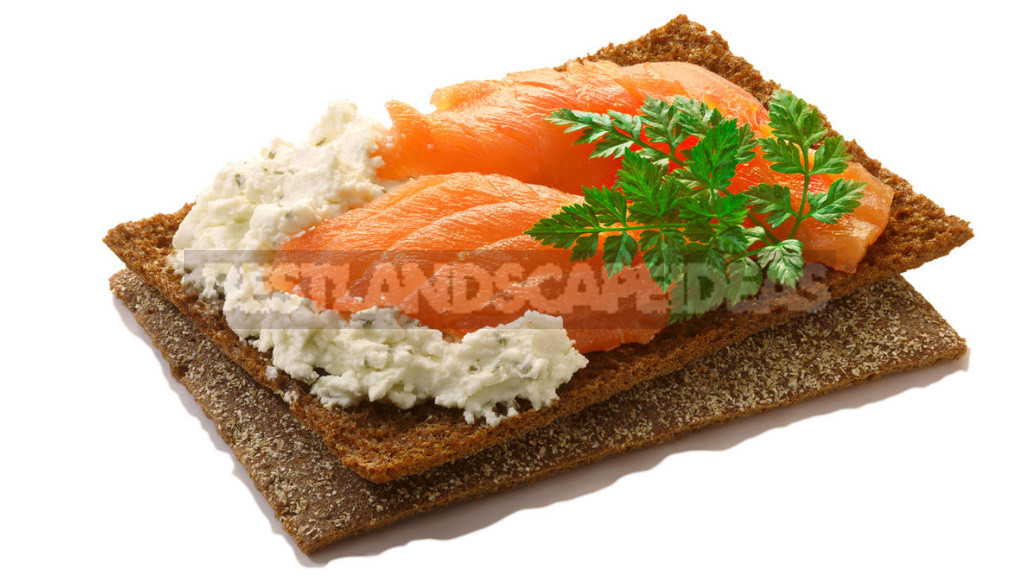 Foenículum vulgáre
Grow as dill.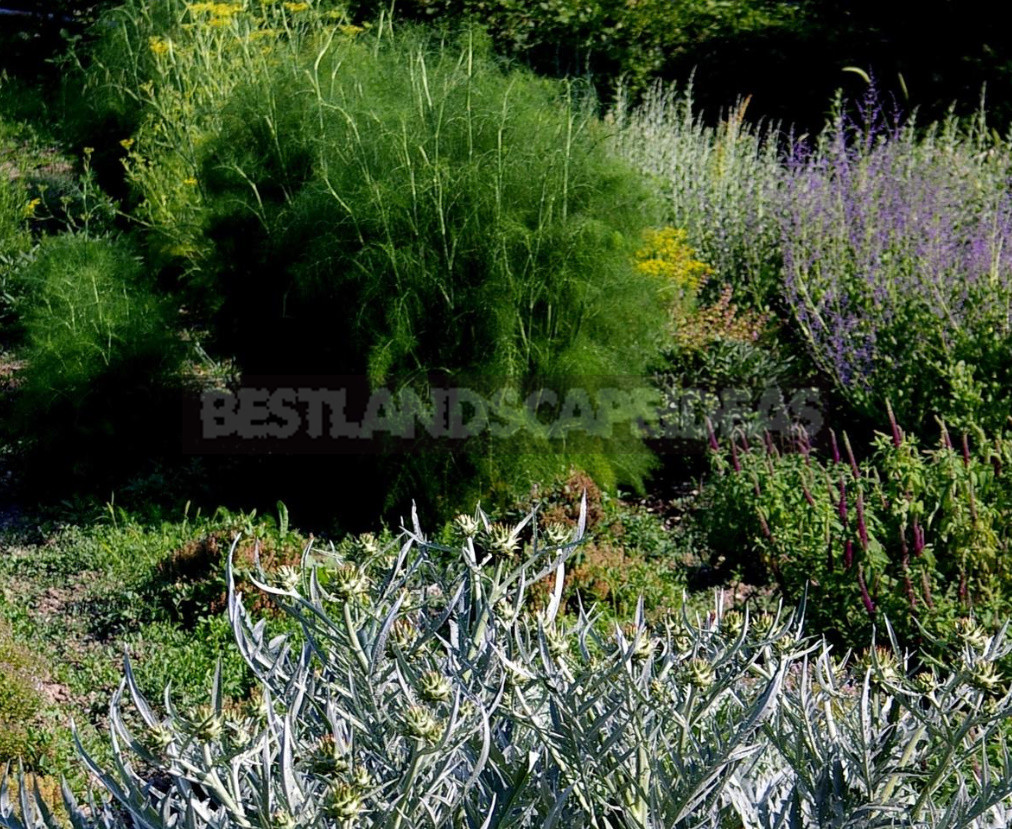 Foenículum can be propagated by dividing the rhizome (with 2-3 buds) and sowing, but note that seed germination is low, maintained 2-3 years. The soil substrate is fertile, loamy, with a neutral reaction. The depth of incorporation – 1-2 cm Seeds germinate within a month at a temperature of +6…+8°C, but it is better to sow at +13…+18°C; keep crops moist, in the dark! If you sow in winter, need supplementary lighting of seedlings (up to 12 hours). 50-60-daily seedlings are planted in separate pots. Cut the greens at a height of 25-30 cm.
For Foenículum vulgáre, which is grown not only for the sake of greenery, but also for basal thickening, it is necessary to select large pots, as its "heads" can reach a diameter of 8-10 cm, and the plant itself – 50-60 cm.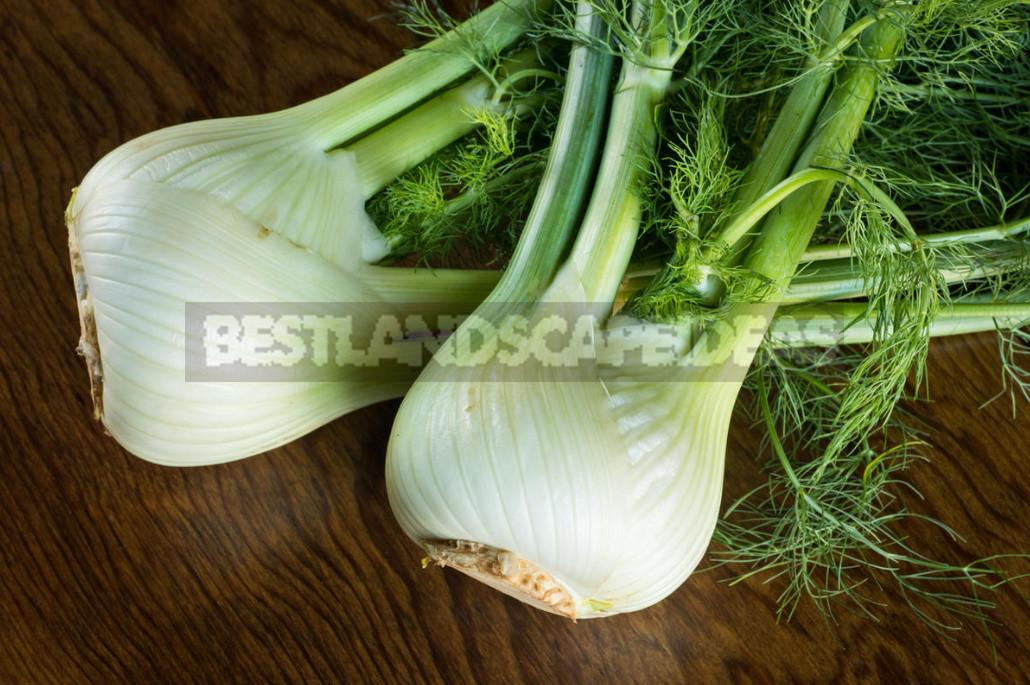 On average, 75-80 days pass from germination to the formation of head. A good sort of 'heart of oak' – excellent flavor.
Culinary delights with Foenículum
Restaurateurs around the world consider pineapple and Foenículum an excellent pair not only in spicy but also sweet dishes. Fennel seeds can be used instead of rosemary in a pellet with grapes.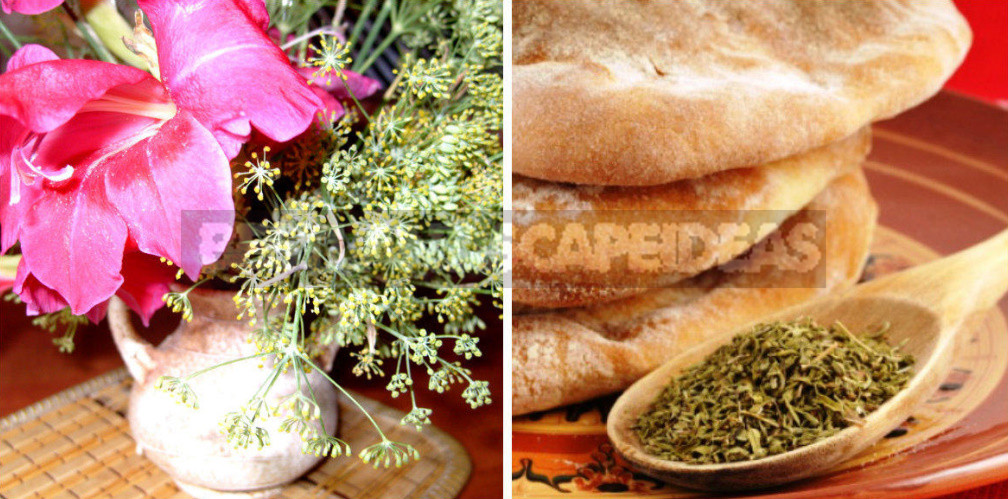 Fresh Foenículum, as one of the ingredients, is great for extinguishing fish.
Chives
Sowing seeds in March-April.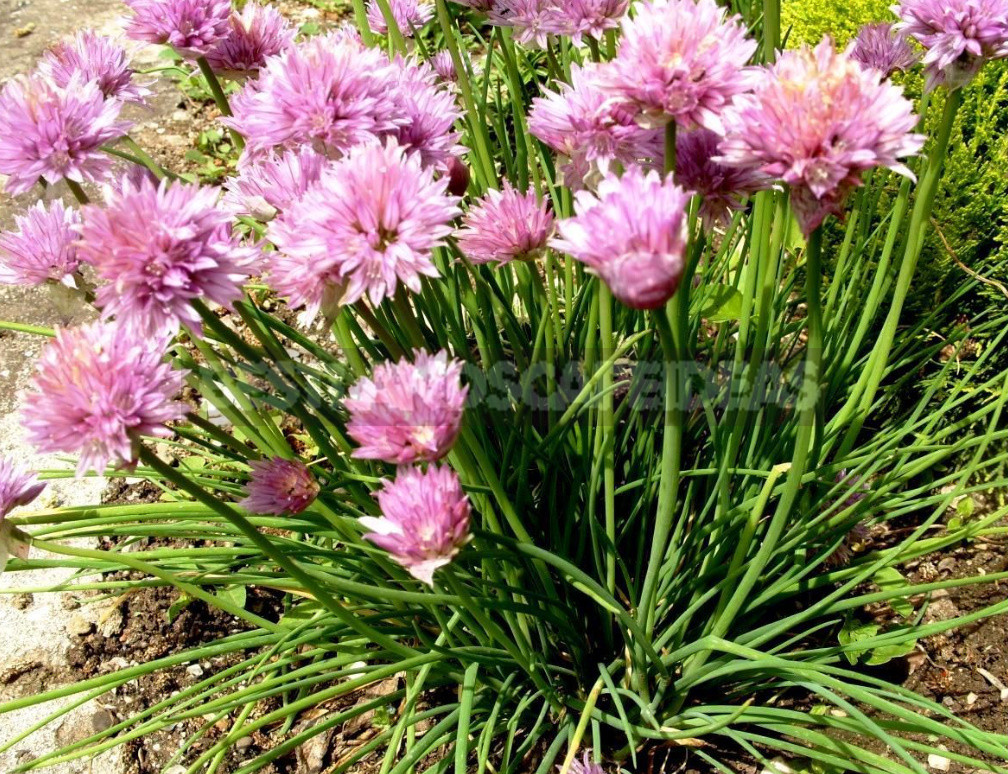 In autumn, after the chives are dug out in the open ground, small bulbs are planted in containers or pots. It is not necessary to engage in "jewelry" work, carefully separating the bulb. Divide bushes, tearing their hands.
The best substrate for planting: a mixture of humus, turf, sand (it is necessarily washed) in a ratio of 1:1:0.5. Can be use ready soil substrate or flower mixture of. Since it forms a continuous turf, it is better to take not high, but wide pots, containers.
Planted chives occasionally watered, put in a cool place half-shaded apartment. In the spring, containers with chives are transferred to the windowsill of any window.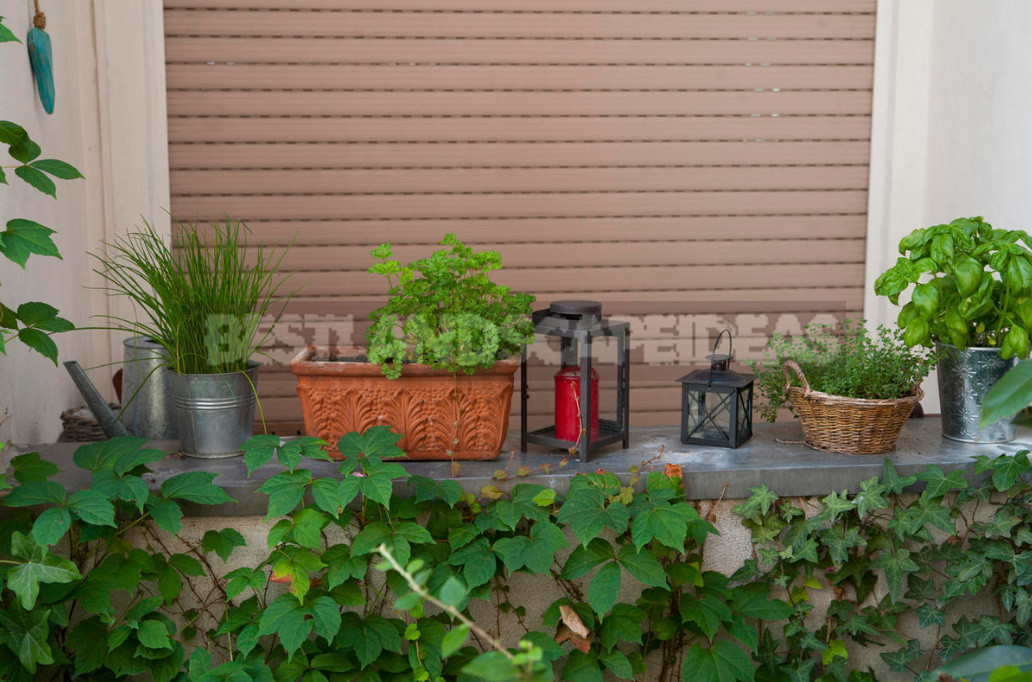 From this point on, regularly and abundantly watered with warm water. Fed full mineral fertilizer 1 every 10-12 days (after watering). When regrowth onion leaves 5-8 cm it is possible to hold the first top dressing of urea (at the rate of 25-30 g per 10 liters of water). Onion feathers grow very quickly at a temperature of +12…+15°C to +22…+24°C. Grown tender feather cut off, as it is very quickly coarsens.
Culinary delights with the use of chives
In a closed pie it goes well with mashed feta cheese, chopped mint and a pinch of ground black pepper. It is also harmonious in a cold Lithuanian beetroots on sour milk basis with cucumbers, beets, eggs, potatoes and dill.
Majorana hortensis Moench
One of my favorite spicy and aromatic plants. I love its spicy-woody aroma, which is ready to inhale for ages.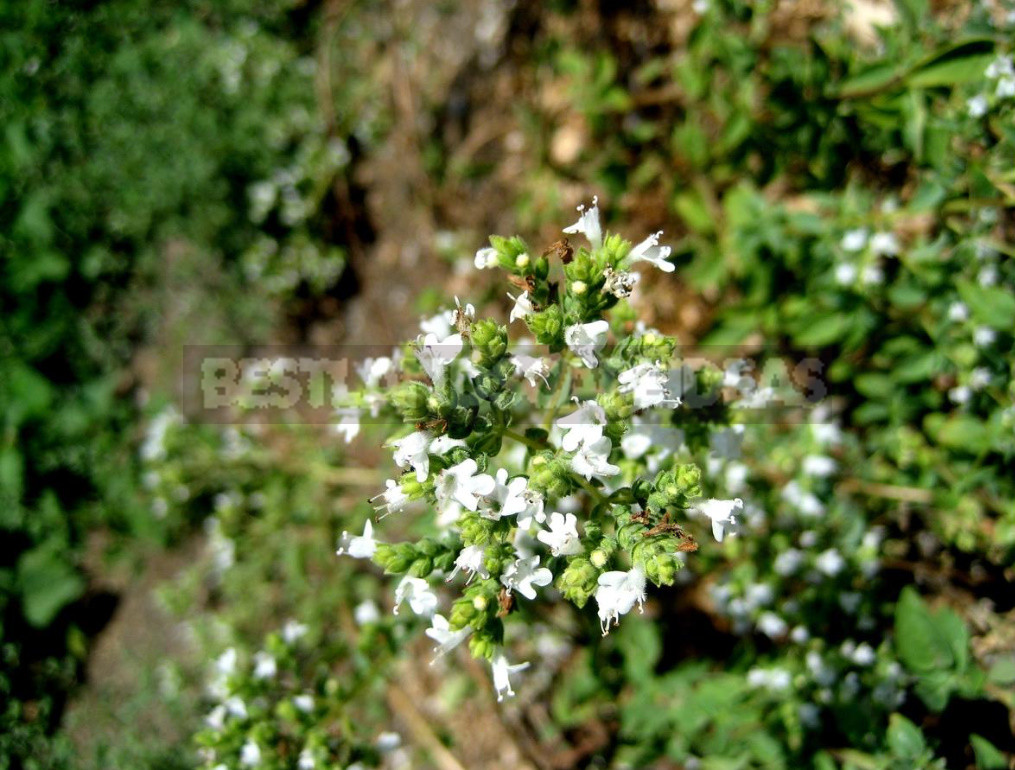 Its small seeds are sown superficially. As a substrate, we use a soil mixture for seedlings. The crops are watered from the spray and cover with glass, leaving a small hole for the flow of air; place in a warm place, in partial shade. When seedlings appear, remove the glass immediately, gradually accustoming seedlings to dry air. In the summer it is good to determine the pot with the marjoram on the outdoor balcony, loggia.
Practical suggestion.
Ready soil mixture for seedlings before sowing, pour a good pink solution of potassium permanganate, let stand for 2-3 hours, then proceed to sowing.
Marjoram is lighter and easier to propagate vegetatively by division of the plant. It can be grown in both annual and perennial (4-5 years) culture. In the first case, the period from germination to cutting the greens is 50-60 days, cut the greens, release the pot. In the second case, the winter marjoram contain in a cold room with a temperature of +7…+10°C, reduced watering.
Culinary delights with the major
It is roast goose or duck under the marjoram, soups, salads, sauces, egg dishes and so on.
Mint (types)
Mint – spicy Queen of many dishes.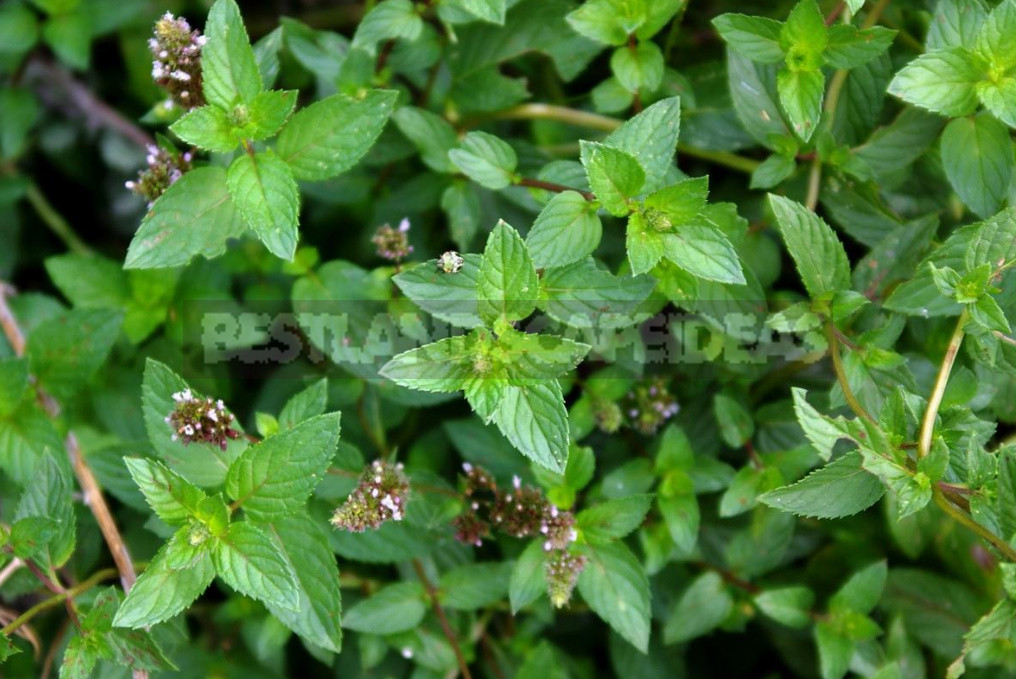 Sowing seeds in March-April, cover them with a very thin layer of soil substrate. Seeds germinate at a temperature of +13…+16°C for a month. Crops cover glass, ventilated, water spray, seedlings dive into individual containers. For pot culture is suitable not only Mentha spicata, but also Méntha piperíta.
Favorite variety in the future multiply the division of rhizomes, layering, cuttings. Contain in a pot for 2-3 years (then replace with a young plant), as the mint is very sensitive to soil compaction, which is inevitable, despite regular loosening. Mint grow very quickly, so be sure to pinch the shoots.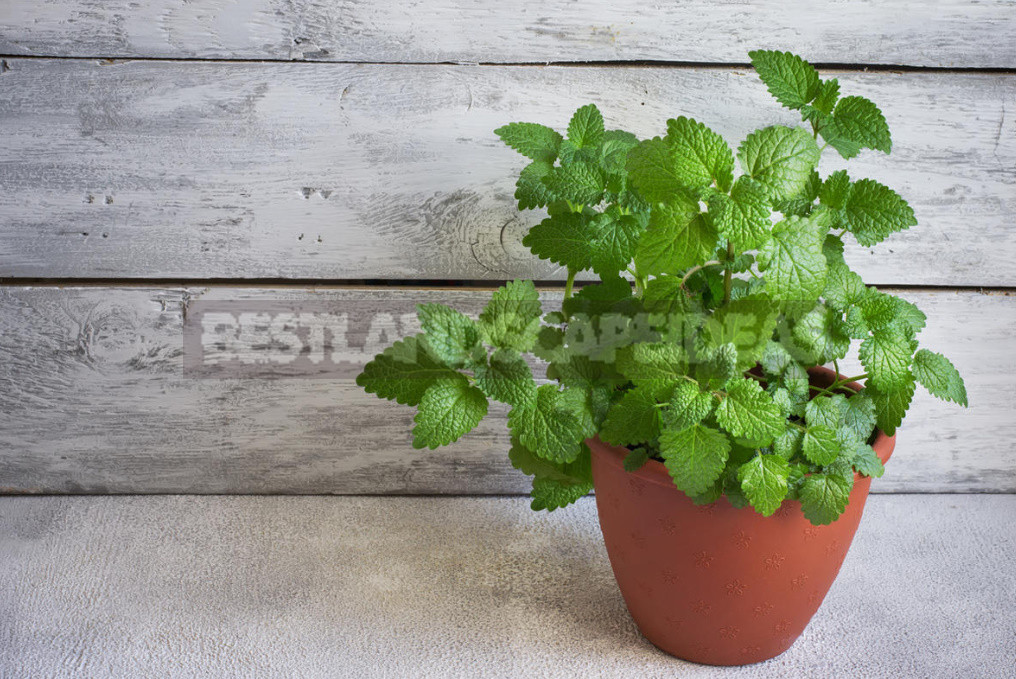 Practical advice 1
Most of the mints are quite moisture-loving, so that you do not get tired of watering them, put the containers with them on a tray with pebbles or put in a "smart pot" with an automatic irrigation system. When the content of the summer on the open balcony is better to use for them shading to avoid overheating of the root system.
Practical advice 2
Since many varieties and hybrids of mint do not tie seeds, it is better to buy a ready potted plant, or ask for a stalk of a variety you like from friends and acquaintances. In the second case, you do not get a "pig in a poke", and immediately see the desired mint with the aroma, taste (mint leaf RUB your fingers, smell, taste), which is right for you.
Culinary delights with mints
It seems to me that mint can be harmoniously combined with almost any products: peanuts, watermelon, artichoke, Basil, lamb, beef, peas, mushrooms, melon, fatty fish, ginger, potatoes, goat cheese, lemon, cinnamon, cilantro, raspberry, mango, black currant and so on. And how refreshing mint ice cream!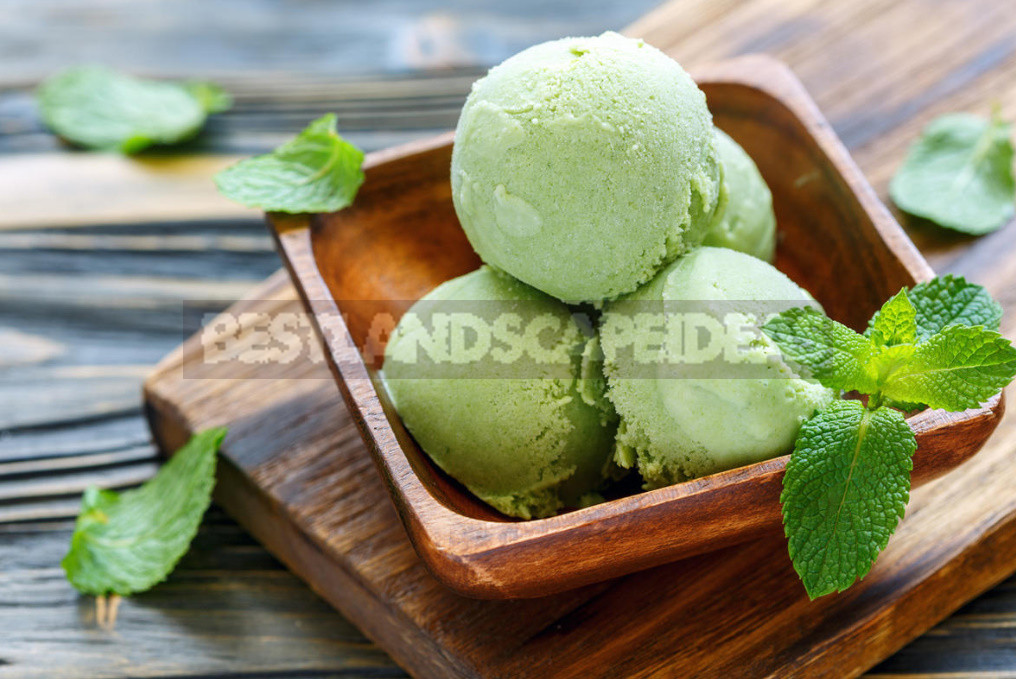 Do you think the list of herbs for the kitchen garden is exhausted? No,no, don't be afraid, many interesting cultures are waiting for you to meet! To be continued…