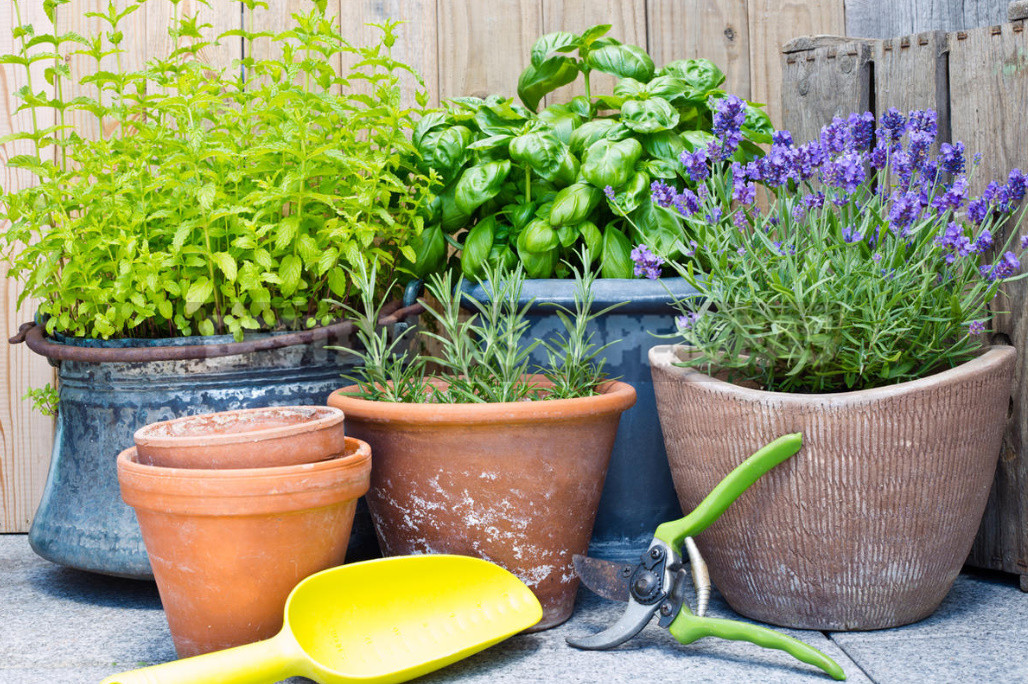 We continue the theme of the kitchen garden, which often becomes an outlet for those who do not have a cottage, but so want to fill the house with fresh aromas of spicy plants.
For true gourmets grown with his own spices are truly precious ingredients for a variety of dishes. Today I will tell you about two more cultures, without which no kitchen garden can do.
Ocīmum basilīicum
I love Basil, the freshness of which, due to eugenol, elegantly combined in dishes with many components.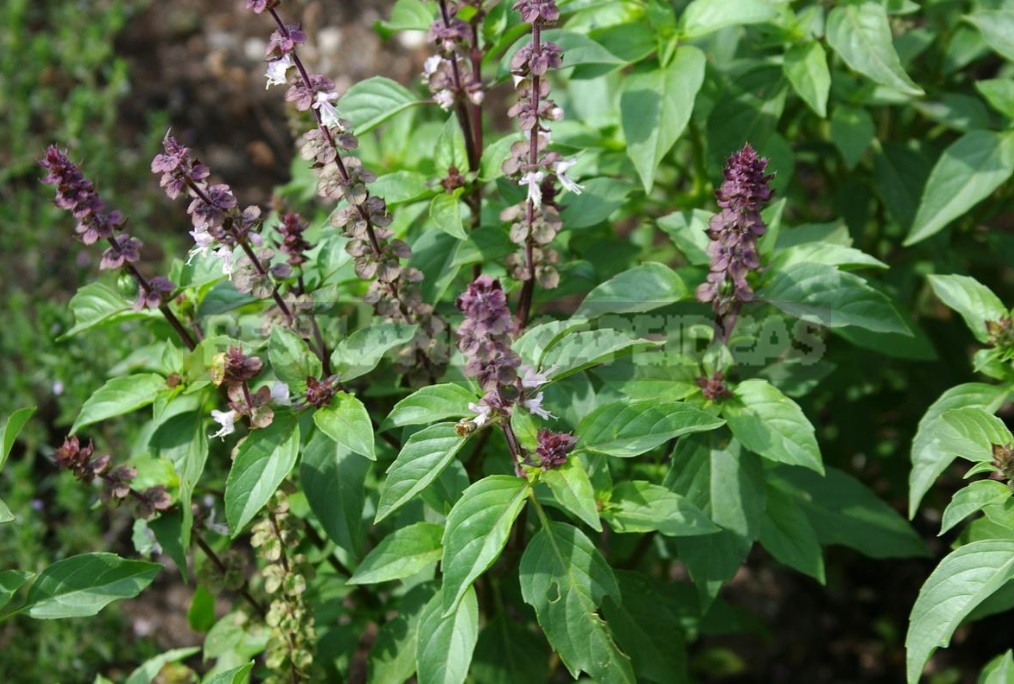 World breeding Basilica is not in place. It takes into account the interesting and its indoor culture. Created magnificent dwarf varieties.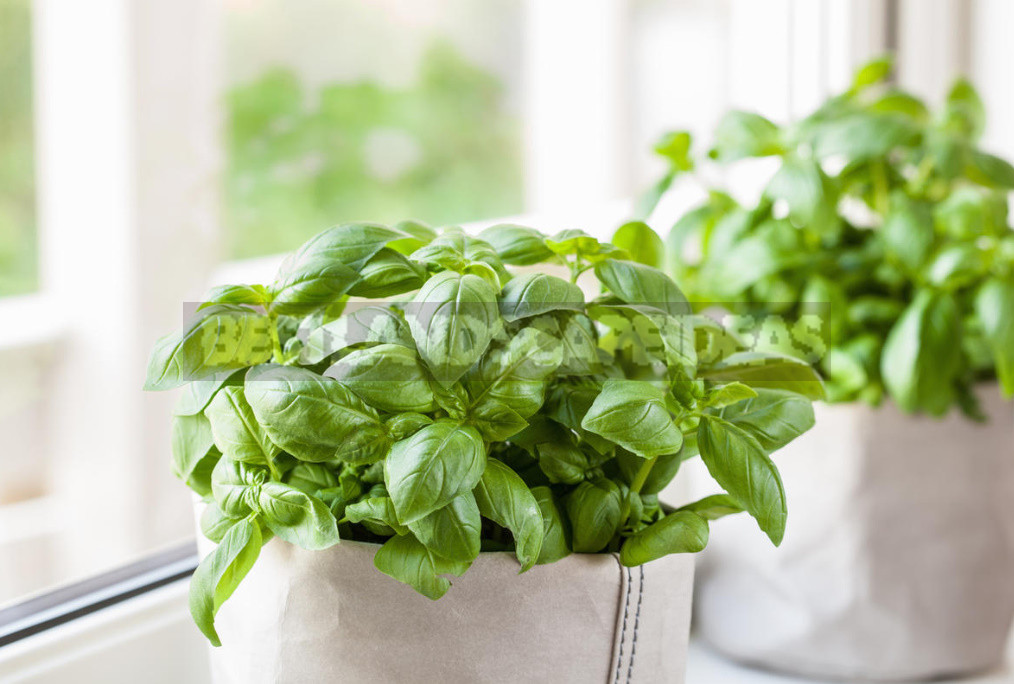 Seeds of Basil are sown superficially in pots or distributing boxes. The optimal soil substrate is a mixture of garden soil, peat, humus, taken in a ratio of 1:1:1. Crops are moistened from the spray with water at room temperature. And only after that, cover with glass or put on a plastic bag, or tighten with cling film, be sure to leave a hole for ventilation. During the day, be sure to slightly open and ventilate, so that the crops are not moldy. Boxes put in a bright warm (with a temperature of +16…+21°C) place.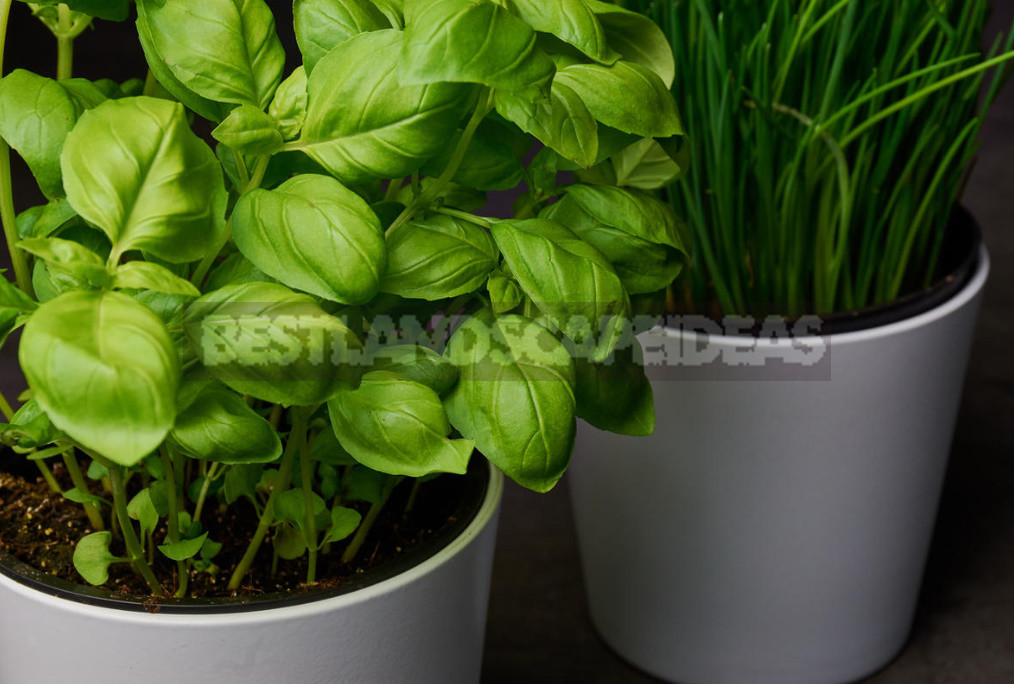 Shoots that appear on the 7-8 day, thinning, leaving a distance between the sprouts of at least 5 cm. Some fans dive Basil into separate pots or planted in containers with parsley, tomatoes. For more tillering primitives it over 2-3 pair of leaves. For home gastronomic delights Basil leaves cut off as needed.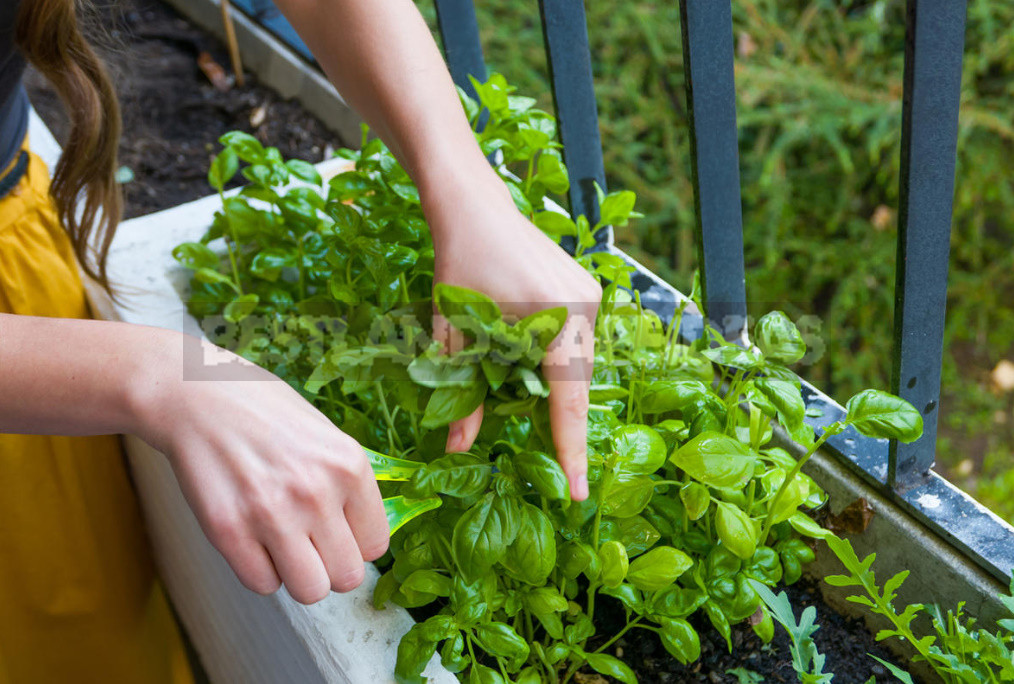 On the window sills of the southern, Eastern and Western Windows the Basil feels good. From April to October, you can make it to the balcony, loggia. Varieties with purple leaves, especially young shoots, preventing sunburn. In summer, the Basil is well watered and every 2-3 weeks fed with a full mineral fertilizer, alternating it with organic, adding to the water for watering.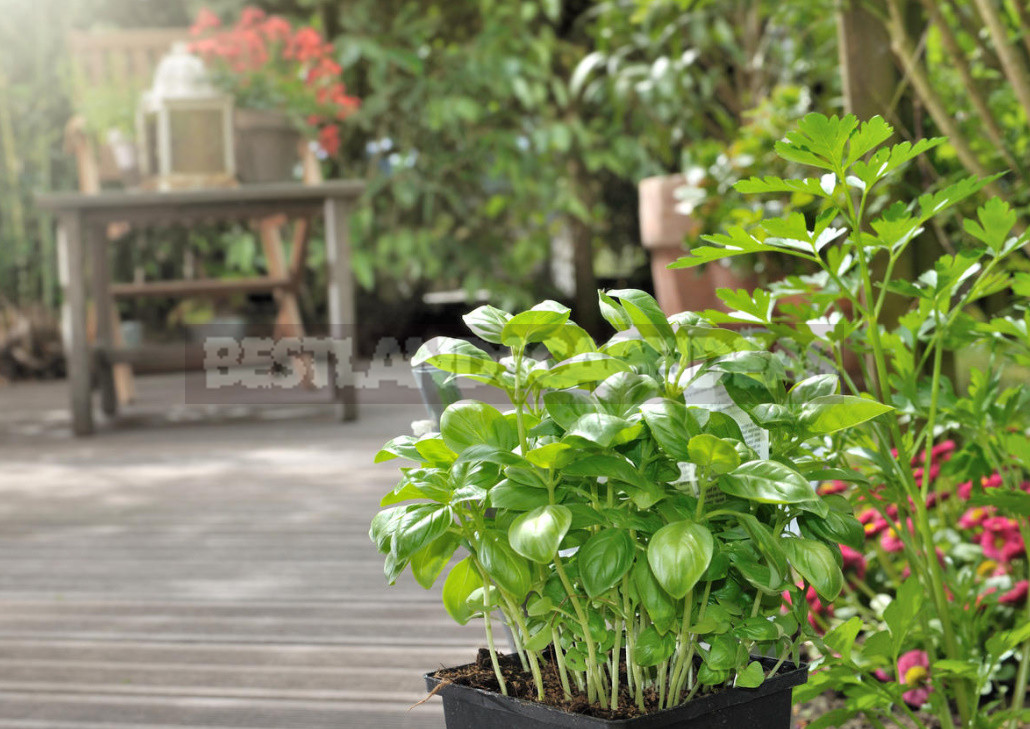 If you fall will make a gift in the form of dug from the bed of Basil, then put it in a pot (drainage is required) and grow as a houseplant. When planting, cut the plant at the level of 5-8 cm from the ground. Cut apical shoots can be transfer and rooted in water for 1-2 weeks.
In winter it is better to contain it at the temperature of +12…+18°C. In a warm room, with moderate watering Basil develops without problems.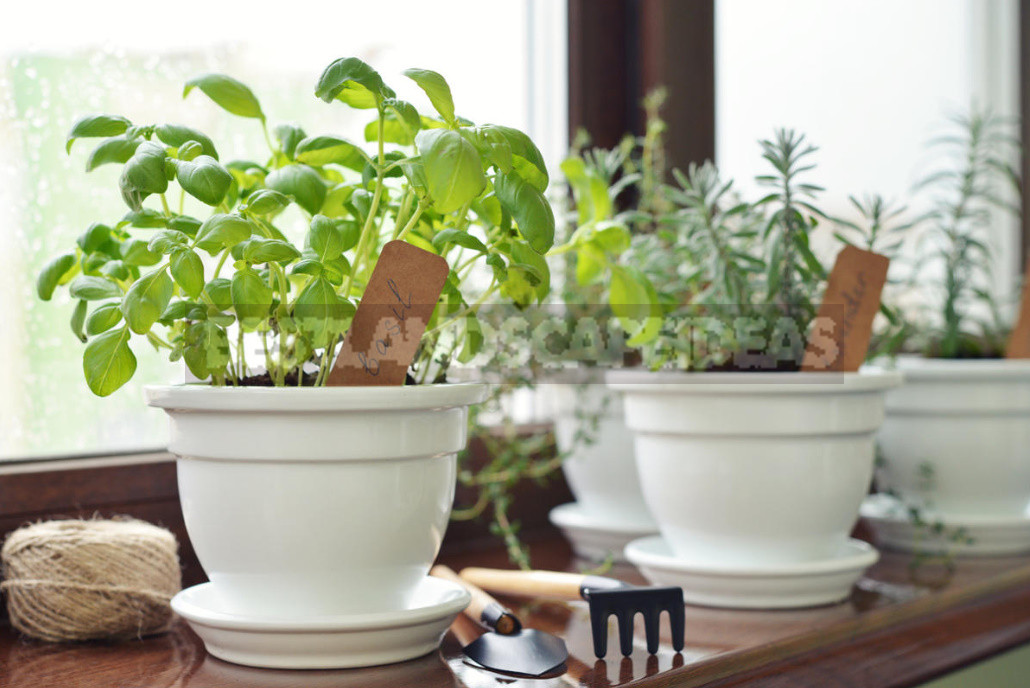 Potted Basil can be affected by a black leg. When the problem is treated with a solution of copper sulfate at the rate of: 2 liters of water – 1 teaspoon of the drug.
Culinary delights with fresh Basil
Some restaurateurs think Basil is a herbal analog of allspice: fragrances both they distinguish between notes of clove, cinnamon, mint and anise. Basil will be great with goat and other soft and hard cheeses, shellfish, chicken, eggs, eggplants.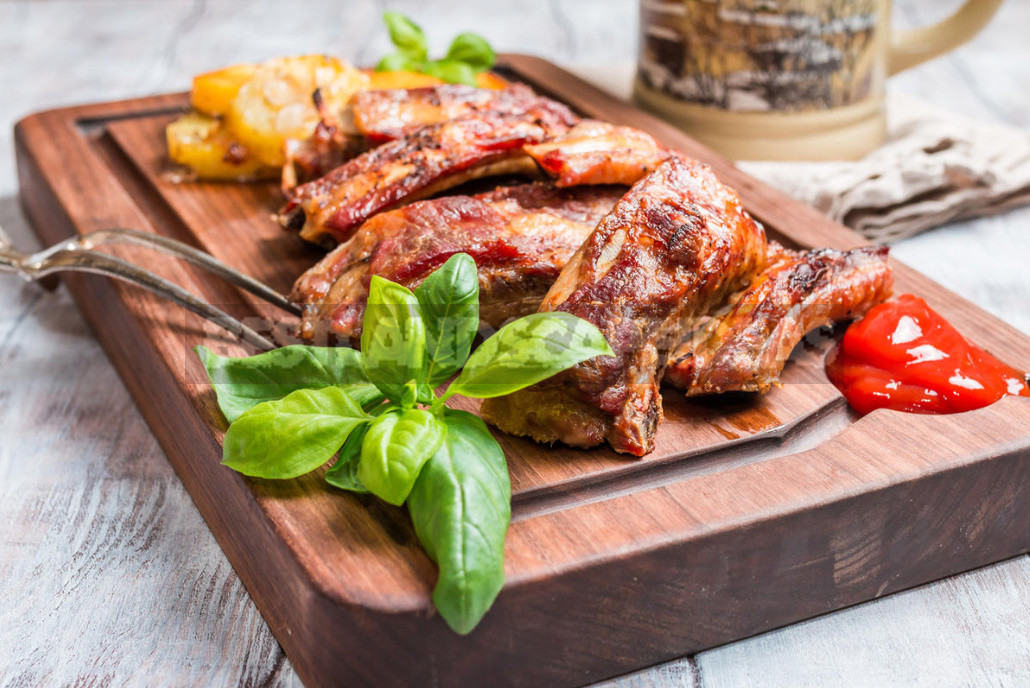 But no one forbids you to look for new combinations! As some relatives bought me the Spanish Serrano ham, which I made a delicious sandwich: the bread put the Basil, and top with mozzarella, then the thinly sliced pink ham and tomatoes. With morning coffee, after an invigorating sea swim it was delicious! And the excellent taste gave not only ham, but also sweet and sour flesh of tomatoes, which is perfectly combined with the spicy taste of fresh Basil.
Rosmarinus officinalis
A symbol of fidelity (in memory of feelings), rosemary has long gained fame and the love of many peoples of the world.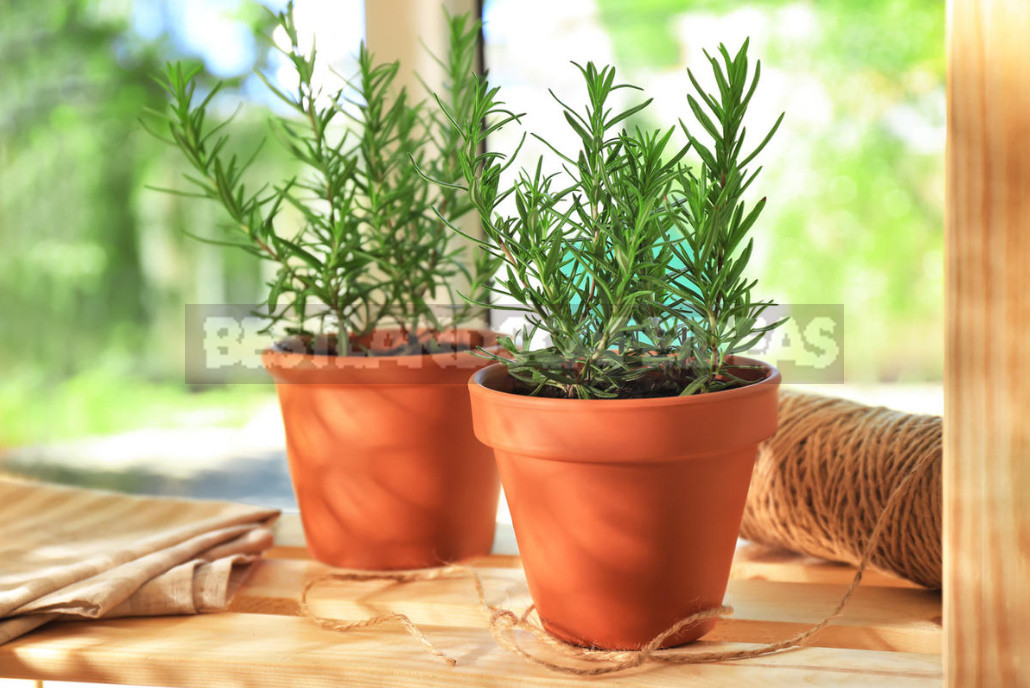 At the very beginning of the story about rosemary I hasten to draw your attention that there are 2 forms: one with purple, the other – with almost white flowers. The first is the most stable in culture.
For growing rosemary in the rooms it is better to buy a ready potted plant or a rooted stalk, although there are fans who grow it from seeds through seedlings when sowing in March or autumn, before winter.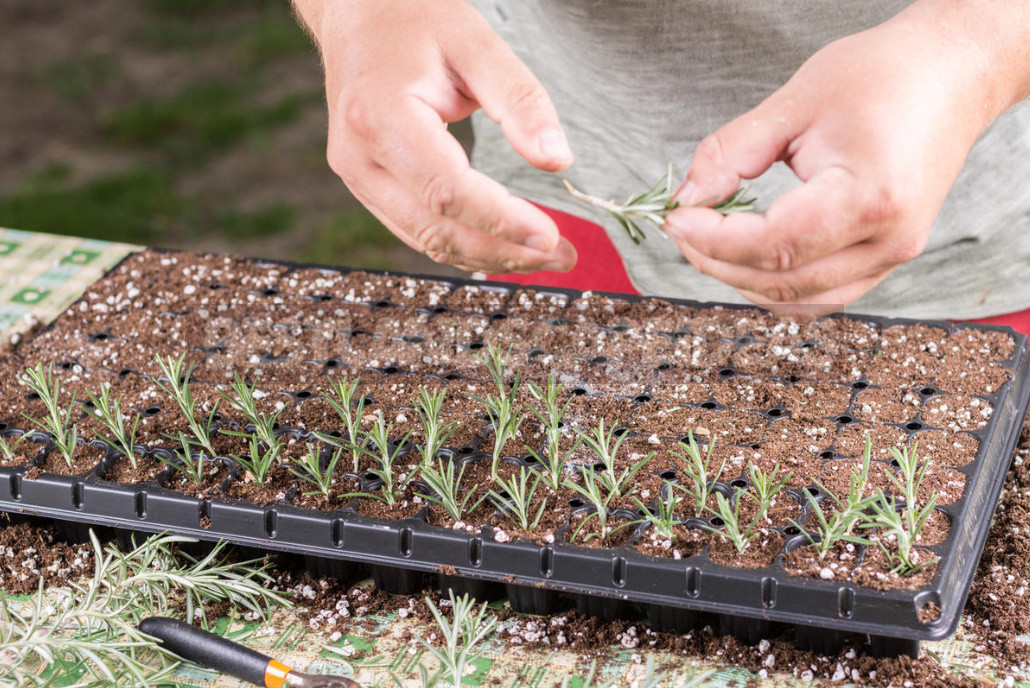 Freshly harvested seeds-nuts are sown without prior preparation, superficially, at a temperature of +12…+22°C on a substrate consisting of fine pure gravel and peat taken in equal parts. Rosemary has good germination – 80-90%. In April, seedlings dive and sit in separate pots, the soil substrate is calcareous, well-drained. During the period of active growth, for greater bushiness, pincer (removal of the top of the shoots) is made several times.
Summer is good to keep it in the open air (outdoor balcony, loggia), is – added dropwise to a pot of rosemary in the ground in the country.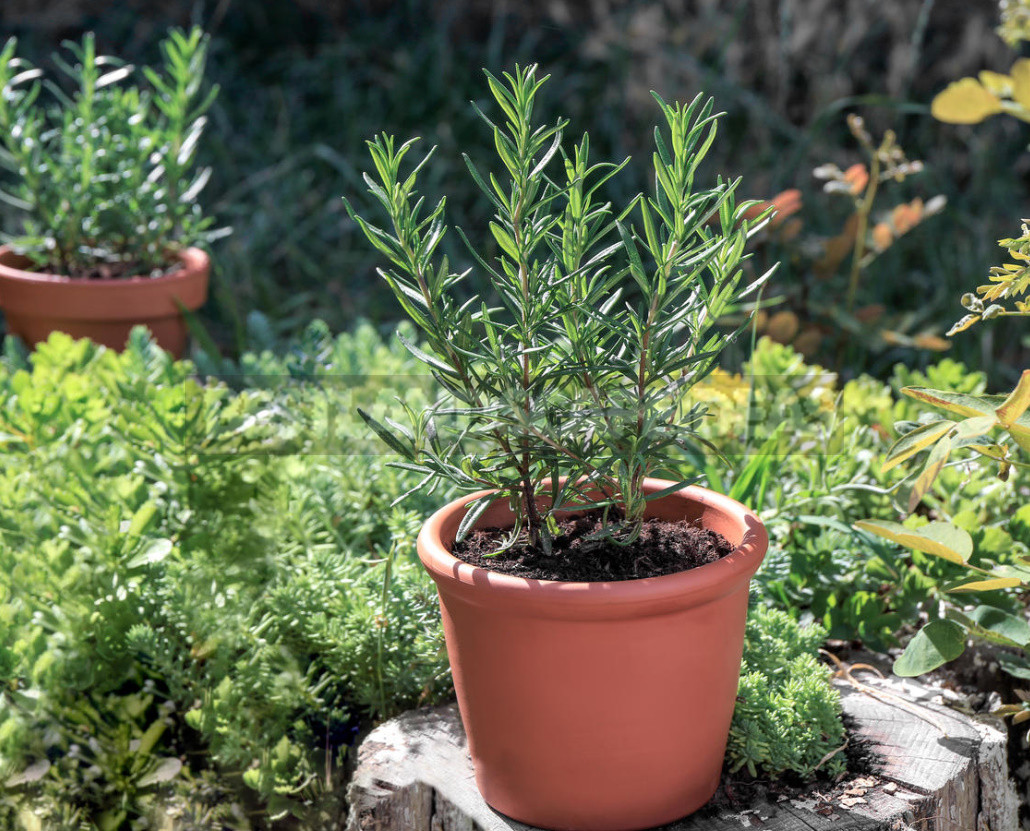 In the fall, moving into the room, examine the pot with the rosemary: if from the drain hole seemed the roots, repot the plant in a bigger tank. Bring it into the house from mid-September.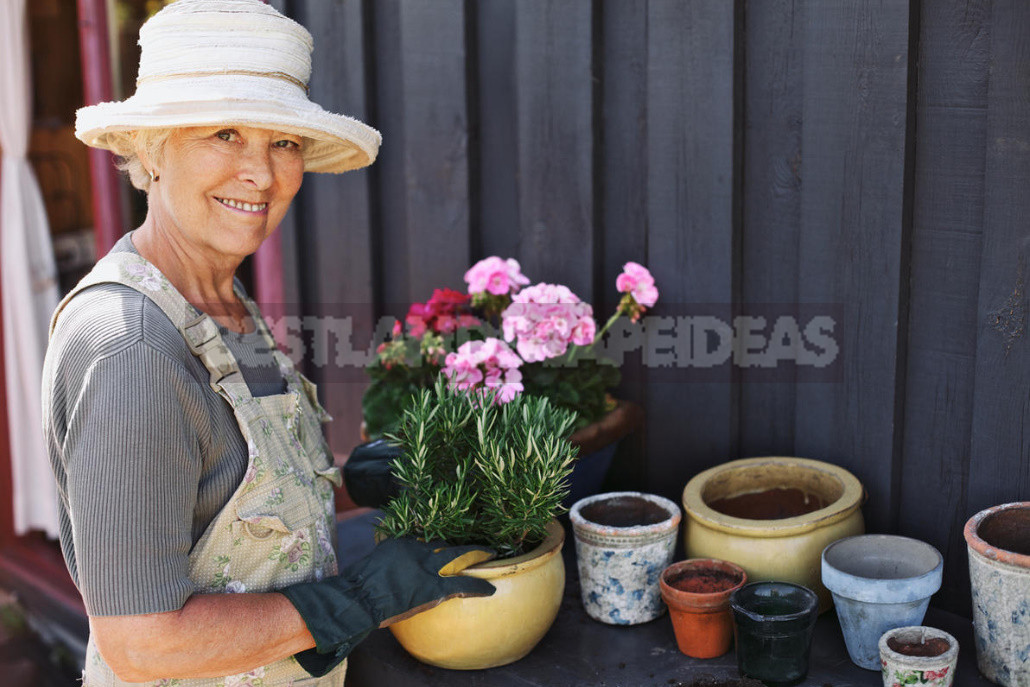 Wintering in a house or apartment with heating is difficult, since rosemary does not tolerate high temperatures in the room, and reacts negatively to its differences. The optimum winter temperature in the room with rosemary should be within +12…+16°C. Also during the heating period, be sure to constantly moisten the air, spray and plant. Watering reduced (waterlogging is highly undesirable!), spend only after drying the top layer of the substrate.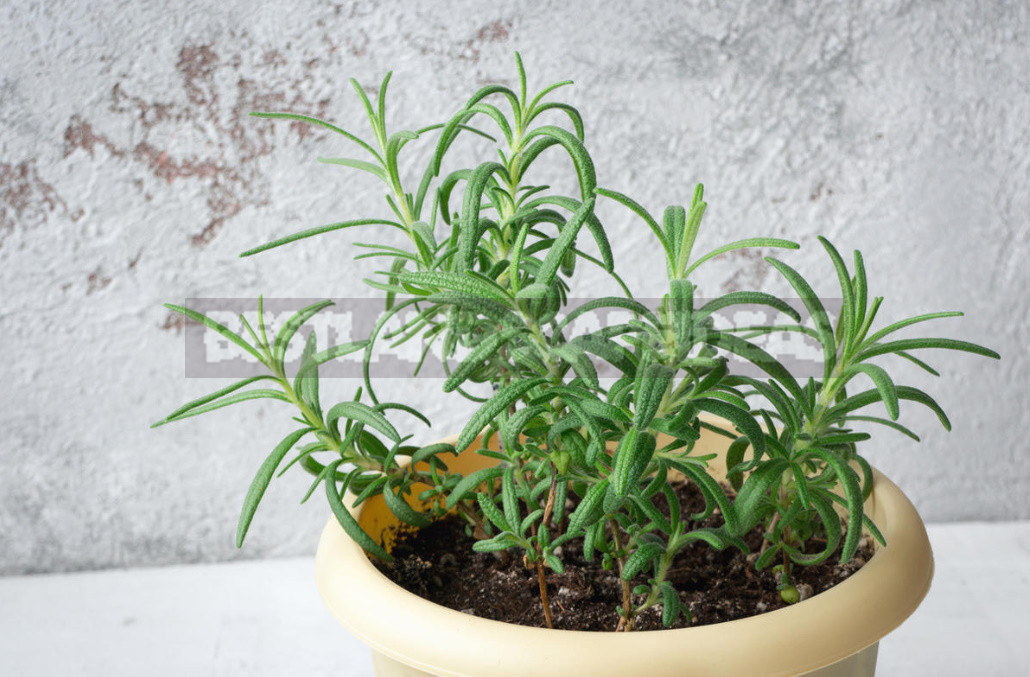 Practical suggestion. Rosemary loves the movement of air, so some summer residents daily (or every other day) include his fan for 30 minutes.
Culinary delights with rosemary medicinal
Rosemary finds more and more of its fans not only as a favorite plant in a pot or outdoors, but also as a luxurious spice that gives a unique taste and aroma to many dishes.
The traditional use of rosemary in fish dishes is not the limit of its possibilities. Bitter, green flavor of rosemary, goes well with lamb, and its inherent notes of pine, eucalyptus can refresh the meat of game. The combination of rosemary and potatoes is loved by gourmets in Roman pizza, meat "with smoke" can be obtained by throwing a handful of twigs on the coals.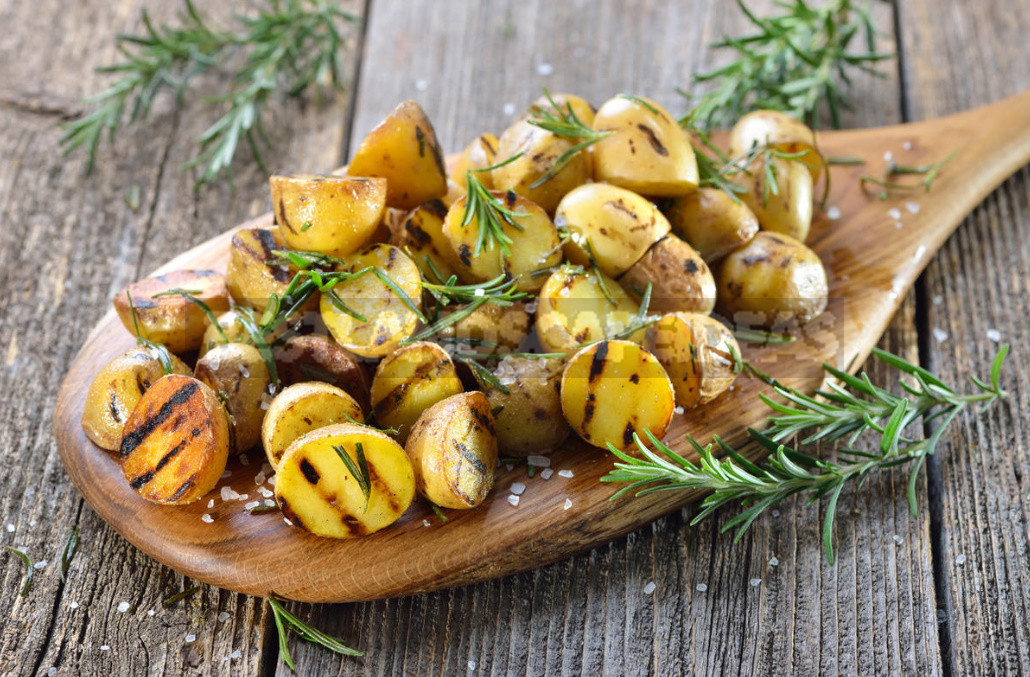 Rosemary is gorgeous and with roasted pork, which it gives a heady aroma of Florence. Adding homemade bread with finely chopped rosemary and onions, you can obtain an analogue of Mediterranean bread farinata, which is baked on the Ligurian coast.Anyone who has ever visited these places, for life imprinted in his memory not only beautiful landscapes, but also the unique taste of olives, filled with the salty freshness of sea breezes, and the aroma of rosemary, which is invariably associated with almost impassable maquis, in which it is sometimes included. A heady bouquet of aromas of maquis can be heard not only in local wines, but also on a hot day in the grove of Phillyrea latifolia var. media.
Lovers of rhubarb can be prepared at home with exotic compote out of it, dried apricots and dried cranberries. The highlight of the dish is in the preparation of fruits, or rather their aging in honey and rosemary for several days.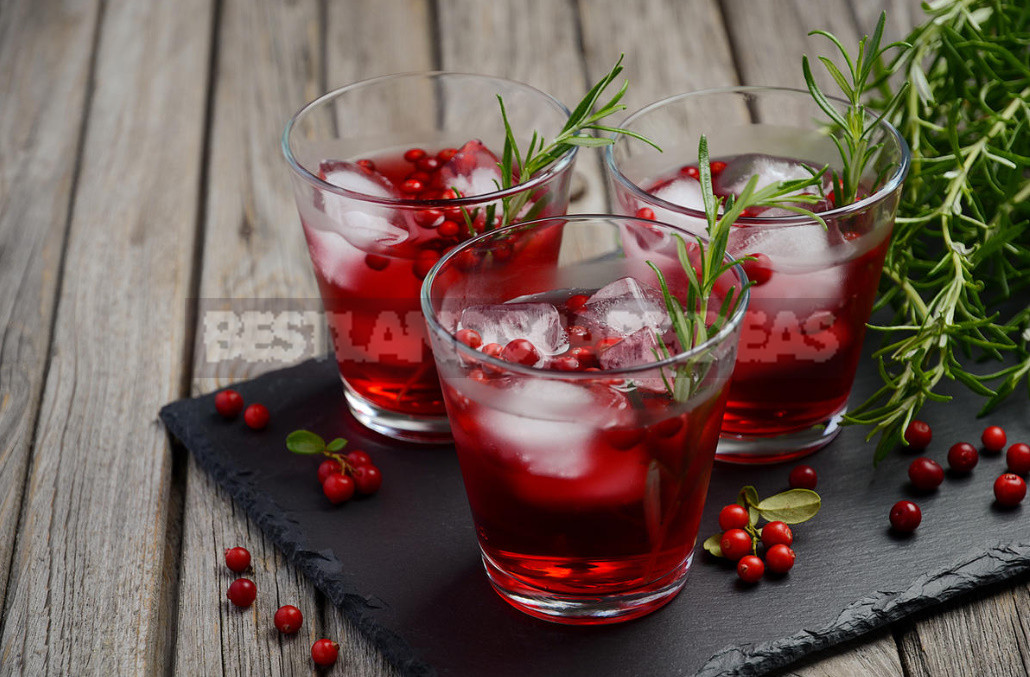 And the cool taste of rosemary is great with dark chocolate, almonds, chestnuts, goat cheese, mushrooms, watermelon, hazelnuts, pumpkin.
My story came to an end. To be continued…