Remember this cute children's toy, which after each turn pleased the eye with more and more bizarre patterns? This is exactly what a flower garden is — a fascinating stylistic image, where the intricate pattern of bright flower strokes constantly changes throughout the growing season. Do you know how to create one?
Such a charming image can correspond to completely different areas of the garden: bright symmetrical Victorian flower beds, cottage flower arrangements in the spirit of the works of Gertrude Jekyll, cereal-flower arrangements in the style of "new wave" Piet Oudolf or simply eclectic gardens of continuous flowering. And here is what is remarkable: despite all the difficulties of creating and maintaining such objects (and it is not necessary to talk about low-maintenance here), interest in them has not faded for centuries. However, this is quite understandable, it is only once to be among such floral splendor, enjoy a rich palette of color combinations, feel the subtle aromas of flowers and-fall in love for the rest of your life.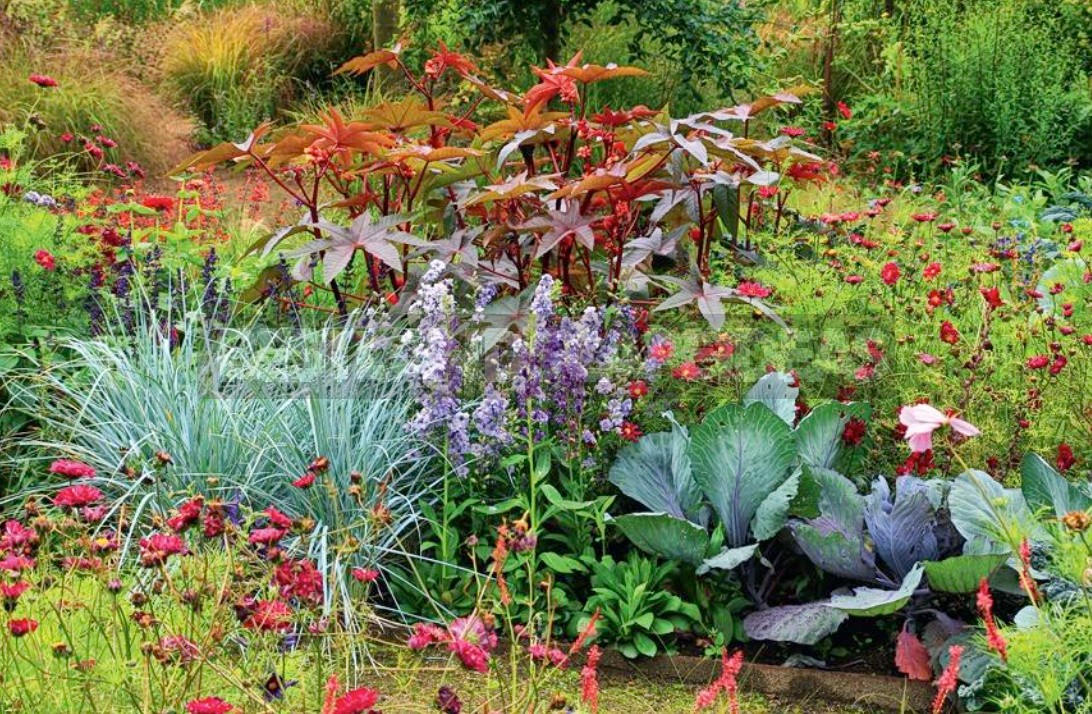 But as they say, it is better to see once than hear a hundred times. Today we present you such an object that combines several stylistic techniques of flower planting. Meet the "secret" garden of the Scottish Cambo estate.
In fairness, we note that its main part is occupied by forest land, but we are interested in a stone-walled plot with an area of slightly less than a hectare, which in previous years was used as a vegetable garden and orchard. Now there are also beautiful flowering shrubs and trees planted here. And of course, lush floral arrangements in a natural style.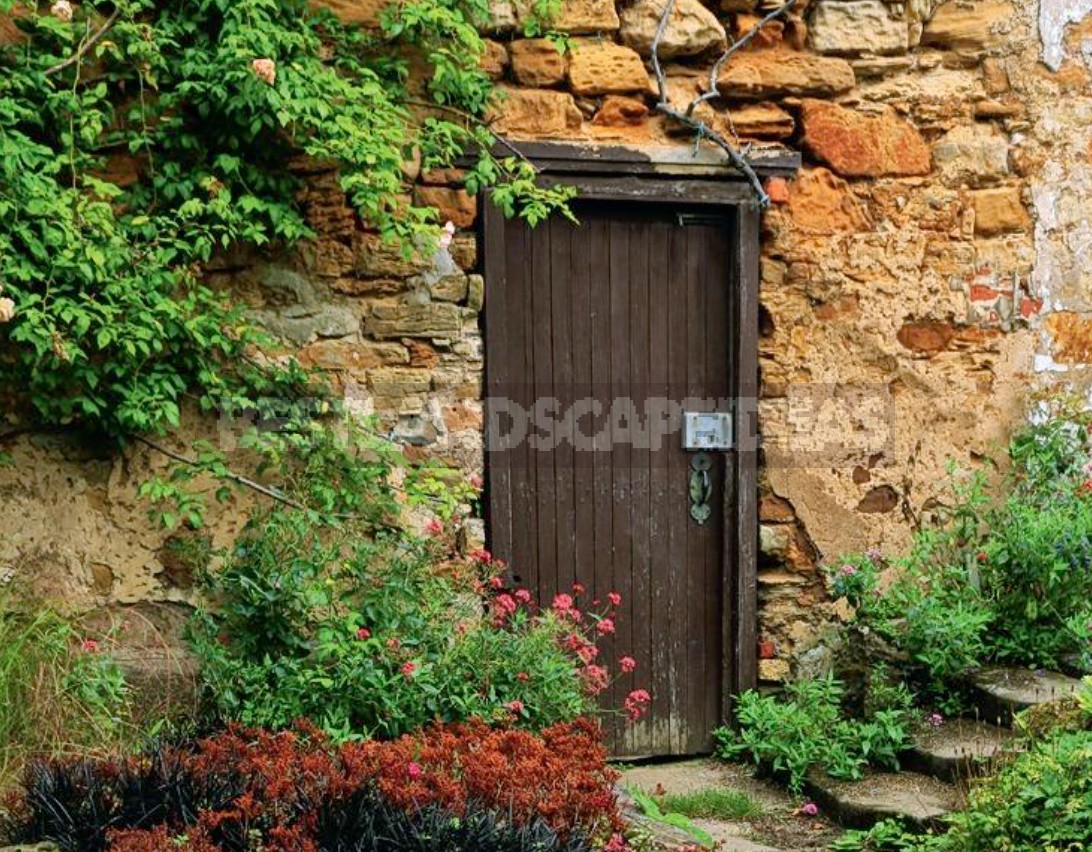 The territory inside the stone walls is divided in two by the bed of a small stony stream, over which bridges are thrown. On the gentle slopes extending in both directions, free plantings of shrubs and lush perennials are formed. Clumps of herbs are randomly separated by paths. Moving through them, you can admire the constantly changing patterns of color and structural combinations of plants. Flower arrangements here are based on the principles of the "new wave": in wide mixborders, large arrays of flower perennials of long decorative nature are combined with various cereals with airy or, conversely, structurally pronounced inflorescences.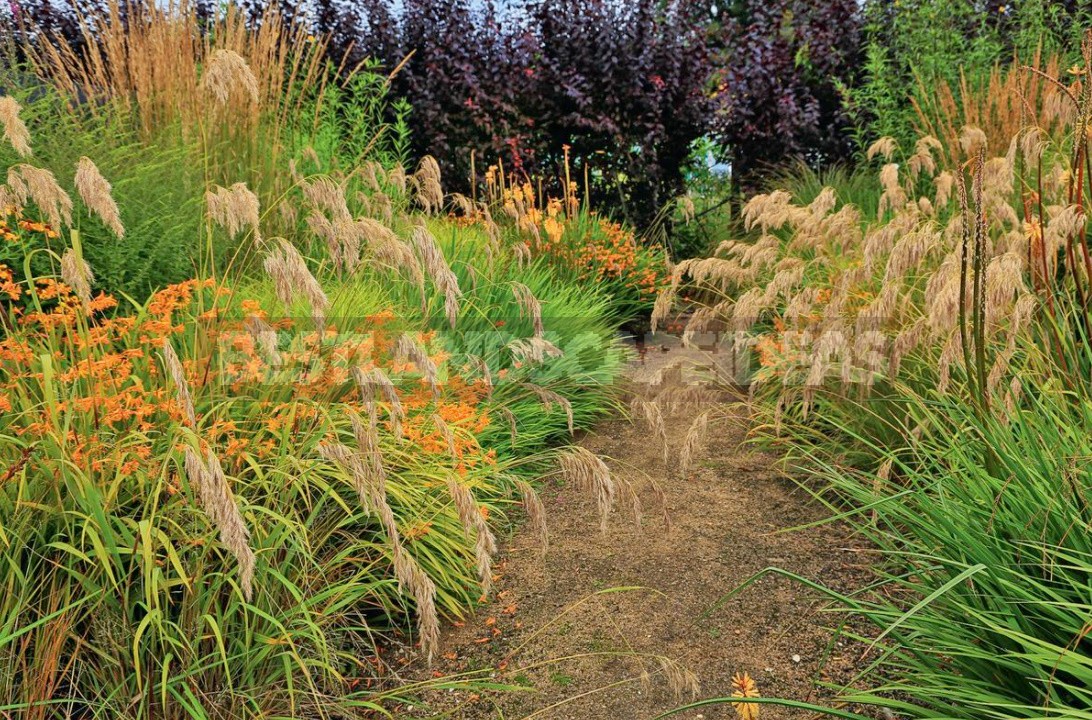 Important: flower beds are formed in accordance with tiering, with a clear separation of dominant and subordinate flowerbeds, vertical and horizontal forms, but at the same time they give the impression of natural plant communities of steppe or meadow type, where each species occupies its proper place.
In the upper tier there are pink and crimson caps of Eupatorium and white-cream ones-Filipendula, valerian and Persicaria polymorpha contrast with the sharp peaks of Calamagrostis acutiflora 'Karl Foerster' and pink Lythrum salicaria.
The middle positions are occupied by sage, Persicaria amplexicaulis and Polygonum bistorta, Sidalcea, lush Aster umbellatus, fragrant monards, rudbeckia and echinacea, interspersed with verticals of mulleins, astilbas and liatris.
The lower tiers are composed of low Hylotelephium, fennel, Persicaria affinis, Achillea, Stipa and other cereals.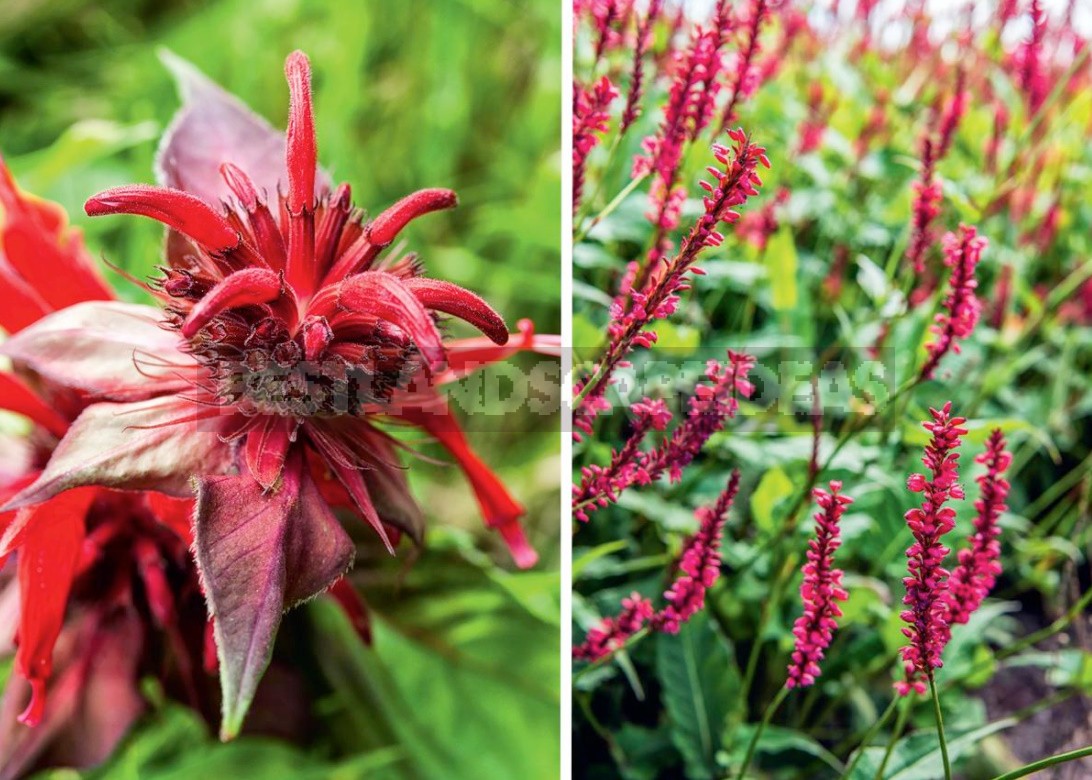 Impressive color combinations are created mostly from plants of pastel colors, whether it is the color of grasses or inflorescences and foliage of perennials. The golden-brownish haze of fluffy inflorescences of Deschampsia, miscanthus, Pennisetum and greenish mist of umbelliferous flowers soften the brightness of the spots of flower beds. The compositions are dominated by pink, yellowish, cream and lilac tones. Good combinations of orange knifophia, crocosmias and heleniums with silver-straw inflorescences of veynik and drooping Stipa calamagrostis.
Plants participating in the composition
Eupatorium
Eupatorium-large unpretentious perennials, prefer fresh and moist soils, are most decorative in the light, can tolerate partial shade.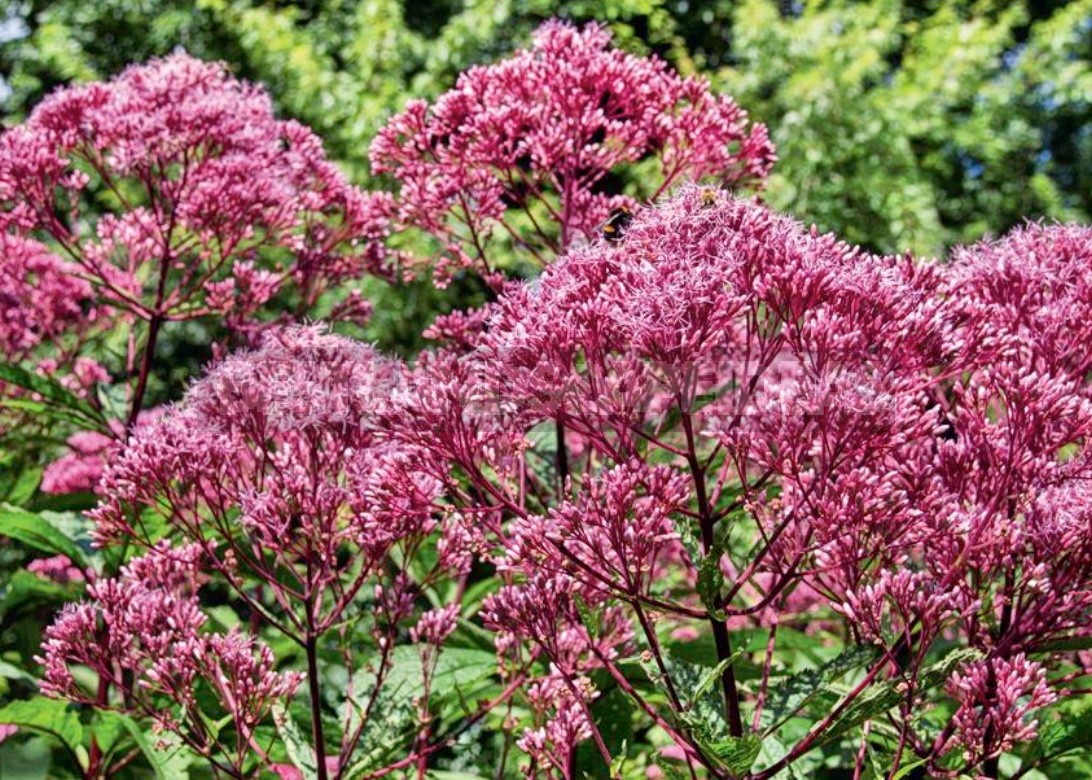 Eutrochium maculatum 'Phantom' – compact, with purple-pink flowers, Eutrochium maculatum 'Atropurpureum' – more powerful with large red inflorescences, Eutrochium 'Album' with white flower baskets.
Filipendula
Filipendula rubra is a tall perennial with dissected leaves and pink flowers collected in paniculate inflorescences.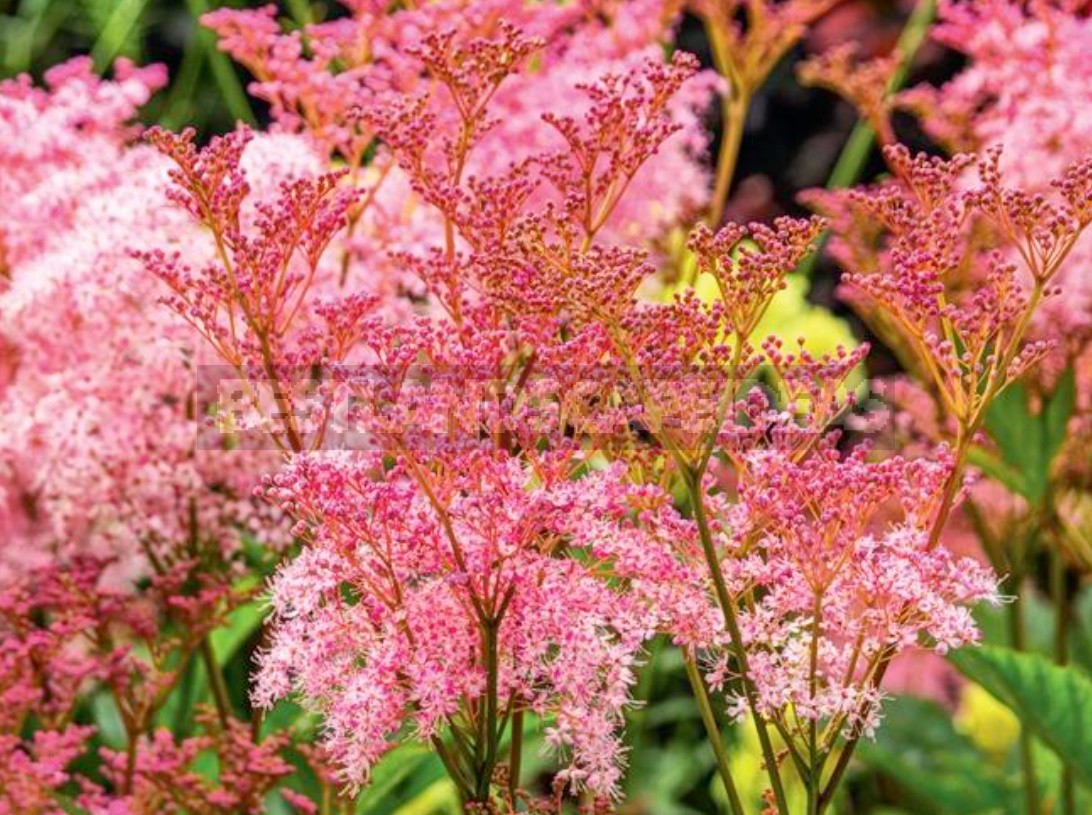 It is unpretentious to soil conditions, prefers well-moistened places, can grow in partial shade.
Lythrum
Lythrum salicaria is a tall accentual perennial that forms an erect shrub with xiphoid spikes of pink-purple inflorescences. It blooms for a long time, is unpretentious to soil conditions, grows both on moderately dry and waterlogged soils.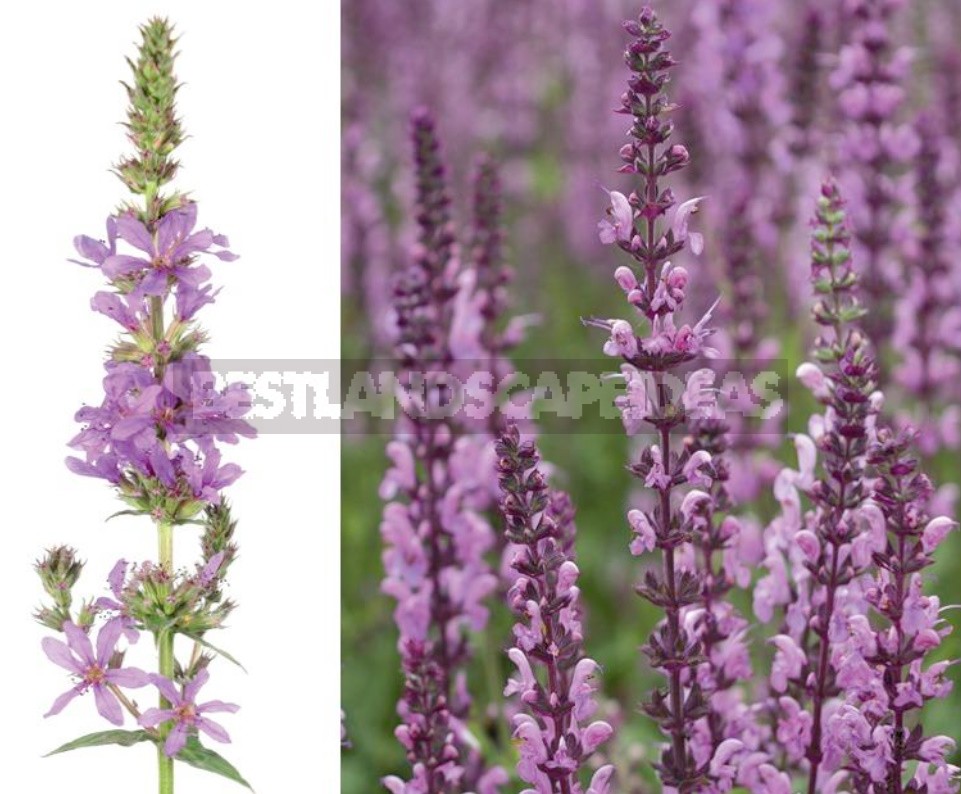 Lythrum virgatum 'Dropmore Purple' – similar to the previous species, but more compact plant, blooming purple-pink narrow inflorescences.
Aster fricartii
Aster fricartii is a hybrid form of aster, forming a rather lush shrub up to 70 cm tall with lanceolate leaves and abundant bluish inflorescences — "daisies".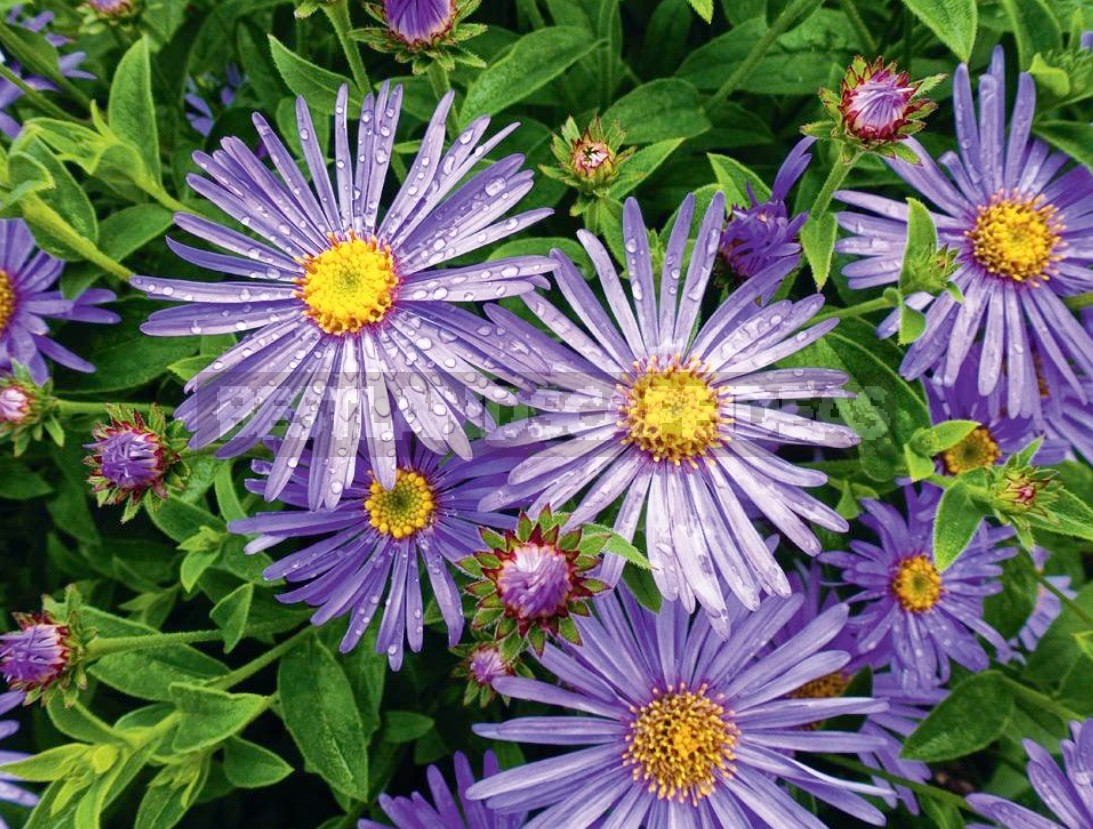 An unpretentious sun-loving plant that prefers light, fairly fertile soils.
Persicaria amplexicaulis
Persicaria amplexicaulis 'Speciosum' — is a perennial forming a loose shrub of medium size with narrow elongated inflorescences of crimson color. Unpretentious to the soil, a spectacular plant for sunny and semi-shady places, but can freeze out in frosty winters.
Hylotelephium
Hylotelephium is an unpretentious drought-resistant perennial. For the foreground of the flower garden, many low varieties are suitable, such as 'Picolette', 'Purple Imperior' or 'Black Jack'.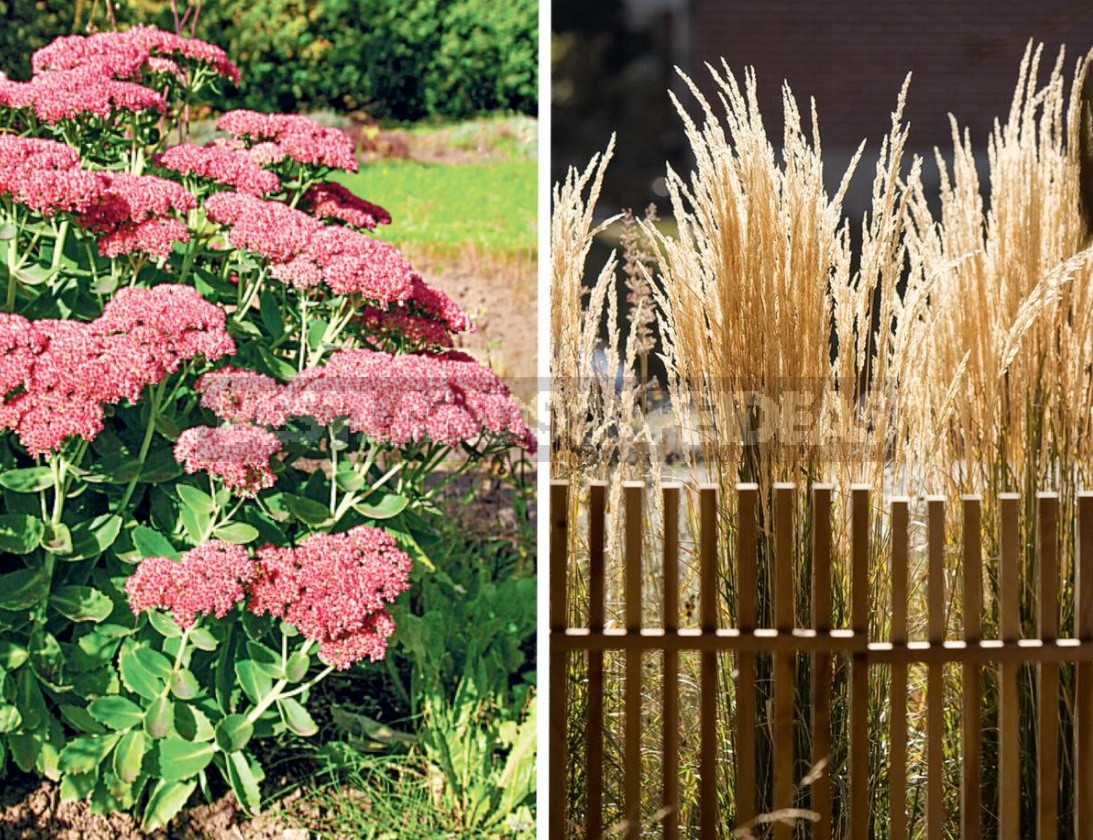 Calamagrostis acutiflora
Calamagrostis acutiflora 'Karl Foerster' — is a perennial unpretentious grass popular in natural gardens, preferring light or slightly shaded locations. It forms an accent, dense bush-like tussock with elegantly curved leaves and vertical high peduncles with golden panicles that do not lie down even in winter.
Tips and Tricks
To achieve permanent decorative effect and beauty of mixborders "small blood" allow special techniques that are used throughout the growing season.
Before the onset of mass flowering of perennials in plantings, emphasis is placed on plants with spectacular leaves (more precisely, on the contrast of combinations of leaves of different shapes, textures and sizes).
When choosing, give preference to plants with early flowering foliage or with wintering leaves, this will shorten the period of "bare earth" in flower beds, and also use bulbous and small-leaved plants.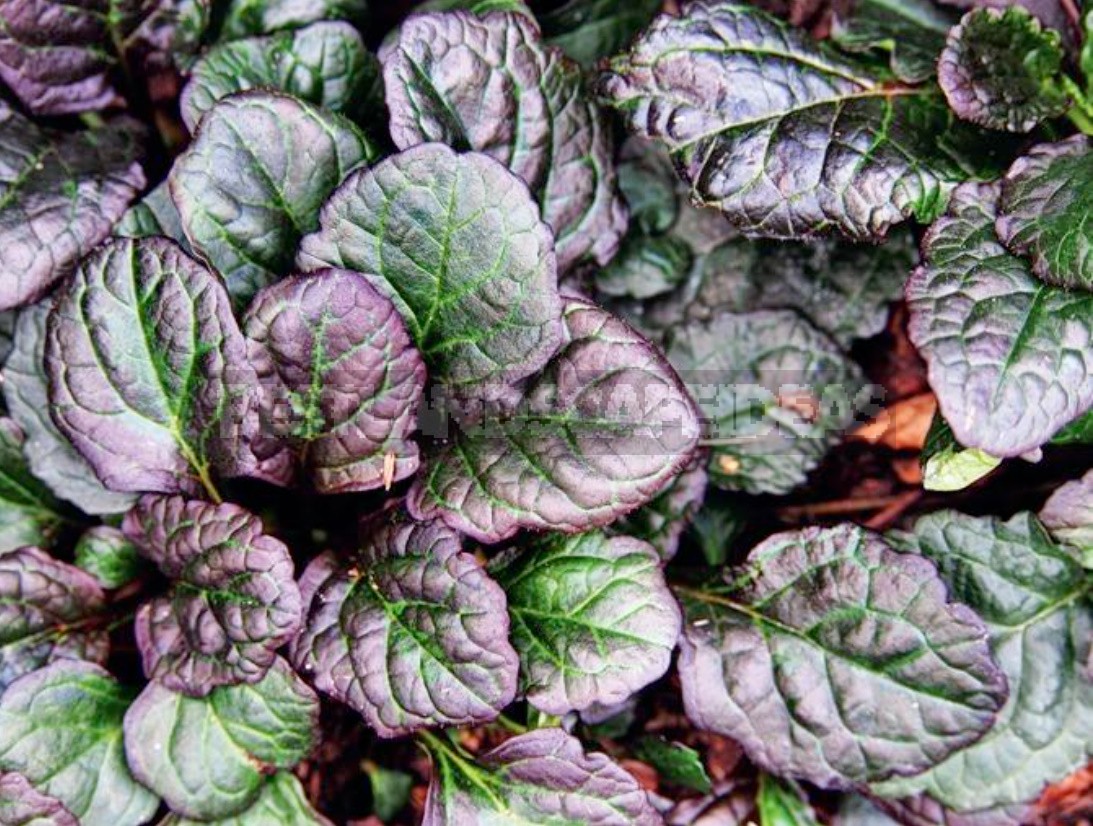 For the flowering period, choose beautifully flowering perennials with a long (2-3 months) decorative period. Remember, after flowering, plants in mixborders should ideally keep their shape. This is the case, for example, with many cereals, Eryngium, Echinops, Monarda or Veronicastrum. Please note that many of them, thanks to the original seed pods, look spectacular in the autumn-winter season, while maintaining graphic quality.
The background on which the flower view will unfold also matters. It can be a wall, a fence, a curtain of tall shrubs, which should be selected according to the color of the foliage, in harmony with the main tones of the flower garden. In our case, this role is played by a stone fence with wall-mounted lianas, as well as planting shrubs and low trees.