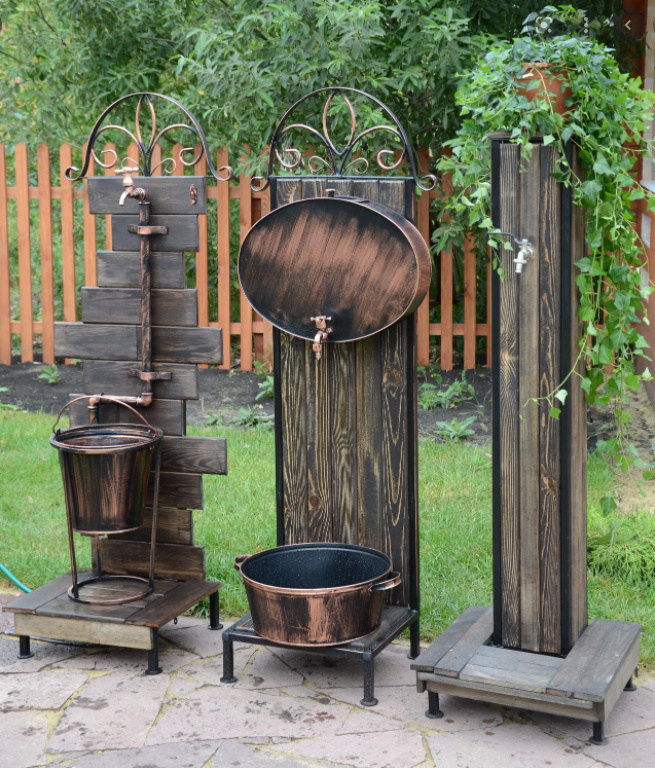 A garden washbasin in the country is not a luxury, but an urgent necessity. It is much more convenient to wash your hands, refresh your face in the heat or rinse a freshly picked cucumber without going into the house, you agree. Don't you have such a useful device yet? Then this collection of ideas is exactly what you need!
Ready-made solutions
The garden industry is gaining more and more scope every year, covering all aspects of country life. Therefore, buying a ready-made washbasin is not a problem now.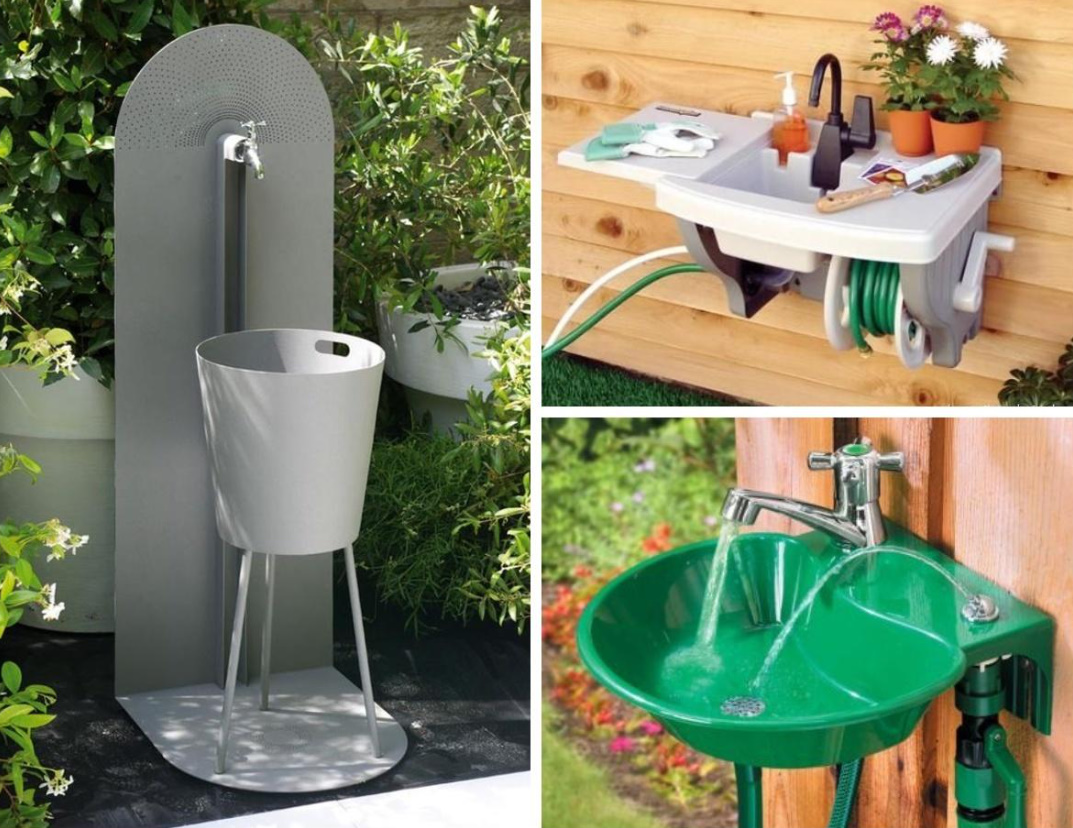 There are miniature products that will not catch the eye and will take up a minimum of useful space.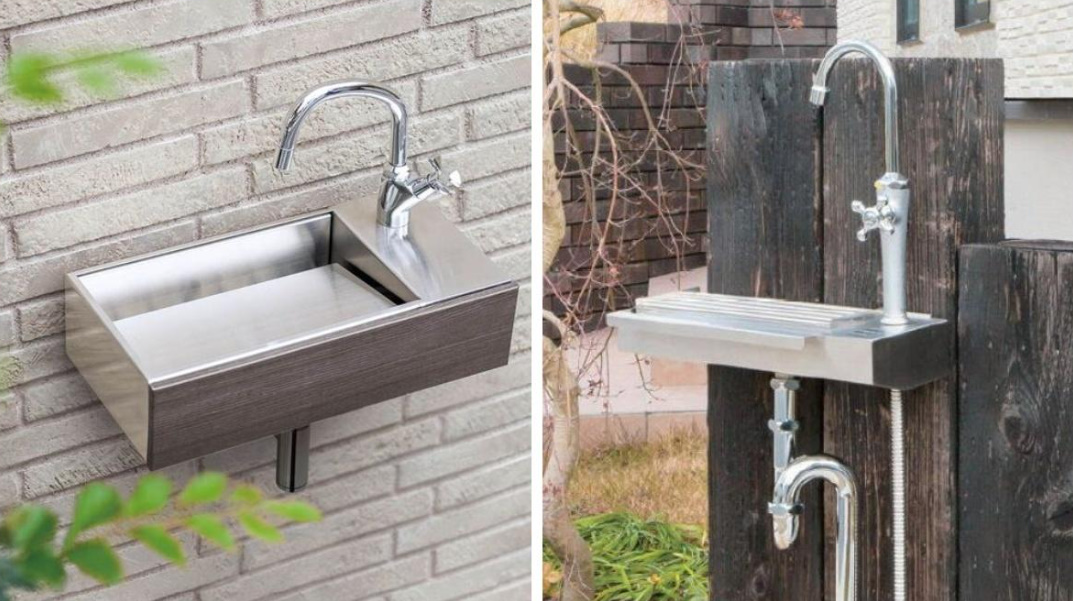 Those who prefer strict laconic forms will surely like washbasins, in which there is nothing superfluous.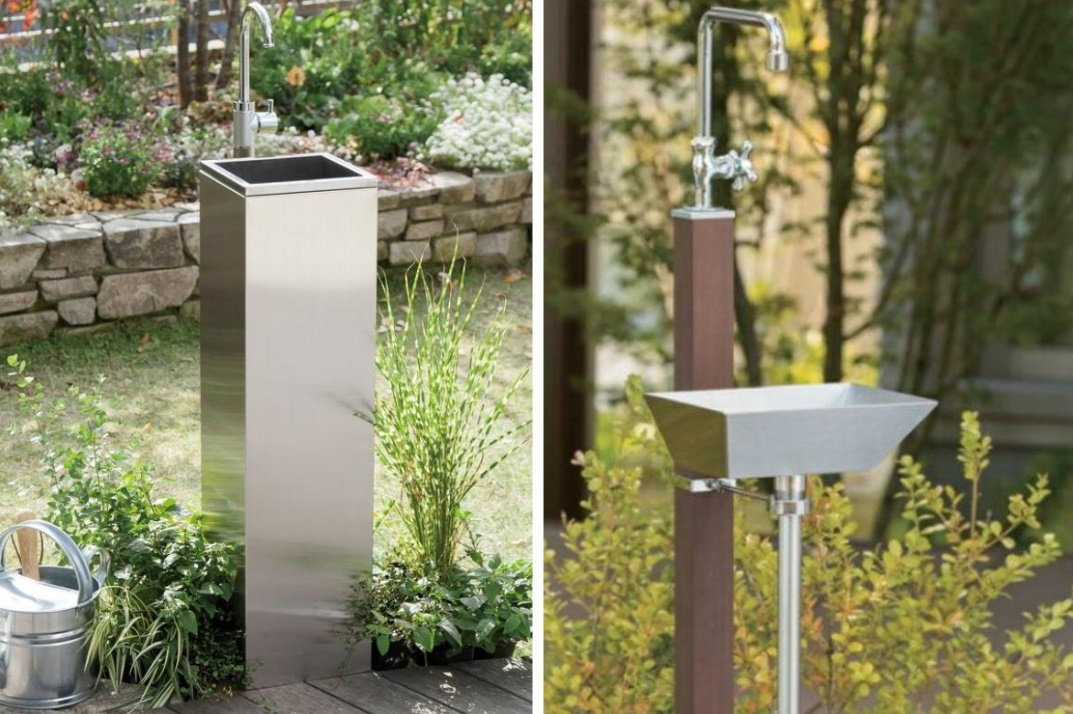 With your own hands
And yet the number of homemade handwashers does not go to any comparison with factory ones.
While the development of a new site is underway, a budget washbasin from a basin and a simple tap will help out. On a modest rural farmstead, there will also be an old kitchen sink.
No running water? For suburban inventors, this is not a problem, and they did not cope with such tasks. There is a solution, and not one.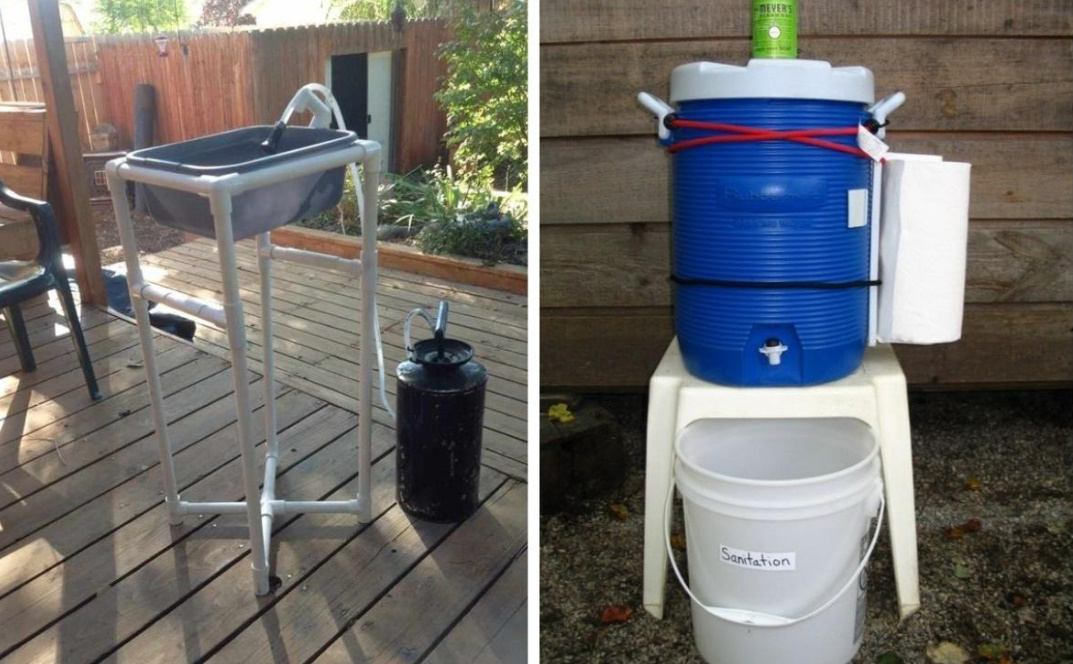 It happens that at the moment there is no way to make a good washbasin. Alternatively, you can build a temporary one from what is at hand. Even if it doesn't turn out very nicely, you can be patient until the best time. Well, fans of rustic style, perhaps, will not have to redo anything.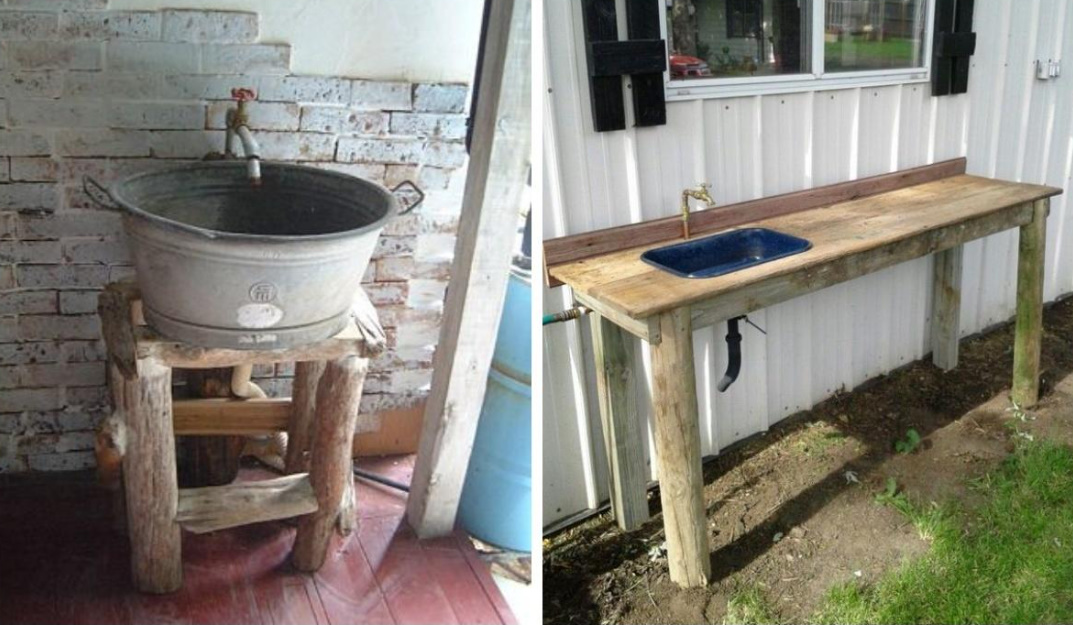 In the household, the complete absence of boards and slats, even if not new, is an exceptional case. For a modest basement, the material will surely be found on any farmstead.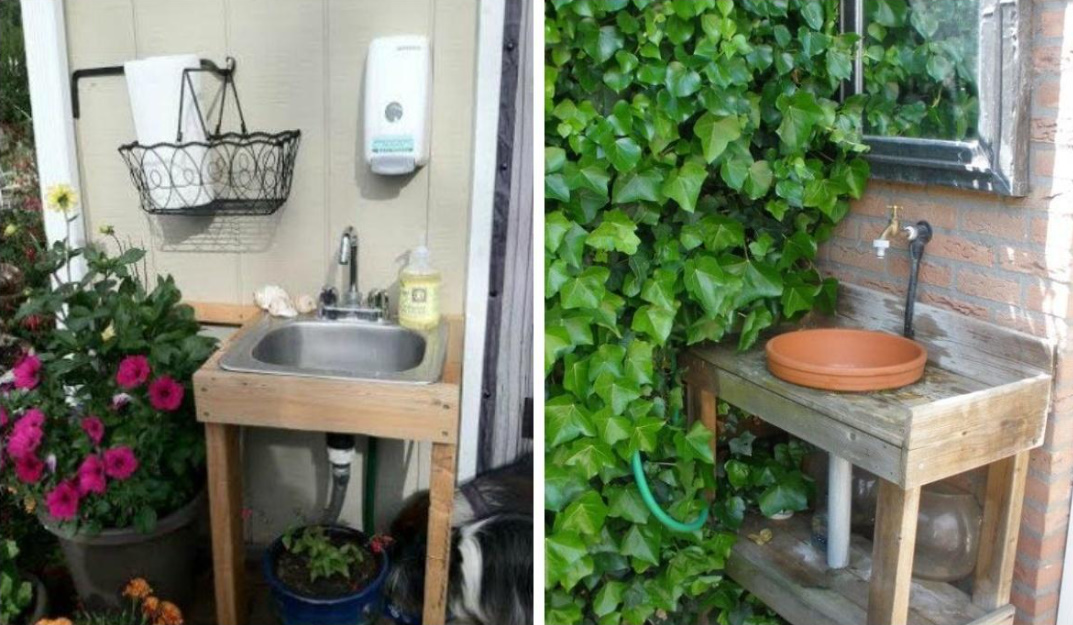 Here are a couple more interesting ideas: the model on the left impresses with simplicity of execution, the sample on the right with practicality and thoroughness.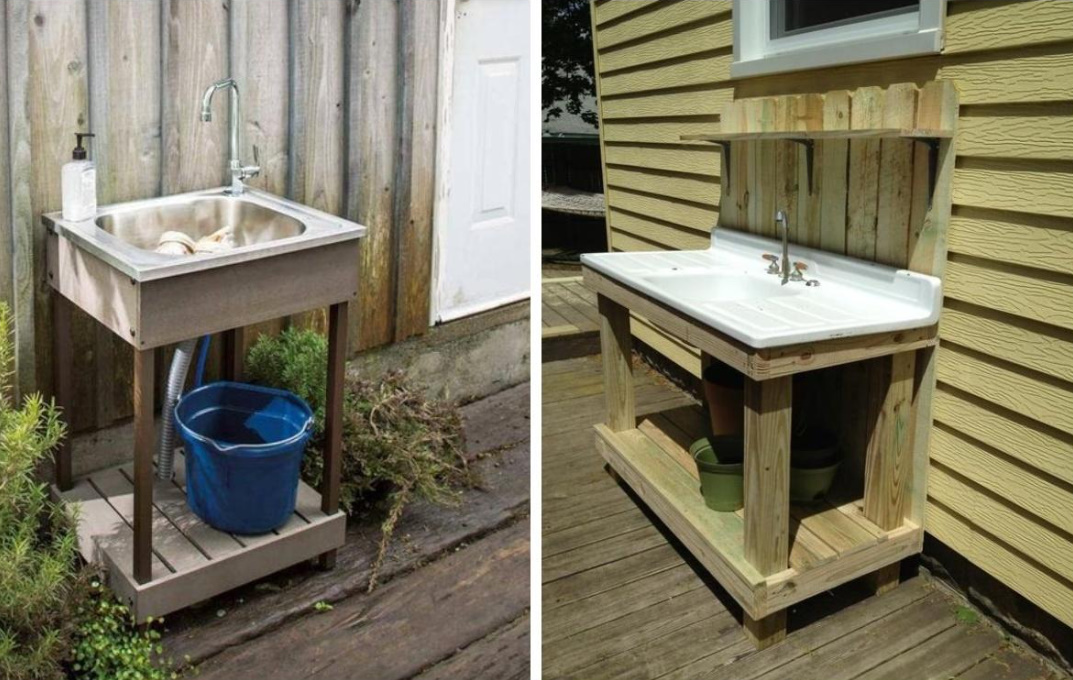 And it's not shameful to brag about these handsome men in front of the neighbors. The basement is partially sewn up with boards, so the plumbing nodes are practically invisible.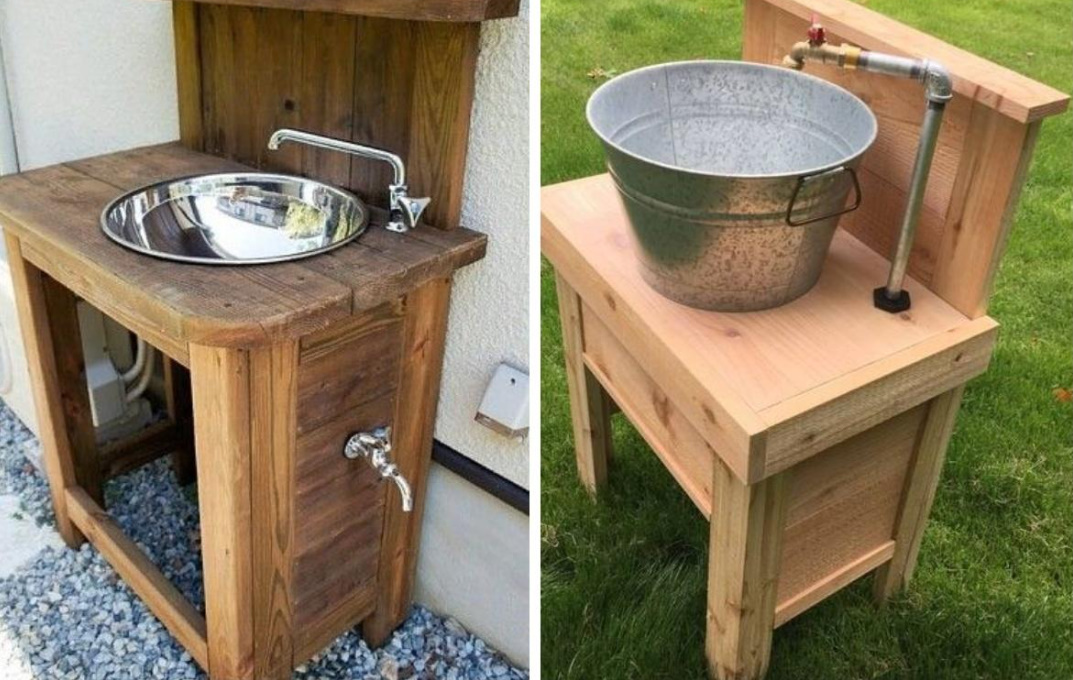 You can go even further and completely hide communications. The double benefit is obvious: now the outdoor washbasin looks respectable, and there is more space for storing household trifles.
Those who are more concerned about the presence of a work surface should take a closer look at these ideas. They can be safely classified as universal: if you want, use them as a washbasin. If you want to cook something in the fresh air, please. And during the procurement period, such tables are generally worth their weight in gold!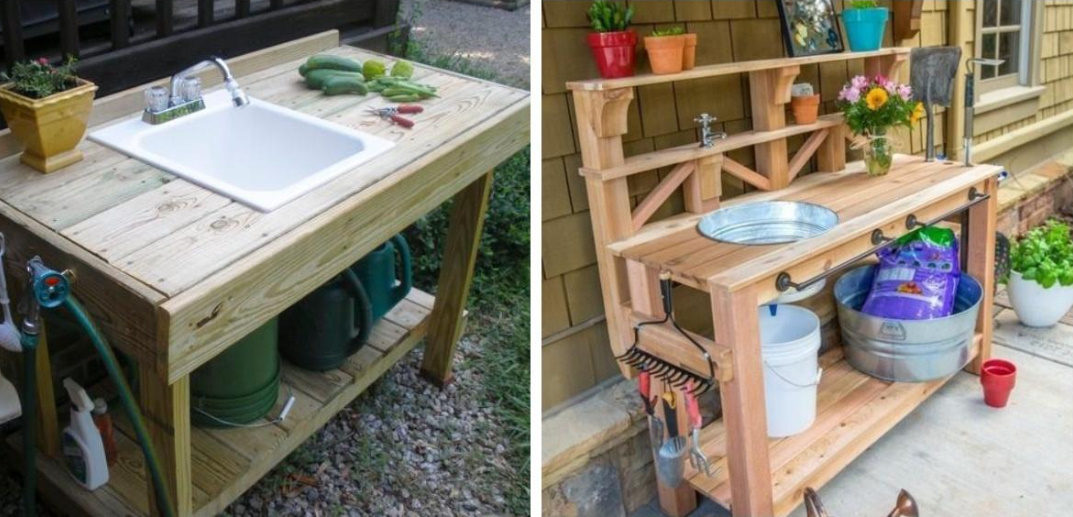 Even a small addition will give the artless design originality and unique charm. In the photo, the washbasins were decorated with decorative lattices, but they can be replaced with old roller blinds, make a stained glass window, attach a mesh net and embroider a beautiful flower on it, and so on.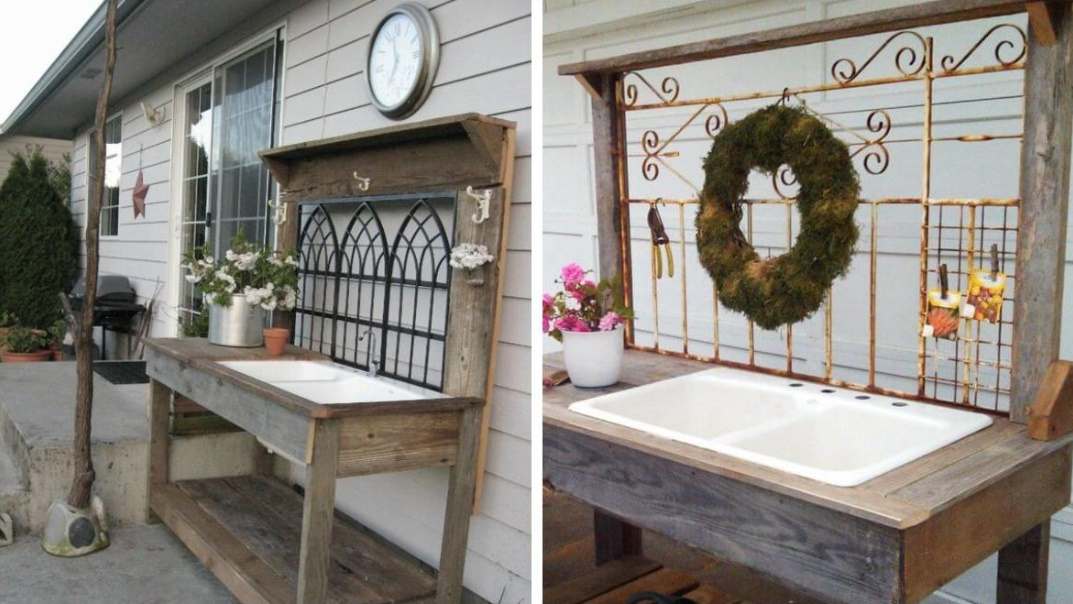 Just look at what masterpieces you can make with your own hands! I don't even know which one I like the most, they're all good in their own way.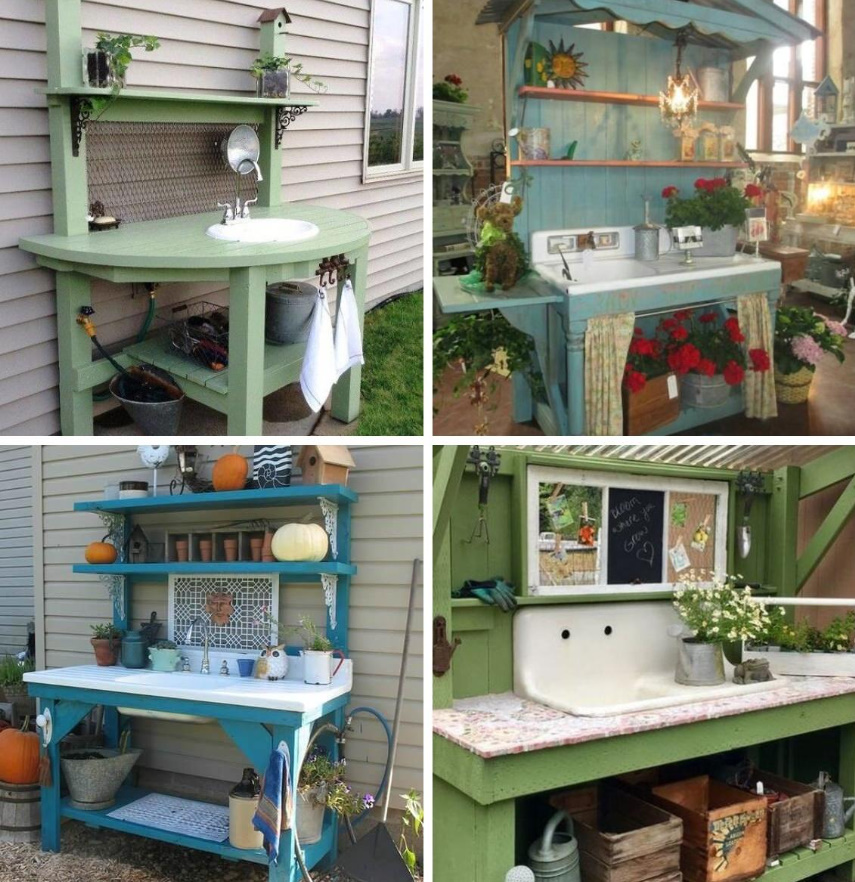 Do you want to add a little elegance to the product? Easy: Lay mosaic tiles on the countertop. It will turn out both beautifully and very practical.
And take note of the mosaic as a finishing material. With its help, useless scrap can be turned into a real work of art!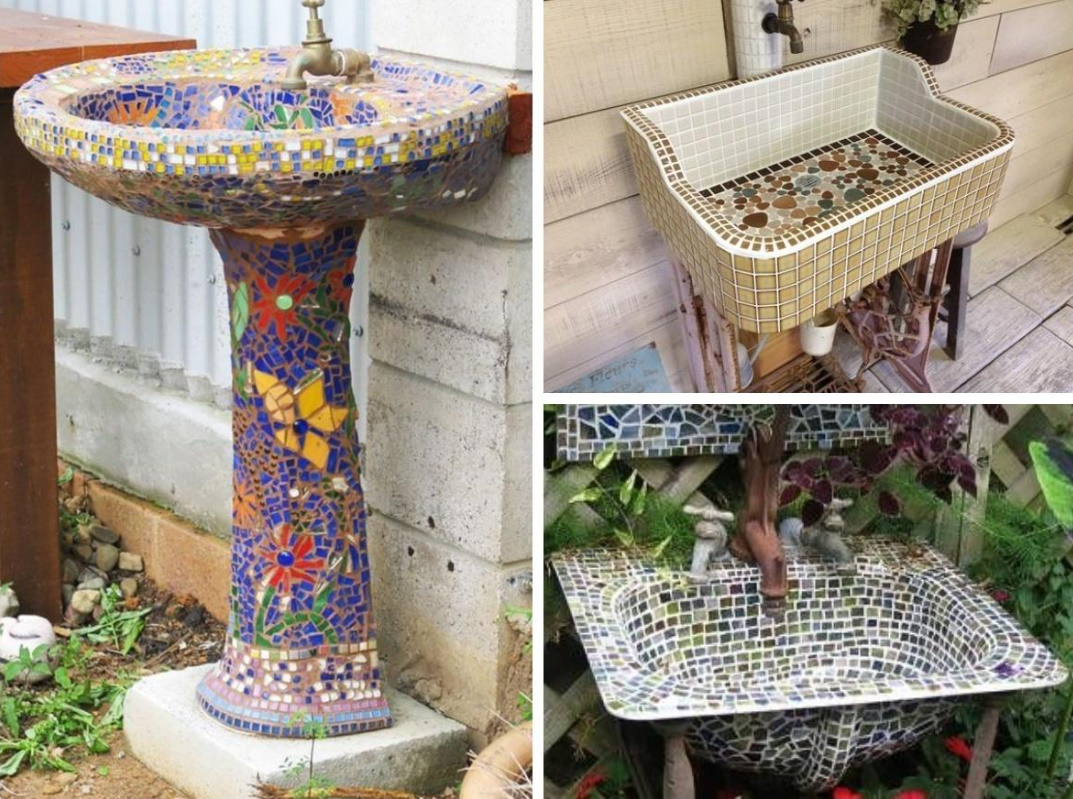 Judging by the number of execution options, brick washbasins are no less in demand. Leave the material in its usual form or hide it under plaster — at your discretion.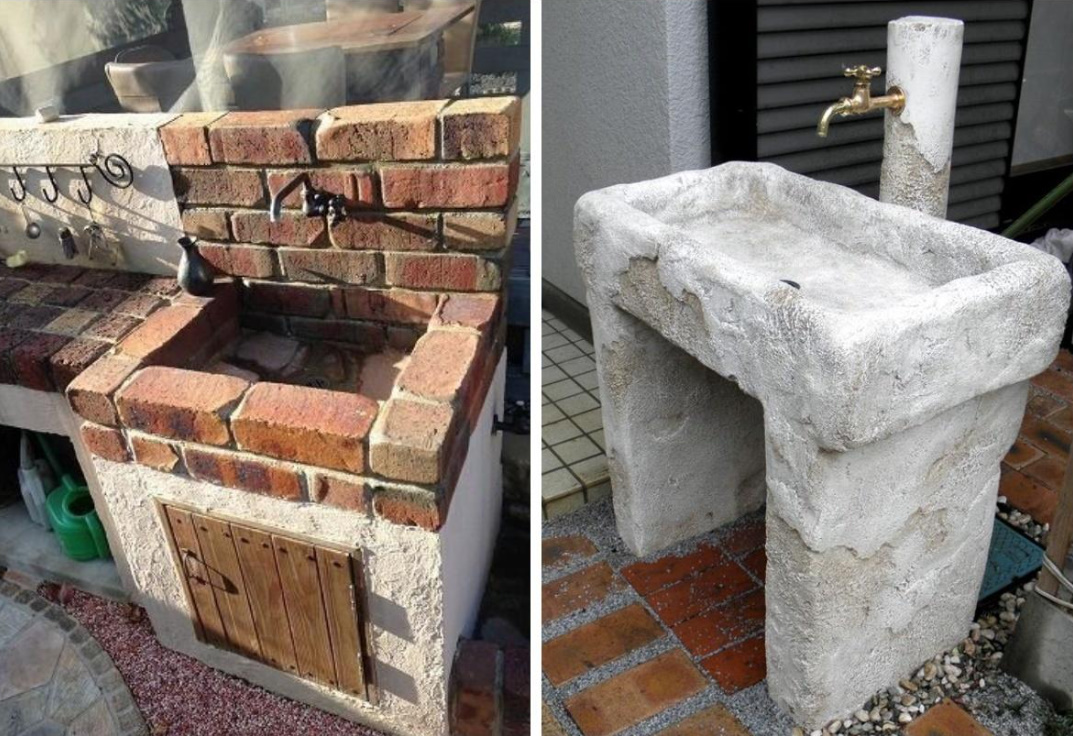 I really liked these two cute guys: everything is thought out and neat, and you can admire the charming wooden doors endlessly!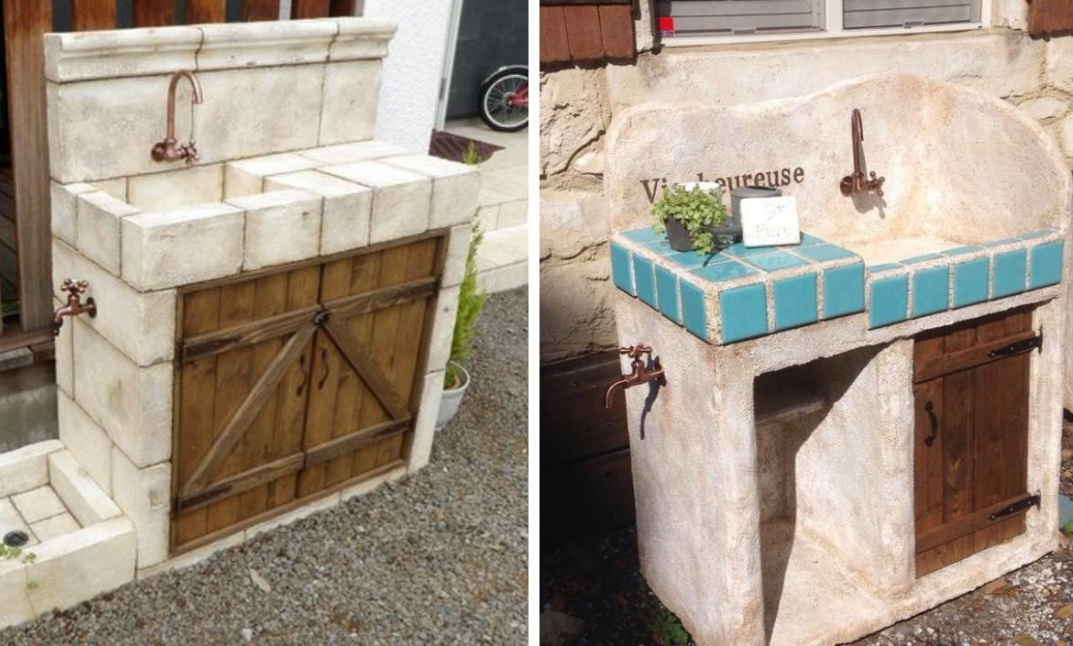 However, it is still difficult to clean the stone sink clean. But even in this case there is a nice solution: the base is laid out of stone, and the sink is metal.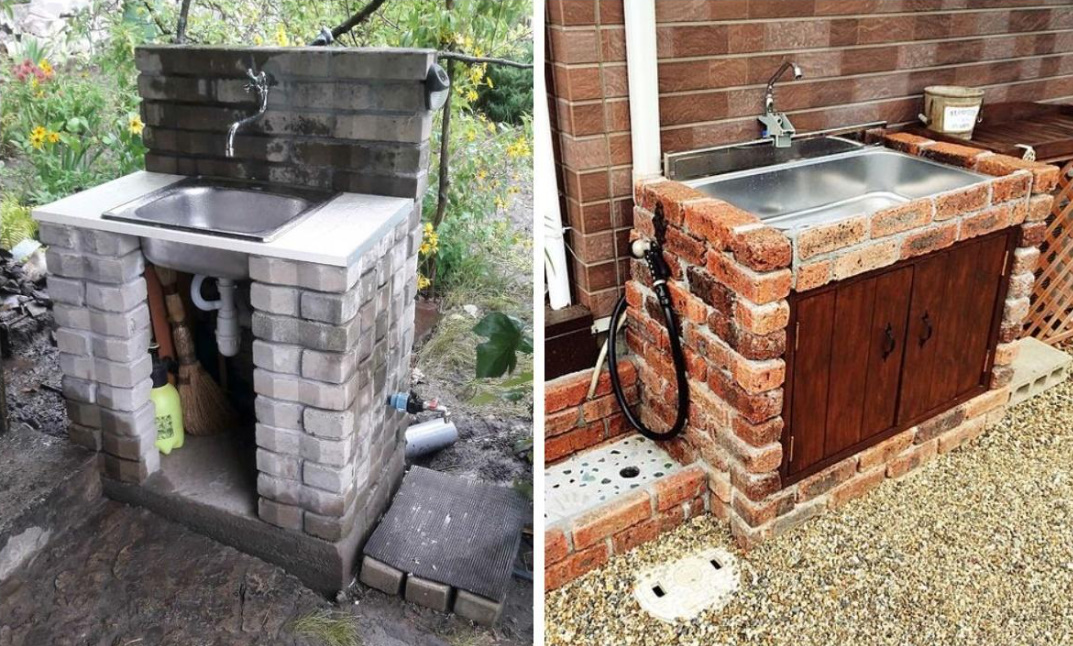 In the garden there is a worthy use even for kitchen veterans — sinks, the appearance of which is far from perfect and it is impossible to restore it. Cover the legs and apron with tiles imitating stone, and it will be nice to look at the washbasin!
An even simpler way to decorate the minor flaws of an old sink is to paint it with moisture—resistant paint.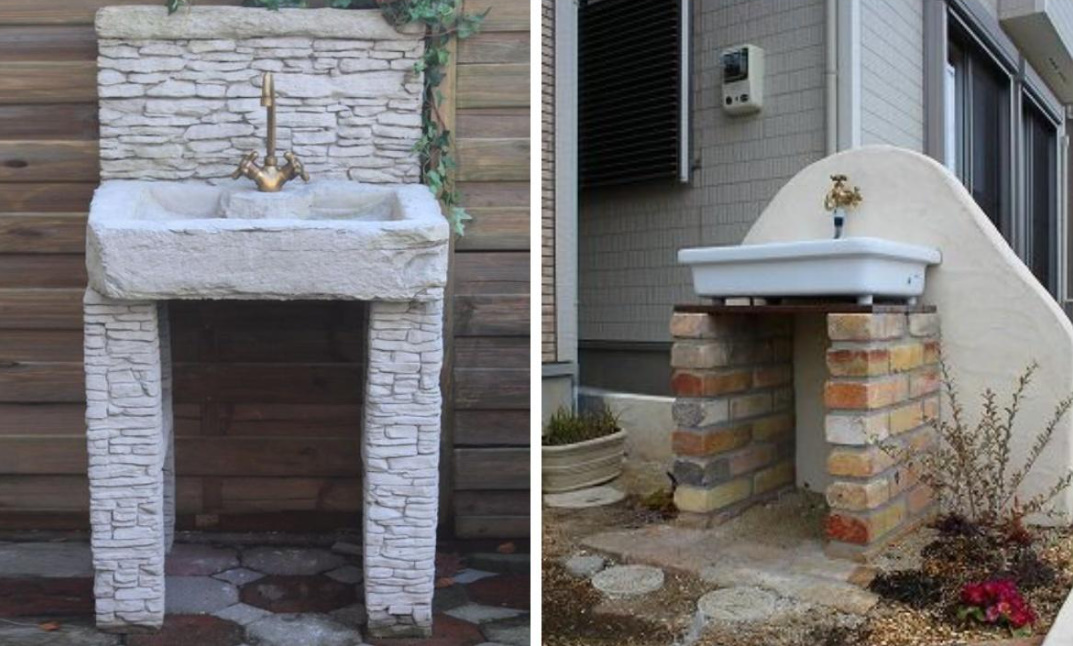 I decided to show a few more plastered garden handwashers in various ways, they are too good. It's a matter of taste, of course, but I like their unusual and discreet beauty.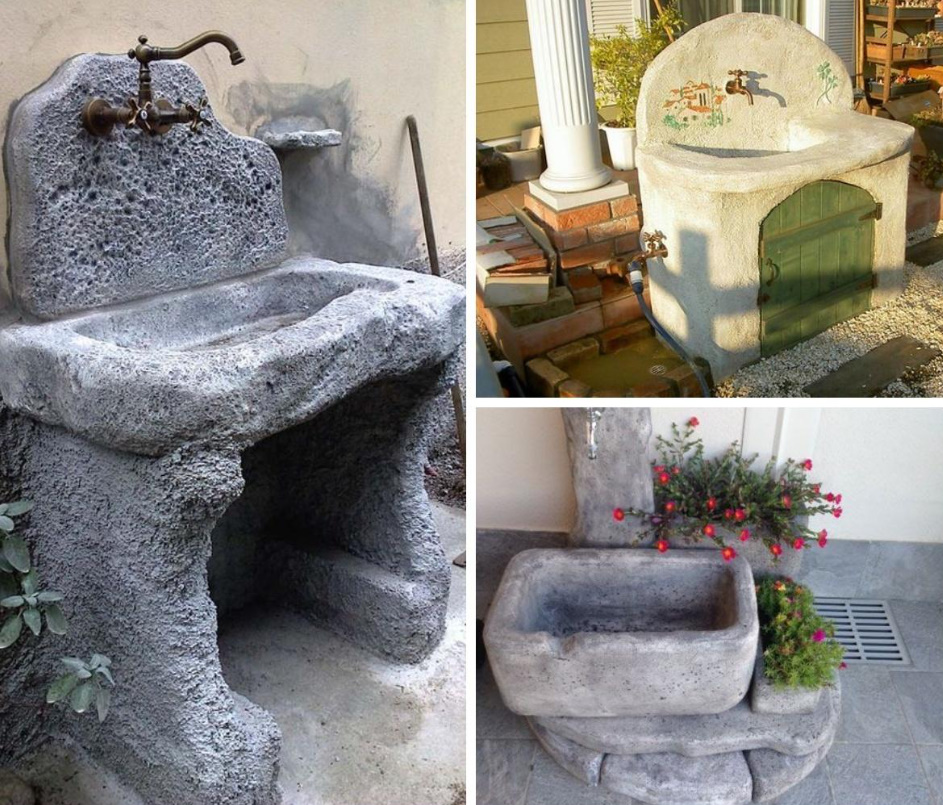 I'll try to redo it
The desire to make something useful from improvised materials is not always caused by a thirst for creativity. Sometimes I would be glad to get a brand new product from the store, but, alas, there is no opportunity. I suggest not to fall into the abyss of despair, but to try to find an acceptable way out in the circumstances
Pay attention to the barrels: in the garden, such containers look quite organic.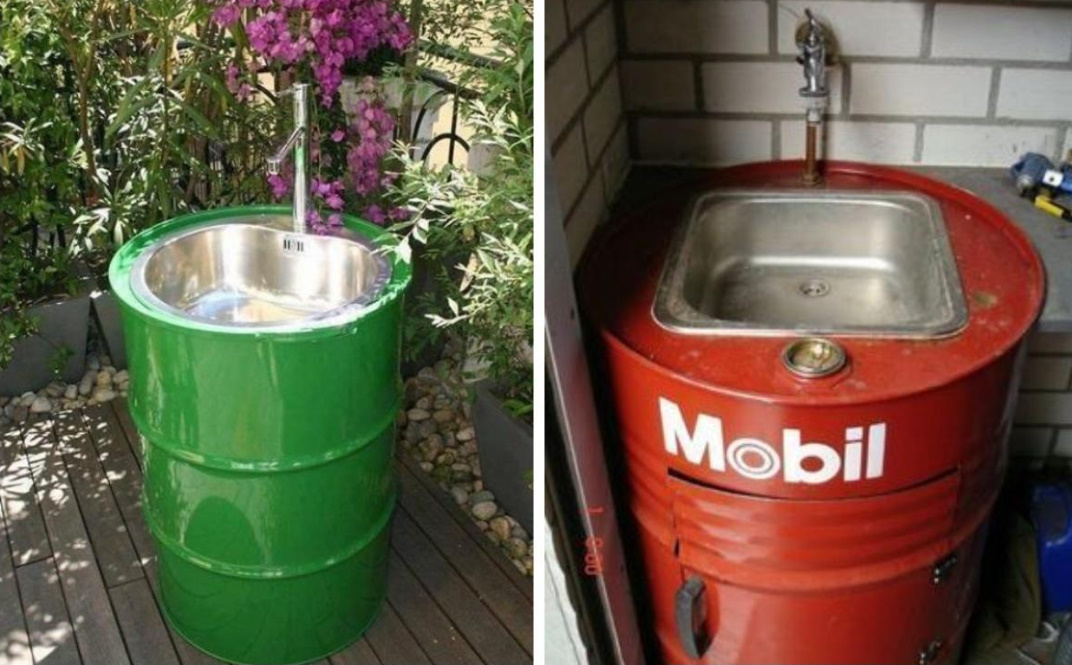 Great luck if there is an extra wooden barrel in the farm. Look how great she looks as a garden washbasin!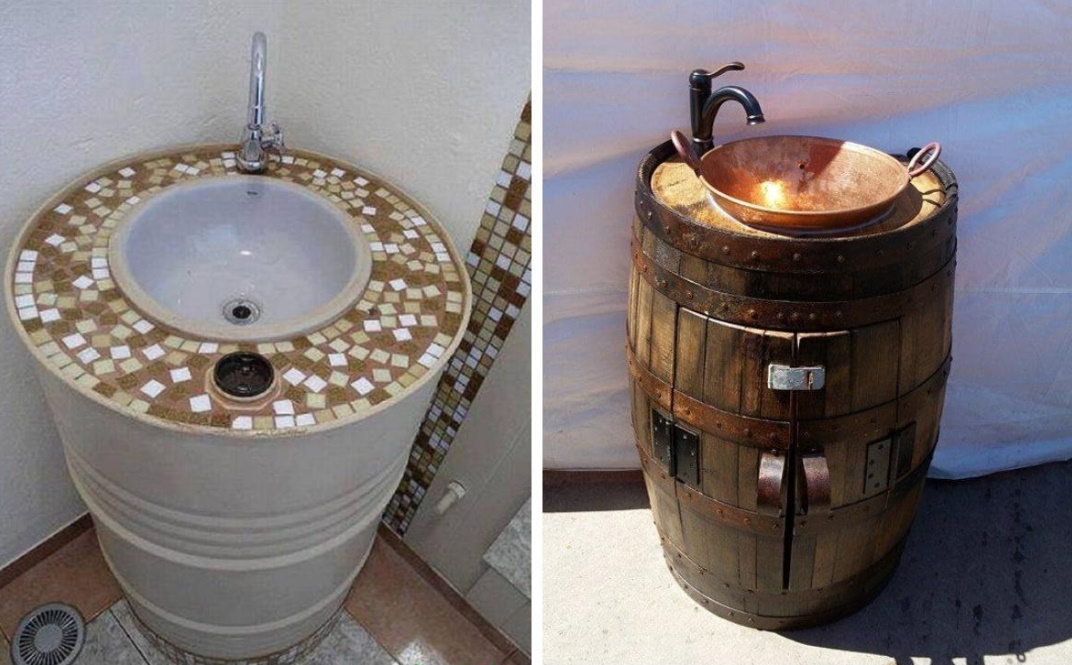 Old frames and door panels should not be washed for a long time, cleaned, painted, fitted shelves. And do bad washbasins turn out in the end?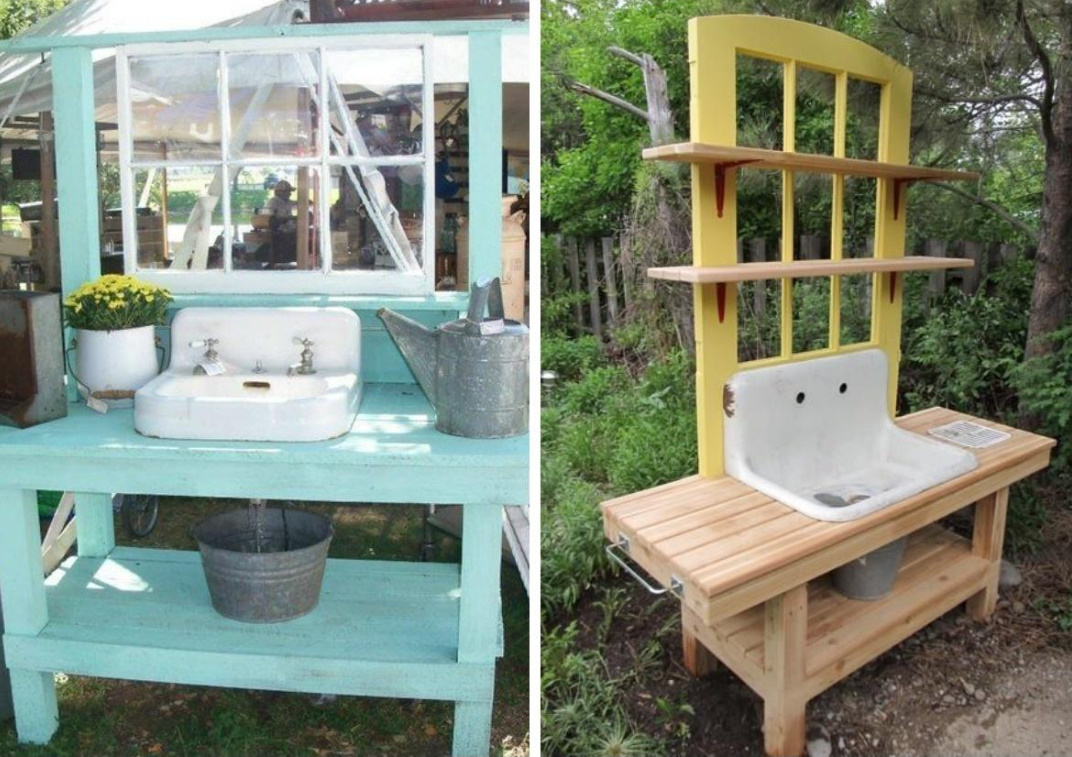 Baby cots, cute tables retired due to disability, chiseled balusters of railings, miraculously preserved after moving — everything will come in handy, everything can be put into action!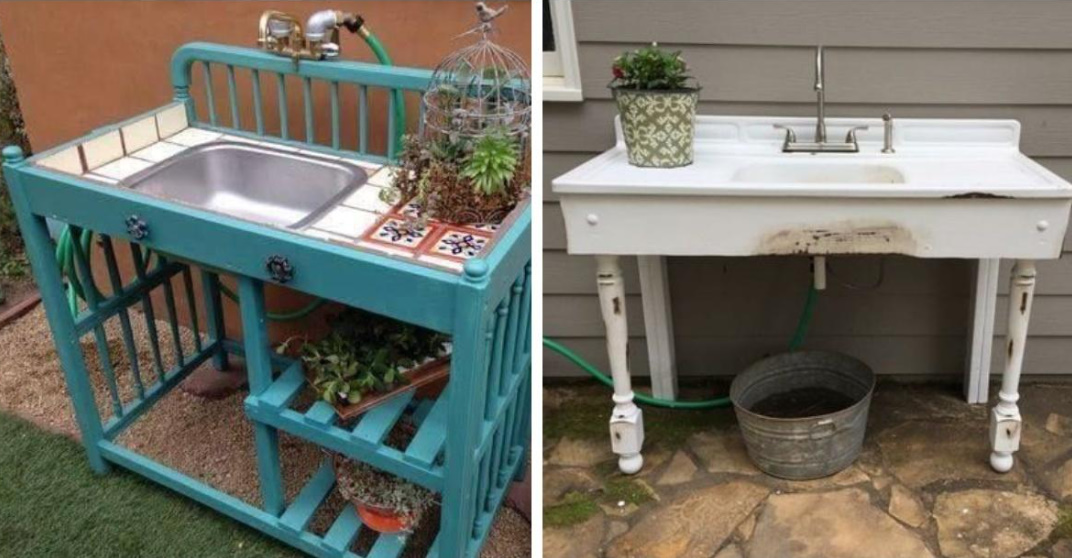 The idea of reworking wooden pallets is not new. It would be strange if they were ignored when arranging a garden washbasin.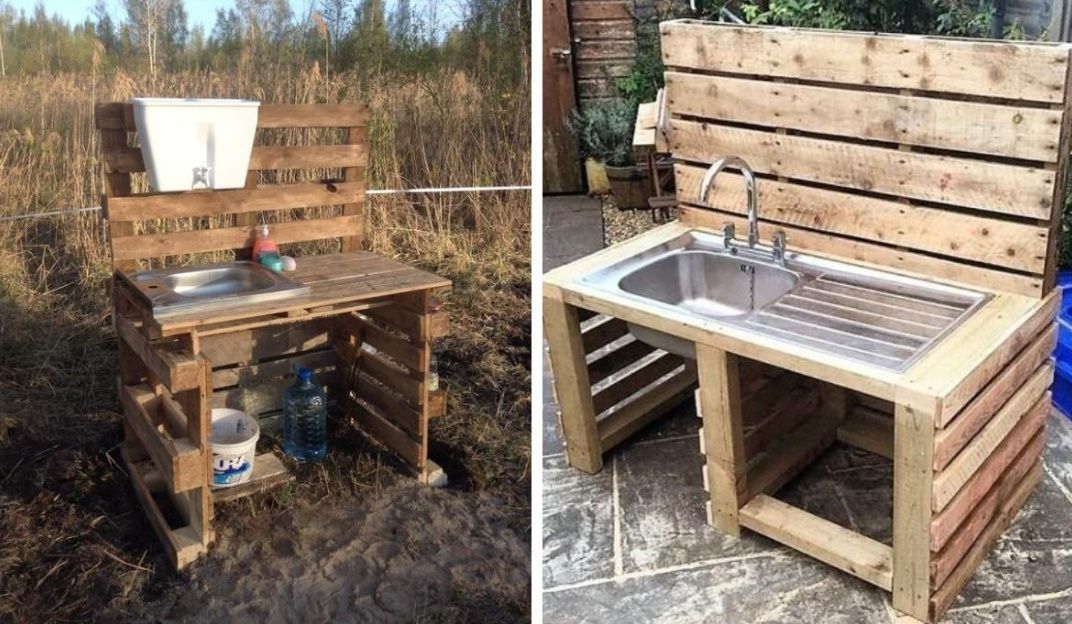 The kind owner does not waste anything in the household. The following options for the arrangement of the washbasin will definitely appeal to you.
A cast—iron bed from a sewing machine or a plastic barrel, PVC pipes – in the right hands everything will become part of a useful device.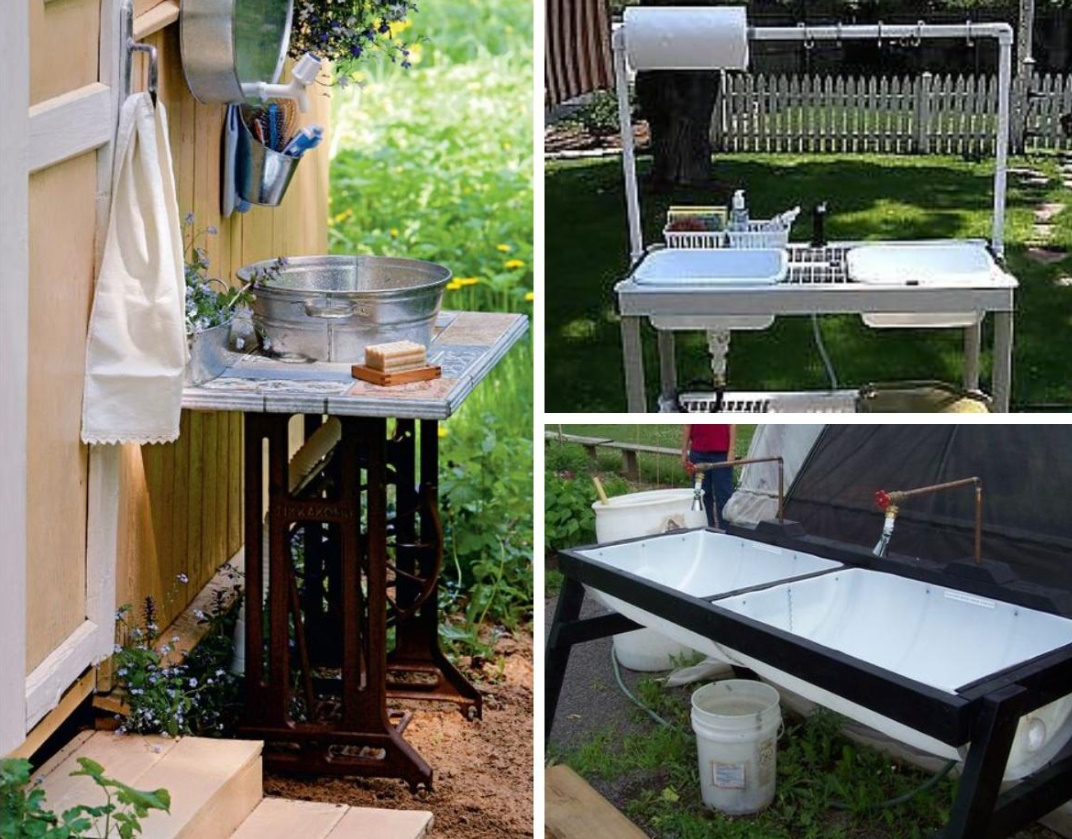 The piggy bank of collected ideas is empty. In my opinion, it's time to admire your garden sinks. There are so many craftsmen with golden hands on our website that I am already looking forward to the pleasure! Will you show me?