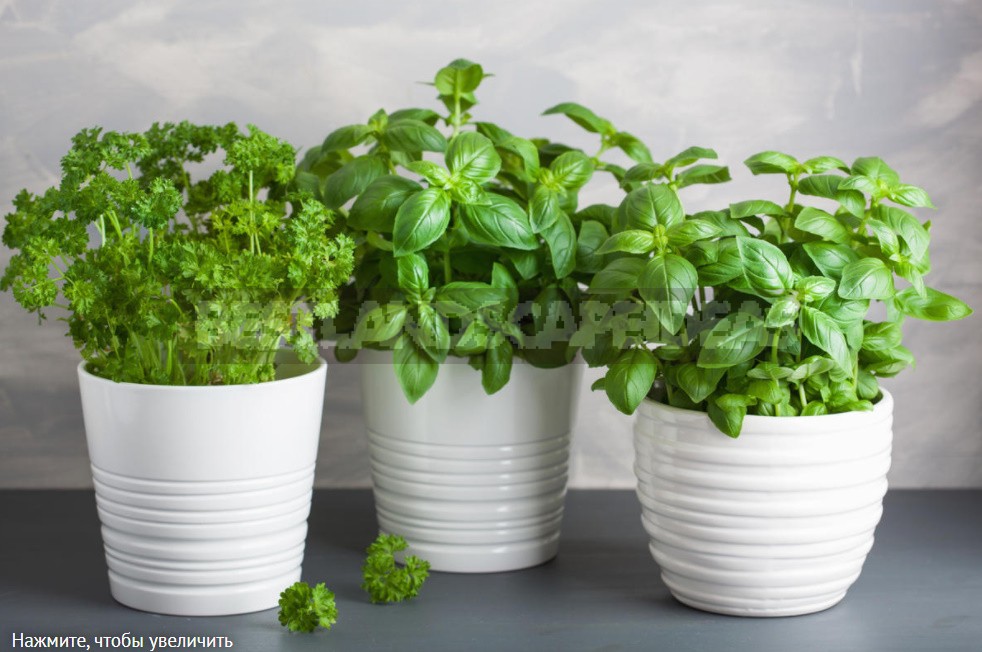 A vegetable garden on the windowsill is unthinkable without greenery. And if you have to tinker with homemade tomatoes, peppers, eggplants and cucumbers, then green crops are the easiest to grow — any schoolboy can cope. Probably everyone is familiar with the distillation of green onions, when the onion is placed over a glass of water. However, the range of a home garden can be much wider.
Onion and garlic on the windowsill
Of course, it is best to start with these crops, as they are the most quickly ripe and unpretentious. And if you take into account the vitamin benefits of green onions and garlic, then first of all it is worth growing them.
Onion for greens
The ubiquitous forcing of greens from turnips suggests that the planting material is placed above the water. This is understandable, since not every apartment has garden land or soil for seedlings. However, distillation in water is often accompanied by rotting of the planting material and unpleasant odors. Therefore, it is necessary to complicate the process a little — to get the soil and choose a suitable container for planting. It should have drainage holes and a depth of 15-20 cm. We fill the wet soil to half the height, place the bulbs (you can do this almost closely) and cover the soil so that the upper third of the turnip remains open. We water it.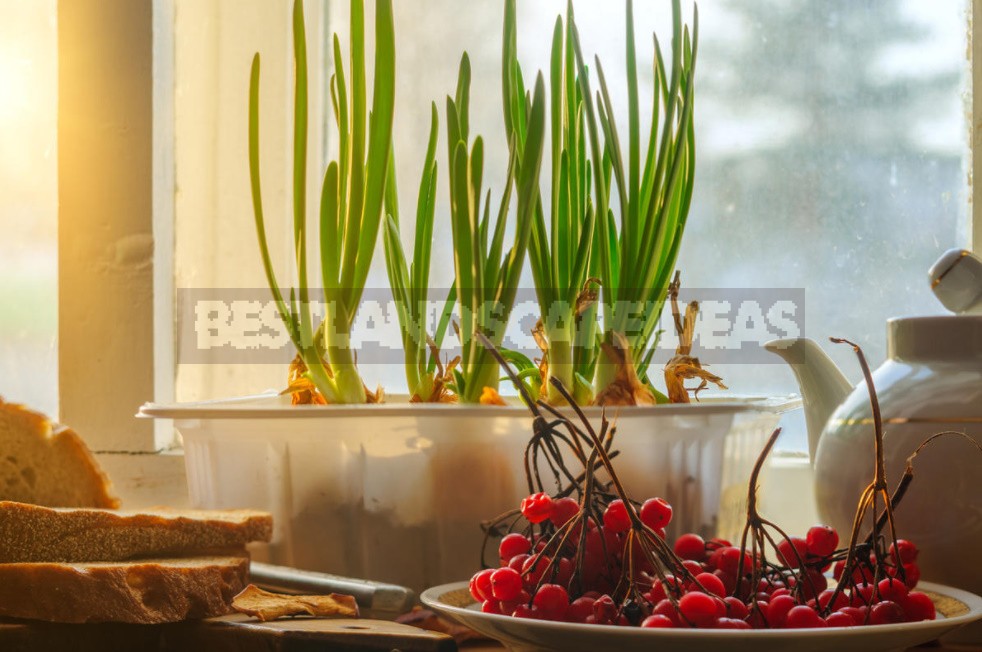 To speed up the appearance of greens, remove the planted onions in a dark cool (about +12…+15°C) place for rooting until the first green feather appears. It will take about a week to wait. After that, we transfer the onion to a light window sill — and grow the crop. If you pour warm water (+30…+35°C), then you can cut the greens in 2 weeks, but it will be pale green and weak. When watering with cold water, the harvest will have to wait about a month, but it will be a real strong onion. Additional lighting is not required even in winter.
Separately, it should be said that for forcing it is not necessary to use a turnip-you can take a seedling. A large fraction is best suited. The advantage of sowing is that you can plant it tightly, and the feather turns out to be very delicate and thin. But there is also a drawback — each bulb will give a very small harvest and quickly deplete.
Garlic
It is best to use winter garlic for forcing: it wakes up quickly and increases the green mass well. To grow a feather, you can take those heads that have started to sprout themselves, in any case, they will no longer be well stored.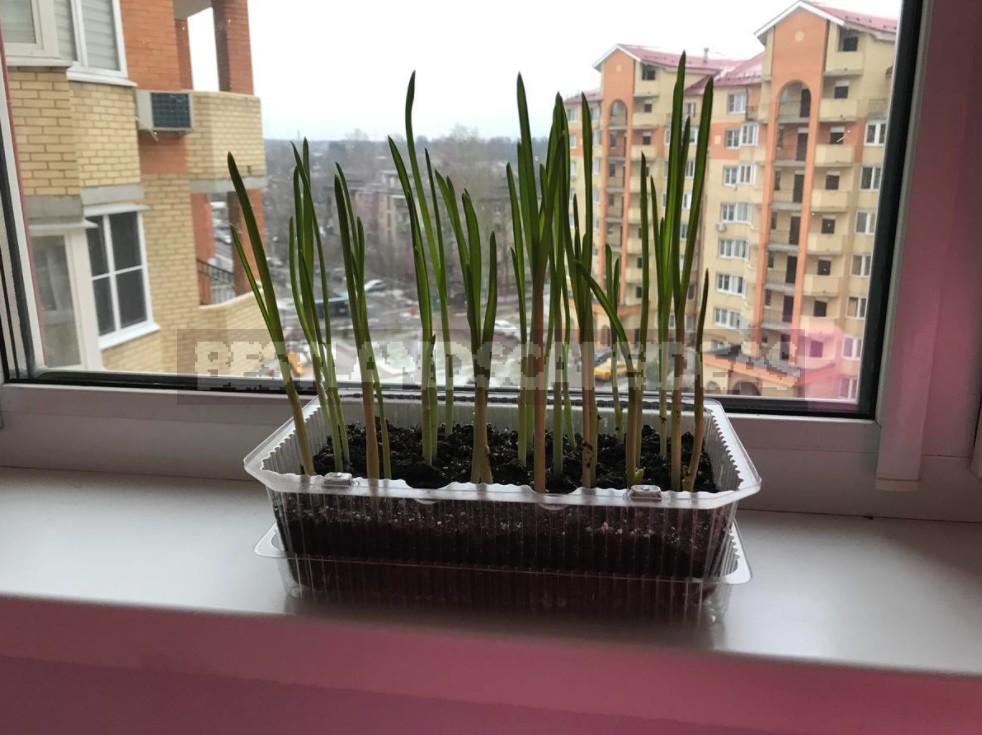 The teeth are pre-soaked in water for 24-36 hours, then planted in the soil so that the neck is level with the ground surface. If the garlic is already stuck, then leave the sprouts open, do not fall asleep. Now it is enough to keep the soil moderately moist, and the result will not be long in coming, it will be really fast.
We grow salads at home
Leafy salads are very diverse. There are those that need up to 75 days to mature, but there are also very precocious ones — they will need only 1 month to build up a very good volume. Of course, in order to get the return in the form of a faster harvest, you need to choose just such-a short maturation period.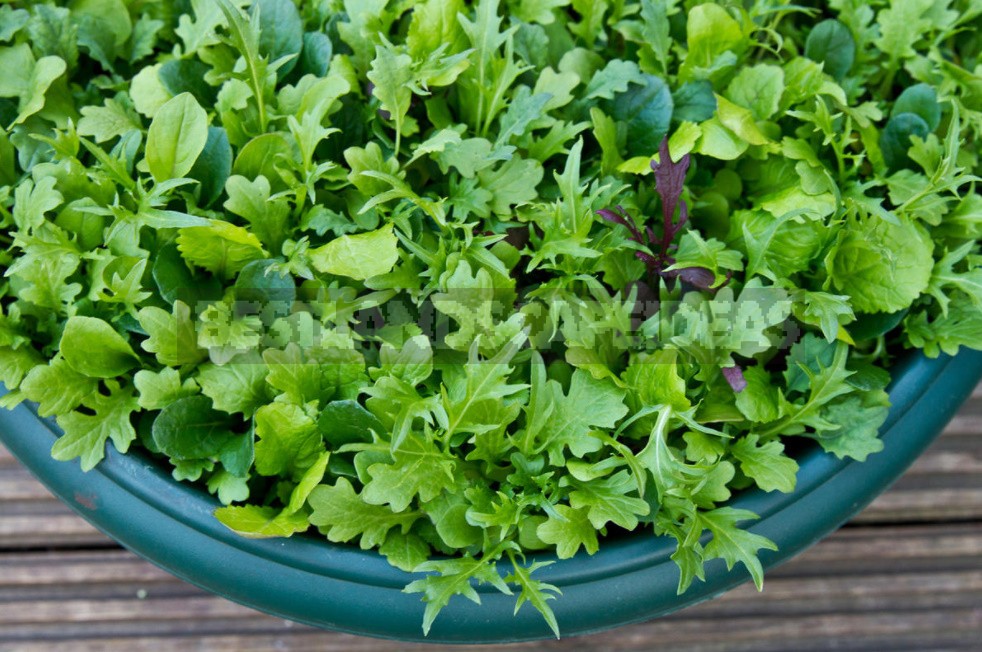 Watercress salad
This type of salad is a record holder for the speed of yield of the crop: you will cut fresh greens in 2-3 weeks after sowing. It can be grown on the ground, but a layer of peat, sawdust or cotton wool as a base is also suitable. This green is so unpretentious that it does not need additional lighting even in the off-season.
Sowing of watercress
In the prepared container, we put the selected substrate: its layer should not be thinner than 1.5-2 cm.We water it a little. We pour the seeds into a glass of water (it should cover them) and, stirring, wait a little — the seed shell swells and becomes like a gel. Then we take out the seeds with a spoon and distribute them on the surface of the substrate, we do it quite tightly, but in 1 layer.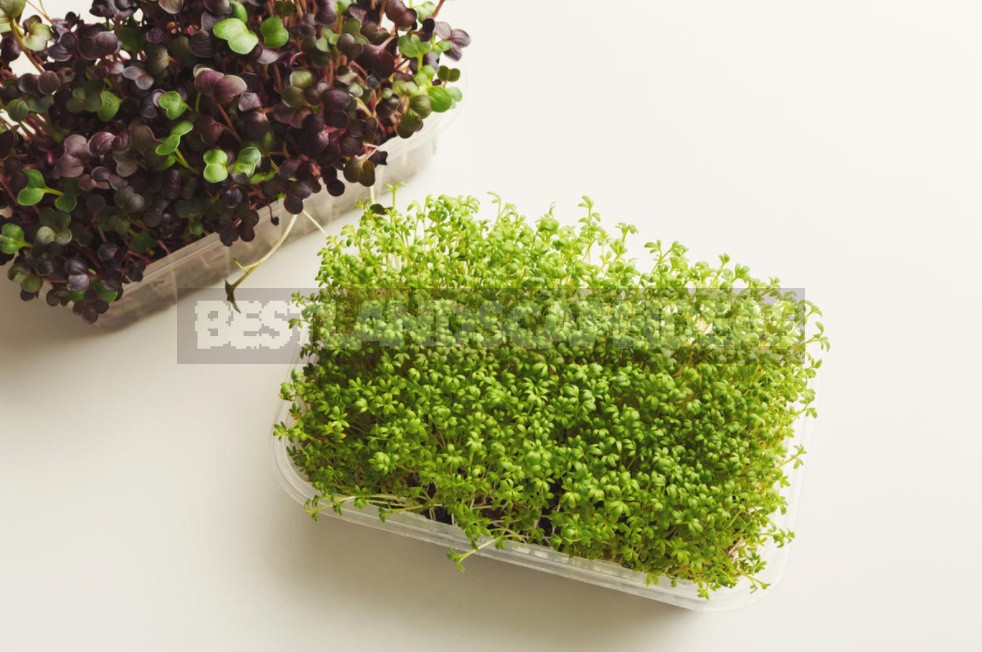 Cover the container with the crops with a film and put it on the windowsill, if necessary, protect it from direct sunlight. The very next day, you will notice that the seeds have hatched. After another day, the film can be removed. The optimal temperature for growing watercress is +15°C, it does not tolerate heat: it begins to wither. An excellent variety for home cultivation is 'Temp'. It has a savory taste and pleasant aroma, is good in salads and sandwiches.
Portulaca oleracea
In culture, it is not often found in beds and in home cultivation, but in vain. This is a very precocious green, with an original taste and great usefulness. Bred varieties with a good yield in just 3 weeks of cultivation. The plant is unpretentious, but it is demanding to the light. For a home garden, the 'Dainty' variety with juicy leaves and stems is ideal.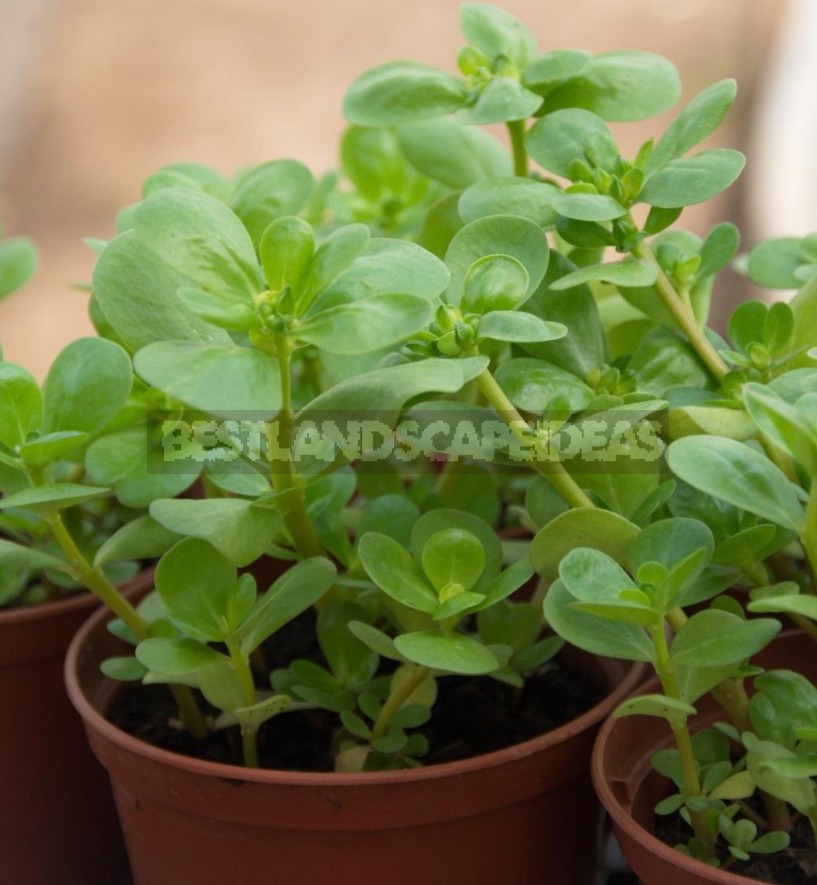 How to plant Portulaca
You can sow Portulaca oleracea in low containers, a universal soil for seedlings is suitable. We make grooves, wet them with a hand sprayer, lay out the seeds and sprinkle with a layer no thicker than 5 mm. Before the emergence of seedlings, we arrange a greenhouse from a transparent film, after which we remove the shelter.
Lettuce leaf
For growing on the windowsill, it is better not to take the head varieties: as a rule, they need a lot of space, more careful care, and the maturation period is quite long. It is better to choose early-maturing leaf varieties that will be ready for cutting in 4 weeks. They require a light day of 12-14 hours, so in winter, additional lighting will be required. The optimal growing temperature is +18…+21°C. In a closed room, the following varieties proved to be good:
'Garnet lace'. Leaves of intense burgundy-red color, average size-16 cm;
'Fervor'. Not demanding to light, the leaf is large (28-32 cm), with a wavy toothed edge, green;
'Gourmet'. The leaves are dark red in color, wavy along the edge, of a delicate consistency. Weight of one plant — 130-160 g;
'Tango'. It has delicate corrugated, very decorative green leaves. The socket is very dense, weighing 160-180 g.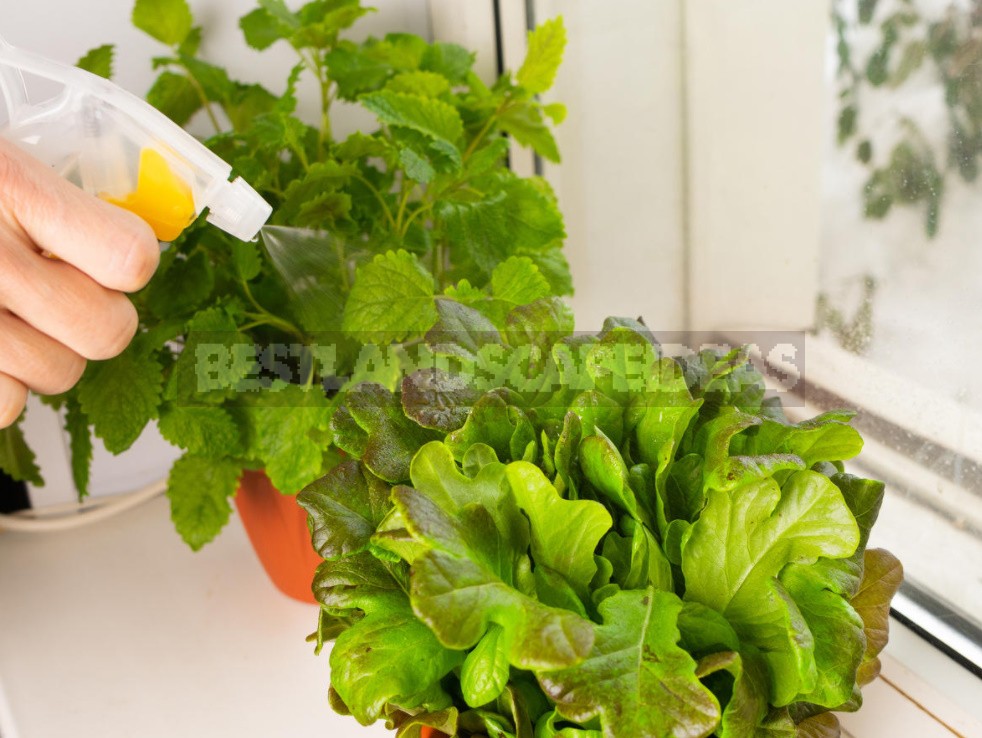 What you need for sowing lettuce
For sowing, you will need shallow (10-15 cm) containers with drainage holes. You need to fill them with soil for seedlings, make shallow grooves, sprinkle the soil abundantly from the spray gun and sow the seeds. The grooves are filled in (the thickness of the filling should not be more than 0.5 cm) and the entire container is covered with a film to create a mini-greenhouse. After 3-4 days, shoots will appear, then the shelter can be removed.
It is important to note that the leaf lettuce will not be able to grow into a full-fledged plant if it is planted too thick. The distance between the sprouts should be 6-8 cm, so if your shoots are more frequent, then thinning will be required. This should be done 7-10 days after the emergence of seedlings. It is necessary to keep the soil always moderately moist, not to allow it to dry out. Loosening is not required and even harmful, since the roots of lettuce are fragile and located close to the surface of the soil.