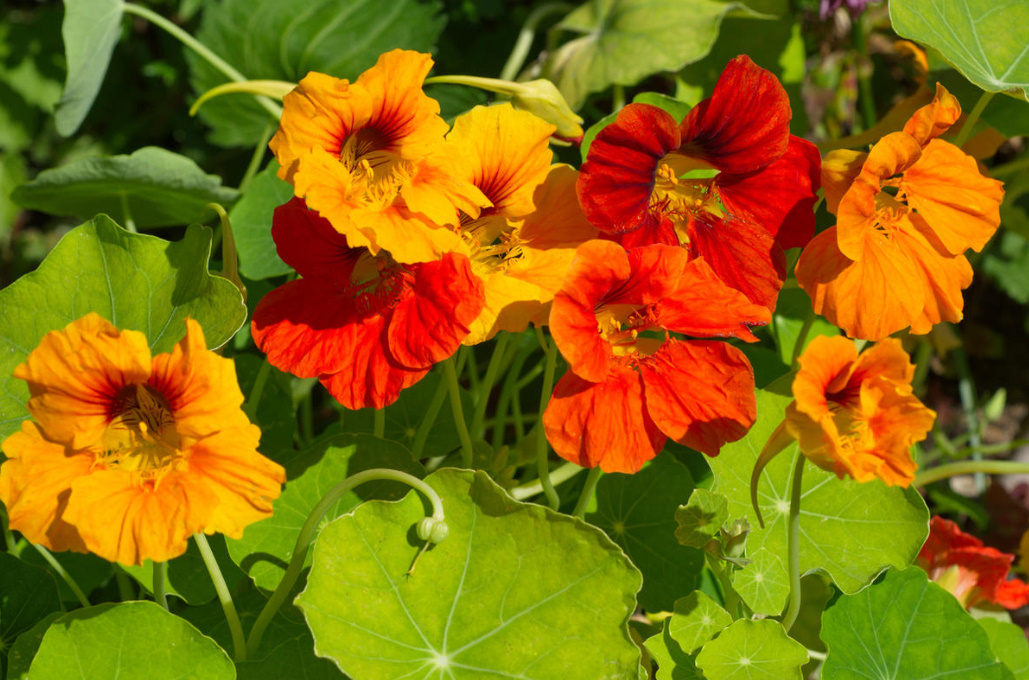 Alaska Series
It is characterized by the shortness and compactness of the bush and variegated leaves. The height of the plant is from 20 to 40 cm . Blooms from July to October. In the series there are varieties with flowers of different colors — 'Alaska crimson', 'Alaska orange', 'Alaska gold', 'Alaska Scarlet' (red), as well as mixtures.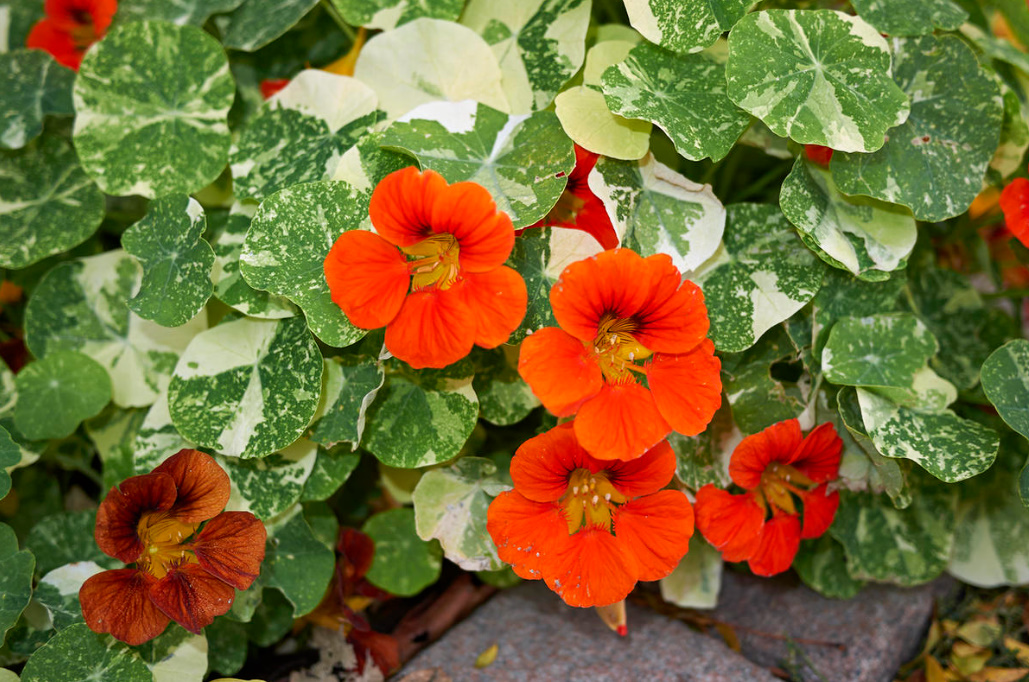 Variegated nasturtium of the Alaska series
Gleam Hybrids Series
Brilliant hybrids of this series are used for vertical gardening. Juicy stems grow up to one and a half meters, the leaves are rounded, rich green. In the series there are hybrids with double and non-double flowers of different colors: 'Golden Gleam', 'Mahogany Gleam', 'Moon Gleam', 'Glorious Gleam', 'Orange Gleam', 'Double Gleam', 'Salmon Gleam', 'Scarlet Gleam', as well as mixes.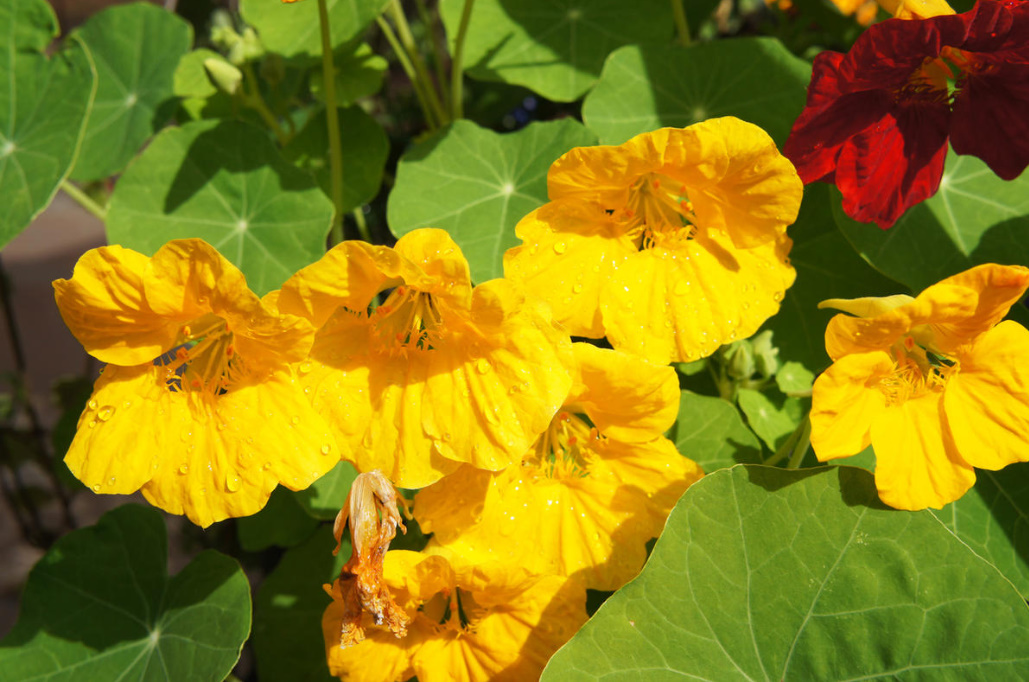 Nasturtium 'Double Gleam'
Jewel Series
Dwarf plants, bush height up to 30 cm. The flowers are double and semi-double, 5-6 cm in diameter, can be yellow, orange, red, cherry flowers. Flowering lasts from July to October. Plants of this series are ideal for landscaping balconies or container floriculture — 'Cherry Rose Jewel', 'Jewel Blend', 'Jewel of Africa' (variegated), 'Jewel Mix'.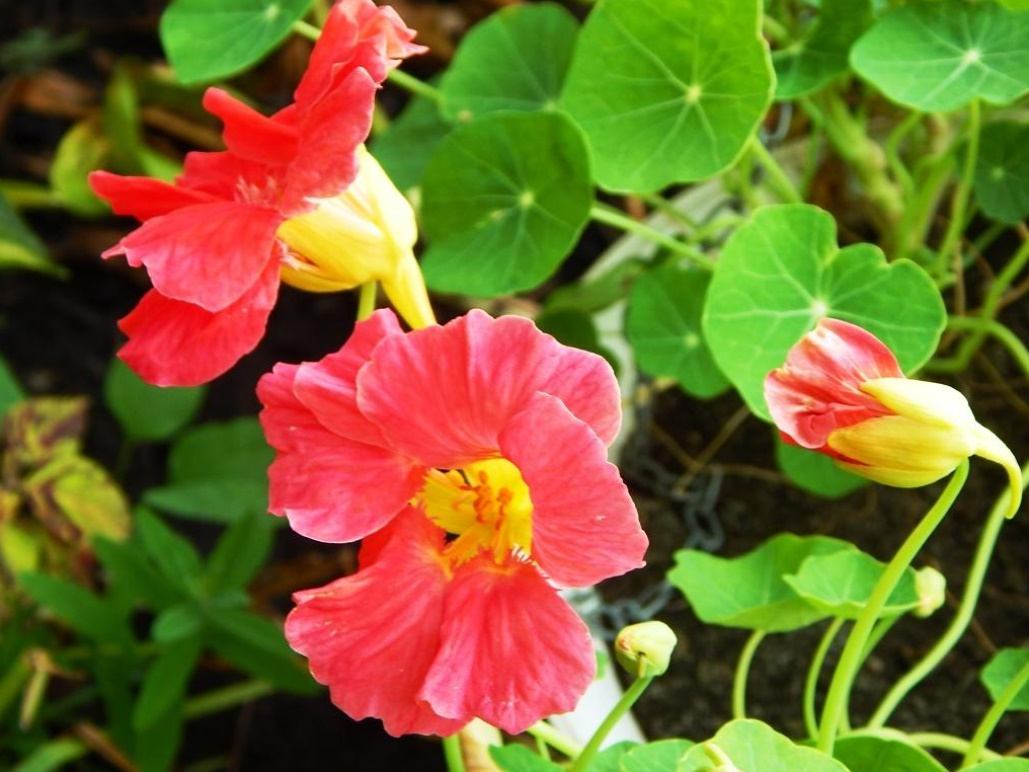 Nasturtium 'Cherry Rose Jewel'
Terry hybrids
If you want to get flowers with a large number of petals, pay attention to the following varieties:
bush — 'Night and Day' (a mixture with cream and scarlet flowers), 'Golden Globe', 'Purple Legion', 'Terry fairy tale' (a mixture with yellow, red and orange flowers);
wattled — 'Hermine Grashoff' (thick red flowers), 'Margaret Long' (orange), 'Darjeeling Gold' (yellow), 'Orange Gleam', 'Scarlett O'Hara' (red), 'May terry yellow', 'May terry salmon'.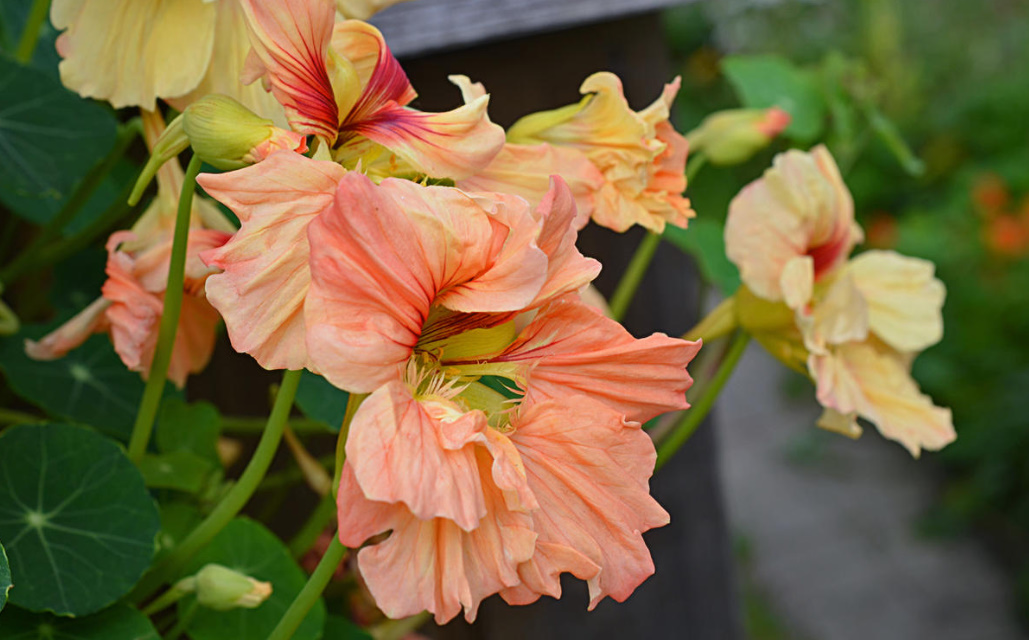 Nasturtium 'May terry salmon'
Cultivation
It is not difficult to grow nasturtium in a flower bed, in a flowerpot or a planter on the balcony. The plant is unpretentious and undemanding, therefore it can be safely recommended to novice gardeners: few skills are required, and an excellent result will give confidence in their abilities and encourage new experiments.
Place and soil
Nasturtium is a sunny flower. All its beauty can be seen only by planting in a well-lit area. In the light penumbra under the trees, a bush or a vine will also feel tolerable, but the less sun there is, the fewer flowers there are. In full shade, the plant stretches, withers and does not bloom.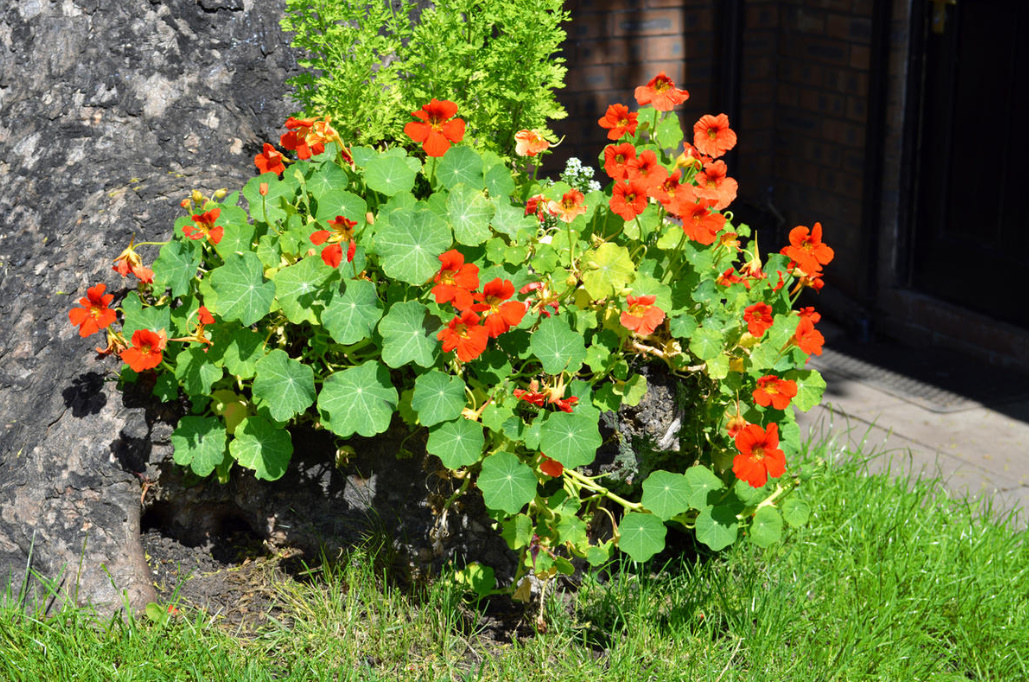 Nasturtium blooms best in the sun
Nasturtium is not demanding of the soil, but prefers not too fertile and well permeable. In the case of heavy soils, drainage is mandatory. On rich, well-watered soils, you will get a lush plant that will not strive for the formation of flowers. But nasturtium treats phosphorous and potash fertilizing during the flowering period well.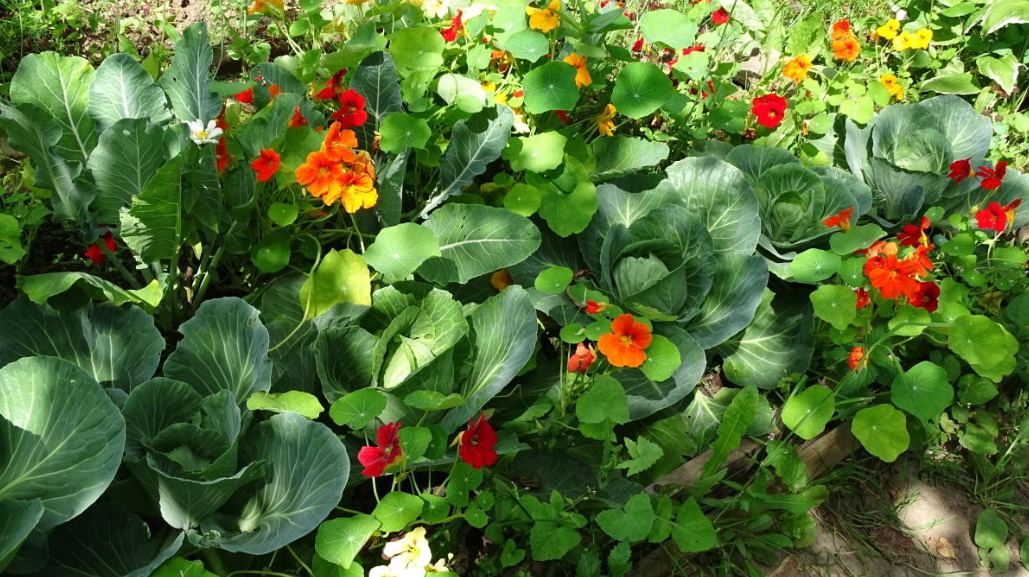 Nasturtium looks organically on the beds
Sowing
Nasturtium seeds are very convenient for sowing: they are strong, large (the size of a pea), they are easy to assemble yourself in the summer. The plant gives abundant self-seeding, and the fruits perfectly overwinter and germinate next spring. As an example — the photo below. Nasturtium was grown in a large clay pot last year, and even after the spring partial replacement of the soil, one "pea" survived and sprouted. This season she will be the company of petunia.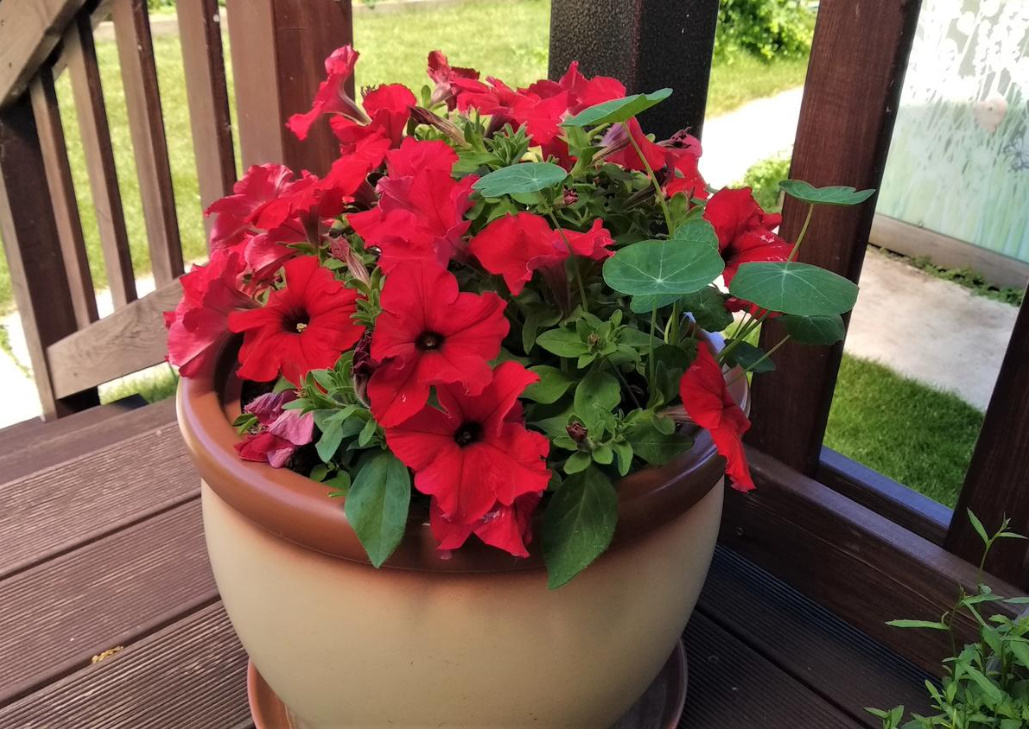 One nasturtium seed has survived since last year and sprouted
It is important to remember that nasturtium is very thermophilic, and even the weakest frosts kill it. Therefore, seeds should be sown in the open ground no earlier than mid-May. About a day, the seed material is soaked in ordinary water or with the addition of a stimulant. The soil needs to be loosened, watered, furrowed and the seeds decomposed. The sealing depth is about 2 cm. Expect the appearance of sprouts in 1-2 weeks.
For balcony cultivation, boxes with soil can be prepared in advance — and sow nasturtium already in April. At the end of May, when the threat of recurrent frosts passes, the plants are relocated to the open air. Just do not forget to acclimatize them ahead of time, taking them outside first for a short time, and taking them into the house at night.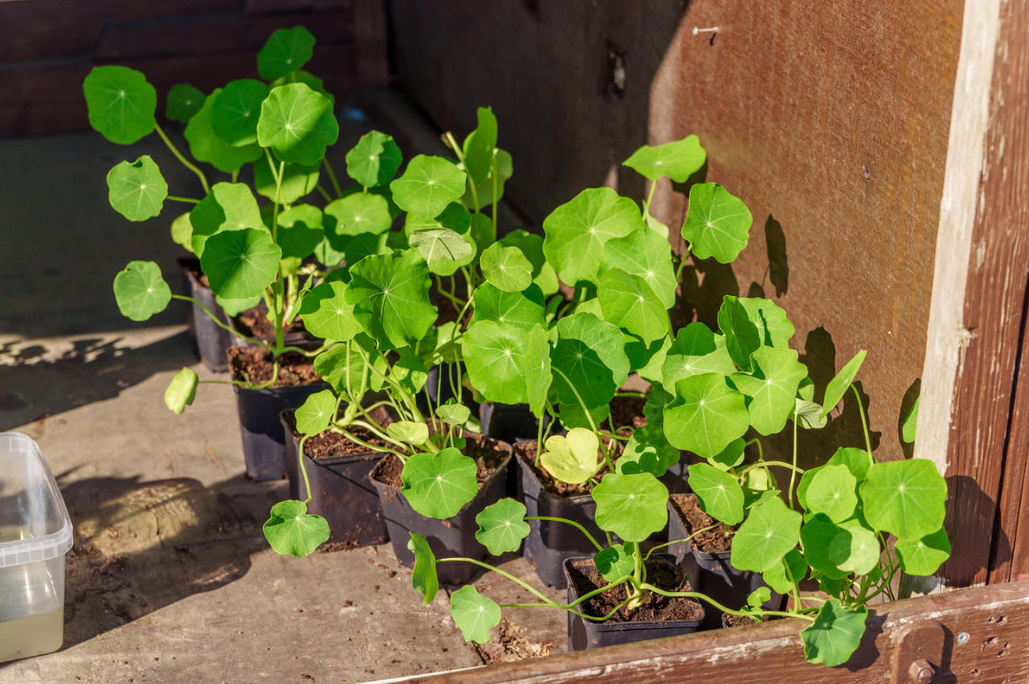 Nasturtium can be grown in a seedling way
You can also grow nasturtium in a seedling way, but keep in mind that this culture tolerates transplanting hard, so it is worth sowing it in peat pots or similar containers for seedlings. Lighting should be good immediately after the appearance of the shoots, otherwise they will unnecessarily stretch and thin.
Care
At the initial stage of growing nasturtium requires abundant moisture, whether it is seedlings or seedlings in a flower garden. Water should not stand, but soil moisture must be maintained in a stable condition. Regular watering is required until the beginning of the flowering period, which occurs 40-50 days after the emergence of seedlings.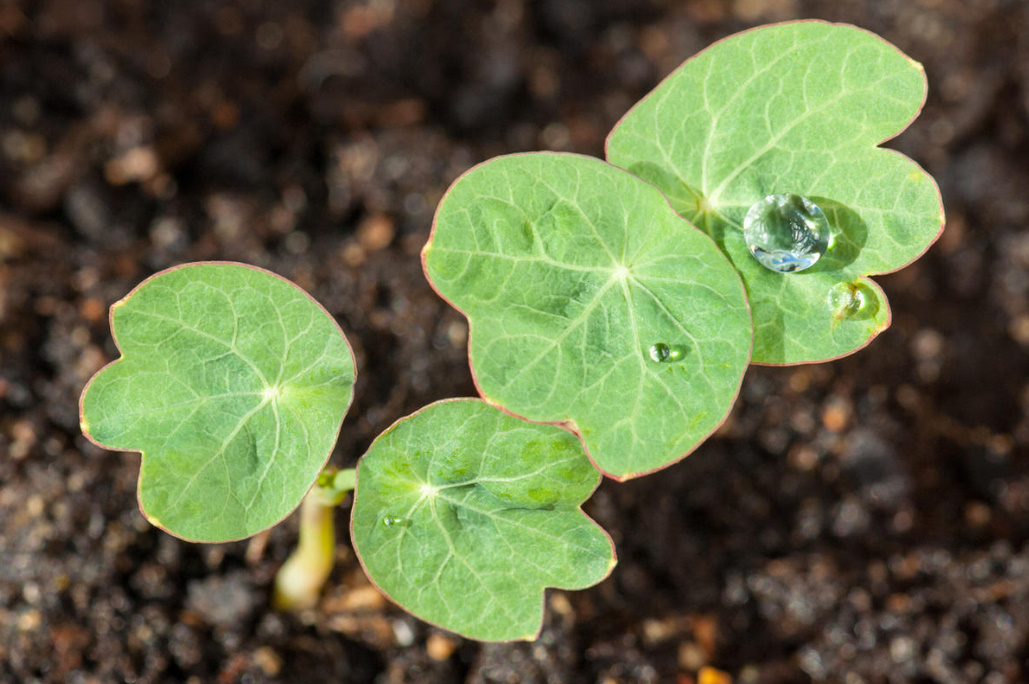 At the initial stage of growing nasturtium requires abundant moisture
After the appearance of the first flowers, watering should be reduced — and they should be carried out only after the soil has completely dried. Such a regime will contribute to a more abundant flowering. It is advisable to feed nasturtium about once every two weeks. Nitrogen fertilizers are contraindicated for it, and complex phosphorus-potassium compounds will have a beneficial effect.
The seeds ripen about a month and a half after the petals fall. They can be collected and stored in a breathable fabric bag or a paper envelope. Germination lasts 3-4 years.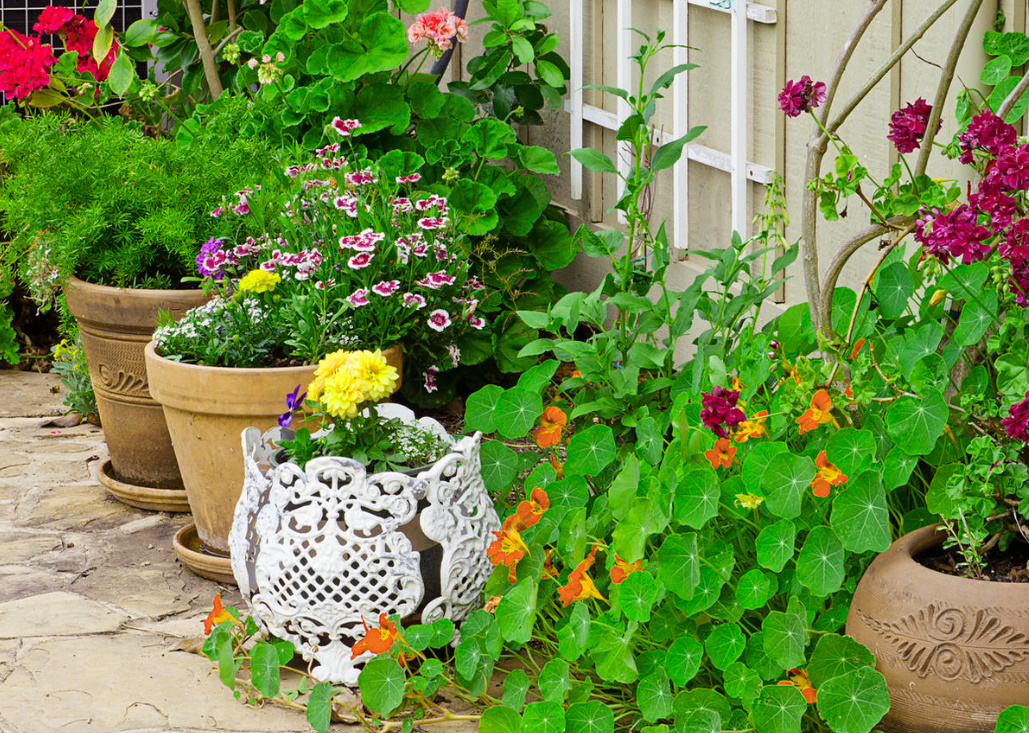 Nasturtium will be good in any garden
Nasturtium is a bright, low—yield and useful plant. It can be planted in flower beds, in containers on terraces and balconies, it can decorate and decorate screens and fences. Nasturtium will look good in almost any garden. Have you planted it this season? Share in the comments which varieties you have chosen and why.