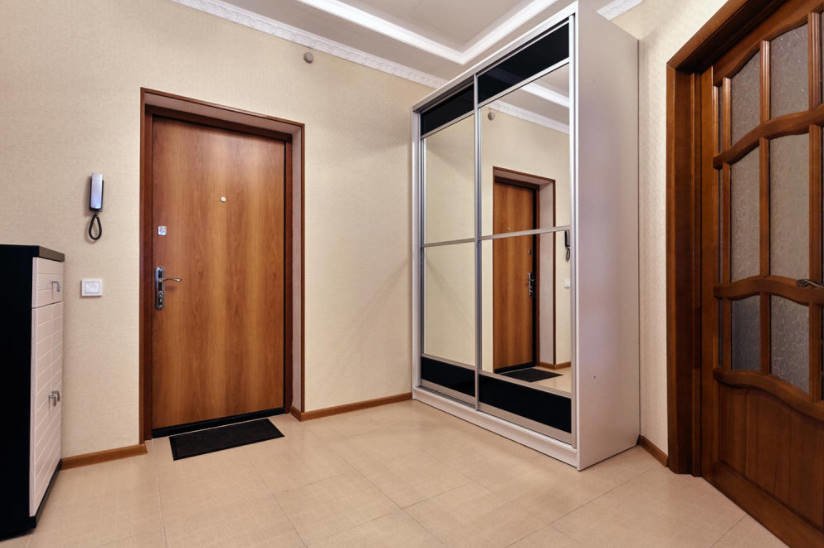 Dirt in the hallway is a real problem of autumn, even when the street is relatively dry and there is no rain. Why is this happening and, most importantly, what to do about it? How to deal with dirt in the hallway most effectively, spending as little time and effort? If such questions are asked and you, read on-the answer to them you will find in this article.
It is necessary to pass a little rain, and the streets of many cities (not to mention the villages) turn into continuous puddles. Agree to go through them and not to bring dirt into the house is very difficult, or rather almost impossible. Undoubtedly, the presence of high-quality asphalt coating could at least slightly correct the situation, but it is not everywhere. And even where roads and pavements are fine, rainy weather makes the problem worse. But all fixable. And, as practice shows, despite the apparent complexity, maintaining cleanliness in the hallway – a fairly simple task! However, only in the case if you follow a few rules and know a few secrets. So, rules!
Ahead of the curve
Why wait until the dirt from the street jumps to your house on the shoes of households? You can neutralize the enemy on the outskirts of your favorite home)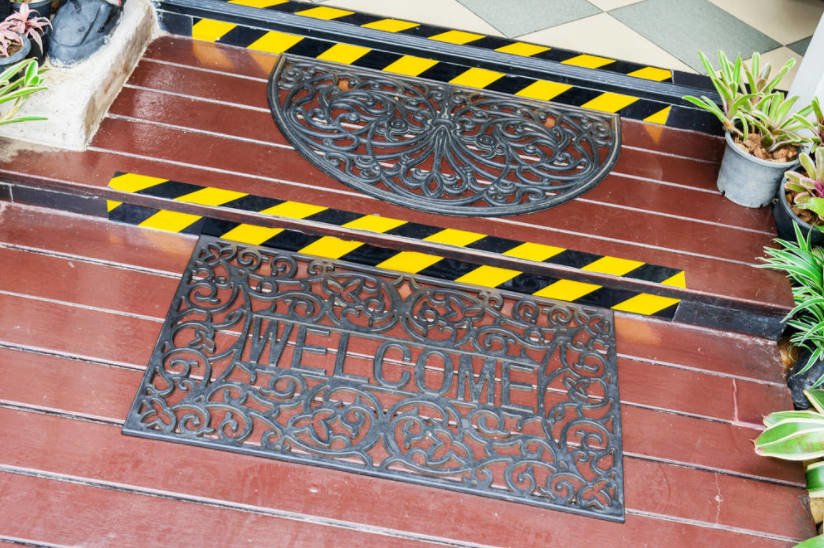 But seriously, grid and Mat, located directly in front of the entrance door, will become the mud a serious obstacle. Most of the wet soil and small debris that gets into the house on the soles of shoes will not be able to overcome the double obstacle course. Of course, the Mat should be shaken and the grill cleaned as necessary. Not be amiss to train home twice to wipe shoes before entering the house: first on bars, then on the Mat, lying directly in front of the door. But that Mat and grill qualitatively cope with the task entrusted to them, they need to choose the right!
Dirt-resistant grilles
The grating installed at the entrance to the house is the most important stage of Shoe sole cleaning. She first takes care of all the "good" that we brought on shoes and boots: dirt, sand, particles of leaves and other debris.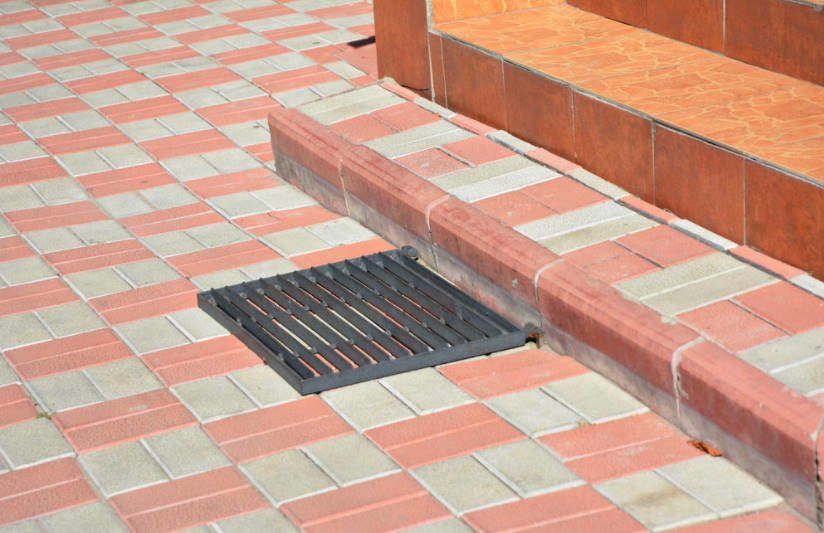 Metal grates can be considered the most popular by right. Cleaning area is most often made of thin iron strips arranged edge to the surface – the easiest option. If the grille is made of aluminum profiles, it can be equipped with rubber spikes, rubber-scraper or brushes connected to each other with a special steel cable. All of the above grilles perfectly cope with the task.
Tip: Whichever grating you prefer, remember – it must be installed below the level of the door, ideally – in a small recess, then it will perform its functions perfectly.
Street door Mat
The Mat, lying in front of the house, primarily, should be tight (not crushed, when he wiped his shoes) and wear-resistant.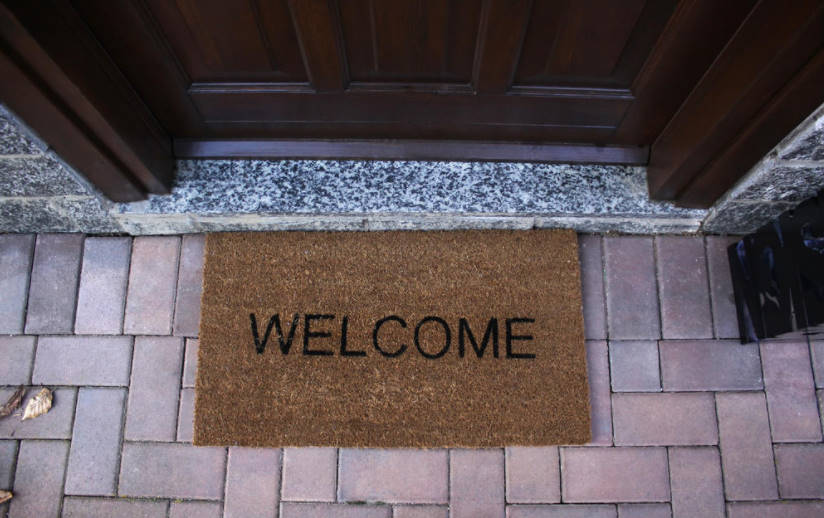 It is desirable that it was made of rubber, or made of other materials, but rubber-based. More about the advantages and disadvantages of these rugs will be discussed later. As for the design and shape of the product, then you are free to choose. The main thing is that he performs the tasks assigned to him qualitatively.
Reliable protection
A good help in protecting the hallway from street dirt will be a rug placed indoors-just near the front door.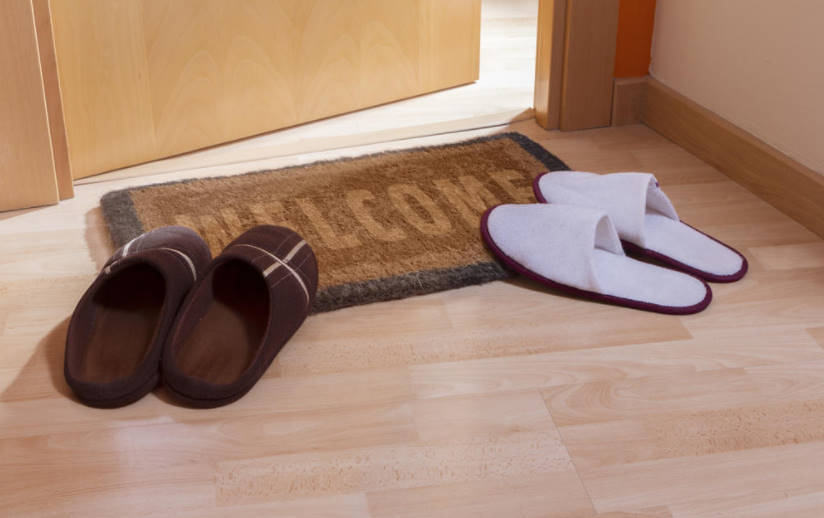 It is this barrier that is often underestimated, considering this rug no more than a stylish interior decoration. But this is by no means so. If to his selection to be responsible, he will fulfill not only aesthetic but also practical function. Most often on sale you can find the following types:
rubber;
rubber – based rubber-rubberized;
made of foam PVC materials;
fleecy.
Let's look at the pros and cons of each.
Rubber
Perhaps the most popular and common type of door mats.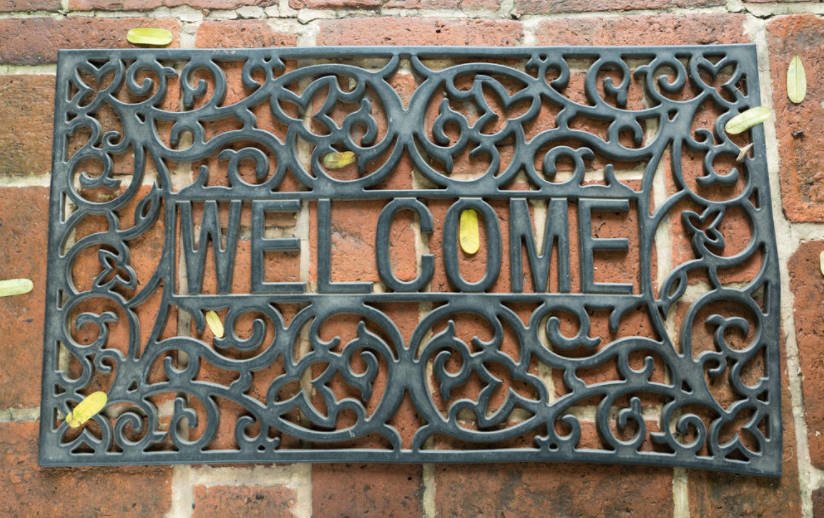 Pros: Rubber mats are very durable, comfortable and easy to care for, making it ideal for placement in front of the front door and indoors. In addition, they are one of the most reliable – do not slide even on the smoothest surfaces.
Cons: Perhaps the only significant drawback – their appearance. Unfortunately, the choice of such rugs is limited both in color and design, although there are quite nice models.
Rubberized
An excellent alternative to the previous version will be carpets on a rubber basis-rubberized.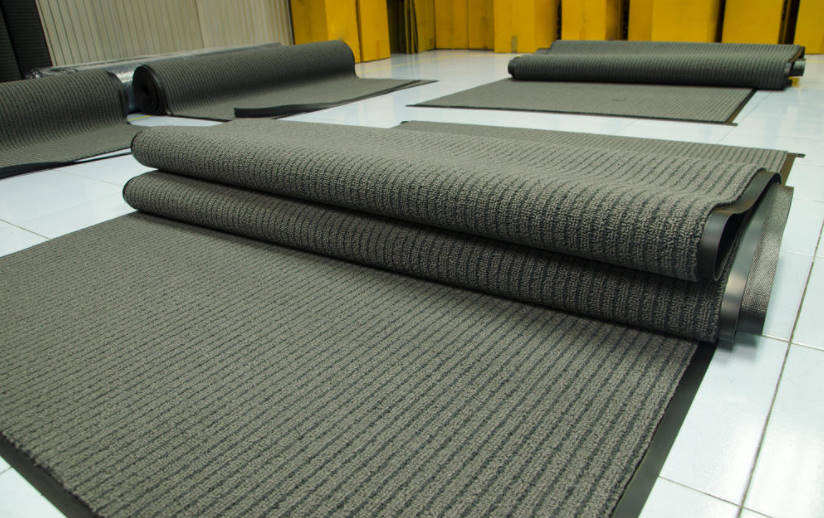 Pros: the Basis of rubberized mats, as a rule, natural rubber – durable and durable material that can withstand huge temperature changes: -40°C…+140 °C. in addition, rubberized mats do an excellent job with its main task – clean the shoes from dirt and moisture and is also easy to operate. So feel free to put them in front of or just behind the front door.
Cons: The only negative – a fairly high cost. But given their durability and practicality, in my opinion, it is quite justified.
Made of foam PVC materials
Practical and effective mats made of foam PVC.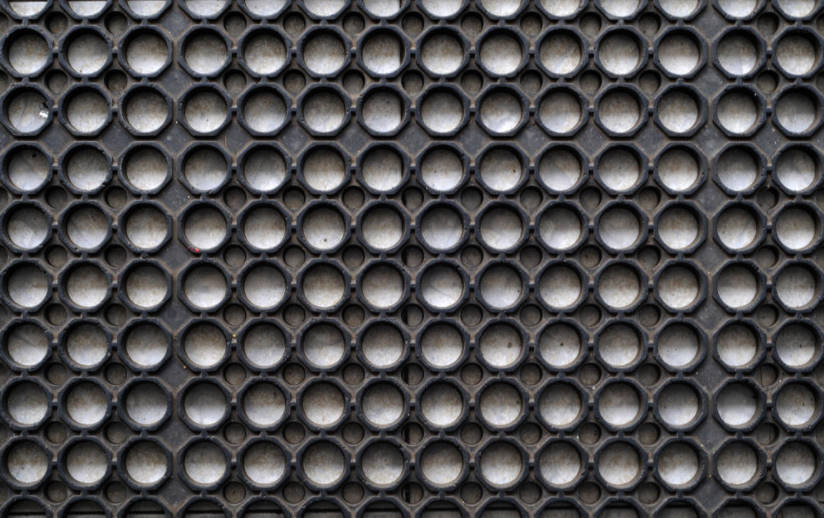 Pros: The main advantage of foam mats – great durability. They do not get wet, are not subject to decay process, well clear soles of footwear of sand and dirt. In addition, they are considered safe – PVC mats do not slide on the tiled floor.
Cons: Appearance often leaves much to be desired, so they are unlikely to become a worthy decoration of the interior. In addition, buying a Mat made of PVC, it is worth considering that it is detrimental to the reduced temperature, under the influence of which the material becomes brittle and brittle. Therefore, for outdoor use, these mats are not suitable, they can be used only indoors.
Fleecy
Mats with pile perfectly perform their functions, reliably preventing the ingress of dirt, moisture, sand. Thanks to a variety of design performance, they will be a stylish addition to the interior. The main thing is that they are made of artificial materials, such as microfiber. The fact that the products of natural wool very long time to dry, so do not cope with its task – cleaning shoes. They are better seen as a decorative element of the interior.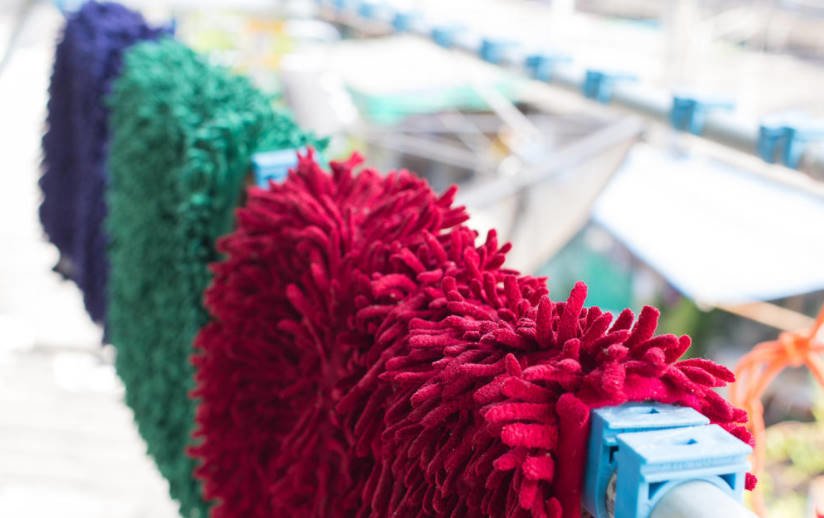 Pros: Wooly microfiber mats perfectly absorb moisture, clean shoes from dirt and dust. Convenient and easy to operate – they are easy enough to shake and wash.
Cons: Just remove, wash and lay back on the shag rug will not work. Or rather, it will, but then its service life will be significantly reduced, and the appearance will leave much to be desired. To fleecy rug always looked good and efficiently carried out their function, must be regularly dry.Also have to keep from hitting him paint, fuel oil, lubricating oil, bitumen and other "good" that we can bring home on the soles of shoes.
Tip: Choosing a door Mat, you need to pay attention not only to the material from which it is made, but also coloring. On plain rugs, light and dark tones at once and dirt is very noticeable. But on striped, melange, patterned-on the contrary, pollution is almost invisible.
And excellent door mats can be made with your own hands!
There is a time for everything
If dirt has overcome the whole obstacle course arranged on its way from various door mats, and nevertheless has got to the house, do not hurry at once to wash a floor – all the time. Remember: it is much easier to clean it dry than wet. However, to delay the cleaning of dried mud is also not necessary, otherwise it will move to the rest of the room, and then have to restore order not only in the hallway, but throughout the house.
Fresh dirt can not be removed from the floor, so you only aggravate the situation and to solve the problem will spend a lot of time and effort. It would be correct to wait until the floor is dry, then sweep or vacuum dirty. The remaining dust is washed with a damp cloth. Or get rid of it by another method: on a paper towel or dry rags spray a little universal cleanser, and wipe the remaining dust after a dry cleaning.
A few secrets that will help to maintain cleanliness in the hallway:
try not to clutter the hallway unnecessary things, then clean it will be easier;
near the entrance to the house, you can hang a brush made of natural bristles: it is very convenient to smack the mud stuck on the shoes before entering the house;
wash shoes better immediately on arrival. If for any reason this is not possible, a dirty Shoe box should be installed near the front door. In a Shoe rack can be put only clean boots, shoes and boots.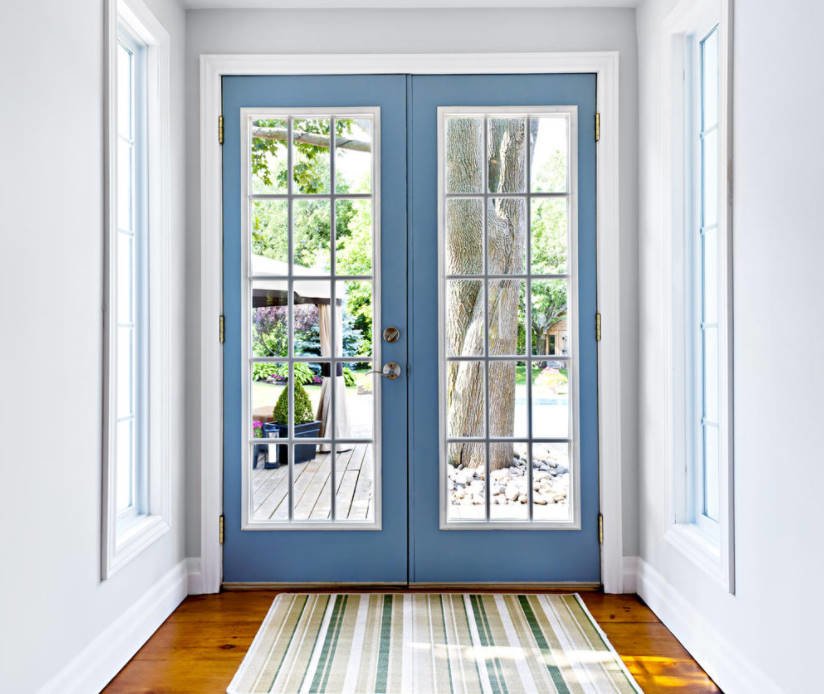 Keeping only three simple rules, you will be able to maintain cleanliness in the hallway at any time of the year. And not spending a lot of time and effort.
Tell us how you maintain cleanliness in the hallway?