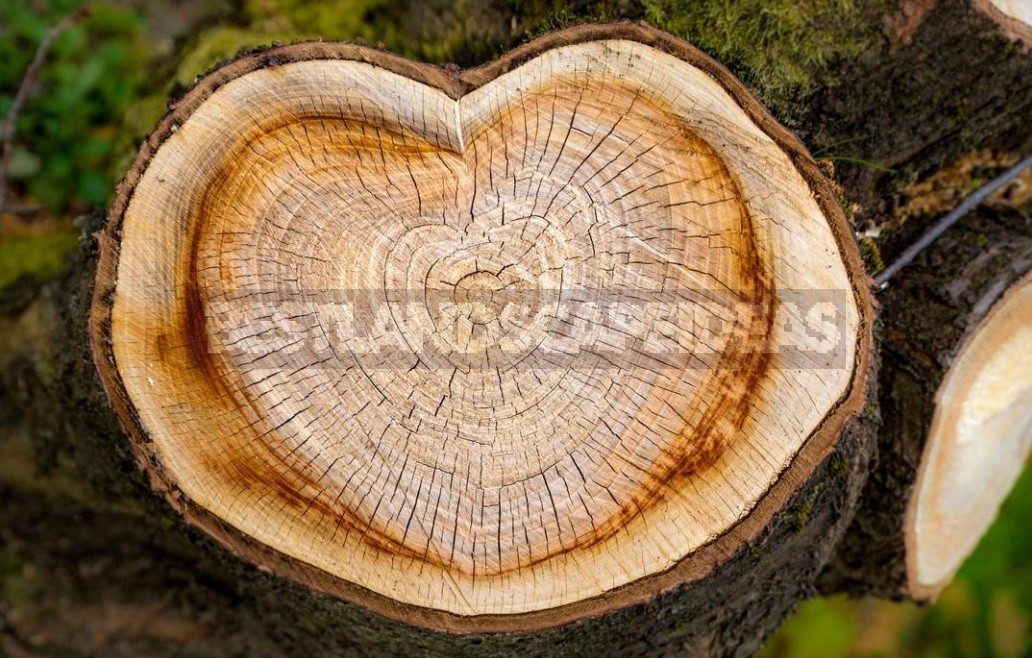 Cut down a tree? Do not rush to let it on firewood: you can make a lot of useful and beautiful things from logs and dies! And if you consider that now the rustic style is experiencing an unprecedented rise, you have a great opportunity to decorate the cottage with stylish things almost for free!
Of course, I do not urge you to throw out practical cabinets and cozy upholstered chairs, replacing them with shelves and stools made of sawn wood. But it may also happen that now such furniture is the only available option for the arrangement of cottages. Then you will buy good tables and beautiful chairs, but even now you need to sit on something, right? However, it's not just about furniture. The creative imagination of dacha craftsmen is not squeezed into a narrow framework — they managed to make such a thing out of cuts… In General, see for yourself.
I won't say that working with saw blades is easy. You will need both physical strength (especially for working with large fragments), and skill, and tools. But everything can be solved if you want to, right? Moreover, we have already learned how to transform ordinary boxes into unusual furniture. Let's start, as usual, with a simple one. From the fact that it is easy to do — and it will look very, very impressive.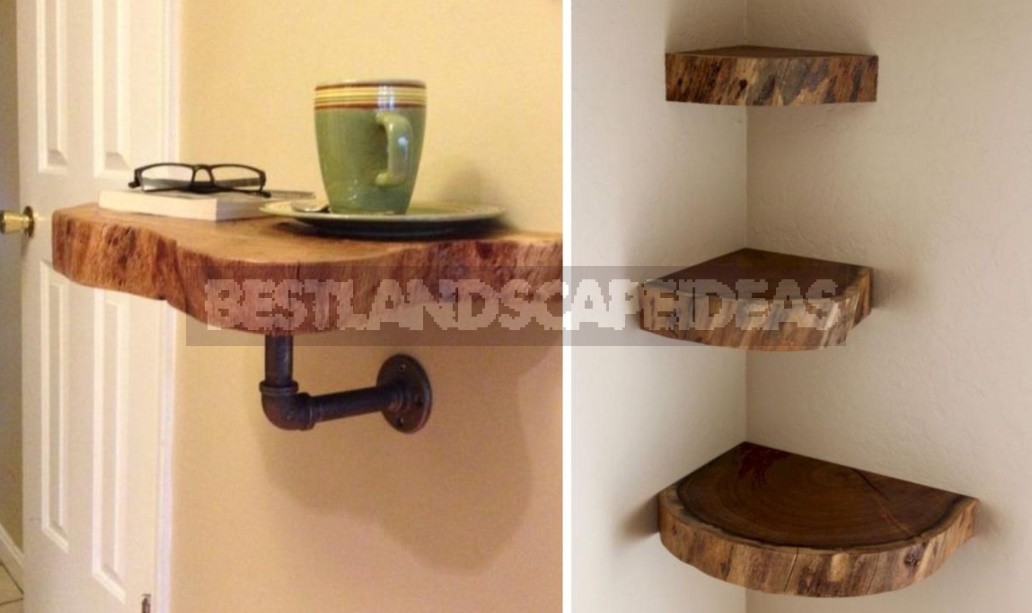 They will look especially beautiful plants — a modest bouquet in a miniature vase or a trio of charming fat succulents.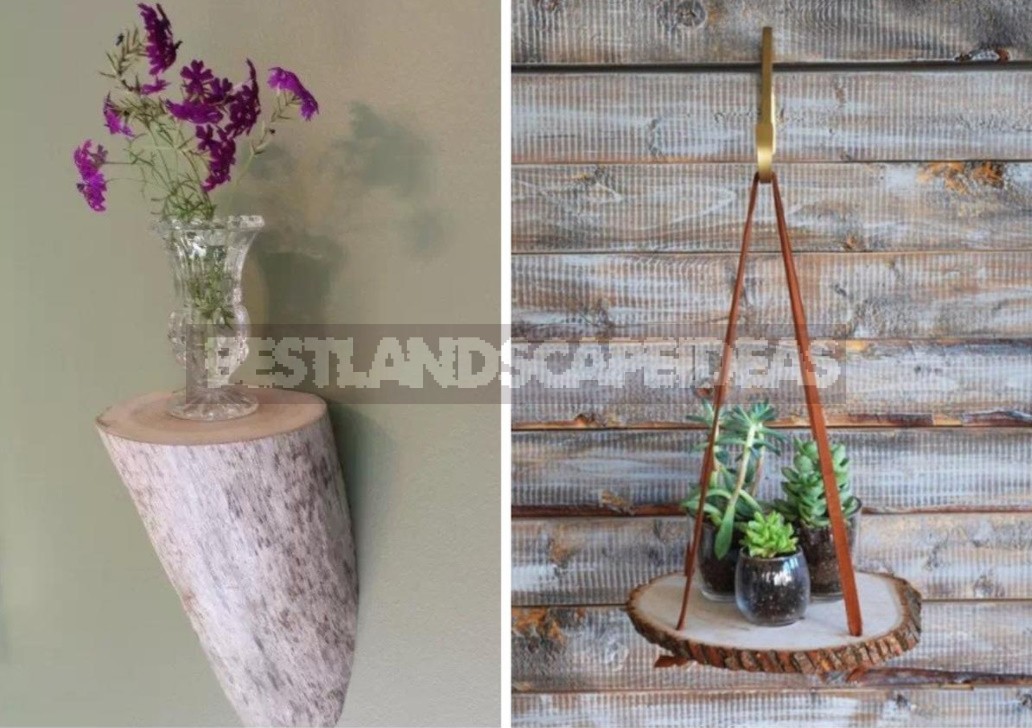 And here is a chic birch option for a floral composition. It looks much cooler than tiny shopping baskets! High narrow vases are very elegant, but very unstable — and strive to tip over and pour water all around. A simple stand made of beautiful sawn wood will solve the problem once and for all.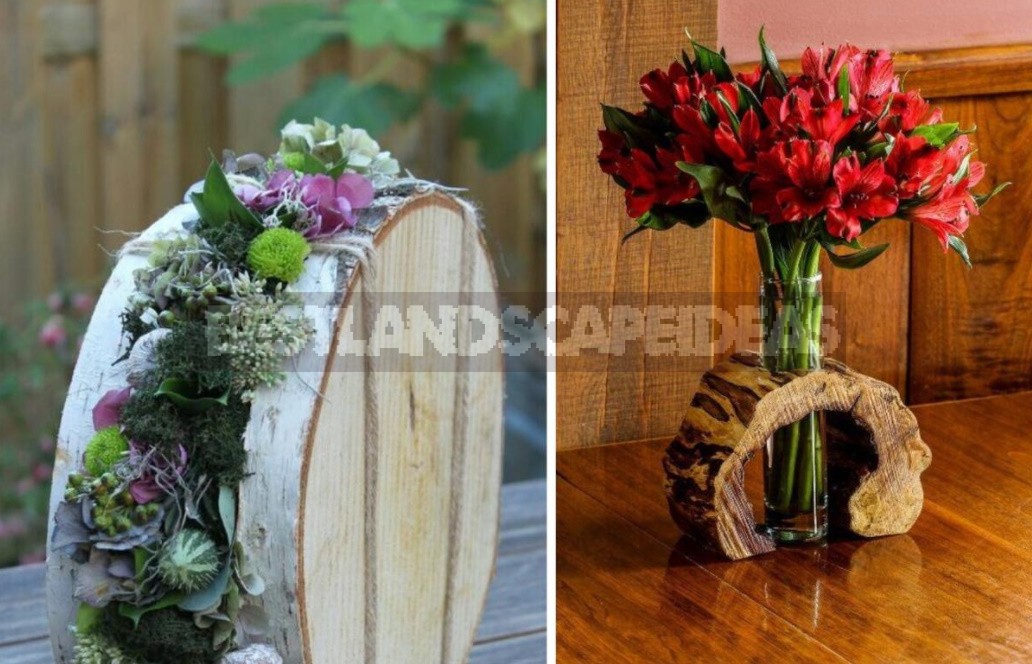 In wooden planters, succulents will be very comfortable. And if you want, you can make a pot for any indoor plant: just take a block of the appropriate diameter, so that it is convenient to put and take out the pot.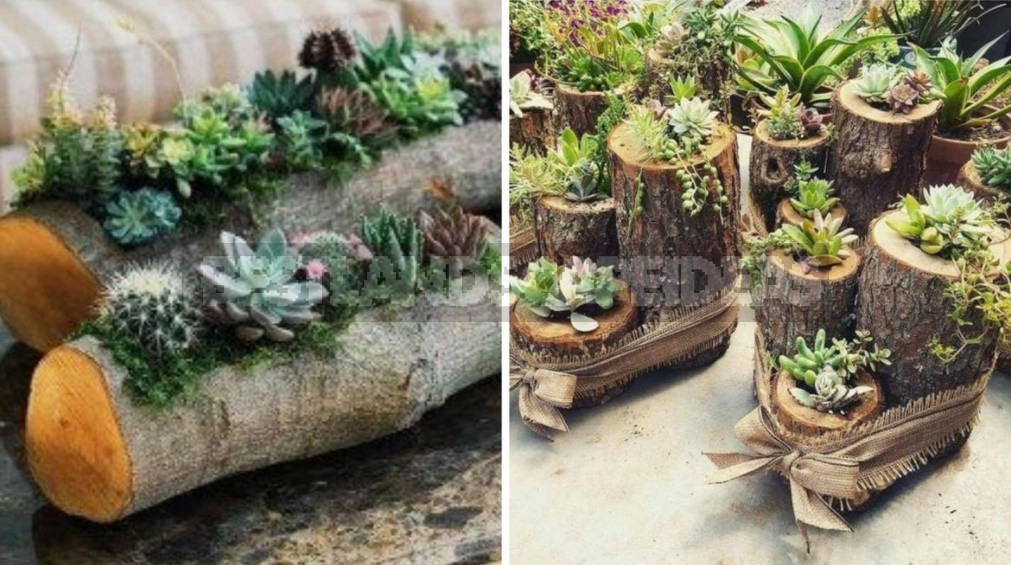 Making a smooth round hole in the wood is not so difficult: a drill, the right drill and a little patience — even a fragile woman can cope. Maybe you will spoil one or two blanks, but then you will get such nice "cups" that it is very expensive to look at! And what to adapt them for is your business. No succulents — set of candles.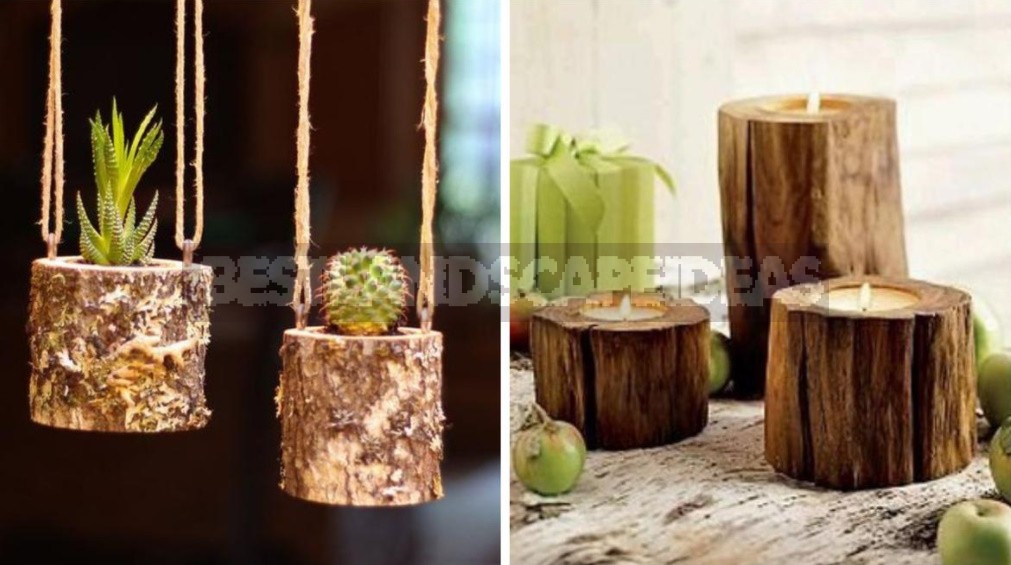 The cuts don't have to be gigantic. See how cute the small die frames look! They can be made from branches, which always remain a lot after autumn pruning.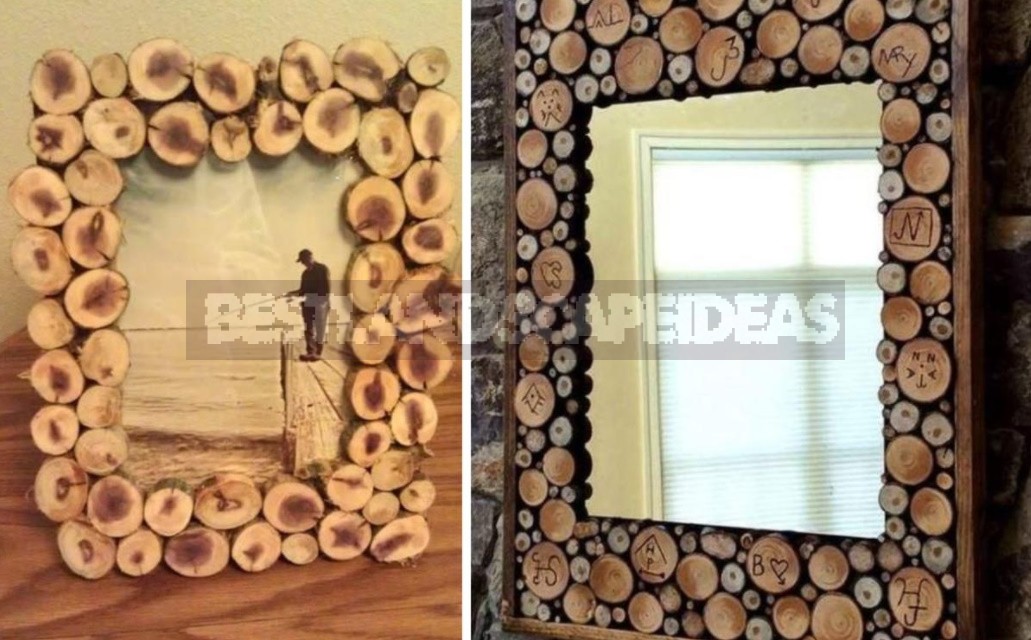 Well, if you want to add bright colors to the interior, pay attention to these options. In principle, you can draw anything you want on the cuts, as long as you are happy to look at the result of your work.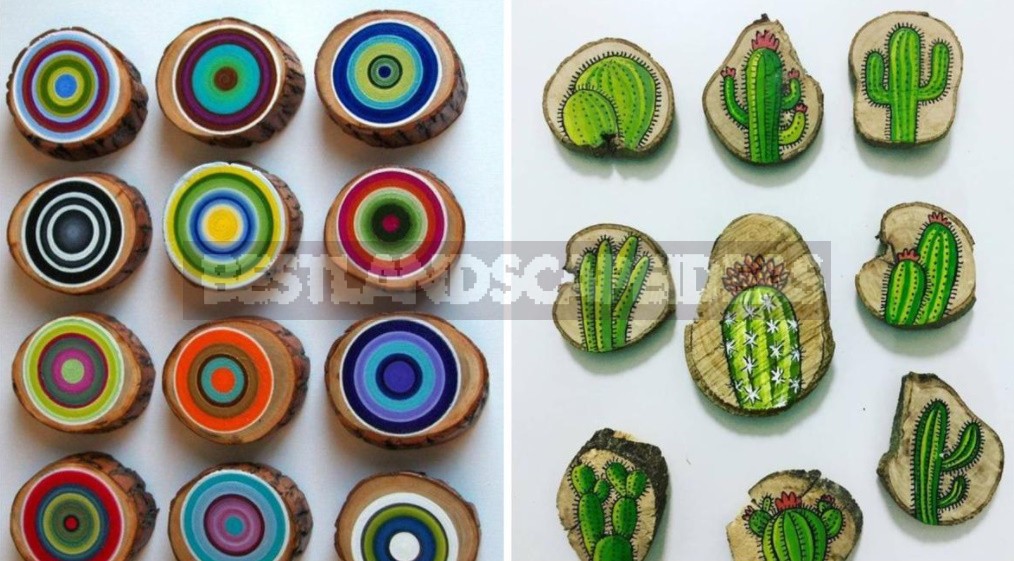 After a little practice, you can move on to making more voluminous products. For example, bedside tables. True, they are not roomy, but they will never SAG the door and not break the leg.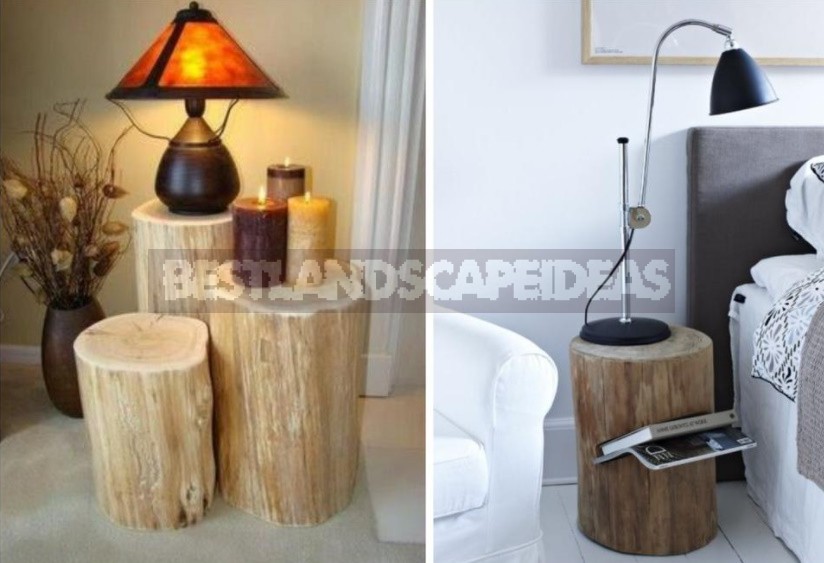 They can be painted with cute patterns or drawings.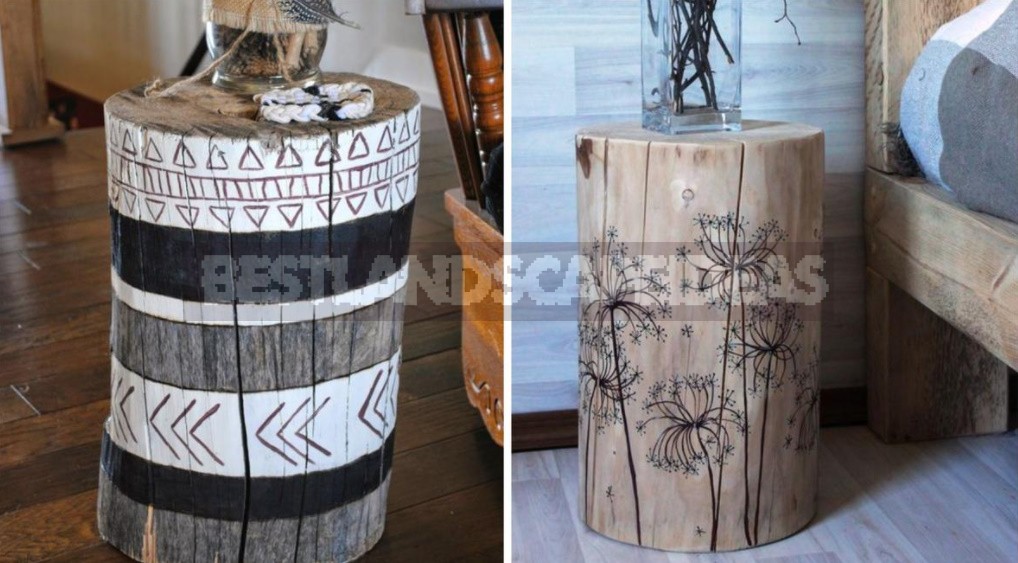 Paint in any desired color.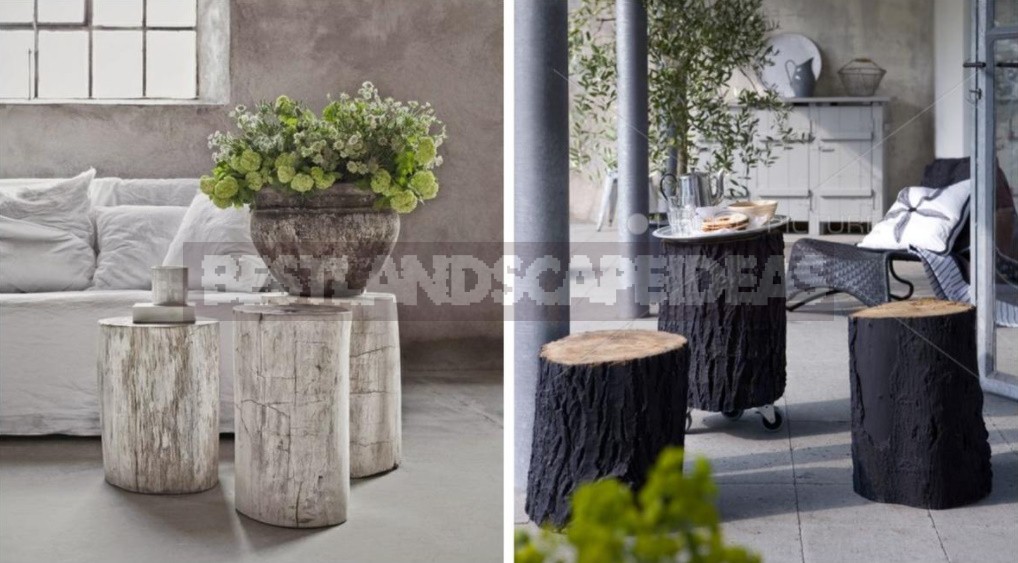 In order not to work hard during cleaning, moving the Cabinet from place to place, provide it with wheels. And if you attach a soft seat to the upper end, you will get a stump of increased comfort.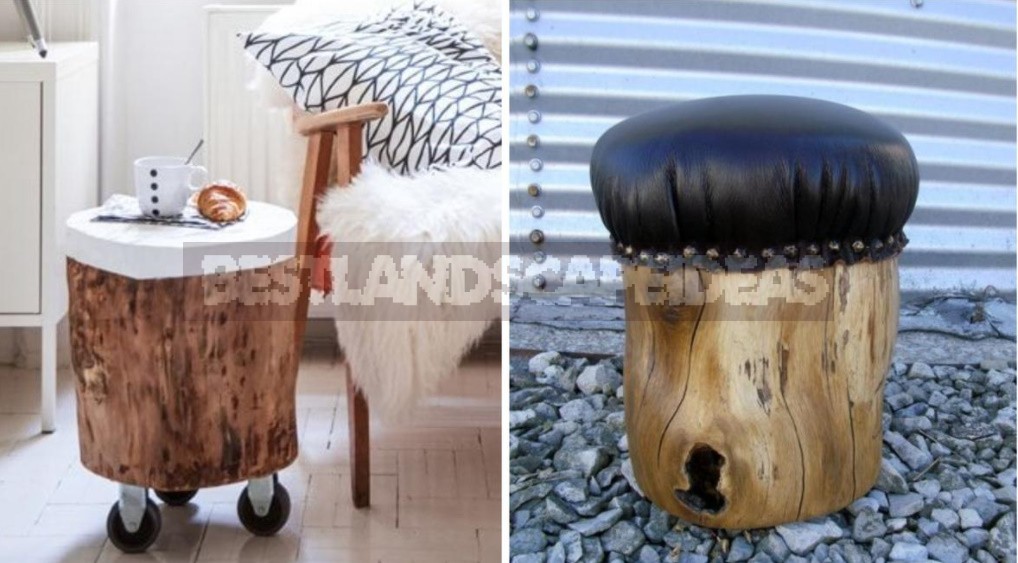 You can attach the backs of old chairs to the logs or put pillows on them — it will become much more comfortable to sit.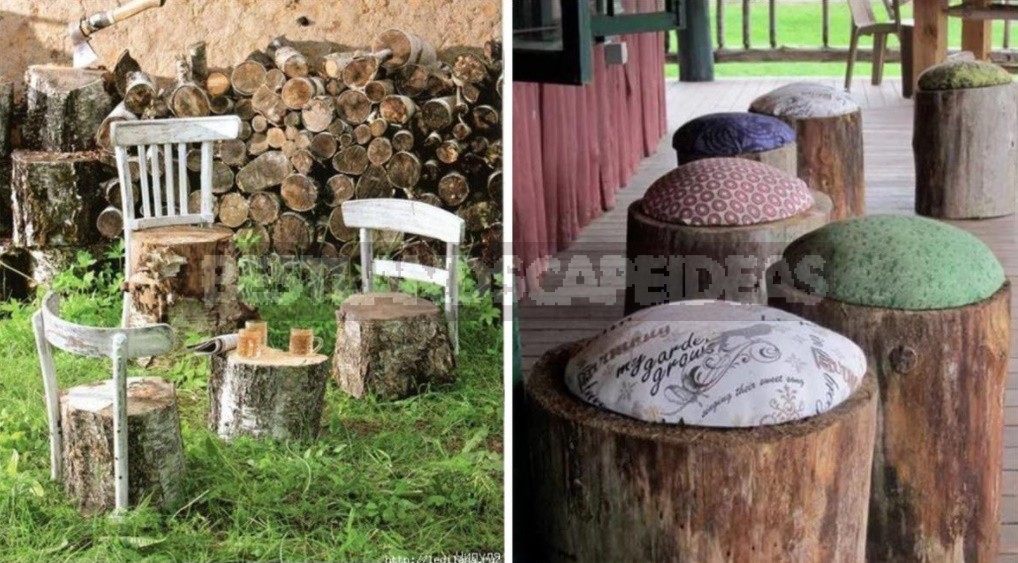 Simple stools will decorate bright legs. A set of garden furniture is so successful that you do not want to change anything: painting can negate the charm of natural wood.

A modest good-quality bench will look good in a city apartment. And if you plan to receive high-ranking guests at the dacha, urgently engage in the manufacture of status furniture.
By the way, now interior designers do not shy away from simple furniture — on the contrary, they advise experimenting with mixing styles. So feel free to put any of these tables in the center of the living room — you will not lose.
You can leave the bark or remove it, attach any legs to the saw — each of the options is good in its own way.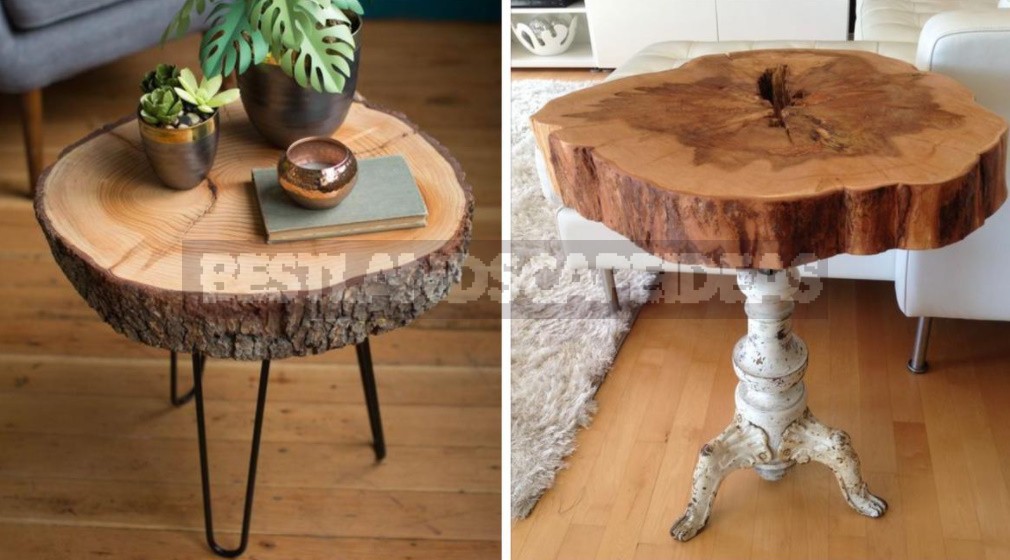 Made a table — do not rest on your laurels, start making a lamp.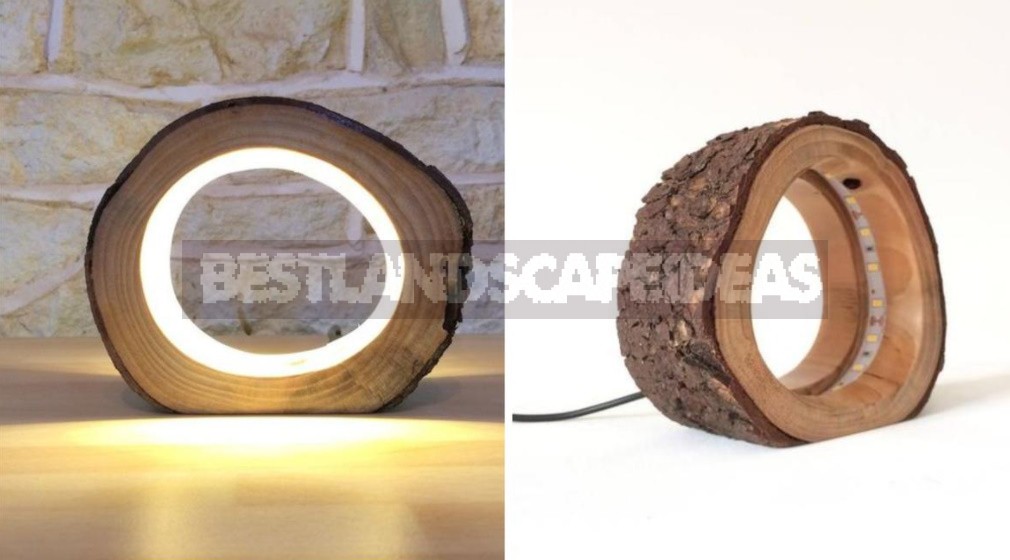 Did you manage? And the garden? It's still pitch-dark! Perhaps, such lamps will look very impressive among the grass and trees. True, you will have to Tinker with them, but the result is worth it!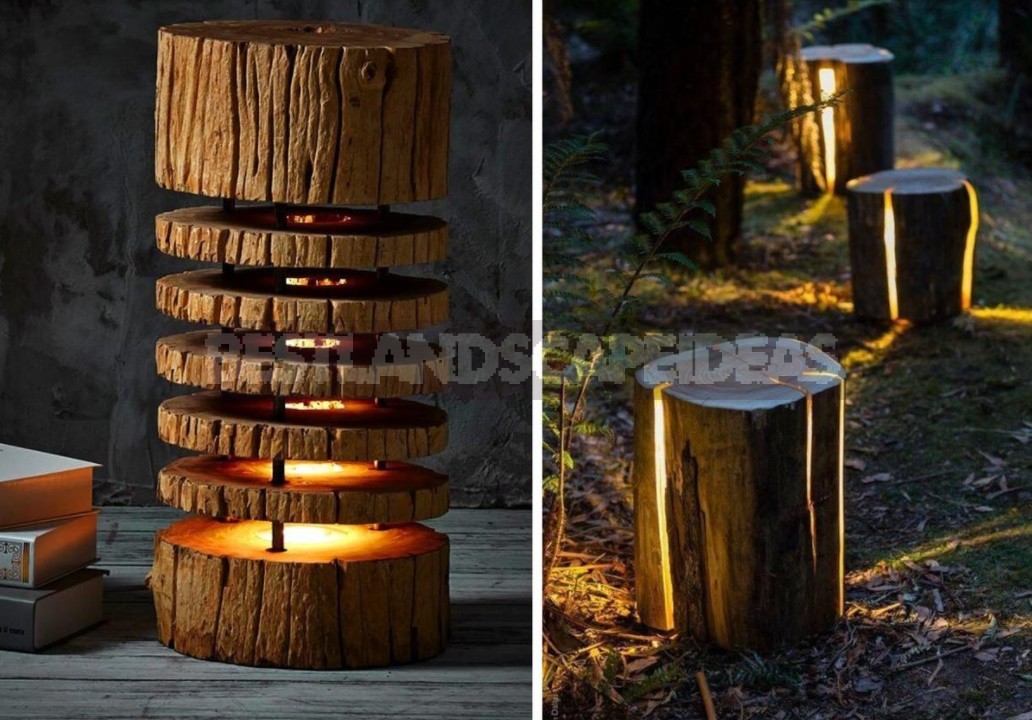 We'll come back to the garden later, but for now, let's finish our ideas for the house. You can make a really cool wall clock out of cross cuts.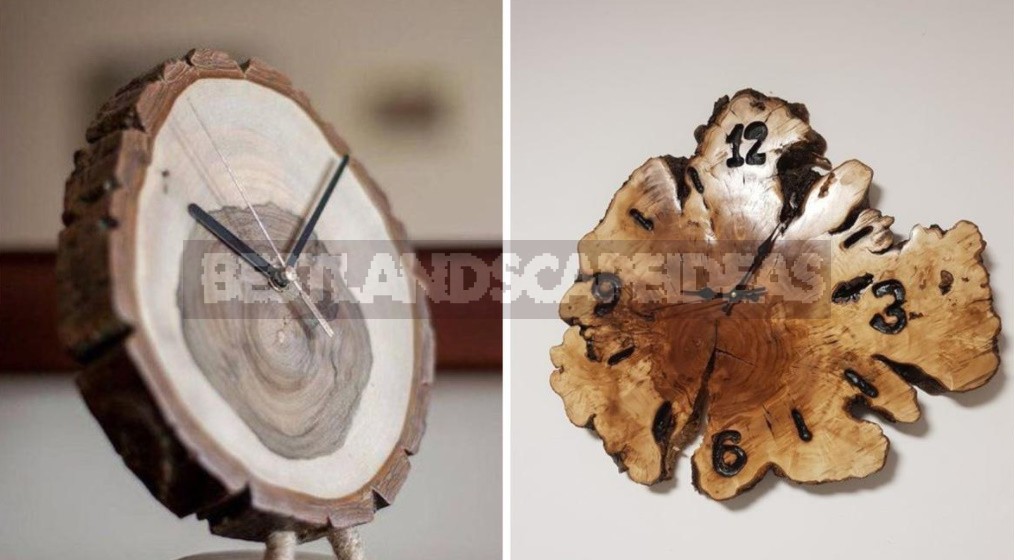 Or stands for all sorts of small things — pens, toothbrushes and other things.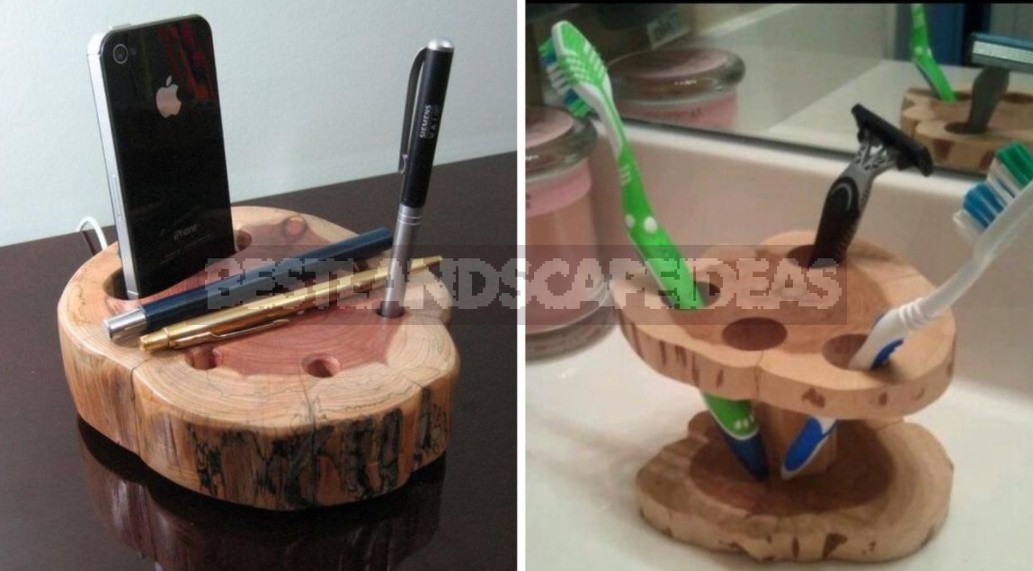 All sorts of hooks, preferably metal, look organically on the cuts: plastic will ruin everything.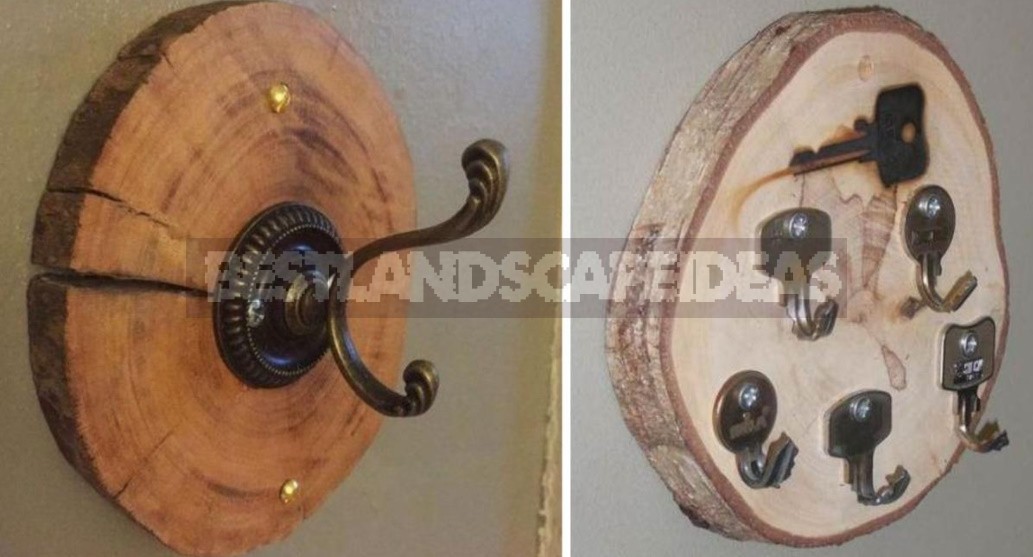 And what gorgeous trays you can make with your own hands, just look!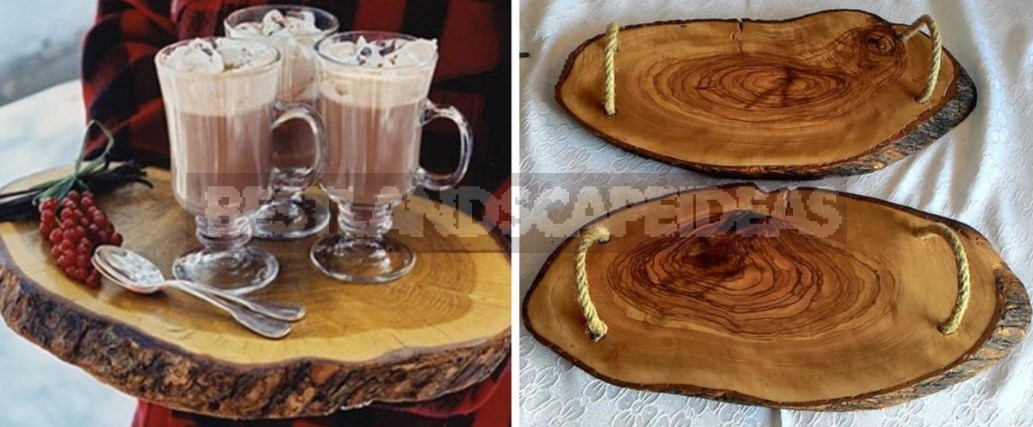 Yes, except for the trays! Coasters for hot cups, small vases,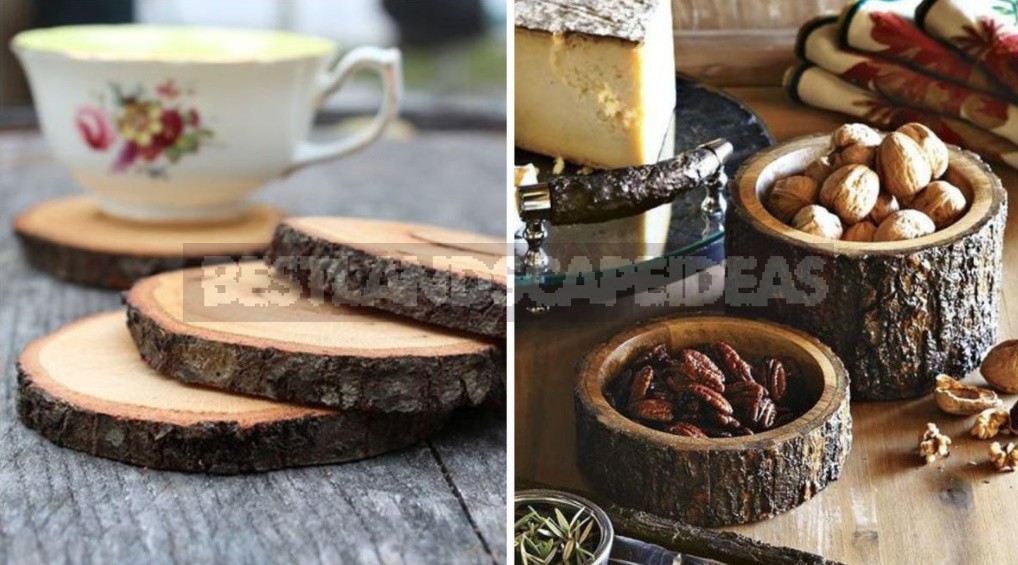 napkin holders and egg stands,
napkin rings and a toothpick Cup!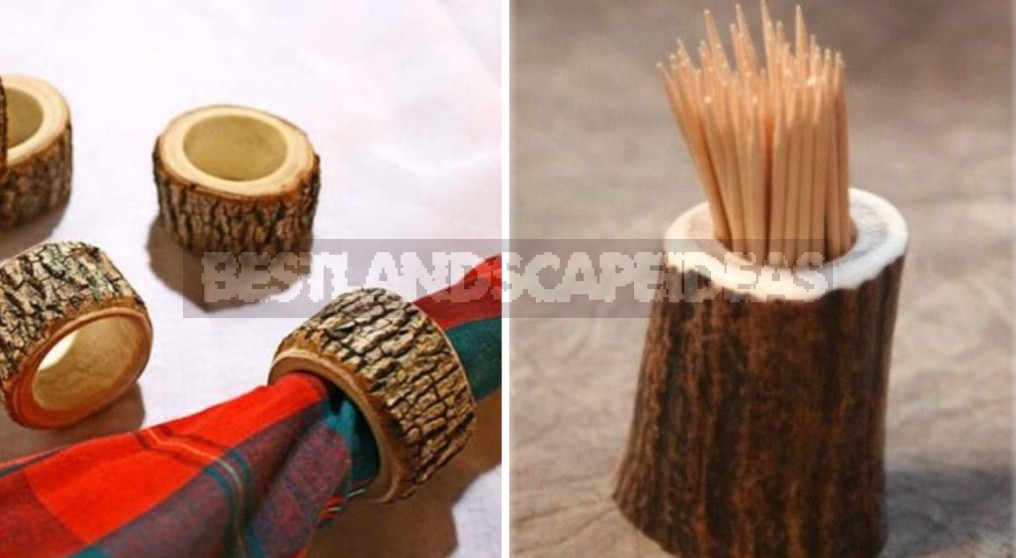 Got a taste? Then expand your horizons! Who said that cakes and pastries must be laid out on glass and porcelain? Why is the tree worse? I recommend it for children's holidays: you don't have to worry about expensive dishes — even very active children can't break wooden ones!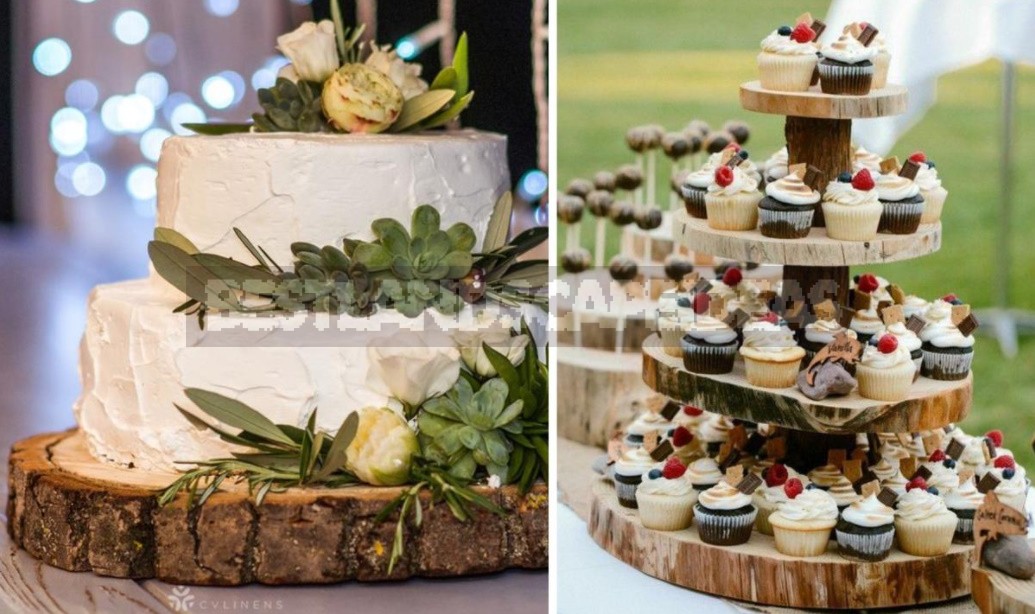 Do you still have any cuts left? Then make a book stand or… buttons. I don't know if they can be used for their intended purpose, but needlewomen will definitely be delighted with them.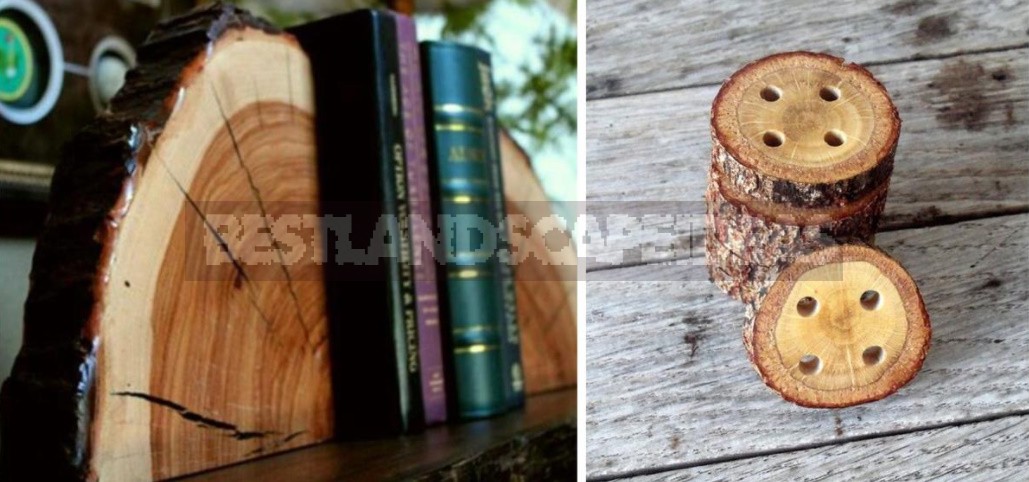 Fans of chess or Darts would certainly be happy to receive such a gift. If necessary, you can play the role of a good fairy.

And these ideas are especially for those who fell in love with cross cuts at first sight and for life.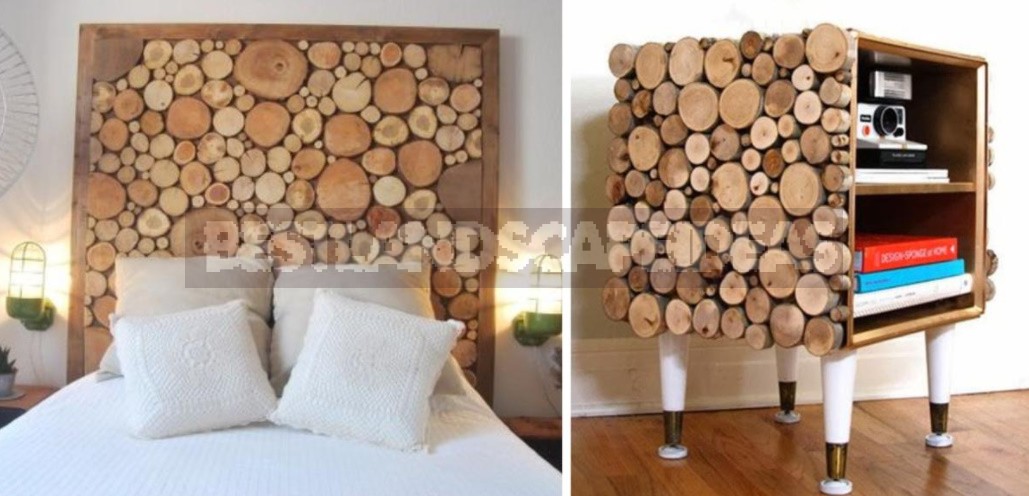 There is never much good: you can admire such a wall endlessly.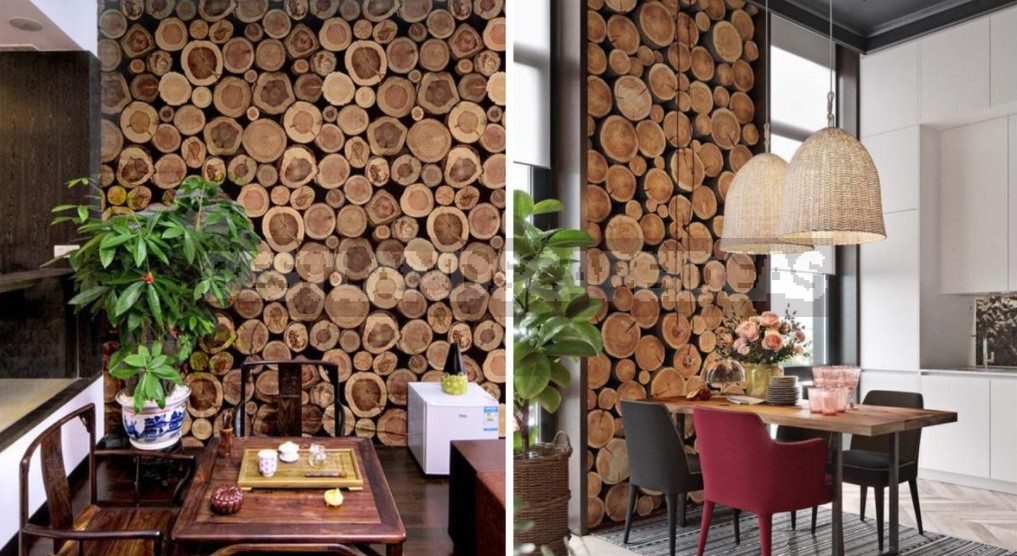 If you like the combination of natural wood and living greenery, do not deny yourself the pleasure of enjoying it all year round.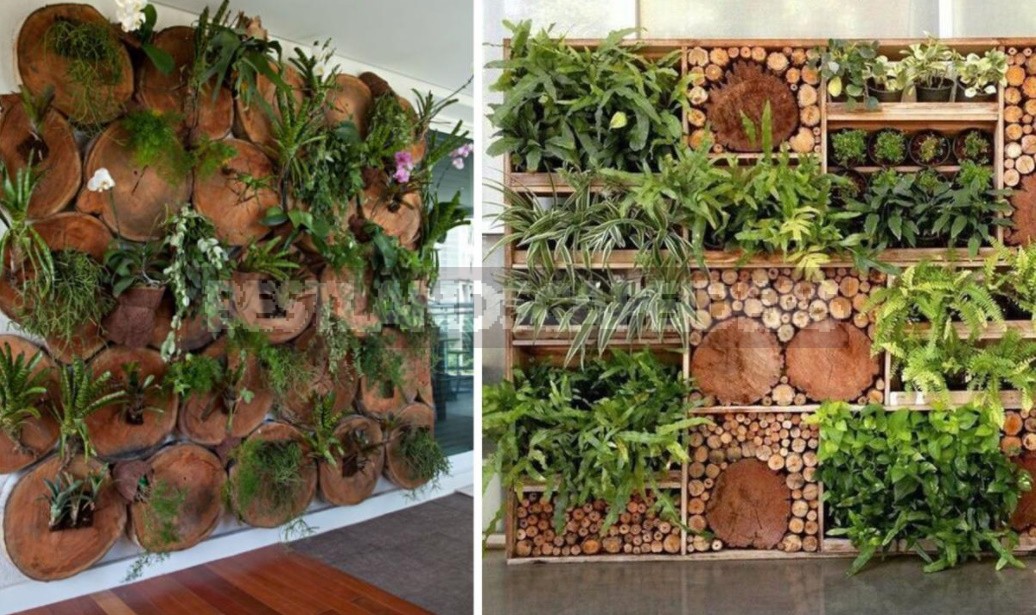 The collection of ideas for the house is completed by a solid Duo — a chic dining table and floor covering. It is obvious that the authors of the works are simply in love with this material, otherwise they would not have had the patience to create such masterpieces!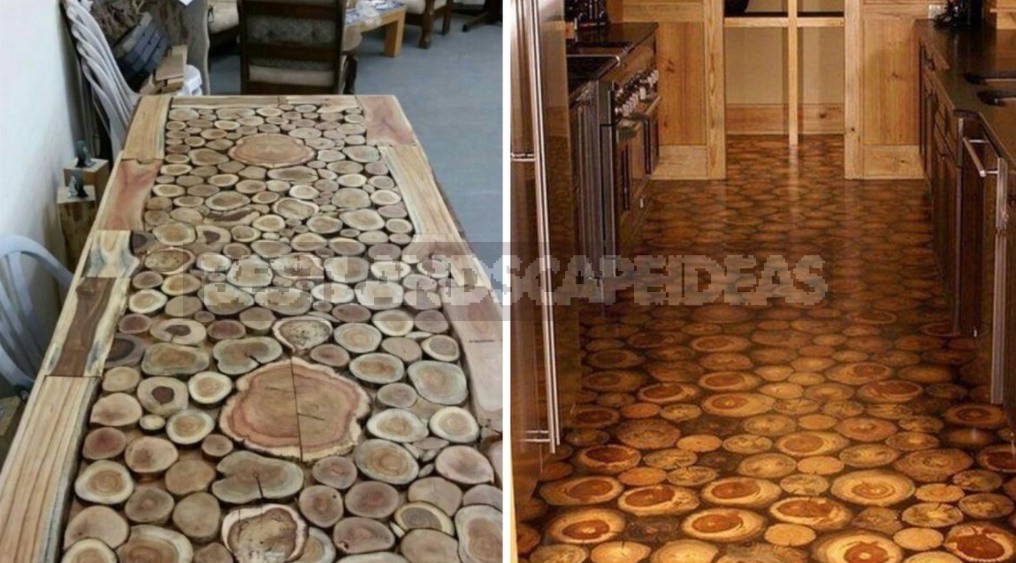 let's go to the garden: we did everything we could at home!
thin cuts will make a beautiful outdoor container for flowers. And from thick — a retaining wall for a screw flowerbed.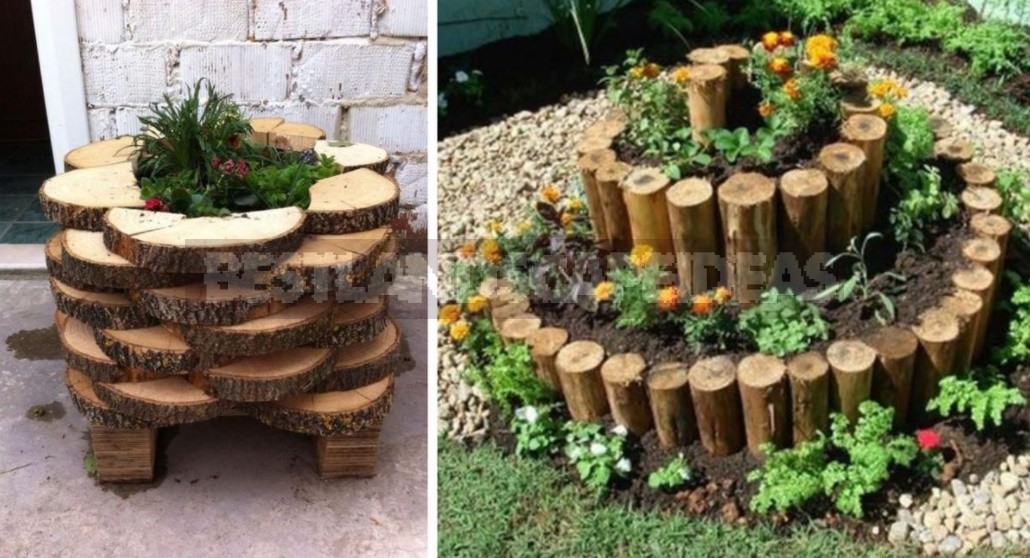 Or a beautiful fence for a flower bed. On which, by the way, if you want, you can sit quite comfortably, admiring the garden views.

Cuttings make fabulously beautiful steps and garden paths. Just do not forget to impregnate the wood with protective compounds.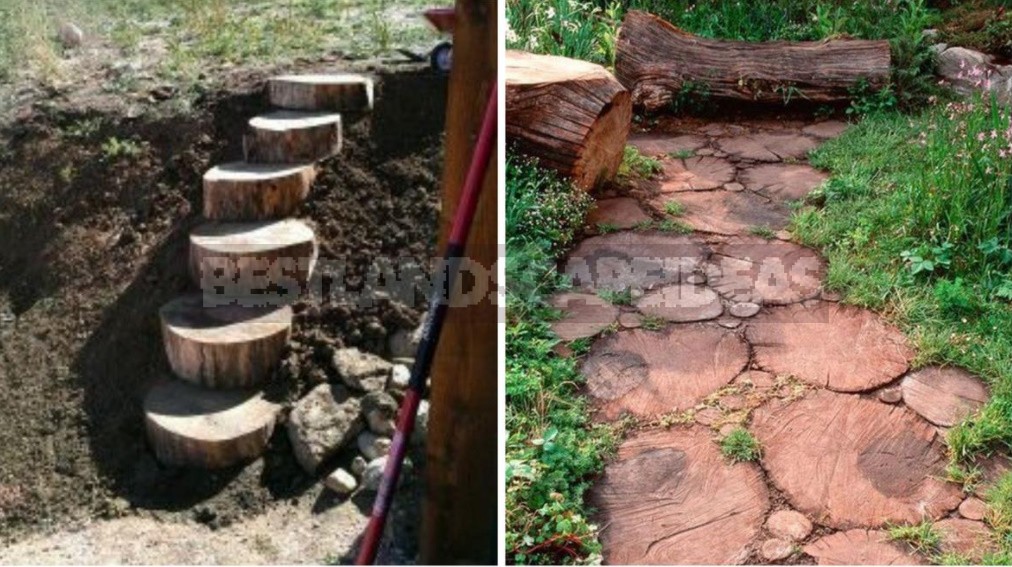 You can fill elegant gabions with saws or effectively divide the site into zones.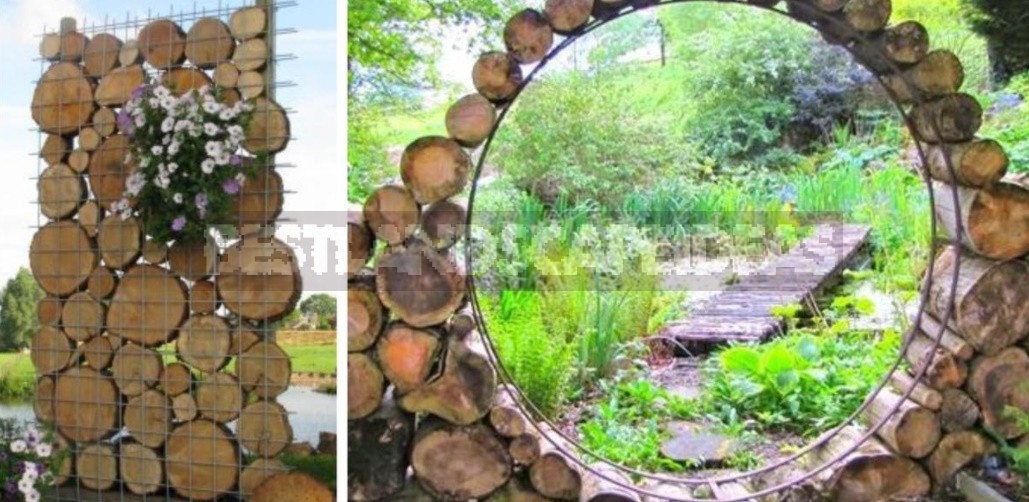 Or — make a decor for a fence or a house.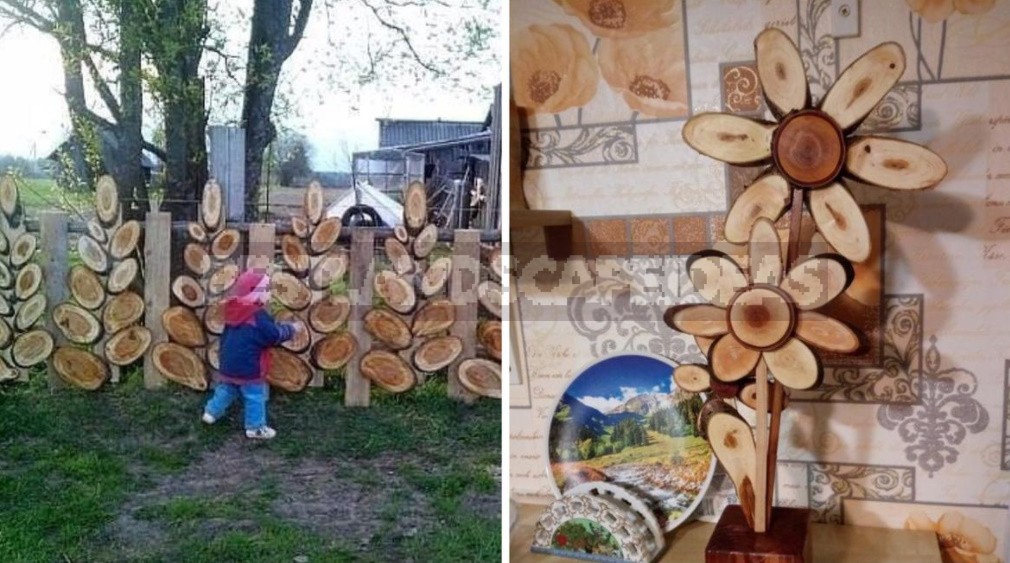 A little imagination and ordinary sawn — offs will turn into a stylish element of garden design.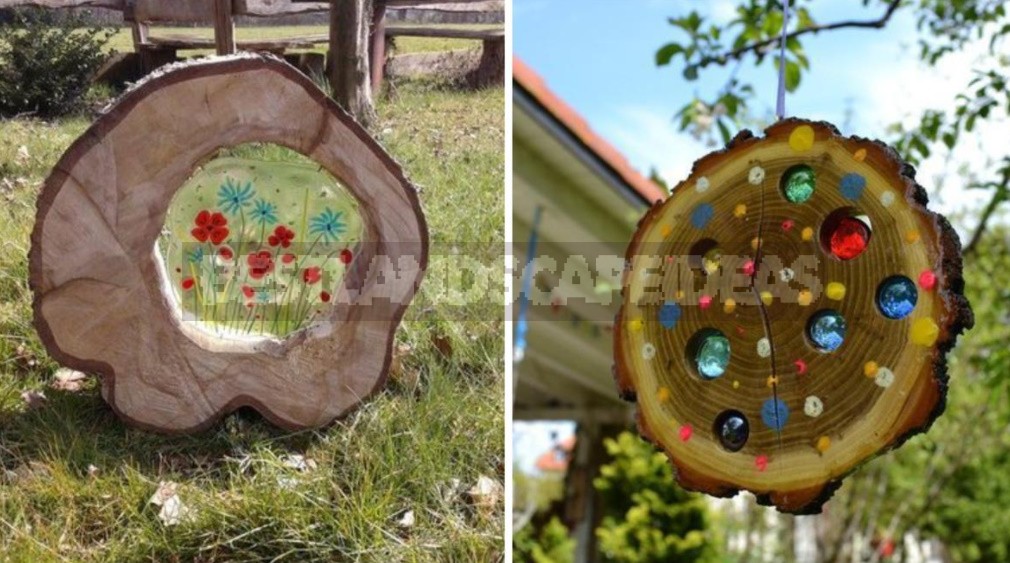 For example — in funny animals or bright vegetables.

By the way, the New year is just around the corner: you can start preparing now, because on the eve of the holiday, time is usually sorely lacking! An original wreath on the door and snowmen that will never melt will take care of the festive mood on the way to the house.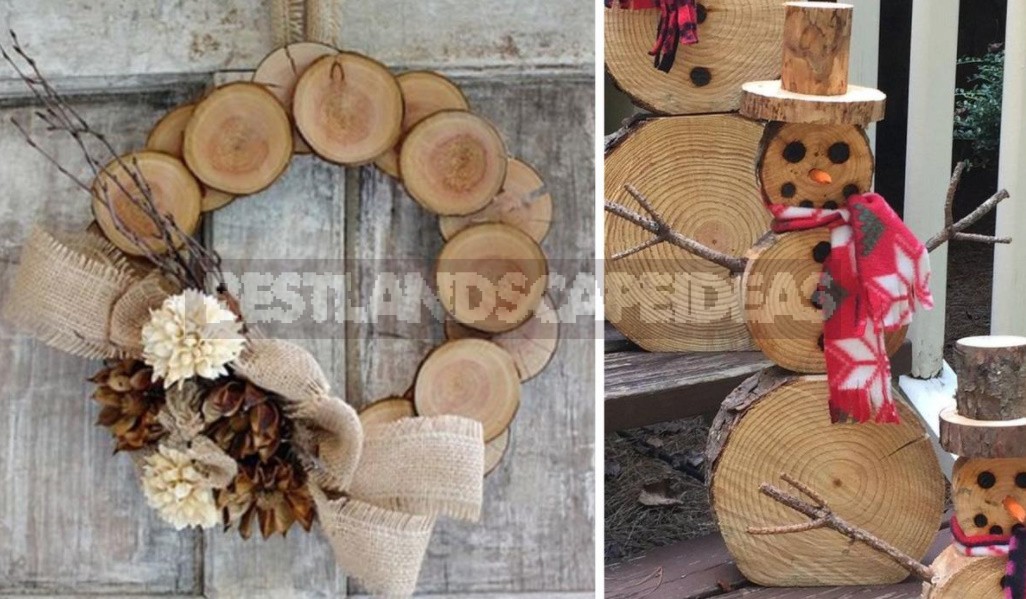 You can make cute Christmas trees and Christmas toys.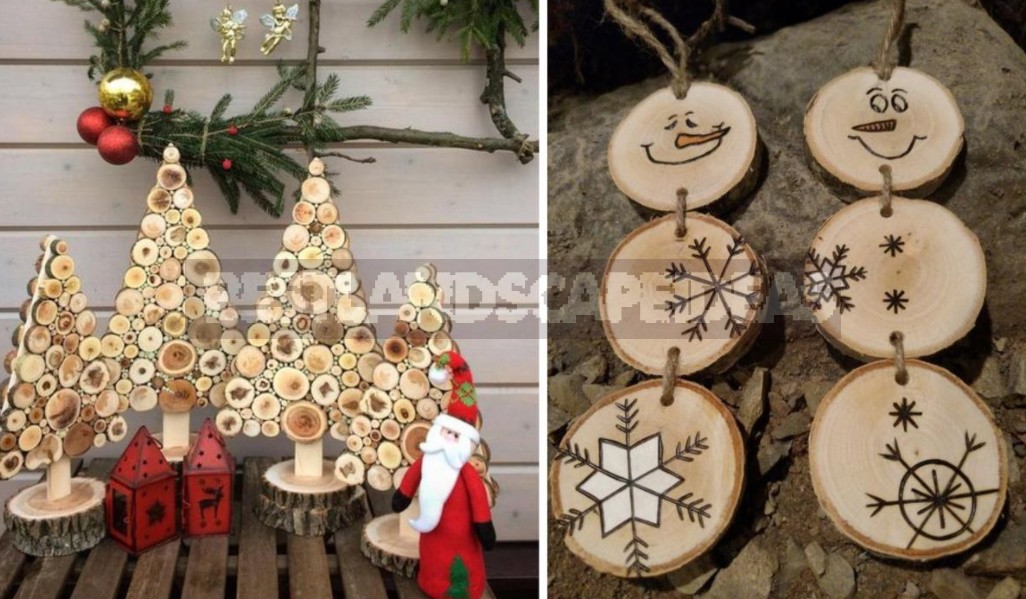 Draw anything on the dies — everything will be beautiful on the Christmas tree. If you still think that the toys look too simple, decorate them with bows made of bright braid or silk ribbons.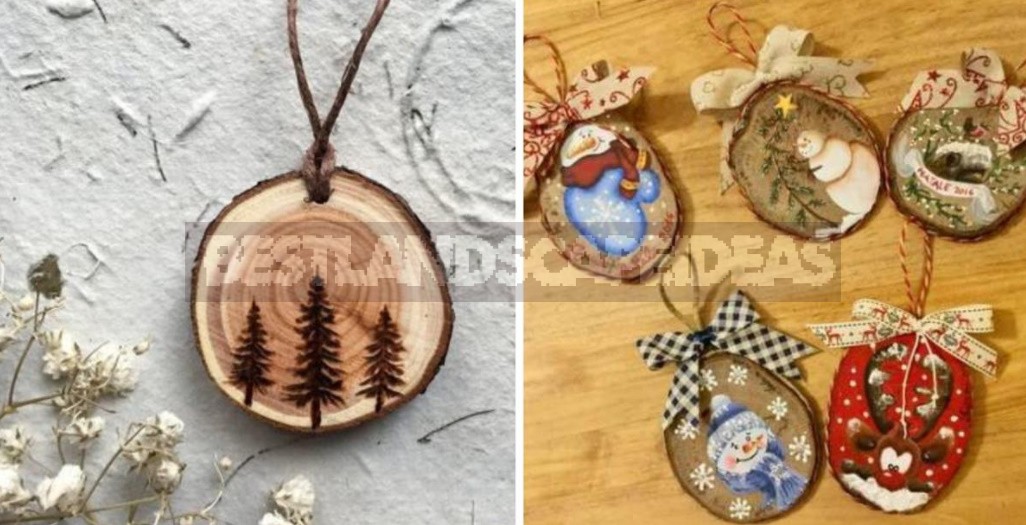 Well, did you like something? Still thinking? Okay, then I'll add a few ideas from the longitudinal cuts. They are more difficult to make: even to dissolve a log with a hand chainsaw is hardly possible even for an experienced master. But we agreed that it is not necessary to do this, so look! the
cover on the switch is a very practical thing! It seems that you know where to turn on the light, but in the dark, no, no, and you start to fumble with your hand on the wall. Sooner or later, traces of stroking will appear on the Wallpaper — and they definitely will not add beauty. Well, such a chic window sill does not need comments.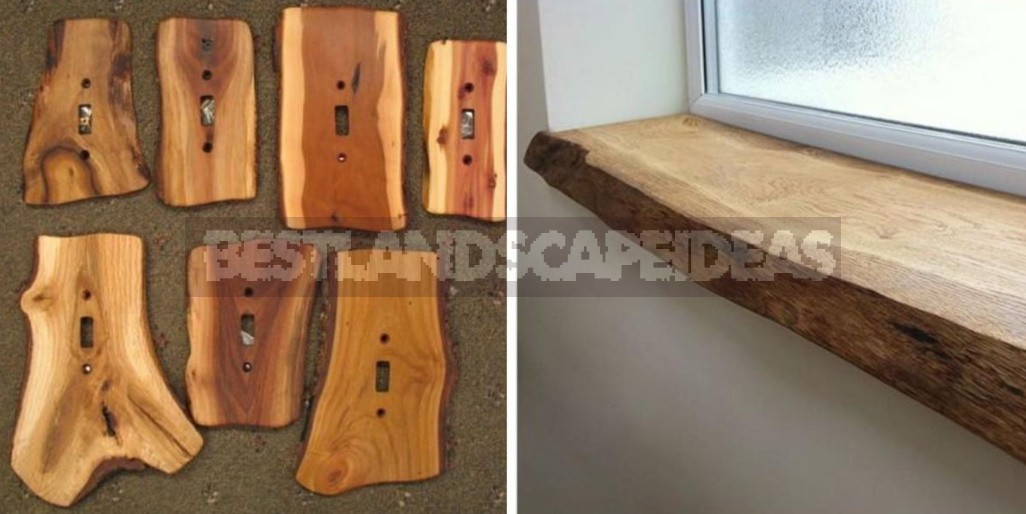 Solid countertops for kitchen and wash tables are so good that there is a serious risk of spending all your free time in the kitchen or bathroom.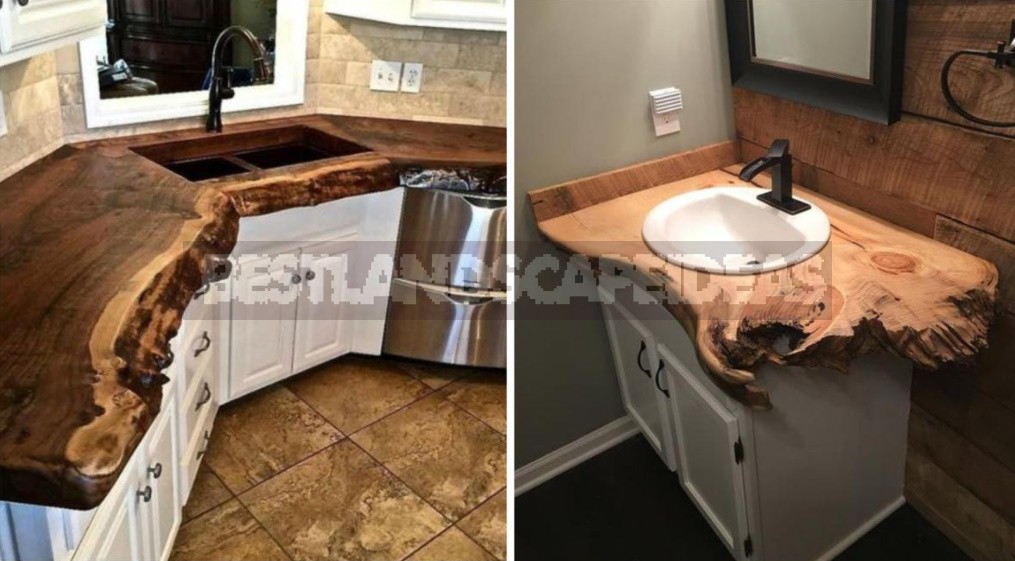 Even a simple stool will become a worthy decoration of the interior. Perhaps I would not refuse such an interesting bench.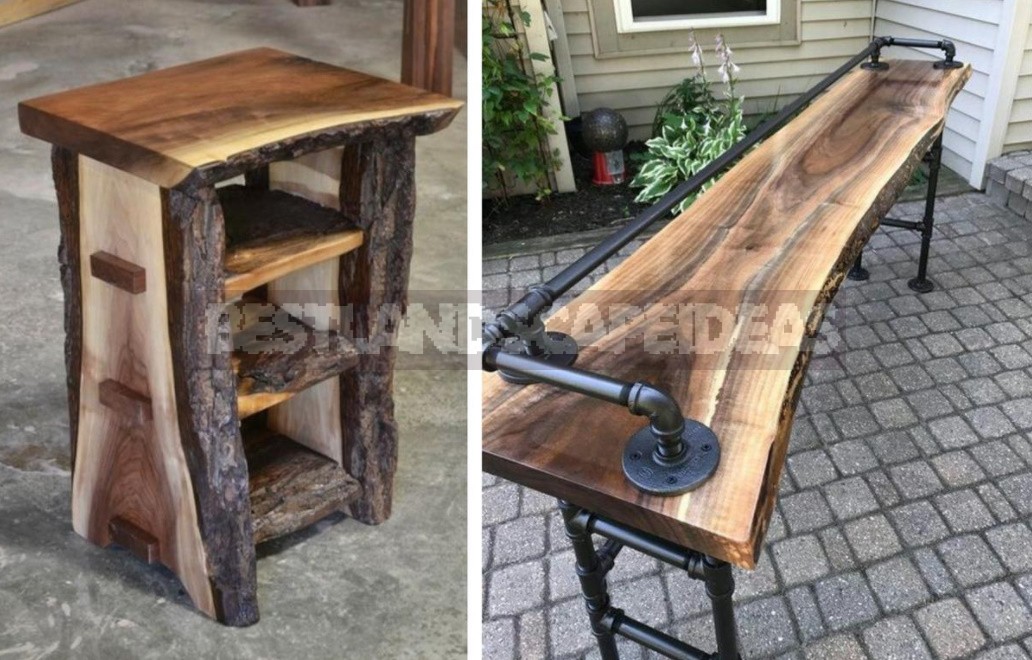 But at such a table it is pleasant to sit only in theory: the hard bark will certainly cause a lot of inconvenience. Well, or you will have to keep your hands on your knees to avoid micro-injuries and damage to clothing. A massive door looks solid, but those who want to get one will have to purchase the most reliable components (be sure to have stops on the roller guide, so that it does not go where it is not necessary!).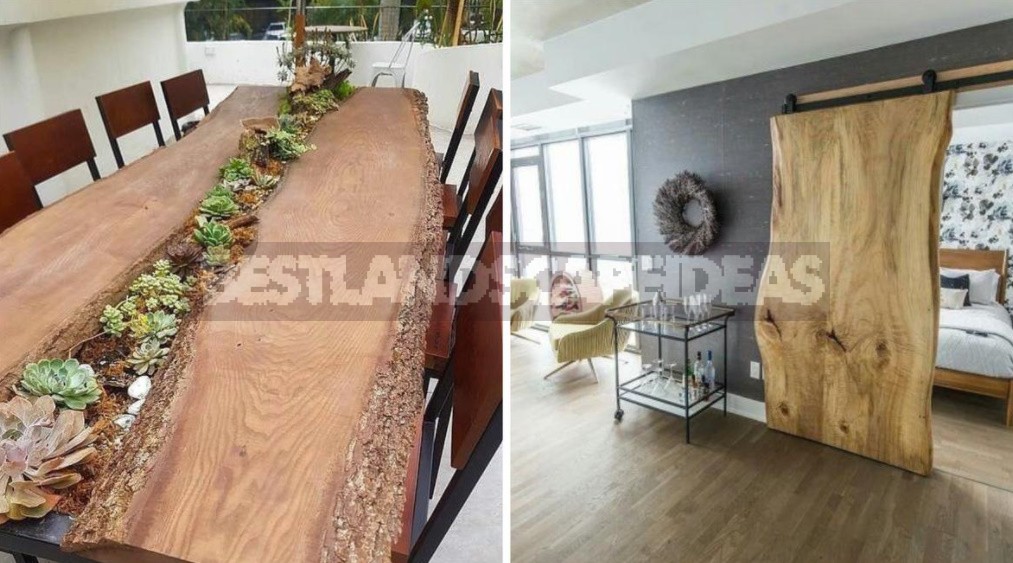 I hope you were interested to see it, and if you liked something, you wanted to make it with your own hands- great!