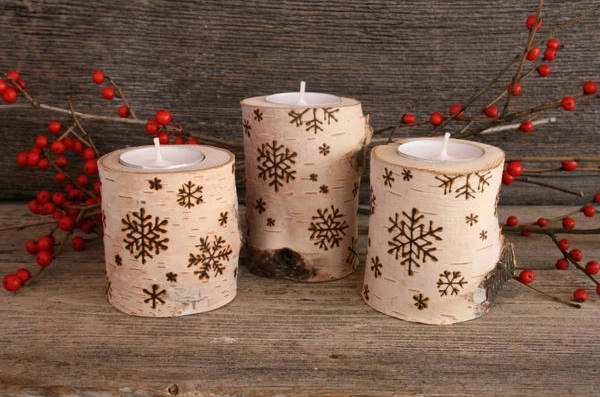 What a New year without burning candles! Where are the candles — candlesticks. Made with their own hands, they can become not only an interior decoration, but also a wonderful gift.
Shining lanterns
Why not instead of traditional greeting cards not to give their loved ones and relatives here are elegant candlesticks made with their own hands!
Mysterious magic candles
Interesting idea-festive candles in glass jars are suspended to a wooden shelf. The whole composition looks just fabulous!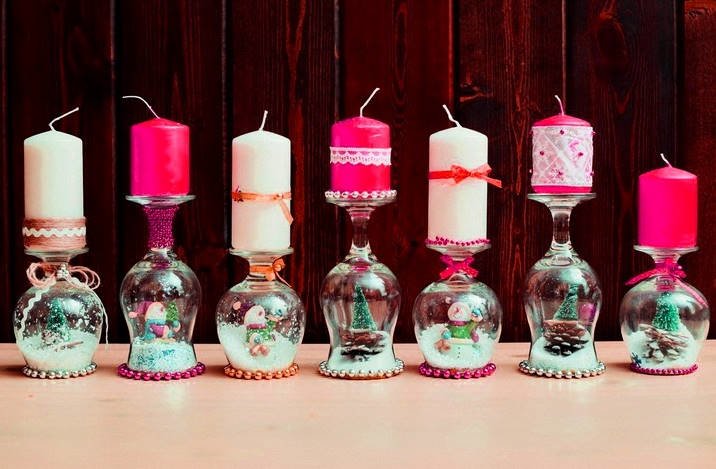 Interesting candlesticks
You will need:
4 glass jars from under the marmalade at the height of about 13-15 cm
4 suitable sized red candles
special white paint for candles
mass for modeling
red 1.5 mm diameter aluminum wire
4 x 1m green aluminum wire 2mm diameter
4 x 30cm red packaging / decorative ribbon with wire edge
white satin paint
cookie cutters "month " and" star " with a diameter of 3-5 cm
scissors
knife
plunger
sponge
round wooden stick
pliers
hot glue gun
Job description
1. Jars to process detergent. Take the sponge a little bit of paint "frost Effect" and paint jars. Candles work better, release a small portion of the surface of the paint to make a small "window". To leave until drying paint. If necessary, apply a second coat (step 1).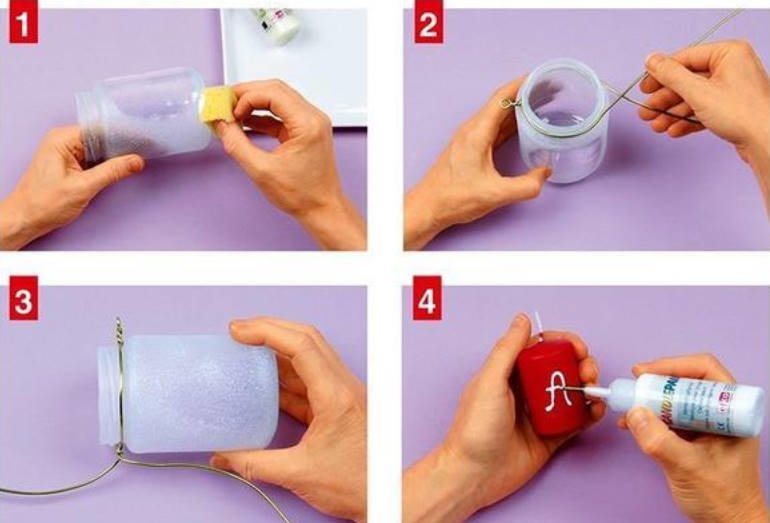 Technology of work
2. From aluminum wire to bite into the segments of desired length, bend them in the middle and use the pliers to twist the loop. Then bend the ends of the segment. Wire to put on the edge of the jar and wrap around it. Twist the ends of the wire. One end of the bite, the other end of the wire bent into the form of a pen, to push through the loop and use the pliers to bend the hook (step 2 + 3).
3. Red tape tie a bow in the middle of the tie wire. Two fir sprigs to connect using the wire, excess wire to bite. Then bow to put on the spruce twigs, the remaining wire bow and sprigs to attach to the mount on the side of the jar, if necessary, fix with hot glue.
4. Carefully knead the mass for modeling, on a suitable substrate, roll out the rolling pin and use the molds in the form of a month and a star to squeeze out the corresponding figures. Figures to leave until full drying. Red aluminum wire bend with a spiral. To do this, the wire is wound on a round wooden stick, then gently pull out the stick, spiral put on the stars and month. Excessive wire remove the on the back of the figures and glue. According to photos and a month to stick on a wire handle or a ribbon.
5. You can write on candles the letters with white paint for the candle and leave to dry (step 4).
Fabulous decor for the New year
Children love to make different crafts made of natural materials. Late autumn in the Park you can still find them in sufficient quantity and make, for example, a small squirrel with a candlestick or buy walnuts and create funny birds.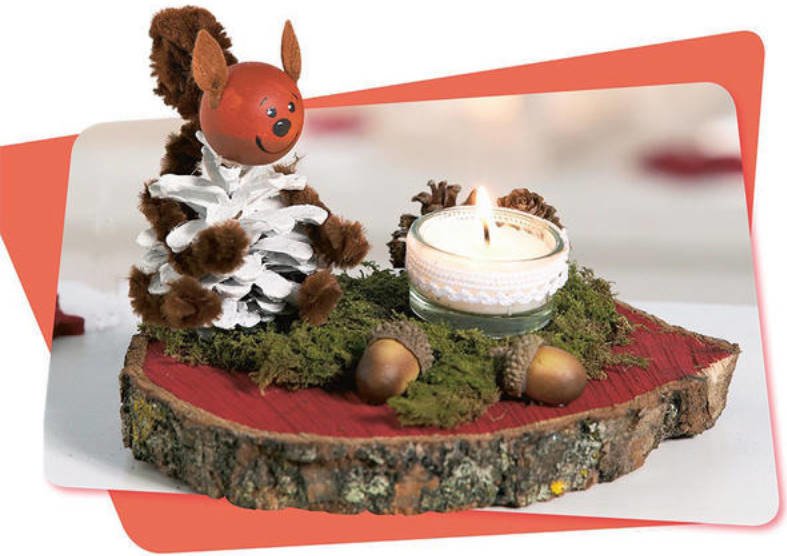 Squirrel and candle
You will need:
wooden disc with a diameter of 18 cm
moss
brown felt for crafts
brown chenille wire
wooden ball with a diameter of 3 cm
candle Cup
white bobbin lace 1 cm wide
acorns
large lump about 6 cm long
small cones
white, red and brown acrylic paints
brush
white and black markers for decorative works
universal glue
if necessary, the gun with hot glue
Job description
1. Wooden disk painted red, big shot, white, wood ball brown paint. If necessary, apply a second coat of paint, allow to dry completely. To draw the face with decorative handles.
2. From felt cut 2 rectangle of size 2 x 1 cm One short side rounded, the opposite corners together. The resulting ears stick on the ball, as in the photo; stick the ball to the cone.
3. For the tail of the squirrel twist 2 pieces of chenille wire 45 cm long, bend in the middle and twist again. Roll in the shape of a snail shell and stick to the lump.
4. For legs, twist together 2 pieces of blue wire 6 cm long, bend small loops and also stick to the bump. The glass for the candles covered with lace.
5. To a wooden disk to paste moss. Fix on this basis a squirrel and a Cup for a candle, then fix other natural materials.
Oh, Christmas, Christmas!
At Christmas you want to decorate your home in a special way. Wreath candle holder with funny figurines of coils will help you create a festive atmosphere.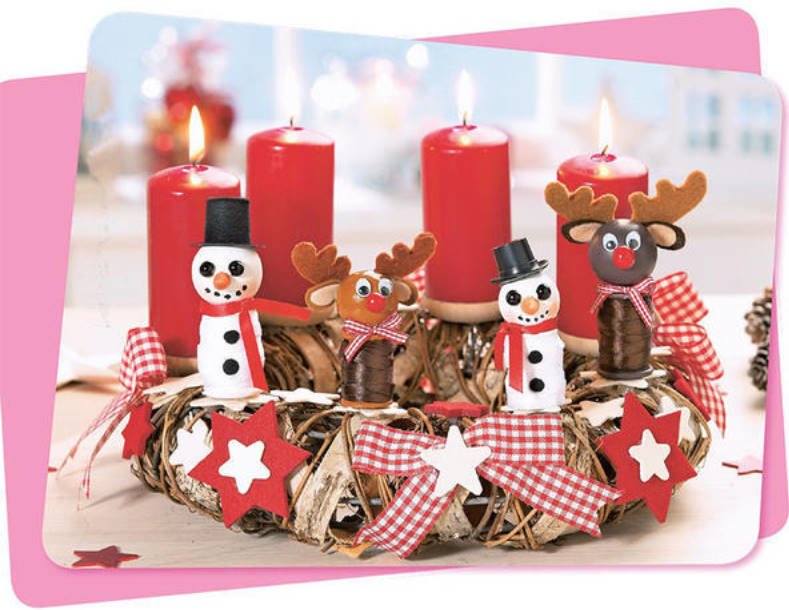 Wreath
You will need:
wreath of bark with a diameter of 30 cm
4 red candles with a diameter of 5 cm and a height of 10 cm
tapes 0.6 and 2.5 cm wide in a red-and-white cage
satin ribbon white, red and brown colors with a width of 0.6 cm
candlesticks with thorns, natural color, diameter 5.5 cm
red stars of felt
carrots of wool with a length of 1.8 cm
wooden balls drilled in half, 3 and 3.5 cm in diameter
black half beads 0.8 mm in size
red wooden beads with a diameter of 1 and 1.2 cm
remains of felt
set of wooden coils for threads
a set of wooden stars
velour cylinder 2.5 cm in diameter and 3 cm in height
plastic cylinder 2 cm in diameter and 1.5 cm in height
movable toy oval eyes size 0.8 and 1 cm
white, light and dark brown acrylic paints
brush
black marker pen for decorative works
red colored pencil shavings
scissors
universal glue
hot glue gun
Job description:
1. Wooden reels and wooden balls paint with acrylic paint, paint give dry, then glue the balls to the coils.
2. For the deer to draw on the felt horns and ears. Red wooden beads cut in half and with Googly eyes glued on the muzzle of the deer.
3. Around wooden spools to wrap the brown satin ribbon. Paste the details out of felt. The ribbon cage to put around the neck and tie a bow.
4. For snowmen coil encircle white satin ribbon. Stick the half beads as eyes, then stick the buttons. On cheeks softly RUB in the form of blush shavings from red pencil. Carrot to attach in as a nose, on head to put on cylinder. Mouth to draw a marker, satin ribbon in the form of a scarf knotted around the neck.
5. Candlesticks with spikes to insert into the wreath if necessary, fix the gun with hot glue. Positioning figures from wooden spools, stars and a ribbon bow in the cage as shown in the photo or arbitrarily and stick. The candlesticks to put candles.