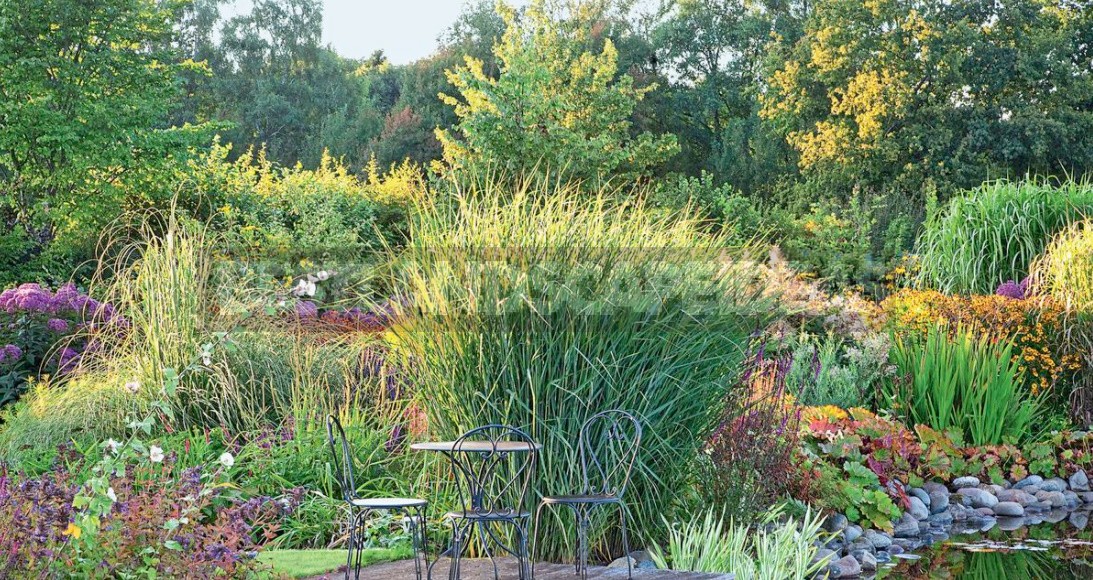 Golden-yellow or copper-red unpretentious decorative grass helps us to make it easier to say goodbye to summer. Thanks to the new selection of bright millet is now held in high esteem by landscape designers. Let's get to know him better!
The plant is able to reach a very impressive size, so it successfully copes with the role of a screen near the place of rest. In the photo above, a 2 m high 'Cloud Nine' millet covers the platform by the pond in autumn.
Filigree panicles combined with bright green leaves have provided Panicum virgatum with the love of both ordinary gardeners and reputable landscape designers. This decorative grass boasts not only an attractive "appearance" — it is durable, unpretentious, withstands both drought and waterlogging, and even periodic flooding.
In the photo: 'Heavy Metal' — the first blue-grey variety of Panicum virgatum. The grass looks great against the background of yellow coreopsis and rudbeckia. 'Shenandoah' – German new selection with the darkest leaf color among all varieties of Panicum virgatum.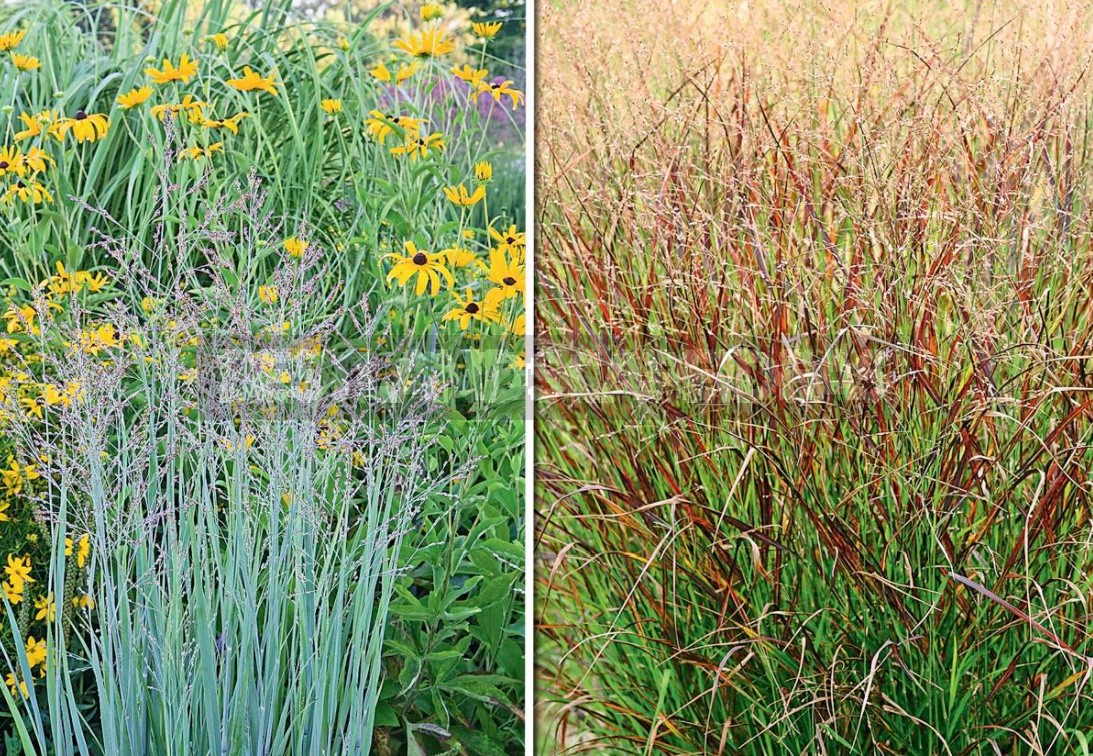 It is better to plant millet in the spring — the plant already stops growing roots in August, so when planting in the fall in a new place, it may not have time to take root until winter.
Millet is suitable for a Sunny flower garden with any soil (although "poor" is preferable — the Bush on it does not "fatten" and the color of the leaves is brighter).
In a tub, decorative grass looks great solo. But to preserve the stunning appearance of the plant, it needs to be regularly rejuvenated by dividing the rhizome, as well as to ensure constant humidity of the substrate. Only with uniform watering, the leaves acquire a spectacular autumn color.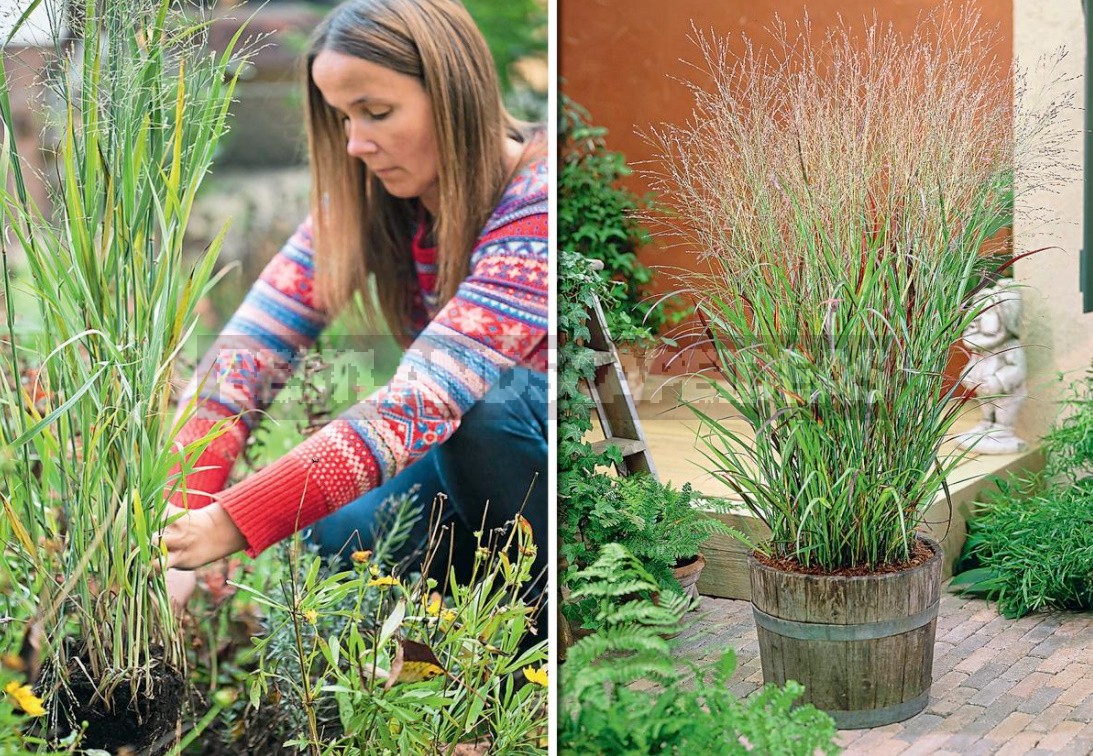 Green-leaved plants that turn red-brown in autumn are called copper millet by the Germans. The most famous variety among them is 'Rehbraun', which was bred in the 50s of the last century (previously known as 'Rotbraun').
Unlike copper, millet with initially brownish color of leaves in the second half of the year changes color to bright yellow. This metamorphosis conquers first of all new selection from North America, such as 'Cloud Nine', 'Dallas Blues' and 'Northwind'. Visually, they resemble miscanthus and reach a height of 2 m.
In the photo: 'Dallas Blues' – a novelty with blue-green leaves and openwork inflorescences, which initially have a beige color, then change it to purple, and by the end of flowering become almost black. 'Strictum' is a two – meter-high fluffy flower with bluish-green leaves that turn bright yellow in autumn. Millet of this variety blooms in July — September, later forming shiny reddish seeds.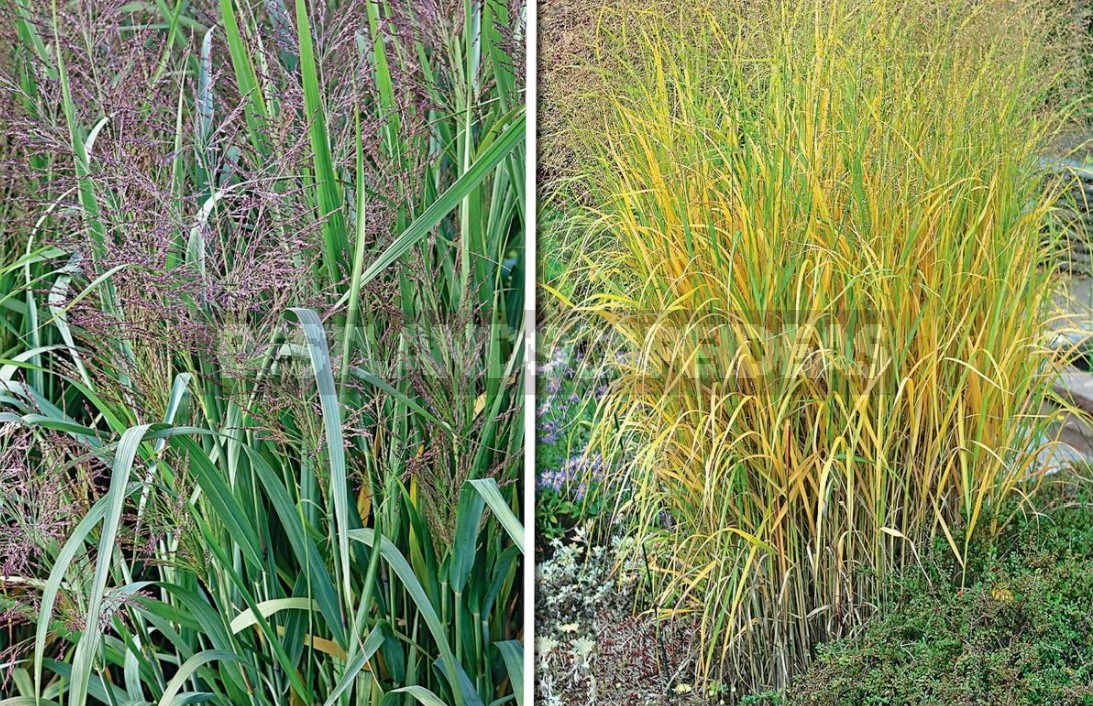 The exception to this rule is 'Heiliger Hain': the tips of its brownish leaves turn red rather than yellow. Due to its early flowering, this varietal plant tends to self-sow, as does the bluish-green 'Heavy Metal' and dark-red 'Shenandoah'. By the way, the last pair has long won the hearts of true connoisseurs with its decorative effect.
Of course, in order for millet to Shine like a precious diamond in a flower garden, you need to choose the right partners for it. Our hero looks very organic surrounded by his countrymen — herbaceous perennials native to the American prairies, such as Echinacea, penstemon, autumn-flowering asters and Phlox paniculata.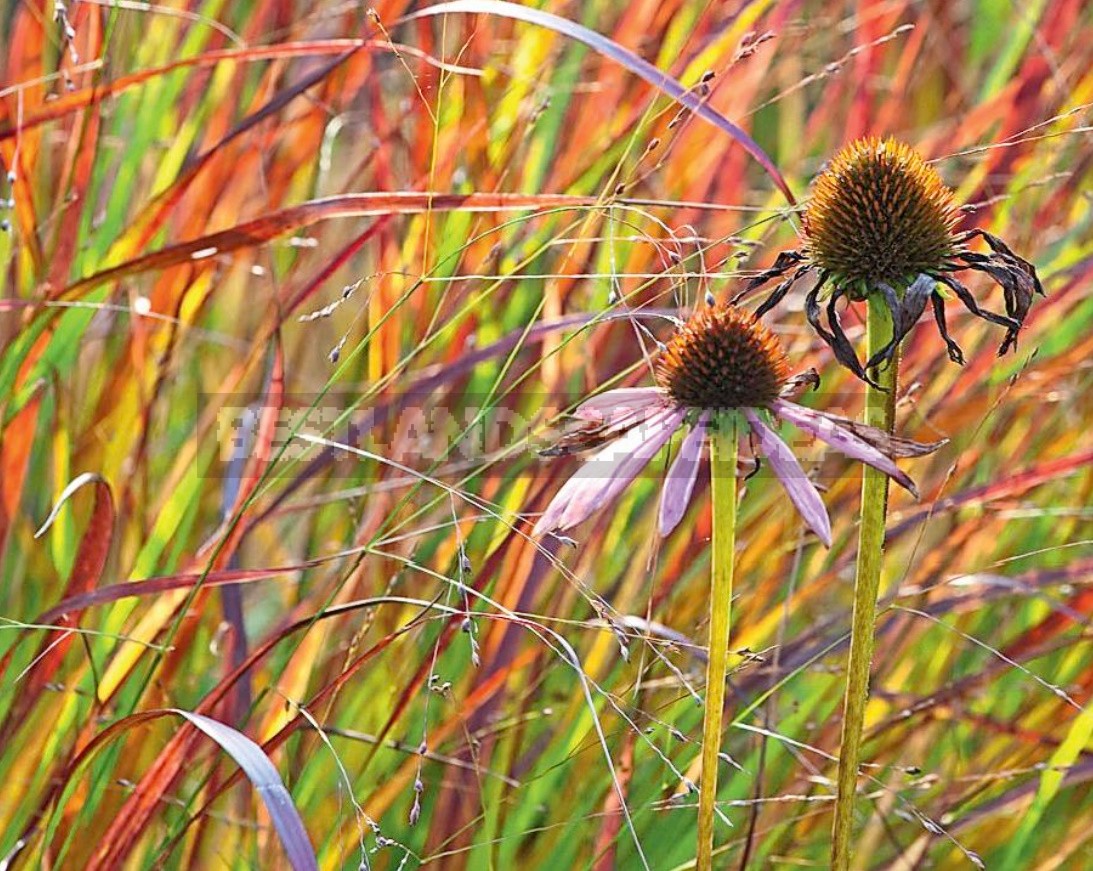 The plant also looks great in the company of Sedum, Liatris, Veronicastrum virginicum and Perovskia.
And since it wakes up quite late (it gives the first shoots only in may, or even in June), planting should be supplemented with spring-blooming "Pets".