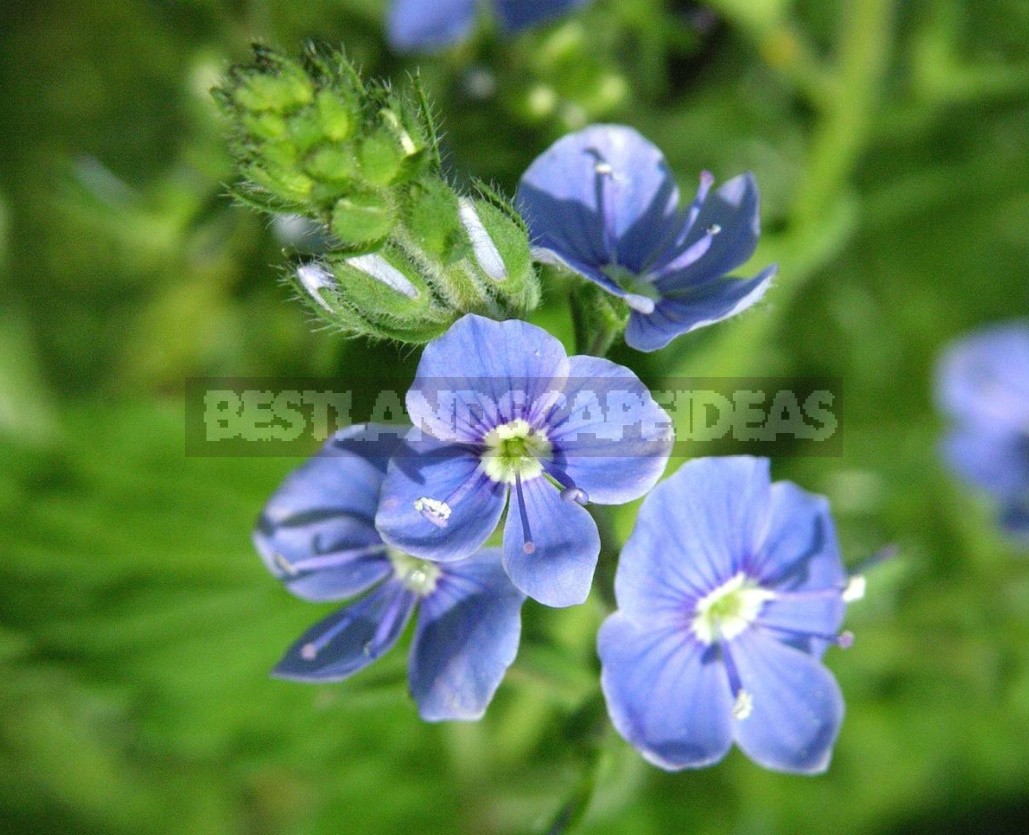 Medium-sized Veronicas – for flower beds and reservoirs
Species such as V. anagallis-aquatilis and V. beccabunga can be kept in a reservoir. In nature, they are found in shallow water of streams and rivers, on wet banks. These are smooth, fat plants with a creeping rhizome. Key is taller, erect, with narrow leaves; flowered branched and strongly branched. The flowers are smallish – this is their weak point.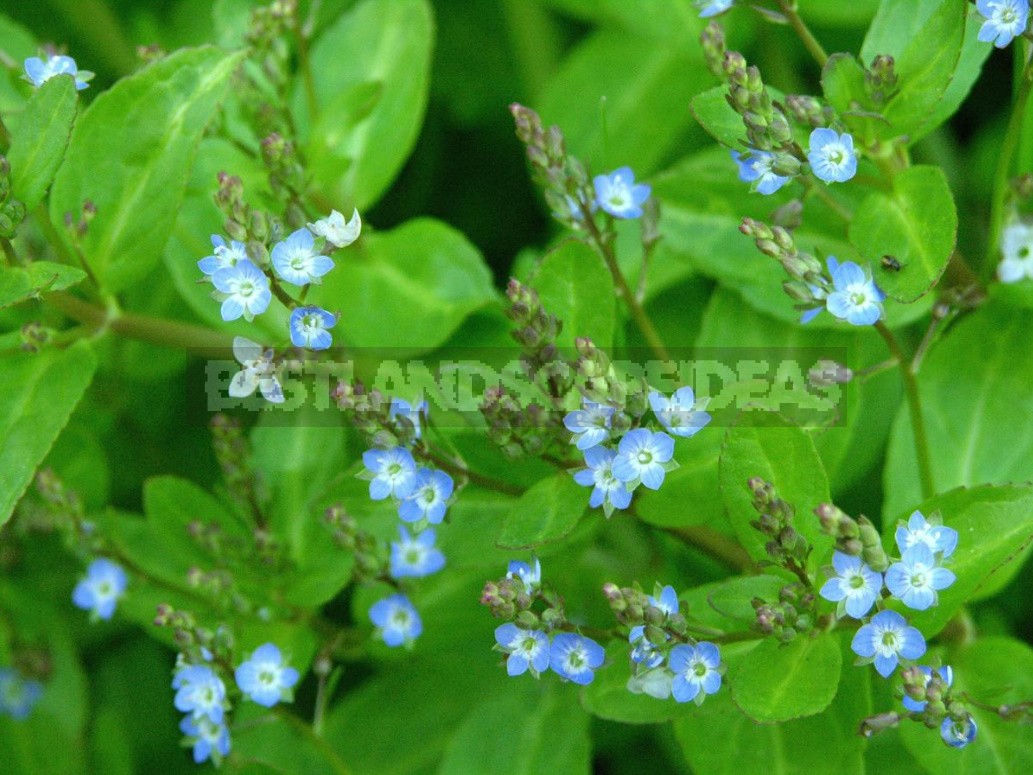 The most beautiful native species live in meadows. V. teucrium, V. latifolium, although it has rhizomes, but spreads moderately and forms a dense flowerbed. The usual height is about 40-60 cm. The flowers are collected in long brushes that come out of the axils of the upper pairs of leaves, and during mass flowering in June merge into a solid bright blue spot. This is a beautiful plant and it is not surprising that the most expressive forms are offered as varieties with catchy names.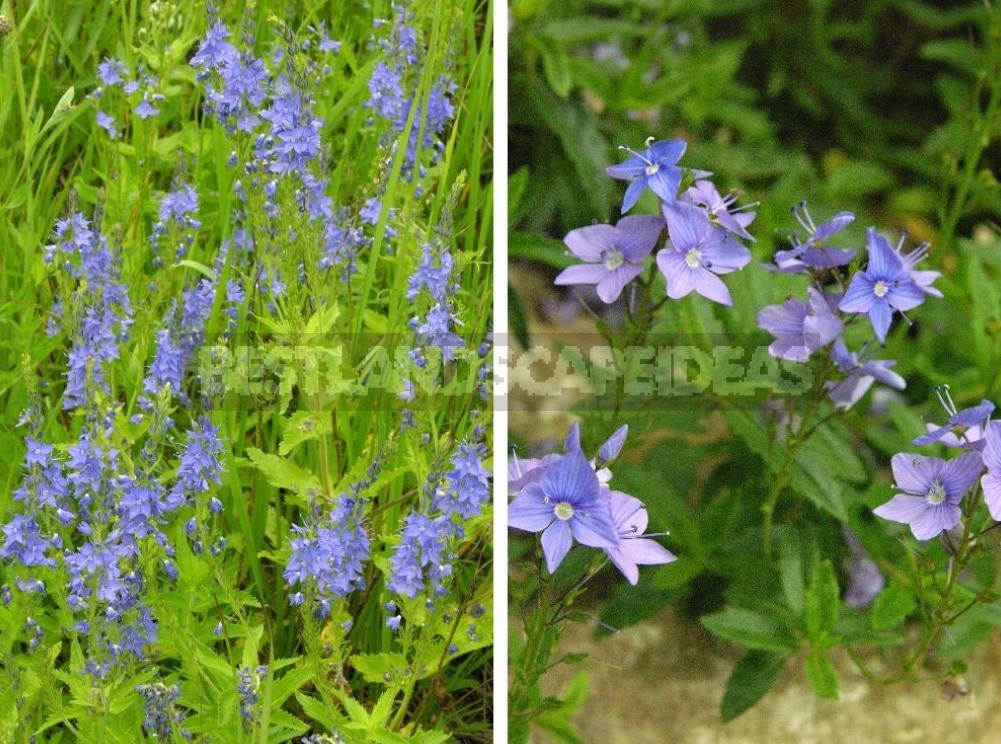 In catalogues, it is considered a subspecies of V. austriaca or even identified with it. So some of the varieties that are listed for this can be attributed to the varieties V. teucrium. 'Crater Lake Blue' – dark blue, somewhat prostrate. Similar to it 'Royal Blue' differs in smaller growth.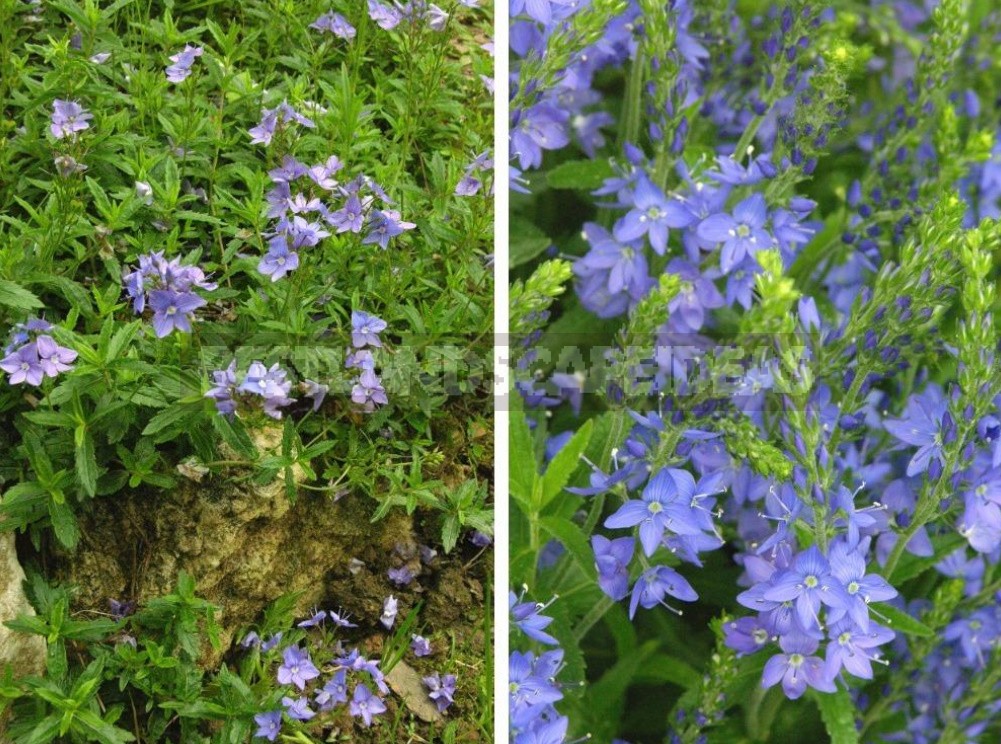 The subspecies of V. austriaca include V. jacquinii – an interesting steppe species with strongly dissected feathery leaves, which is not widespread in horticulture.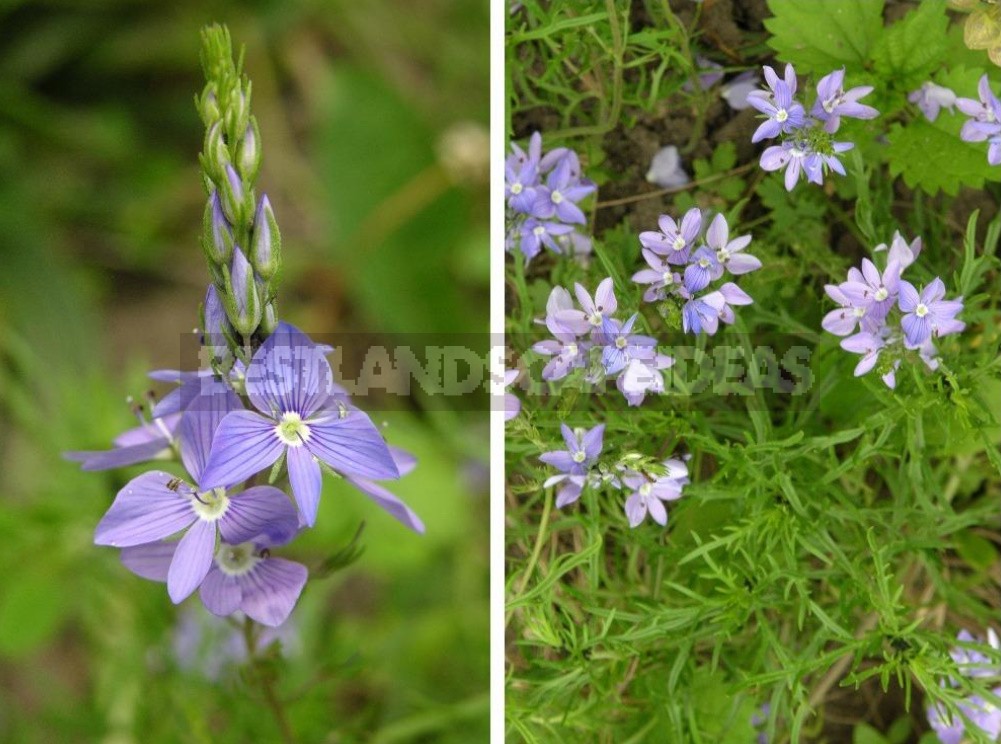 Especially common in meadows and roadsides is V. prostrata = V. rupestris, a creeping plant with flattened vegetative shoots and numerous peduncles that rise 30 cm. The Corolla is smaller and paler than that of V. teucrium. Sessile leaves with a narrow wedge-shaped base. Varieties are quite popular and differ in compactness, and often abundant flowering. Although sometimes the size of the flowers and the width of the leaves are much more similar to V. austriaca.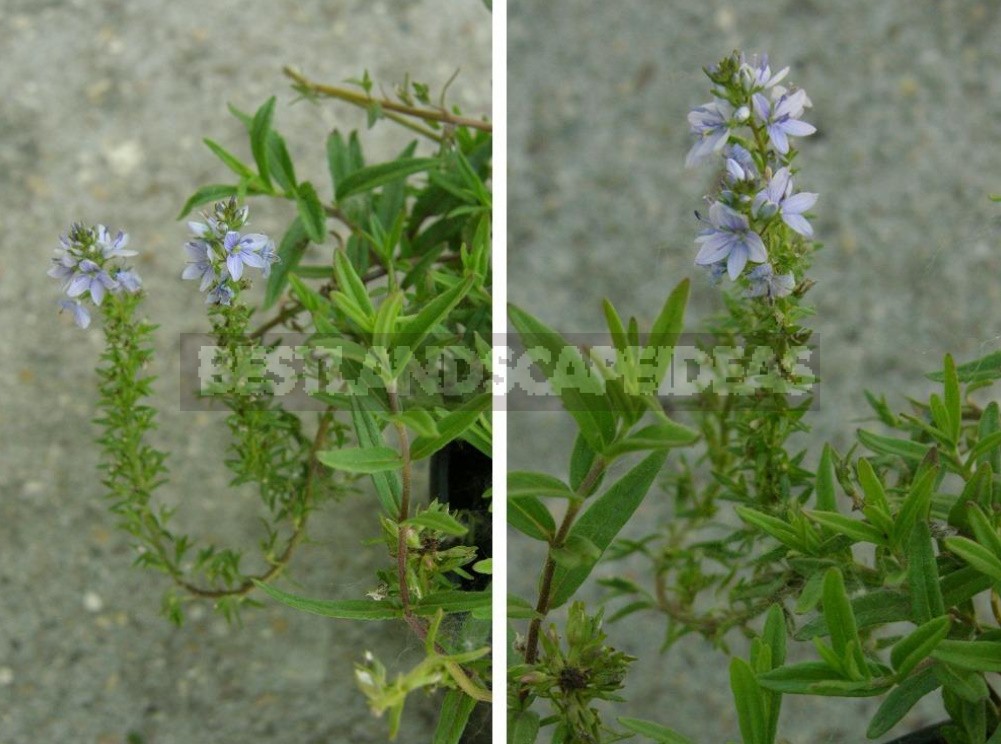 An undoubted variety of prostrate can be considered 'Nestor' – quickly growing and forming dense mats, over which the peduncles with short dense inflorescences rise to a height of about 15 cm. Flowers are pale, densely planted. Peak flowering occurs in late spring and early summer, although individual inflorescences continue to appear later from time to time. But it is difficult to say anything definite about the white 'Alba', pink 'Rosea' and 'Mrs Holt' until you see them, and the Golden blue-eyed 'Trehane' is carried here and there. The same story with a more modern, although very similar Golden variety 'Aztec Gold'.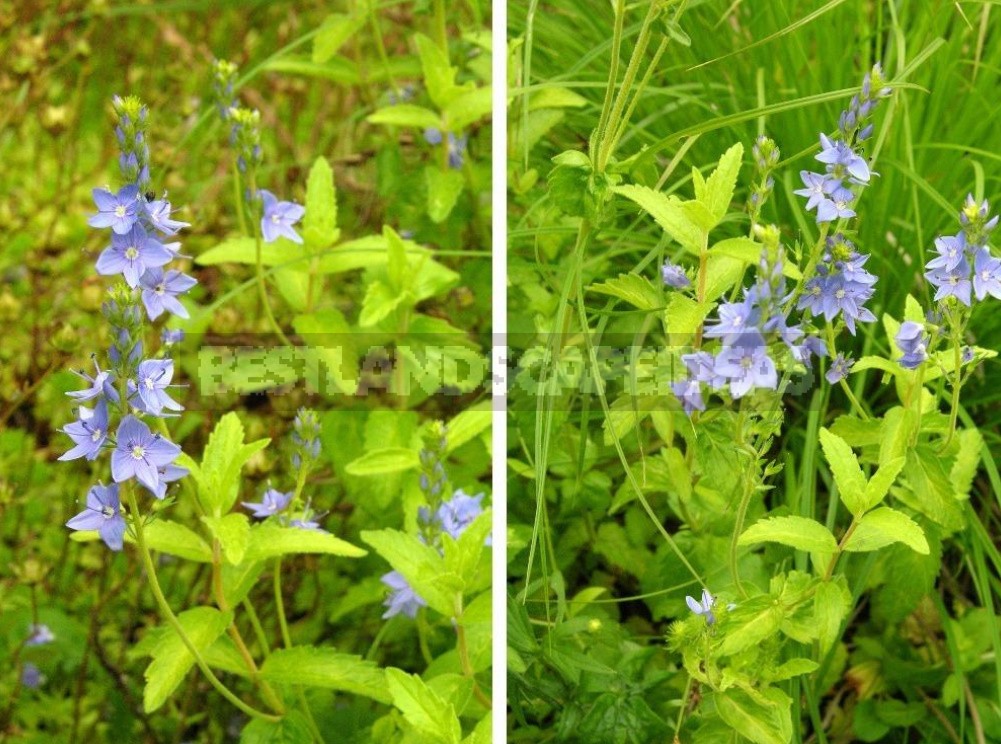 V. spicata varieties are also popular. This plant is grayish from pubescence, with a flattened rhizome and lanceolate leaves. Inflorescence is usually single, apical. Small flowers are densely planted, the inflorescence length reaches 20 cm. In the wild form, they are the traditional blue color, the varieties are diverse. Grows in steppes, dry meadows in pine forests. 'Icicle' has pure white flowers. 'Giles van Hees', 'Rotfuchs' ('Red Fox') and 'Heidekind' are crimson. 'Romiley Purple' – dark purple. 'Nana' is a compact dwarf variety. The 'Sightseeing Mix' offered by seeds produces plants of different colors: white, pink and blue.
More southern, strongly pubescent and low form can stand out in a special type-V. incana, which is followed by the most silvery varieties 'Silbersee'with narrow leaves and pale pink 'Minuet'.
V. gentianoides is not to be confused with others. It is found in southern Europe, in Asia Minor. Successfully grows in width, forming mats of rosettes of smooth leaves with an oily sheen, resembling the texture of the leaves of some gentians. Inflorescences-loose racemes of lilac flowers 40-60 cm high. Blooms in June for 2-3 weeks. Common is a weaker variety with a white border on the leaves-just 'Variegata'.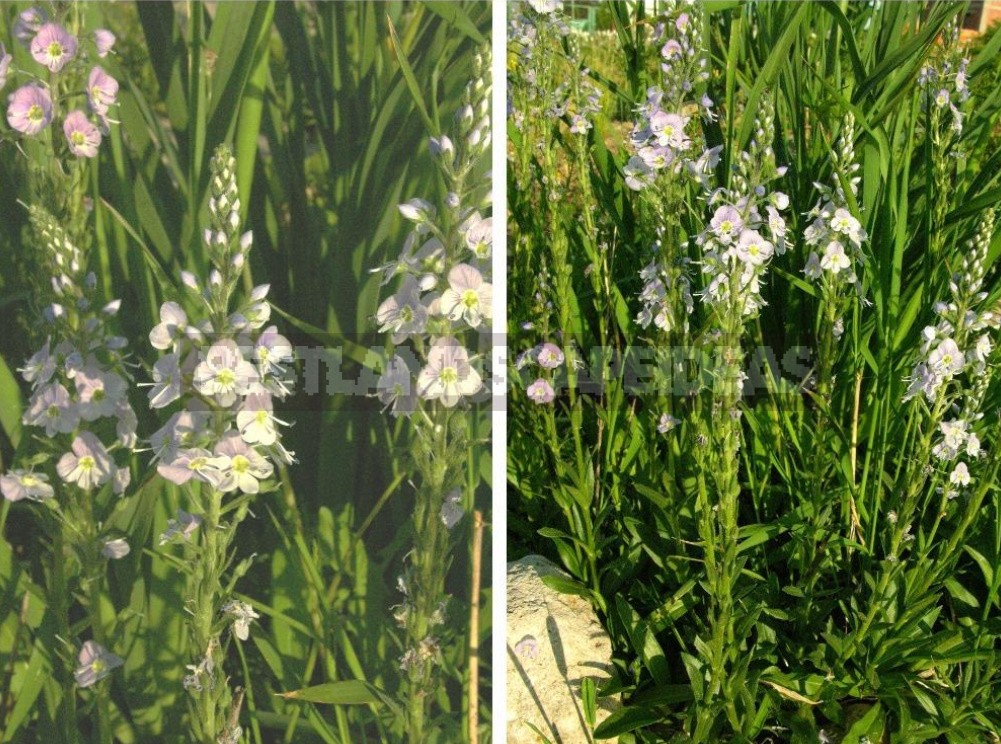 The tallest of our common Veronicas – V. longifolia-up to 150 cm high. It does not disdain weeds: vacant lots, vegetable gardens, although it does not get worse from this. The plant is strong, creeping, with narrow toothed leaves and a bouquet of inflorescences at the top. The largest ends the stem. The flowers are lilac-blue, appearing in June-August. An excellent plant for unassuming flower beds of easy care. It has a simple white variety 'Alba'. The intricate 'Joseph's Coat', whose portraits are missing, produces, as they say, pink shoots in the spring, and the unfolded leaves are cream — green.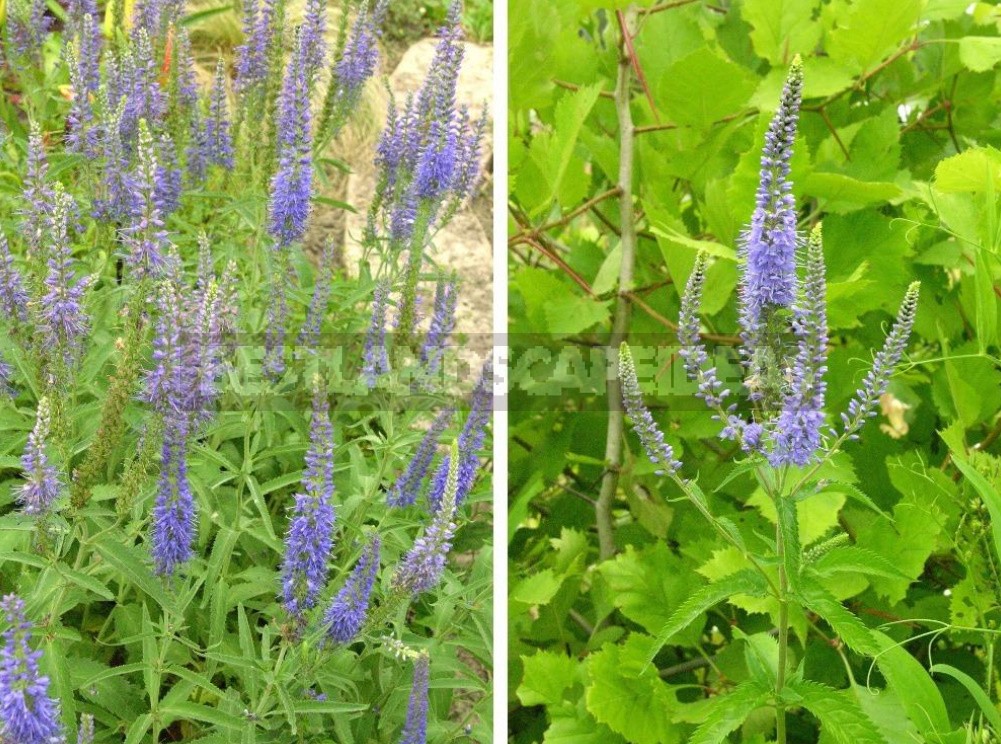 In General, a similar appearance in another very common in nature V. spuria, V. paniculata, which differs in pubescence, which makes the leaves grayish below, with less clearly cut edges, paler corollas and in General, not so beautiful. It is not common in gardening.
Hybrids among Veronicas are not uncommon, and the origin of some varieties is not always clear. Those of them that raise long terminal brushes, gardeners easily refer to both V. spicata and V. longifolia, and the most conscientious catalogues do not specify the species epithet. They are all good: compact, flowering abundantly and for a long time.
But the best in blue tones are considered dark purple 'Sunny Border Blue' and more modern English 'Royal Candles' (aka 'Glory', and possibly 'Ulster Blue Dwarf'), which is no higher than 40 cm tall, with hard and shiny green leaves. Common as 'Pink Damask' with dark pink flowers, pale 'Lavender Charm'. 'Noah Williams' – a powerful plant 40-50 cm tall, which has leaves with a white border and long brushes of white flowers.
Veronicas are tall and the tallest
It's not even Veronica, and Veronicastrum. An important difference from true Veronicas is that their narrow leaves are brought together by whorls, the flowers are elongated into a tube and collected in long brushes. The main brush ends the stem. Young and weak plants have only one, but well-fed ones have additional inflorescences from the axils of the upper leaves, and the set of brushes can be quite impressive. They bloom from June to August.
Due to the height and powerfully growing Bush, Veronicastrum can resist any weeds – these are plants for a garden of small care.
Veronicastrum virginica = Veronica virginica = Leptandra virginica. Homeland-Eastern North America. As tall as a man. Normally, the flowers are lilac. More brightly colored flowers of plants from different geographical areas gave reason to distinguish several more species. As well as create different varieties: 'Album' and 'Roseum', pale pink 'Fascination' and 'Pink Glow', purple-pink 'Temptation', lilac and relatively low – about 1 m — 'Apollo'.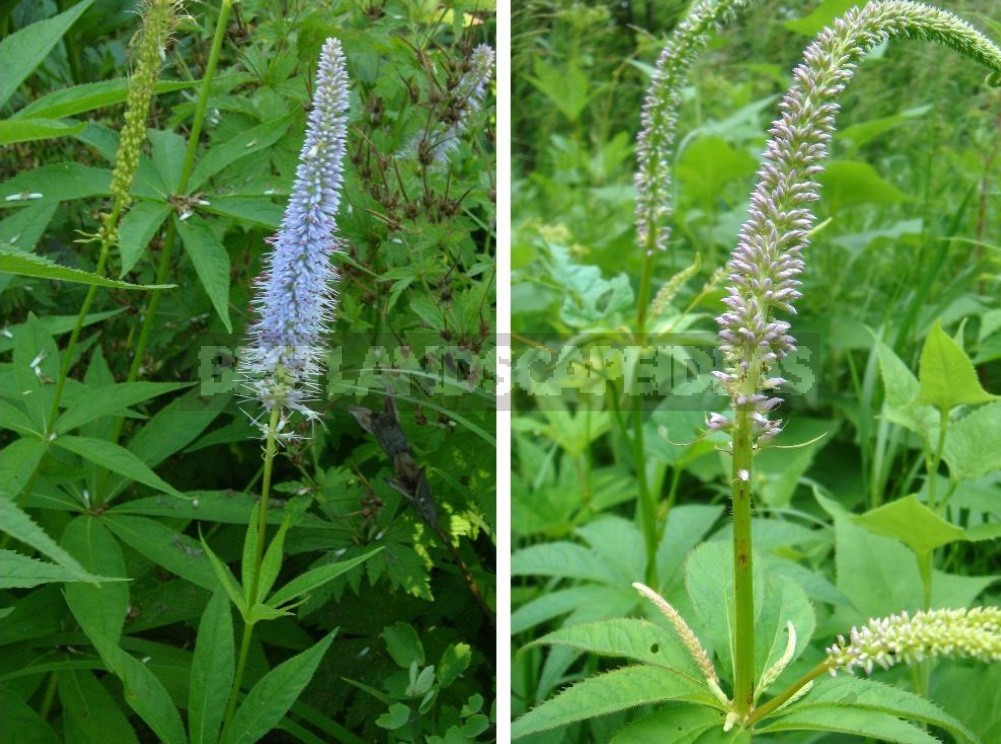 Veronicastram sibiricum, Veronica sibirica, Leptandra sibirica, which grows in the far East, differs in details and a brighter, richer color of the flowers. However, multi-colored varieties can be listed for this species.