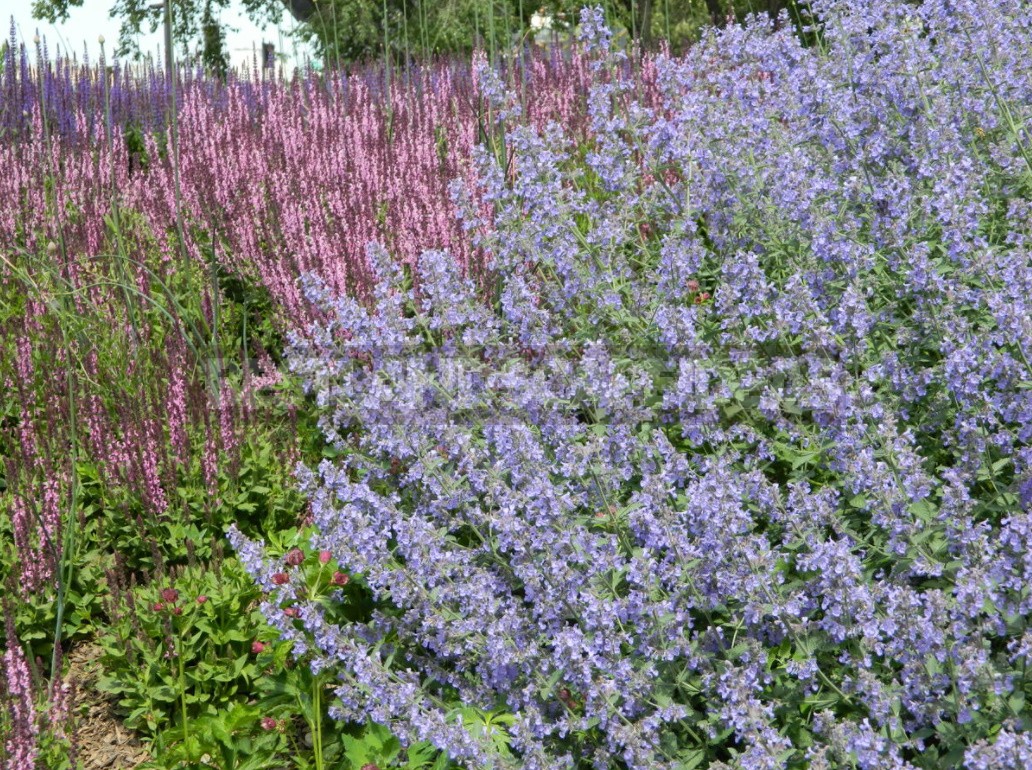 Among the representatives of Nepeta, who have found application in culture, there are also very spectacular beauties, and species with a rather modest appearance. Both deserve our attention, and there are many reasons for this.
Nepeta-spicy-aromatic plants that attract bees and butterflies. Their leaves with shades of silver perfectly complement the predominantly cold color scheme of the flowers, but there are white ('Snowflake') and pink-flowered ('Pink Cat') varieties. Nepeta is used in cooking, and is also highly valued in folk medicine. A real station wagon!
The aroma of shoots and leaves of different types differs: some have citrus notes, while others have spicy notes. All of them are more or less attractive to cats, and at the same time they are not tolerated by rats and mice. In landscape design, the blue slender or slightly lying and ascending verticals of Nepeta are worth their weight in gold. Add to this low availability and unpretentiousness, and it will become clear to you how such a simpleton could win the heart of the queen of the rose garden.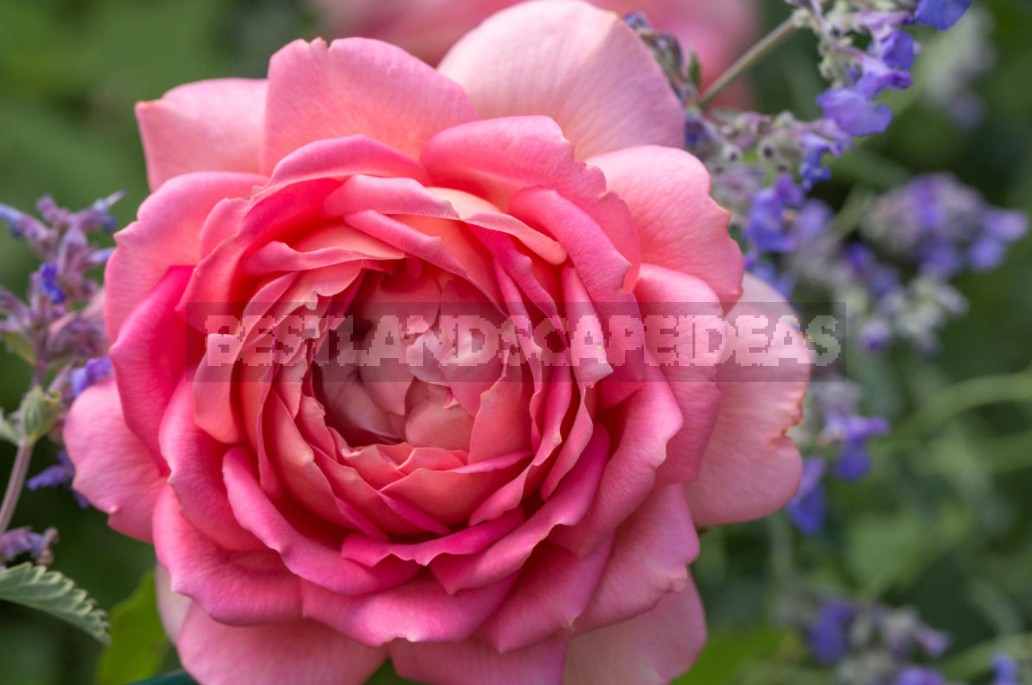 Verticals are irreplaceable in a garden composition. They give dynamics and aspiration to the sky — which means lightness and variety against the background of the monotony of flat inflorescences. In the climate of the middle zone, among the blue verticals, only sage and Perovskia abrotanoides can compete with Nepeta. However, the latter plant is distinguished by a different shape of the bush and a more graphic shoots.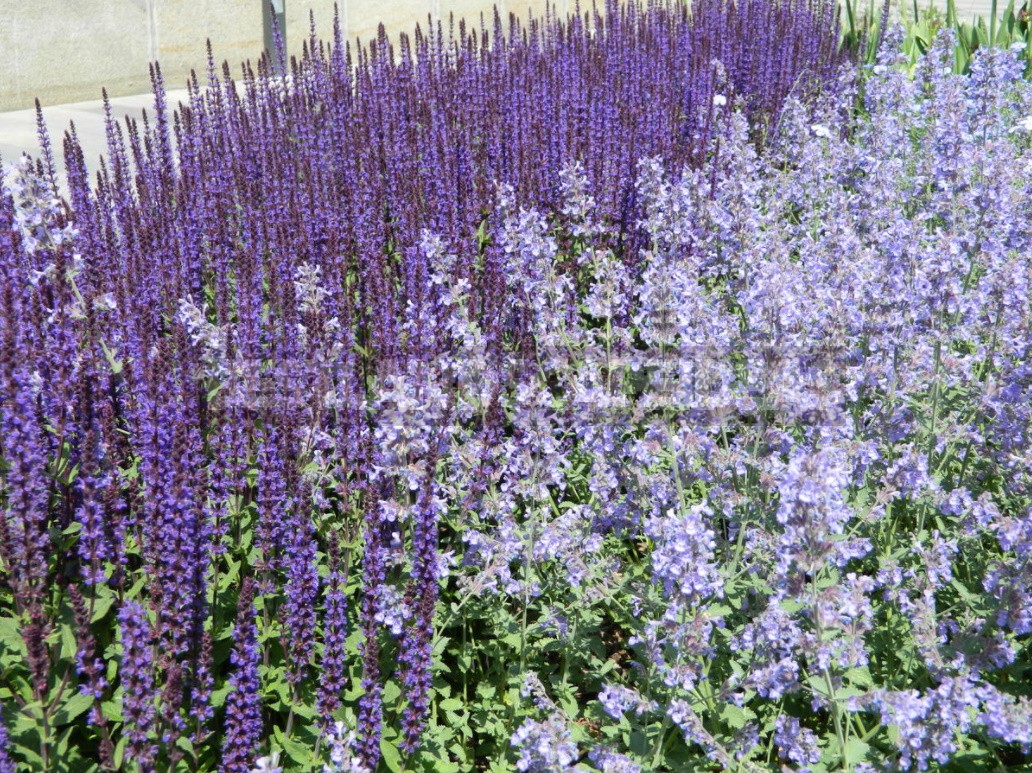 And more slender salvias are more demanding than unpretentious Nepeta, who are not ready to put up with only excessive hydration. But such a trifling problem is solved by the presence of drainage. Another of the common problems of Nepeta is powdery mildew, but the lack of a thickened planting also eradicates it.
Where to plant and how to propagate
Nepeta are considered perennial plants that need to be divided at least once every 3-5 years, so that the decorative effect of the bush is not lost. With age, each plant tends to form a rarer bush with less foliage and flowering. Nepeta cataria loses its decorativeness the fastest. But it is most often planted in the garden of spicy herbs, which means that the shoots are cut off for the preparation of aromatic drinks.
Other Nepeta will always please you for 3-4 years. The main thing is to place them in a light, sliding partial shade or in the open sun, but subject to regular watering.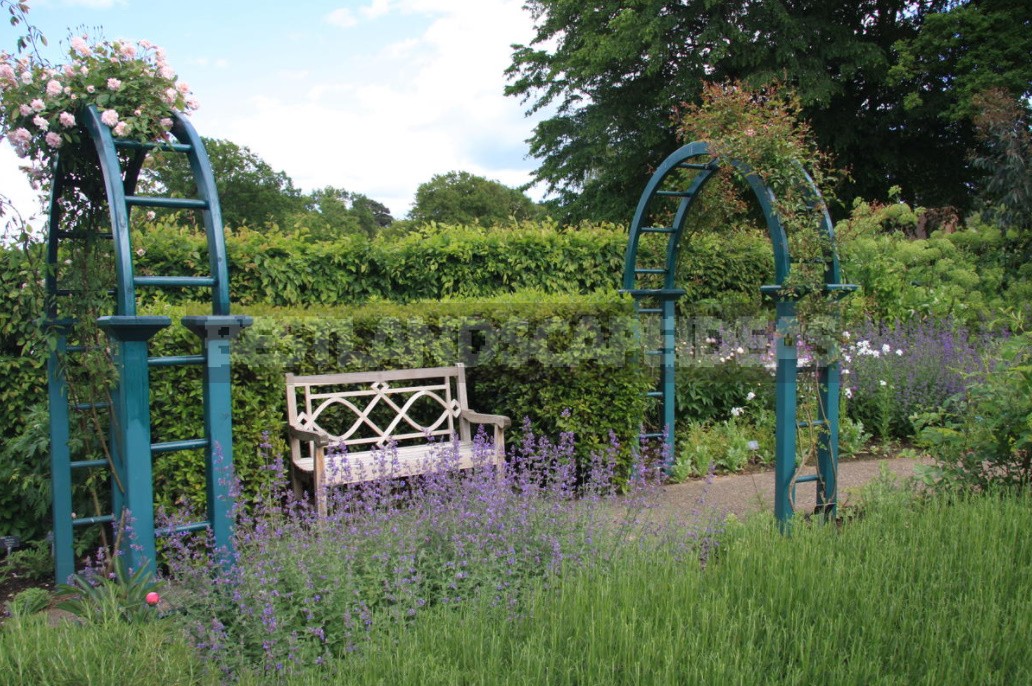 The division of the bush can be carried out both in spring (in late April-early May) and in autumn (in late August — early September). This procedure allows not only to rejuvenate the plant, but also to propagate. Nepeta is easily propagated by seeds, but still the main method is vegetative: cuttings — in late May, early June, layering-throughout the summer.
Nepeta Features
Nepeta maintain a stable leafiness of the bush, which means that they can be successfully used as partners of plants with bare "legs". They bloom for quite a long time with a break in July-August (for 2-3 weeks) — at this time, the faded inflorescences are removed. Such pruning stimulates the second wave of flowering and allows you to get a thick branching bush. After it, the height decreases by a third. For medium – and tall Nepeta, this loss is noticeable: the plant seems to disappear from the flower garden for a while, forming a gap.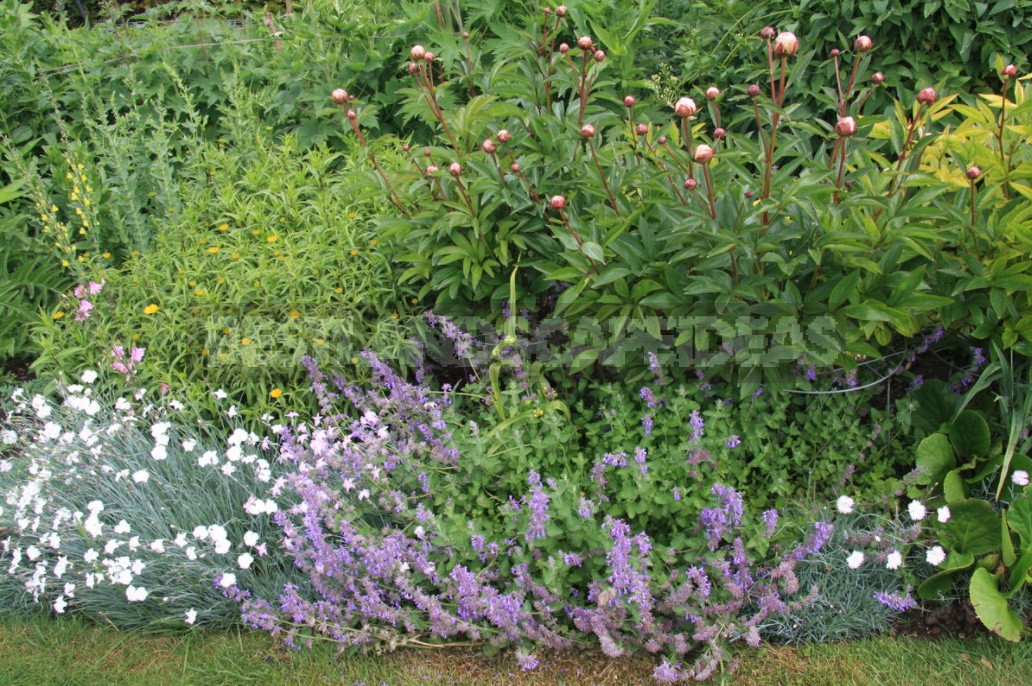 To make this departure less noticeable, and the composition does not turn out to be empty and expressionless, consider the following recommendations.
As partners, use those plants that bloom in the second half of summer.
If there are several Nepeta arrays in the flower garden, do not cut all the plants at once. Make an interval of 1-2 weeks between the pruning of each "spot".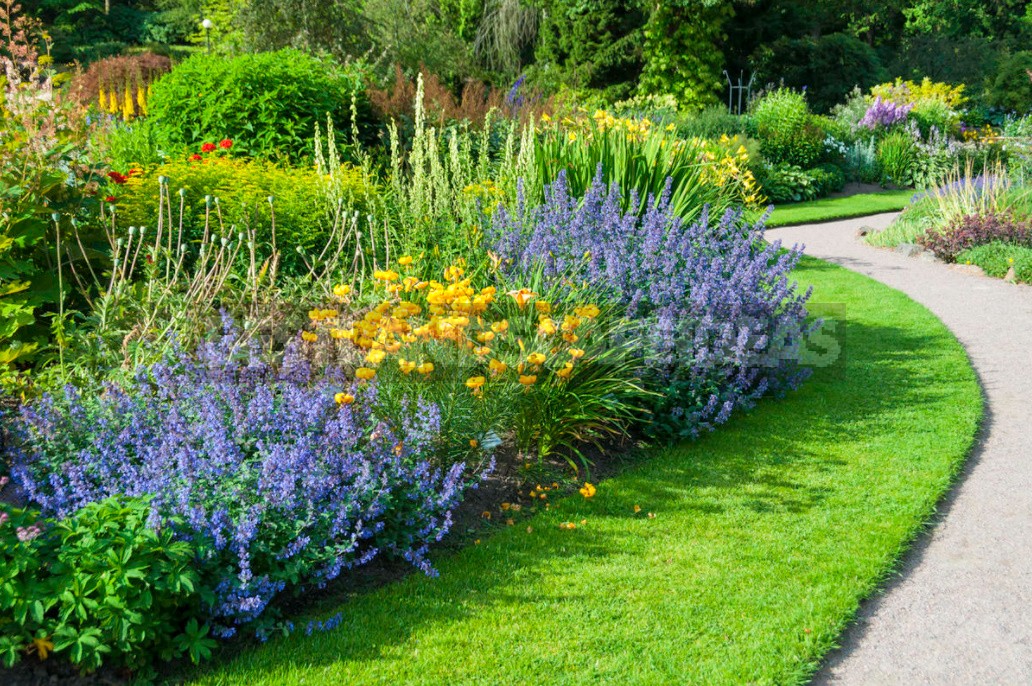 If Nepeta itself grows as a border or it fills the space inside a clipped border of shrubs or a whole flower garden module, it makes sense to prune all the plants at once and switch the viewer's attention to partners or neighboring modules. As a rule, large varieties of Nepeta with vigorous growth are used for such design solutions — 'Six Hills Giant', 'Dawn to Dusk'.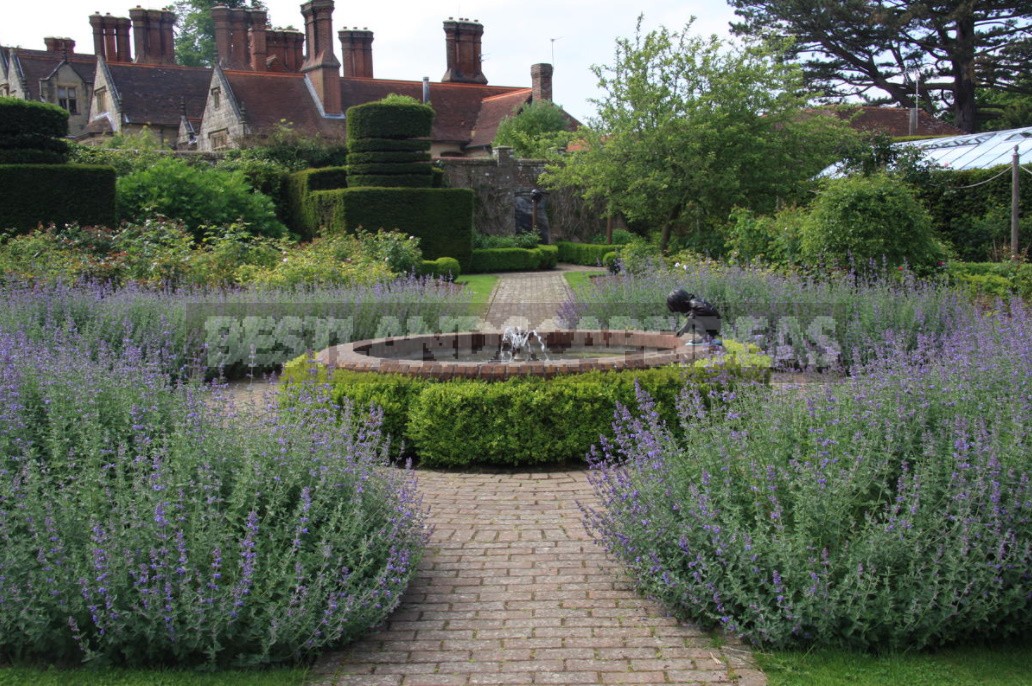 Place Nepeta in the composition one step closer than the growth of the plant suggests (the "floating contours" technique). Thus, the loss in height will not look like a failure, and during the flowering period, this technique will allow you to create an image of a more natural composition. Nepeta's ability to "lie down beautifully" and hide the true contours of a flower garden allows you to get away from the clear lines of a man-made garden, placing some carelessness in it, which means a mystery and life.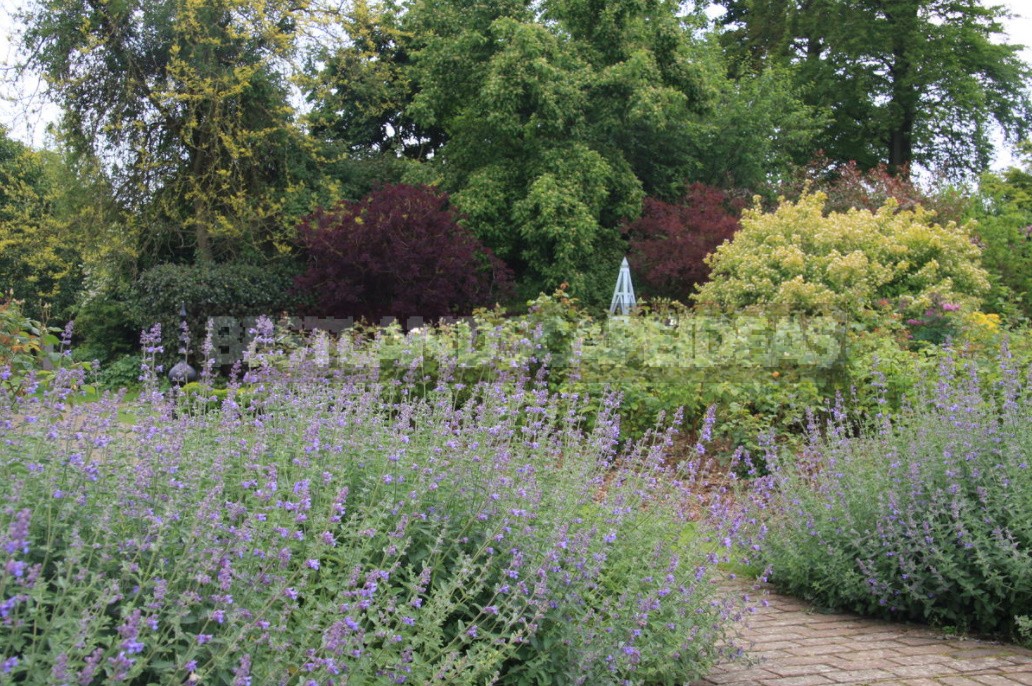 Medium – sized (like 'Purrsian Blue') and low-growing (like 'Little Trudy') varieties of Nepeta are good as a substitute crop — in this case, during the lull of flowering, the containers are removed to a place hidden from prying eyes.
Use low-growing varieties of Nepeta ('Cat's Pajamas'), where it is possible and does not contradict the design idea, since their reduction in height is less noticeable. For example, in a stony and spicy-aromatic garden.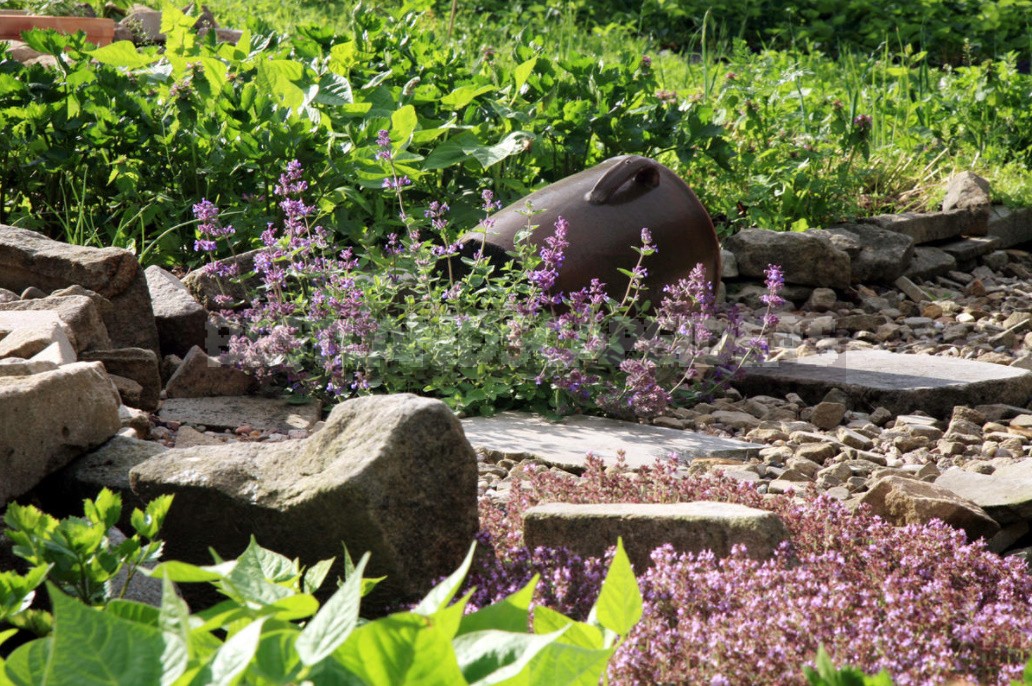 In the design of the garden, N. faassenii, N. subsessilis, N. transcaucasica, N. mussinii, N. sibirica, N. grandiflora and N. cataria are most often used. The last two types are less effective, because they are used mainly in spicy-aromatic compositions. A rare species with yellow flowers-N. govaniana-is weakly hardy, so in the middle zone it is grown as a wildcard crop.
The best partners for Nepeta
To get an expressive, harmonious composition, when choosing Nepeta partners, use these design techniques.
Nepeta, like all spicy-aromatic herbs, should be placed closer to the beholder: at the bend of the path, like a curb around a bench in a recreation corner, in a container in a summer kitchen. Unobtrusive and quite light, it will complement the bouquet of scents of the garden.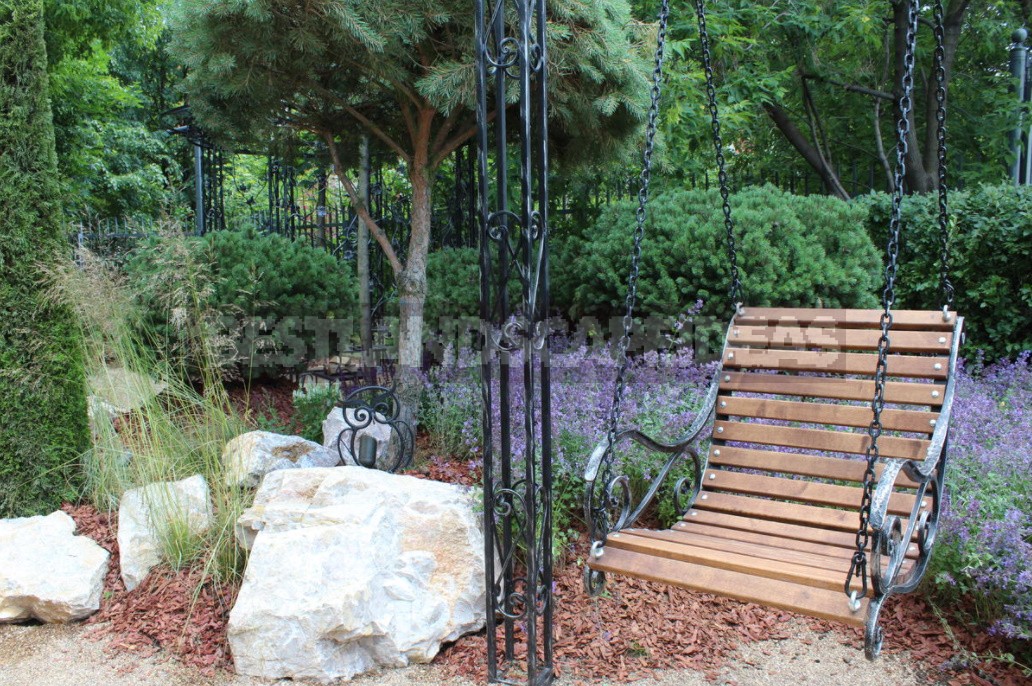 Fumaria allows Nepeta to remain even more mysterious and outstanding participant of the flower garden. It will also slightly cover it at the moment of rest between the waves of flowering. Taking into account the preferences of our hero (moderately humid and the sun or a sliding partial shade), you can use Gypsophila, Limonium, Crambe as a veil.
Decorative cereals are especially effective when paired with Nepeta. The flowing texture is formed by Nassella tenuissima, which should be replaced in the middle lane. Deschampsia and Molinia are transparent and almost weightless, while the panicles of Calamagrostis acutiflora create rich strokes of a grayish hue.
The blue-purple color scheme sounds especially bright in contrast. Use this technique by choosing as a partner Nepeta 'Souvenir d'Andre Chaudron' Lysimachia nummularia and Lysimachia punctata, varieties Eremurus and Lupinus, Coreopsis, Hemerocallis, etc.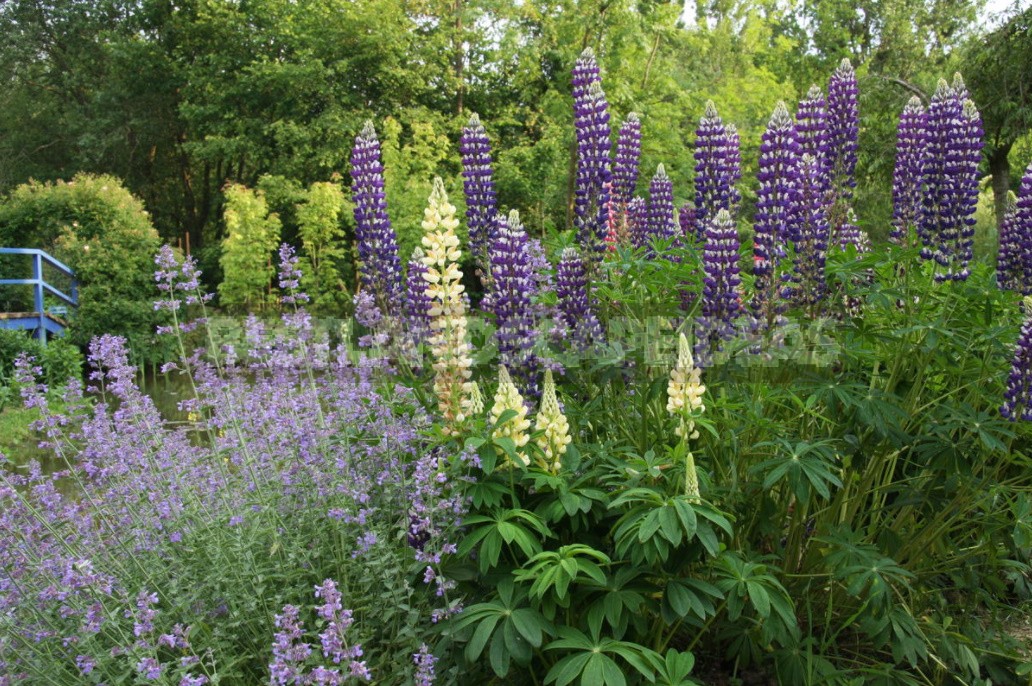 Remember that vertical plants, which include Nepeta, are used as accents. The main mass of the composition is made up of plants with flat inflorescences.
The union of blue and red in the flower garden can be seen infrequently, it is very effective and, moreover, harmonious. Try the duets Nepeta 'Bramdean' with scarlet roses, Papaver orientale, Penstemon barbatus, Lychnis fulgens, Verbena 'Red Fox', Monarda 'Pardon My Cerise', Centranthus ruber.
Cool shades of Nepeta (for example, dark blue in 'Blue Wonder') they sound as good as possible against the background of bluish or rich dark green needles, terracotta or the color of natural wood buildings, gray paving or filling of paths.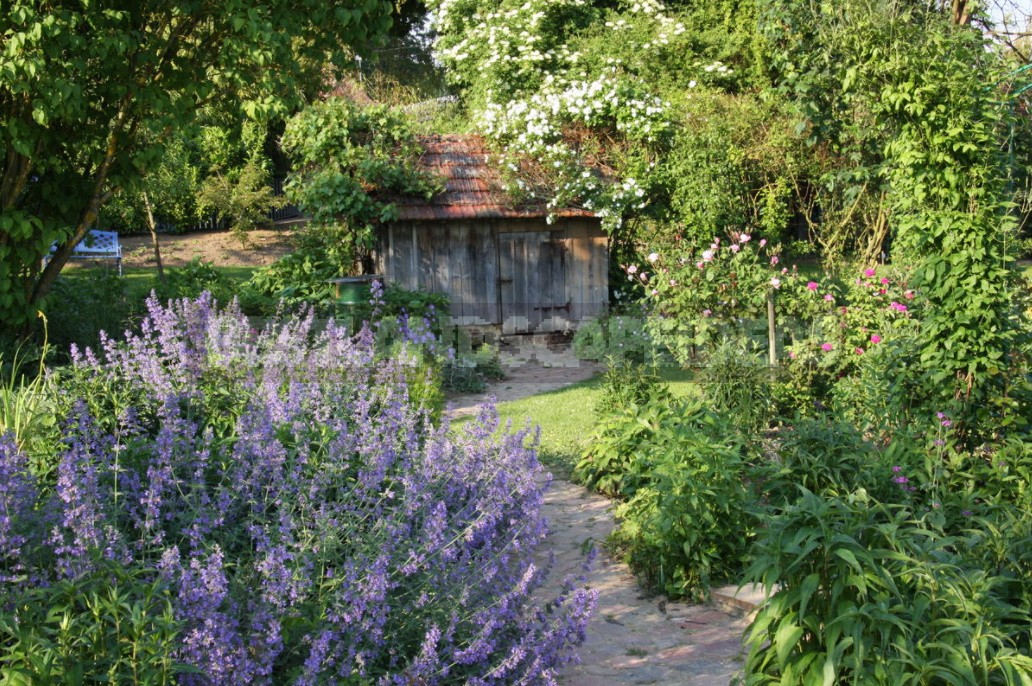 Next to the Nepeta verticals, balls and heads will look very expressive, whether they are floating inflorescences of Echinops and Eryngium or geometrically clear, solid balls of decorative alliums.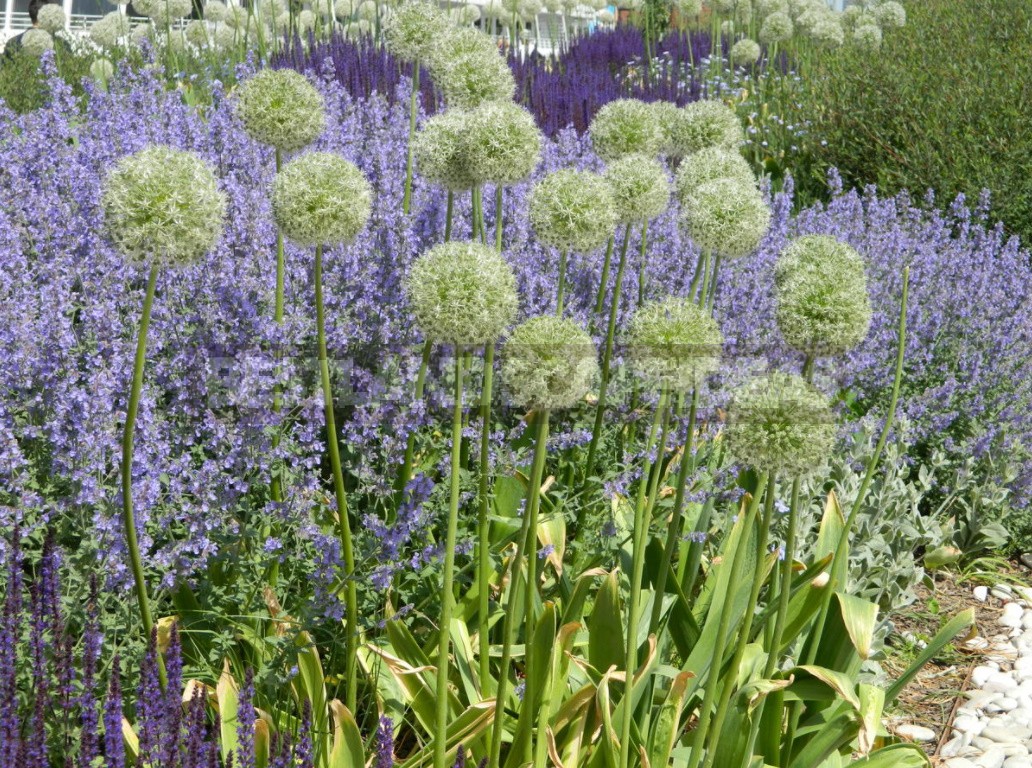 The union of ascending and descending stems and shoots is interesting, so pay attention to the weeping forms of coniferous and deciduous species on a low stem, drooping inflorescences of Lysimachia clethroides, astilba 'Straussenfeder', a somewhat exotic hummock Hakonechloa.
Nepeta are good in mass as groundcover or as a curb. To do this, it is advisable to choose varieties that are developed more in width than in height, for example, 'Cats Meow', 'Junior Walker'.
And what role do you assign to Nepeta in your garden? Share your ideas and beautiful photos with us.