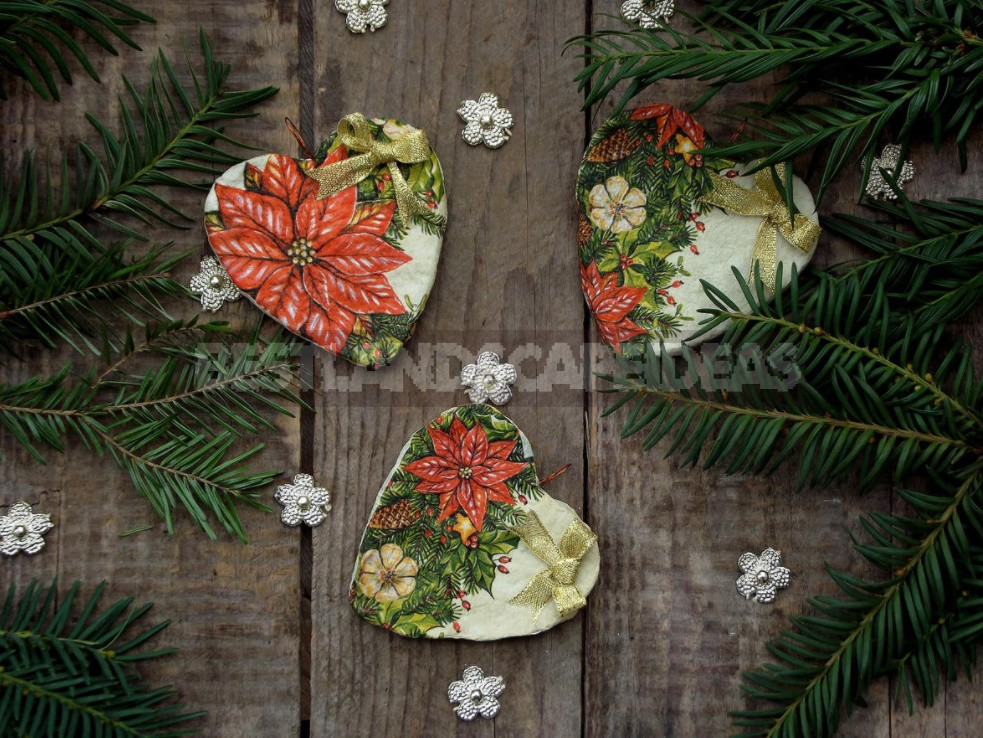 New Year's mood is a delicate and highly individual matter. Now many people decorate their homes with Christmas wreaths, but for me, for example, they do not evoke festive thoughts. You can certainly find decorative items to your liking: store shelves are bursting with Christmas goods. But I suggest going the other way — giving ordinary items a festive look in the simplest way possible!
Today we will talk about decoupage. Rather, let's see how it can be used to magically transform the most ordinary objects. Many people mistakenly believe that decoupage is definitely not for them. And yet surely everyone has worked in this technique at least once in their life! If you have ever glued wallpaper, consider that the entrance exam for decoupage has already been passed! Of course, in this method of decoration, as in any other, there are different levels of complexity. But you can start with the simplest, the result will still be impressive! And most importantly — you will have a unique Christmas tree toy or candle holder, which will return the long-forgotten anticipation of the holiday.
Bottles
Even if you don't really like champagne, you probably buy it for the New Year's table. To make the solemn moment perfectly beautiful, decorate the bottle!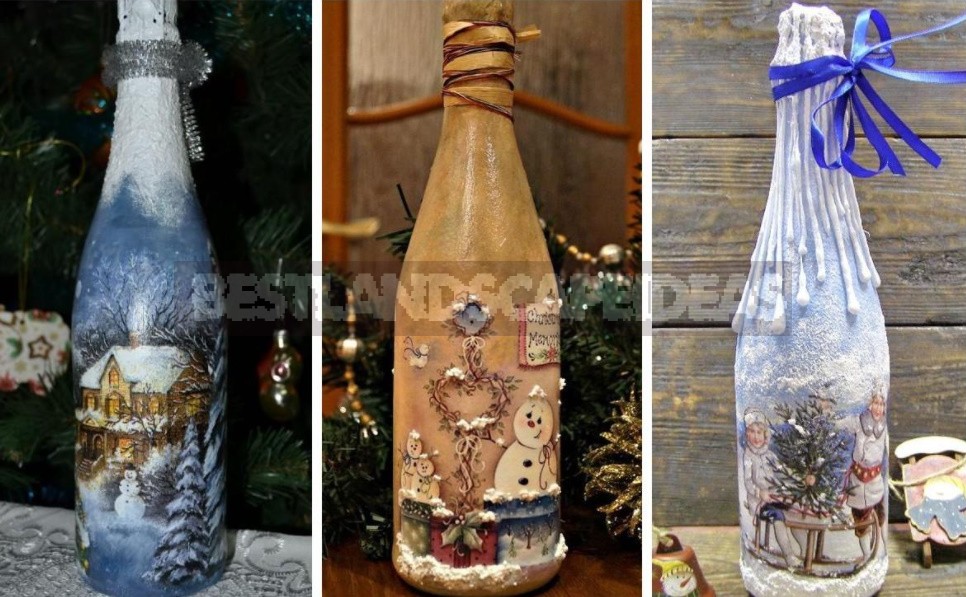 However, why only champagne? Any drinks intended for the New Year's table will look much more interesting in festive clothes.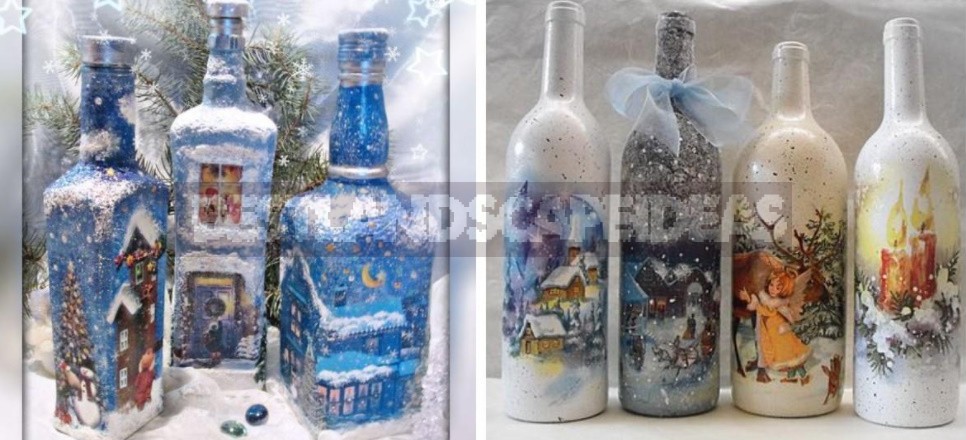 You can artificially age the decor, then the bottles will look like supplies from already distant times. To make the picture covered with a grid of cracks, it just needs to be covered with craquelure varnish — nothing complicated!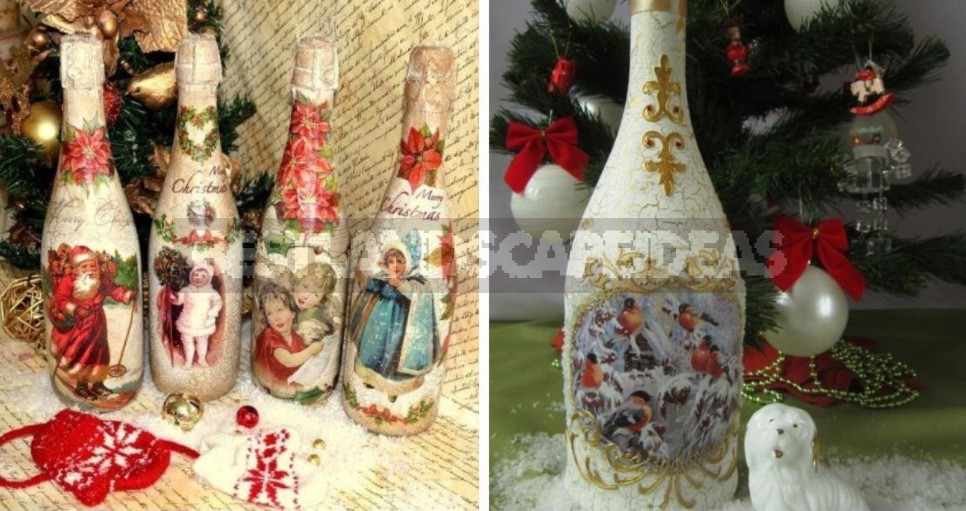 Well, to certainly deprive the guests of the power of speech from admiration, serve the bottle in a decorative box.
Christmas tree toys
Good ones are expensive, and not everyone has the opportunity to allocate a tidy sum for decorating the Christmas tree. Cheaper ones are not distinguished by refinement, but decoupage will quickly give them the missing grace!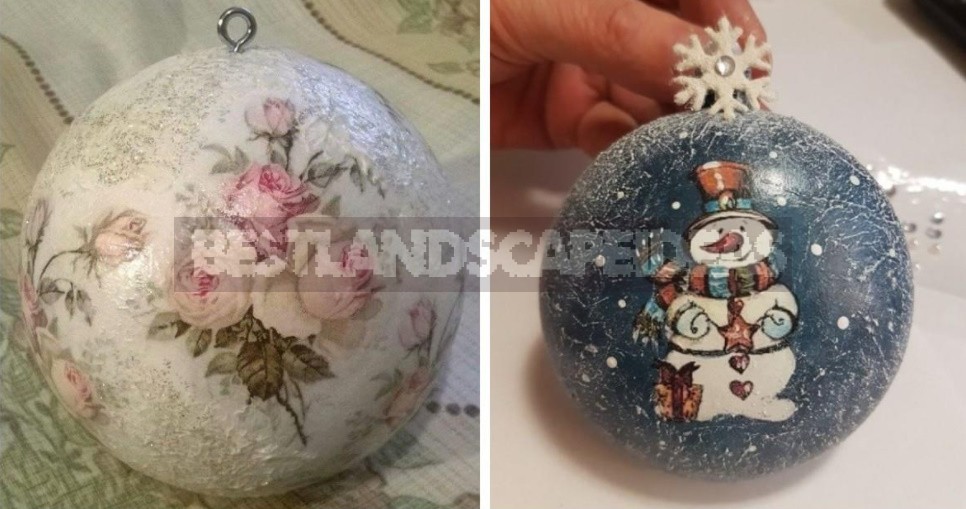 If you have wallpapered more than one room, you will definitely not be difficult to decorate a dozen or two Christmas balls. All you need for work: glue, brush, napkins with thematic images and trim decorative braid. See what happens in the end!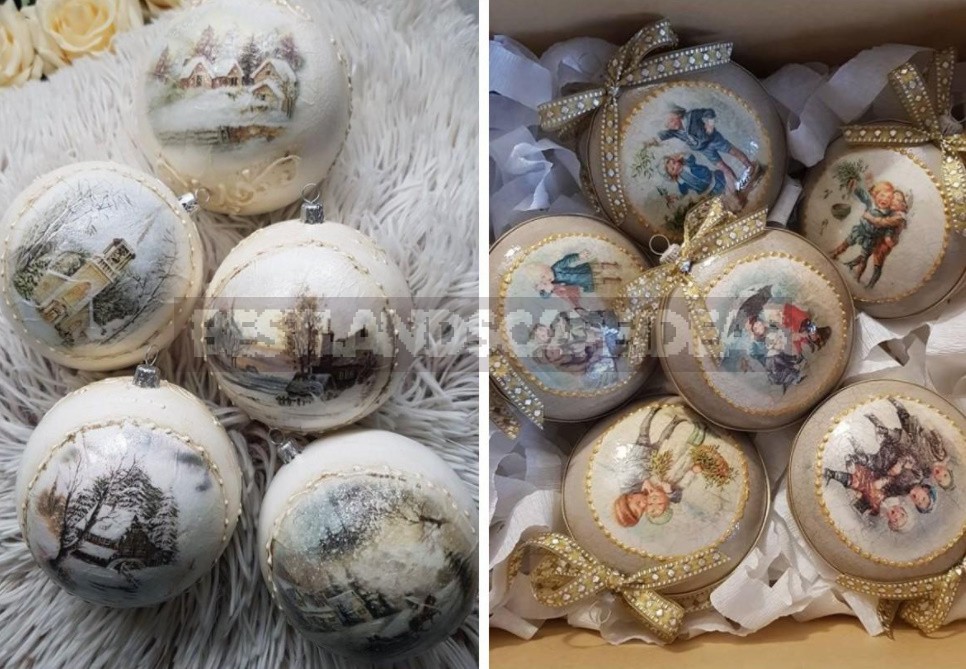 A little patience, and faceless plastic products will gain individuality and a pleasant look to your eyes.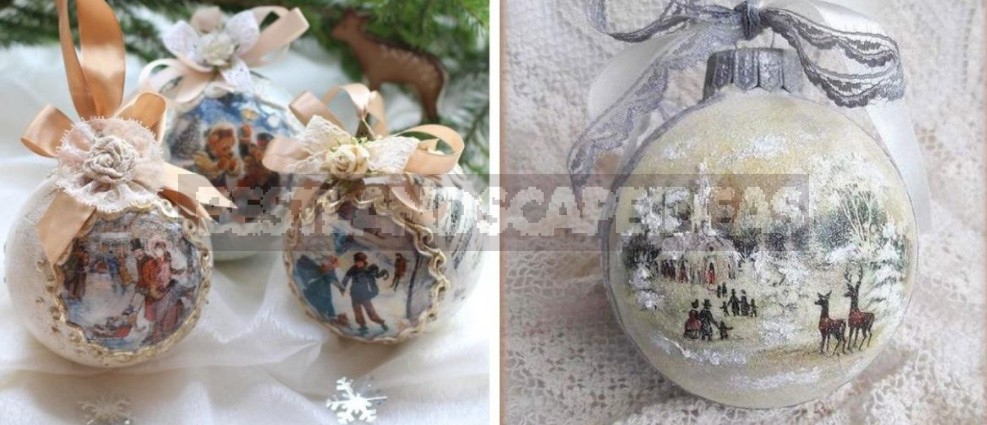 Well, if the soul asks for luxury, remember the technique of aging, rhinestones and sequins. I think, and as a gift, such toys will look good.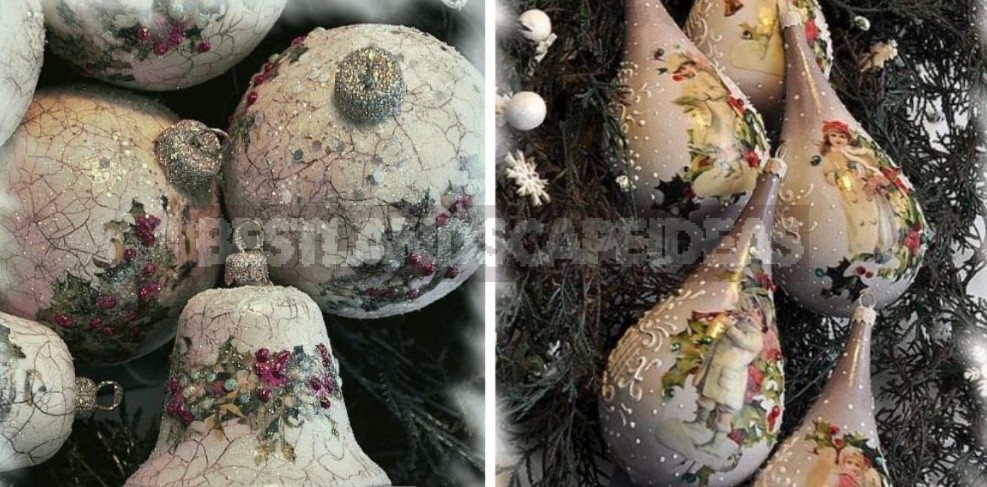 Candles
An indispensable attribute of cozy New Year's Eve parties can also be given an appropriate look. Fortunately, the choice of napkins with thematic drawings is now impressive. Well, if there are no suitable ones in the store — do not worry! The Internet is full of free images for decoupage, and the print quality of modern color printers is impressive.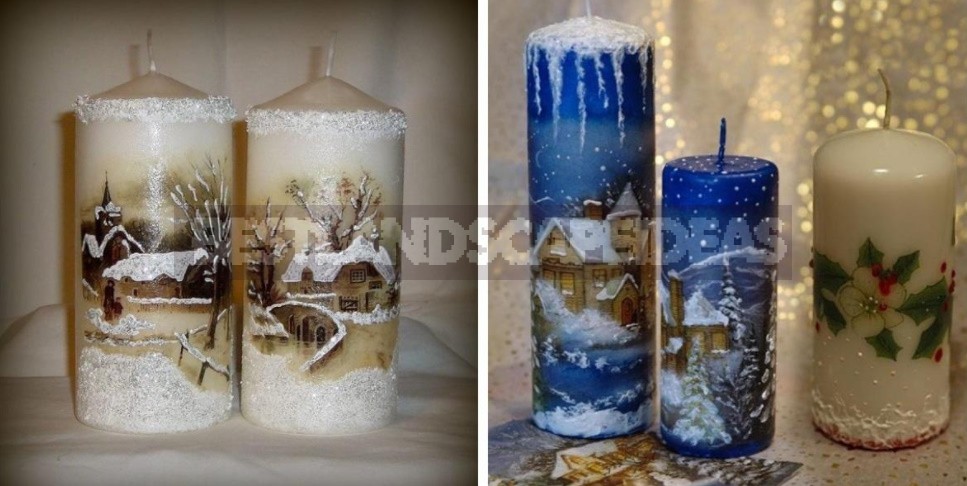 By the way, when you decorate candles for the New Year, you can also make a few for Christmas.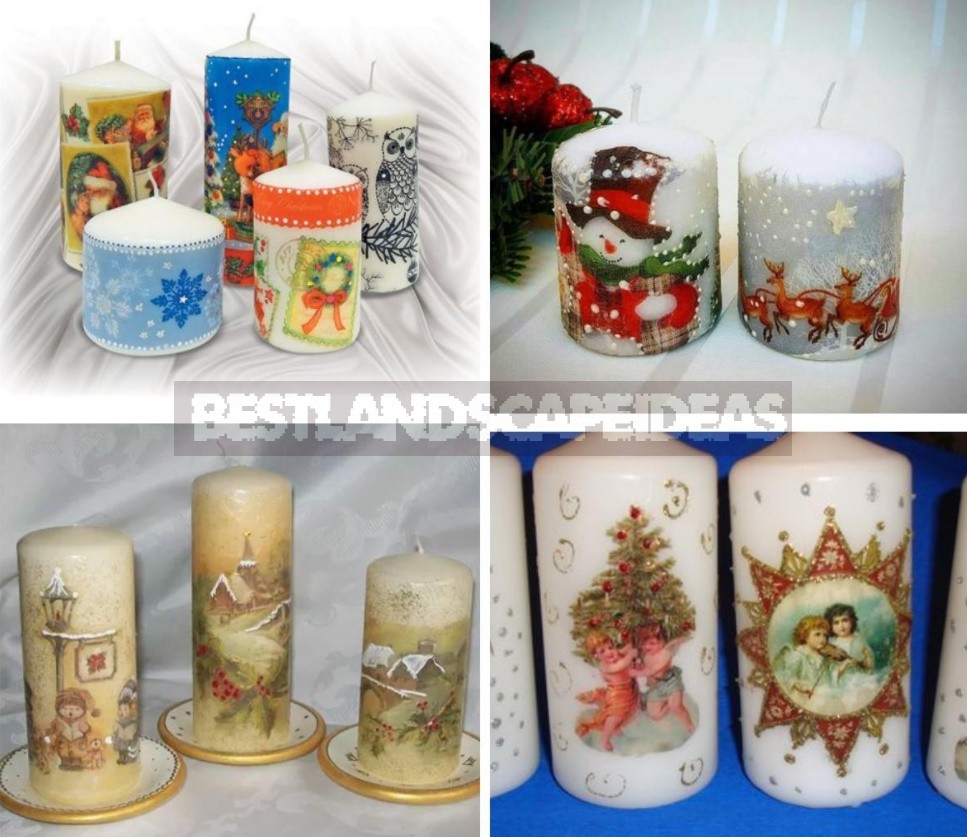 I consider it my duty to warn: decoupage is a contagious and clingy "disease". Another successful work only increases the symptoms, and after a pretty candle, a new look takes on a flower pot, then a box. And you are already looking appraisingly at the chairs and dressers — is it not time to ennoble them? Do not rush, accumulate more experience on smaller items, there will also be a lot of them in the house.
Candlesticks
Now simple wooden stands for tea candles are in fashion. Products made of precious wood cost a lot, but we do not need them, but blanks for decorating with our own hands. Most often they are made of pine, so the purchase will be inexpensive. With the help of decoupage, you can turn them into real masterpieces!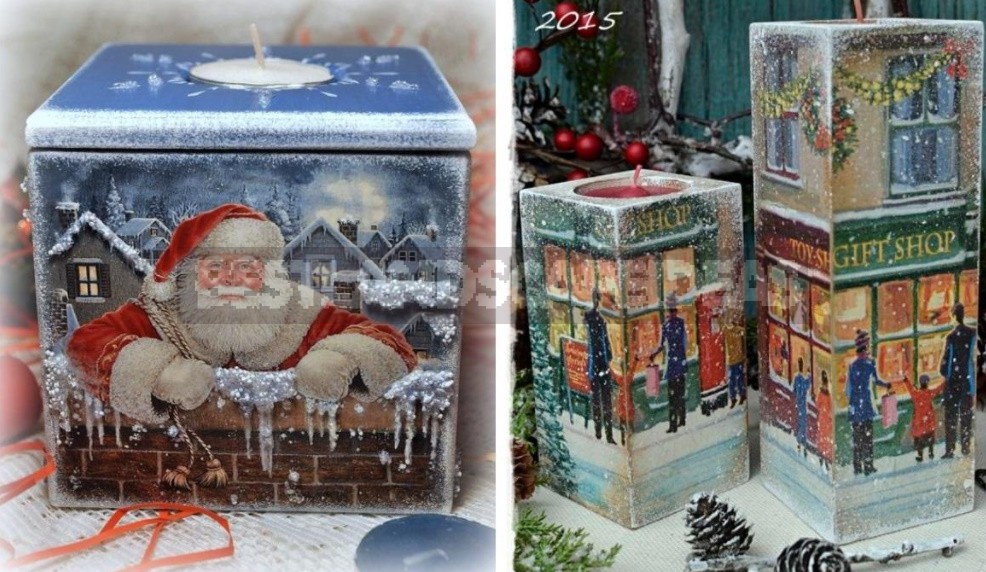 The main thing is not to lose control of yourself and not to make candlesticks more than necessary. However, you can always give extra ones to friends and neighbors, they will surely be happy with a stylish New Year's thing. Well, if you want a variety, in addition to the wooden ones, decorate a few glass ones.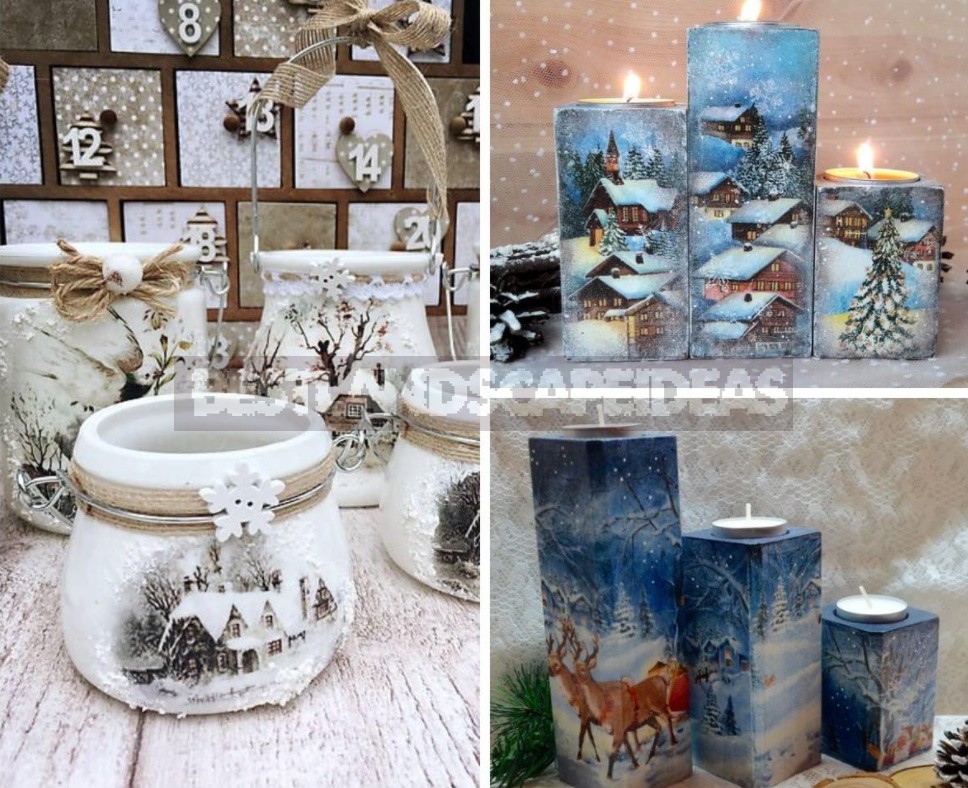 Box
If your favorite jewelry box eventually crumbled paint, decoupage will return it to a decent look. Not only that: it will turn a modest piece of plywood into a luxurious thing.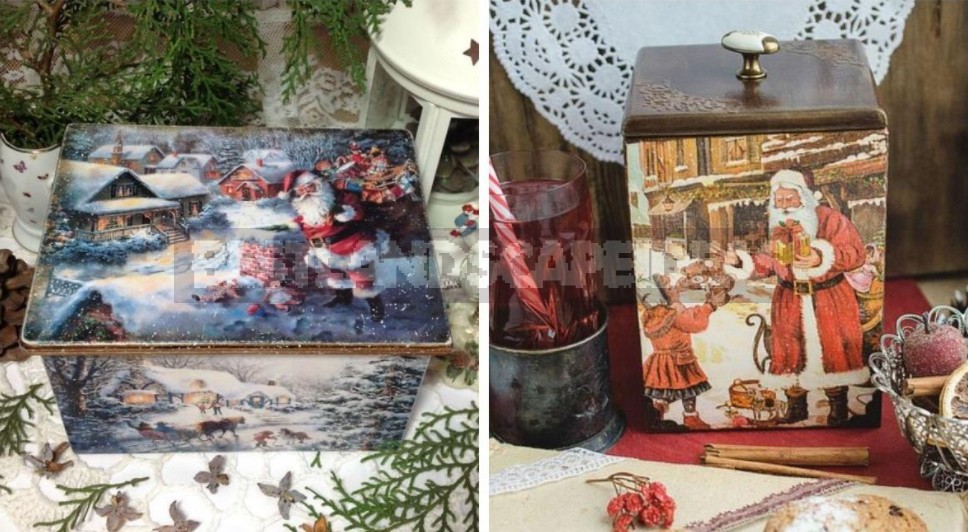 Christmas trees
What do not make Christmas trees with their own hands: tinsel, dried flowers, paper, cardboard and other, sometimes quite unexpected materials. Experiments are welcome: if you find a piece of drywall or a few wooden slats in the shed, you can make such unusual Christmas trees in record time.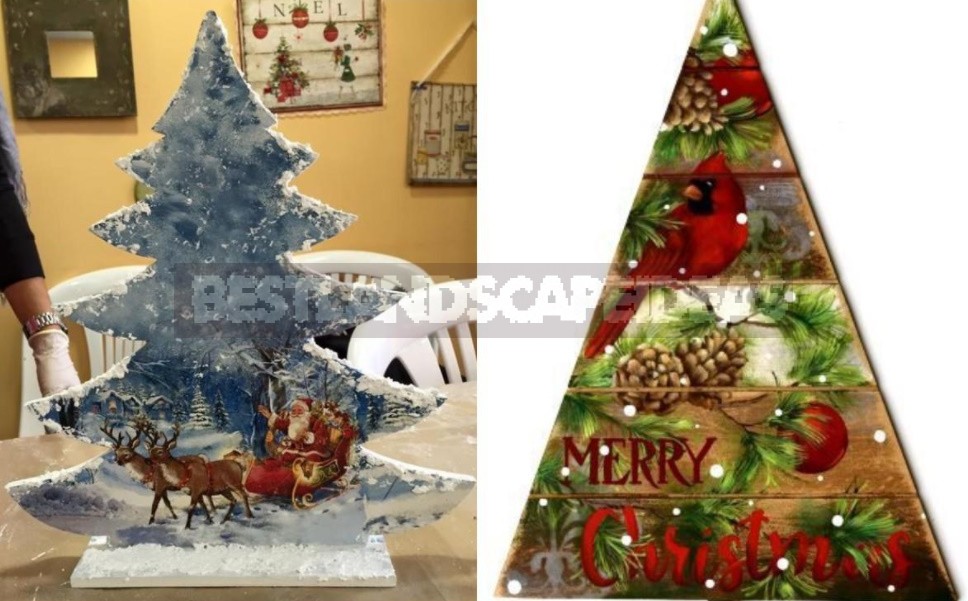 Tea houses
Where do housewives spend a lot of time every day, especially before the holidays? That's right, in the kitchen. So that the hassle of a hot stove was not a burden, create a New Year's entourage in the room: with a good mood, you can easily cope with the most tedious work! What can be decorated with decoupage? Yes, almost anything! For example, a tea house.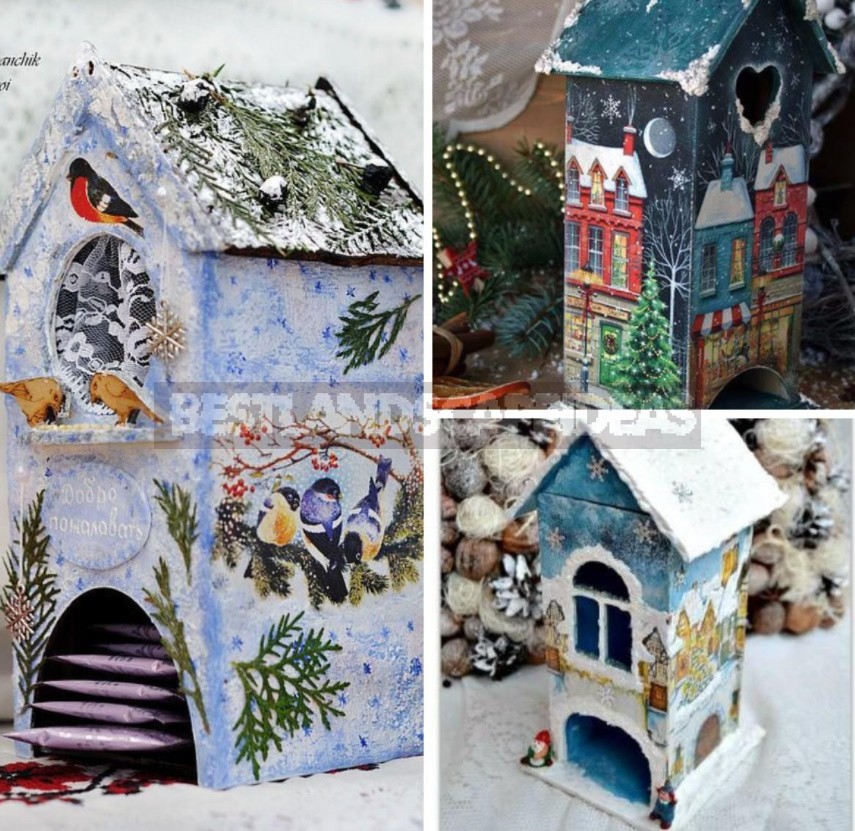 Trays
Morning tea or coffee will certainly seem tastier and more fragrant if you serve them on such a beautiful tray!

Kerosene lamps and other household items
A kerosene lamp, an old teapot and a milk can, decoupled in the same style, will become a worthy decor of the kitchen.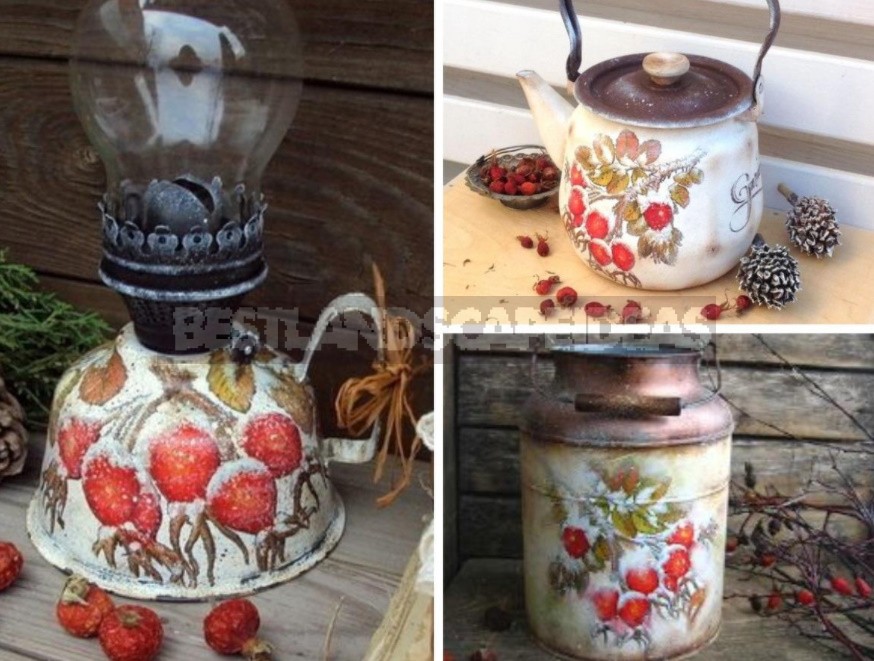 The lamp can be decorated not only with a fuel tank: frosty patterns on the glass — this is also decoupage! And if you keep Christmas toys in an old suitcase, decorate it too, so that at first glance it was clear what treasures are hidden in it.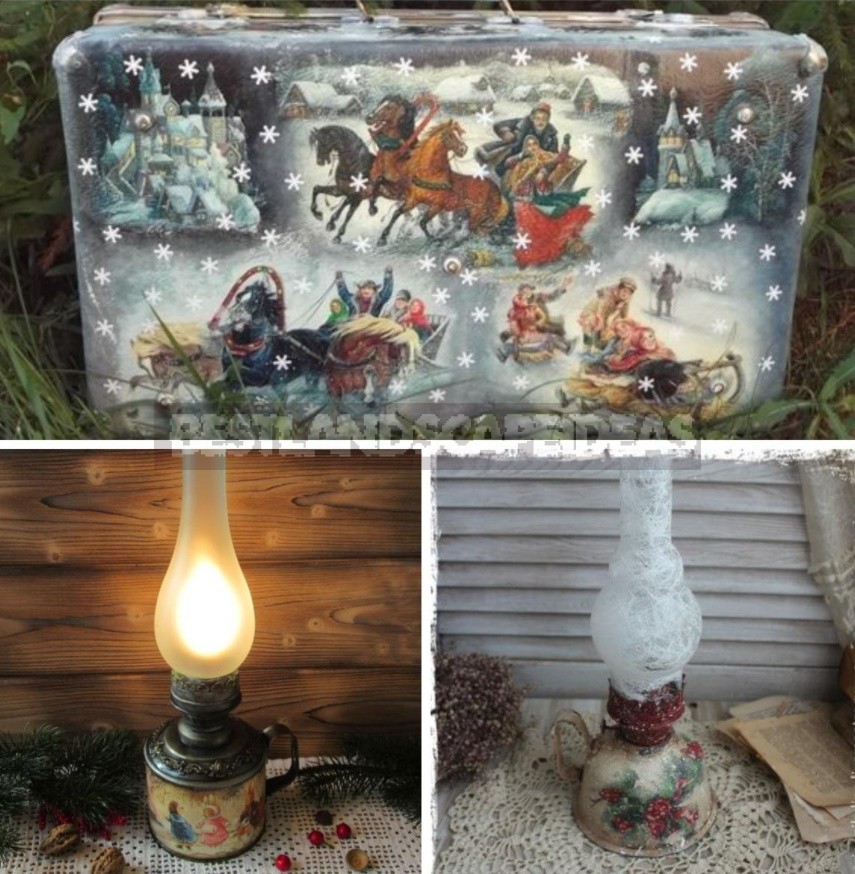 Decorative plates
Does the kitchen still not look New Year's enough? And hang a couple of decorative plates on the wall, for sure they will correct the situation.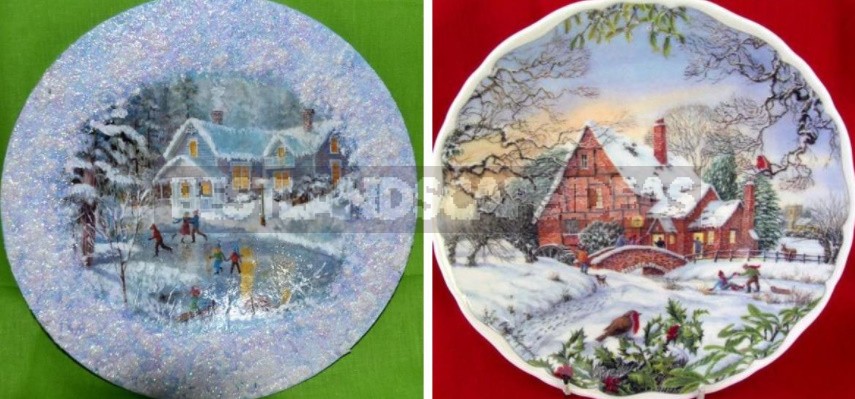 Glasses
On the shelves of the kitchen cupboard, you can put these glasses and glasses. It is not difficult to decorate them, and the New Year's atmosphere in the kitchen is provided.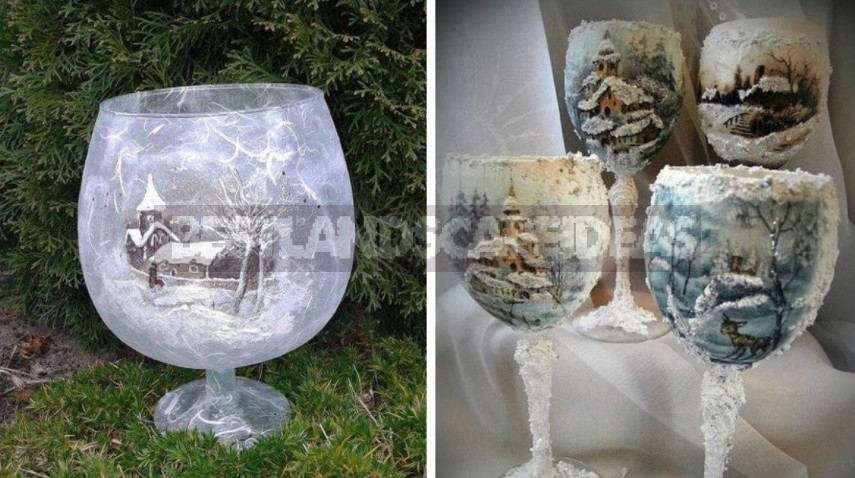 Of course, it is undesirable to drink any of them, as well as to put tea candles inside-suddenly the paper will darken, and all efforts will go to waste?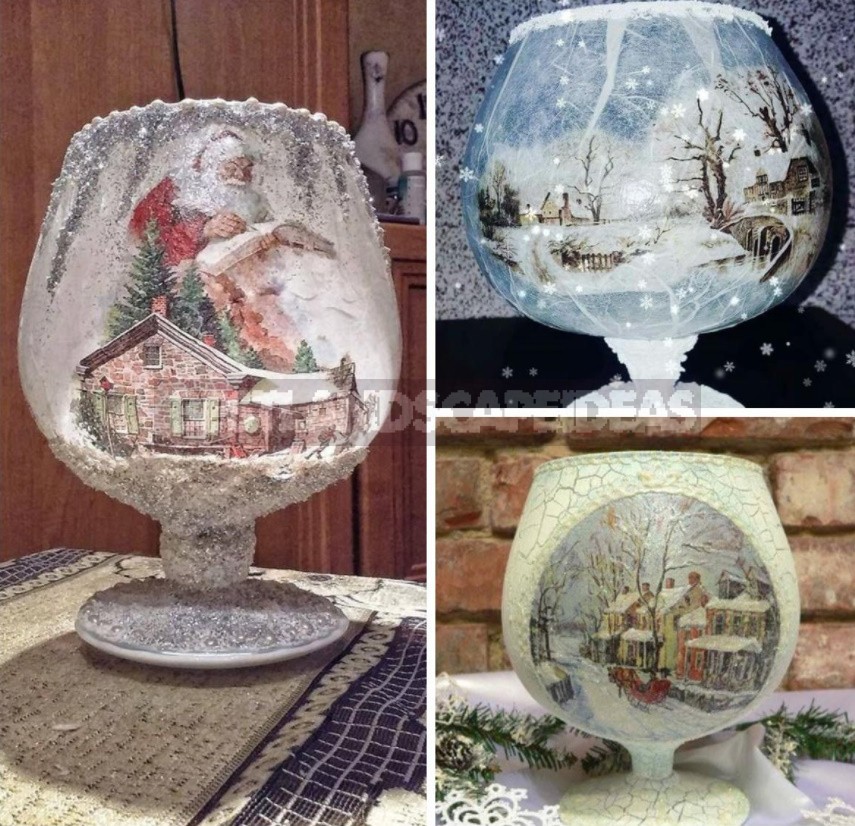 If the items planned for decoration have come out, and the fervor of decouping has not faded, get out stocks of all kinds of jars and trays — they also will not hurt to get a decent look for the holiday!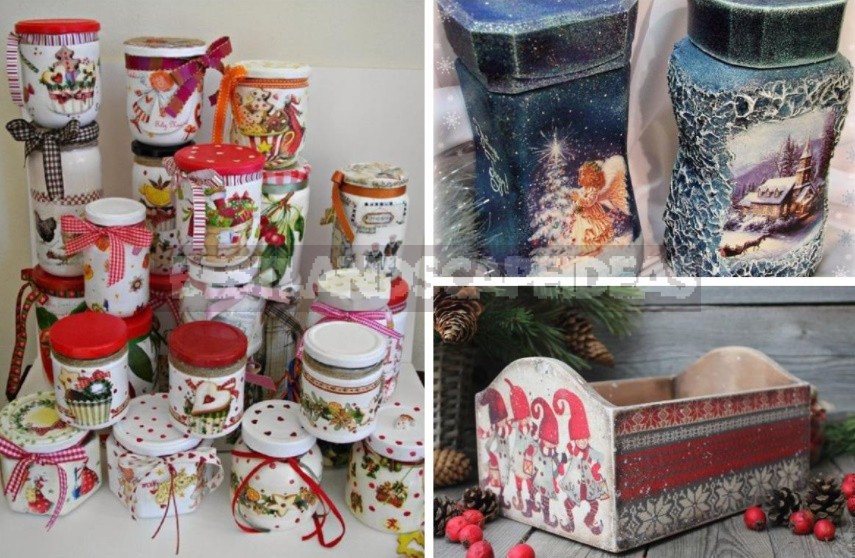 Fashion Print
I do not insist on using it in any way, but I still draw your attention to the most fashionable New Year's print for decoupage. I have specially collected all the items in one section so that you can appreciate the scope of using napkins with this pattern. Birds on a rowan tree — how cute!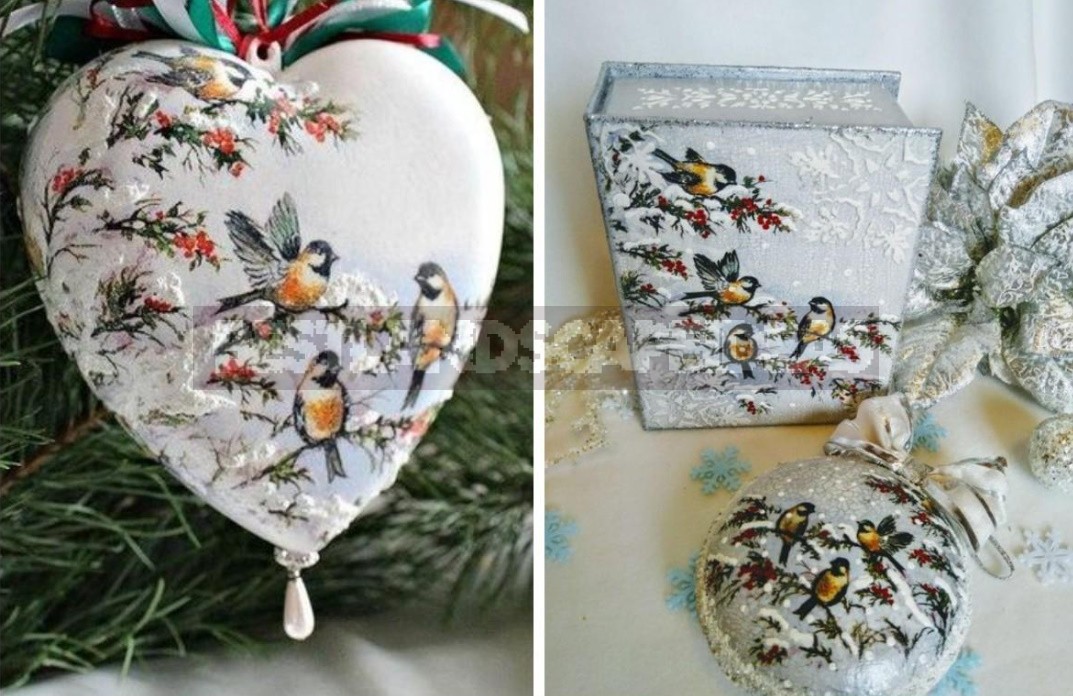 Here is a flock of yellow-breasted beauties easily fluttered on wooden saws – turned out Christmas toys in eco-style.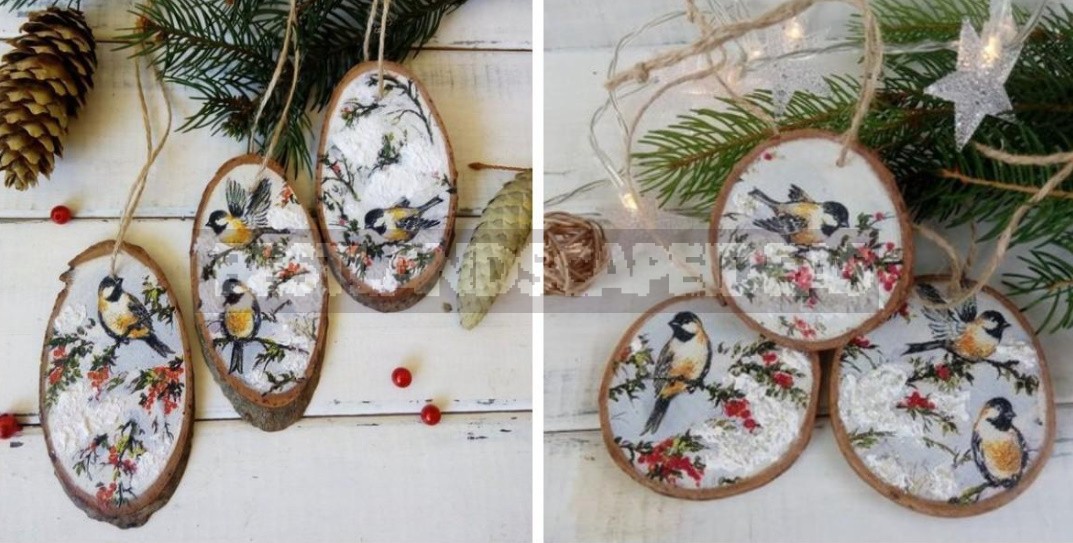 But the elegant birds are conveniently located on a candle and a candlestick.
Apparently, these brave birds are not afraid of fire at all: see how calmly they go about their business right by the candle flame.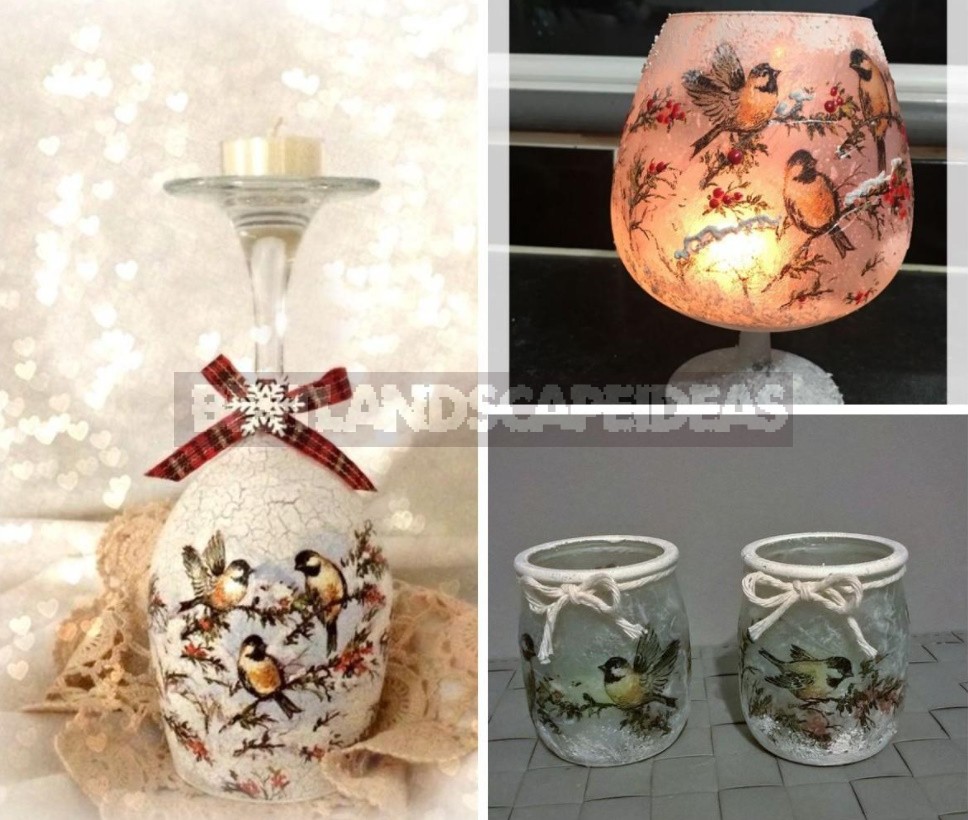 On larger items, you can see the entire napkin pattern.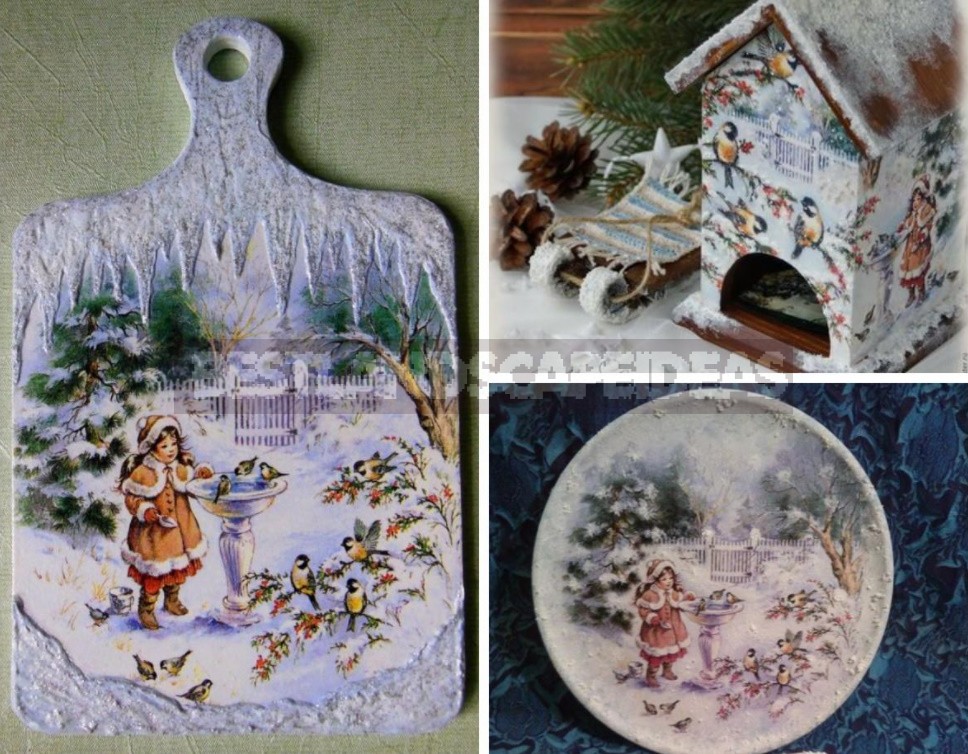 Well, wow! There was no place left in the house where these nimble birds would not have penetrated…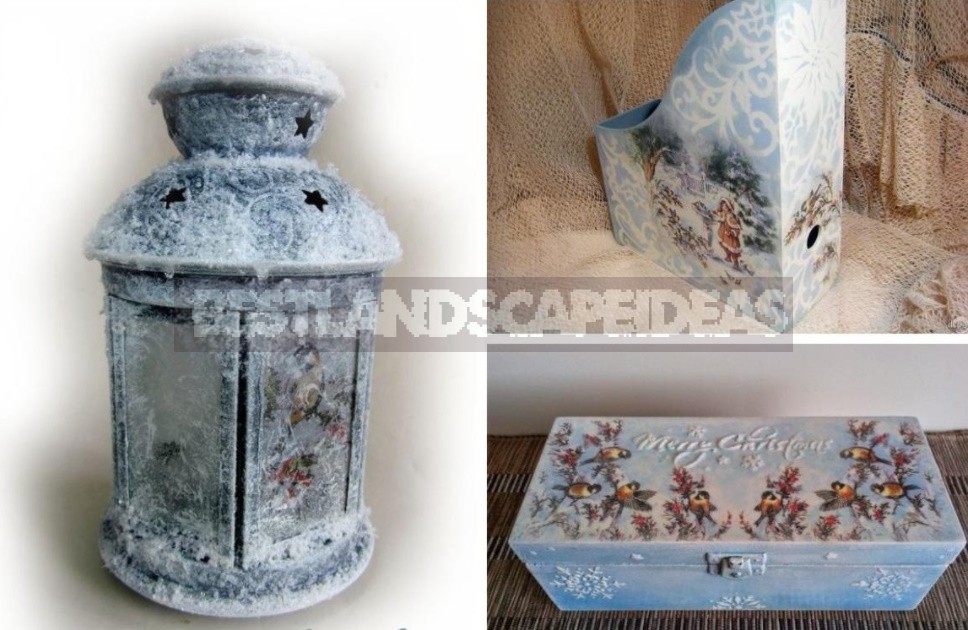 They say that there is not much good!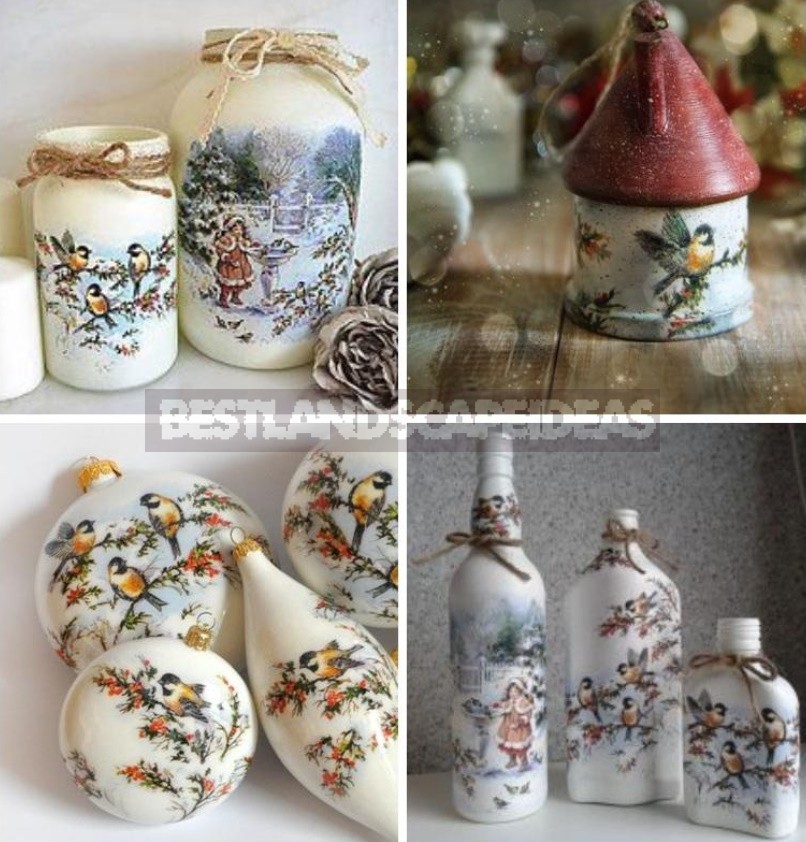 We have a lot of masters on our site who have successfully mastered decoupage. Everyone who wants to try their hand at this decoration technique is advised to look at these publications: you will learn a lot of useful things, and most importantly-get inspired and believe in your own strength.