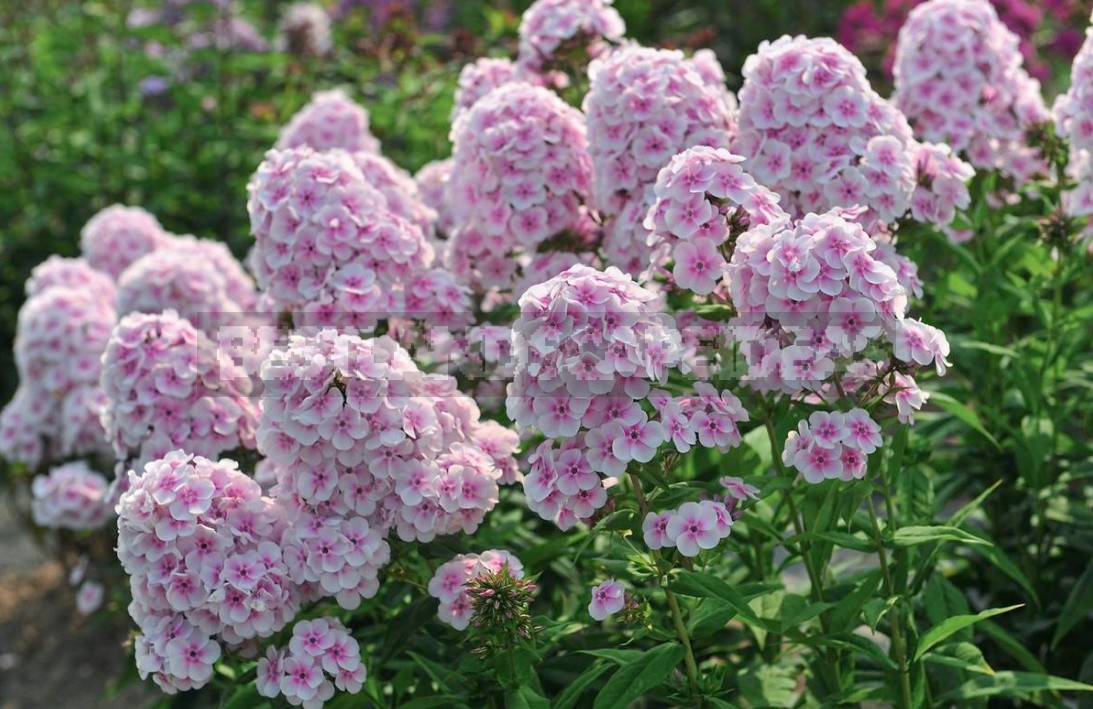 Phlox paniculata — one of the precious ornaments of the garden. And all because the advantages of this perennial are very significant: a rich palette of colors, the sweet aroma of the Zenith of summer, a variety of shapes and sizes, and finally — a lot of options for use in flower beds.
Portrait of a plant
This flower is held in high esteem by both gardeners and breeders, and more than 1,000 varieties of perennials have been bred. Phlox paniculata is native to North America, and in nature it grows in forest clearings, meadows, and wet roadsides. The height of the Bush depends on the variety: there are both dwarfs up to 35 cm, and giants above 150 cm.
Varieties differ not only in growth, but also in the shape, density and size of the inflorescences; the silhouette, diameter and color of the flower (it can be white, coral, pink, red, crimson, purple, purple, lilac). Some purple Phlox turn blue and blue at dusk.
There are also two-color varieties with a contrasting eye, stripes or strokes. There are also amazing smoky varieties, whose main tone is decorated with a pattern of the thinnest silvery haze. And even a small number of Phlox with variegated foliage!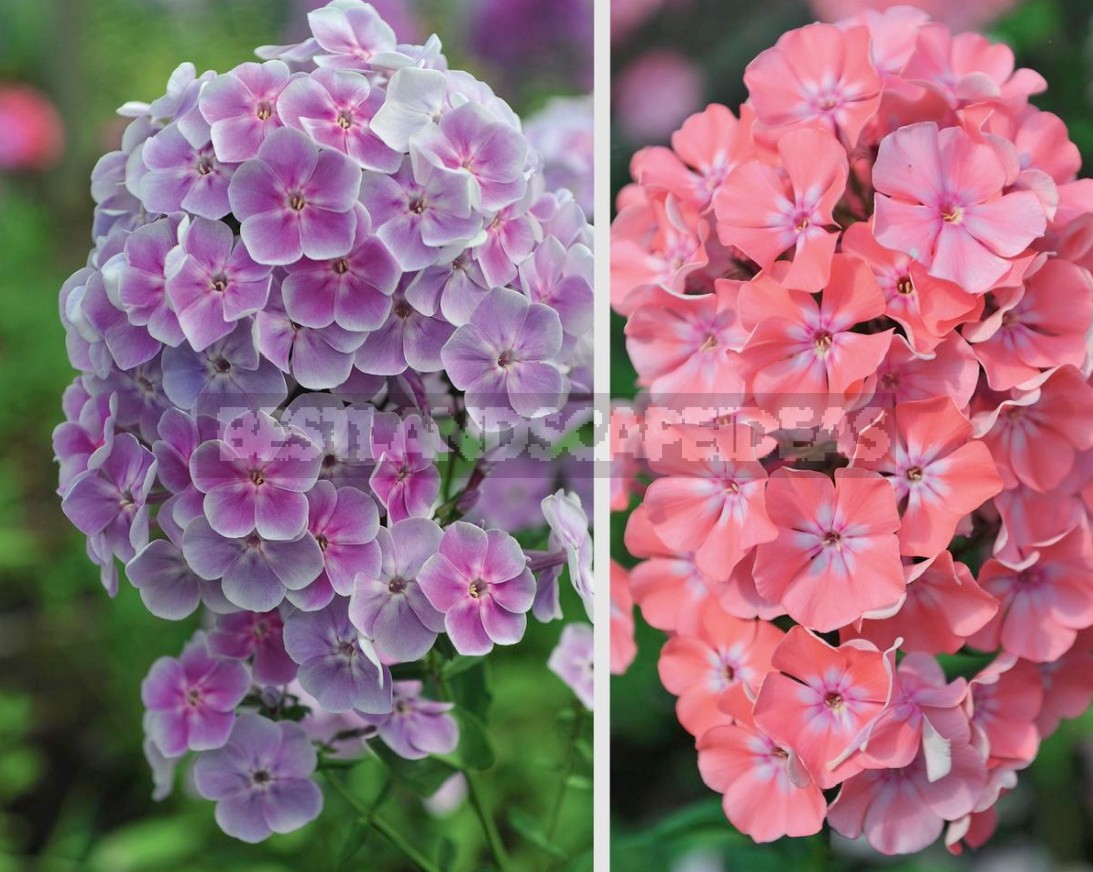 By the time of flowering all varieties can be divided into three groups:
early blooms in late June,
average – in the second half of July,
the later ones are at the end of August.
Phlox blooms for an average of five weeks, although there are both hurriers, whose bright flash lasts only three weeks, and record-breakers, who decorate flower beds for two and a half months.
Optimal condition
For Phlox paniculata, an ideal Sunny place on moist loams, from slightly acidic to neutral. Red and purple varieties that often fade in the sun can be planted in a light penumbra, where they will retain their color, but the Bush will be taller. Important: the soil should be well drained.
Phloxes are very responsive to composting and mulching, they also need good air circulation: in dense plantings, the probability of fungal diseases increases.
In garden design
Dwarf varieties due to their compactness will fit perfectly into the foreground of the flower garden, they can be used to make a border along the path.
Medium-sized varieties are suitable for the role of a bright color spot in the form of a group on the lawn or in the middle plan of the mixborder.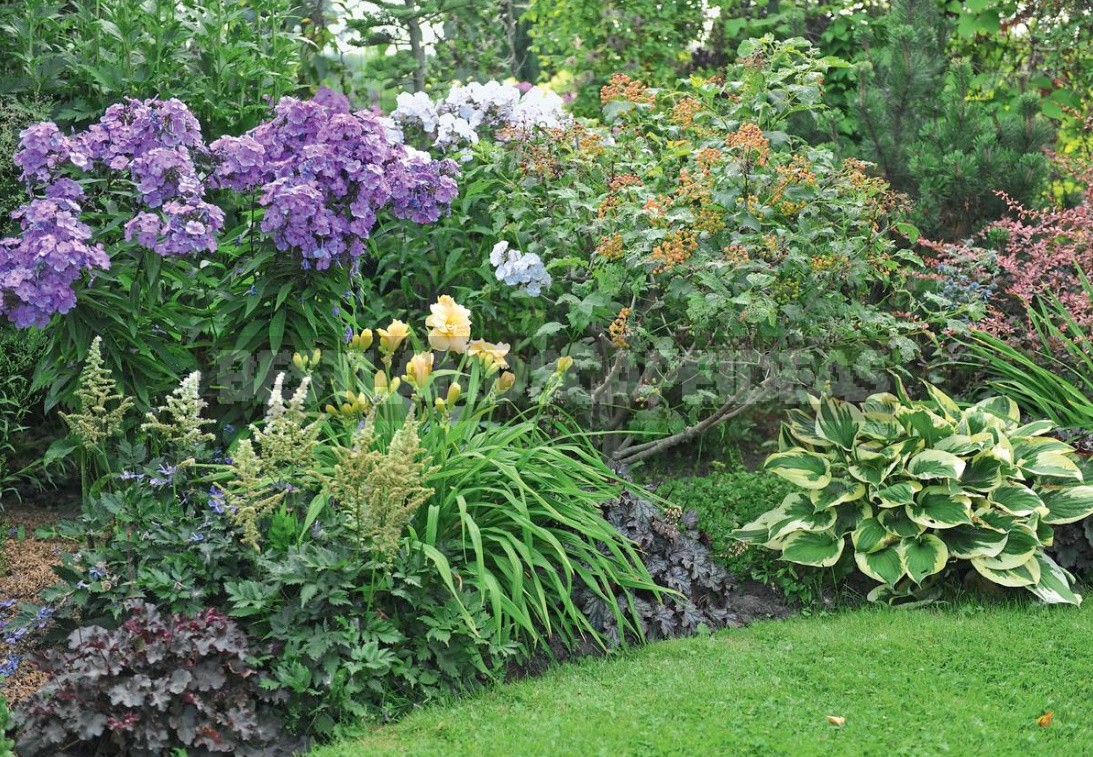 The highest varieties will create a background in the background of flower beds. Smoky Phlox should be planted closer to the recreation areas, so that you can see the beauty of painting their flowers from a close distance. And small-flowered, on the contrary, are good when viewed from a distance – in this perspective, they are very similar to a mosaic.
They, as well as Phlox series Feelings, perfectly fit into meadow flower beds with plants of natural appearance, while Phlox with large flowers are more suitable for traditional flower beds – from the village to the English cottage garden. In the latter case, their partners can be the most luxurious plants-lilies, delphiniums, roses, clematis.
In ordinary flower beds, Phlox is planted at the rate of 5 bushes per 1 m², in modern plantings of the "new wave" a little denser – 7 copies per 1 m².
Unusual varieties
Smoky: 'Dragon',' Smoky coral', 'Prince Silver',' Mr X', 'Grey Lady',' Secret', 'Florence',' Churlenis' and many others.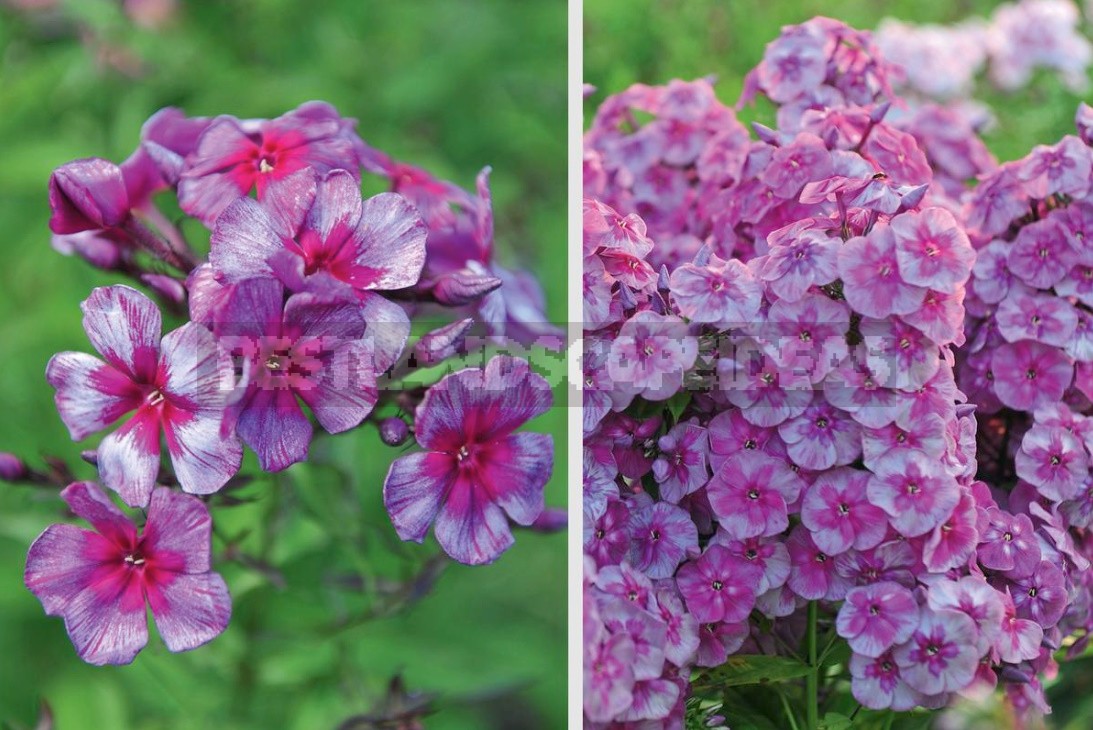 With striped and hatched flowers: 'Peppermint Twist', 'Eis und Heiss'.
With leaves with a white or yellow border: 'Becky Towe', 'Frosted Elegance', 'Goldmine', 'Harlequin', 'Mary Christine', 'Norah Leigh', 'Pink Posie'.
With buds that never open: 'Bud', ' Dark Empty Feelings', 'Empty Feelings', 'Fancy Feelings', 'Midnight Feelings', 'Natural Feelings', 'Pleasant Feelings', 'Pure Feelings', 'Red Feelings'.
Care during the season
Spring
At the end of may, it's time to divide the old bushes and start cutting Phlox that need to be propagated. Not all varieties have resistant shoots, under the weight of rain-soaked inflorescences and strong wind, they can collapse. Therefore, it makes sense to tie the bushes to the support when they reach 20 cm in height.
In mid-may, the plants are fed with a complex fertilizer with a predominance of nitrogen. If there is no rain, you need abundant regular watering.
Summer
In June, nitrogen fertilization can be repeated if the Phlox grow on poor soils.
In July, the plants can be fed with an infusion of wood ash, and after flowering, make a complex autumn fertilizer with a predominance of phosphorus.
Phlox produce abundant self-seeding, and seedlings often differ from the parent variety. In order not to lose the varietal plant in the thick of mismatched Phlox, as well as to prolong flowering, it is necessary to remove faded inflorescences. And, of course, to make the Phlox bloom luxuriously and for a long time, do not forget about watering.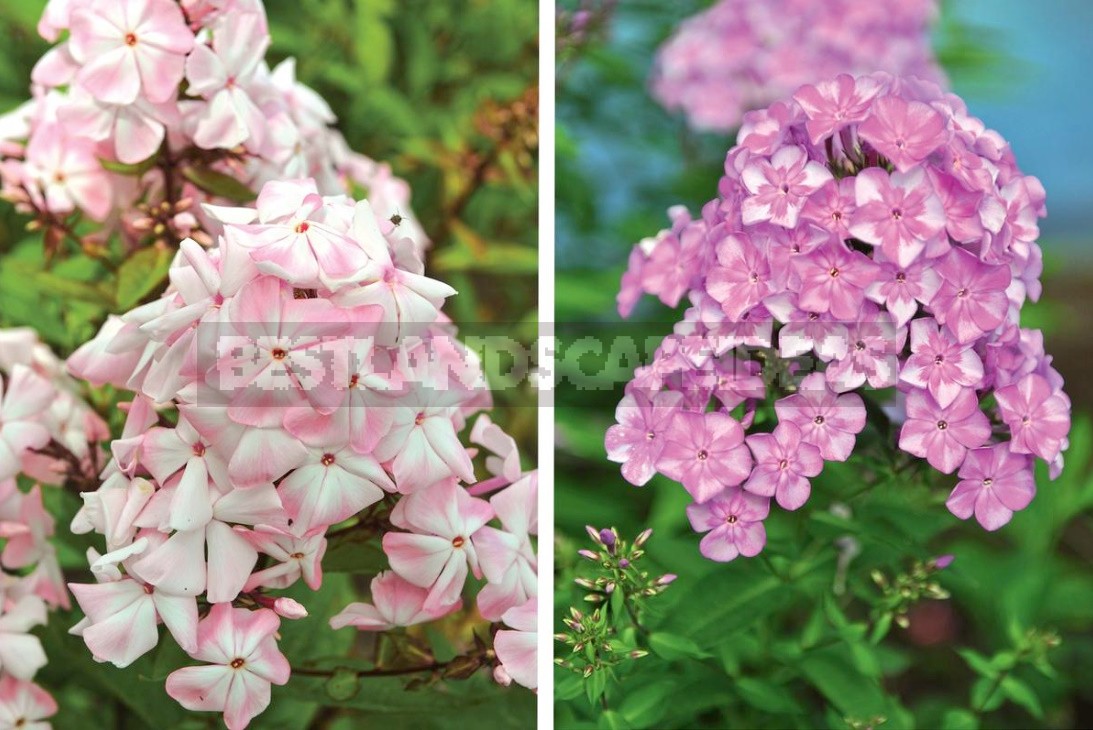 Autumn
In early September, you can divide the adult bushes. After freezing, the Phlox is cut to the base.
In winter, it is good to mulch the planting with completely rotted manure or compost – this will preserve the surface root system of Phlox in the case of frosts without snow and saturate the soil with useful substances in the spring.
Reproduction
To rejuvenate the Bush, it is recommended to divide the Phlox every four to six years. At the same time, this is the easiest option to propagate the desired varieties. Division is carried out in late April – early may or in late August – early September. On each site there should be from three to five growth buds (shoots).
Another simple, but demanding patience method of propagation of varieties — stem cuttings. They are cut from the end of may to the end of June and rooted in cold greenhouses or open ground.

Usually after a month in the axils of the leaves of the upper node, one or two shoots are formed.
Problems and solutions
Reverse, or the appearance of a variety of shoots characteristic of the mother form, often occurs in cultivars with unusual characteristics. Thus, "hatched" and "striped" Phlox often have shoots with a single color of the flower, Phlox series Feelings-with normal flowers, and variegated varieties — with green leaves. Such "wrong" stems should be immediately broken down to the ground, otherwise over time they will drown out less powerful varietal.
It is not unusual for old Phlox bushes to shed their lower leaves. This may be a signal that it is time to divide them, or that they need more regular deep watering and feeding. In any case, it is better to plant Phlox in the middle plan of flower beds, so that the foreground plants cover the bottom of the bushes.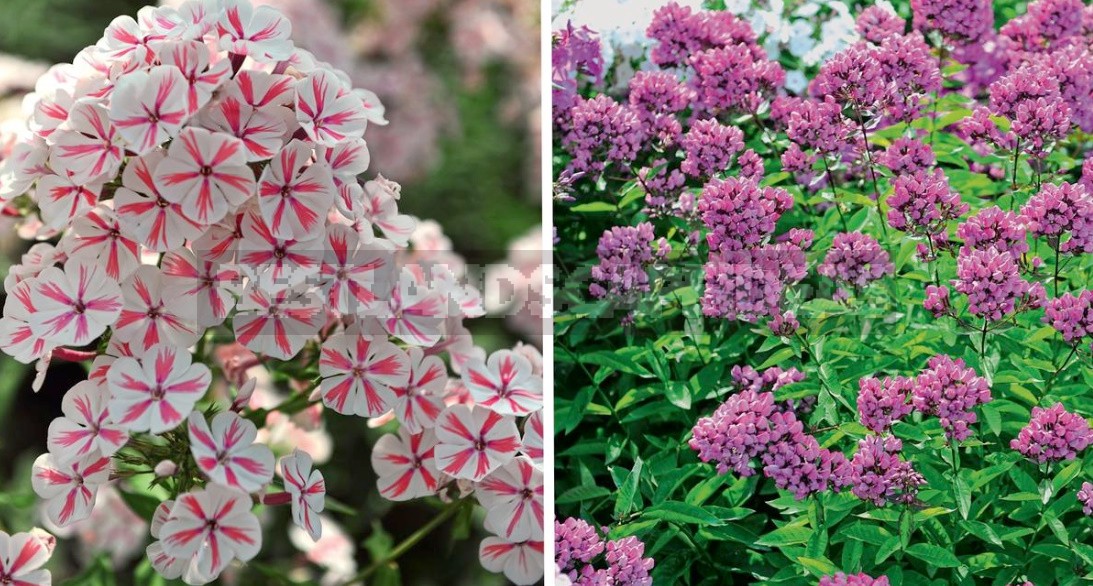 In early summer, it happens that some of the stems crack (usually closer to the base) and lie down. This may be due to weather vicissitudes, such as sudden temperature fluctuations, too acidic soil, too intense nitrogen fertilizing, or other factors. Such stems are easier to break down to the base, and the remaining upper part can be put on cuttings.
Phlox are very susceptible to fungal diseases: real and false powdery mildew, various spots. To prevent them from the beginning of June, the bushes are sprayed with a fungicide two or three times with a break of one and a half weeks.

If the Phlox has gathered buds or even bloomed, and suddenly it began to turn yellow and dry the lower leaves, and the bases of the stems look like they are made of brown cork, most likely the diagnosis will be fomosis. The easiest way to dig out such a Bush and throw it away, after cutting cuttings from healthy shoots. Important: do not plant other Phlox in this place.
Incurable viral disease of Phlox-variegation. On the petals appear stripes of different widths, they are a lighter tone than the field of the petal. To determine exactly whether it is a virus or a flower's reaction to the weather, you can expand the Bud. In a healthy plant, the color of the petals will be even, in a patient-mottled. Affected plants are dug up and destroyed.
Curved easily broken off stems, wrinkled in the middle and very narrow, almost thread-like leaves at the ends of the shoots indicate that the Phlox is affected by a nematode. You can't do anything with a plant like that, you have to dig it up and burn it. And plant something other than Phlox.
Thrips spoil the appearance of flowers, especially sloppy look "eaten" dark varieties. It is usually enough to spray the Phlox buds with a systemic insecticide to prevent the invasion of the pest.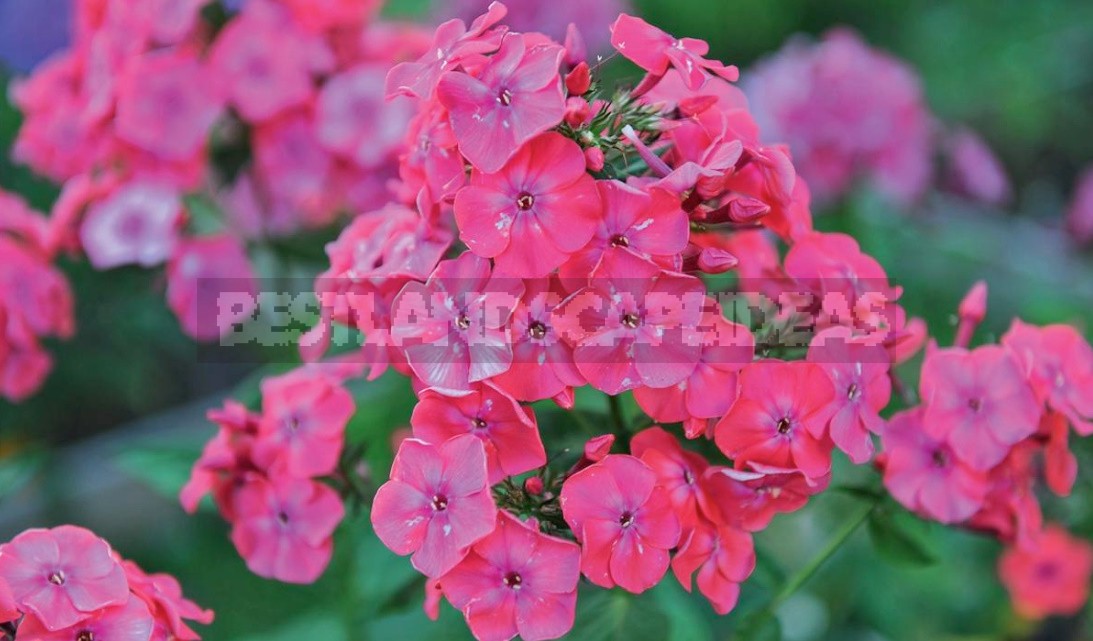 Snails and slugs can cause great damage to Phlox in the spring or eat cuttings. Both traditional traps and drugs based on metaldehyde will help in the fight against them.