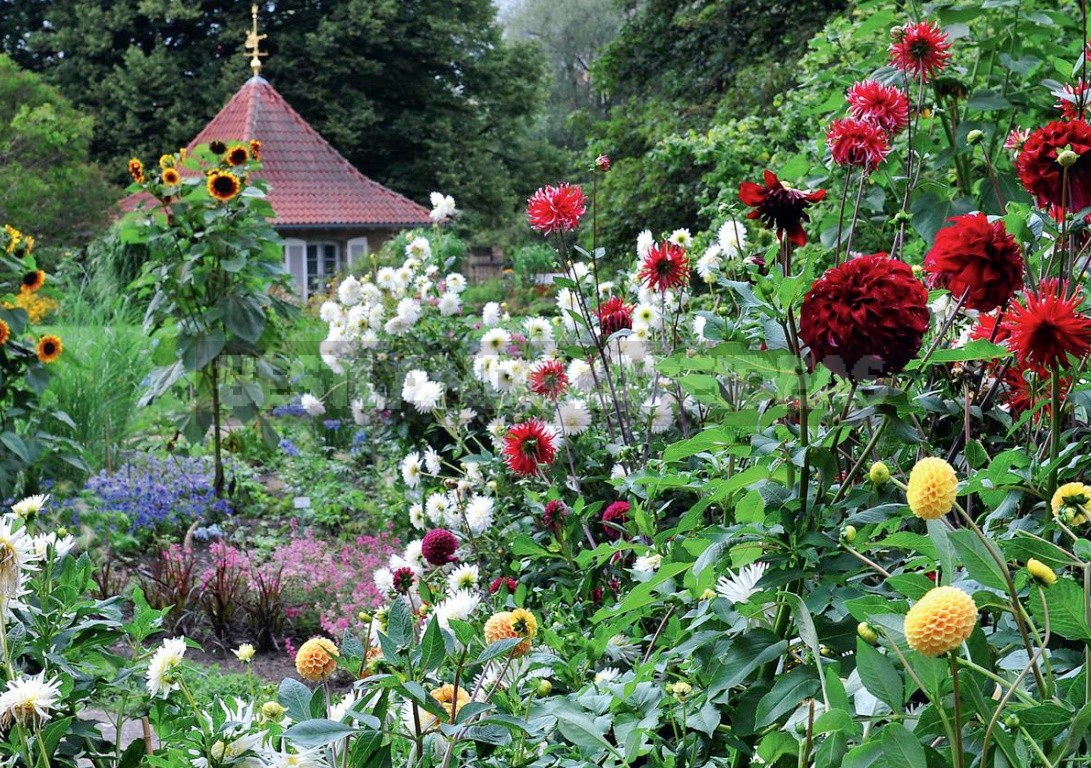 When the garden centers appear "roots" of favorite plants, the largest selection, as always, among the dahlias. Eyes run away from this wealth of varieties! My hand goes out to them. And what to plant them with, so that the picture looks as effective as possible?
The international classification divides all varieties of dahlias in the shape of inflorescences into 13 classes (their numbers are indicated in brackets).
Some of the classes of dahlias, for example, simple (1) and collared (3) produce a similar effect in flower beds — they will fit the same partners. And mixed dahlias (10), which include everything that is not included in other classes, can be so different that the recommendations, for example, for peony and chrysanthemum varieties will differ.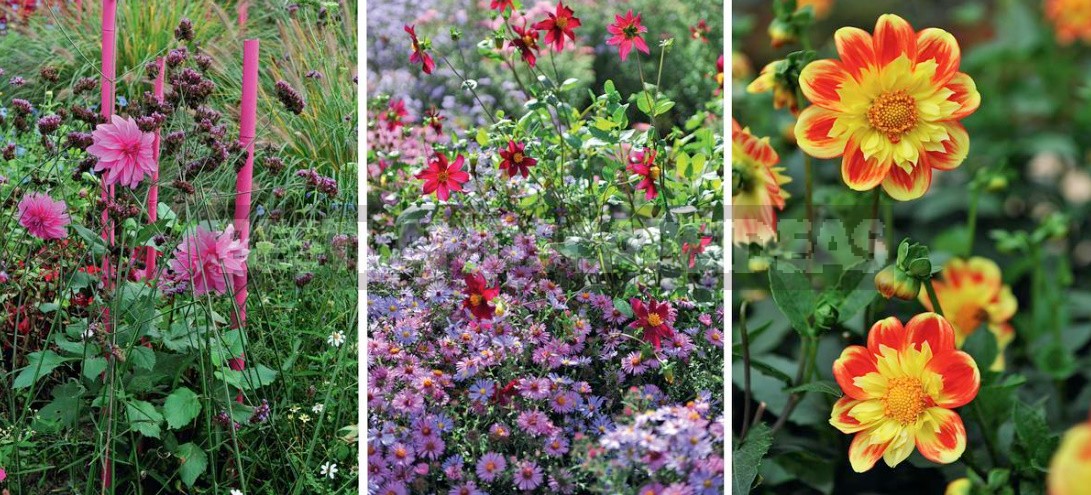 The appearance of simple (1), collared (3) and mixed peony, or duplex (10), dahlias is modest and natural. They will be well combined with many flowers, including the most luxurious. And surrounded by perennials of natural appearance, these dahlias will even more be at ease. They will look very graphic in a composition with Crocosmia, Verbena bonariensis, gladioli, Antirrhinum, Gaura lindheimeri and decorative cereals.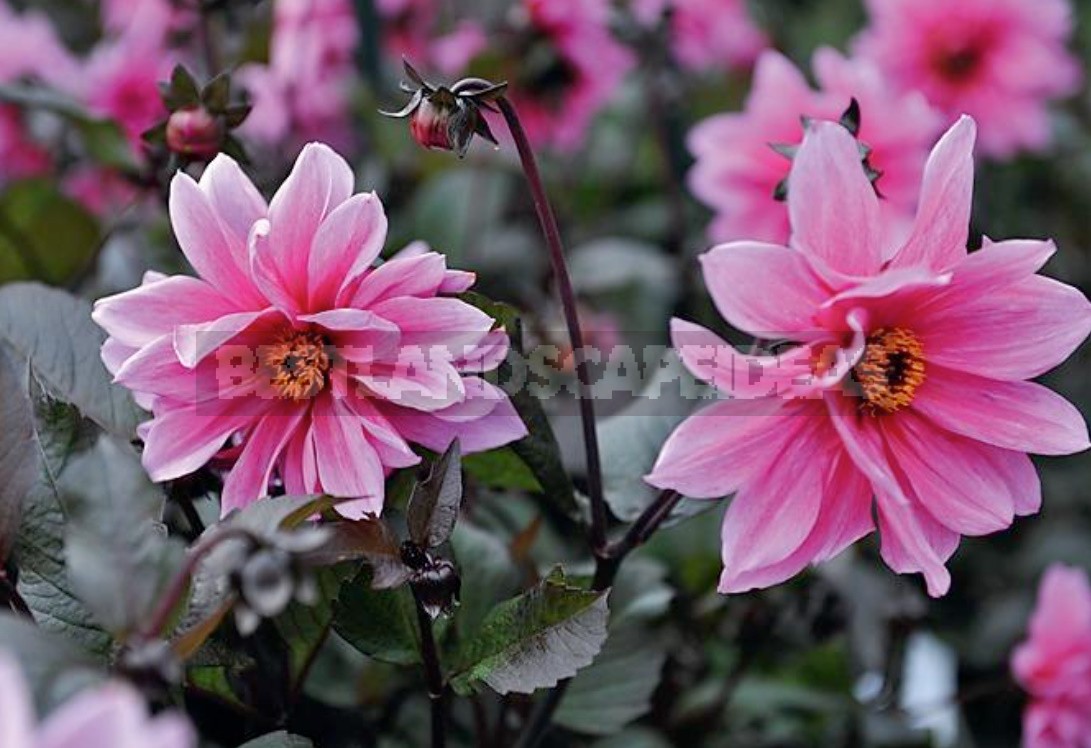 In addition, duplex dahlias with dark foliage perfectly fit into purple flower beds, contrast with white flowers and white-mottled foliage, and effectively complement the image of "tropical" flower beds.
Elegant anemone-shaped dahlias (2) immerse you in nostalgia. They are well combined with flowers of unusual and even bizarre shapes: Monarda, Phlomis, Phlox series Feelings.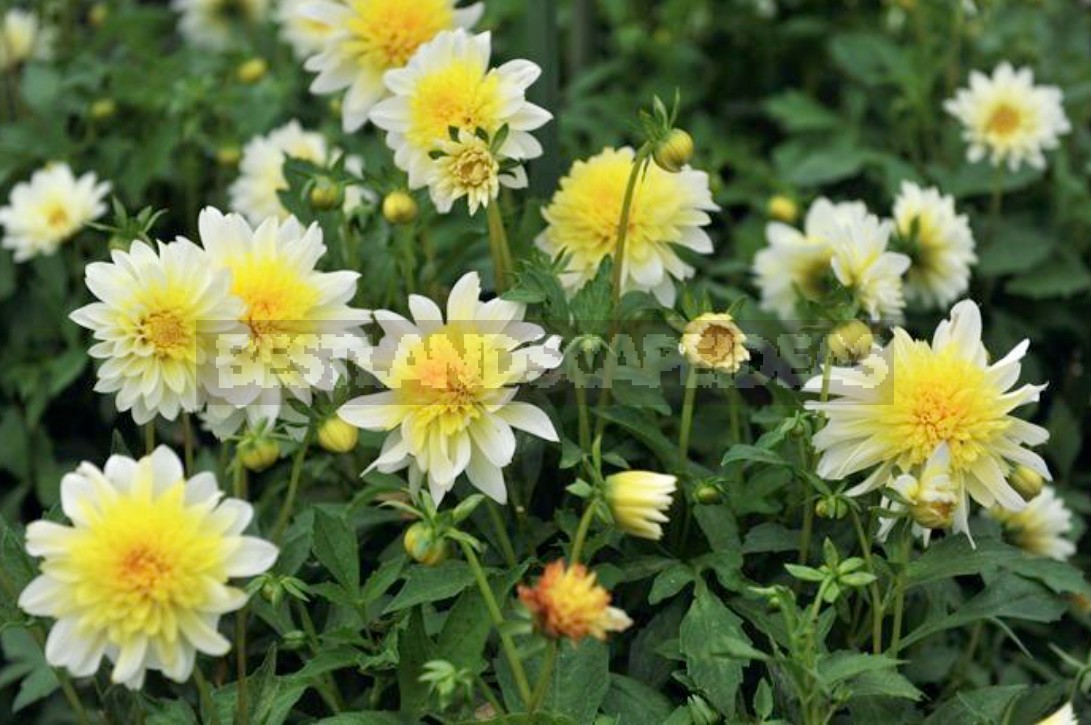 Perennials with candle-like inflorescences are also good companions, working on contrast. And with autumn anemones and Terry echinaceae, our heroes form interesting nuanced compositions.
Elegant, but without excessive luxury, the flowers of Nymphaea dahlias (4) allow them to choose their partners in the rank of "high society". They can be lilies, daylilies, delphiniums.
Elegant decorative (5) and mixed chrysanthemum — shaped (10) dahlias are the symbol of a bright and exuberant village flower garden. Their powerful effect will be supported and enhanced by profusely blooming annuals and biennials with a different flower form, such as Malva, Tropaeolum, Antirrhinum.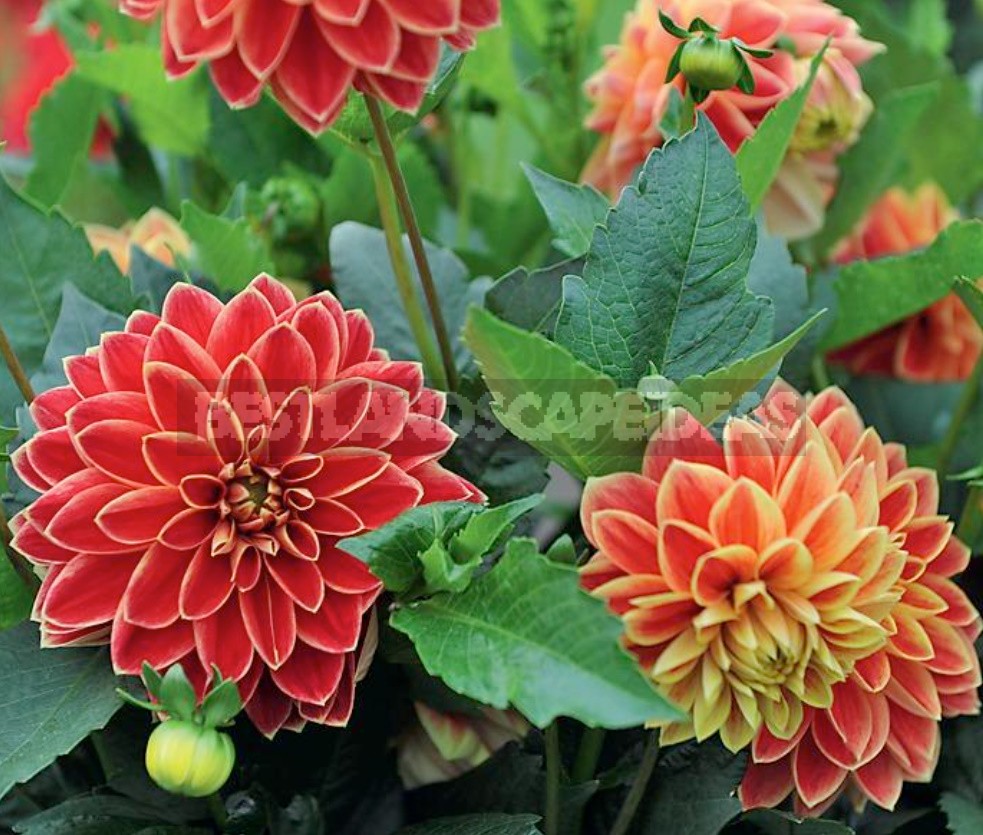 Pelargoniums will also be in the theme. It is because of these two classes that dahlias are called "garden" flowers, because they look organically among vegetables, green and spicy plants.
Each stem with a ball-inflorescence of spherical dahlias (6) is like a small sculpture. And the entire Bush can make an impression in the range from strict to pretentious.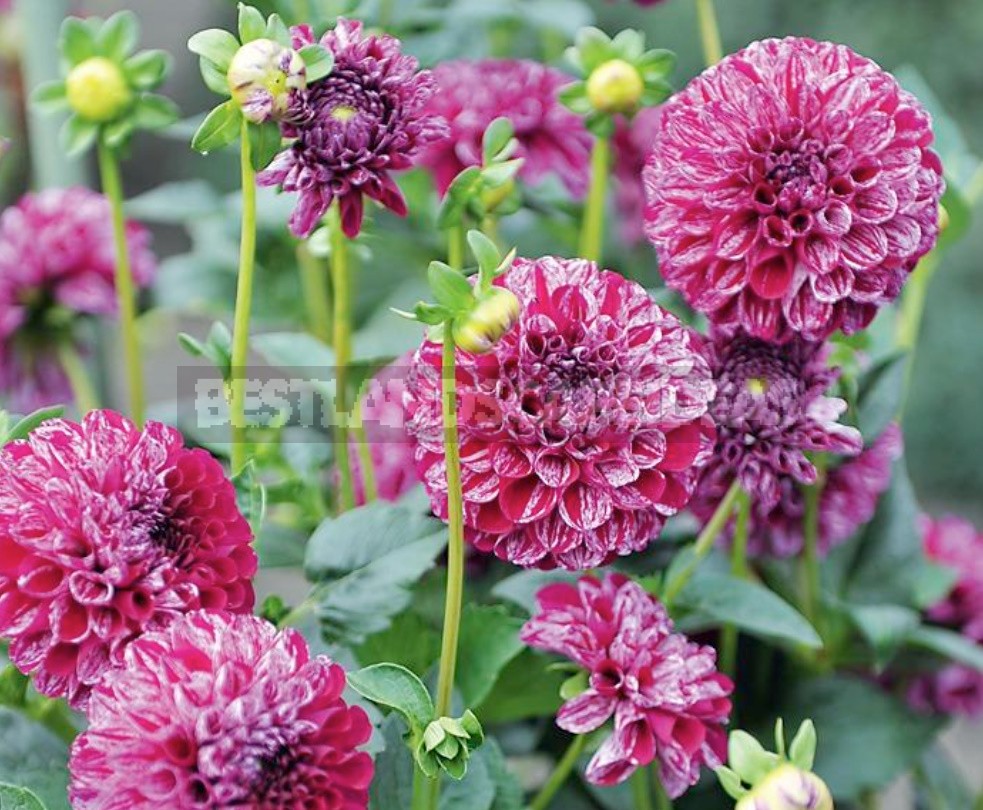 They are very effective in formal flower beds, especially where there is not enough color. In contrast with ornamental grasses with delicate flowers, dill or fennel, baby's breath, the effect is amplified many times.
Exactly the same recommendations apply to pompom dahlias (7). They all resemble spherical, but they have smaller inflorescences-the size of a tennis ball. Therefore, they look less pretentious, but always happy.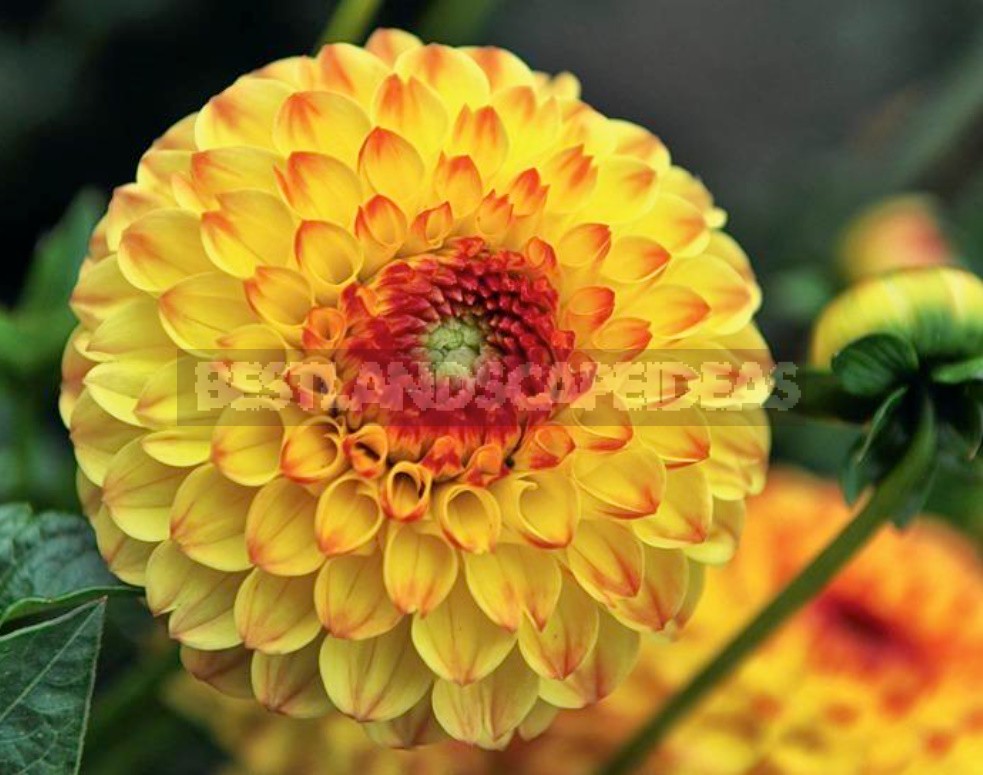 Cactus (8), semi-cactus (9) and fringed (11) dahlias look luxurious and elegant in the garden. They can radiate optimism or seem fanciful, in any case, these dahlias will dominate the flower garden.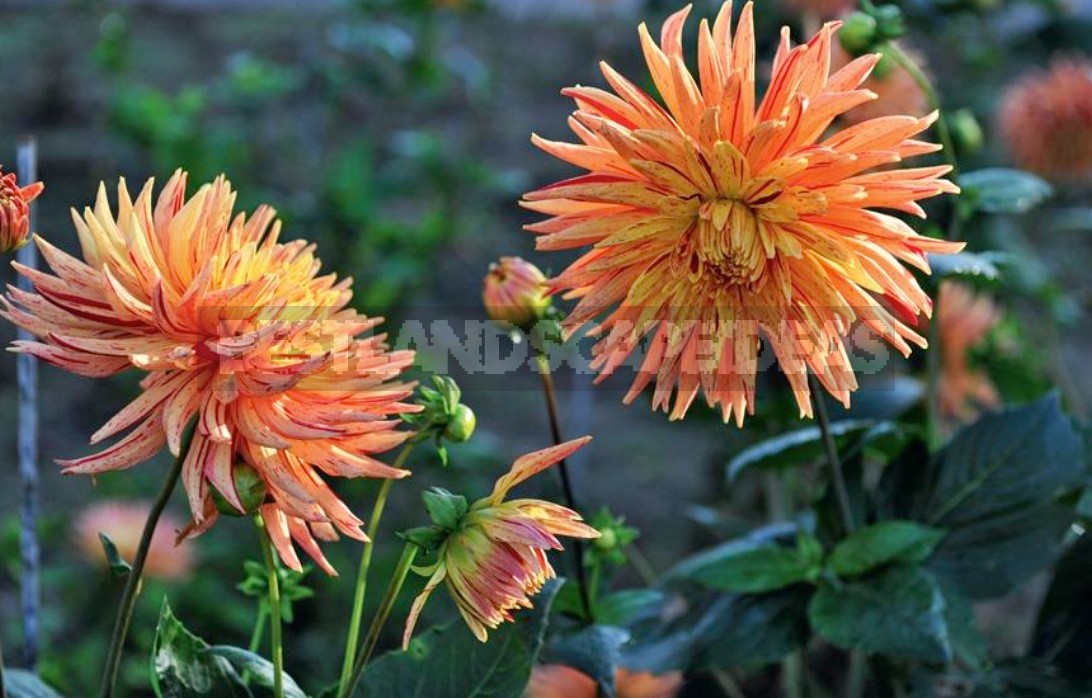 The smaller the flowers of their companions, the more interesting the picture will be. Of course, number one in the list of partners — decorative cereals.
Light, soaring, slightly exotic flowers of simple Orchid-like dahlias (12) look like stars. The same recommendations apply to them as for simple dahlias (1), but the choice of neighbors can be even more exotic. For example, it can be potted houseplants that have left for a "summer vacation" at the dacha or transplanted into the ground for a while.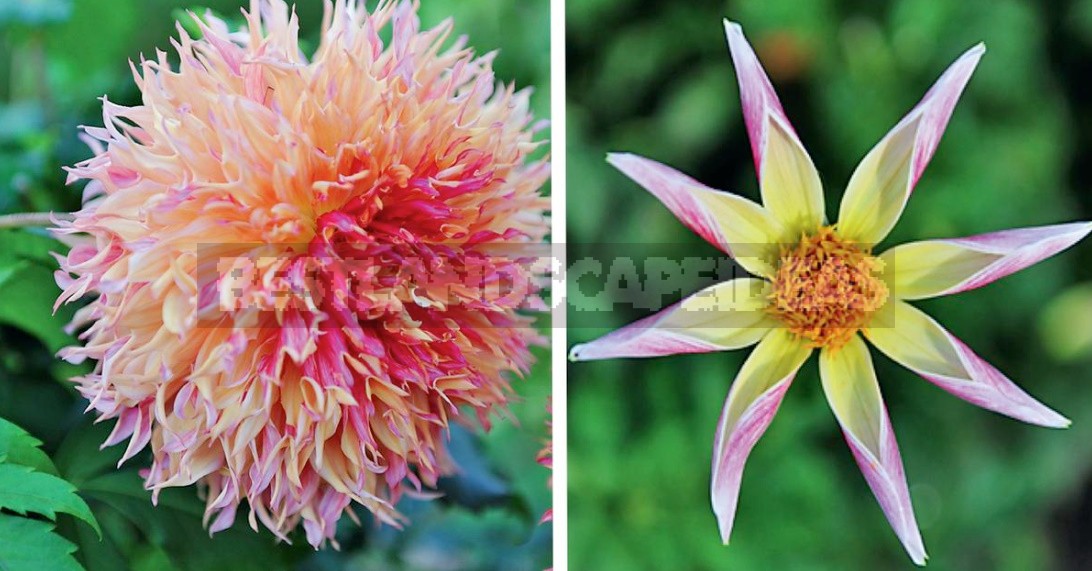 Double Orchid dahlias (13), elegant and slightly eccentric, produce in flower beds an effect similar to cactus (8) varieties. They also need an entourage, not equal partners. This role is suitable for decorative cereals and plants with beautiful foliage: Alchemilla, Heuchera, geraniums.