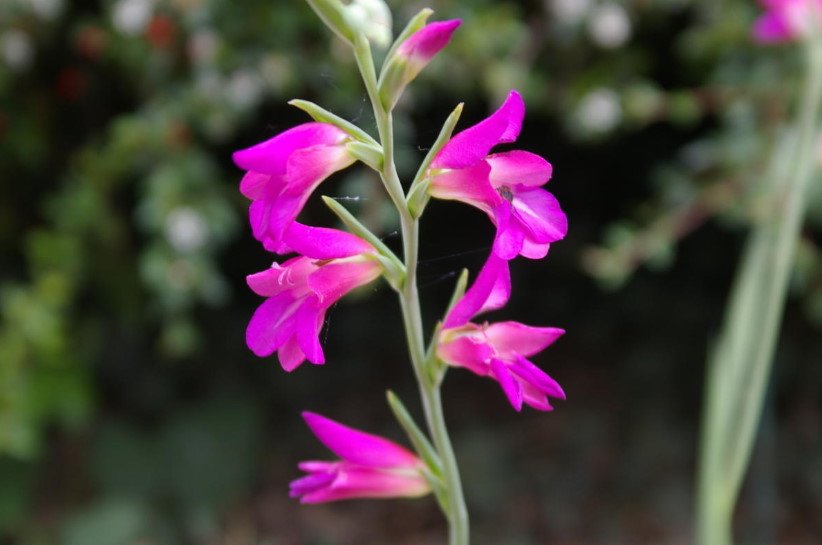 We continue to get acquainted with rare species of bulbous and tuberous plants (let me remind you that we started it with the family Amaryllis). It turns out that there are such rarities in the family and Iris, and in the luxurious family Hyacinth.
Some you will see for the first time, others have already noticed and even put them in the list of their "country desires".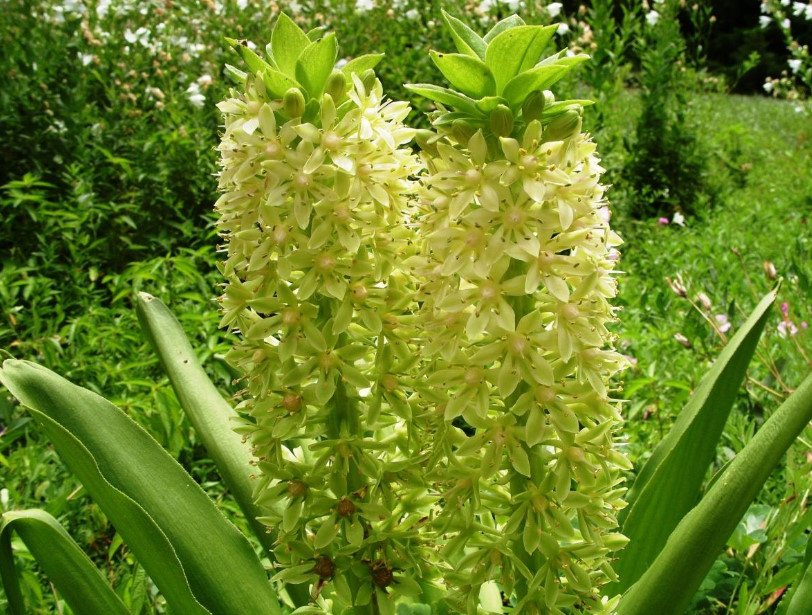 So, get ready to admire the beautiful strangers (probably most of the summer residents these plants are unknown).
Bulbous Iris
First, you will see 5 iris rarities, and then 6 hyacinth "raisins".
Acidanthera bicolor
It may be familiar to you under the name fragrant gladiolus.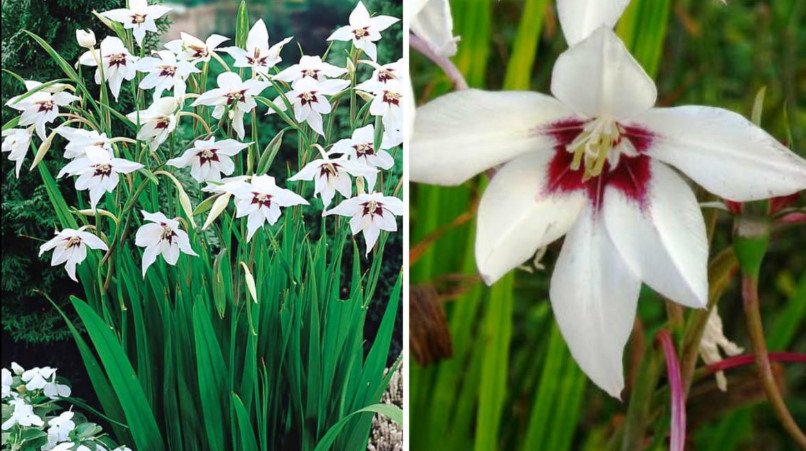 Acidanthera bicolor, Gladiolus callianthus comes from East Africa. Her parameters: height 70-100 cm, width — 5 cm Linear leaves with a length of 15-45 cm White fragrant flowers with dark purple centre, 5 cm in diameter, bloom in late summer — autumn.
It grows well and blooms in full sun (with regular watering) in the fertile, lime-free, slightly acidic well-drained soils are responsive to fertilization.
Her temperature minimum 0°C (data from Encyclopedia of garden plants), so Alcantara best grown in containers, raising them for the winter in the basement greenhouse. In the middle zone, you can try to grow in warm places without digging corms, but with the shelter of planting places with humus, dry leaves.
Gladiolus byzantinus
Real Mediterranean with southern charm. For lovers of fine natural types of gladioli he's the real deal.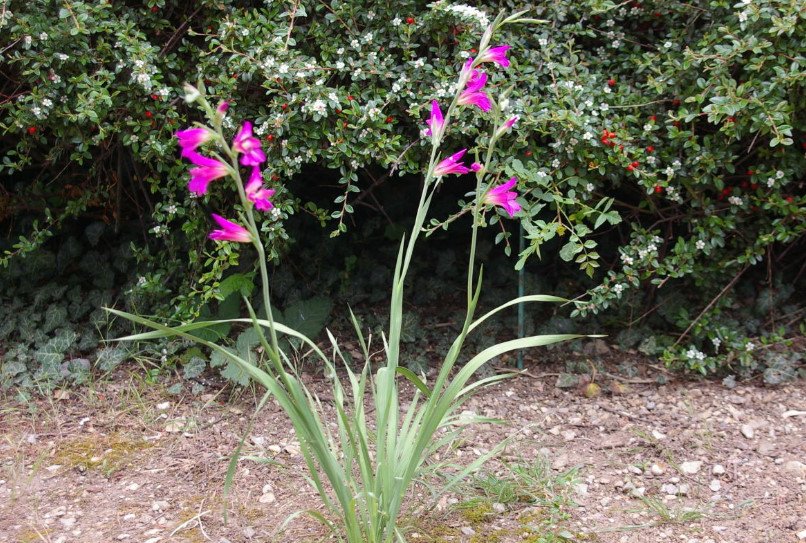 Gladiolus byzantinus comes from Spain, North-West Africa, Sicily; height up to 1 m, width-8 cm crimson Flowers, with white stripes in the center of the petals, 5 cm in diameter; bloom from may.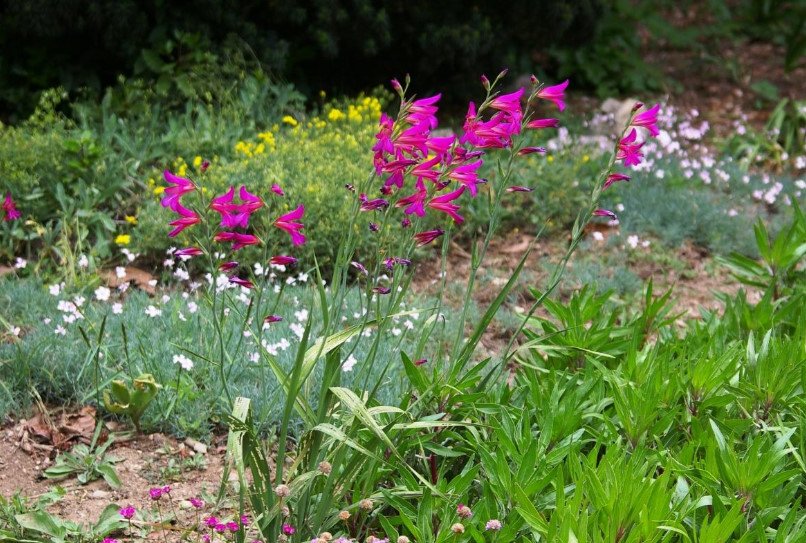 In the winter of corms they are stored in cellars, but in the southern regions to try to leave them in the open ground, as the hardy Byzantine gladiolus, critical winter minus -15°C. It tolerates partial shade, undemanding to soil, not damaged bare slugs. Propagated children in the growing corms.
Xiphium
Gorgeous bulbous iris, which is more and more loved by gardeners.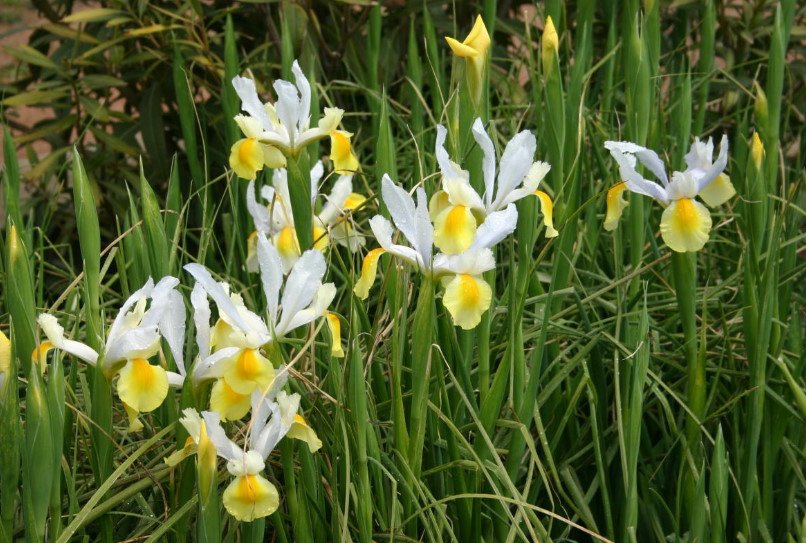 Crocosmia x crocosmiiglora
It is not very popular among summer residents, and in vain: unlike their relatives (varietal gladiolus), corms which are certainly dug up annually for the winter, it can be left to winter in the open ground.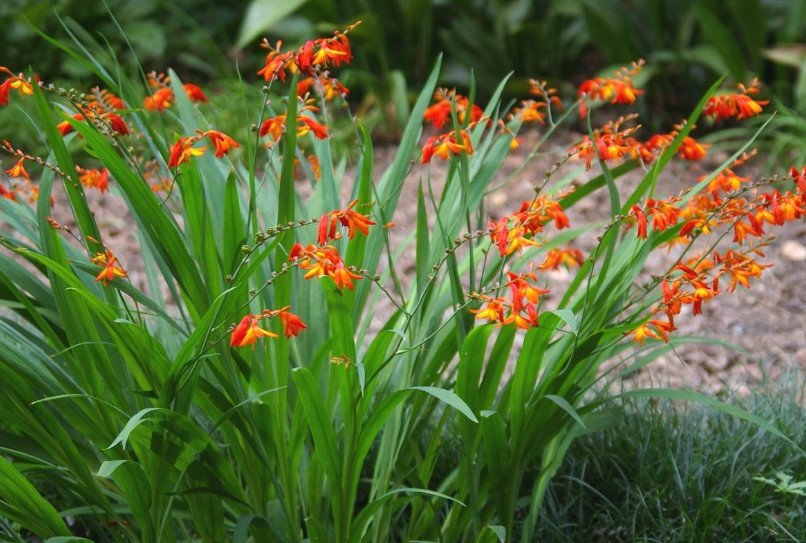 Crocosmia x crocosmiiglora is a native of South Africa. Despite the southern origin, can withstand -15°C, so the shelter can winter even in Central Russia. Its parameters: height-60 cm, width-8 cm; blooms in summer. In sale most often its hybrids.
Good in flower beds, rocky gardens, lawns, can grow and bloom in partial shade; to soils undemanding.
Chasmanthe floribunda
Rare corms the plant is very similar to Crocosmia.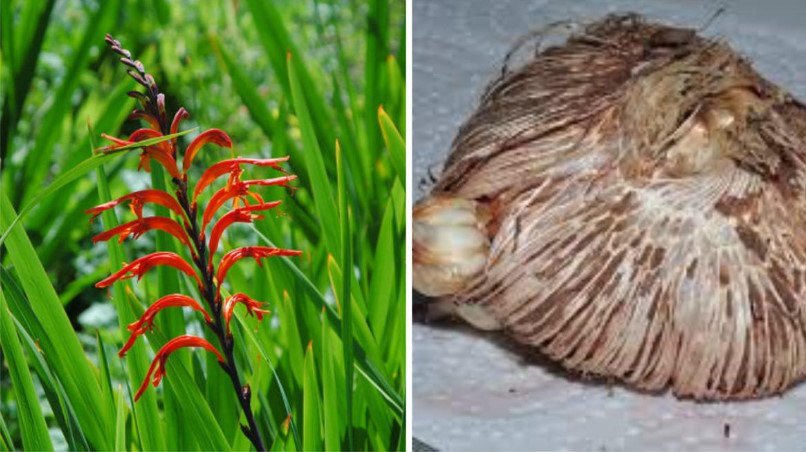 Chasmanthe floribunda is a native of South Africa. Its parameters: height-0.5-1.5 m, width-15 cm Winter minimum 0°C, so grown with digging tubers in the fall and storage (in sand or sawdust) in the basement.
Bulbous Hyacinth
Some types of nature gave an unusual subtle beauty, while others she gave a wonderful flavor.
Bellevalia
Interesting 2 spring-flowering species:
with dark-colored flowers (similar to Muscari);
with blue flowers (reminiscent of Puschkinia).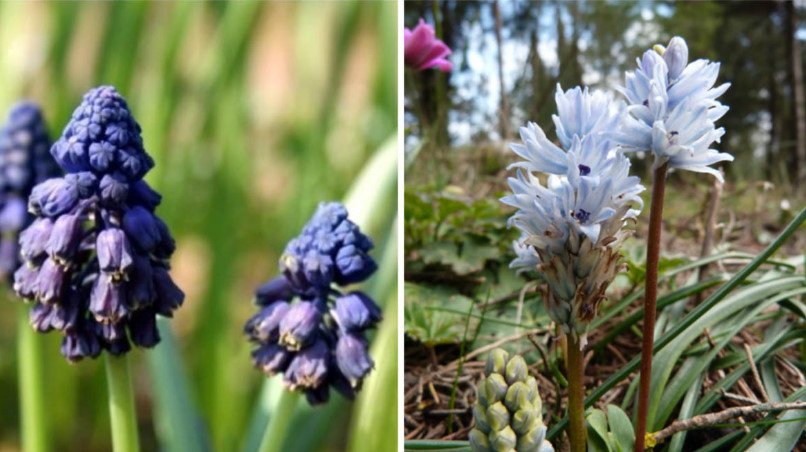 Bellevalia atroviolacea is originally from Afghanistan. Parameters: height — 15-20 cm, width — 5 cm Hardiness -15°C.
B. hyacinthoides come from Greece; height about 5-15 cm, width — 5 cm winter Hardiness -5°C, so it is better to grow with shelter.
Brimeura amethystina
An interesting representative of bulbous, resembling a hyacinth.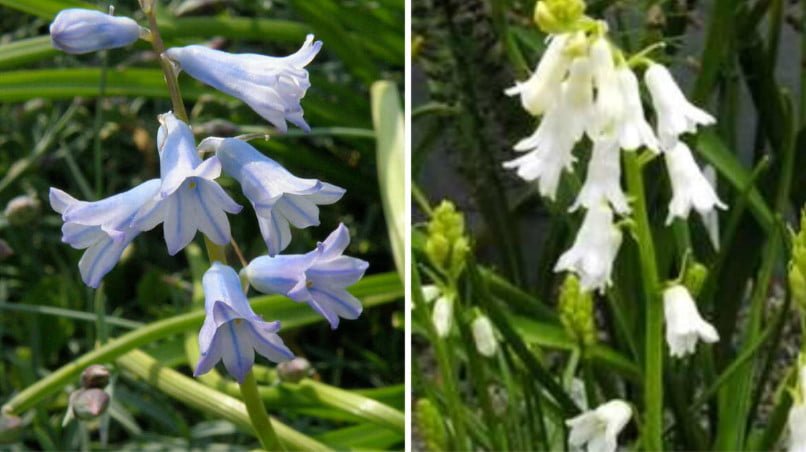 Brimeura amethystina, syn. Hyacinthus amethystinus — hardy bulbs from the Pyrenees (the British give her the winter minimum in the range of -15°C); up to a height of 10-20 cm, width — 5 cm Decorative shape: var. alba (white flowers). Grown as a hyacinth.
Galtonia candicans
An unusually beautiful bulbous plant with drooping flowers; abundant flowering is luxurious!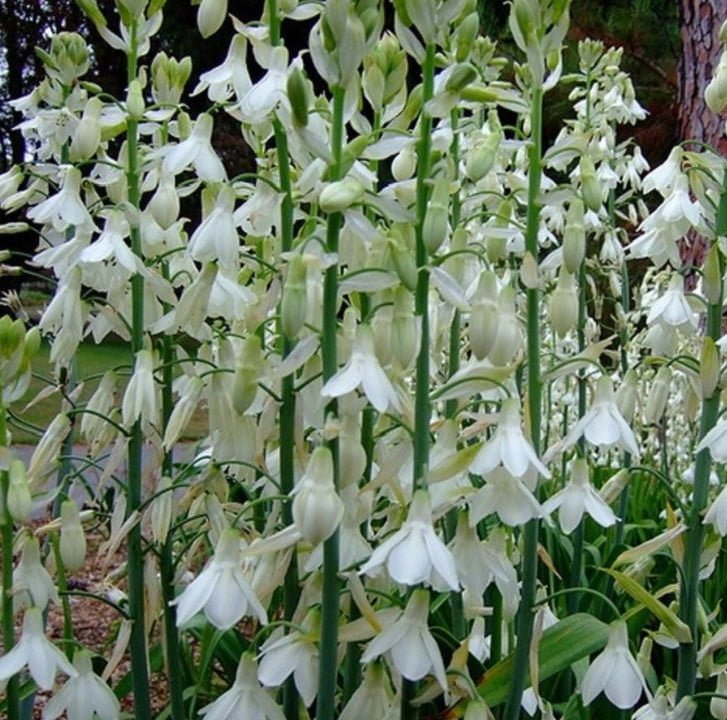 Galtonia candicans comes from South Africa, despite this, it carries -15°C; height up to 1-1.2 m and a width of 10 cm Flowers are white, bell-shaped, drooping, fragrant, collected in a brush; bloom in late summer.
It is undemanding to light, soils. Propagated by seeds and daughter bulbs; not damaged by naked slugs.
Hyacinthella
From afar, it is similar at the same time to the Hyacinthus, Scilla and Muscari: only at close examination you understand that this is neither one nor the other, nor the third.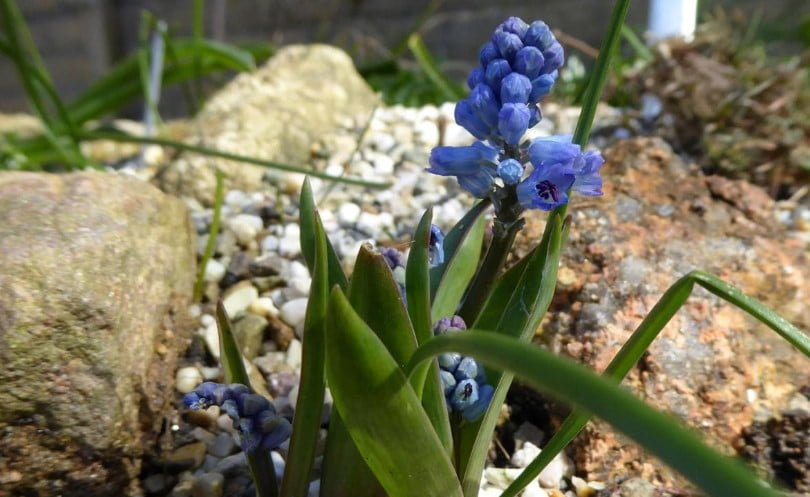 Hyacinthella is a native of Croatia; height — 10 cm width — 5 cm bright blue Flowers, gathered in dense brush; bloom in the spring.
Temperature winter minimum -15°C. Planting and care for hyacinths.
Camassia cusickii
She is charming, her discreet beauty looks elegant.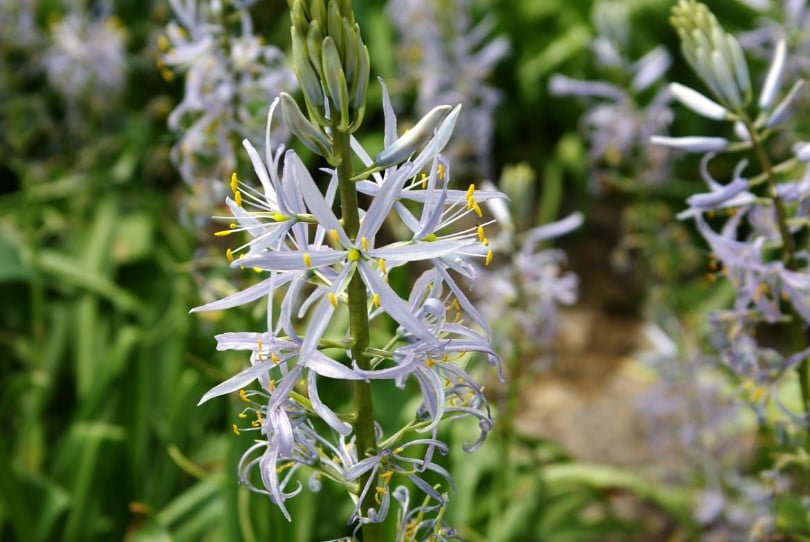 Camassia cusickii is originally from the USA. Its parameters: height-60-80 cm, width-10 cm.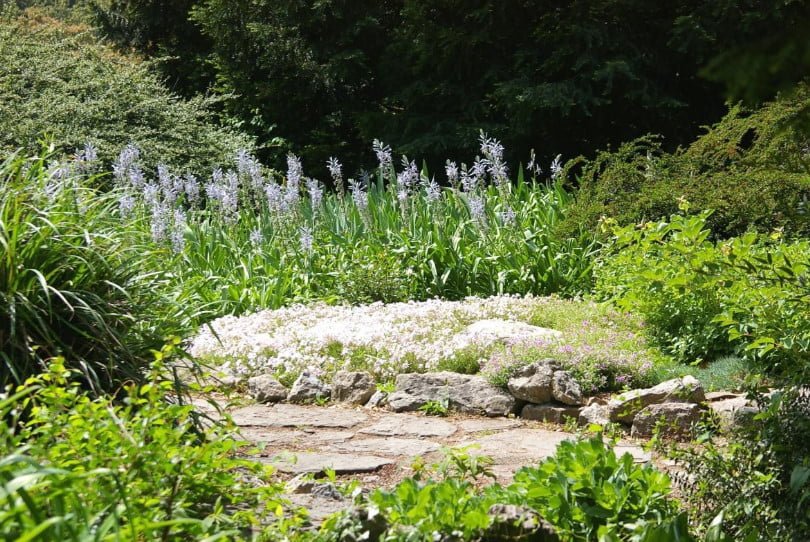 Eucomis pallidiflora
An exotic member of the family, bringing southern charm to the flower beds.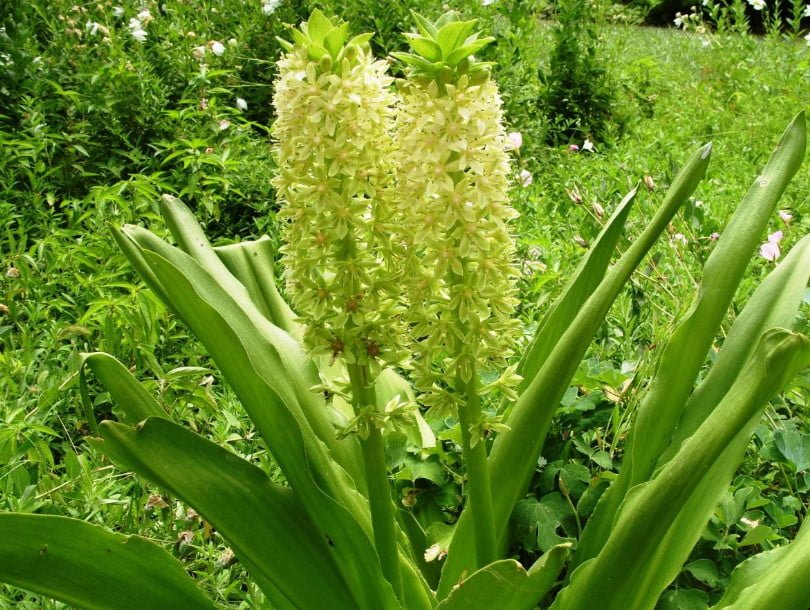 Eucomis pallidiflora is a very beautiful summer blooming plant, in the South preserving decorative until mid-autumn. For him -5°C are critical, so we can recommend growing for the southern regions with shelter, in warm places — without it. In addition, its bulbs can be planted in containers, dig them in the spring in the open ground, and in the winter to bring in the basement. Child propagated bulbs.