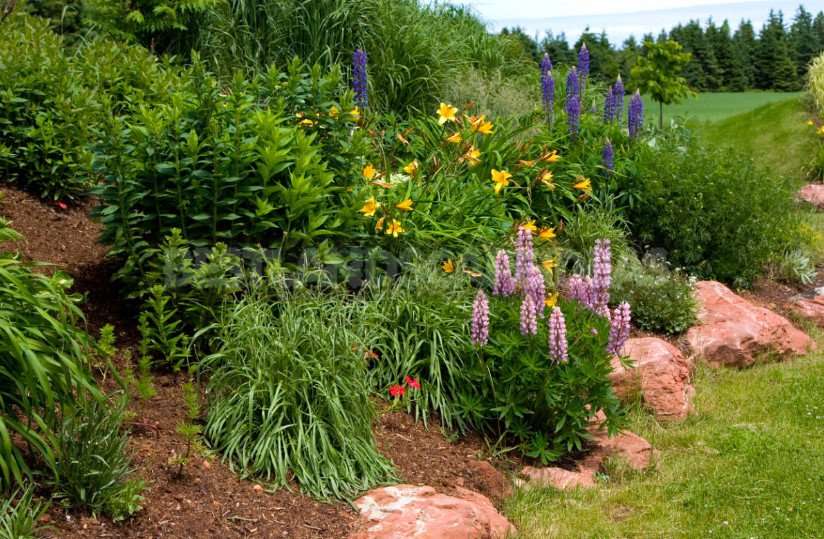 Autumn came, and the garden gradually empties. Less it bright summer colors, less colors. To extend the summer will help perennial plants, as well as some shrubs that are able to bloom again in late summer.
Most often we are pleased with another peak of flowering can those perennial flowers that bloom in early summer-in June. In addition to them in late summer and autumn re-bloom seemingly unexpected plants.
Daylilys
To flowering re-include some species of daylilies. Many of the new foreign varieties-remontant, that is, bloom for almost the entire summer season. Unfortunately, not all of them are able to prove themselves in an unsuitable climate – a short summer and early autumn. But there are among them unpretentious early varieties-not very luxurious, but quite lovely and able to give their beauty again at the end of summer.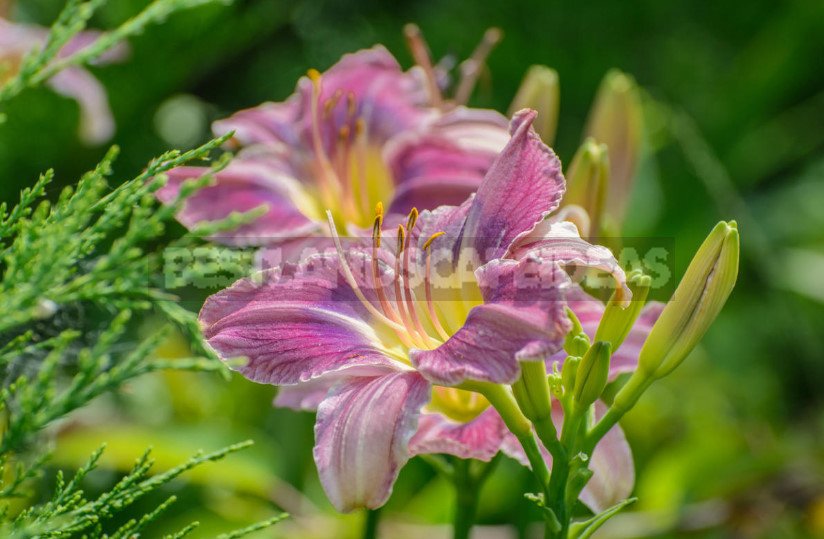 Here are some of these varieties:
'Stella de Oro' – remontant dwarf variety. The height of the Bush is not more than thirty centimeters. Medium-sized flowers-gramophones bright yellow with a delicate aroma. It blooms almost continuously throughout the summer. Can be used as a border plant.
'Blueberry Candy' – Bush height of 50-55 cm, a flower with corrugated petals soft cream color, eye plum-red and green neck.
'Little Wine Cup'. The height of the plant is about 50 cm, the flower is crimson-red with a yellowish center, 9 cm in diameter. Blooms early in June and again in late summer.
'Always Afternoon'. Bush up to 60 cm Flower large (14 cm), lilac with a cherry eye in the center, turning into green. Fragrant.
'Abstract Art'. High daylily, grows up to 90 cm Large (16 cm) salmon-colored flower is very fragrant. The plant is abundant and unpretentious.
Possible re-flowering of the following varieties: 'Luxury Lace',' Longfields Beauty',' Little Show Stopper',' Little Red Baron','French Lingerie'.
Clematises
Incredible decoration at the end of summer and in early autumn can be a clematis. They bloom mainly in the first half of summer luxuriously and abundantly. But among them there are many varieties, beautiful and unpretentious, blooming repeatedly. And although this bloom will not be as lush, it will be a great addition to the autumn flower garden.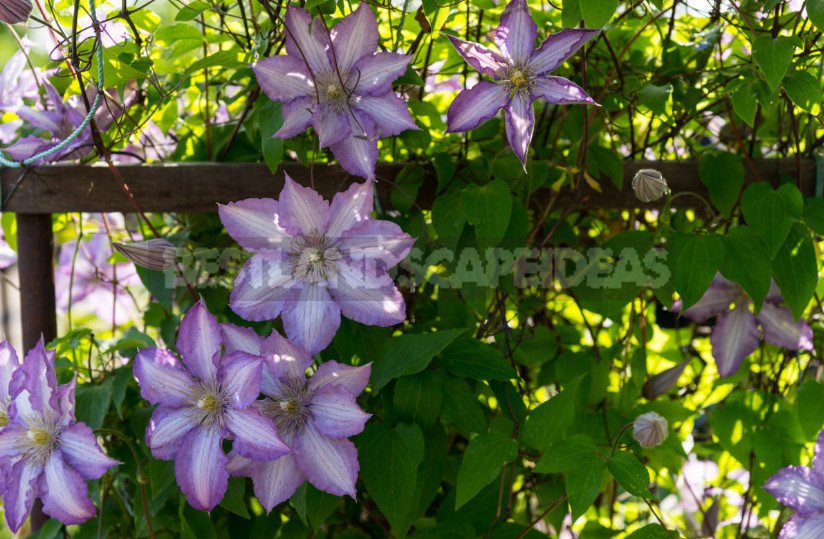 'Nelly Moser'. The flowers of this variety are pink-purple, in the middle of each petal is a bright pink stripe, stamens red. Abundant first flowering takes place in may-June, weaker lasts from late July to September. Likes to grow near fences, near trees, but not in an open Sunny position.
'Albina Plena'. White double flowers 6-8 cm in diameter original bell-shaped. Flowering on the shoots of last year begins in may, then the flowers bloom on the shoots of the current season until the autumn. Also decorate the entire Bush fluffy balls of fruit, very decorative. Unpretentious, does not need pruning.
'Allanah'. Dark purple flowers, decorated with even darker stamens, original and very beautiful. If this clematis strongly cut, it will bloom until October.
'Herman' (otherwise called 'Grace'). Light purple flowers with a lighter stripe in the center of the petals are decorated with yellow stamens. The first time blooms in may-June and blooms again in August-September.
Irises
The most amazing seems to bloom in late summer irises, because all are accustomed to these beautiful flowers decorate the garden usually in June. But among the tall bearded irises there are varieties that bloom repeatedly, here are some of them:
'Jennifer Rebecca' – a gorgeous flower delicate lilac shades, Bush height 85 cm.
'Immortality'. Plant height 76 cm, white flower.
'Buckwheat'. Bush height 75-90 cm, flower yellow shades.
'Sugar Blues' has a blue flower, height about 90 cm.
'Mother Earth'. Plant height 90 cm, large Flower, the color — shift from purple to a delicate cream color.
'Pagan Dance'. The flower is blue, on the lower petals bright dark blue spots. Blooms in early spring and again in late autumn.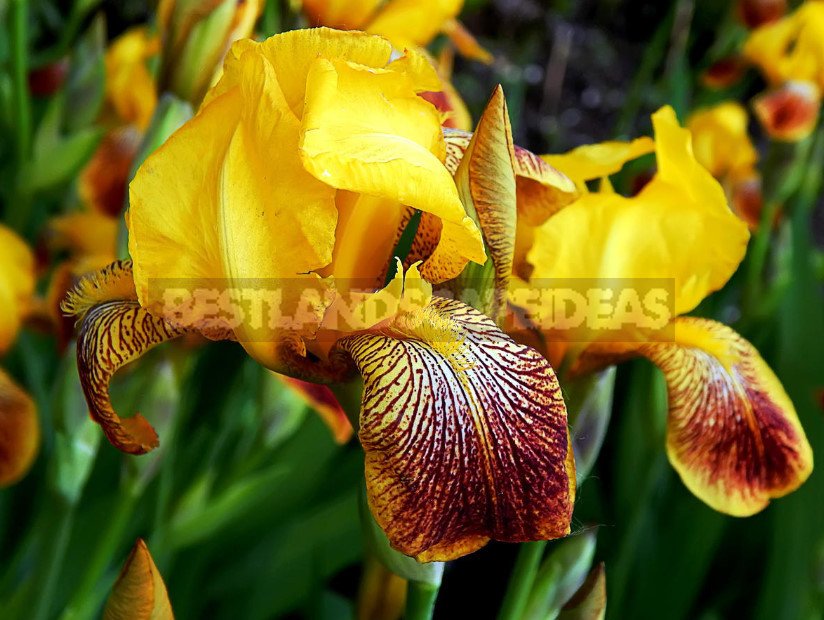 To irises bloomed again, you need to follow some rules for the care of them. It is important that during the summer the soil under them was constantly moderately moist. Feeding should be carried out twice: in the spring and autumn. Re-bloom irises older than one year and only in such climatic conditions, where the winter temperature does not fall below -30°C.
Hydrangea macrophylla and roses
If your climate zone grows Hydrangea macrophylla, you can choose varieties that will form flower buds as last year, and on new shoots. In addition, they are the most winter-hardy.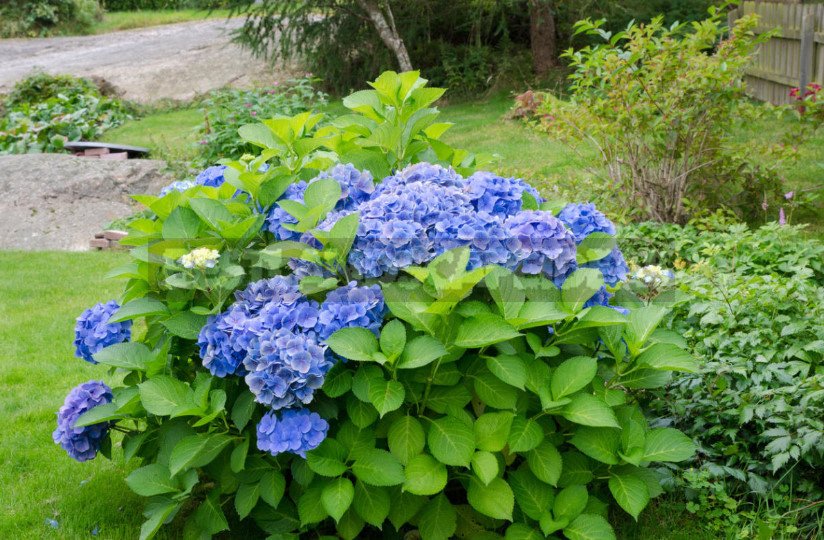 The most attractive are the following: variety series 'Endless Summer', series ' Forever & Ever '(varieties' Early Sensation',' Blue Heaven',' White Ball',' Red Sensation','Peppermint'). Winter-hardy Hydrangea macrophylla with double flowers are derived: 'Romance', 'Eternity', 'Expression', 'Together', 'Symphony'. This type of hydrangeas needs a good shelter for the winter, so the shoots of the past years will remain. If they freeze slightly, then grows back a new one, then we can observe only their later flowering.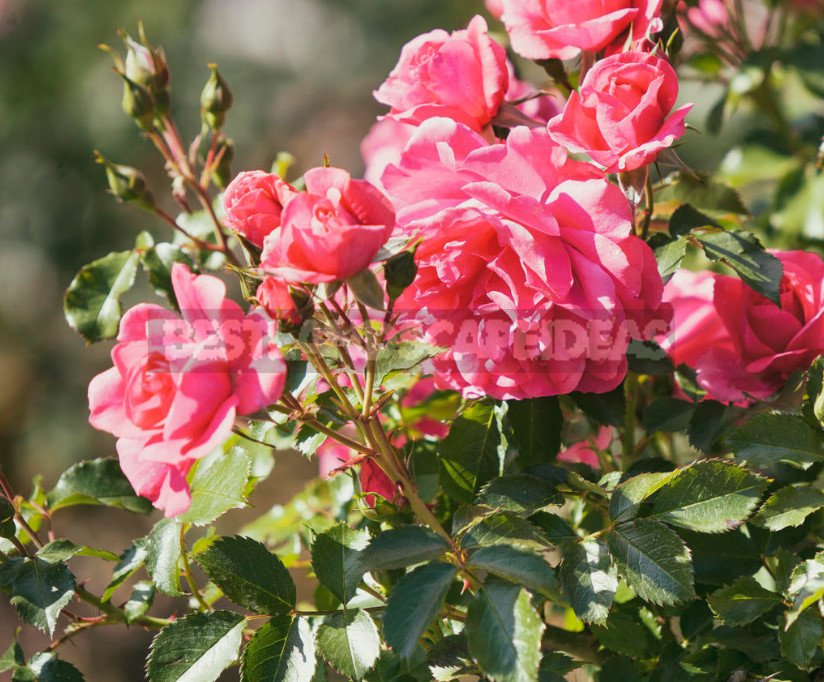 Also, many roses in late summer give a second wave of flowering.
Bushes
Please re-flowering us can and ornamental shrubs, but many only under certain conditions. For example, if the summer turned out to be very dry and hot, and in the autumn it finally rained. In a hot drought bushes as if "fall asleep", fall into a state of rest, and with the onset of cool and humid weather, they" Wake up " and begin to bloom. Also may start a second bloom and a very warm autumn.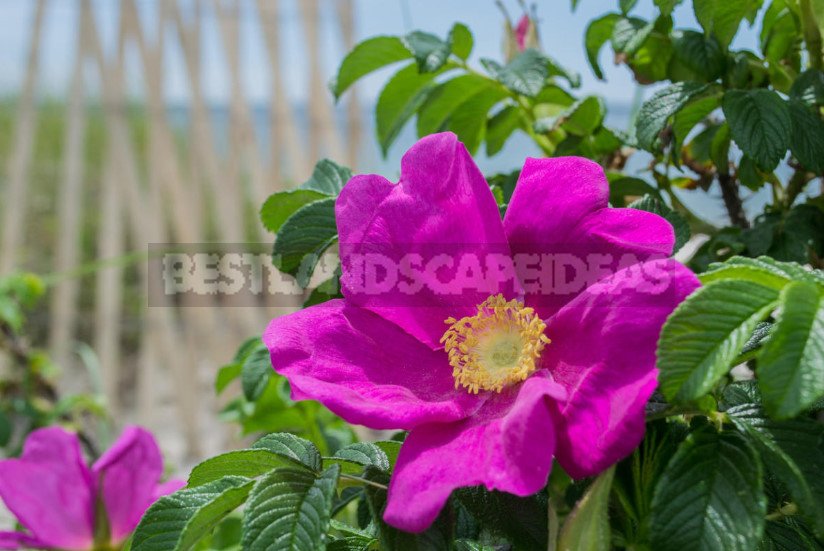 These are shrubs such as Spiraea × vanhouttei, Weigela middendorffiana, Rhododendron dauricum, Rosa Rugosa Group. But almost all summer blooming Spiraea after timely summer pruning is guaranteed to give another wave of flowering.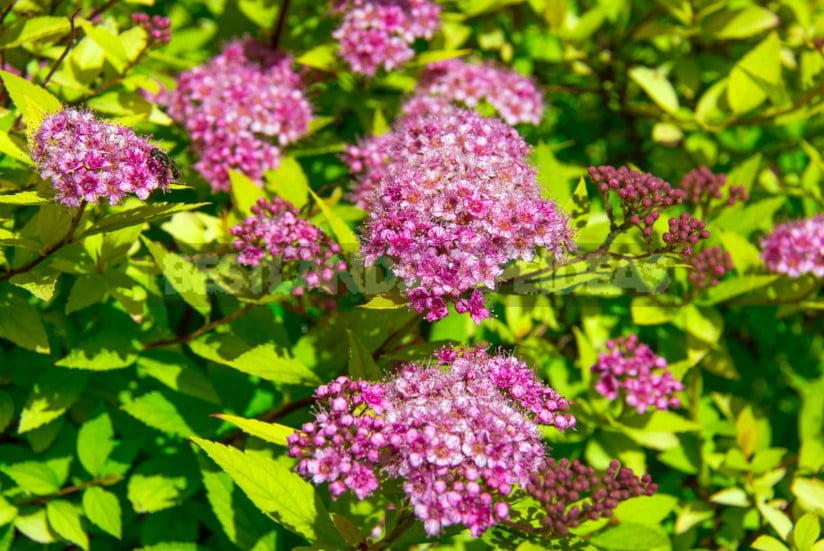 But back to Delphinium, Lupinus, Campanula and others. To these plants re-bloomed in late summer, you need to help them.
The fact is that in nature everything is aimed at the reproduction of a kind. And plants: the main thing for them is to give fruits and seeds, to prolong the life of the species.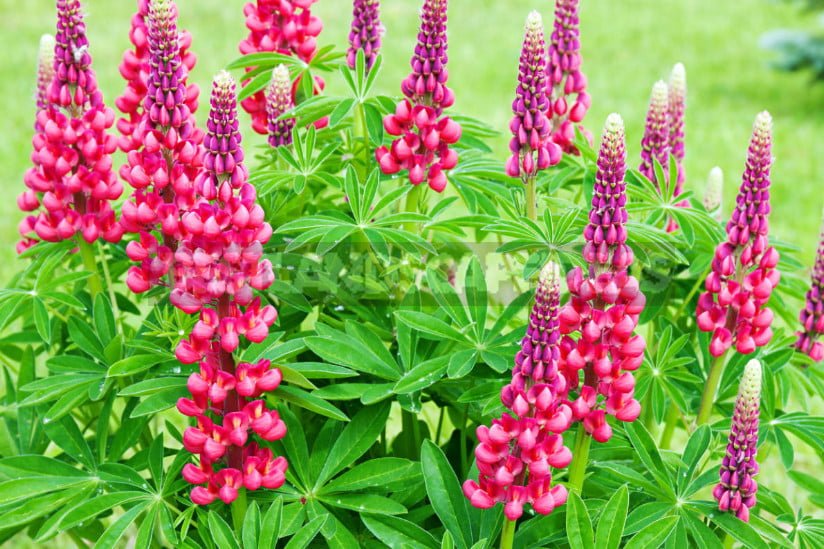 When the seeds are ripe, the task is considered completed and you can safely " go to rest." To avoid this, you have to intervene in the natural course of the process. Plants do not need to be given the opportunity to tie the seeds!
How to do it
As soon as the flowering begins to come to an end, should be cut stems. In plants such as Delphinium, Lupinus, Campanula completely cut off the inflorescence at the root. If the leaves are yellow or sick, they are also better to cut. In addition, plants with withering flowers and drying peduncles look very untidy and spoil the look of the flower garden.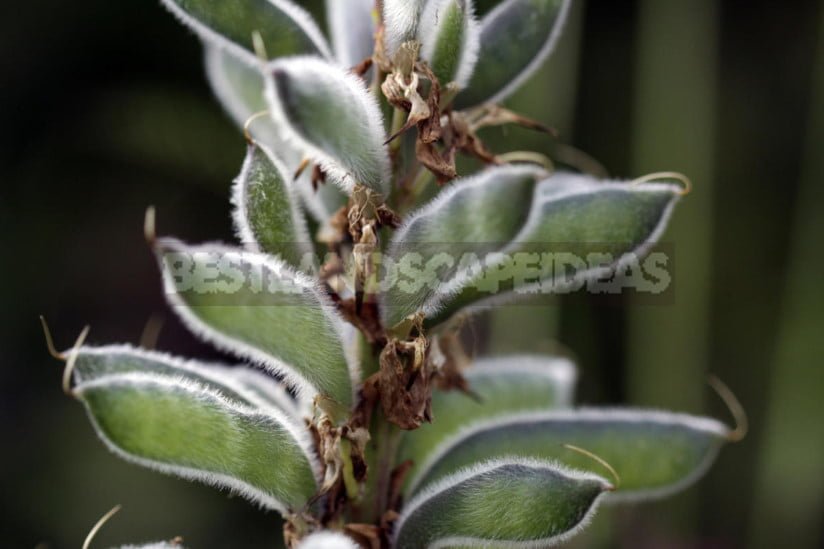 In stunted ground cover plants need to trim the faded shoots at a height of about 4 cm, then the "cushion" will look nice and it is possible that re-bloom in August. After pruning, it is necessary to feed the plants with full mineral fertilizer, loosen the ground around the bushes, if necessary, pour mulch – look after the flowers.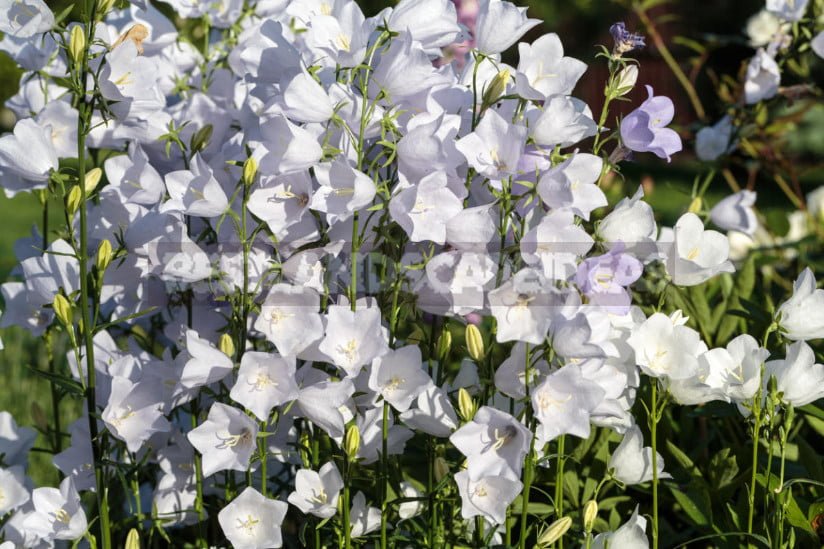 Plants will quickly thank for the love and care: Delphinium, Lupinus will soon increase a new leaf mass, lush and fresh; ground cover pads will be very nice and neat and begin to prepare for re-flowering. Tall bluebells (molochnicy and personality) after cutting the stalks can also bloom again. Of course, this flowering will not be as lush and abundant as the first, but how much joy will bring in these autumn, often gloomy days!
As you can see, the range of plants that can bloom and delight us in the fall, is quite diverse. It is necessary to make a little effort to take care of our Pets a little more, and they will thank us with their bright colors. And not just decorate the garden, but as if will return us to the first summer days.
Dear readers, what flowers or shrubs are blooming in your garden again? Share it in the comments, tell us how you care for them.