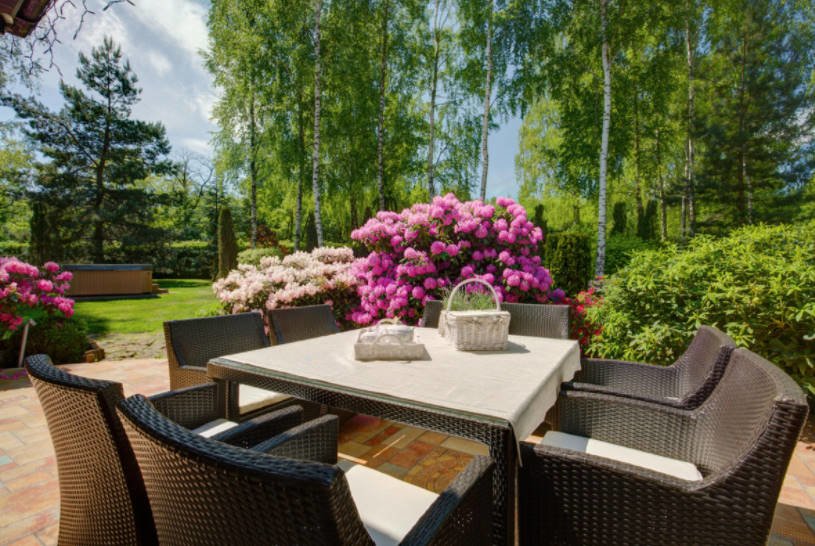 A site that requires a minimum of daily care is real. Learn how to organize garden work, so they were like a vacation!
Most owners of country plots love to host in their own garden. But such leisure is not always enough time, and in old age — and strength. Meanwhile, if you competently approach the layout of the garden and choose the appropriate plants, you can lay a Paradise, which with a minimum of energy on your part will look great and will give a lot of pleasant minutes. To do this, first of all, decide what garden duties you like the least. Most often enough to think about some points a few steps forward to make your life much easier. The best option is to initially lay a garden where burdensome work is not "as a class."
For example, you can't stand cutting trees and shrubs. Accordingly, it will be a big mistake to settle in the garden of such decorative flora, because they need regular rejuvenating pruning. There are many other, no less beautiful woody plants, which such a procedure is shown, but is not mandatory, or even contraindicated. If you invite such "Pets", for the pruner will have to take only in case of emergency.
They're good without pruning!
There are ornamental shrubs that do not need regular pruning. And individual representatives of flora should not be "cut", otherwise you simply spoil their "appearance". Pay attention to the two plants that can calmly do without pruning and one of the first decorate the garden with a lush color.
Magnolia stellata grows slowly and reaches a maximum of 3 m in height. It blooms before the leaves appear. At Magnolia don't claim pests, not diseases.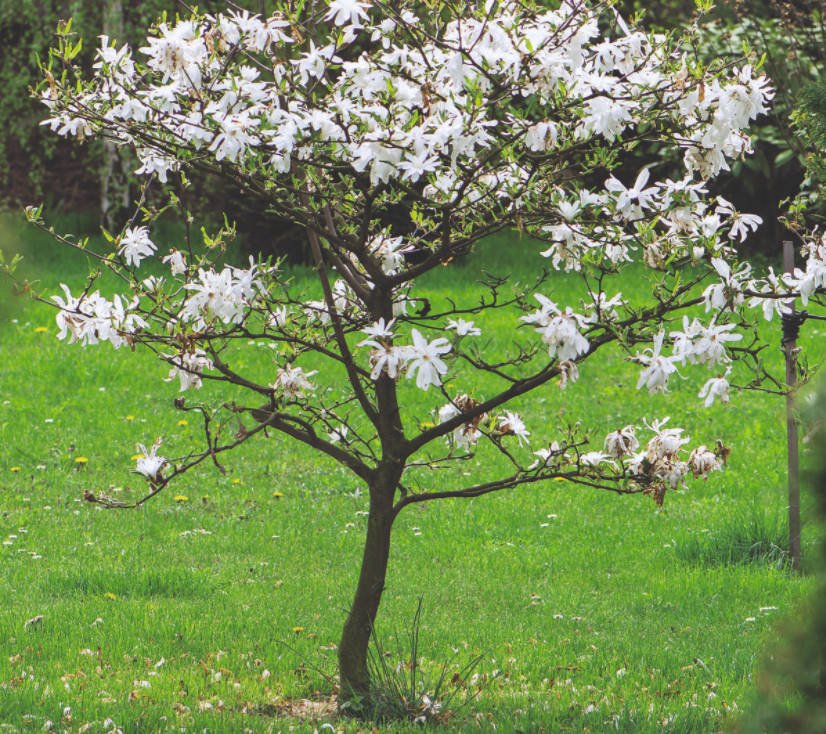 Magnolia stellata
Corylopsis pauciflora-winter-hardy undemanding shrub with a beautiful appearance. It does not exceed 1.5 m wide and reaches the same height with age. Similar to bells light yellow flowers appear in April.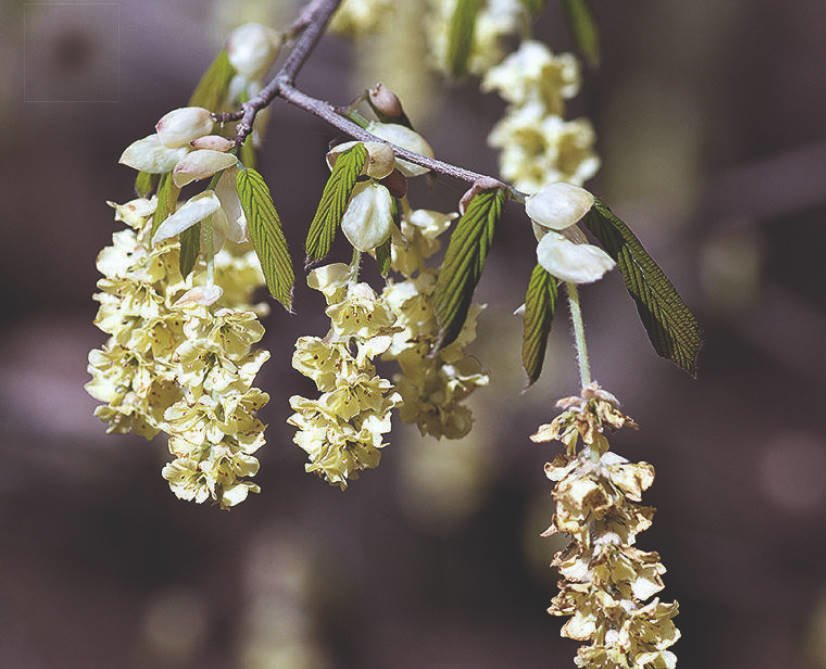 Corylopsis pauciflora
Weeding? Not for us!
For most gardeners, the most tedious and unloved work is weeding. And although completely eradicate weeds will not work, their number can still be significantly reduced if the soil between the plants in the flower beds with bark or gravel. Large areas, such as under trees and shrubs, in General, you can "populate" unpretentious ground cover plants — they themselves will replace anyone.
High beds and flower beds
Well, if you already have problems with your back or you do not want to get them, you should think about the construction of raised flower beds. For weeding and planting in such plantings do not even need to bend your back or kneel. The same applies to the garden-here you can build high beds. A nice bonus: now the slugs can't get to your crop, besides most vegetables grow up in such wards the beds better than usual.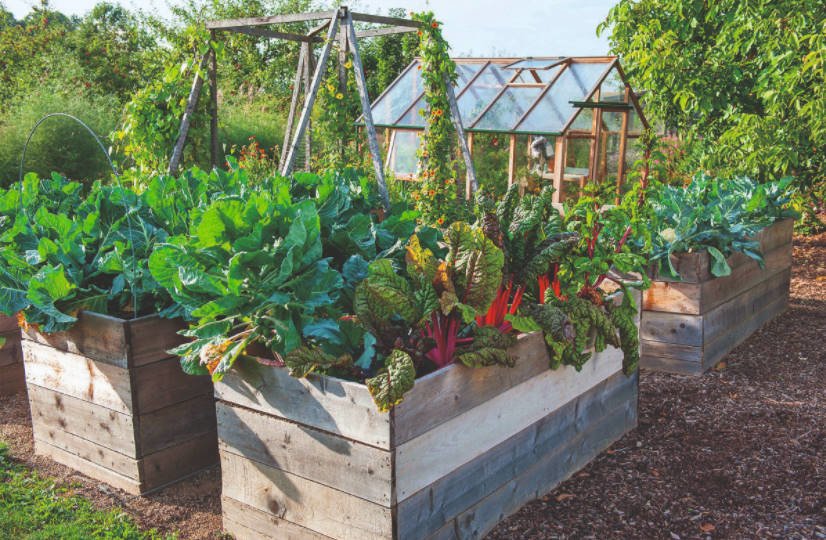 High beds. Grow vegetable plants in such facilities is incredibly convenient, because for the care of planting is not necessary to bend in three deaths.
Tip: do high the beds are small and lay them around the track, to be able freely to approach each plant.
Undemanding plants
Buried in the flowers beds and ridges look stunning. But to care for flower beds did not steal time from your holiday, choose spectacular plants from among the hardy non-capricious species, such as evergreen Heuchera, Iris barbata and Allium.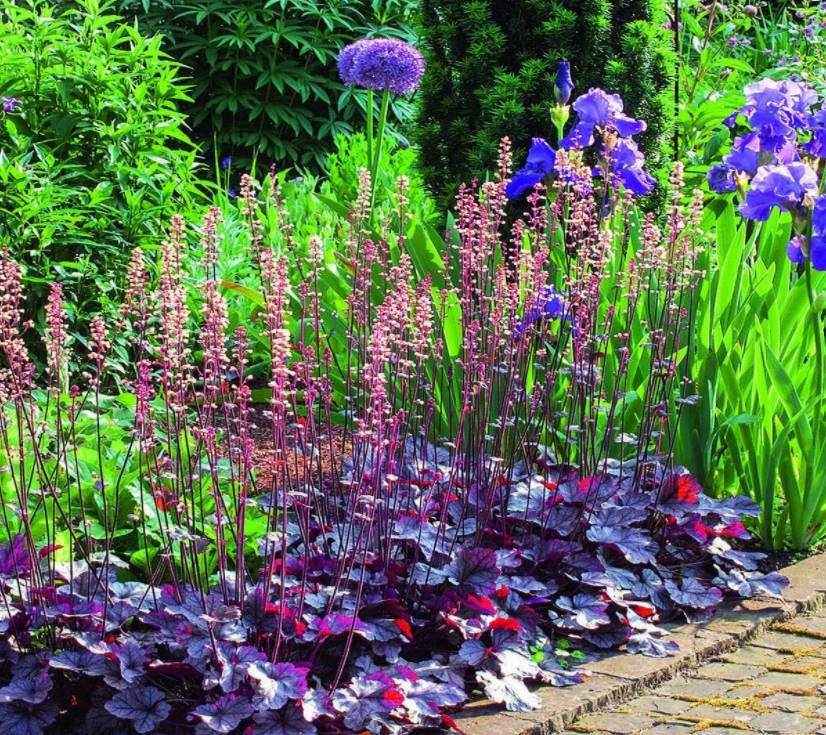 Heuchera, Iris barbata and Allium
Garden for romantics
Even if the garden work is not enough time, it is not a reason to abandon the flower flora. We offer you an example of a beautifully designed and at the same time does not require much trouble garden.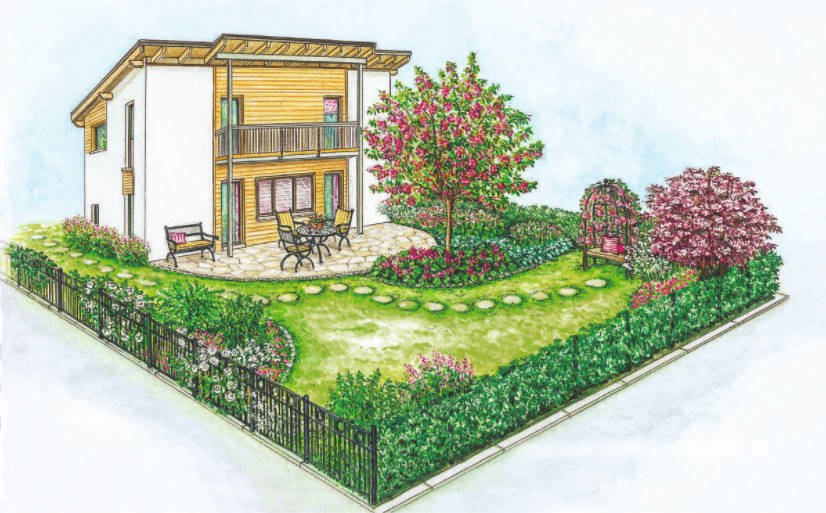 Garden for romantics
In figure:
To paved semi-circular terrace adjacent flower garden, which planted acacia 'Casque Rouge', and under it — undemanding ground cover plants.
A walkway of round slabs stretches across the lawn and leads to a bench under the pergola.
It is decorated with a climbing rose 'Jasmina' with red fragrant flowers, which belongs to the remontant varieties and different endurance.
Queen of flowers, complements elderberry 'Black Lace'.
In the flower garden at the fence compete in the attractiveness of two white climbing roses varieties 'Hella'. Over the years, they will effectively entwine the wrought-iron fence.
Compact flower beds
Also, do not break too wide flower beds, otherwise you will have to work hard to reach the opposite side. If the flower bed or garden width of more than 1.2 m, lay directly among the plants walkway. And again, do not be amiss to turn over planting clinker curb or ribbon of metal or rubber. Such a fence will not allow, for example, lawn grass to migrate to flower beds or grow too active herbaceous perennials outside the flower garden.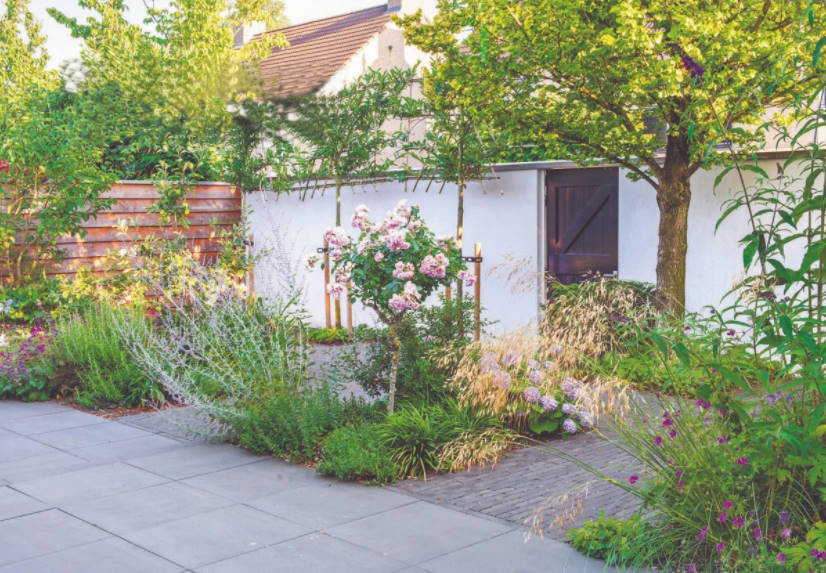 Small flower beds can be broken not only about the paved area, and in the middle of it.
Such landings look very original, while herbaceous perennials and roses can be easily approached from any side.
Modern pots
Beautifully decorated pots and boxes are the main decoration of most terraces. To the delight of gardeners, there are already tanks with an integrated irrigation system, so you no longer need to water the green wards every day.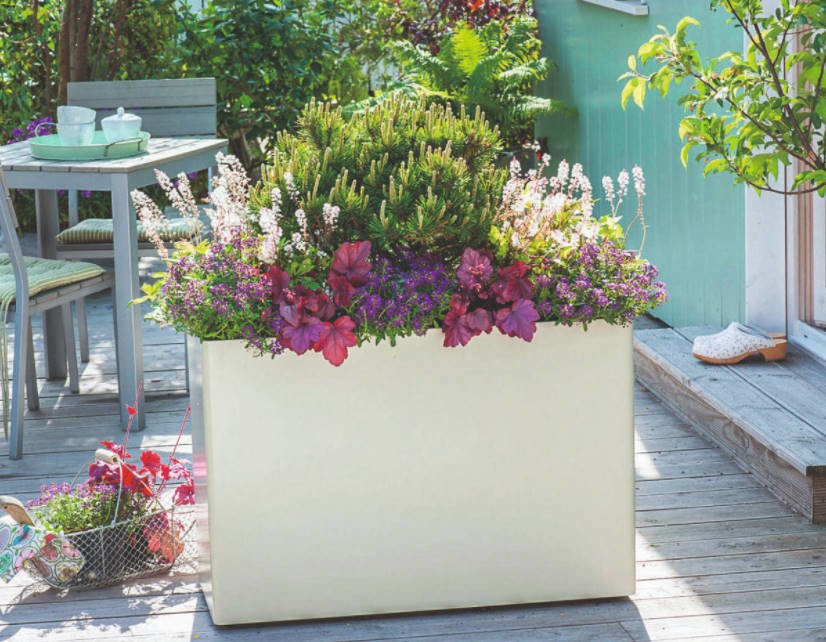 Tip: the higher the box, the easier it is to care for plants.
Closed seams
If you lay out paths and terraces with stone, paving stones or slabs, leaving no open seams, they will not overgrow weeds. Joints should be filled with sand or a special filler for seams.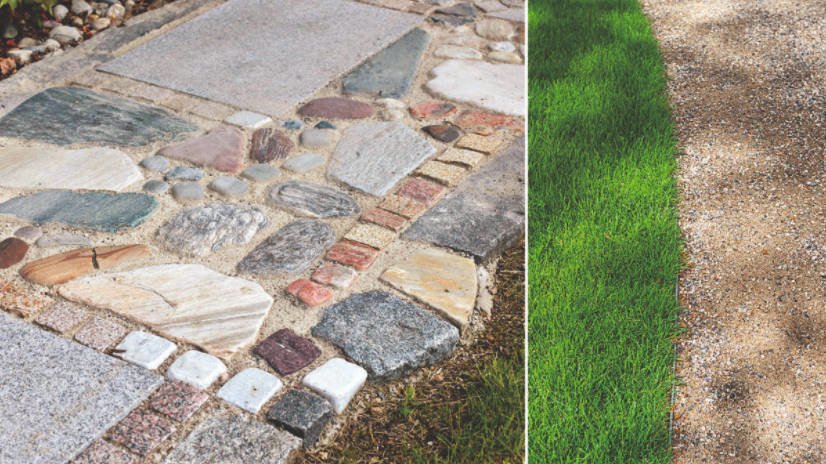 Left: closed seams. Right: limited lawn.
Limited lawn
Edging of stone or, as in the photo on the right, from the invisible border tape – an indispensable thing. Due to this border completely eliminates the need for constant alignment of the edge of the lawn shovel.
Mini-ponds
The pond is one of the most advantageous elements of the garden design. But the classic pond requires constant supervision and care. But miniature ponds in containers, especially without plants, are quite self-sufficient.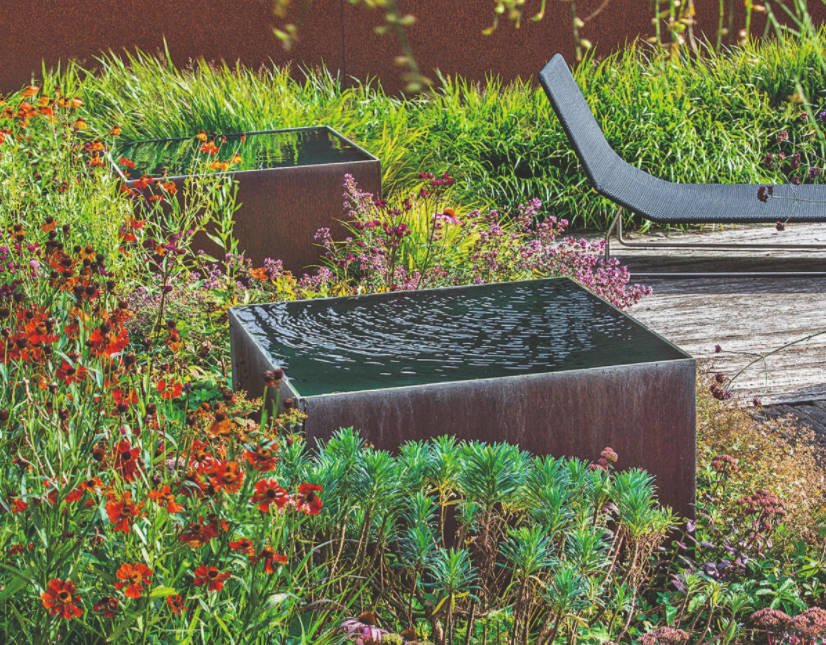 By the way, do not be afraid to use models made of metal — as a rule, from the inside they are covered with a layer of waterproof polymer, respectively, the walls will not rust.
Clear division and restrained colors
Decorated in a formal style and a good selection of plants — that's the secret of garden with a peaceful atmosphere.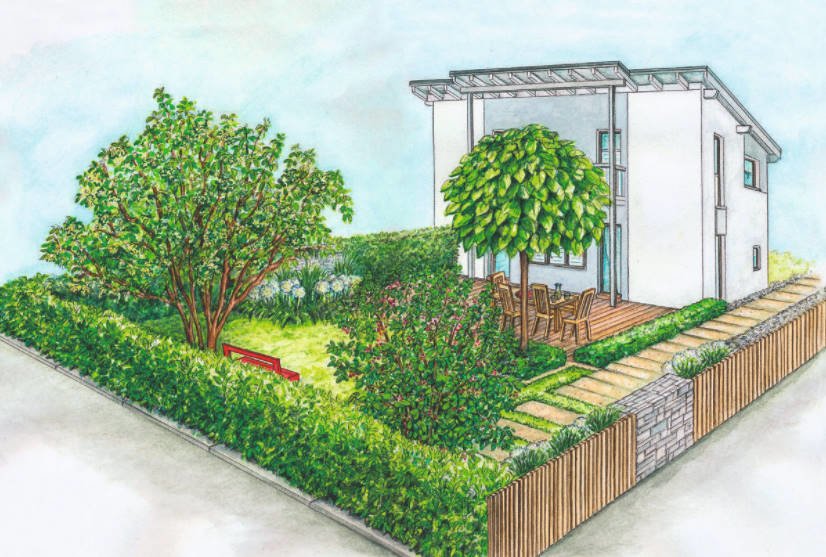 In figure:
Hedge of evergreen Laurel on both sides protects the plot of a little more than 2 acres, and the third it covers a wooden fence with a brick insert.
In parallel to the last on a lawn the wide step path is laid.
Three woody flora representatives set the accents in green possessions. The terrace flaunts a Catalpa, and the red bench Ptelea. Bright colors in the environment makes Bush weigela with red flowers. And in the spring the garden is decorated with a decorative bow with large balls-inflorescences.