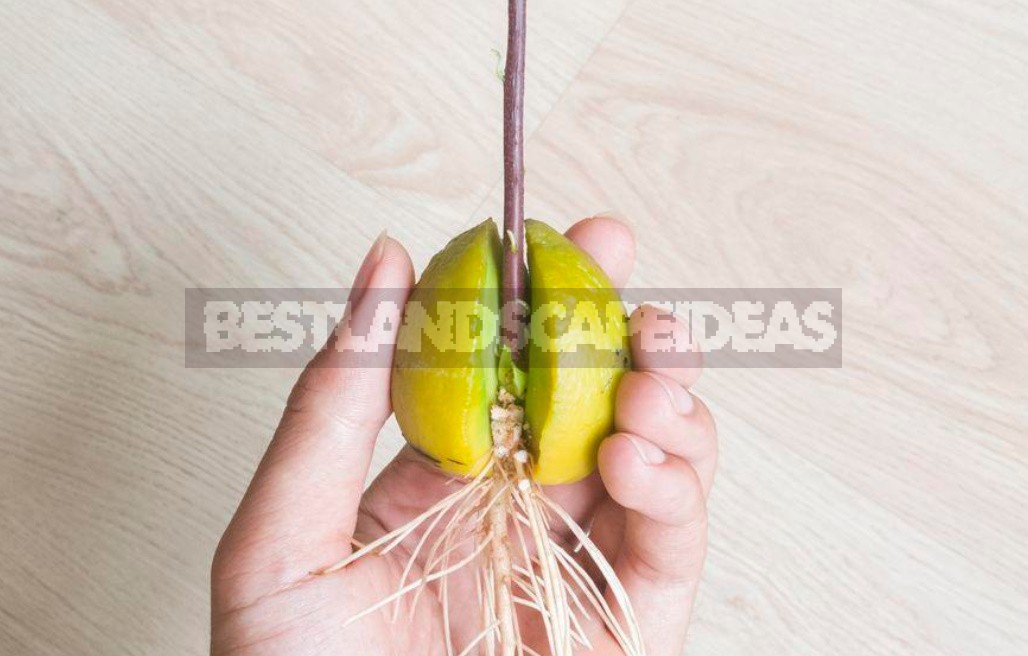 A keen cottager can't live a day without green Pets. And if garden plants are ready for fruitful communication only in the warm season, then room guests decorate life continuously. The homely atmosphere allows the gardener to shelter even exotic southerners on the windowsill, which will not take root in the open ground. Moreover, they can be grown independently from the seed, and some even harvest.
1. Mespilus
Have you tried this strange fruit that resembles a juicy mix of pineapple and Apple? But you can eat delicious fruits without leaving home if you grow Mespilus germanica or Eriobotrya japonica on the windowsill. In comfortable conditions, the indoor tree can begin to bear fruit in 4-6 years after planting.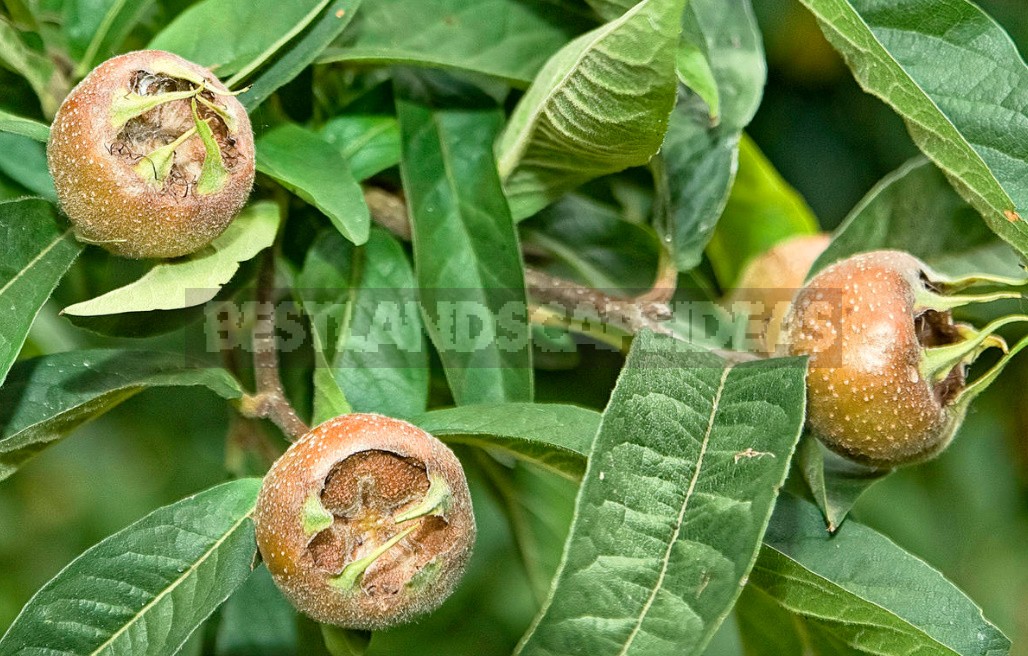 Most often, oblong orange or yellow eriobotrya japonica fruits are found on the shelves. Remove the seeds from the ripe fruit, clean the amniotic fluid and dry for 3 days. Scarify them with sandpaper and soak them in room temperature water for a day. Plant the seeds one by one in pots with drainage and loose fertile soil, buried for 2-3 cm. Thanks to pre-sowing treatment, seedlings will appear faster, but you can simply remove the seeds from the fruit and place them in the ground, although you will have to wait a little longer.
Seedlings should be protected from direct sunlight. Move the strengthened Mespilus to the lightest windowsill and keep it at a temperature of at least + 18°C. She will prefer to pass the winter in a bright, cool room at +5..+10°C.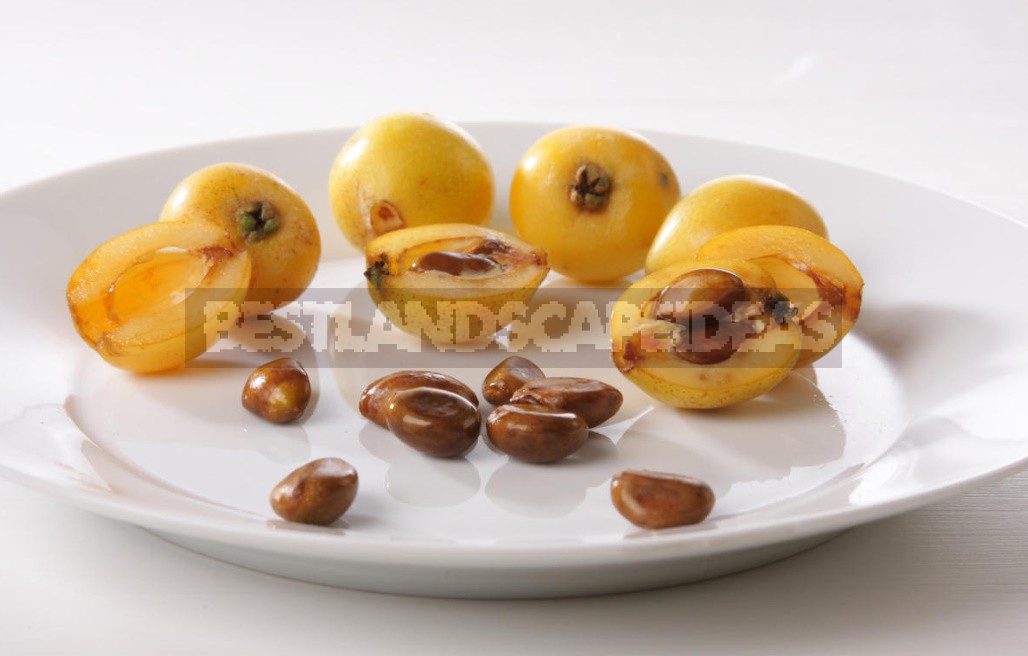 In the warm season, regular watering is necessary, but without fanaticism. Do not forget to moisten the air around the plant and from April to September to feed 2 times a month with a complex fertilizer. In the cold season, Mespilus is watered very little.
2. The fruit of date palms
In room conditions, it is problematic to force the date palm to bear fruit. But you can always buy its delicious fruits in a nearby supermarket, and turn one of the seeds into a feathery beauty that will decorate your home.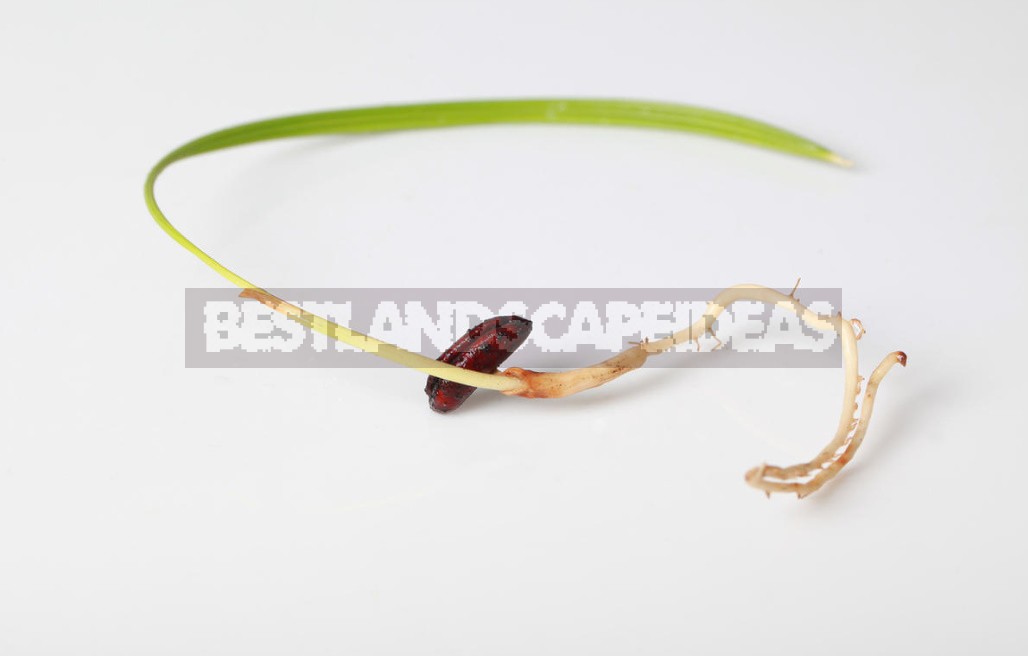 Plant the seeds from fresh or dried dates in a pot with a moistened substrate, placing them vertically and sprinkling the soil with a layer of 1 cm. Ordinary garden land for growing exotic beauty can not be taken. The best option is the ground "for ficus trees", which is also well suited for palm trees. If the dates were not subjected to heat treatment, the shoots will not take long. This process can be accelerated by scarification.
Place the stronger seedlings in separate containers and keep them on the South window. In spring and summer, water the palm tree regularly, but do not water the soil in the pot. In the heat, the plant will be grateful for spraying and bathing in the shower. Reduce watering in the fall and keep it to a minimum in the winter.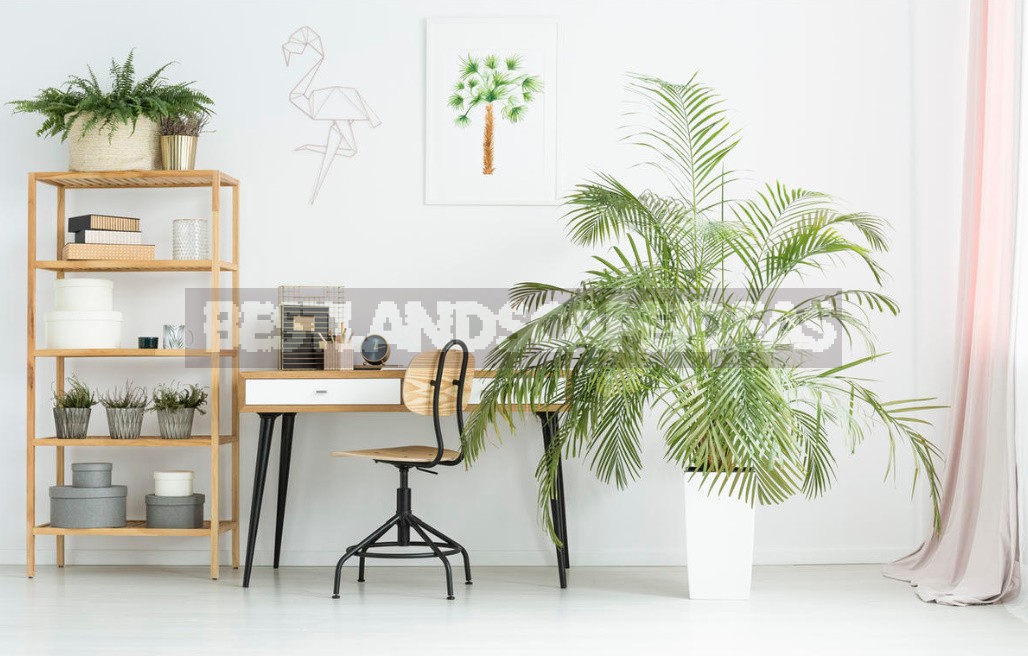 During the active growth period, dates are fed 2 times a month. During the dormant period, the plant is treated with fertilizers once every 1-2 months and kept at + 12…+18°C. Trim the feathery beauty can not be-you can damage the growth point. But gradually turning the pot around the axis is very useful – so the plant will form a more beautiful crown.
3. Orange
Plant the orange seeds at the end of winter. They will sprout in 1-1. 5 months, and the seedlings will be able to get maximum light in the spring and summer. Remove the largest seeds from the ripe fruit, rinse, soak for 10-12 hours in water and immediately plant in separate pots to a depth of 1 cm.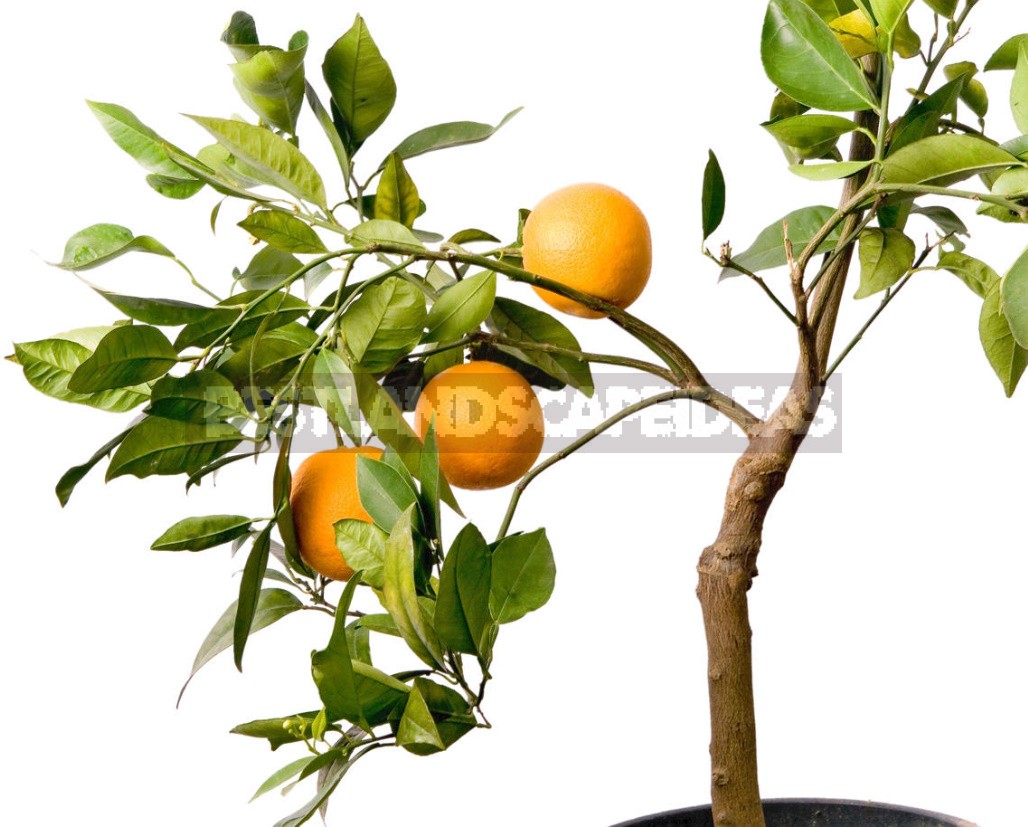 The choice of soil for a citrus pet should be approached thoroughly. It should be made up of sod and forest land, humus, sand and peat mixed in a proportion 2:1:1:1:1, and then be sure to decontaminate. In order not to tire yourself with such troubles, you can use a ready-made soil substrate. The ideal soil should retain its looseness for a long time, as well as accumulate and evenly give the plants nutrients coming from fertilizing.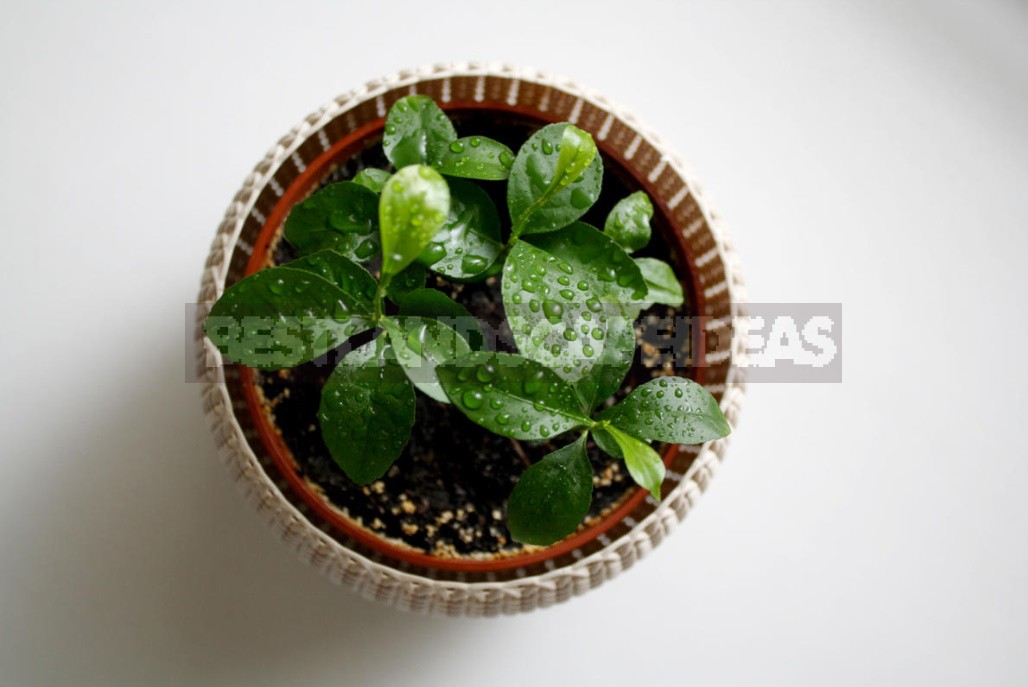 The plant is harmful as waterlogging of the earthen lump in the pot, and its drying out. Keep an orange tree on the South or South-East window. In summer, take it out to the balcony or garden, and in winter, light up to 12 hours a day. Do not forget to moisten the air around it and from March to October, feed it every 2 weeks with a complex fertilizer (preferably for citrus).
From the bone, a tree will grow, which will bloom only in 10 years. The quality of its fruits is a lottery. If you want to collect a delicious harvest from a tree, make your green pet vaccinated with a varietal cuttings in 1.5 years after planting. And do not forget that an orange will not live long if you do not provide it with a cool winter at +12…+16°C.
4. Lemon
The same care will require a lemon grown from a bone. In addition to bright lighting, regular watering and fertilizing, it will also need annual pruning. Without your sensitive guidance, a stick with leaves will grow out of the bone.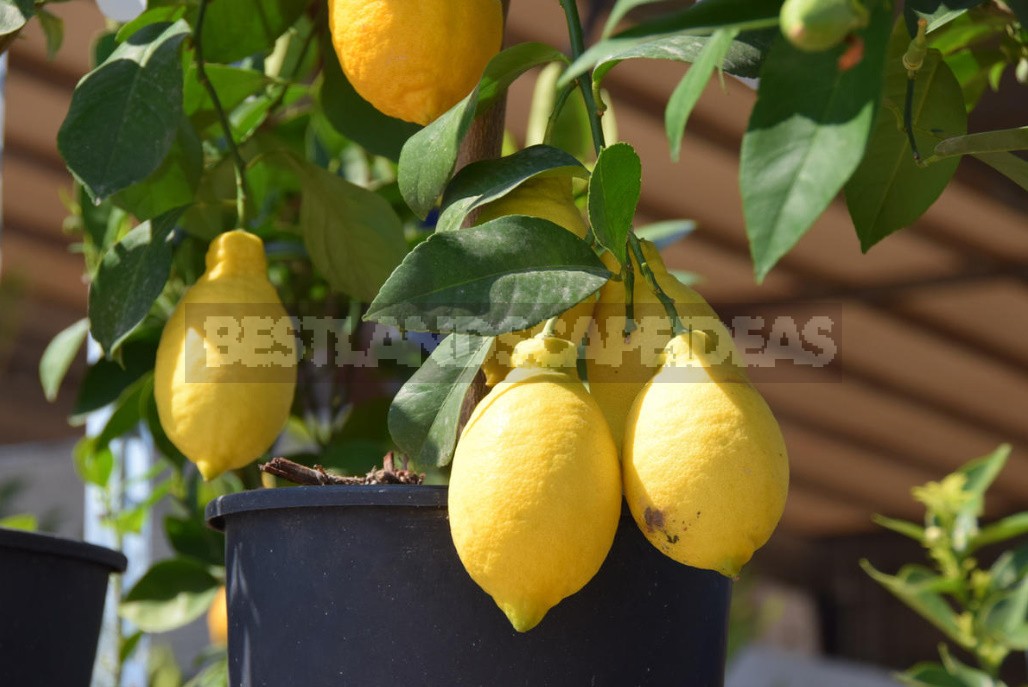 Make the lemon branch with a pinch. When the plant reaches 20-30 cm, remove the growth point of the main stem, and then periodically pinch the side shoots. So you will achieve a harmonious development of the crown. Shorten the long shoots of an adult tree with a pruner, and remove thickening and damaged branches.
5. Avocado
To achieve fruiting from indoor avocado is quite difficult, so it is grown at home rather for the sake of interest and new experiences. A seed taken from a ripe fruit easily sprouts, being simply planted in a moist soil substrate. Important condition: place the bone with the sharp tip up and leave the top outside.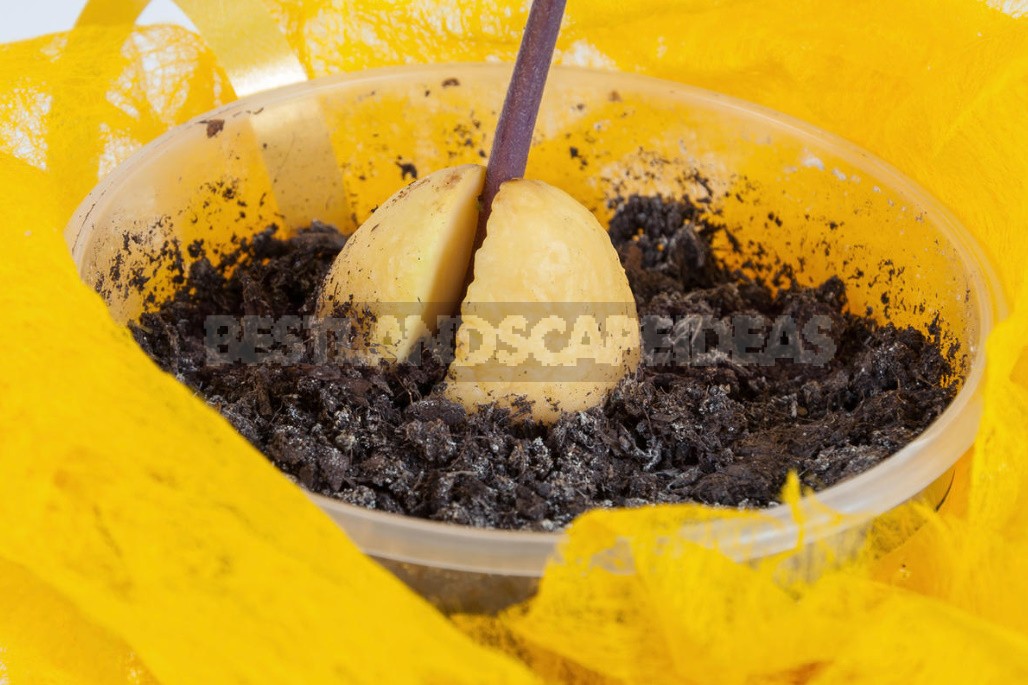 For beginners, a more visual and exciting method is to sprout avocados in a container of water. The bone is prepared by sticking 3-4 sticks into its blunt part. This should be done in such a way that they form a support structure. The bone must be placed in a container so that only the lower part of it — about one-third-is in the water. If you constantly monitor the water level, then in 2-4 weeks you will see tender roots, and then a strong sprout. When the main root grows to 4-5 cm, the plant should be transplanted into a pot with soil.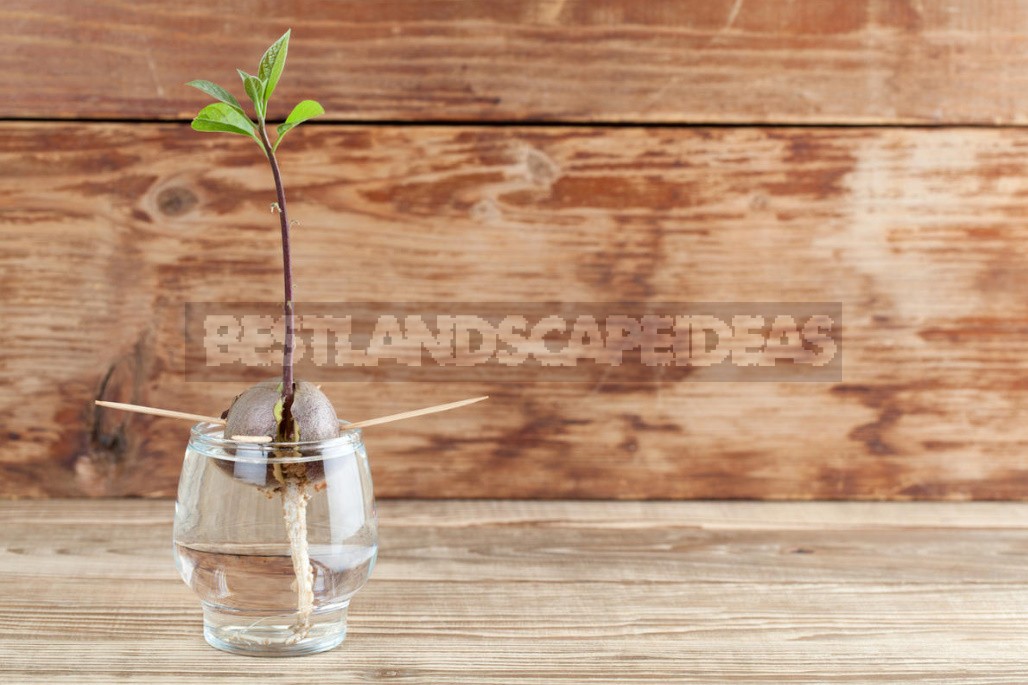 Like other southerners, avocados will be grateful for bright lighting and high humidity. However, it does not like the heat: the comfortable temperature for it is +16…+20°C. Do not forget to regularly feed the plant during active growth and pinch the tops of shoots to form a compact crown. In winter, change the conditions: reduce watering and feeding, keep in bright light, but reduce the temperature to +10…+12°C.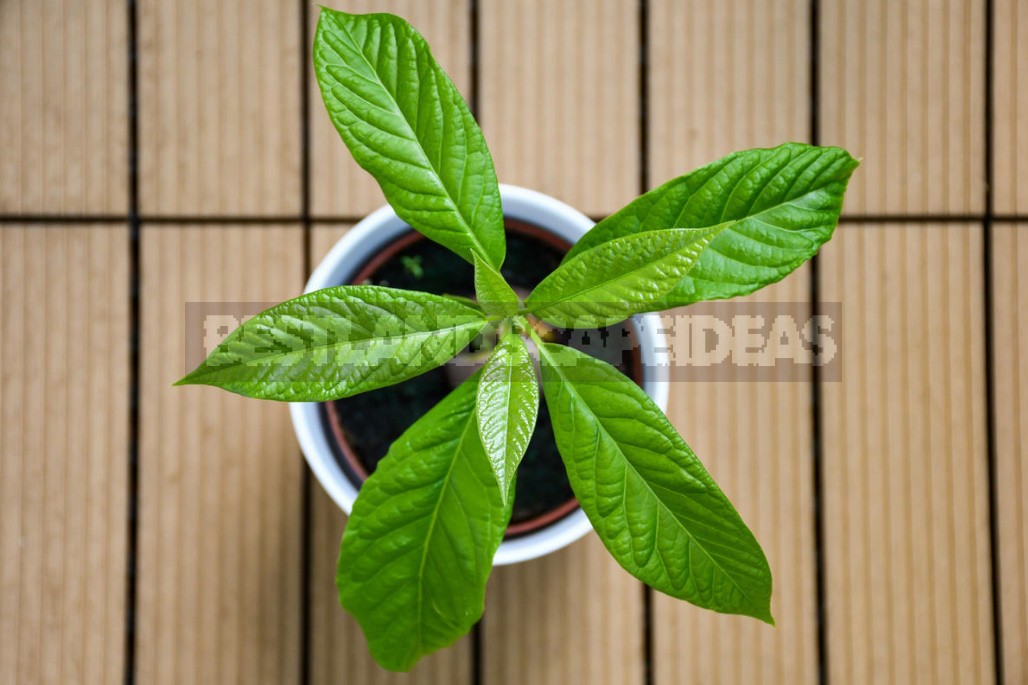 6. Grapefruit
Growing a grapefruit is no more difficult than an orange or lemon. The main thing is to take a large seed from the newly cut fruit for planting. The longer it stays without moisture, the more its ability to germinate will decrease.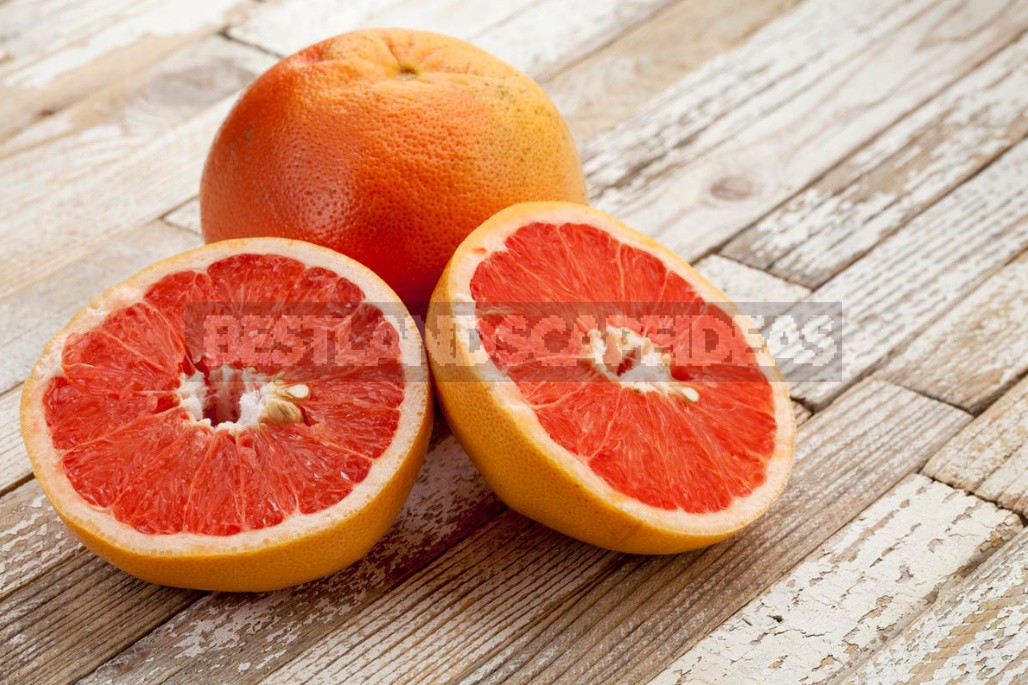 Grapefruit is a native of the subtropics, so you will expect similar living conditions. This is regular soil and air humidification and bright light for at least 10-12 hours a day. Pay attention to feeding, loosening the soil in the tub and pruning. With enough moisture, it can easily tolerate the heat in the summer, but in winter it will require coolness.
Do not forget about vaccination – without it, you will only get aesthetic pleasure from the contemplation of juicy greens. If you are serious, you can find citrus lovers on the Internet who are engaged in their cultivation and are ready to share cuttings. Grafted room grapefruit will give you the opportunity to enjoy delicious fruits, however, their size will be less than that of store counterparts. But is it important for a passionate person?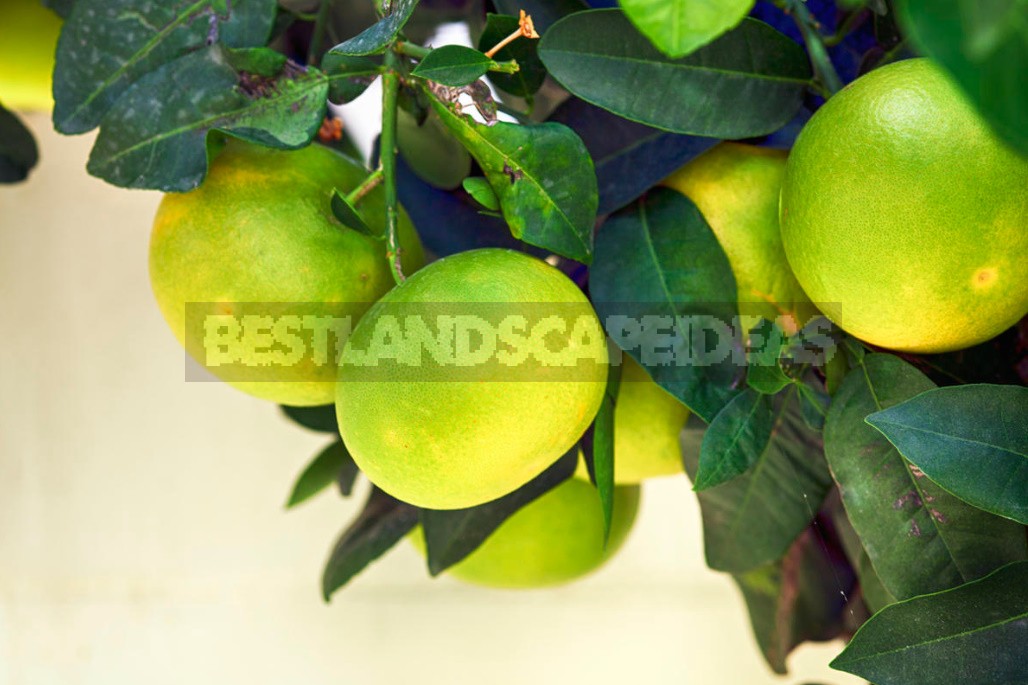 7. Mandarin
The same applies to Mandarin, which is easy to grow from a bone. This southerner will prefer, like other citrus fruits, bright light and high humidity, but in contrast to them will allow you to start an exciting "guardianship" earlier – its bones, if all conditions are met, germinate in 3-4 weeks.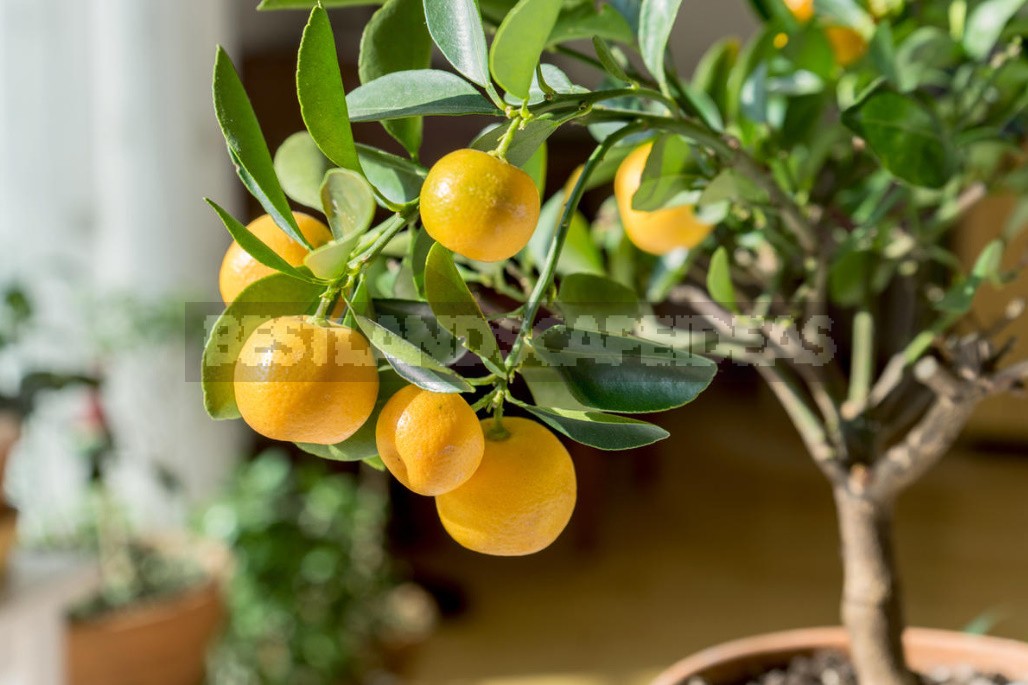 It is worth remembering that the Mandarin, like other Pets, will need to be transplanted as it grows. In the spring, you will need to carefully transfer the plant to a larger container filled with fresh soil. Adult trees are problematic to transplant, so you can limit yourself to updating the top layer of the earthen lump in the tub.
If exotic fruits regularly appear on your table, take a closer look at them. Maybe you should breathe life into the bones left after a delicious meal? The process of growing native southerners at home does not require you to do much trouble, but it will give you a lot of positive emotions. And if your house is already growing such an exotic, be sure to tell us about it in the comments. We are very interested in learning the story of the reincarnation of your overseas bone!