With the beginning of autumn in our cottages begin a truly luxurious flowering of various cereal plants. All summer long, being in the shade of other perennials and annuals, they performed a secondary role of background species. But in autumn, flowering cereals become unconditional accents, leaders of flower beds.
Their reign will last all autumn, and sometimes winter: even the snow-covered lush panicles and sultans do not lose their appeal.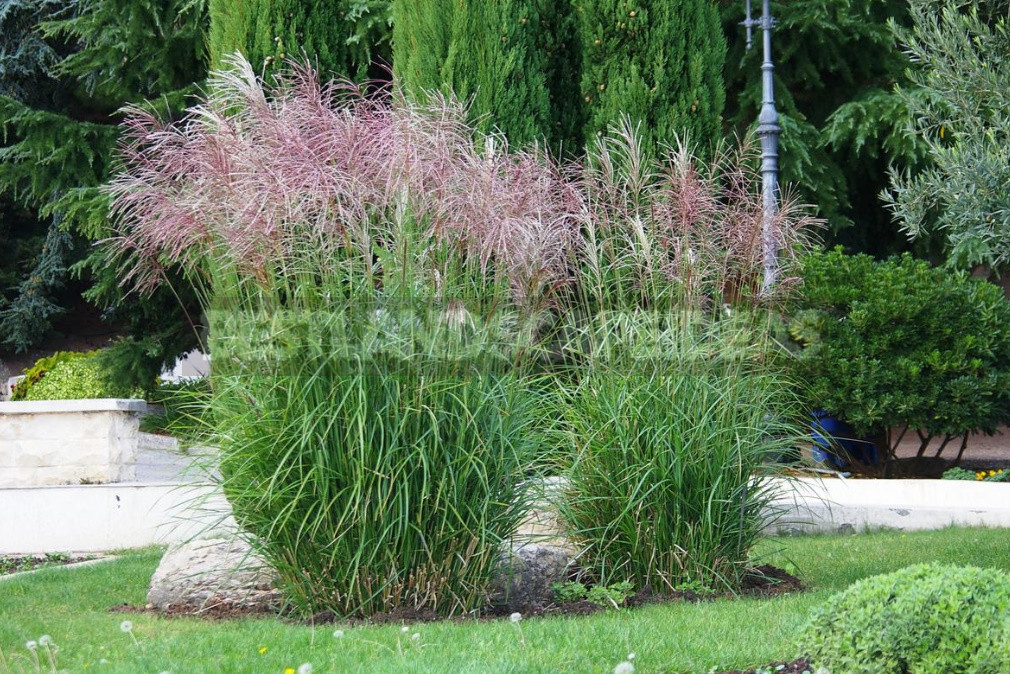 Elegance and graphic clarity of forms, fascinating movement in the wind – thanks to these qualities, decorative cereals have become desirable plants of country compositions.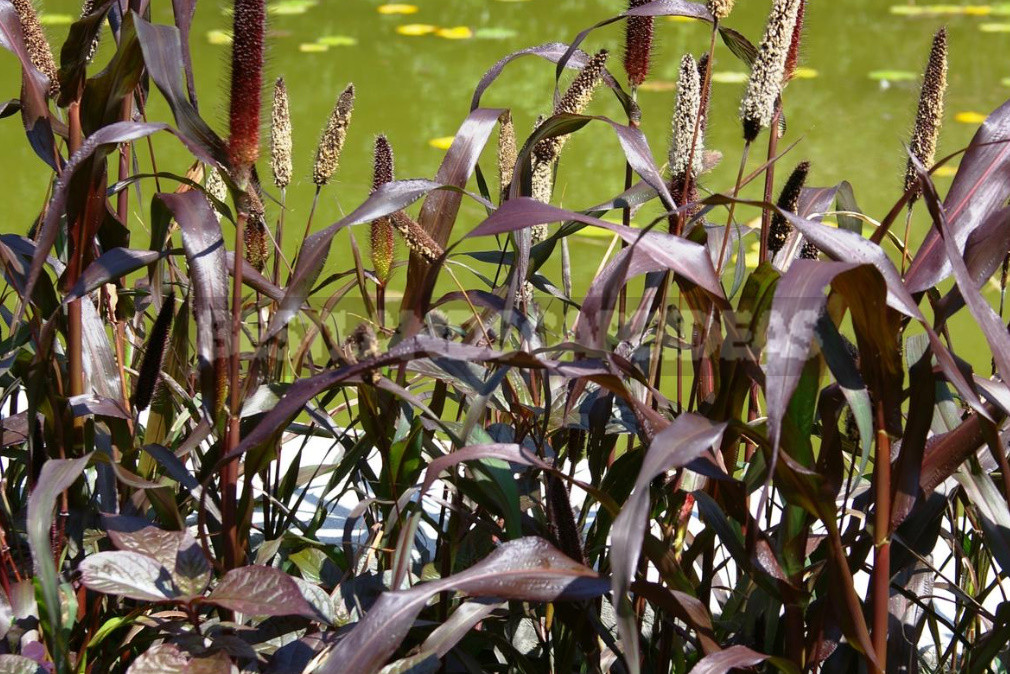 Cereal plants are an exquisite decoration of plots, and now they can be found in the cottages more and more often.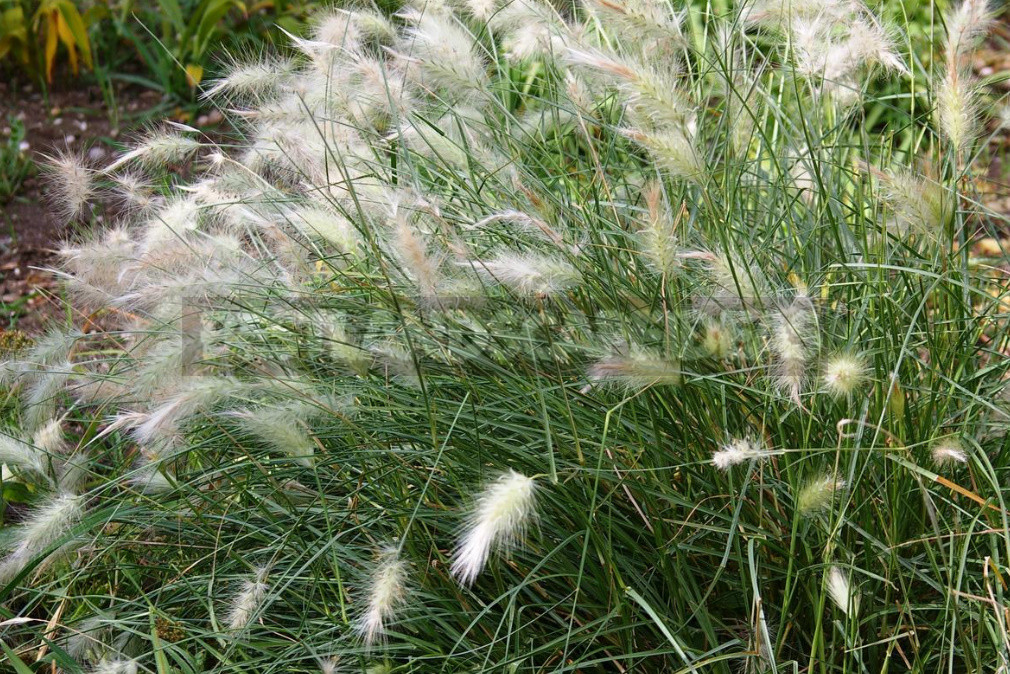 Navigating their rich world is not easy, but we will try.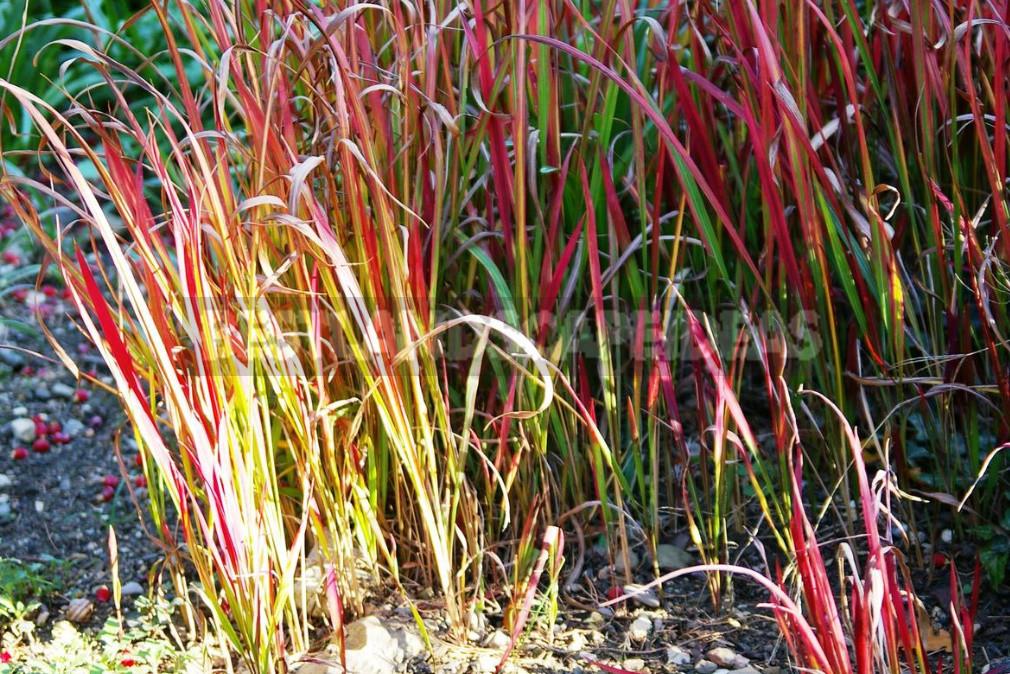 In fact, the world of decorative cereals is infinitely diverse and interesting, stunningly beautiful species and varieties so much that even a brief description can not fit in 10-20 articles! But cereals are rapidly gaining popularity, so not only I, but also other authors of the site more than once invite you to their beautiful world.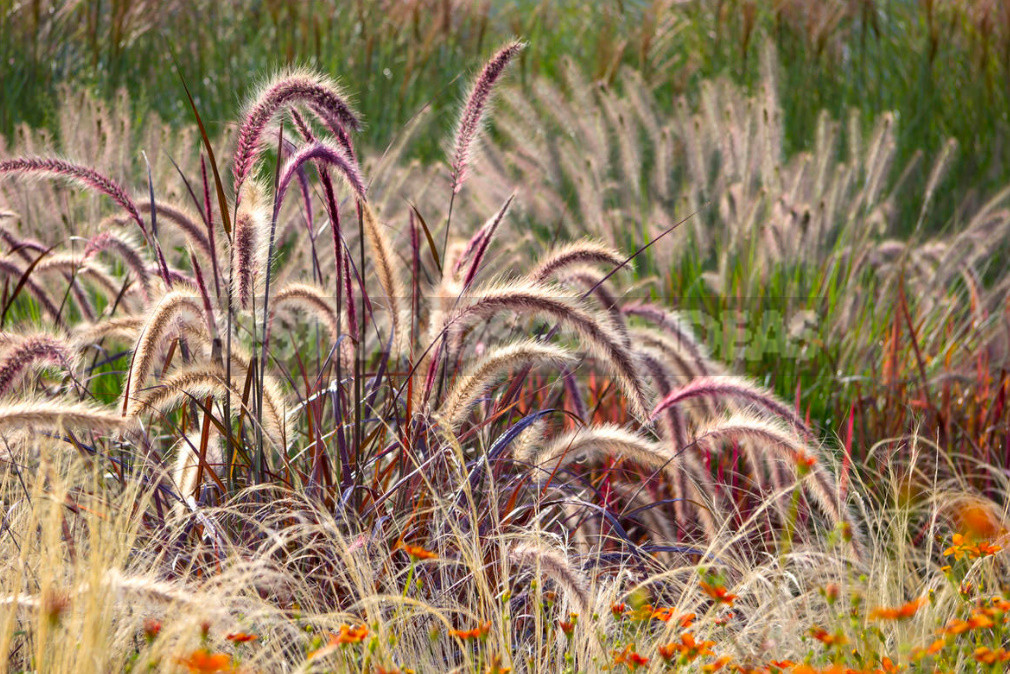 Autumn is a particularly good time to get acquainted with cereals, when you already want to take a break from the violent bright colors of summer, tune in to the peaceful perception of soft shades of Golden pores.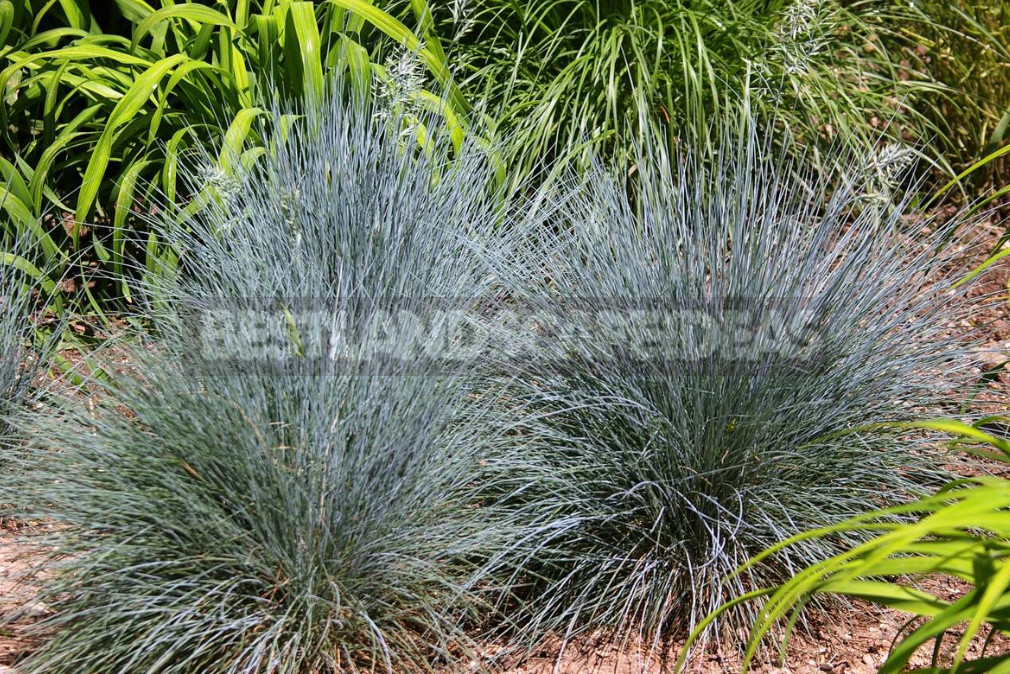 I am sure that after reading the article you will definitely want to settle in your country cereal plants. Remember that when choosing a particular species, you will have to take into account its winter hardiness and drought resistance.
Andropogon gerardii
Luxurious erect turf perennial up to 2 m tall and up to 60 cm wide. it is Native to Mexico, Canada. Adult Bush may well compete with miscanthus in various compositions. Inflorescences consist of finger-shaped pink racemes 10 cm long, bloom from the beginning of autumn. At the same time, an additional decor of the bearded man are his leaves, painted in orange and dark red.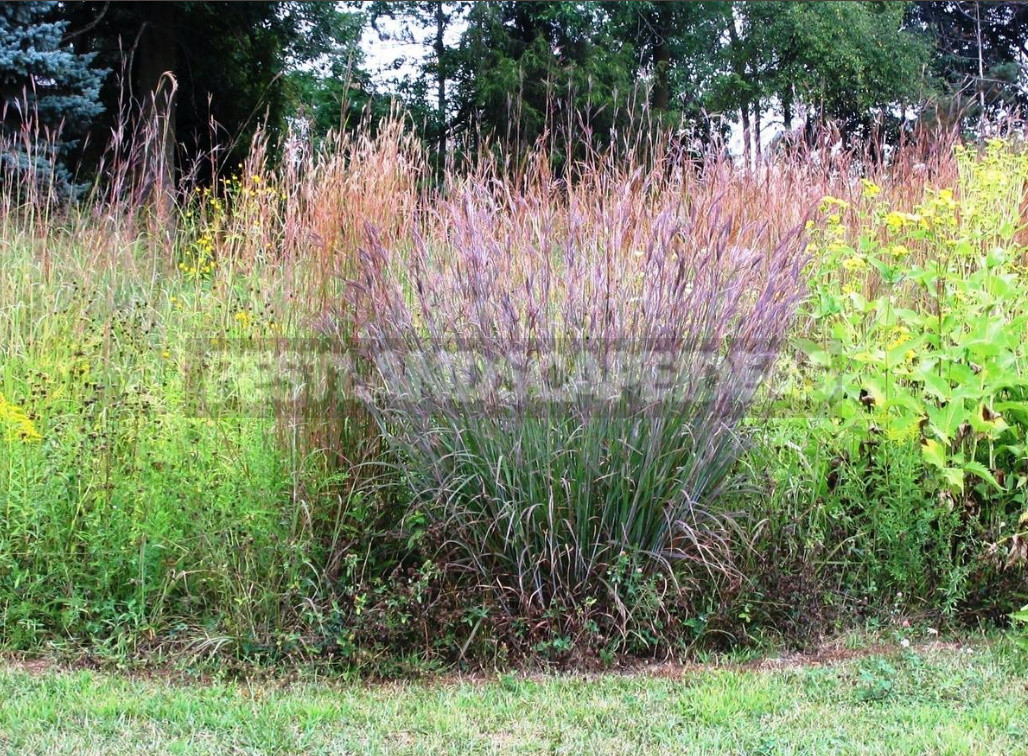 In relation to soil absolutely unintelligible: it grows well both on wet and dry, as in fat and poor. Loves a Sunny place.
Hardy. The winter minimum temperature is kept within -28.9…34.4°C.
Propagated by seeds and division of the Bush in early summer.
Elymus magellanicus
On sale can go under the name Agropiron magellanicus. He is a very interesting arched spike-like inflorescences of light bluish-green rough leaves.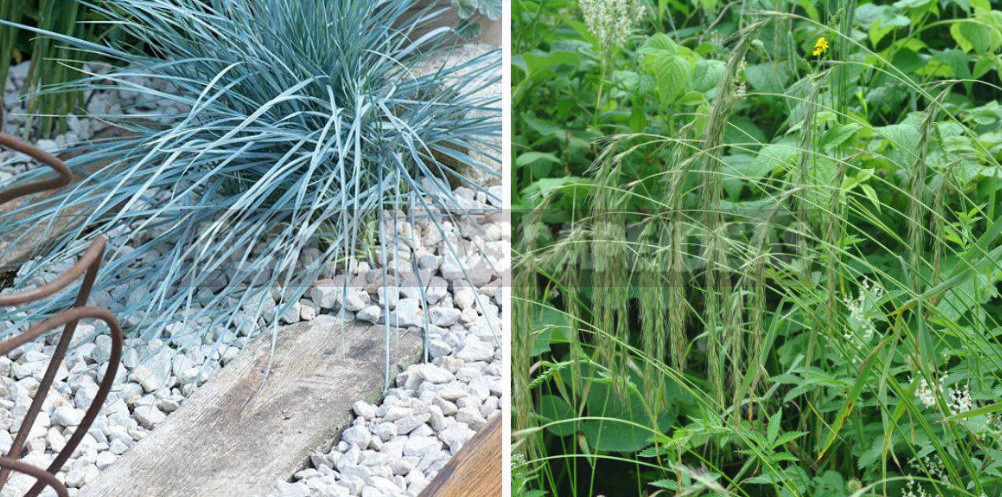 Beautiful semi-evergreen grass with blue leaves, forming a dense tussock height of 60-80 cm and a width of 30 cm. it is Native to southern Chile, southern Argentina.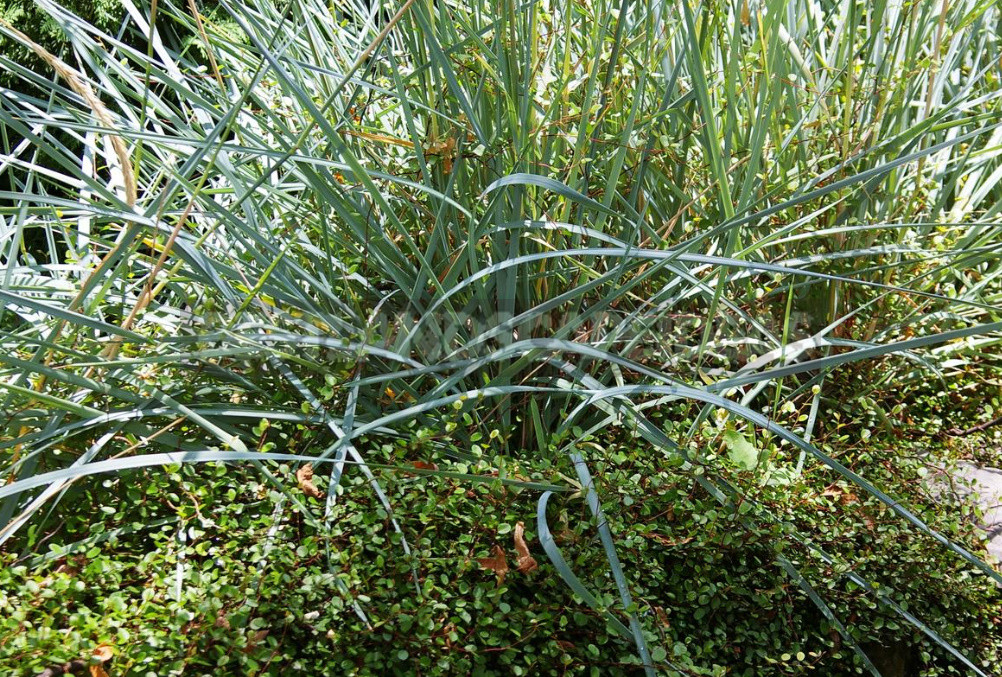 It grows best in open Sunny, well-ventilated areas with drained soil. May be affected by rust. It can be grown in the coastal zone of reservoirs and in containers. It is extraordinarily effective against the background of white dusting.
Temperature winter minimum -17,8…23.3°C. more hardy Elymus sibiricus, which stands -34.5…40°C. but, unfortunately, in the sale of its seeds are rare.
Propagated by seeds and division of the Bush in the spring.
Molinia caerulea
Quite unpretentious cereal beauty with a beautiful name.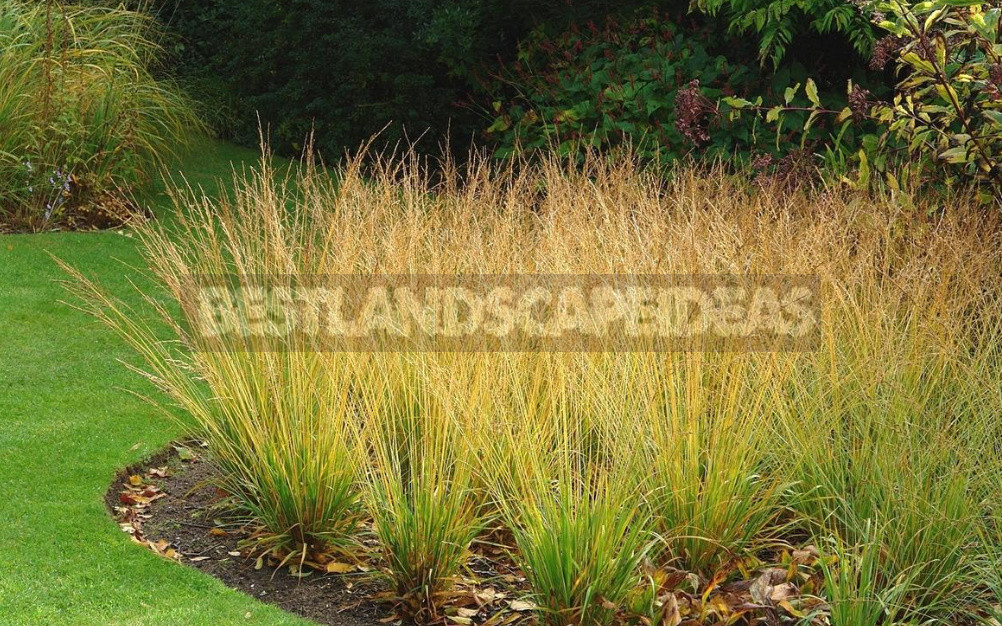 Perennial up to 1-1. 5 m and a width of 40 cm, forming loose sod. The leaves are long, narrow, elastic, bluish-green.
It is not selective with respect to soils: it grows on poor, and alkaline, and acidic. Loves the sun and moisture, feels bad in the South where the summer is hot and dry.
Hardy, withstands -28.9…34.4°C.
Propagated by seeds, sowing in the winter or spring (with stratification); forms and varieties-division in may-June, without sinking much roots.
Decorative varieties:
'Karl Foerster' – leaves up to 80 cm long;
'Sky Racer' – up to 2 m tall, leaves up to 1 m long, Golden in autumn;
'Moorhexe' – almost perfectly vertical cereal with dark purple spikelets height of 45 cm, eventually grows and forms a wide hummock.

Helictotrichon sempervirens
One of the best gray-blue evergreen cereals. Forms a semicircular tussock height of 70-80 cm in the natural conditions of South-Western Europe, it can reach a height of 1.4 m and a width of 60 cm Leaves linear, gray-blue, up to 23 cm in early summer appear purple spikelets collected in loose panicles, decorative for 1 month.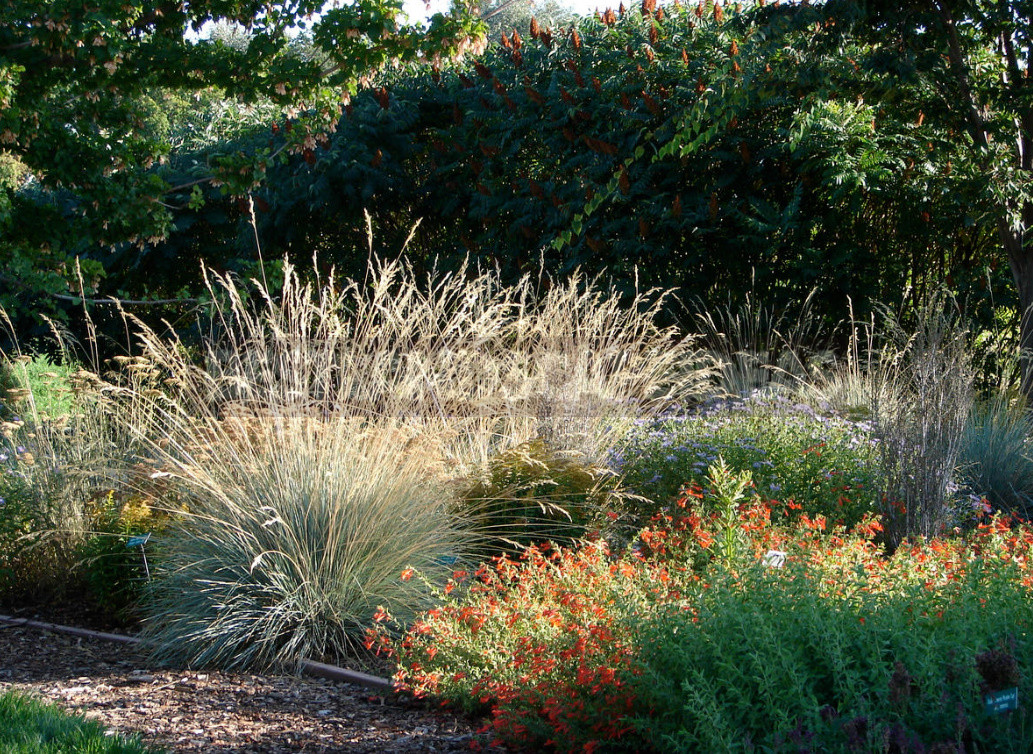 Beautiful in rockeries, terraces, retaining walls. Does not tolerate dense moist soils, more decorative on fertile drained. In hot and dry summers, flowering is weak, at the end of the season, rust may appear. The faded blossoms are removed. Leaves for the winter are not cut.
Hardy: withstands from -28.9…34.4°C.
Propagated by division in the spring.
Spartina pectinata 'Aureovariegata'
A typical species with thin (only 1.5 cm wide) green leaves is very rare. Variegated form-a large plant up to 2-2,2 m (with inflorescences), with beautifully curved leaves with a very thin yellow border. Blooms in August.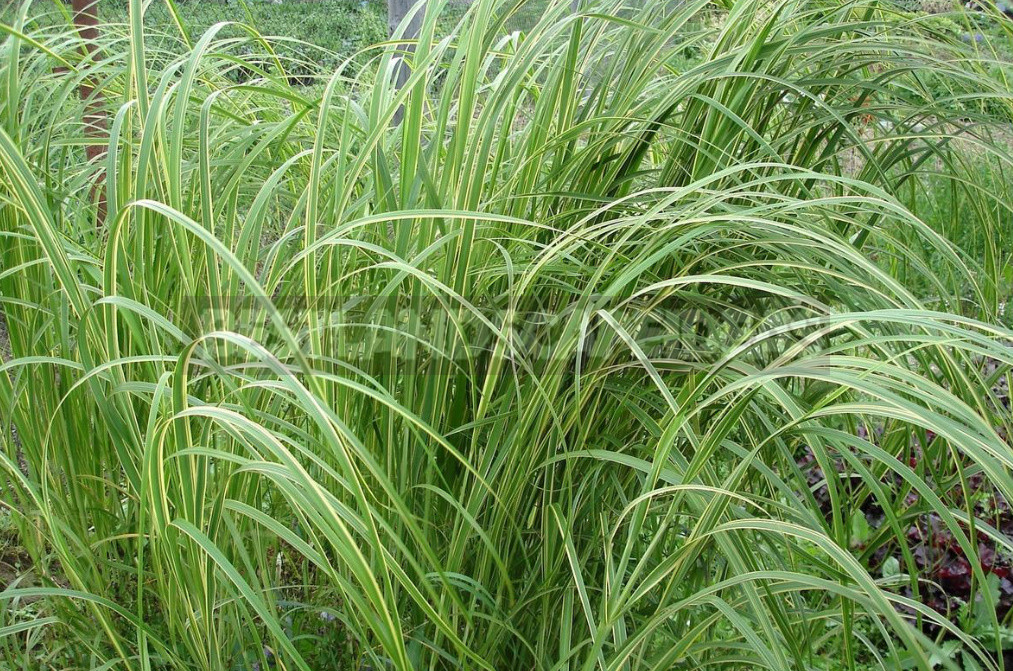 Wonderful in the background mixborder, where it plays the role of autumn accent, does not lose decorativeness in winter. Prefers moist soil. It will be very good in the sun, but in hot and dry summer watering is mandatory. Long rhizome in comfortable conditions for Spartina grows quickly, so you need to control the spread.
Winter-hardy, can stand quite hard frosts: -28,9…34.4°C.
Propagated by division in late spring or early summer, cutting a shovel strong thick roots.
Briza
Elegant cereals, differing in the size of spikelets collected in loose panicles. In the people they are often called cuckoo's tears.
B. maxima-annual 40-60 cm tall, 25 cm wide;
B. media-perennial 60-90 cm tall, 30 cm wide;
B. minor is an annual up to 45 cm tall, 25 cm wide.

Shakes are great in Sunny and semi-shady places, light dry soils.
Briza media is a perennial winter-hardy, like the previous 2 species. It is not selective at all: it develops perfectly and blooms in full sun and shade, on heavy and light, acidic and calcareous soils, on dry and wetlands. Poorly tolerates drained soil and dry air. In autumn, drooping faded inflorescences and leaves are cut off, but it manages to grow and go green in winter.
Annual Briza propagated by seeds, sowing immediately in the open ground; perennial-division in the spring. They are all good at rockeries, Prairie-style landscape mixborders.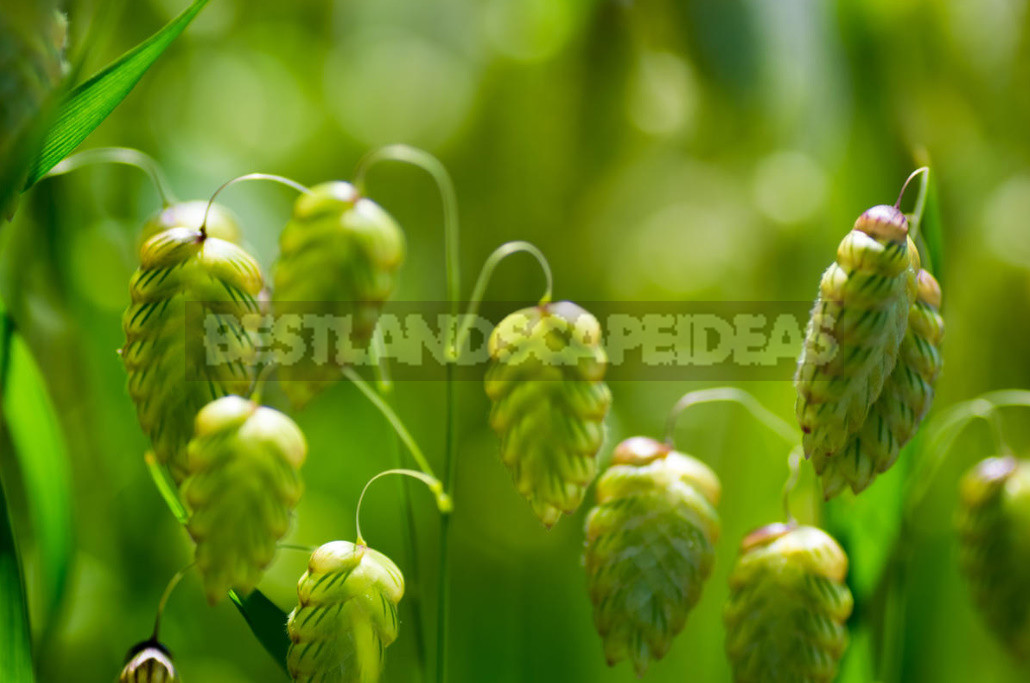 Used as dried flowers: shoots with spikelets cut at the end of flowering, dried in suspension in the shade.
And what ornamental grasses grow in you in the country? How do they winter, what role do you give them in compositions?