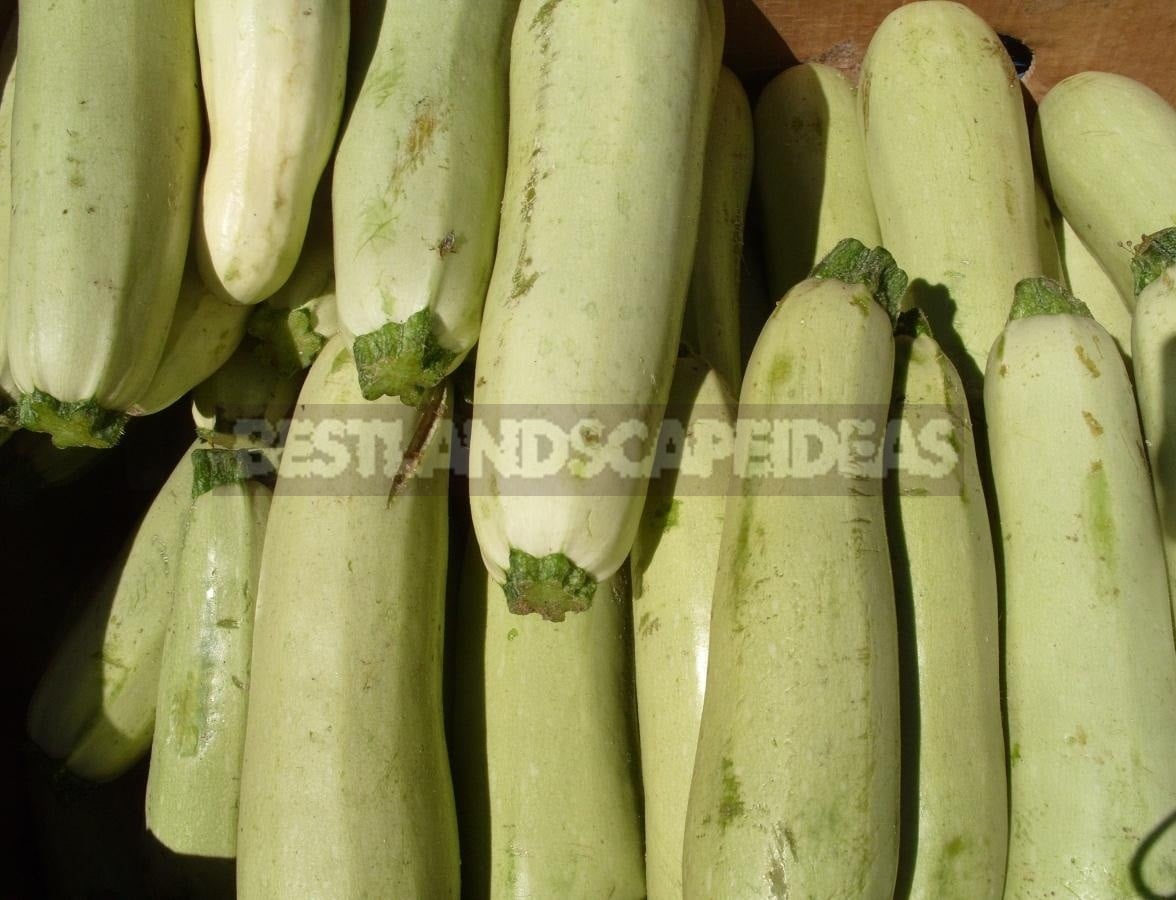 Zucchini is an annual herbaceous shrub, semi-shrub or whitish plant with a thick, hard pubescent stem. The leaves are large with 5 pointed lobes on long stems, light or dark green, sometimes with white spots, with prickly, rough pubescence. The flowers are bisexual, monoecious, large, yellow; they bloom in June-August. Fruits-elongated, cylindrical, sometimes slightly curved shape, white or green at a young age, rarely with dark green stripes; ripen in June-August .
In recent years, zucchini has become increasingly popular, which is characterized by compactness, weak branching, more carved leaves and fruits of various colors: from emerald green to golden, with and without a pattern. Spherical zucchini are called Rondini.
Especially decorative varieties:
'F1 Goldrush' – early-maturing, compact bush hybrid with golden-yellow fruits;
'Golden Zucchini' – its fruits are orange-yellow;
' Zucchini Zebra' – shrub variety, the fruits are cylindrical, light green with wide longitudinal dark green stripes; the disadvantage of this variety is its susceptibility to fungal and viral diseases.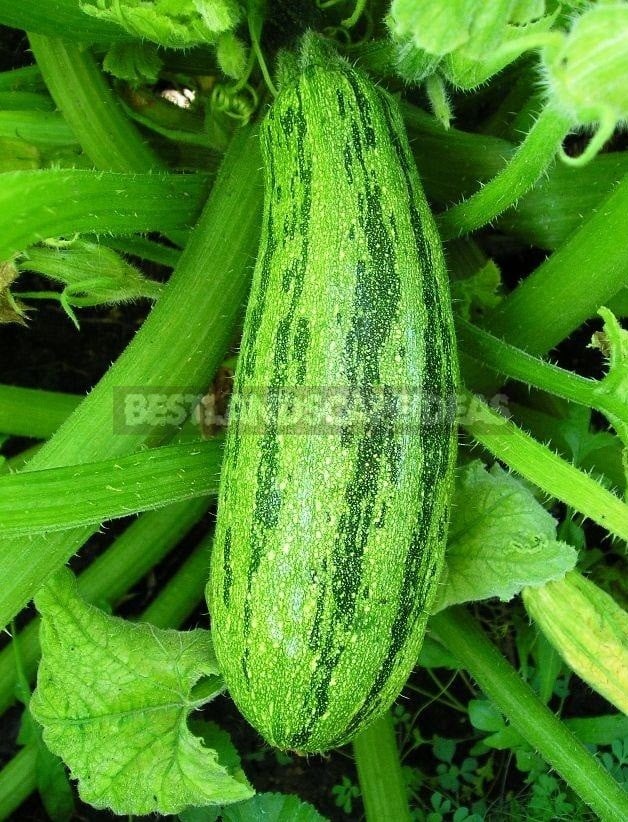 Zucchini is a widely cultivated vegetable, medicinal, and ornamental plant. In the diet, young fruits (10-12-day ovaries) are consumed in fresh, boiled, fried, stewed, canned form. They are useful for diseases of the heart, blood vessels, kidneys, liver, gout, obesity, anemia. Fruit juice improves sleep, calms the nervous system, flowers have a wound-healing effect, seeds are effective as an anthelmintic.
This is a large plant that requires sufficient space to accommodate. And not just because of the size: who would have thought that thick, rough stems and petioles would be so vulnerable and fragile! These sissies should be placed away from the paths, taking them to separate beds in the garden, preferably south or south-west exposure, protected on the north side by scenes of corn, sunflower, and a hedge of shrubs.
As a precocious, thermophilic crop, zucchini is especially promising for high beds. Small groups can be placed directly on the lawn. It can be used as a focal plant supporting the yellow scale.
Seeding scheme: 100 x 60-70 cm (3.3 x 2-2. 3 feet) or 70 x 70 cm (2.3 x 2.3 feet), sowing depth 3-5 cm (1.2 x 2 inches) Best soil: light high-yielding loam or sandy loam with a neutral reaction. The best predecessors: potatoes, cabbage, onions, root vegetables, legumes, green crops. It is a good precursor for all vegetable crops except pumpkin.