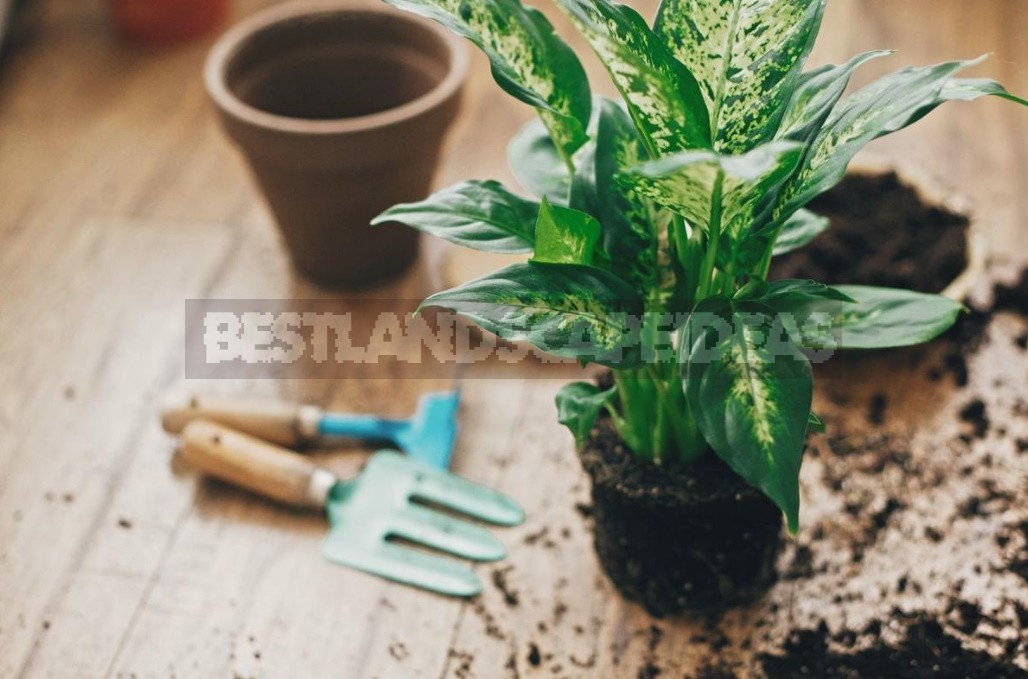 Dieffenbachia is a genus of tropical evergreen herbaceous plants in the family Araceae, native to South and North America.
The genus contains 66 species, many of which, due to the decorative qualities of their leaves, are used in indoor floriculture. The most common decorative species of dieffenbachia include D. amoena, D. seguine, D. bausei and others.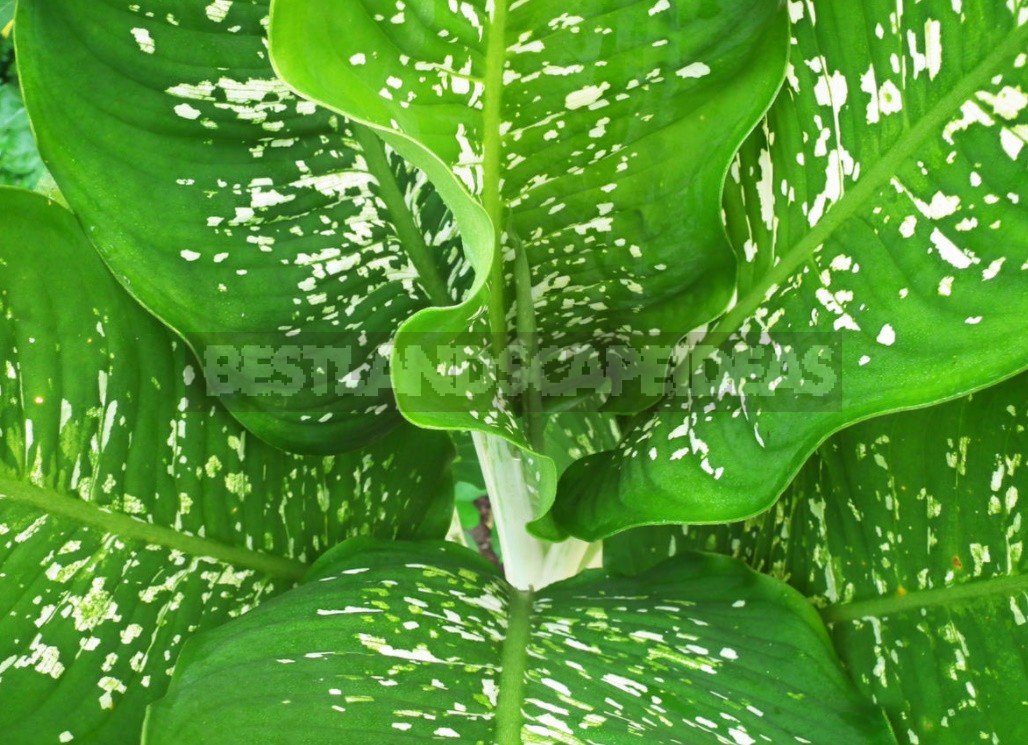 Why do the leaves turn yellow
As with many other representatives of monocotyledonous plants, the development of dieffenbachia is accompanied by the formation of new leaves at the top of the shoot and the gradual death of the lower ones with the baring of the trunk. Therefore, the lower leaves already in the second year of life of the plant begin to turn yellow, dry up and fall off — this is a natural process. But if the apical leaves also began to turn yellow, then this is most likely due to improper care or damage to the plant by pests.
1. Insufficient air humidity
It should be remembered that dieffenbachia is a tropical plant and for its normal development, first of all, it needs a sufficient amount of moisture, heat and light. Yellowing of the edges of the leaf blades can signal insufficient humidity in the environment of its content.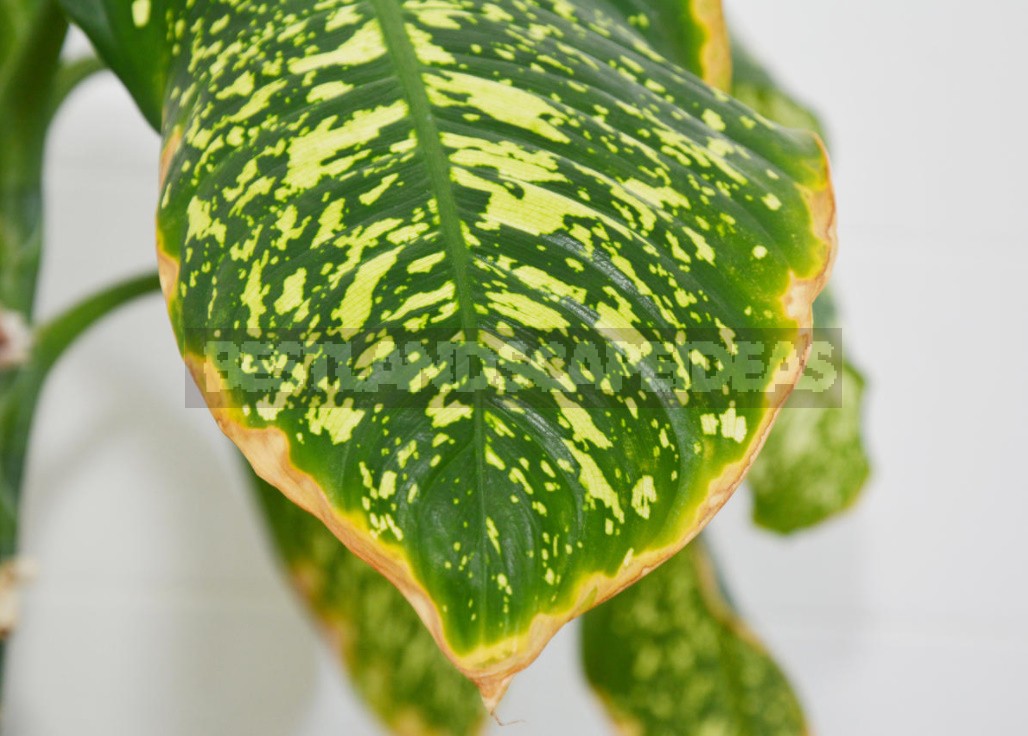 In this case, you should not increase the intensity of watering, since especially in winter it can damage the roots of the plant, but you need to regularly spray its leaves, as well as moisten the air with an aerosol or a vessel with water placed near the pot with the plant.
2. Not enough light
Another reason for the yellowing of the leaves of Dieffenbachia, associated with the conditions of its maintenance, may be insufficient lighting. A pot with a plant placed on the floor should be placed as close as possible to the window or in the most illuminated room of the apartment.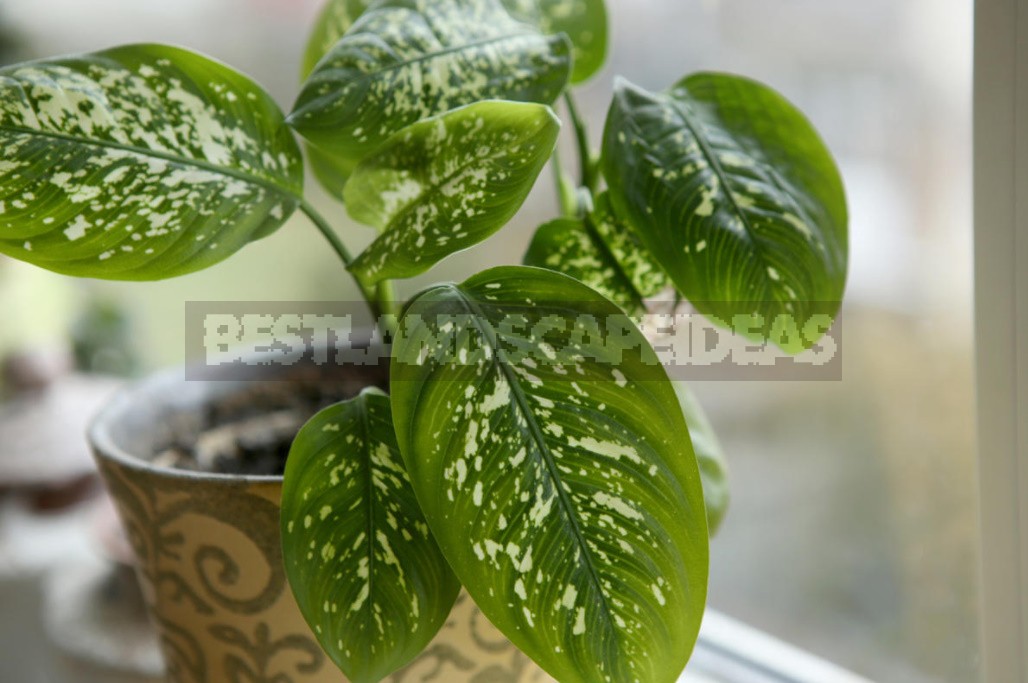 3. Spider mite
In addition, the leaves of this tropical flower turn yellow from the defeat of Tetranychidae. If your plant suffers for this reason, then the yellowing of the leaves will be periodic — new damaged leaves will appear once a week.
In this case, you need to carefully examine the still healthy leaves adjacent to the yellowed ones. If on their surface there are many small black dots or the presence of a thin web at the bottom of the plates — then you need to wash the leaves with a soap solution and treat the entire plant with acaricide.