Since ancient times, people burned in their homes fragrant herbs and resins to protect them from evil forces. But today we should not forget about this interesting method.
Natural pharmacy
In ancient times, the fire was an important "participant" of various rites and rituals. Now we understand that many of them had not only sacred, but also practical significance. For example, it was vital for farmers to prevent livestock diseases in the winter. Fumigation of animal housing, dry herbs gathered during the summer along with incense exerted disinfectant action.
Natural pharmacy
That's how we cast out "spirits and demons" that bring diseases, today we would say that we cast out viruses and bacteria to keep people and animals healthy.
Most often, the mixture for fumigation included herbs such as sage, thyme, lavender, yarrow, mullein, mint, Melissa, rosemary and Angelica. Many people at home kept a reserve of incense or collected in the forest pine and spruce resin, and then mixed it with herbs. Thyme, juniper and incense (which, as we know today, disinfect the air in the room) fumigated the places where people were sick and died. During epidemics there were so-called masks from the plague, in which they put rags soaked in vinegar or juniper oil, and crushed into powder herbs, so as to protect themselves from the infected air.
Ritual fumigation was usually timed to the holidays, which ended the annual cycle, but the main ceremonies were held in the winter, during the Christmas nights — from December 25 to January 6.
The principle of action of fumigation is very simple-when burning herbs and resins, useful essential oils are released, and we inhale them.
In order to join the "ritual" of fumigation using coal, you will need:
bakeware,
coal,
tongs, charcoal,
sand,
candle,
pen,
mortar or mill for grinding resin,
various mixtures for fumigation.
Instead of coal blend for fumigation can be put on a stand with a candle. The flickering light of the candle is healing on its own. Not for the body, for the soul, and this is sometimes much more important. There are special devices for fumigation with a candle, but you can always do just a high metal candlestick and a strainer.
You will also need classic herbs with a pleasant aroma-sage, rosemary, thyme, lemon balm, mint, verbena, root Angelica pharmacy, lavender, rose, elderberry flowers, St. John's wort, juniper (berries, wood and needles), wormwood.
Pay attention to the combination of components
If you make a mixture of herbs and resin, the ratio should be as follows: 3/4 grass and 1/4 resin.
Resins with an intense smell, such as camphor resin, should be added sparingly: one tablespoon of herbs — a little camphor on the tip of the knife. The best mixture is obtained by selecting the components intuitively, and not in strict accordance with some known "recipe". So feel free to improvise.
When inhaled, the aromatic molecules immediately enter the limbic system of our brain. Here is the center of emotions, managing feelings and memory. Depending on which herbs and resins you burn, your body will relax or, conversely, become active. With the help of fumigation, you can cope with mood swings, facilitate the process of falling asleep. And also to activate mental processes, improve concentration, enhance creative energy.
Do not forget about fumigation in the season of colds: menthol, sage and incense will help to cope with the infection. Fumigation helps to restore deep breathing.
Keep in mind that very young children in any case can not be enveloped in smoke, it is better to smoke the nursery when they are not around. If only natural ingredients are used, then even young children have nothing to fear. But the perception of smells and smoke in each case individually.
Fumigation using coal
1. Fill the heat-resistant container with sand. Pour it so much that the edge was still a few centimeters.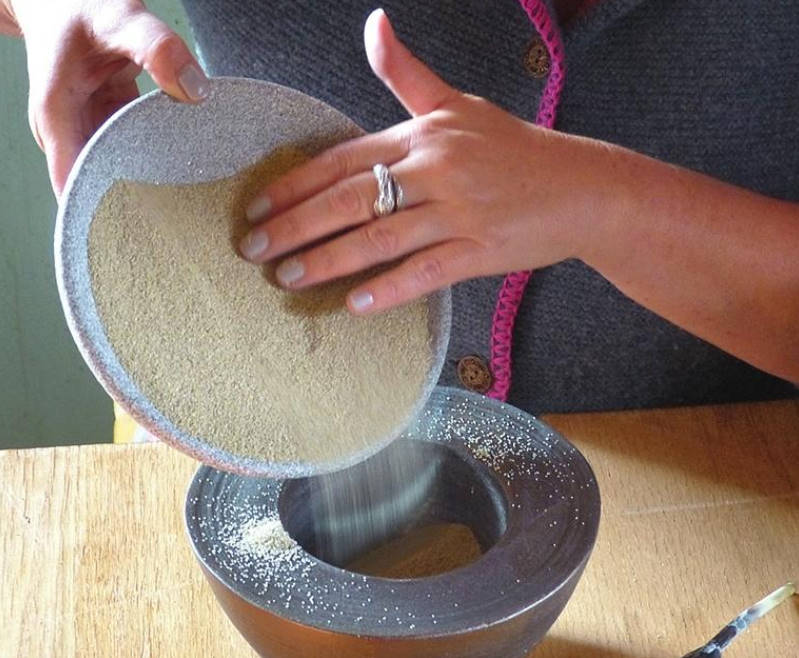 2. Ignite tablet charcoal for hookah, using tongs, place it in the sand on the edge and give a good burn.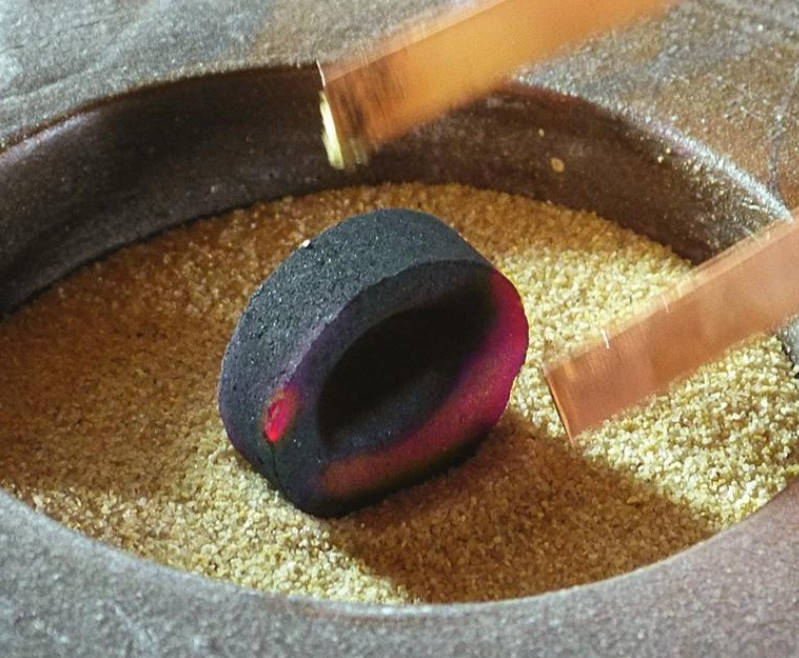 3. Once the edge of the charcoal tablet has turned white, place it horizontally in the center of the container. Coal then lay the slices of resin, and on top of dry grass. Dense large feather to fan the fever until as much smoke as you need.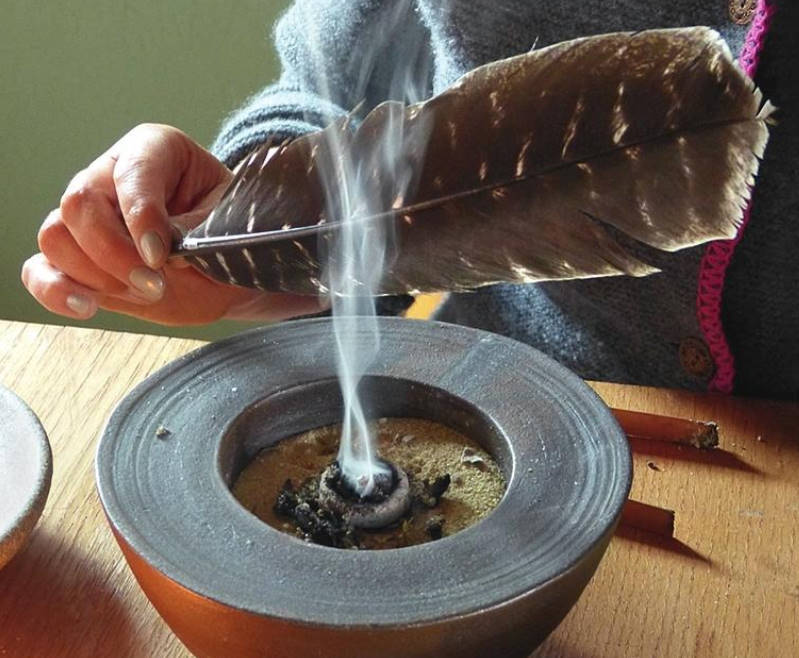 4. Periodically shake off the burnt components from coal with tongs and put a new portion of herbs. Coal tablets burn for about 30 minutes. After fumigation, ventilate the room well.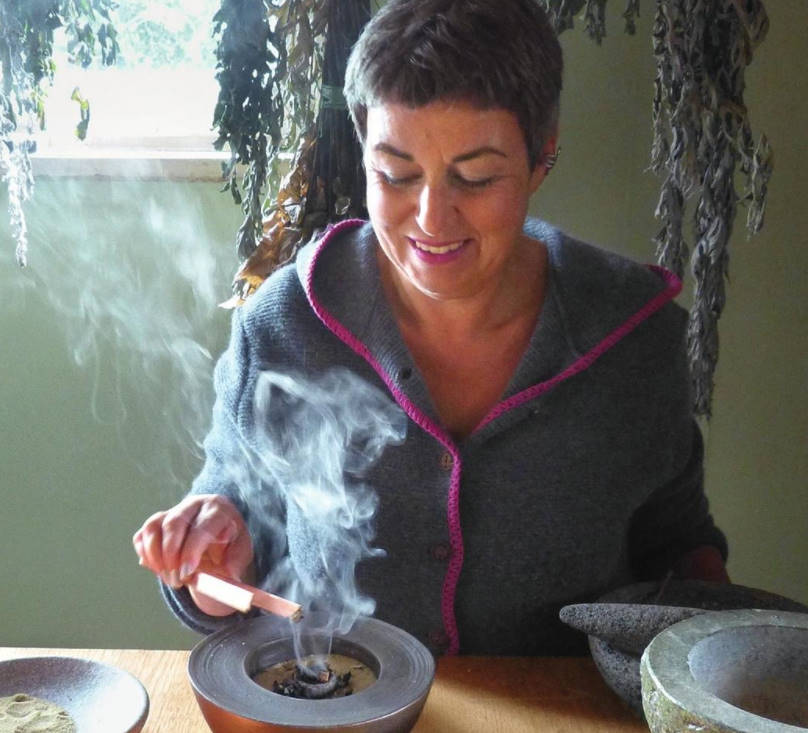 Fumigation with a candle on a stand and a strainer
1. On a small strainer pour a little sand. It is useful if the resin is used-after fumigation you will easily clean it with a strainer with sand. You can use sand for bird cages, but the best suited raw coarse-grained.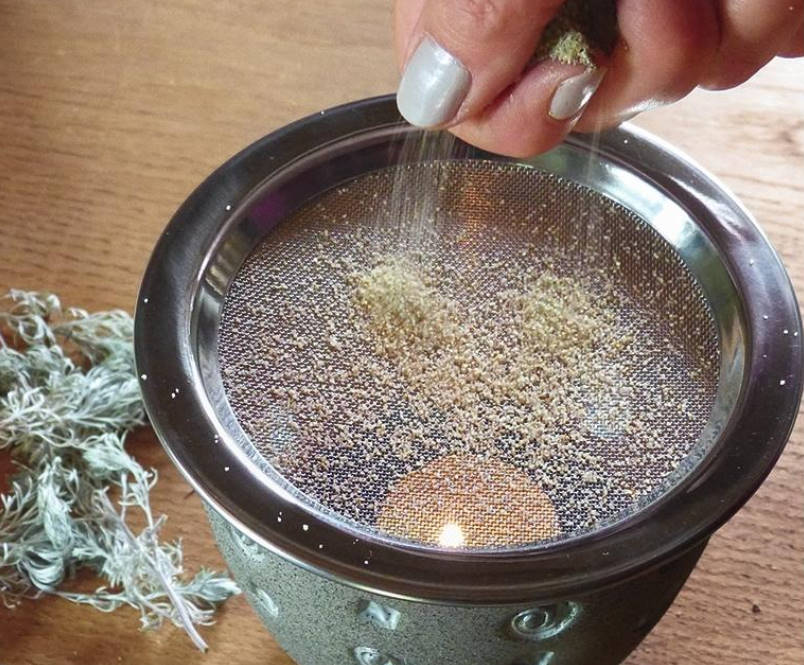 2. In a mortar, crush the pieces of resin.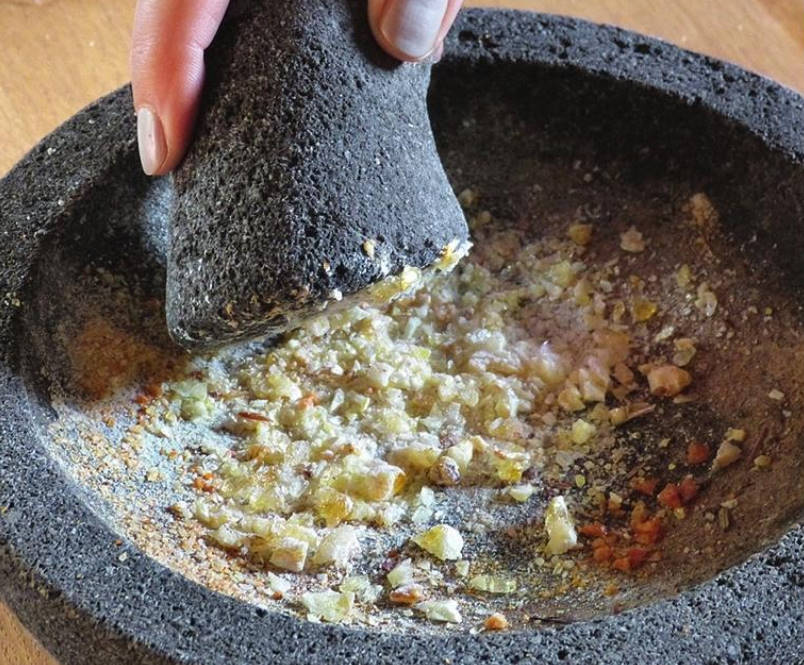 3. Special aroma has resin of an incense tree (Boswellia sacra) — it, actually, also is accepted to call frankincense. It is important that it does not contain dyes and was completely natural: it should be transparent and have a pastel yellowish color.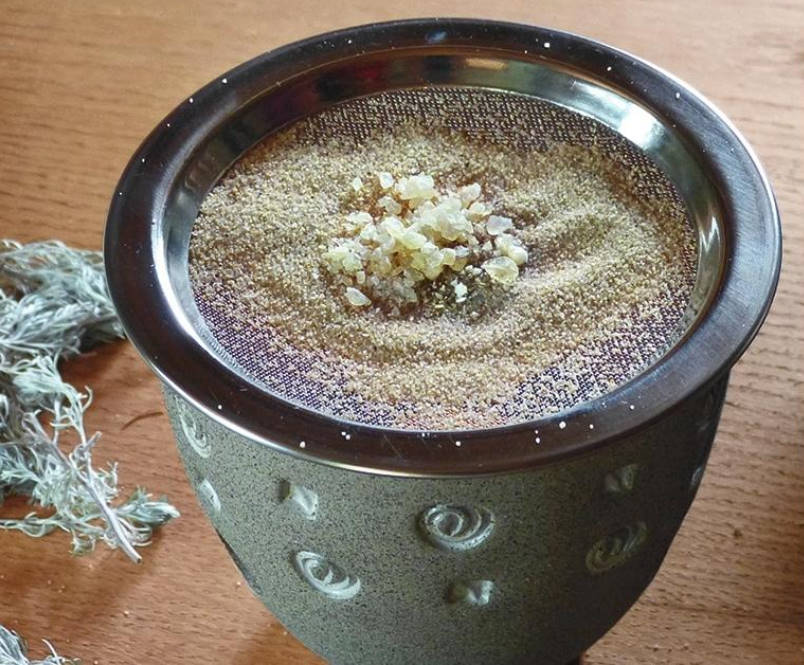 4. Dry herbs grind in a mortar or with your hands.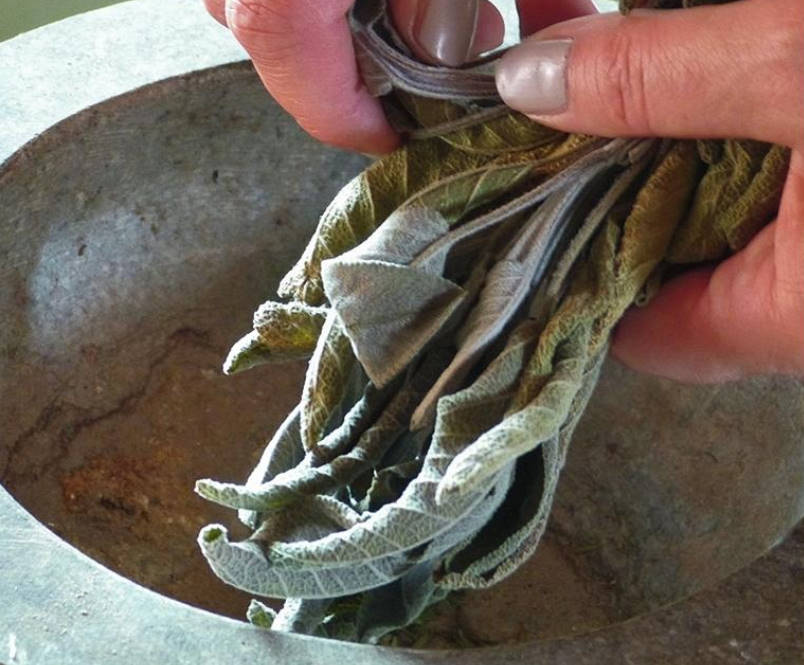 5. Place a portion of the fumigation mixture in the center of the strainer, directly above the candle flame. Gentle herbs, such as Glyceria, put on the edges — there they will reveal their flavor, without burning. Tongs to periodically remove the charred grass to the side and replace them with fresh ones.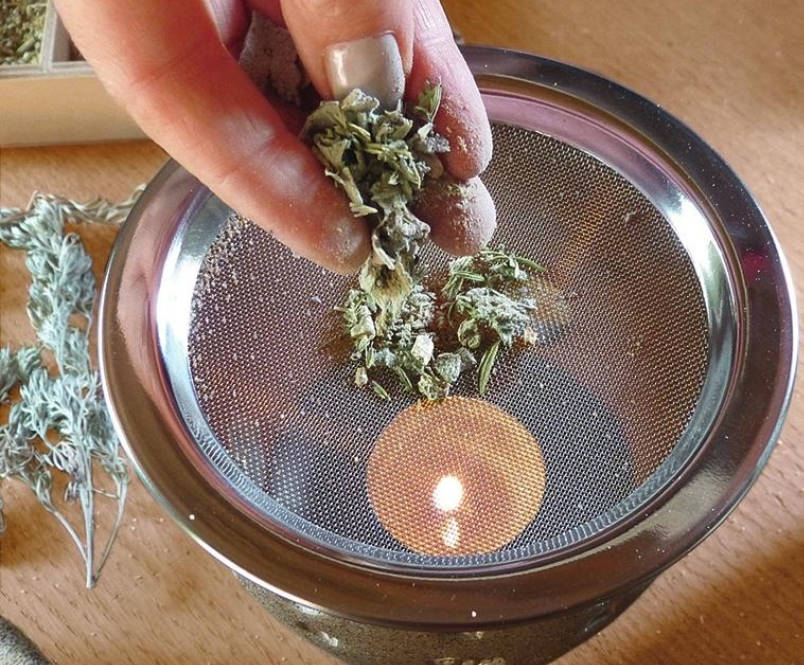 The advantages of this method: less smoke is released, which is especially important in rooms equipped with smoke sensors. In addition, fumigation with a candle on the stand itself is easy and well suited for beginners.
Important: everything about the fire is a special attention area. Never leave smoldering herbs and resins unattended.
Fumigation with a bunch of herbs
1. Garden herbs of your choice (e.g. wormwood, sage, lavender and rosemary) along with stems, length approx. 25 cm tie in bundles. On the beam, take 20-25 stems.
2. A bunch of herbs tightly clench in his hand and cut with scissors at both ends. If desired, add long thin pieces of resin to the herbs.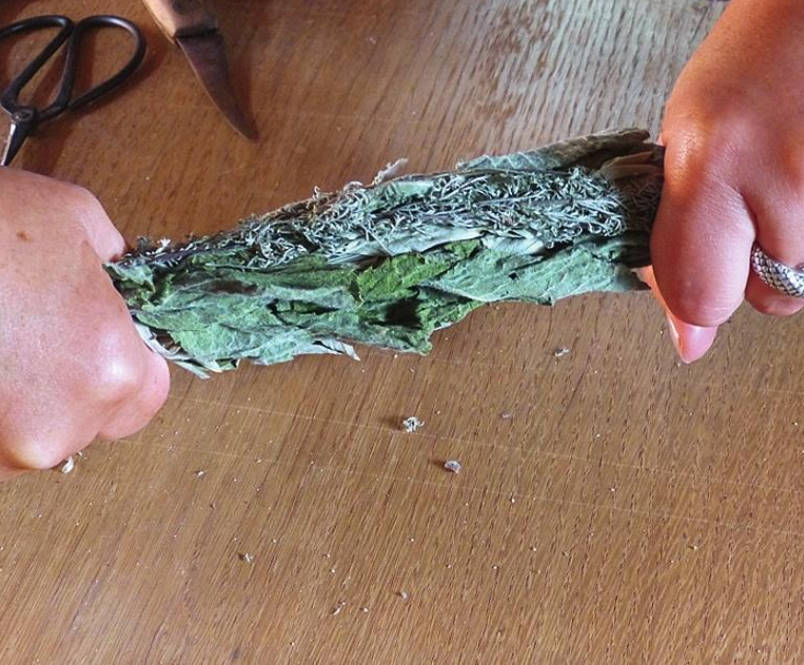 3. Twine to firmly tie the plants. Keep in mind that synthetic twine for these purposes are not suitable — use only natural.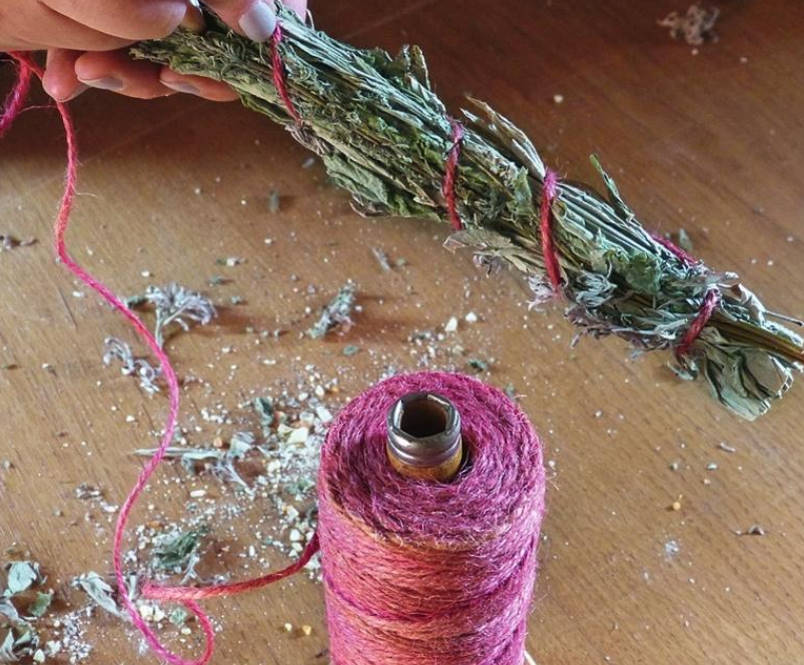 4. On the one hand, set fire to the beam and inflate the flame. The smoke of smoldering herbs clean the living quarters. Important: the beam with the herbs, hold over the bowl of sand to fly ash and the smoldering remains of grass fell to the floor.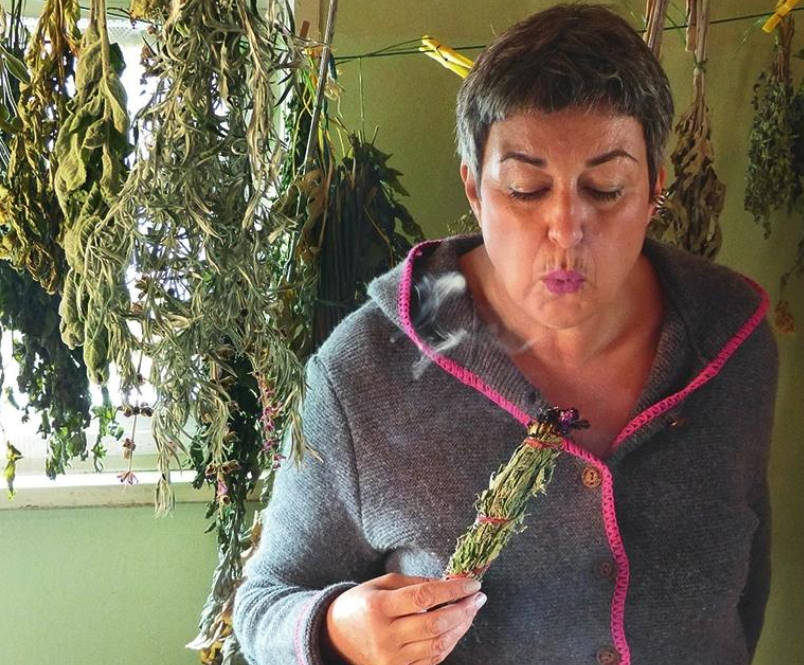 Medicinal herbs can be bought at the pharmacy, but they are sold only crushed. If you need the whole plant, you will have to collect and dry on their own.
Collect and dry
Many plants suitable for fumigation can be collected in the forest or in the field or grow themselves — in the garden or in containers at home. This lavender, rosemary, chamomile, coriander, St. John's wort, elderberry, verbena, oregano, wormwood, virgins, mint, sage, thyme, hyssop, juniper, yarrow.
Herbs are best plucked shortly before flowering, during this period, the content of essential oils in them is the highest. This is especially true of Melissa officinalis, which after flowering loses a significant part of the flavor.
For fumigation or preparation of mixtures using the whole plant.
To dry the grass tied into bundles and hung in a warm, well-ventilated area. They should not be removed until they are completely dry.
It is better to store herbs in cardboard boxes or in closed banks.
Mixtures for fumigation
1. New year
wormwood
meadowsweet
the bearded lichen
solid resin of deciduous and coniferous trees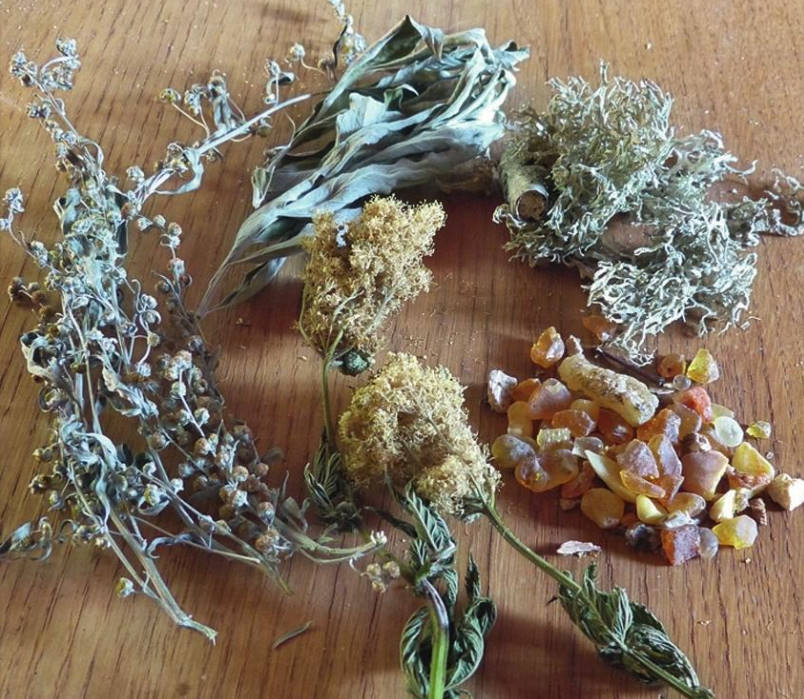 Application / action: on new Year's eve it is best to smoke on the coals or with a candle to recharge with positive energy.
2. The Aromas Of Christmas
vanilla
anise star (star anise is real)
cardamom
spruce resin
dry orange peel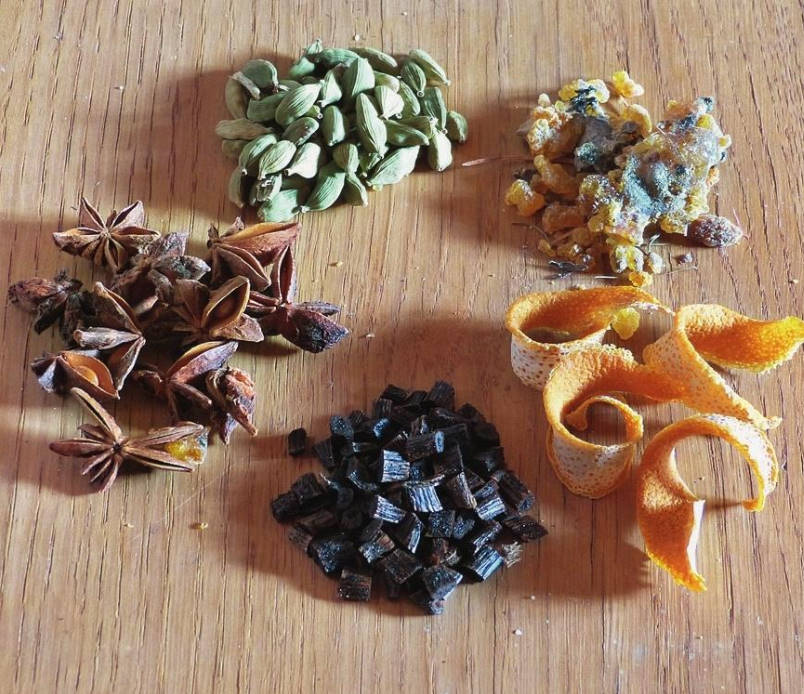 Application / action: the aroma of this mixture creates a good pre-Christmas mood. It fills the house with warmth and harmony, removes the accumulated stress of the day.
3. Free breathing
mint
elecampane root
wormwood
rosemary
Hypericum
the resin of the mastic tree (pistacia lentiscus)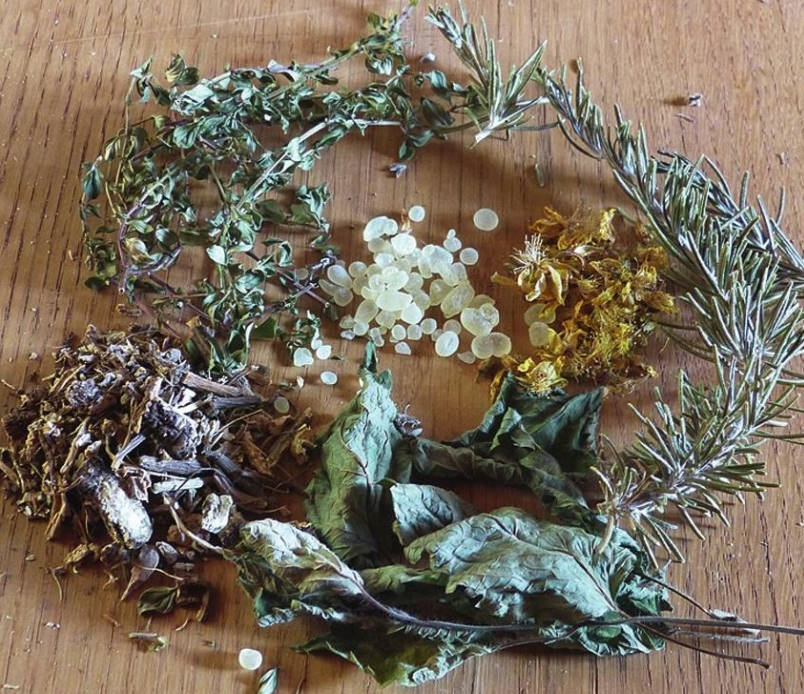 Application / action: the aroma of this mixture activates the body's defenses, helps with the first signs of a cold: reduces runny nose and headache. Suitable for fumigation using charcoal and using a candle on the stand.
4. Home collection
juniper berry
lavender
sage
spruce or pine resin
Angelica and camphor root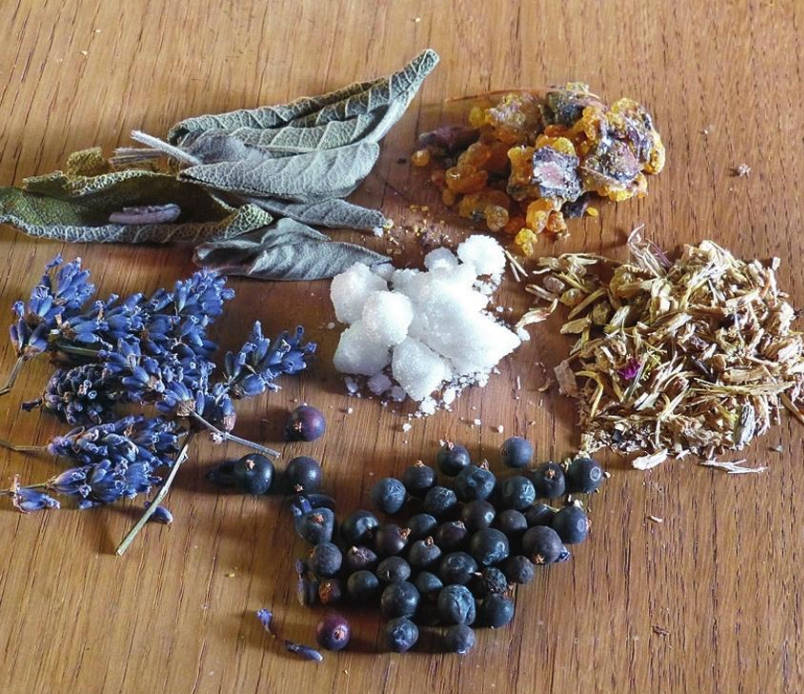 Application / action: fumigation is carried out on coals, then the room is well ventilated. This creates a clean, fresh atmosphere throughout the house.
Scents from morning to evening
A Cup of morning tea or coffee and a mixture of rosemary and thyme is a great way to Wake up.
For the office fit Smoking of Glyceria grass — its pleasant smell will not leave anyone indifferent.
After heavy negotiations, you can make fumigation with sage — it cleanses the atmosphere in the room.
In the evening, arrange a relaxing procedure using flowers of roses, lavender, myrrh, sandalwood and orange peel. And let you dream only pleasant dreams!