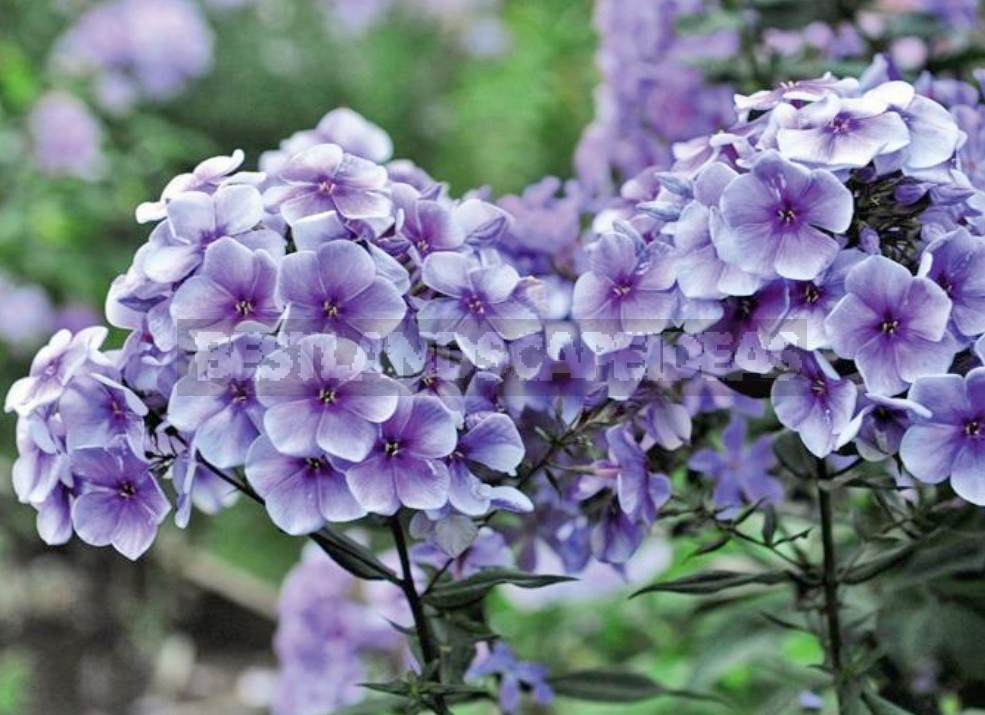 Incredibly, but-fact: known to all phloxes can appear in such an unexpected image. Truth — not all and not always. Do you want to" splash " on your site such a magnificent blue? Then it's time to get acquainted with the right varieties.
You will never see blue Phlox in the daytime in the bright sun. But at dusk — in shading or cutting-some lilac, purple and lilac-white Phlox magically transform and become bright blue or blue.
Attention: under the name of each variety, the name of the breeder and the year of introduction are indicated in italics, as well as the characteristics of the Phlox: flower size, Bush height and flowering period.
'Alexey Lensky'
E. A. Konstantinova, 2010; 3, 8-4 cm; 60-70 cm; medium
Elena Konstantinova long chose a seedling worthy of the name of her brother, a military physicist, liquidator of the consequences of the Chernobyl accident. There he received radiation sickness and died young. That's why Phlox is so tragic.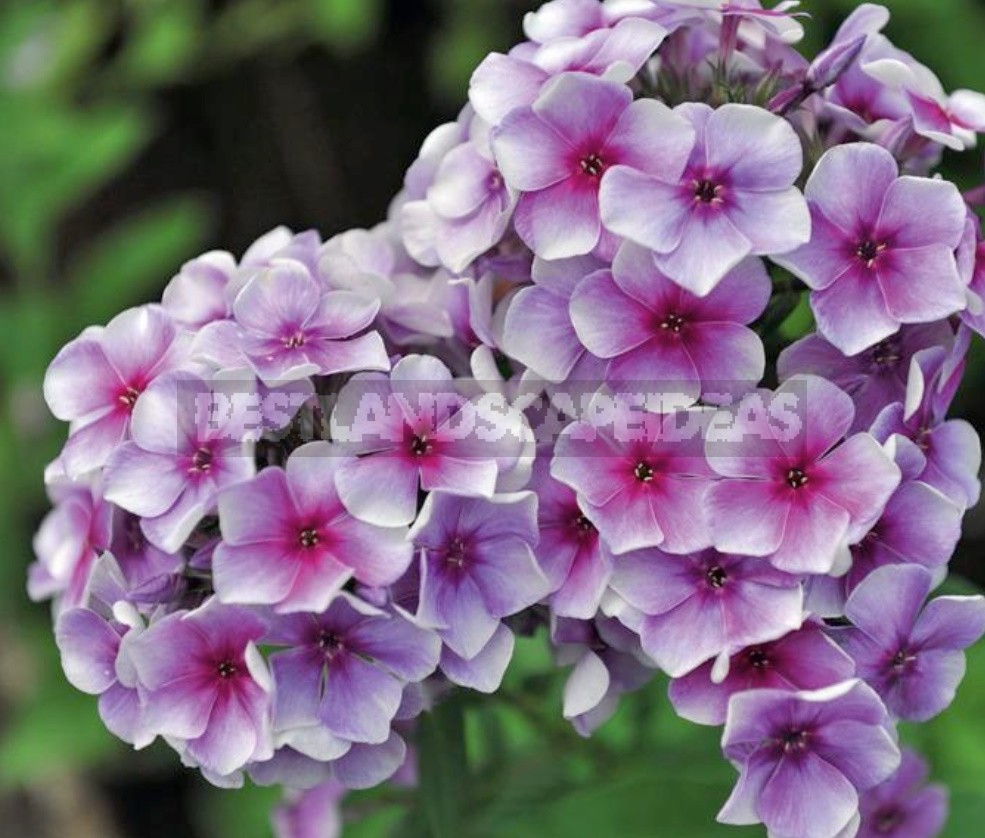 The color of the flower is very unusual: white with a lilac tint; a dark purple tone from the center unevenly spreads to the edges. In this case, the white stamens create an additional spectacular contrast on a dark purple background.
The buds are light purple. Dense hemispherical inflorescences slightly bend under their weight on strong peduncles. The variety is easily propagated by cuttings.
Phlox is very effective in the garden and visible from afar. It is better to plant it in the foreground in groups or combine with white and blue varieties at dusk.
'Pride Of Russia'
Y. A. Reprev, 2010; 4.5 cm; 100 cm; medium
In the daytime it is lilac with a tiny light star in the center, and in the evening it is a noble blue. Wavy petals are divided and do not go on each other, the flowers are collected in large dense rounded-conical inflorescences. The stems are strong and do not require a garter. This is a Phlox of amazing beauty, so it makes sense to combine it with other garden masterpieces.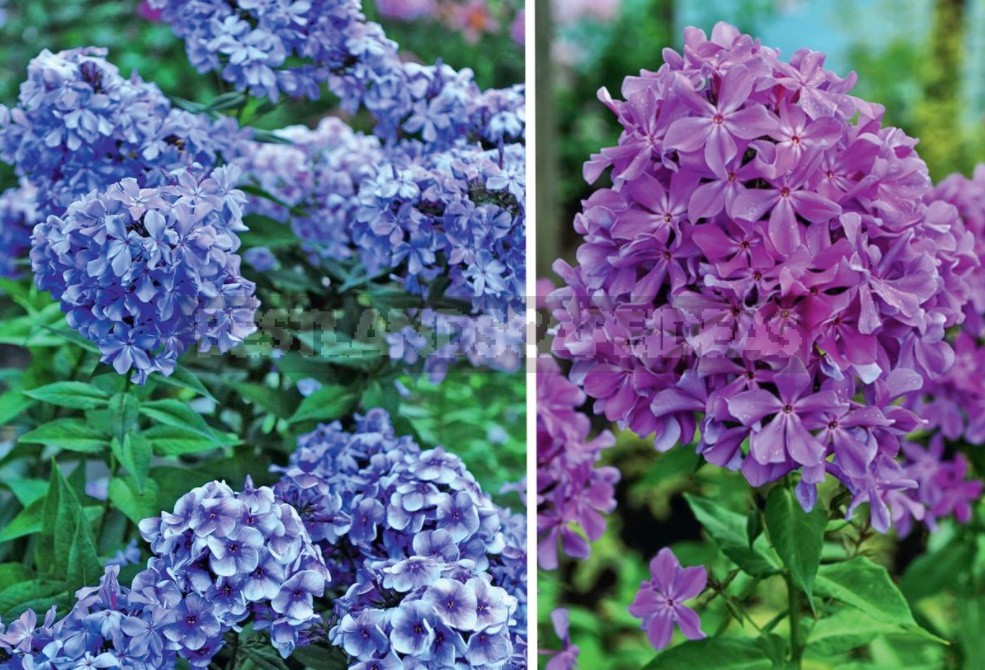 'Midshipman'
E. A. Konstantinova, 2008, 2 cm; 80 cm; medium
During the day, this small-flowered Phlox is dark purple, and in the evening-blue. Rounded medium-sized round-conical inflorescences are composed of Cup-shaped flowers with wavy edges. Due to the graphic nature of the inflorescences and strong peduncles, ' Midshipman' will perfectly fit into natural flower beds in the vicinity of other blue, pink or white Phlox, as well as with decorative cereals, Hylotelephium, Veronicastrum and Lythrum.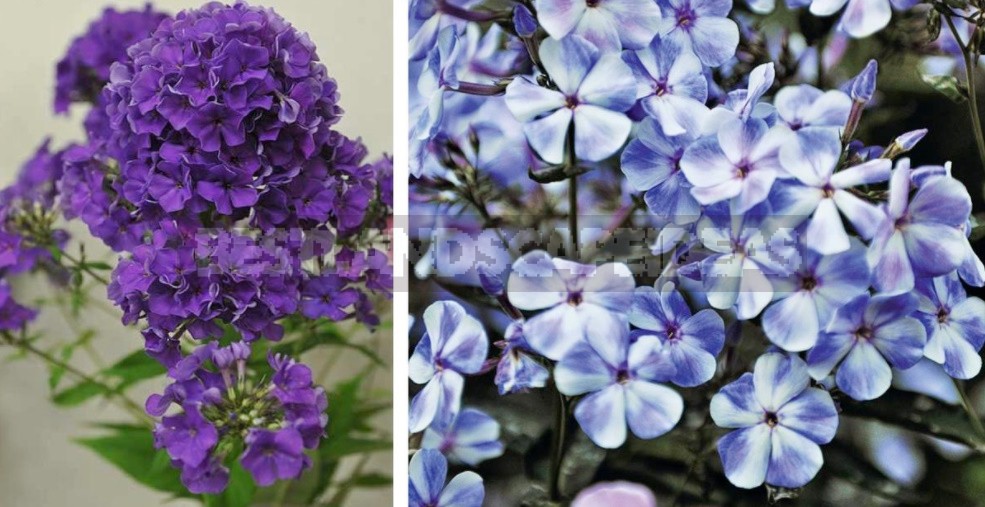 'Gzhel'
E. A. Konstantinova, 2003; 4 cm; 90-100 cm; early-middle
It looks like a traditional painting on porcelain: generous blue strokes on a white background. The buds are bright blue. Inflorescences are large, bushy, grows both in the sun and in partial shade, quickly recovers after rains. Easily propagated by cuttings.
'Forget-me-not'
E. A. Konstantinova, 2005; 4.3 cm, 70 cm, medium-early
Why this Phlox is called ' forget-me-Not', it is not necessary to explain — it is enough to see it at dusk. In the daytime, it's just a beautiful lilac Phlox.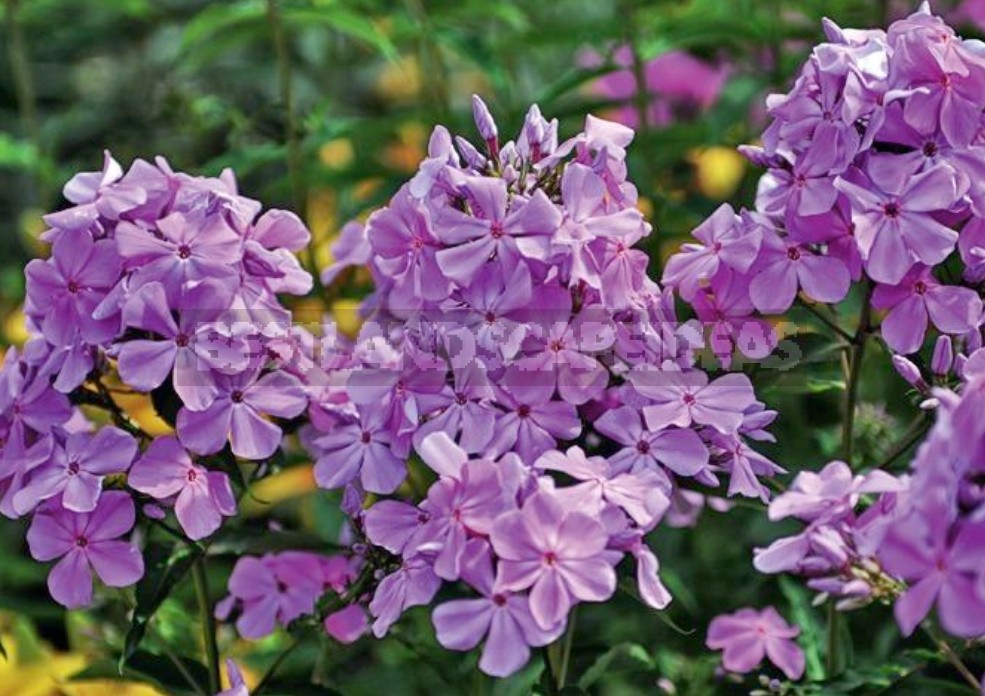 All the more surprising is the change that happens to him literally within an hour.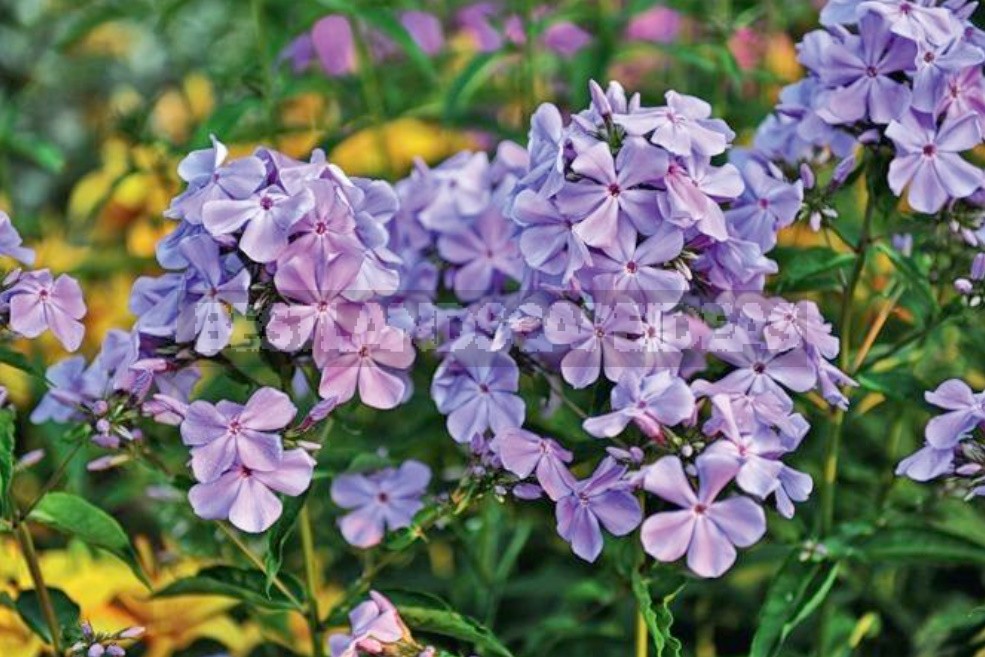 During the day, pleasing the eye with a smooth purple color, with the onset of evening, it becomes bright blue.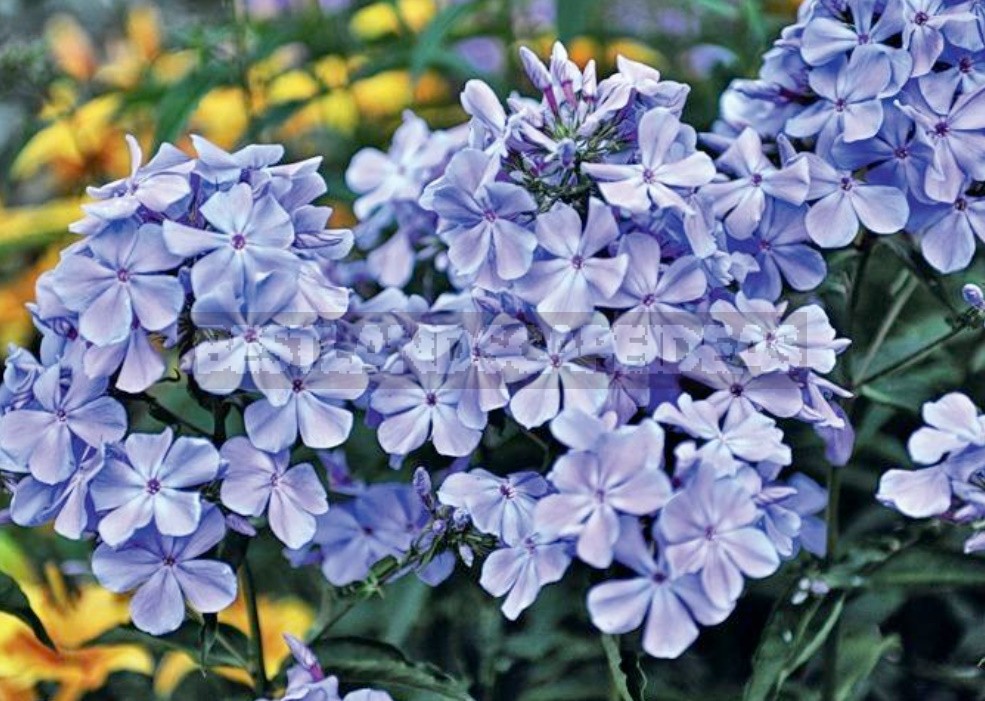 The petals have a noticeable rhombic shape. The hemispherical inflorescences are very large and evenly filled. The Bush is powerful, the stems are strong and do not require a garter.
'Forget-me-not' blooms for a long time, easily recovers after heavy precipitation and quickly grows. Suitable for flower beds of any style, group planting, looks good in bouquets. Beautiful in contrast with yellow flowers, such as lilies.
'Awakening'
E. A. Konstantinova, 2008; 4 cm; 80 cm; medium
From the center to the edges, its purple hue becomes lighter. At dusk, the Phlox turns a piercing blue color.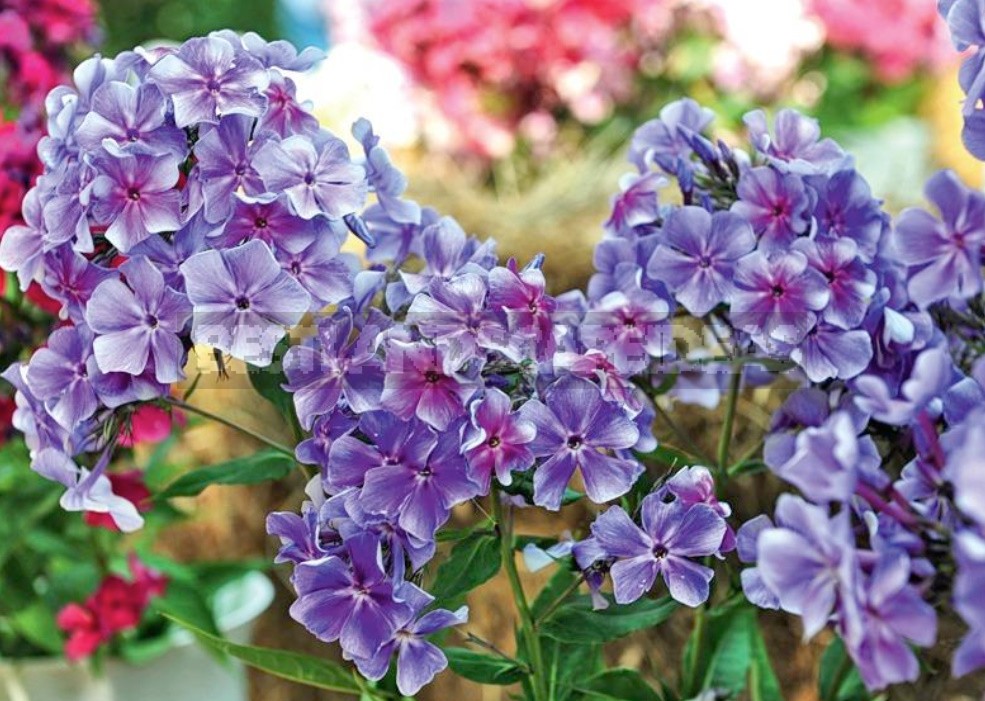 It is good in combination with white and blue Phlox and perennials with blue and blue flowers.
'Sirin Bird'
O. K. Kudryavtseva, 2006; 2.5 cm; 80 cm; medium
Long-blooming small-flowered variety. Already in the first year, the Bush forms a neat lilac ball. Or a cloud — whichever you prefer. Blooms "from bottom to top".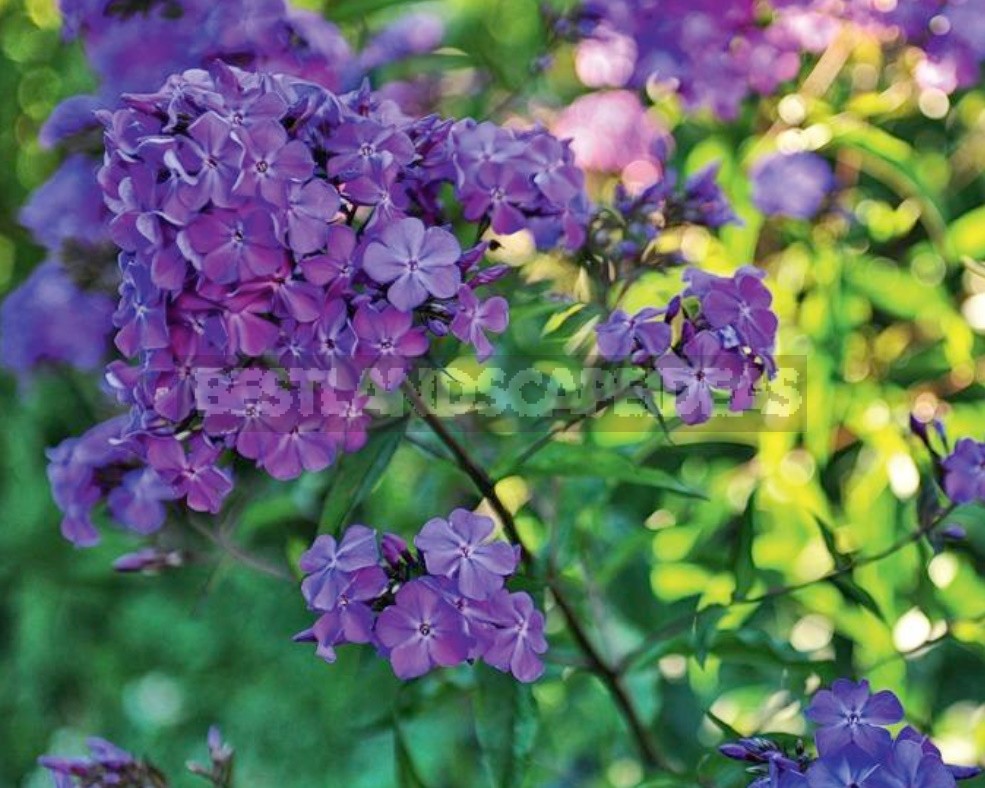 By the way, recently appeared 'Blue syrin' – it meets the same characteristics, only its flowers are colored in a sky-blue shade.
'Sandro Botticelli'
Y. A. Reprev, 1978; 4.5-4.8 cm; 75 cm; medium-early
Lilac without admixture, and in the twilight a pale blue, almost neon. Inflorescences are large, rounded-conical. And blooms for a very long time, and cuttings easily. It is good both in flower beds and in bouquets.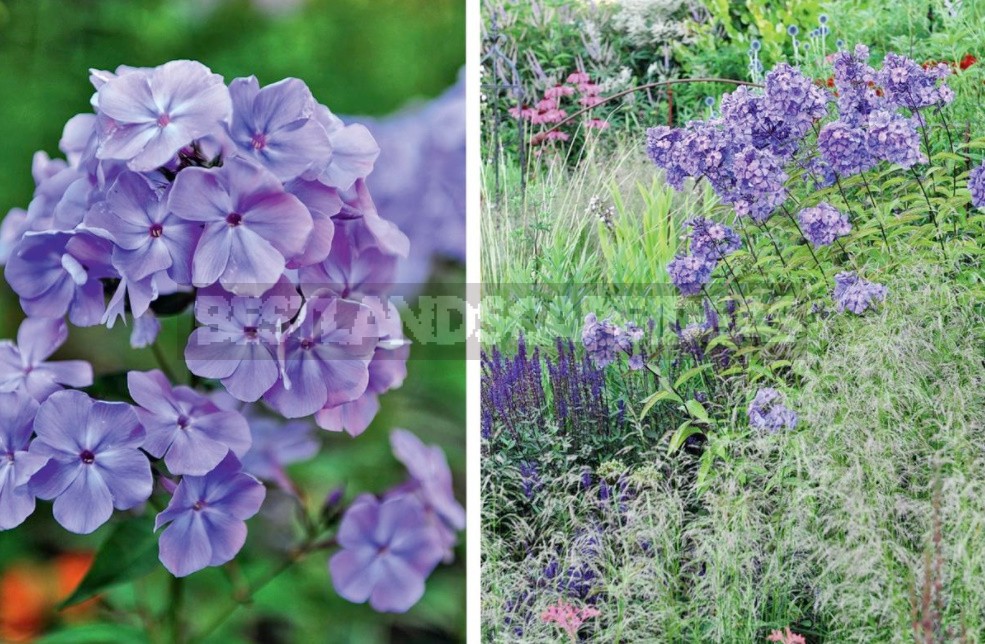 'Blue Paradise'
P. Oudolf, 1995; 3.7 cm; 90 cm; medium
The most popular of all the Phlox that turns blue at dusk. A beautiful Bush with dark peduncles, growing quickly. Shoots are strong, do not fall apart. Quite resistant to powdery mildew.
Piet Oudolf found this seedling in the garden of a friend who grew flowers for cutting. What luck!