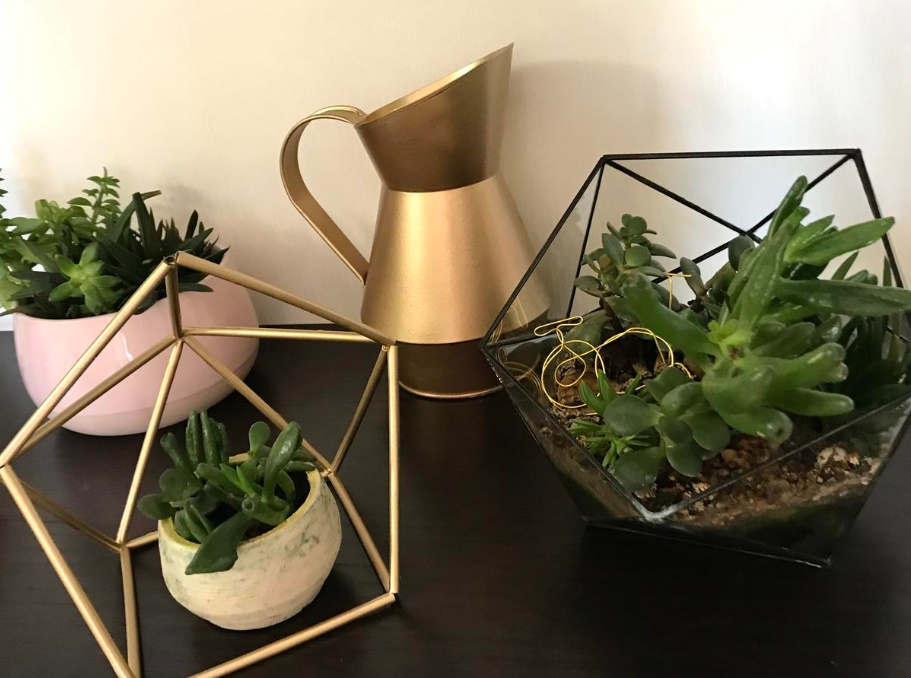 "We don't have a house, but a Soviet accounting department" — my husband recently gave such an assessment to my windowsill, densely filled with indoor flowers. I don't know why he had such an association, but in general I agreed with him: old pots did not give the house modernity. The question became an edge: it was necessary to dilute the abundance of flowers with some decor.
I decided to start with the shelf where succulents live. A couple of years ago, I was given a florarium — a glass likeness of an aquarium, only not for fish, but for plants. He looks great: strict geometric shape, clear black edges. So I decided to start from him in the search for ideas. The options were different. For example, to buy a couple of such florariums or to buy faceted planters made of concrete … And then, very conveniently, I came across one master class where polyhedra were made from cocktail tubes. "What you need: both inexpensive and with your own hands," I decided.
I am accumulating experience
In the master class I studied, they made a crystal shape. I also decided to start with her, acting according to the instructions.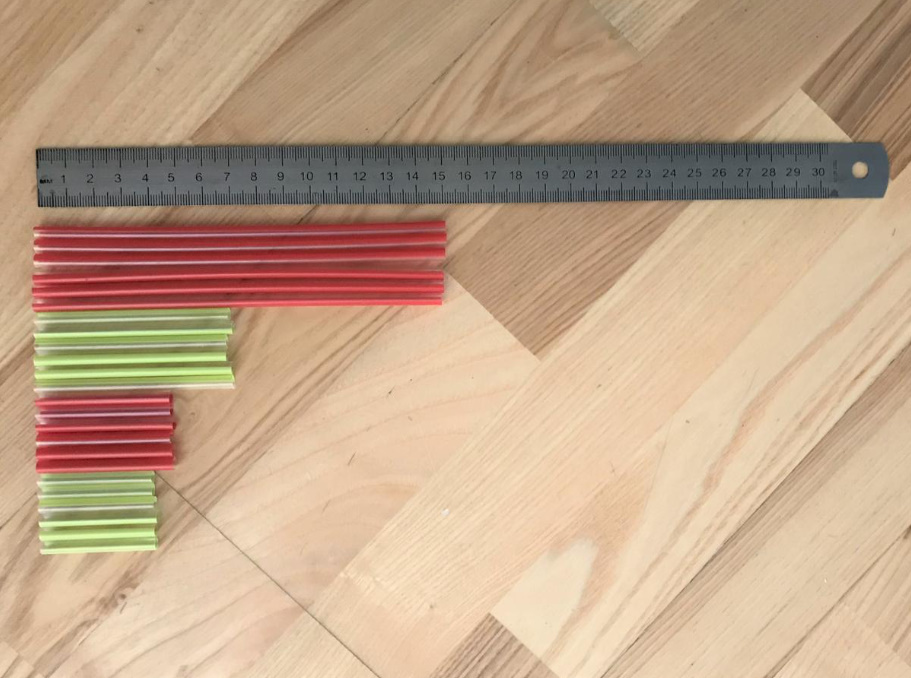 For clarity, I took two color tubes and cut them so that it turned out 6 pieces of each size: 15 cm, 7 cm, 5 cm and 4.5 cm.
You can collect both on a wire and on a fishing line. I collected on a thin fishing line, trying to thread at least two threads into each tube and tightly pull the tubes together so that they keep their shape.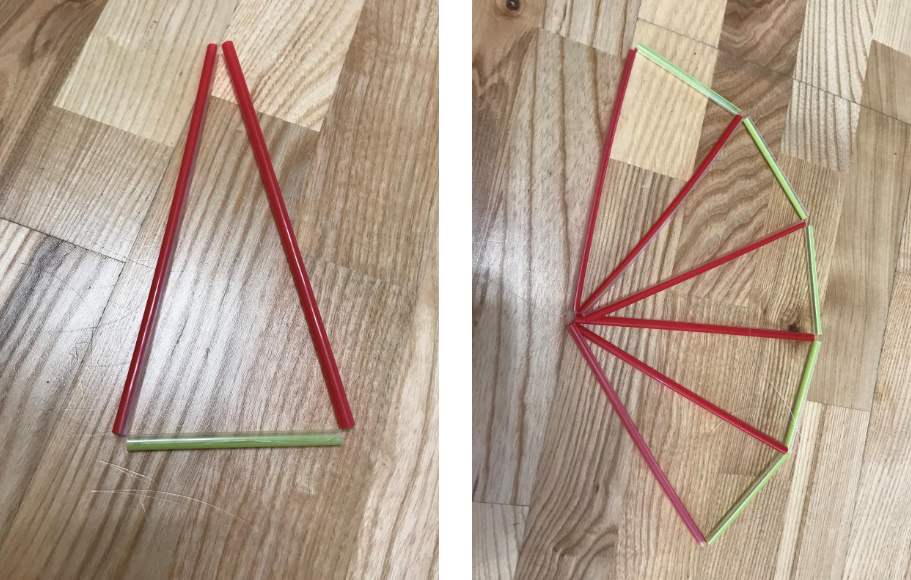 We put 15 and 7 cm tubes into a triangle, then we weave the following elements-triangles to form a fan.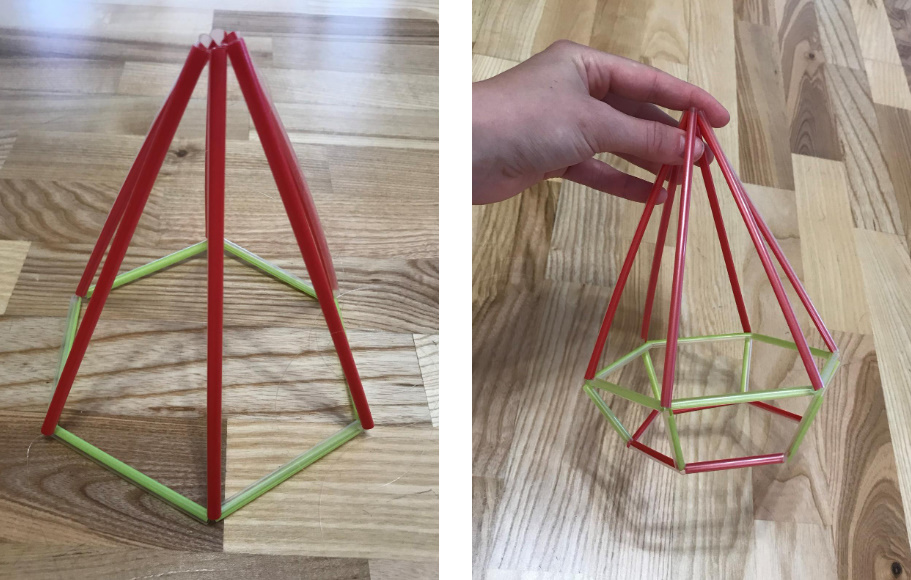 We close the fan in a circle into a pyramid, and then we build up the lower "floor" of the crystal: vertically we put the shortest sticks, 4.5 cm, and horizontally — 5 cm. The crystal is ready! The design is very light and not super-stable, but overall the shape is not bad. Let's see how it behaves after painting.
I collect and paint decorative florarium
After completing the test task, I started assembling the polyhedron florarium. I took a glass florarium as a prototype, I looked at the dimensions of the faces from him. My figure consists of several triangles, but I made the bottom side square — for stability. In addition, a small pot with succulents will easily fit into the square.
This time I made figures out of black straws, and passed a thin wire inside. I can't say that there is a huge difference with the figure on the fishing line, but the method turned out to be more convenient to assemble.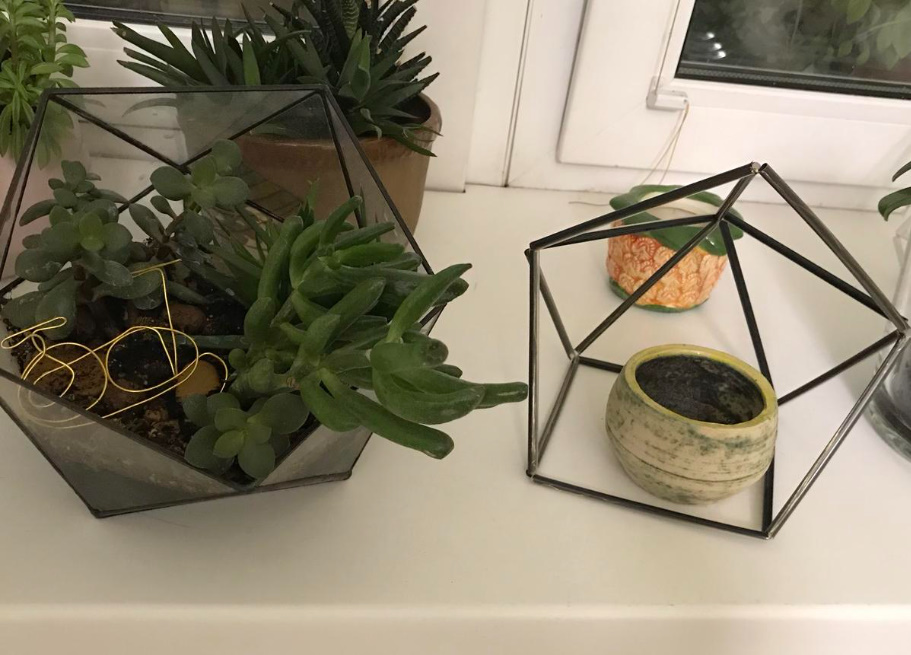 Despite the fact that the black design looked very nice, I still decided to paint the product. Moreover, my plans were to paint a galvanized jug. I didn't forget about the colored crystal either.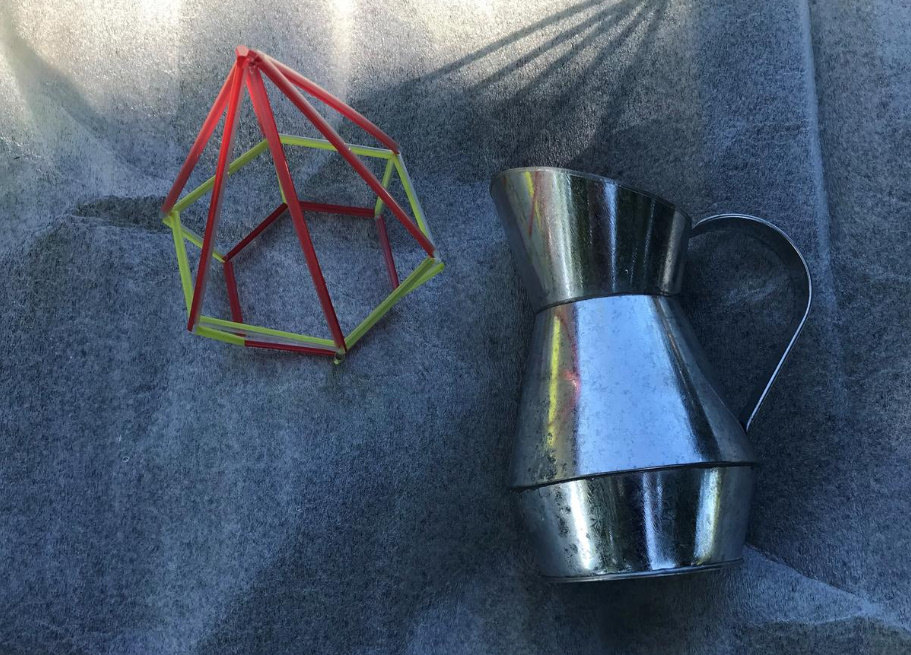 Painting metal and plastic without soil is a risky business: with a high probability, the paint will simply slide off. In order for the paint to form an even layer and hold firmly on the surface, I decided to prime both the jug and my figures from the tubes. I chose both the primer and the paint in the form of an aerosol, which is especially convenient for painting complex and hard-to-reach elements like my polyhedra.
To begin with, I wiped all the painted surfaces with a clean cloth with an alcohol solution to degrease them, and then applied the first layer of primer. Then, after waiting an hour, I covered everything with a second layer of soil. Universal alkyd primer of white color formed a matte, slightly rough coating. I really liked the effect — it would be possible not to paint further: it looked good.
But my idea was to turn a gray jug into a gold one, and plastic tubes into a metal structure… Therefore, I did not plan to stop and, after waiting for the soil to dry completely, I began to paint. For convenience, I stuck wooden sticks into an old container with earth from the dead seedlings (I planned to throw it away anyway) and planted a jug on them. As necessary, I turned the structure to paint everything evenly.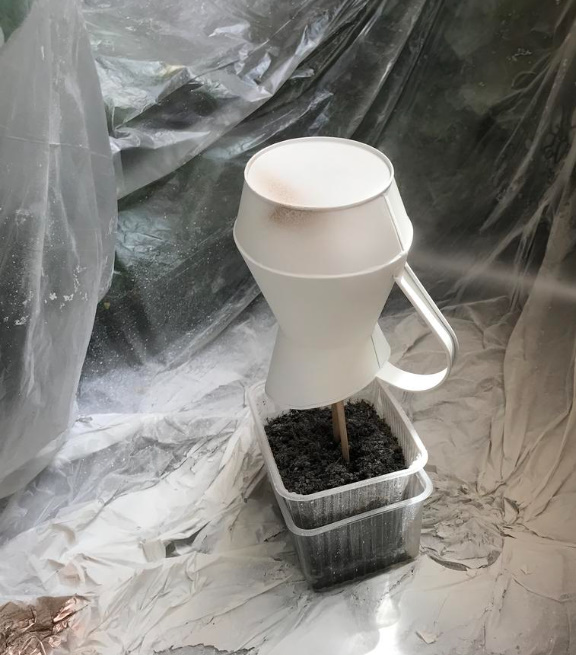 For the transformation, I chose a universal metallic gold enamel. The manufacturer promised a spectacular metallized coating, which I am happy to confirm: plastic simply turns into "metal" before our eyes!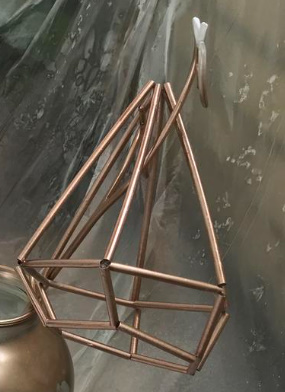 By the way, while I was painting my figures, another idea came to mind. I saw how the paint lay on a three-liter glass jar (it can be seen in the photo), which served as a stand for me. I liked the result of such an unplanned coloring so much that I decided to paint something glass. In addition, the paint in the can still remained even after the jug and polyhedra were painted in two layers, the paint consumption is economical.
Another blank for decoration came to the rescue — a glass vase-jar. I sprayed gold paint only on the top of the jar, so that a smooth transition from a dense golden neck to an absolutely transparent glass at the bottom was obtained. To do this, I went through the paint on the neck in two layers.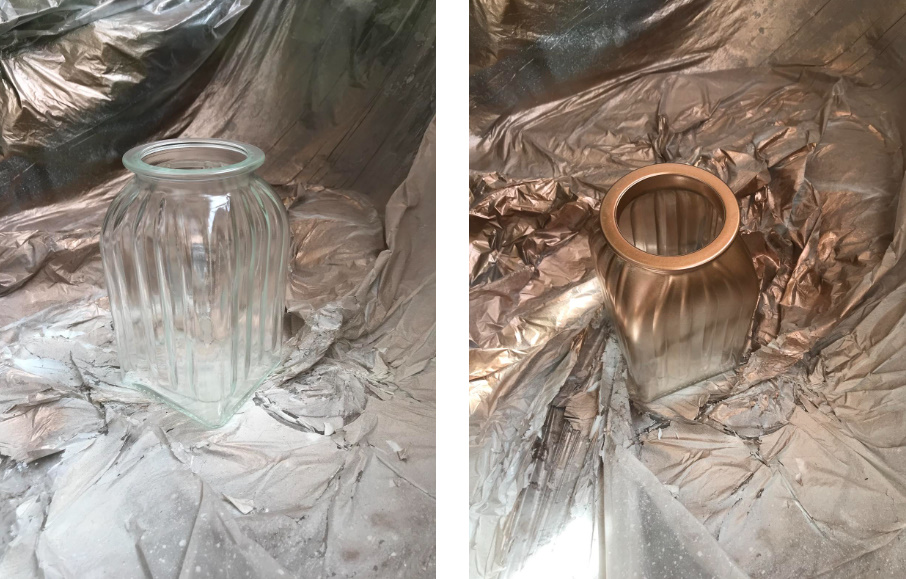 What happened
Metallic enamel contains shining particles, due to which the surface acquires a very beautiful deep shine. But most of all I like how this gold "plays" with the warm light from the fire. I put a candle in a vase, and a cheap jar turned into a very cozy candlestick!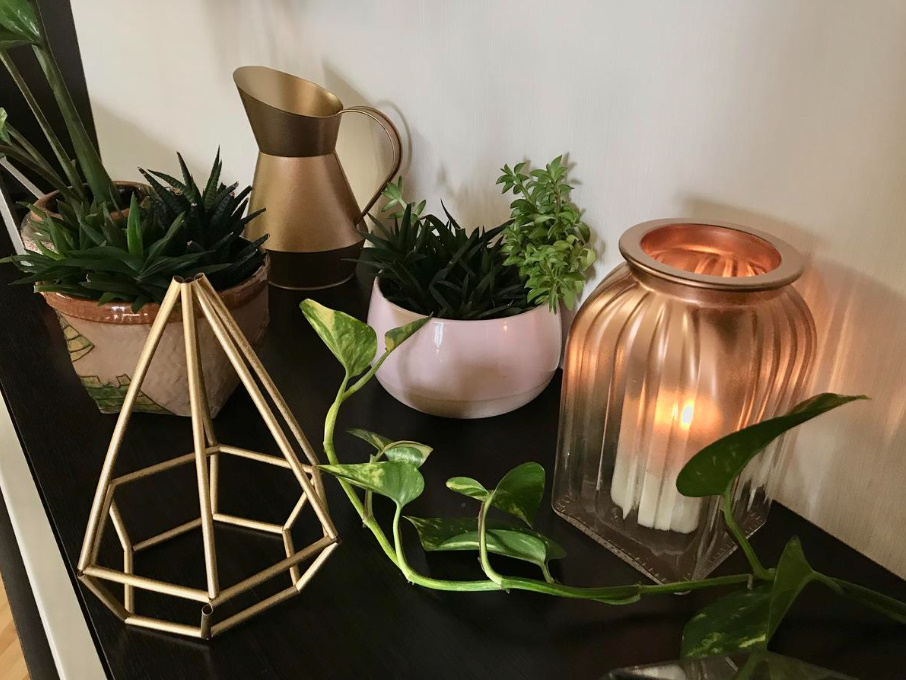 Now the flowers no longer look like granny's, and in general everything has somehow become more elegant. Maybe the golden spray can will save not only the shelves with flowers?! I'm very involved in the creative process and I'm thinking about what else to do with my own hands.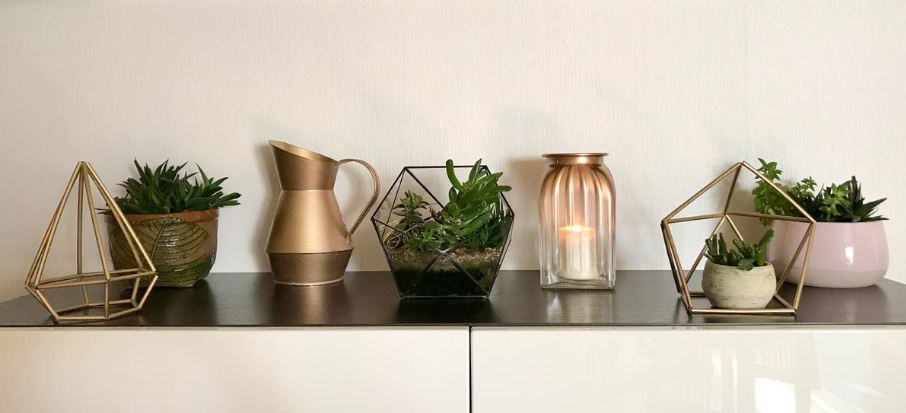 I also liked the idea of a false florarium. Despite the fact that the decor from improvised materials usually looks very cheap, in this case I can't say that, it turned out beautifully.