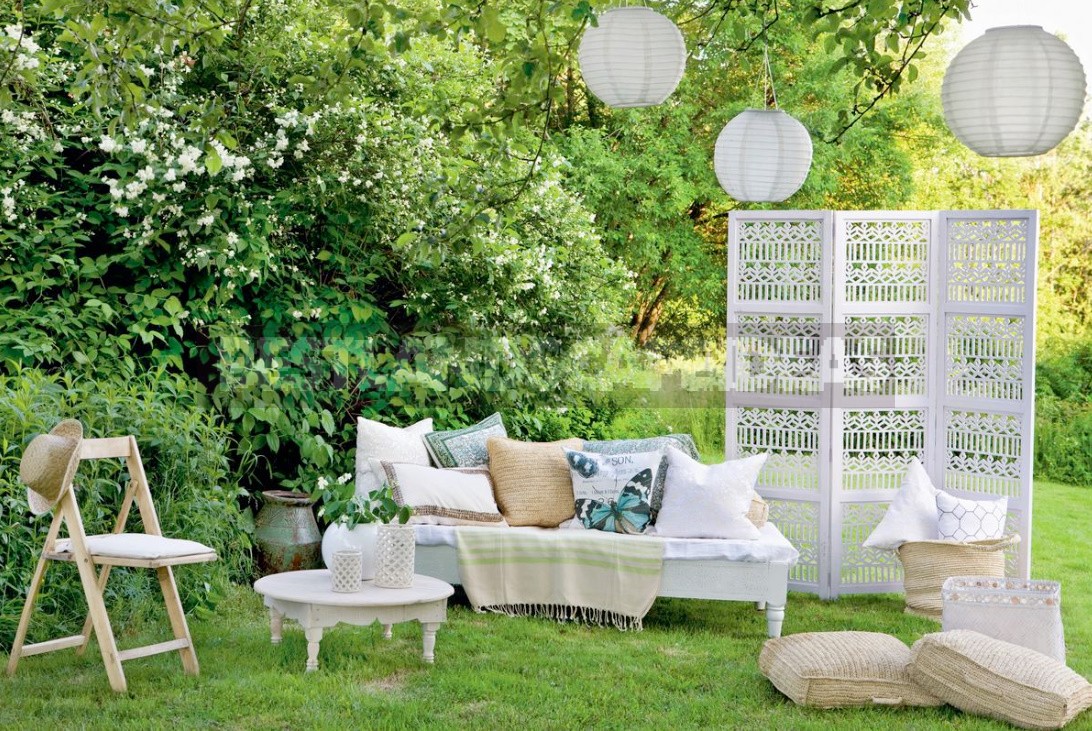 It just seems that tables and benches are ordinary things. Coming up with unusual garden furniture is an exciting activity! Don't you believe it? See for yourself!
Furniture is available in any garden — tables and chairs, benches and deckchairs, swings and hammocks. Most often, we buy them ready-made-standard, not outstanding and not always successfully fit into the overall picture of the garden. We offer to radically change the situation and approach the matter creatively: "play" with items of garden furniture, inventing something new and individual. And then the appearance of the site will change, and it will acquire a much-desired personality.
Do you feel the potential of a creative furniture maker? Try to build benches, chairs, and tables yourself. No? It also doesn't matter, because you can find "average" options in the store and subject them to creative processing. There is plenty of time to search for and implement bold ideas!
First of all, decide in which part of the dacha lands the new furniture will "settle". This space should be cozy and beautiful-a secluded charming corner. For example, a place near a flower garden, pond, Alpine slide, plant composition — in short, where there is something to admire.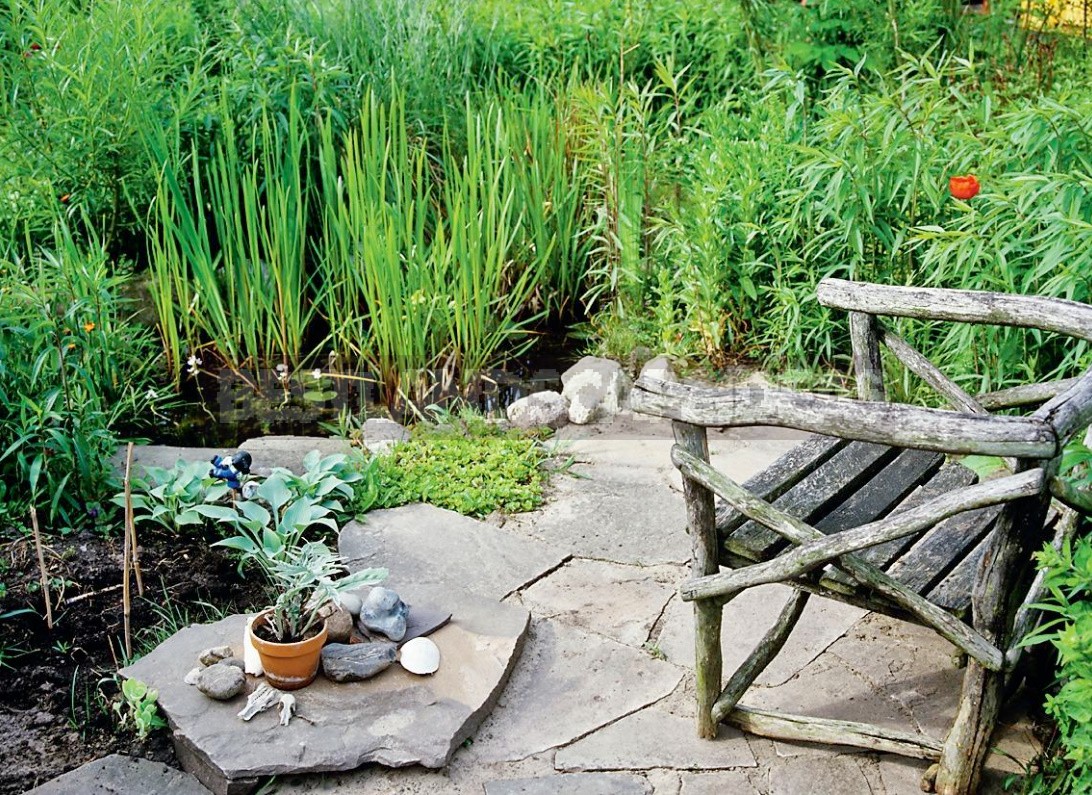 From the point of view of garden design, it is desirable to choose places near the "nodal" points that attract attention: on recreation areas, next to spectacular lamps, garden modules and "Islands" of paving, in courtyards. The location of garden furniture should be protected from the wind.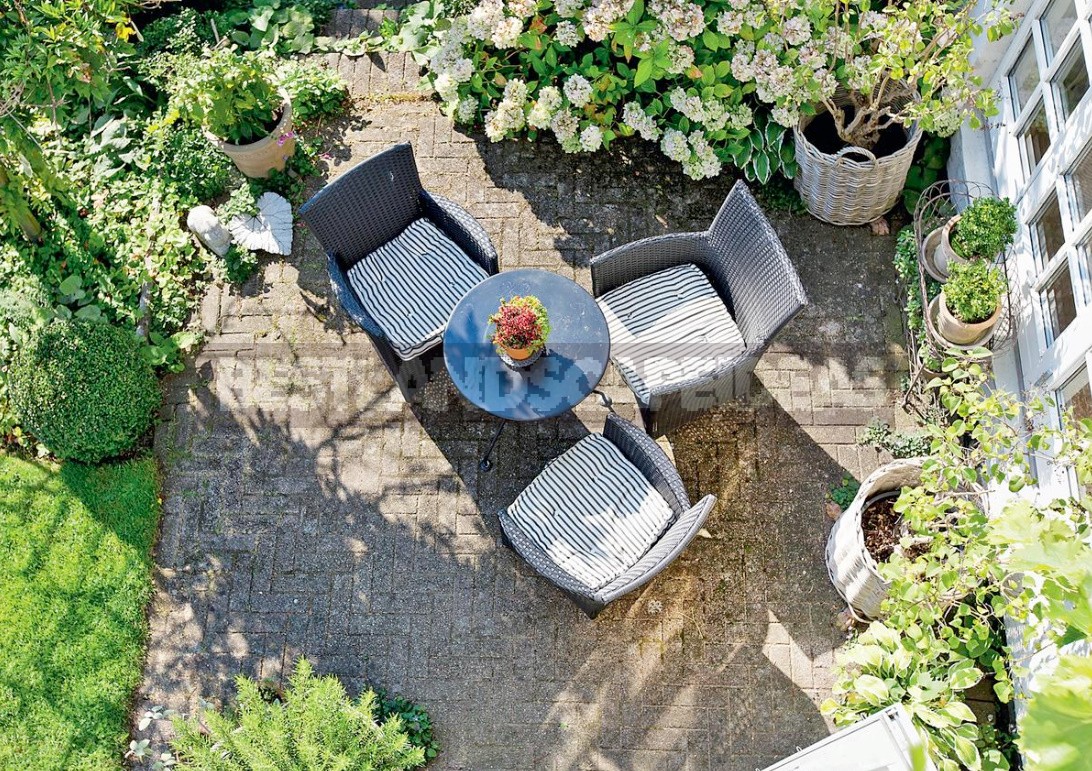 Important: if the canopy over the "furniture" area is not planned, take this into account, otherwise the seats of the chairs made of openwork metal will become hot in the sun, and the wooden table, not treated with protective compounds, will quickly rot, constantly getting wet under the streams of rain.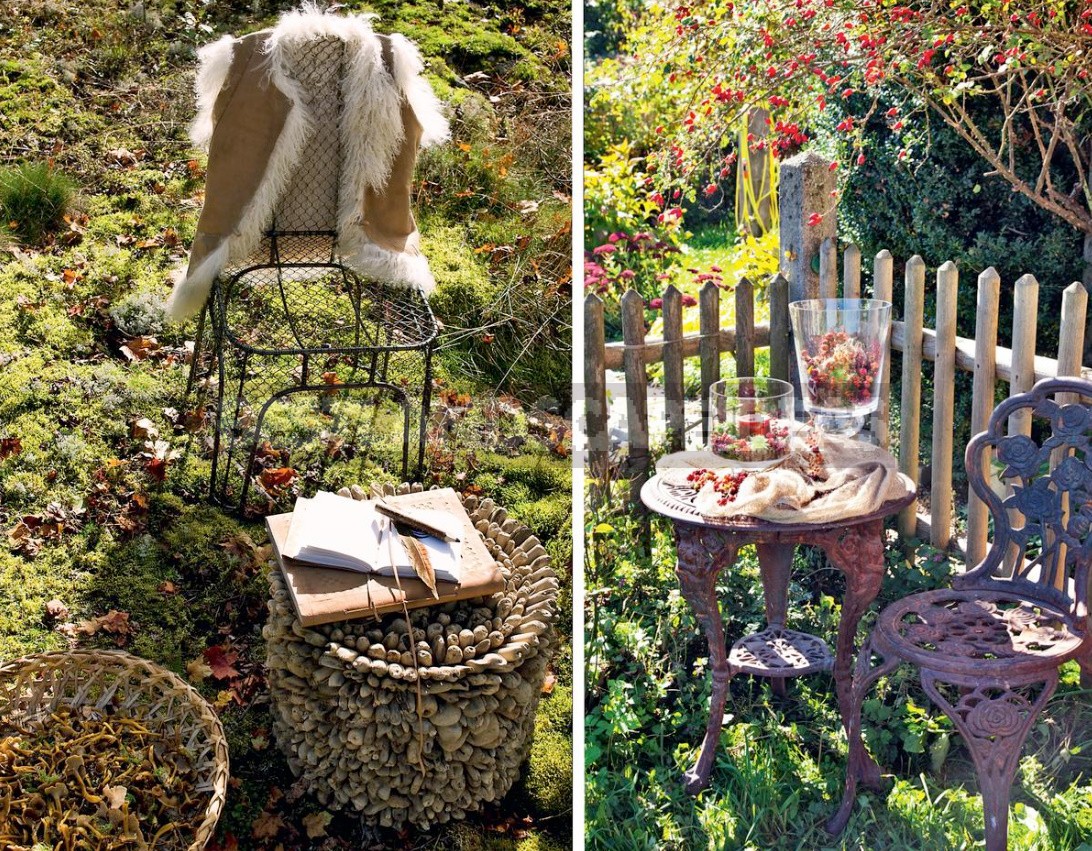 Having decided on the location, start searching. The most affordable option is to decorate standard furniture. It can be painted and even painted, perform a special "facade" decoupage, add accessories: balusters, platbands, artificial stucco.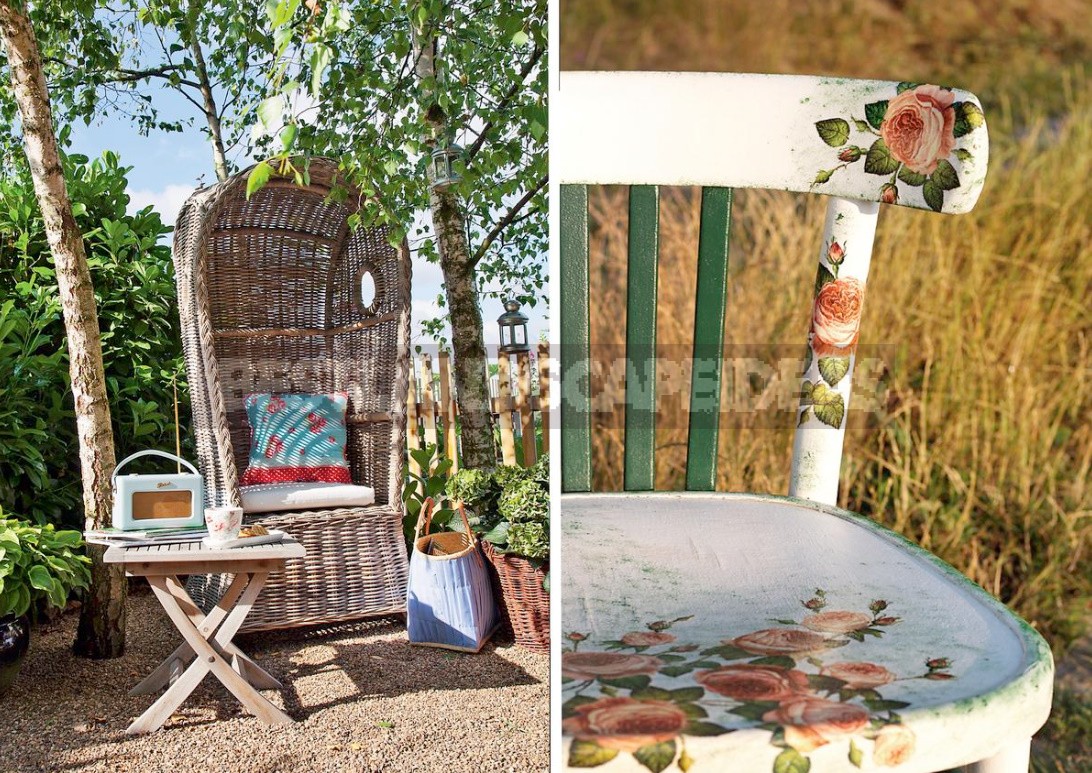 A single-color plastic table can be turned into a striped one with the help of masking tape and aerosol paint, choosing, for example, a blue-and-white scale — and then it will be like a sea breeze blowing in the air! And by swapping the legs and countertops of two different tables, adding unusual-shaped chairs or stools to them, you will get a nice and moderately fun set in the fusion style.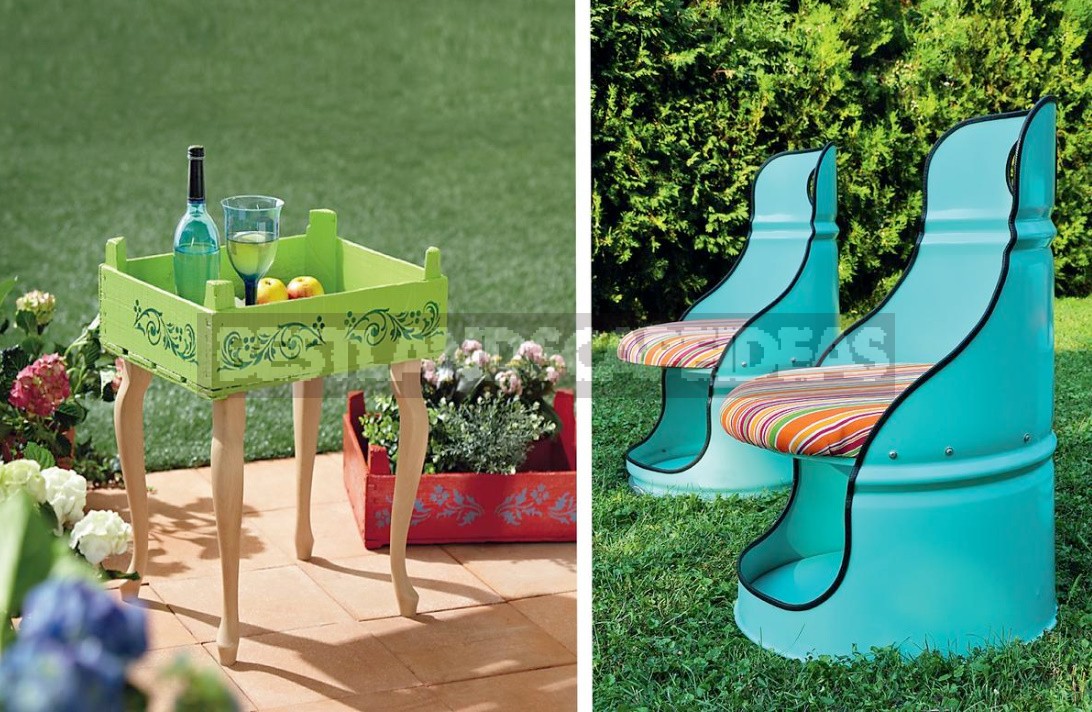 Another way to become the owner of a unique garden interior is to create furniture from individual elements that have nothing in common with it: pallets for bricks, wooden boxes, large stumps, logs, snags, cable reels, and even old car tires. By connecting the parts correctly and decorating the product creatively, you will get an amazing result!
For example, you can make a bench, table, garden swing and even make a small gazebo in a natural style out of snags.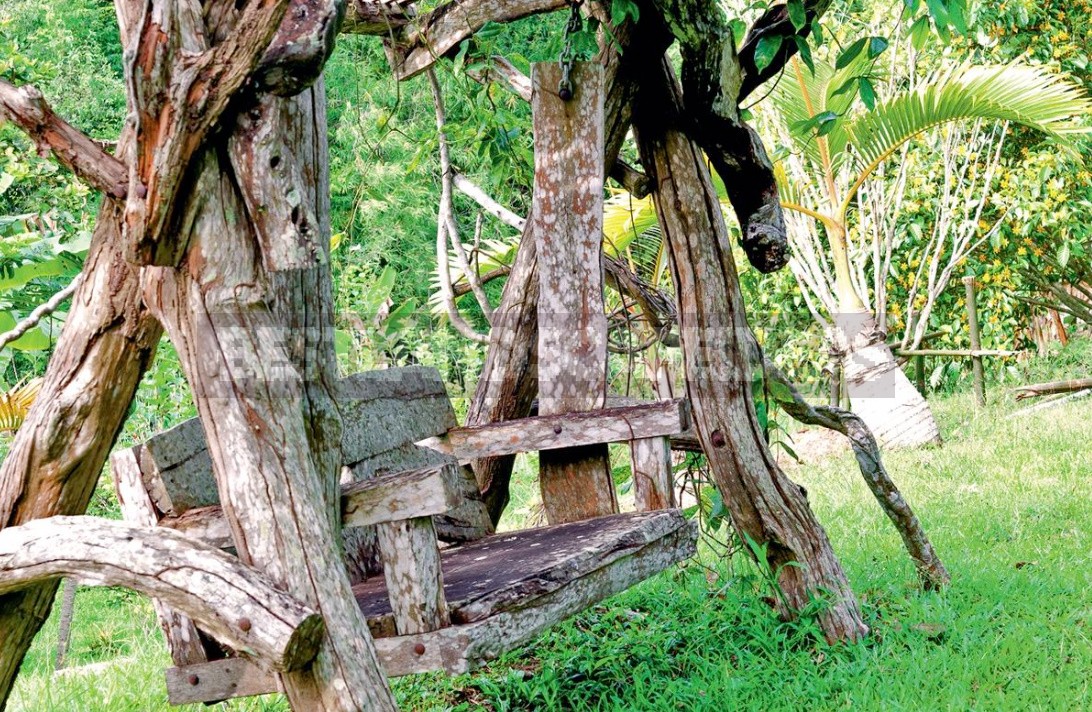 As a bench, you can use a log or a stump that is suitable in shape and appearance, as well as a large flat stone — you just need to make a wooden seat pad on it.
A niche in the fence can also become a very comfortable bench, as well as several old chairs, connected into one and originally designed.
Well, wooden pallets for bricks-in General, a universal thing! They are like a constructor with which you can "sculpt" a variety of objects.
Important: do not forget to sand the pallets (they are made of untreated boards), and at the finish — cover them with a stain or wax with an antiseptic (so that the wood does not rot in the rain). Suitable and facade paint.
Well, if you are quite adept with a hammer and saw, you will certainly be able to make a good garden furniture from the remnants of building materials. So, from the scraps of the deck Board will turn out an excellent table and benches or a practical circular bench, "encircling" a spreading tree. Or you can cast a bench from tinted concrete, finishing the seat with mosaic or tiles.
A flower garden bench is also an interesting idea. From the boards, a structure is constructed, similar to a box without a lid, where flowers grow in one half, and the second half is covered with sanded boards that can be covered with stain or paint.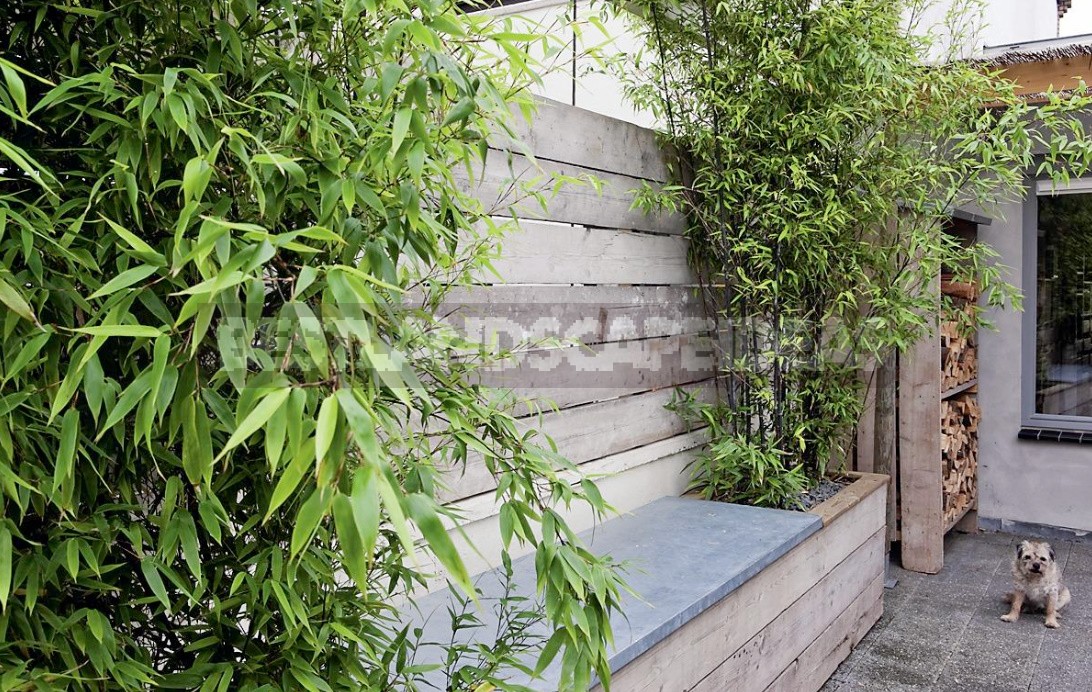 There is an opportunity to buy or order something unusual in the workshop — do it, because by promoting offers on the Internet, you can find budget and at the same time original things. For example, transparent benches made of plastic — flowers will look wonderful under them. Or bright, modern chairs-bags and garden puffs made of a material designed specifically for the open air.
Important: hammocks and suspended seats must be purchased ready-made, as they are designed with safety in mind and made of professional materials.
Tables and benches in a rustic style made of stumps and driftwood with intricate curves will give your country estates a unique identity and unique charm. In addition, such furniture is eco-friendly.
Important: to find a worthy item, you will have to go to exhibitions, look through magazines, search the Internet — yet this is still a "piece" product. But looking at the garden interiors, which harmoniously fit stylish, tasteful furniture, you will not regret the effort spent.