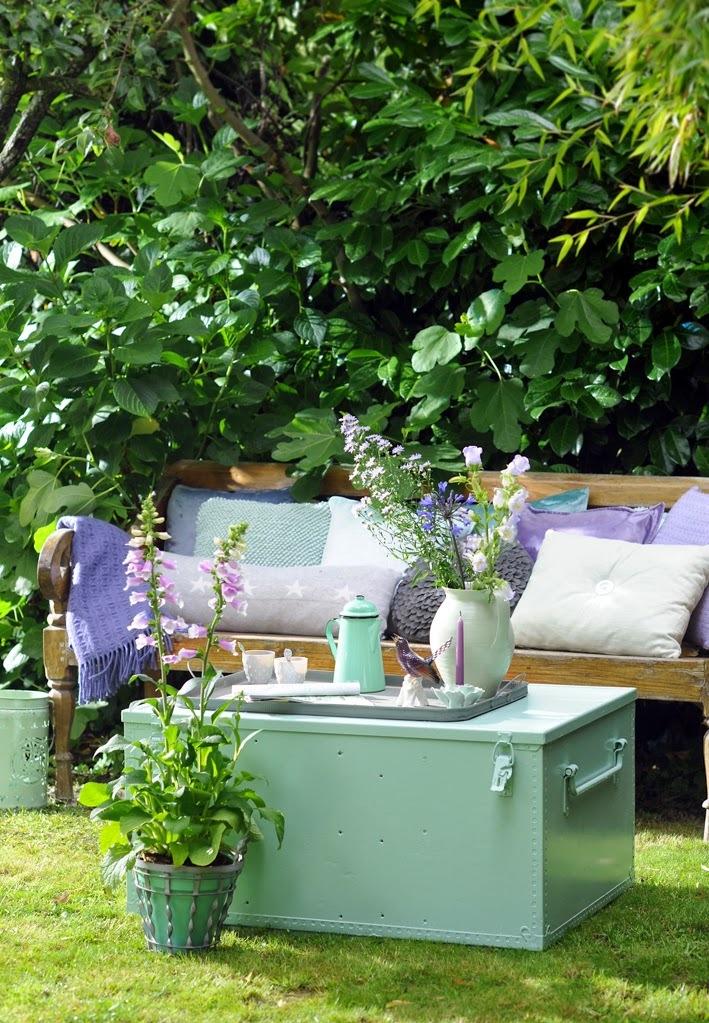 Some fresh and pleasant decorative ideas from Spain to create cozy corners around your back and front yard are waiting for you in this article. But the best part is that it will be easy to create such a heavenly decor yourself. You only need inspiration and a little sense of style.
Convenient Mini-Shelf on the Fence
The first idea is a mini-shelf on the wall of the fence looks so charming that it immediately awakens the imagination to apply it on the site.
In order for all this to work out, you will need two branches in the form of a "slingshot", a shelf on which you can simply paint the boards, and small decorative elements, preferably in one color. We used a white-gray style, and one of the candlesticks had a mint color.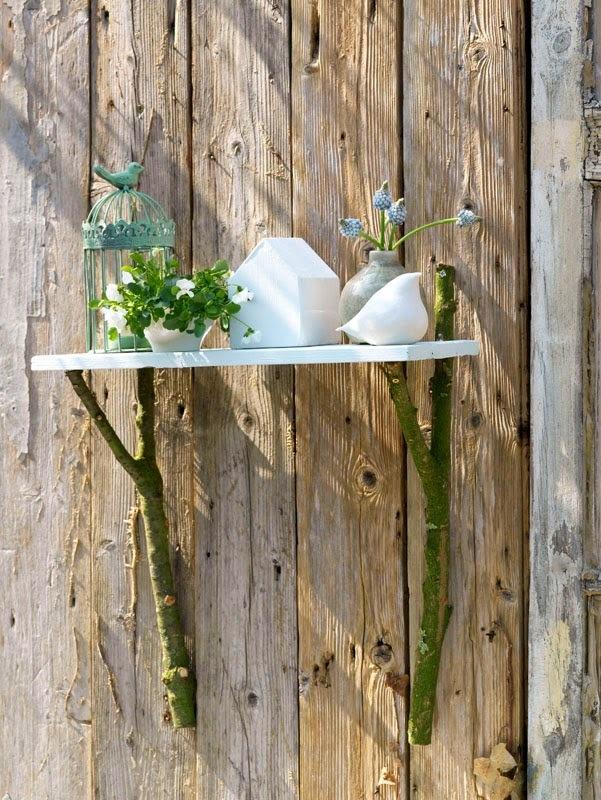 Garden Table Decorations
The next idea is to organize an exhibition of glass on the table. The latter can stand on the veranda, patio, terrace or directly in the garden. If you have several unused glass objects — this idea is sure to please you with the possibility of their reuse.
Preferably, such an exposure looks great when the objects are diverse in size, shape and color. They may contain plants, colored water, shells, decorative stones, or special" colored sand " from the store.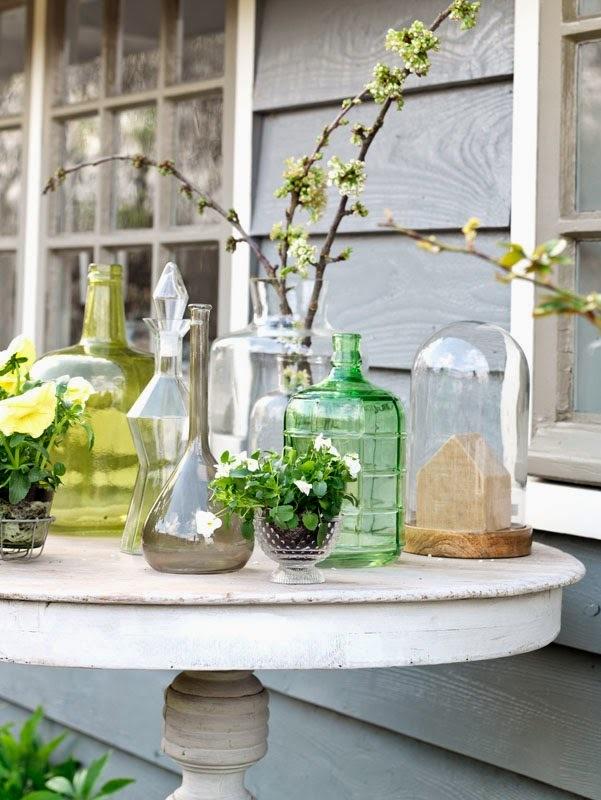 Use of Flavored and Colored Plants
Mint itself is popular in any season. In this photo, you can see the beauty of this color, despite the fact that it is used in the garden, where shades of green are already abundant. A chair, a mug, ceramic pots-everything looks like a soft cream that seems almost edible.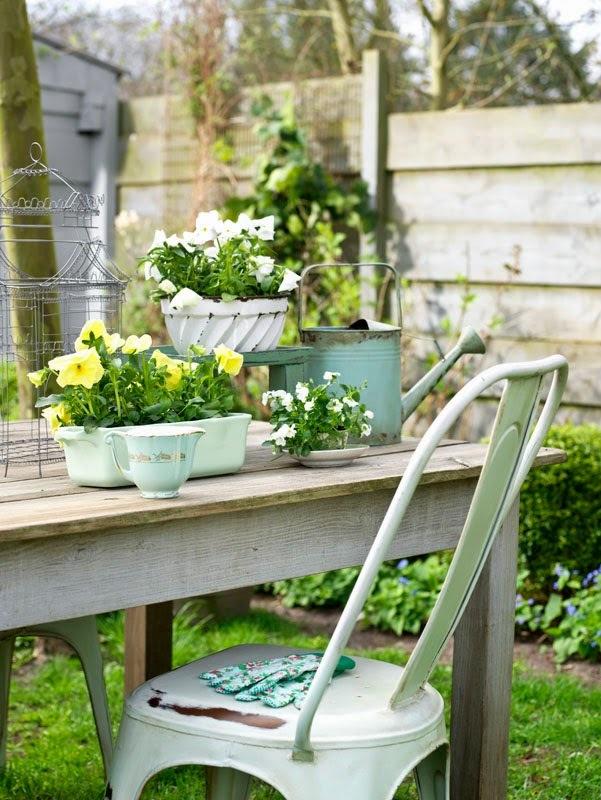 This composition, as you can see in the photo above, will not be easy to create, but it will bring great joy to both adults and children. All you need is a small table, a chair, and something that can be used as open shelves.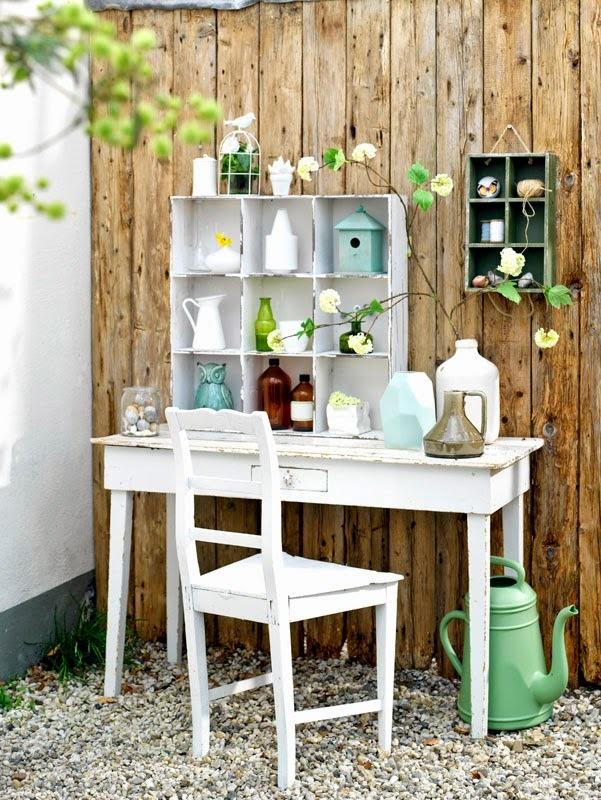 A beautiful coffee table can be used instead of an iron box. And even if, as is often the case with old things, it does not have a lid — you can use a wooden board instead.
By the way, in this photo there are several mint items: a box, a candle holder, a teapot, a vase, a pillow, and others. Here, this color is diluted with purple and white shades, which together form a pretty decorative ensemble.