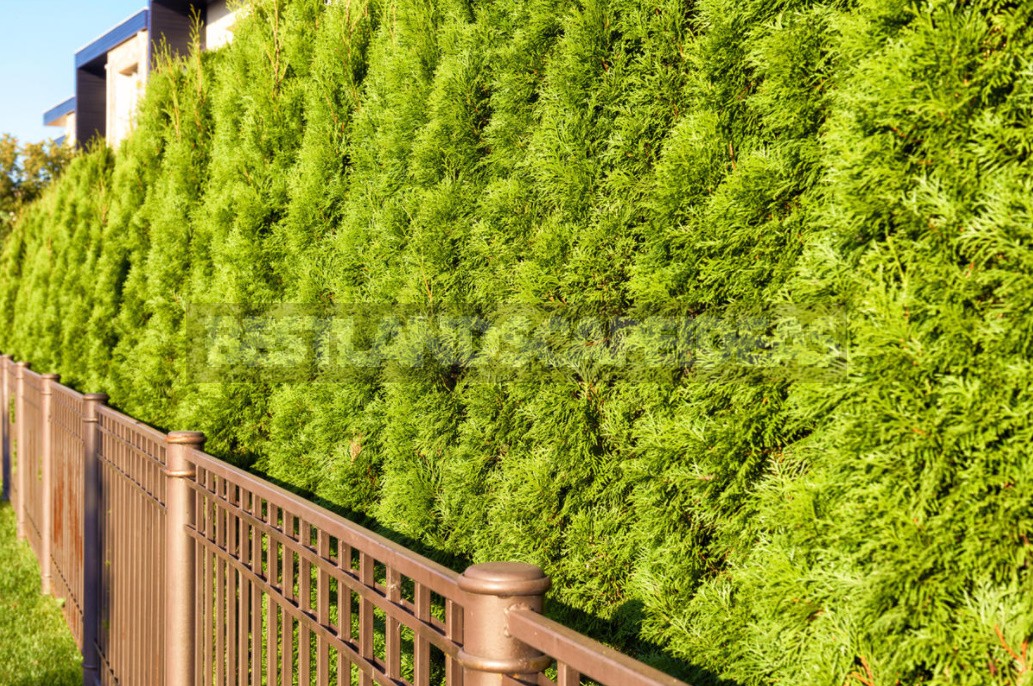 Pruning
The green thuja fence requires an annual haircut: from above (in the horizontal plane), from one side — from the side of your plot (in the vertical). All varieties of thuja are perfectly cut, and therefore on the site they can be used not only as a fence, but also in a single or group planting. They are also good on rocky slides.
Interestingly, the tuya can be pruned at any time of the year. By the way, with the help of forming thuja in garden compositions, you can give any shape — a cube, a ball, a cone, a pyramid or any other figure. This is a very exciting, but requires constant attention, otherwise the cube or the bear will quickly turn into an unknown thing.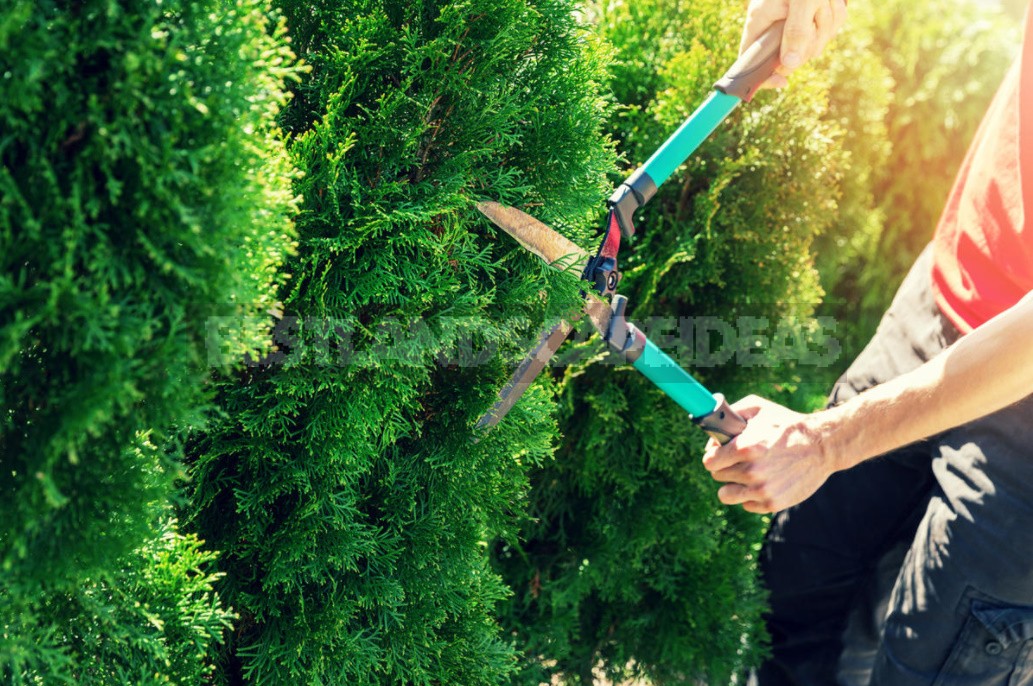 Options for planting thuja
To make the fence not look dull because of the monotony, at regular intervals — but not too often — you can make rounded depressions in it (planting cuttings in a semicircle). They will look great vases on special stands or sculptures. Even easier, the monotony of the fence can be broken by planting shrubs with decorative foliage among the thuja at certain intervals. Such a fence can not be trimmed at all-or preen its crown just a little.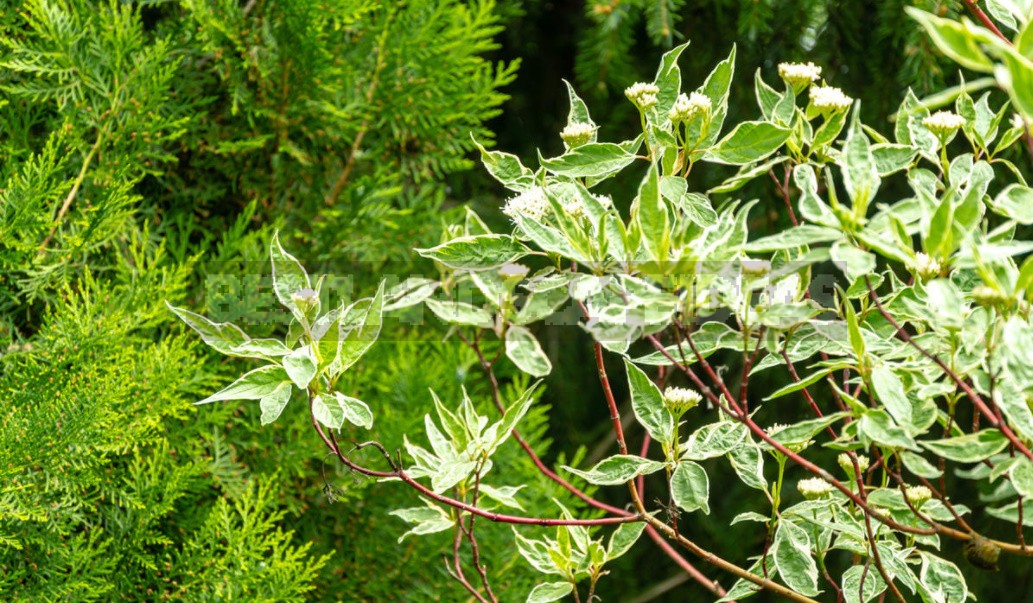 Spherical varieties of thuja (naturally, not dwarf) most effectively look planted in one line: it can be either straight or smoothly curved. It is best to plant such thuja at a distance of 2 m from each other, while this framing of the path or entrance to the site of plants of the same variety looks more elegant. By the way, thuja with a vertical crown, planted in a row at a distance of 2-2. 5 m from each other, will perfectly surround the driveway or separate one part of the plot from another. This frame will look especially beautiful if the plants are arranged along a smoothly curving line.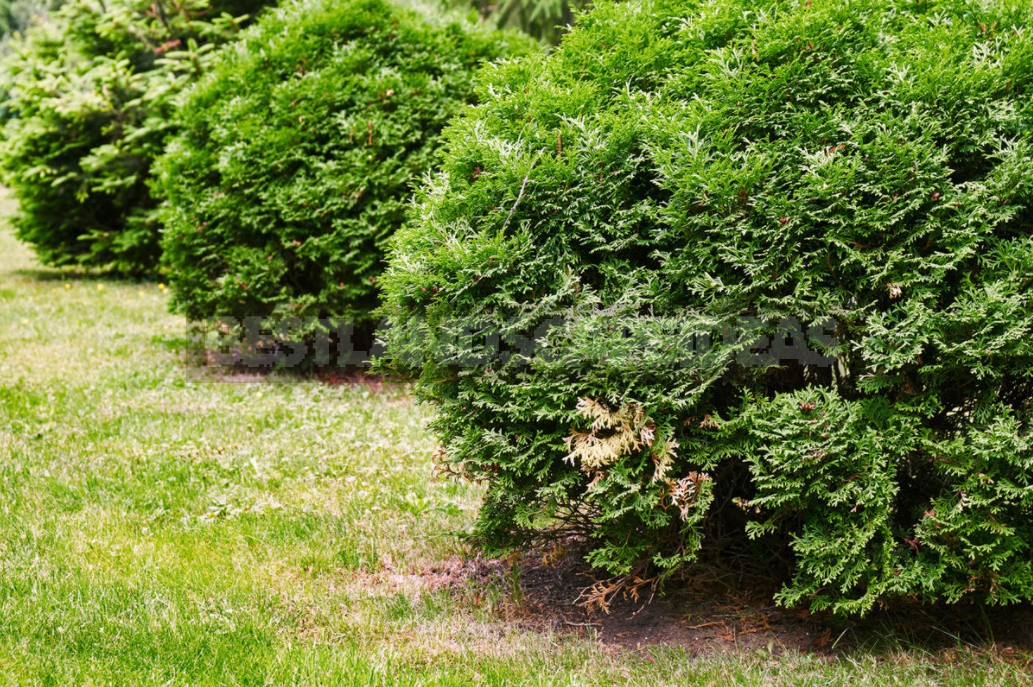 Live fences made of ornamental shrubs
In general, a fence can be created only from ornamental shrubs, selecting plants for it in such a way that they have approximately the same habit (more or less the same size of the aboveground part). It is good if they bloom at different times: some-in the spring, others-in the summer, and the third in the fall will ripen beautiful fruits. Such a fence will look elegant all season, especially if you introduce plants with foliage, decorative all summer.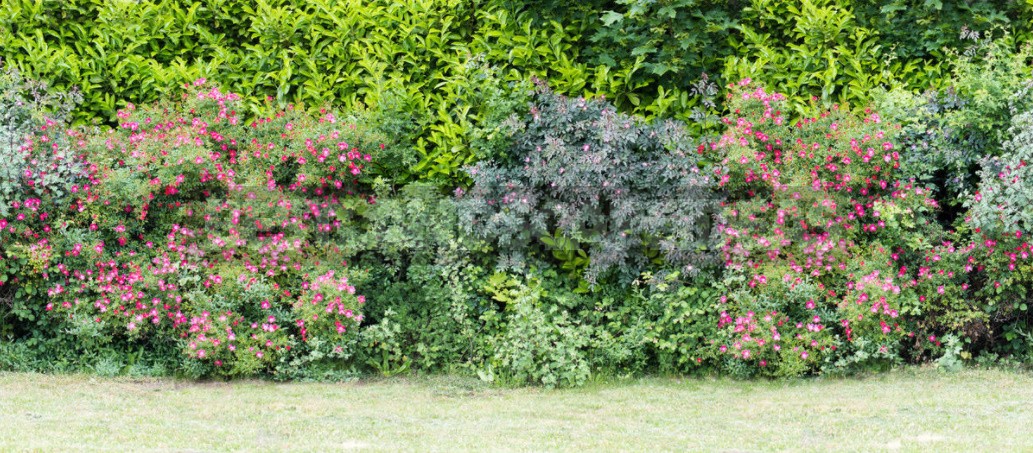 For example, after planting lilac and white lilac bushes at regular intervals, place aronia (black-fruited mountain ash), white-bordered deren, Physocarpus, yellow-leaved deren variety, Euonymus between them. You will get a colorful fence that will be decorative all season, including in winter. After all, the red branches of the white derain, dark brown-Physocarpus are extremely beautiful against the background of white snow.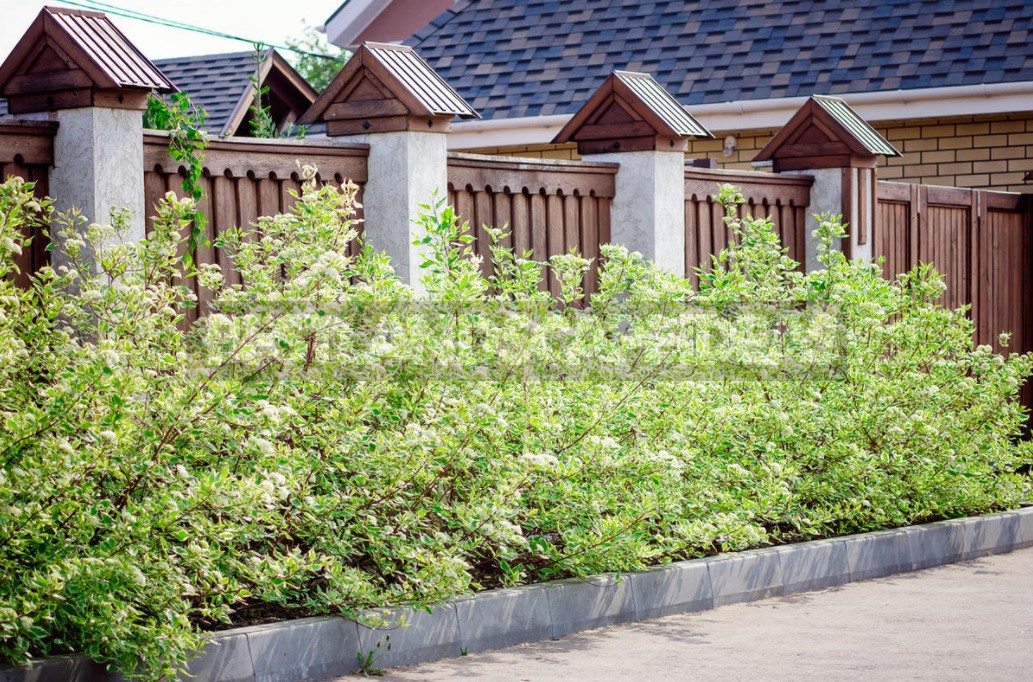 The fence can be made only from lilac of different varieties. But it is, unfortunately, good only in a short period of flowering. The rest of the time, the bushes are not so beautiful. In addition, it has a widespread root system, which is not suitable for 6 acres. Buddleja davidii, Viburnum opulus and Viburnum 'Buldenezh', Philadelphus are also quite suitable for a green fence.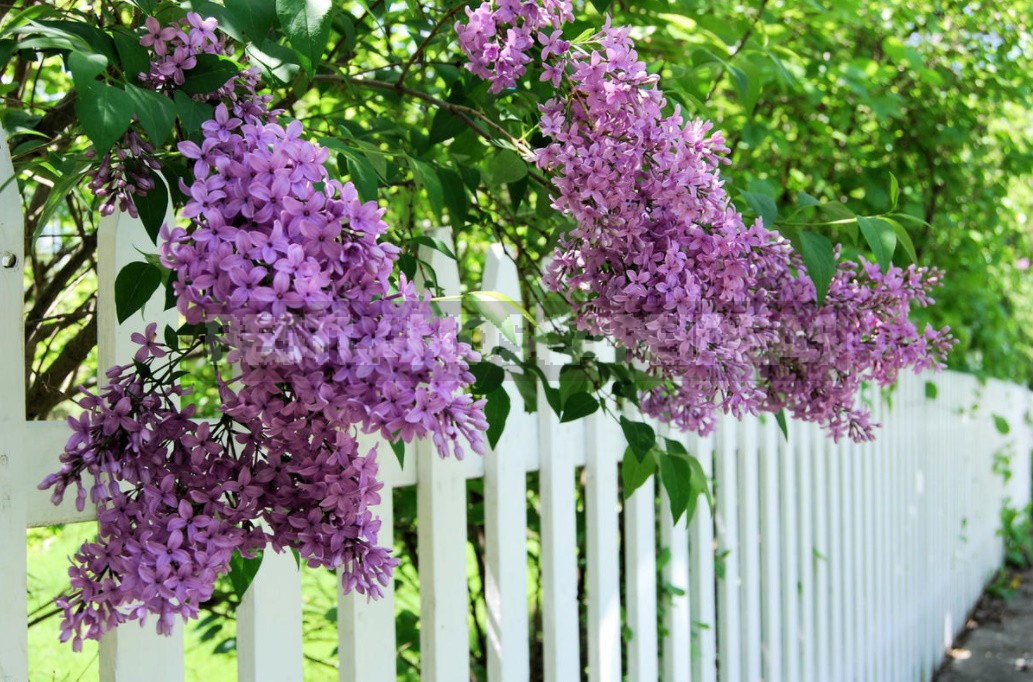 Fences do not have to be made high, if you just use them to divide the site into separate zones. For this purpose, park roses of different colors are perfect, but you should not plant other plants between them. A good fence of hydrangeas, with alternating Hydrangea arborescens and Hydrangea paniculata. Very low fences can be created from boxwood (but it is important to remember about its poor winter hardiness) – among which, at equal distances, plant single almond bushes.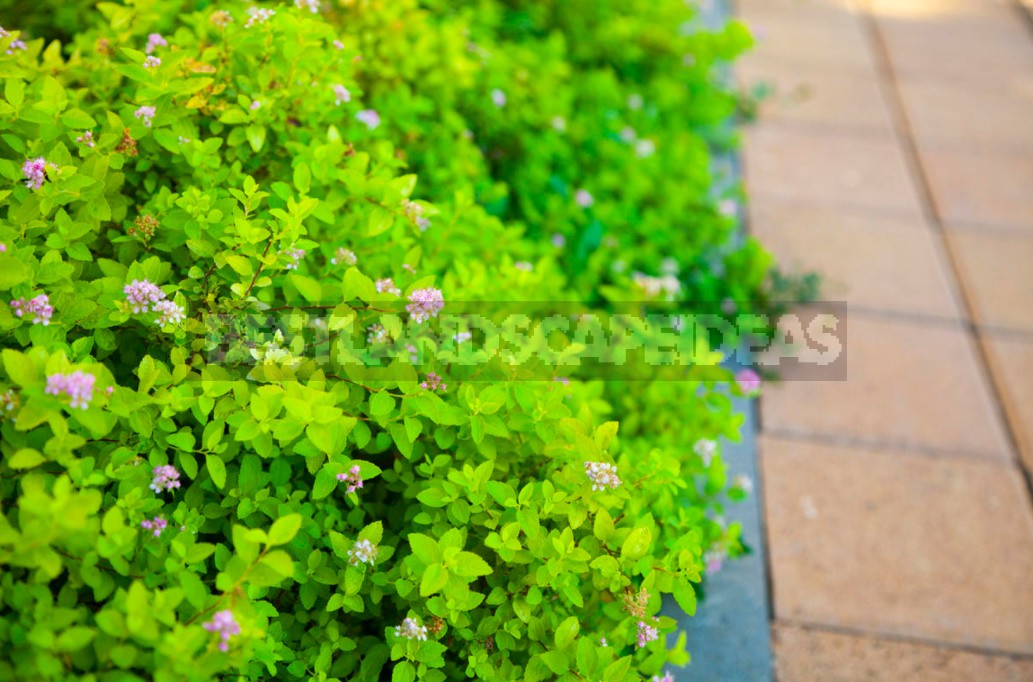 For low fences, different types of hostas of approximately the same height, but with different foliage, are also suitable. Between them, you can settle at an equal distance from each other single plants of Matteuccia struthiopteris, which will rise above them.
Do not plant plants with thorns like rosehip, barberry or Aralia elata on the plot, especially if you have small children. If you can not do without them, a mixborder of decorative perennials is placed in front of such a fence of shrubs. Another option-every year along the hedge from the bushes planted beautifully flowering annuals.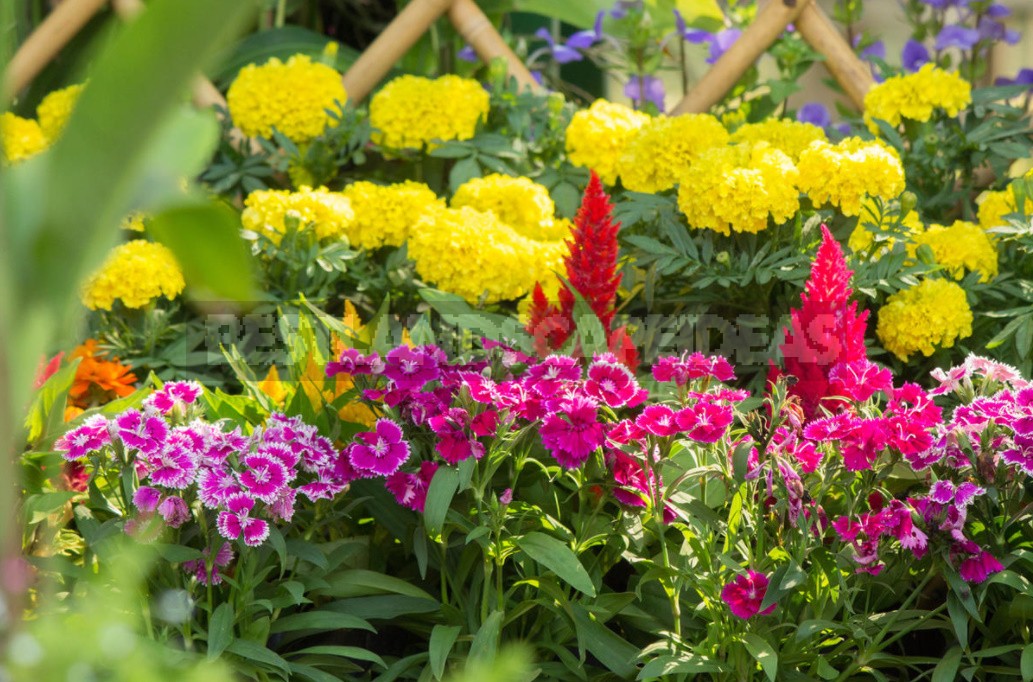 As a border, you can plant a beardless remontant strawberry that blooms and bears fruit all season. Especially well suited for this red varieties 'Ali Baba', 'Baron Solemacher', 'Rugen'; 'Yellow miracle' (yellow berries) and 'White Lotus' (white berries). But every 2-3 years, strawberries will have to be planted, at least just separating a part of the bush, otherwise it will begin to fade. The fact is that the seeds from the ripened berries fall near the bush, and young plants quickly grow out of them, which push the parent.
If you want, you can quickly get the living fence that best suits your idea!