If you like the thick sweet aroma of Jasmine, and you are looking for a spectacular plant to decorate your garden, then I dedicate my story to you. Because in our climate zone to grow in the garden present Jasmine is unlikely to succeed, offer to decorate a portion of its "double" — Mock Orange.
This long-term decorative shrub will perfectly tolerate harsh winters, and in the summer during the flowering period will fill all the surrounding space with a Jasmine aroma and will please with the delightful beauty of its snow-white inflorescences.
Plant description
Philadelphus in the country, another name – the garden Jasmine. But with this Jasmine it combines only a white shade and a similar aroma of inflorescences. In fact, these plants belong to completely different families.
Philadelphia belongs to the family Hydrangeaceae, is a deciduous shrub and grows freely in the vast North America, East Asia and southern Europe. His first name he received for the characteristic shoots, characterized by a strong outer part of the wood and soft core. In ancient times, they are the best suited for the manufacture of mouthpieces for Smoking pipes.
In nature, there are about 70 species of this culture, some have aroused interest among breeders and became the ancestors of numerous varieties. Now they are developing well in our difficult climatic conditions. Among them there are both undersized bushes and higher spreading specimens reaching a height of 3.5-4 m.
Thin bark of young shoots Philadelphus has a brown tint, and later changes its color and becomes gray. Numerous stems of shrub, departing from the root outlet, depending on the variety can be erect or drooping.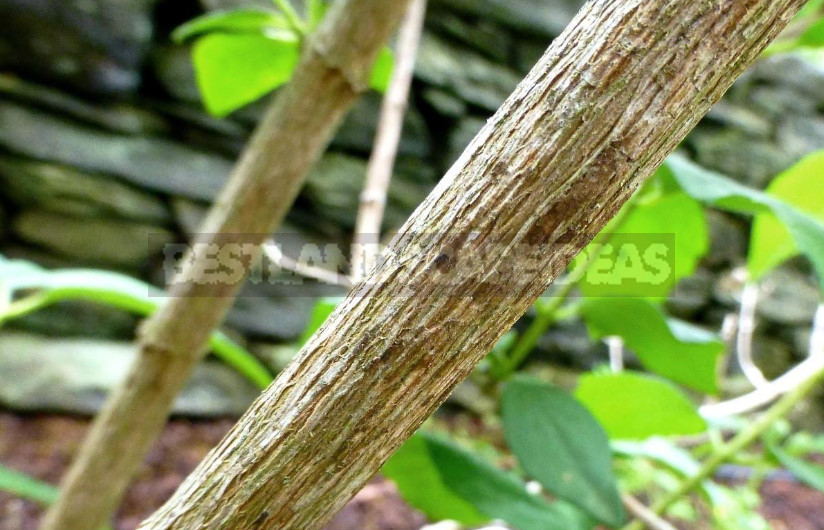 Oppositely disposed sheet plates in length, 2-9 cm form are ovate-lanceolate or ovate-pointed. More often they have a rich green color, but there are varieties with light green and Golden leaves.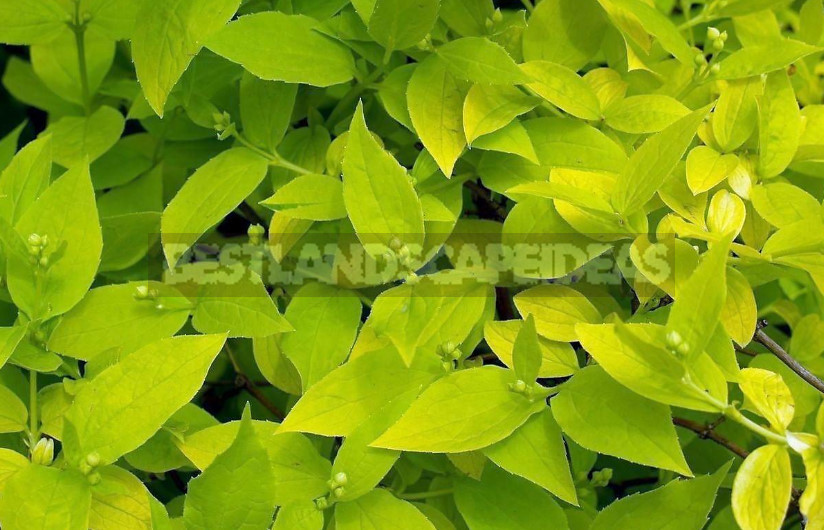 We should also say about the inflorescences of garden Jasmine-its main decoration. Usually they are painted in white or cream colors, but there are two-color. Their petals at the bottom have a lilac or pink tint.
But the shape and size of the flowers of this culture is much more diverse: they are simple, 4-5-lobed, campanulate, semi-double and reach 10 cm in diameter. Most varieties have fragrant inflorescences, strong aroma which is felt even at a distance, there are also varieties with a faint smell or even without it.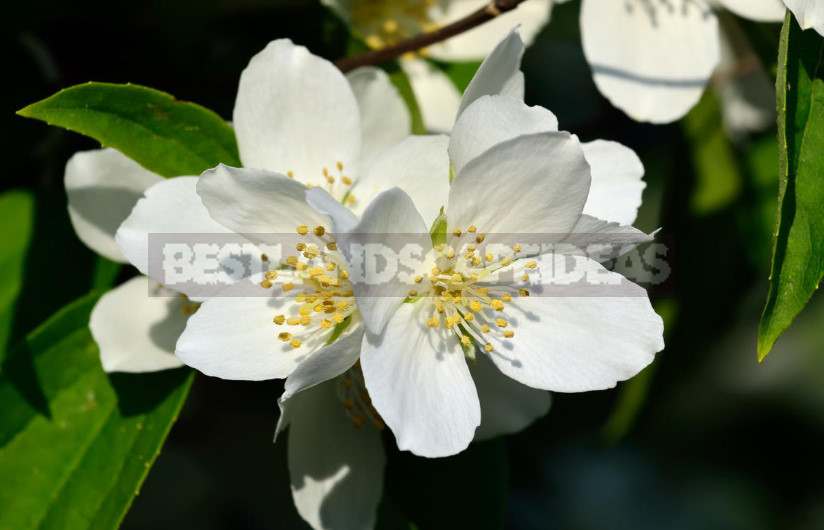 Mock orange is one of the most spectacular horticultural crops. The flowering of this shrub is so abundant that during this period it becomes like a snow-white cloud. And if you choose varieties with different periods of blooming flowers, you can relentlessly admire them and inhale the amazing aroma from late may to early August.
The mock orange can be found the different application on the site: low-growing varieties will look great in the garden, medium height varieties make excellent composition with other ornamental shrubs or act as a peerless hedge, and tall instances best suited for a solitary landing.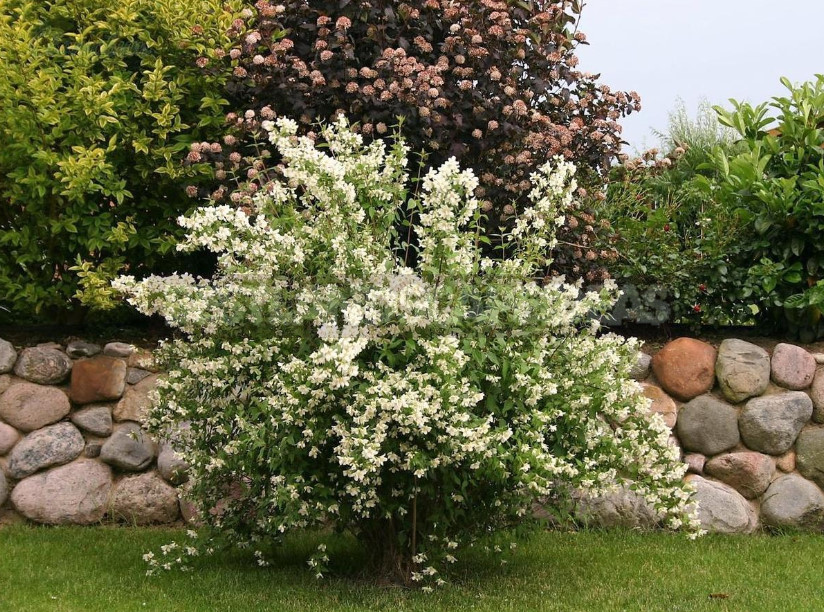 Cultivation
Mock orange is easy to grow. If you pay attention to it in the first 2-3 years after planting, then in the future care of this plant will not be burdensome.
Landing
Plant this plant can be in the first half of autumn or early spring before Bud break, picking up a Sunny place — in the shade of its shoots are stretched, and flowering is scarce. This culture is undemanding to the composition of the soil, but grows better in fertile, well-drained areas.
Therefore, in a planting pit size 50 x 50 cm, which is prepared at least 2 weeks before planting, it makes sense to first lay a layer of crushed stone or expanded clay (on heavy soils), and then fill it with a mixture of 3 parts of leaf soil, 1 part of humus and 2 parts of sand. The seedling is placed at the same level that it grew earlier, or buried a maximum of 2-3 cm – with a deeper planting, it can rot. The plant is abundantly watered and mulch the stem circle.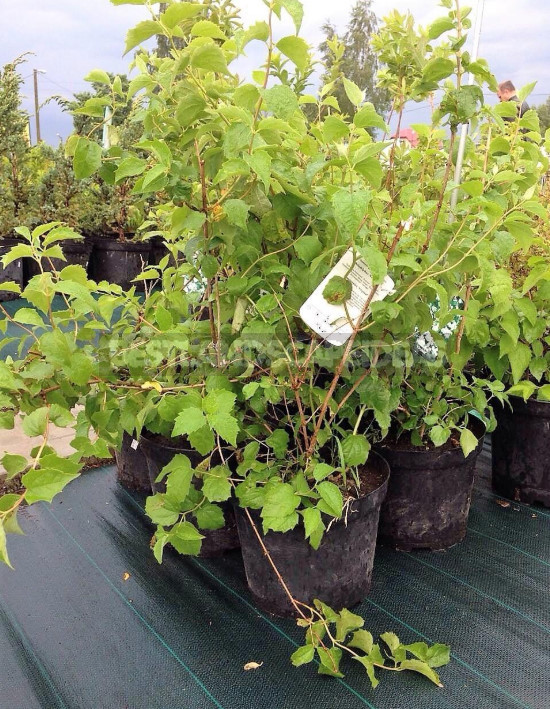 Garden Jasmine should be planted at a distance of 0.5-1.5 m from other shrubs and trees (depending on the strength of the variety growth). To create a hedge from this plant, planting pits are dug at intervals of 0.5-0.7 m from each other or trenches are built to accommodate several seedlings.
Irrigation
Philadelphus not different good drought resistance, so in the summer heat it should be watered every 1-2 days. Forget about this you will not allow its leaves – with a lack of moisture, they quickly droop. With regular rainfall can be limited to watering 1-2 times a week, pouring into the barrel of a circle of 2-3 buckets of water.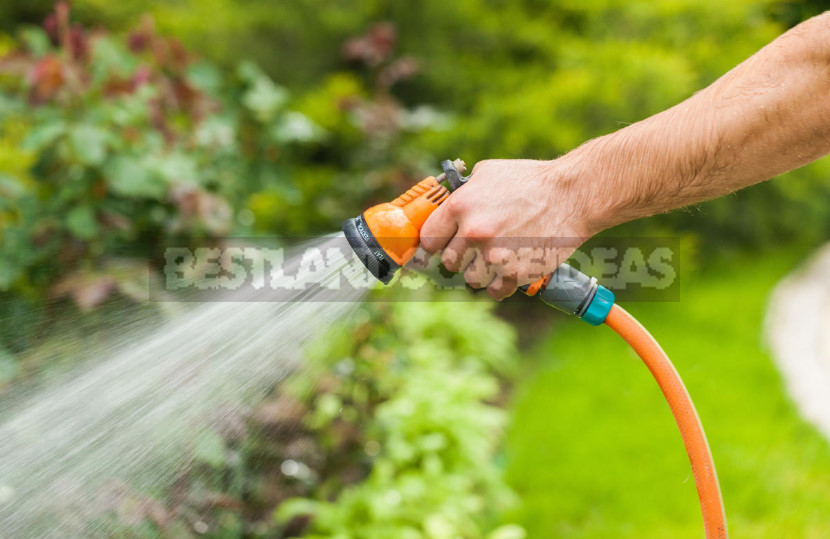 Also, do not forget to remove weeds and loosen the soil around the plant after each moisture. To reduce labor costs, it is possible to mulch the surface of the soil in the shaft circle with straw or shavings. This technique will also help to reduce the number of watering.
Additional fertilizing
That this culture annually gave a good increase and pleased you with abundant flowering, it is necessary to take care of its diet. In the spring under a Bush pour out a bucket of a solution of mullein (1: 10) or replace it with any complex preparation with prevalence of nitrogen.
After flowering, give fertilizing with phosphorus and potassium, stirring in 10 liters of water 2 tablespoons of superphosphate and 1 tablespoon of potassium sulfate, or replace them with wood ash, which is evenly scattered and dug under the plant (1-2 cups). Autumn has the sense to lay under a Bush humus or compost with a layer of 4-5 cm.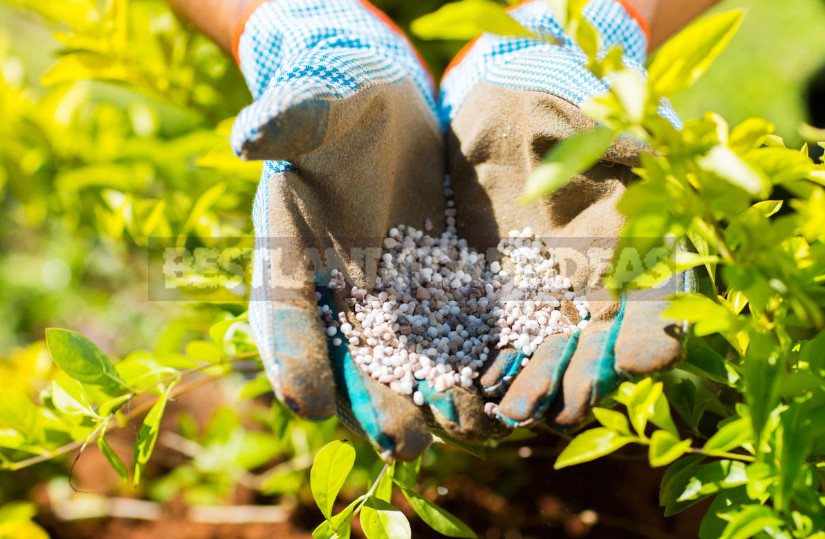 Clipping
Philadelphus lays flower buds on annual shoots. Therefore, immediately after flowering, it is necessary to cut out all branches with dried inflorescences, redirecting the strength of the plant to grow and strengthen the shoots of the current year. Autumn spend adjustment: remove thickening branches and form a beautiful crown. Also cut out the damaged and weak shoots.
Using trim can be brought back to life and old neglected hive. To do this, in early spring before the start of SAP flow, it is necessary to cut out all the branches under the root, leaving several of the strongest and shortening them to 25-30 cm.from the dormant buds of these stumps, new young shoots will develop, from which subsequently form a beautiful crown.
Diseases and pests
With improper care, garden Jasmine can be affected by fungal diseases, among which gray rot and Septoria spotting are especially common. Also, the plant can appear aphids, Aporia crataegi, Tetranychidae and Curculionidae.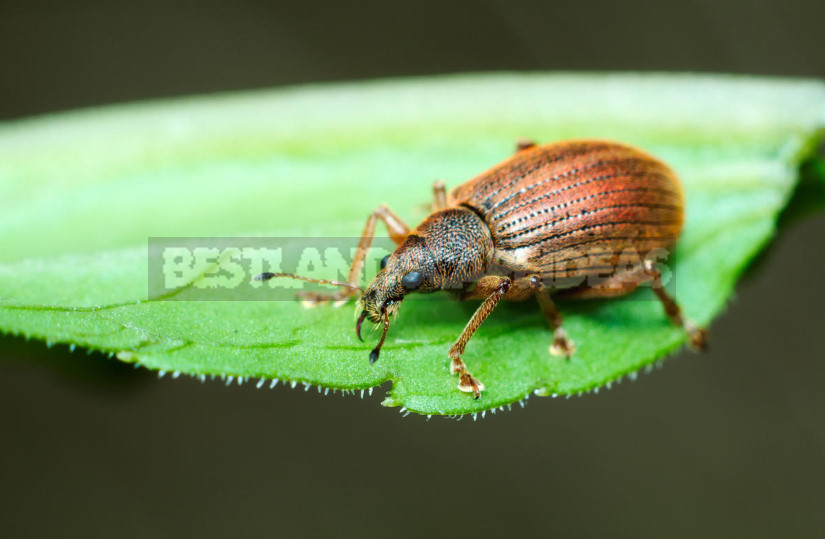 But my mock orange has never let me down. Probably, plays a role of preventive spraying, which I conduct at the right time for the whole garden, not forgetting to pay attention to your pet. To do this, I mainly use tank mixtures made up of authorized fungicide and insecticide, which I process plants during the swelling of the kidneys, before flowering and after it.
Wintering
Most varieties of this culture have good winter hardiness and do not require additional winterization. However, when buying a seedling be sure to check with the seller the degree of frost resistance of a variety – it will save you from disappointment.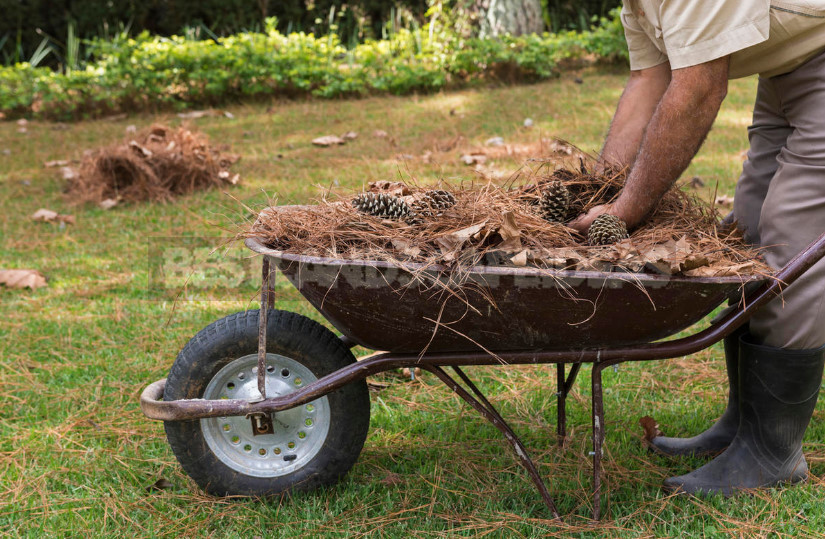 But even with strong freezing, when dying almost all of the above-ground part, this plant quickly recovers-produces new shoots from the basal buds. Therefore, on the eve of winter, it is necessary to take care of the roots of the Philadelphus – to mulch the stem circle with a thick layer of dry grass, straw or peat. In the spring after the snow melts, the plant is returned to its original state.
Reproduction
Garden Jasmine can be propagated by seed and vegetative methods. However, when planting seeds, the plant rarely retains its varietal characteristics, so a more reliable way will be green cuttings or reproduction by layering.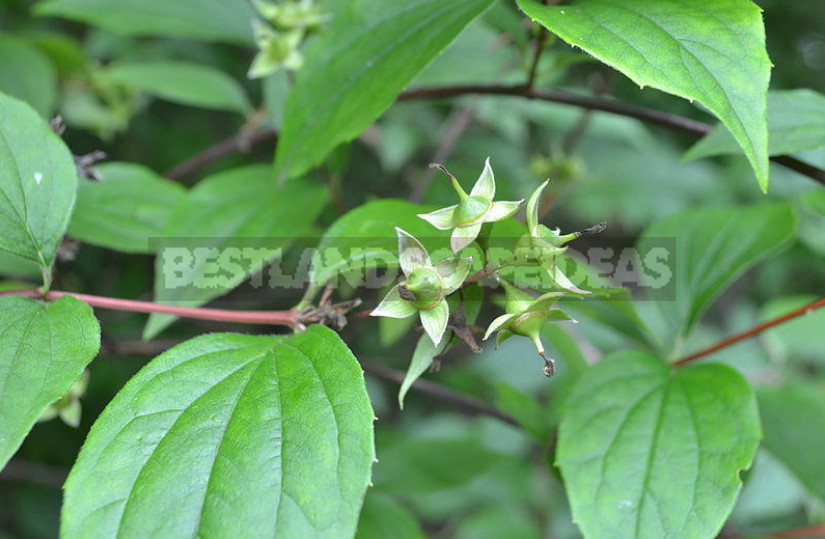 Mock orange, emblazoned today on my site, I got from green cuttings, which with the permission of the neighbors took in June with their adult Bush. To do this, chose a well-developed annual shoots and cut off their tops length of 10-15 cm from the cuttings removed the lower leaves and planted in glasses, plunging them half into a loose light substrate.
Glasses kept under a cap from the cut-off plastic 5-liter bottle, regularly watered, sprayed and ventilated. And after the cuttings seemed young leaves, transplanted them into the garden in a permanent place.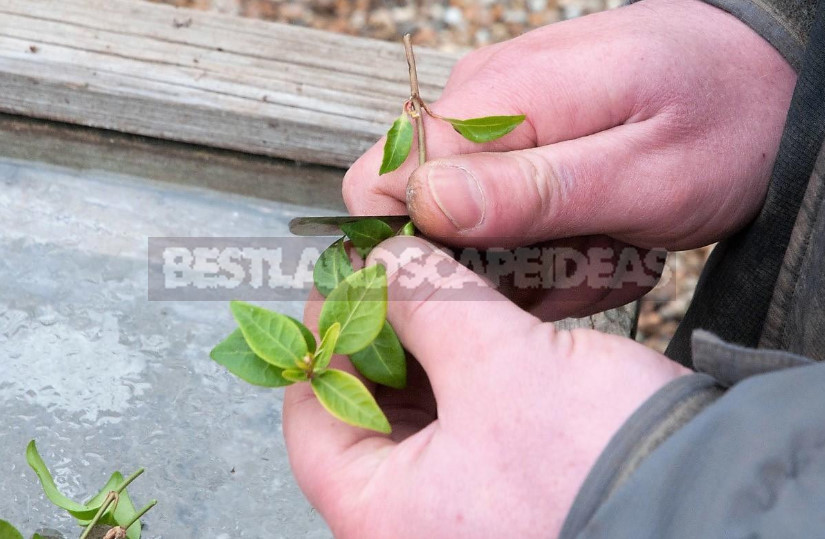 During the multiplication of layering mock orange, too, no problem. For this you need to remains low annual escape, leaving the "at large" top with leaves 15-20 cm. the place where the branch covered with earth, you need all the time to maintain a humid condition. After rooting, the escape is cut off by a shovel from the parent plant and with a lump of earth is transferred to a pre-prepared planting pit.